Last Updated on January 23, 2023 by Ewen Finser
In this Accuranker review, we will be looking at all of the features it offers, as well as its pros and cons, and its value for money.
We all know how important SEO is if you want your business to be found online, and if you are running an SEO campaign, whether it's for your own business or for your clients, you will want to be confident that you are using the best tools for the job.
Today we are going to be reviewing the popular SEO tool, our Accuranker review will provide you with the facts to see if it lives up to the hype, and whether or not you should be using it for your SEO campaigns.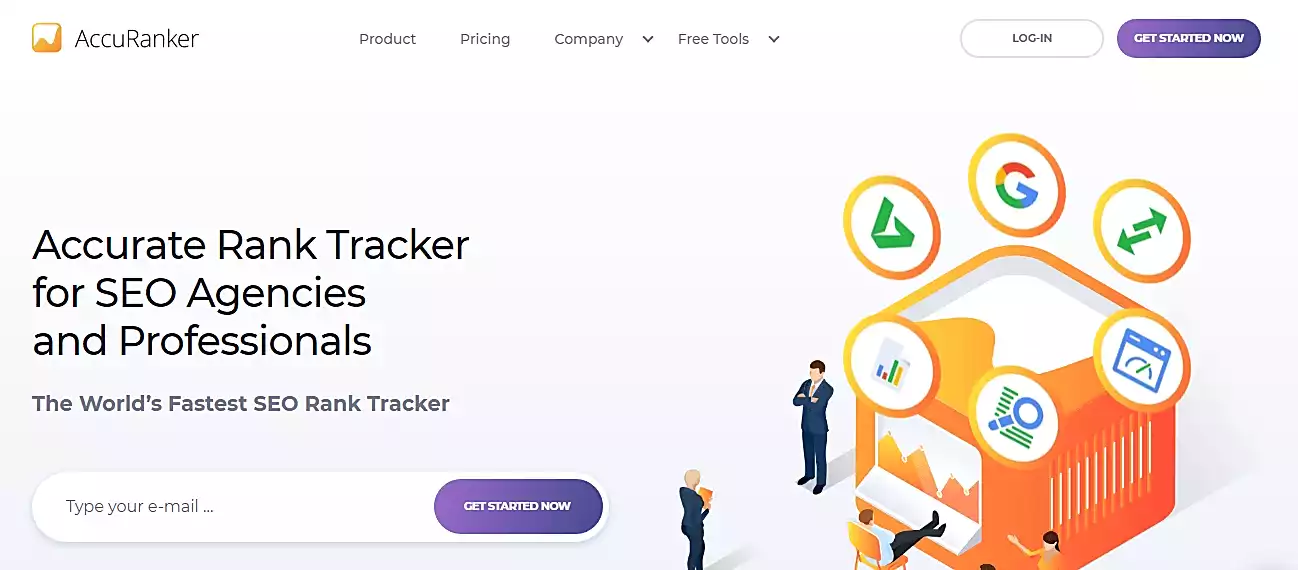 What's the BEST Pure Rank Tracker?
If all you need is a DEDICATED rank tracking service, Accuranker is one of the most flexible, accurate and user-friendly options. Yes, you can find cheaper options, but they are a hassle to use and don't present data nearly as well!
Start with Accuranker
We earn a commission if you click this link and make a purchase at no additional cost to you.
So why is SEO so important?
(Good question!)
Google is responsible for 94% of organic traffic, and research shows that Organic SEO is 5.66 times better than paid search ads, so it makes sense that you should want your business to rank as highly as possible for your keywords in Google!
If you can improve your organic SEO you can not only save yourself thousands of dollars on paid advertising but you are also more likely to attract the exact people you want to your website.
This is because Google's algorithm works hard to give people who use the search engine the most relevant search results possible, so most people don't need to click beyond the first 5 results on the search engine results page (SERP), as they will probably find what they are looking for straight away.
Users trust search engines for exactly this reason, and because of this 70-80% of people skip right past the paid advertising at the top of the results page, straight to the organic results.
Local SEO is becoming more important too, particularly with the boom in mobile traffic, people are searching on their mobile devices for businesses local to them, and if these local businesses have their websites SEO optimized with a good content strategy, this can have huge benefits to them, bringing them streams of qualified traffic and new customers.
By using the right keywords, along with high-quality SEO optimized content, you can ensure that your website makes it to the coveted top 5 on the search engine results pages.
The tricky thing is finding the right keywords, and keeping track of them and their fluctuations. There are lots of different stats that you will need to monitor and keep track of, which is where Accuranker comes in.
So, without further ado, let's get stuck into our Accuranker review, so you can see for yourself how this rank tracker tool can help you improve your SEO.
Let's have a look at Accuranker review…
Accuranker Review – Is Accuranker the Best Rank Tracker Tool?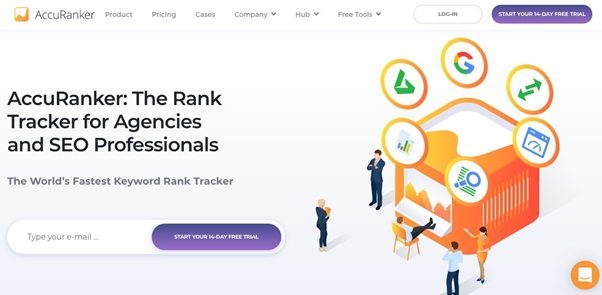 Accuranker is a Rank Tracking tool built for SEO professionals and Agencies, and according to Accuranker themselves, they are the world's fastest and most accurate keyword rank, tracker. The software tracks local and global rankings from both Google and Bing.
The data that Accuranker provides is highly accurate, and available on-demand, allowing you to instantly access insightful analytics exactly when you need them most, so you can know where to focus for your SEO campaigns.
The main dashboard is very intuitive and easy to use, allowing you to view all of your crucial data in one place. The software is cloud-hosted, so there is no need to download any software, and you can easily access your account from any device, at any time, anywhere in the world.
Accuranker helps you track your keywords and websites in SERPs. This is normally quite a difficult thing to do, especially if you are not using a dedicated tool for the task, however, Accuranker makes this task easy, allowing you to keep track of rankings on a day to day basis.
As well as keeping track of your own rankings, you can also keep track of your competitors, so you know where you need to step up your game, and where you are winning. You can view the metrics of your competitors vs your own, side by side so that you can see where they stand out, and work to keep on top of them.
Because you can track search results by postcode, keyword, city, and state, this tool is perfect for local businesses working on Local SEO, as well as global businesses.
As well as its paid plans for keyword ranking, Accuranker also offers some free tools that anyone can use to help them with their Local or global SEO, including the free Google SERP checker, and Google Grump, which is a handy tool that lets you know what sort of 'mood' Google is in, so you can be prepared when working on your SEO strategy.
Accuranker is trusted by over 20,000 global and local brands, and if you have a look on their 'Cases' page on their website you can view case studies of how their tool has helped various brands grow their business. HubSpot is one of Accurankers loyal customers, and they used the tool to help them increase their organic blog traffic by 45% in just 6 months!
Another brand that has had huge successes with Accuranker are Kinsta, whose organic traffic increased by 571% in just 13 months.
So let's take a look at the features to see how this tool works….
Accuranker Review: The Key Features of Accuranker
Free Google SERP Checker / rank checker
Keyword Monitoring
Instant, on-demand updates
SERP History
In-depth Analytics
3rd Party Integrations
Manage unlimited domains and users under one account
Competitor Monitoring
Share of Voice
Data exporting
'Google Grump' Rating
Now that we've seen the key features that Accuranker offers, let's look a little deeper into the main offerings…
Free Google SERP Checker

Accuranker's free SERP checker is available for anyone to use, regardless of whether you have an account with Accuranker or not. This tool allows you to see Google search results pages for you selected keyword in any country, and any location, making it the perfect tool for anyone who is working on local SEO campaigns.
Its shows you paid ads, as well as organic results, and you can see results for both desktop and mobile. You can also view questions being asked in relation to your keywords. The results are available in seconds, and you can have up to 5 searches a day for free, without an account.
The reason this tool is so important is that Google usually only shows you location-specific results, so if your agency is based in the USA, you will only see search results on Google corresponding to your current location. If you are working on behalf of a client based in another country, you will want to see their own local search results, which is where Accurancer swoops in to save the day, allowing you to view live, accurate search results for anywhere in the world.
Keyword Monitoring
You can track all of your keywords with Accuranker, and all results are updated automatically for you, so you can be sure you are getting accurate results. Depending on which subscription you have, you can enter the number of keywords you want to track into the tool. You then have the option to add the location, if you are specifically working on local SEO, and you can also choose between results from Google, Bing, or both.
If you would like to filter your results even further you can also choose to view mobile or desktop search, or both, and you can create tags for specific keywords too, which makes it easier to sort through your results once your list becomes longer.
You have the option to set goals for your keyword so that you can be sent a notification once your keyword hits a certain rank.
To save you time on manually importing keywords, you can import directly from Google Search Console, and other third-party tools, saving you hours of time.
Analytics and Reporting
Accuranker provides you with automated reporting features that allow you to create insightful reports for your clients. The reports can be completely customized using the simple drag and drop system, so only the required information is included, creating a streamlined report that is easy for the client to read.
All of the reports you create can be white-labeled, and you can include your own logo (or your client's logo) as well as adding your own branding and text.
You can have automated and customized reports sent to your clients on a daily, weekly or monthly basis, which means you only need to create your report template once, and then you can sit back and focus on other areas of your campaigns without having to worry about constantly sending reports.
This is yet another reason why Accuranker is perfect for agencies, meaning you save hours of time each week as you no longer have to manually create reports to send to your clients.
Accuranker 3rd Party Integrations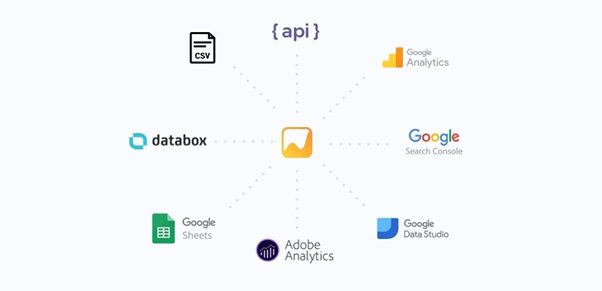 To get the most out of Accuranker, they recommend that you integrate your Google Analytics account. As well as Google Analytics, you can also integrate API, Google search console, databox, Google sheets, Adobe Analytics, Google data studio, and more.
Connecting with apps like Google Analytics allows you to get more in-depth data for your website, such as the number of visitors per keyword and insights on landing pages.
It's easy to connect 3rd party apps, and if you have any trouble there is a help area with detailed guides for each integration, walking you through how you can get connected.
Competitor Monitoring
Accurankers competitor analysis features allow you to quickly identify your key competitors and analyze their onsite content. This feature can also be used to identify influencers so that you can start to build an outreach list.
To do this all you need to do it enter your competitor's domain name, and then you can see your competitors ranking for target keywords, and compare it against your own ranking. Accuranker also provides you with a list of the top 10 competitors for all of your keywords, so that you can see where you are, and how to beat anyone who is outranking you.
Google Grump
The Google Grump feature is a clever feature that lets you know when there are changes or unrest in Google's algorithm. The grumpier Google is, the more fluctuations there will be in rankings. You can use the filters provided to look for changes in different locations and on either mobile or desktop devices.

You can sign up for email alerts, so you are always notified of any changes that might affect your SEO campaigns.
This clever tool works by tracking 30,000 randomly selected keywords, and monitoring them for changes and fluctuations, calculating the average number fluctuations across the top 100 results per keyword. The results are then split 50/50 between desktop and mobile.

The top 100 rankings are looped and compared to the rankings from the previous day, and any changes are subtracted from their position the day before. The average is then worked out by adding up all of the differences and dividing the total by the number of results (usually 100) to provide a final index number per keyword.
This is another free feature that anyone can use, even without an Accuranker account.
Share of Voice
The share of voice feature lets you see an overview of your organic position in the online marketplace. You can view this for any level or segments, such as keywords, landing pages, tags, and more. Depending on which plan you are using, you will either have access to 'Share of Voice' or 'Share of Voice Pro'.
This is a great way to evaluate how well your SEO campaigns are performing using your most important keywords..
Share of Voice Pro is available on all plans with over 1000 keywords, and has even more features, including the ability to see your competitors share of voice, view share of voice data for your tags, and Share of Voice Landing pages, which shows you the data for the combined total of keywords that point to your landing pages.
The Pros and Cons of Accuranker
As with all software, Accuranker has its own pros and cons. Let's have a look to see what they are…
Pros
Organizes all of your data neatly in one place
Easy to navigate and use
Clean design that is easy to navigate
Easy to use, even for beginners
Shows you where you rank for each keyword, and lets you know if you have made it to Googles 'featured snippet'
Lets you tag your most important keywords
Professional white-label reports
Automated reports
Lots of integrations
Refresh at any time to get accurate data
Fair pricing
Good for both brands and agencies
The specialized tool created specifically for rank tracking
Trusted by over 20,000 agencies and brands
Cons
Refreshing the data can be quite slow
Only tracks rankings, so you would still need to use other SEO tools
The smallest package, which allows you to track 500 keywords, has limited features and no access for API, although this would probably not be a problem for smaller businesses
Accuranker Review: Pricing

Accuranker has a The smallest package which varies by how many keywords you want to track. This is a great feature, as it keeps the cost low for smaller organizations, and grows gradually with your business.
The lowest-priced package is $49 per month ($44 if you pay yearly) and this allows you to track up to 500 keywords. This package, unfortunately, doesn't include quite a few of the features, such as adding competitors, having unlimited users, the share of voice pro, advanced metrics, SERP history, and API.
If you want access to all of the features then you can choose any other plan, starting from 1000 keywords. 1000 keywords cost $79/month ($71/month billed yearly) 5000 costs $249 ($224), 20,000 keywords cost $699/month ($629) and it goes up from there, depending on how much you need.
All plans apart from the first plan (500 keywords) include:
10 competitors
Unlimited users
Unlimited domains
Advanced analytics and reporting
Daily and on-demand rank updates
Google and Adobe Analytics
Share of Voice
Landing pages
Tag Cloud
Share of Voice Pro
Advanced metrics
SERP history
API
If you would like to give Accuranker a try before committing to a paid plan, you can take advantage of their free 14- day trial.
Conclusion: Accuranker Review: Is it the Best Rank Tracker Tool?
After looking at the features Accuranker offers, as well as its pros and cons. It's clear to see this tool really is an excellent choice for rank tracking. The thing that sets Accuranker apart from its main competitors, Ahrefs and SEMrush are that this tool has been built specifically for the purpose of being the most accurate rank tracker. Accuranker provides instant 'on-demand' results, and you can easily see results for any location in the world.
Based off of our Accuranker review Accuranker has been built with SEO professionals and Agencies in mind, and the automatic reporting feature can save you hours of time each week, as you will no longer need to manually create customized reports for your clients. You can create white label fully branded and fully customized reports that are automatically sent to your clients on a daily, weekly or monthly basis.
While the pricing is very reasonable, you would need to remember that Accuranker is not an all-in one SEO toolset like Ahrefs or SEMrush, so you most likely still need to use one of these tools or something similar for your other SEO activities, such as keyword research, backlink research, site audits, etc.
Lots of well-known companies like Ikea, HubSpot, HBO, Toyota, SalesForce, and many more, trust and use Accuranker, and if it's good enough for worldwide companies like them, well, it's good enough for us!
So would I recommend Accuranker?
Yes, definitely. But…
We would only recommend it for larger businesses and agencies rather than individuals and small businesses, due to the fact that is can get quite expensive when you need to track a lot of keywords, and you would still need to use other SEO tools for other SEO tasks, which may be able to essentially do the same thing.
If you are a small business then I would recommend using SEMrush, because it has all the tools you need to run a successful search engine optimization campaign, as well as a flexible pricing plan that suits small businesses and entrepreneurs well.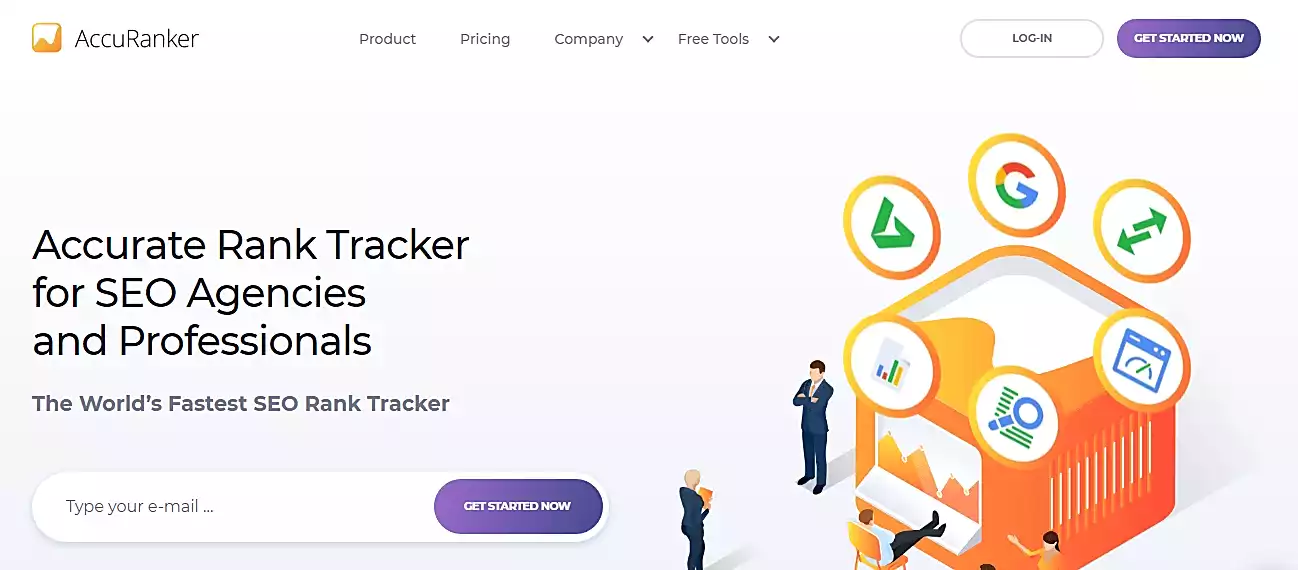 What's the BEST Pure Rank Tracker?
If all you need is a DEDICATED rank tracking service, Accuranker is one of the most flexible, accurate and user-friendly options. Yes, you can find cheaper options, but they are a hassle to use and don't present data nearly as well!
Start with Accuranker
We earn a commission if you click this link and make a purchase at no additional cost to you.
Frequently Asked Questions About Accuranker Tracking Tool
If I start with the smallest plan can I upgrade my plan later?
Yes, you can upgrade your plan at any time, regardless of whether you are only monthly or yearly billing. The updated balance will appear on your next invoice.
Exactly how accurate the data that accuranker provides?
The data provided my Accuranker is 99.9% accurate at both a local and global level for ranking data.
If I cancel my subscription, what will happen to my account?
Once you cancel your subscription you will no longer have access to your account and its data. Your settings, keywords, and domains will still be in the account, but you won't be able to access them or use them until you reactivate your subscription.
I need to add a large team to my account, does Accuranker charge extra for additional users?
No, there is no extra charge to add additional users to your account, providing you have a subscription for at least 1000 keywords. You can add unlimited users to your account.
If I am not happy with the service provided by Accuranker, is there a refund policy?
Yes, Accuranker offers a 14-day money-back guarantee, so if you are not happy with the service simply cancel your account within 14 days of opening it.
Final Thoughts on Accuranker Review
We hope you found our Accuranker review helpful when making your decision. If you are an agency or SEO professional, then Accuranker is a must-have for your SEO toolkit. It allows you to view instant 'on-demand' data for your keyword rankings, allowing you to execute your SEO strategy in the most efficient way possible.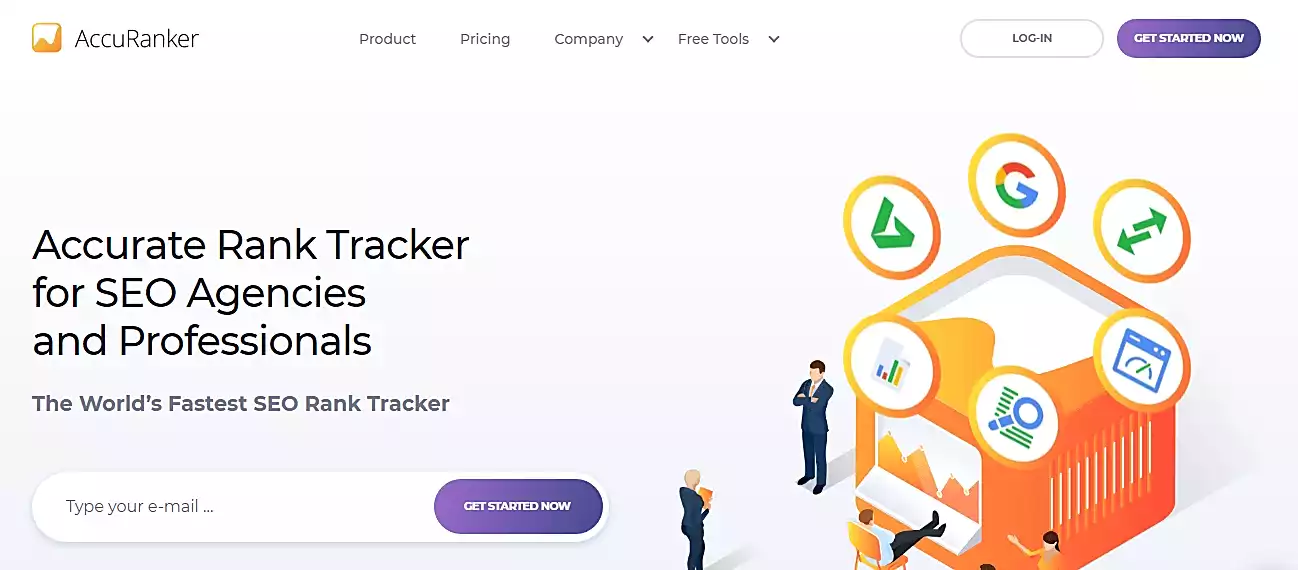 What's the BEST Pure Rank Tracker?
If all you need is a DEDICATED rank tracking service, Accuranker is one of the most flexible, accurate and user-friendly options. Yes, you can find cheaper options, but they are a hassle to use and don't present data nearly as well!
Start with Accuranker
We earn a commission if you click this link and make a purchase at no additional cost to you.
Accuranker offers a completely free 14-day trial if you want to test it out before signing up for a plan!
If you want to explore more options outside of our Accuranker Review check out other related articles on ranking tools that you may be interested in: