Last Updated on January 23, 2023 by Ewen Finser
Most things that can be measured can be improved, and SEO definitely falls in the category that can be enhanced with a few tweaks here and there. Take AccuRanker vs SEMrush for an example. These two popular SEO tools used today.
TL;DR: If all you need here is a straight GOOD SERP rank tracker, go with Accuranker here. However, if you plan on needing even a few additional SEO suite features, SEMrush is the DEFINITIVE SEO tool here.
Main Differences Between AccuRanker vs SEMrush
The main differences between Accuranker and SEMrush are:
AccuRanker is a pure rank tracker, whereas SEMrush is a full SEO suite
AccuRanker allows you to refresh the ranking database every 24 hours, whereas SEMrush doesn't publish update intervals
Accuranker is easier to use and navigate rank tracking interface compared to SEMrush
Accuranker allows you to filter keyword rank down to specific zip codes, whereas SEMrush is more broad-based
SEMrush is much deeper globally, with 0ver 26 databases in 25 countries
When it comes to SEO, the ability to measure its potency is critical for success. In digital marketing, you have to track not only your SEO strategy but also analyze it real-time. Effective teams are able to crush the data power curve and take decisive action.
So what is SEO, and why do you need it? SEO or search engine optimization is the framework that is supposed to be adhered to by your blog or website to ensure that ranking on search engines is optimized. Without it, you will have slim chances of achieving your peak blog traffic numbers. With adequately done SEO, boosted traffic can quickly transform into paying customers or prospects.
Without the right rank tracking mechanism and metrics, however, Search Engine Optimization can be like taking a shot in the dark.
Google today, rolls out its algorithm updates once or twice a month, and as intelligence as these updates are, they have thoroughly complicated SEO. As an illustration, there are now over 200 Google ranking factors that count in your page's ranking. The average content length for first SERP now stands at almost 2000 and is enlarging by the day.
Finding keyword ideas and generating a list of actionable long-tail keywords is a good start, but how do you track progress over time? Enter Accuranker vs SEMrush. Below is a comparison of these high-performance SEO and rank tracking tools.
Accuranker is cloud-based platform and tracks both global and local rankings on Bing and Google on a daily basis. You can employ it to track results in the smallest of zones like your postal code, state or city, or by keyword rankings. The software also keeps records that can be used to improve your trends and changes analysis.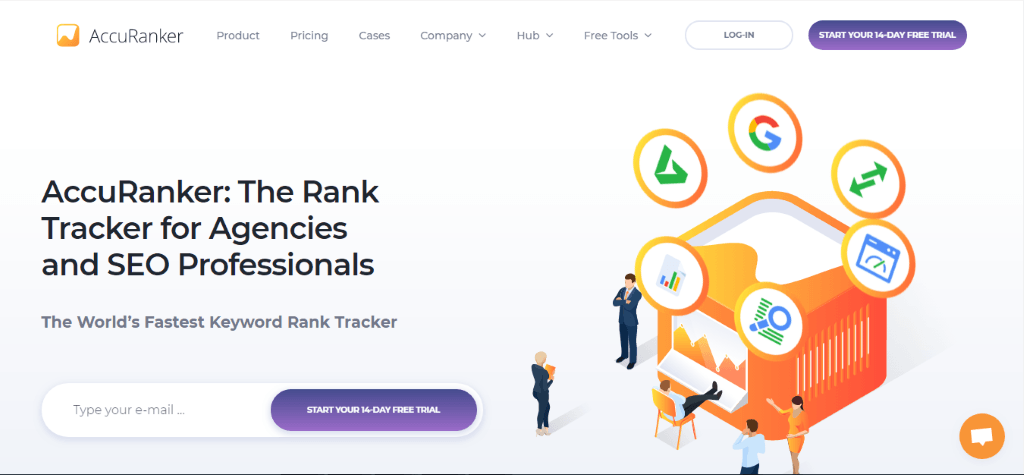 For future reference, you can also download historical keyword tool metrics in CSV format. These features are essential for users who may need to move to a different rank tracker in the future. Not only does AccuRanker track keywords and websites in a flash, but it also does offer critical SEO insights on its platform.
It is useful for agencies, professionals and businesses alike and should you like to try it before taking a dive on its deep end, try its free 14-day trial. Once you have signed up, you will be taken to its home page. From there, you can begin to build your keyword tracking abilities. On its home page, you will also access its formidable features such as;
AccuRanker Features
Google Analytics
If you already have a GA account, connect it to your new AccuRanker account, easy peasy. Once this is done, you will easily track your blog's keyword rankings daily. If you would like to import additional keywords as well, it is easy to do so using this feature.
Automatic monitoring
The most important metrics you need when forming your blog's or website SEO optimization, are daily keyword metrics. AccuRanker will track these keywords and update them, making it easy to view and act as fast as necessary.
Automatic reporting
Agencies need to keep updating their clients with the latest progress reports, and AccuRanker makes this process super easy. Through it, you can view the quality of your SEO rankings and rank tracker data via a detailed report, complete with the necessary charts and graphics.
Data export
If you would like to delve further into the analysis of the data, export the data availed by the platform to other file formats. This will assist you with more insights into your SEO strategy.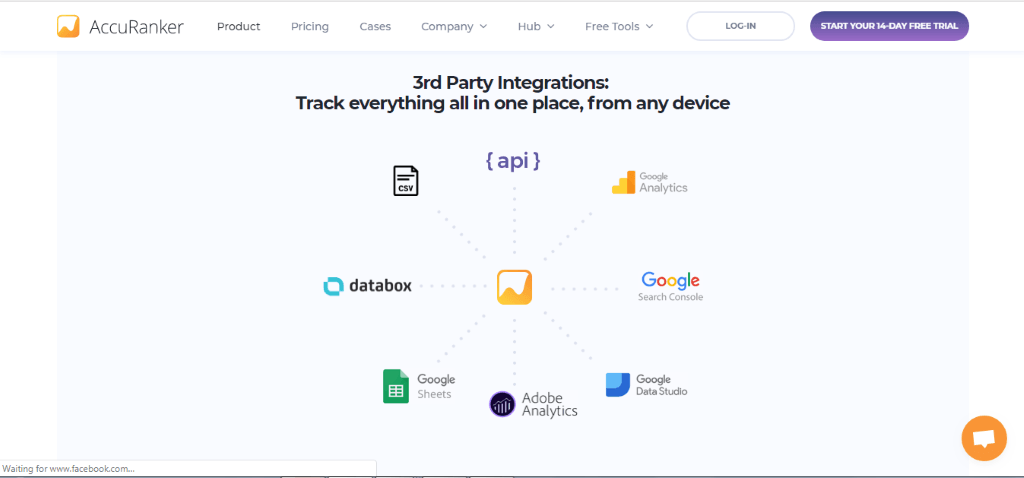 Agency monitoring
This feature is perfect for teams that have a wide variety of clients and are therefore tracking a good amount of keywords simultaneously. This monitoring feature makes it much easier to monitor and track different metrics at the same time.
Competitor monitoring
Every content marketer loves to compare themselves with their competition. AccuRanker understands this and has an inbuilt competitor monitoring features that monitor what your competition is up to. If their keywords are ranking better than yours are, then you can use the metrics provided to up your SEO performance.
Up to date data
You can access instant on-demand metrics using the platform's instant refresh button. There is also fresh keyword rank data every 24 hours as well as historical data for the monitoring of trends. All this useful information is availed in one customizable, pleasant looking interface, which is very intuitive to use. This data holds important info on your keyword's performance in different timelines. The keyword's history is also availed. The keyword data available is not only for your landing pages but featured snippets as well.
Third party integrations
If you are an acute SEO tracker, then you most likely have other tools that you work with on your side. With AccuRanker, you do not have to open tons of windows every day to keep up with the going on's of your keywords. The platform integrates with not only Google analytics, but also Google Data Studio, Google Search Console, and Adobe Analytics. Sharing data across platforms, therefore, becomes very easy.
Notes feature
The notes feature works like GA's annotations and are ideal for keyword rank tracking and your overall SEO optimization strategy. Using the function, you can add notes to a keyword and review the note later to remind yourself of steps you need to optimize your content and what the outcome was. You can also use the tool to mark events.
Segmenting filtering and tagging of data
If you have large quantities of keywords or various data points you are working with, then the ability to categorize and apply filters on their metrics is very advantageous. You can, for instant use filters such as ranking position or search volumes to make it much easier to analyze your data.
Identifying Threats and Opportunities
An average ranking signifies a threat and is an excellent early warning system that perhaps you need to work on your SEO because your keyword's performance is dropping. A keyword that is ranking well presents a unique opportunity as well. Accuranker displays this data clearly to enable you to boost your blog's organic visibility.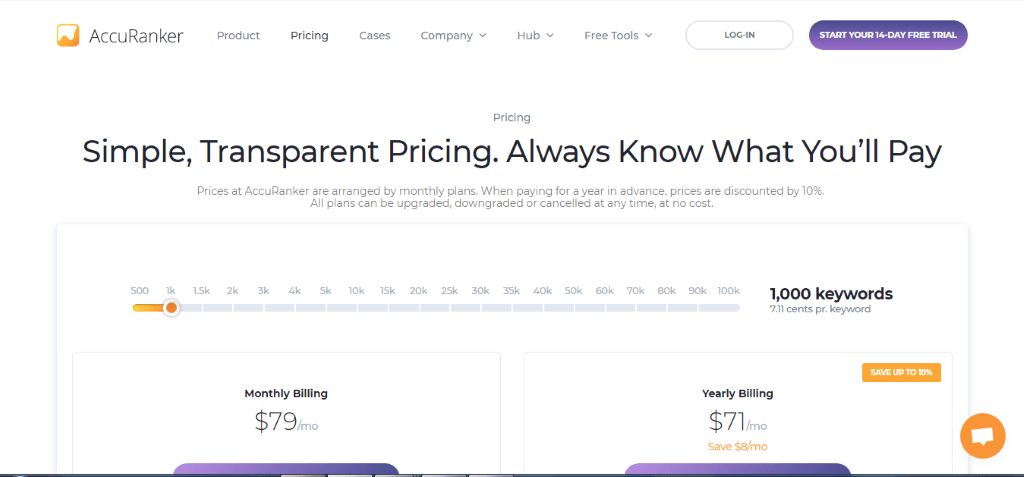 Social media metrics
Social media has become a critical content marketing zone. With Accuranker, you can begin to review your social media likes and shares. This greatly assists in your SEO optimization strategy. Mobile and desktop metrics for all zones also available.
Tiger Icon
This icon is situated on Accuranker's sidebar. It is a very innovative way of displaying the performance of an SEO strategy. The icon has four moods that indicate your keyword's performance on Google during the day.
SEMrush is well known for its SEO abilities, but it does much, much more than that. It is a comprehensive content marketing suite. It is a great tool that will assist you to to not only manage but also strategize better when it comes to content marketing and paid advertising. Content marketing is actually part of the platform's complete marketing stack.
While these two top of the range features are fantastic at both conversion and lead generation, SEMrush has even more offerings. The platform has also integrated social media marketing which, when combined with its SEO and content promotion features, makes it a thoroughly reliable tool.
Now the people at SEMrush are dying to impress, so they have added another feature, which is perhaps the most popular of all of the software's tools. This is its competitor intelligence that will help you stay steps ahead of the competition.
With so much on one plate, you would be forgiven to think that perhaps SEMrush is one of those hard use and convoluted platforms. On the contrary, the platform is well structured, and it does bear fantastic results.
Our Pick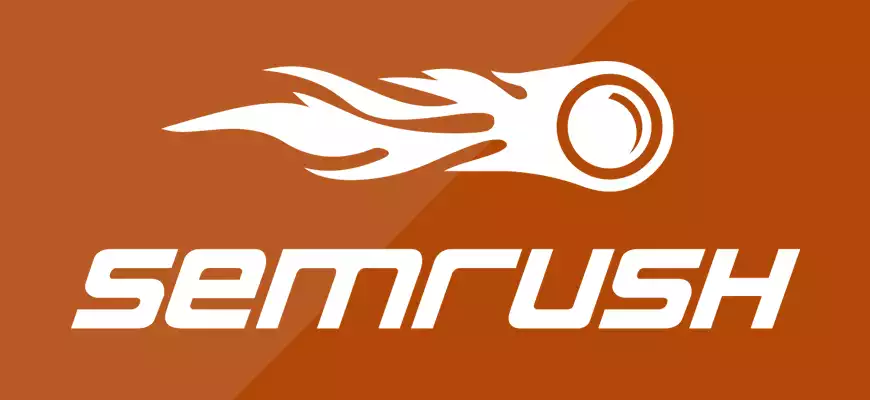 SEMRush is My SEO Swiss Army Knife
I use a LOT of tools. Probably more than I need to. There are a few that are truly indispensable. I have a SEMrush tab open EVERY day as I work. Keyword searches, technical audits, competitor analysis? It does it all. Try it out for free.
Get 14 Days Free
We earn a commission if you click this link and make a purchase at no additional cost to you.
SEMrush's Main Features
Search Engine Optimization
The platform's SEO approach is very organic. It assists its user to mine keywords that are the best for use in a target market. The platform has various metrics that will help you gauge the suitability if a keyword, ranging from traffic, search volume, CPC, competitive density, and trend.
Other useful metrics available include other domains that are capitalizing on your chosen keyword. The Keyword Magic tool helps to point out SERP components that will be affected by your keyword, as well as its difficulty.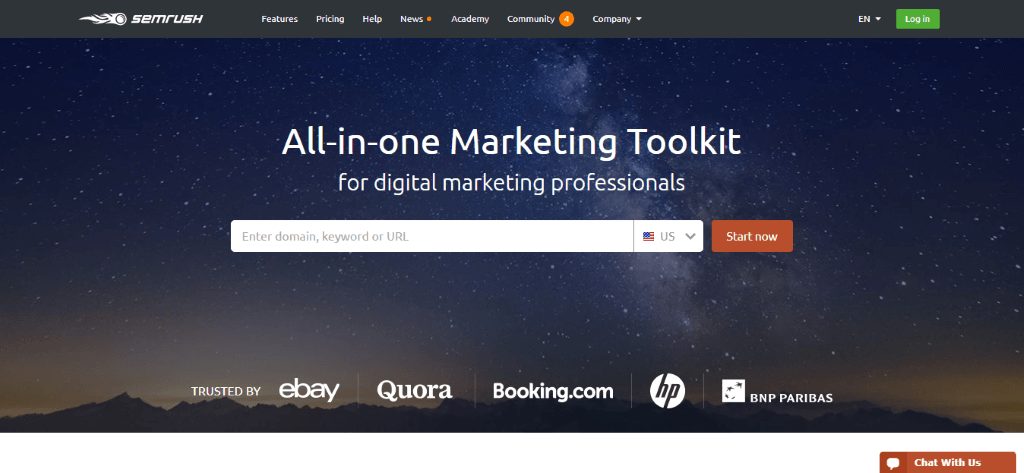 SEMrush also does scan your website's or blog's pages through its site audit feature. Not only does it identify errors, but it also gives you ways to resolve technical glitches. It will also build an audit report to ensure that progress is tracked.
More to it, SEMrush's position tracking feature also records your webpage's positions on both mobile and PC platforms across Google website versions for SERP tracking. If your blog, for instance, dips or gains in rank, the software will alert you to ensure that such changes are dealt with promptly.
The additional Search Console integration also means that SEMrush can be your "one-stop shop" for keyword rankings, competitor analysis, and backlink analysis. No need to log into multiple dashbaords every day.
Paid ads analysis
While organic results bring in to a website up to70 to 80% of all search traffic, paid traffic can bring on the remaining 20 to 30%. Web statistics show that 65% of all online buyers who have made up their mind to make a purchase often click on paid ads. SEMrush gives you the finesse required to ensure that paid ads to their best job.
Its Ad builder is fantastic for assistance with the creation of catchy ads, and it has advanced editing tools as well. There is also a keyword insertion tool as a metric on competitor ads that can also be lifted as templates if desired. You will also get to enjoy its PPC Keyword feature by utilizing the Google Product Listing Ad feature and view your rivals and their SEO strategy.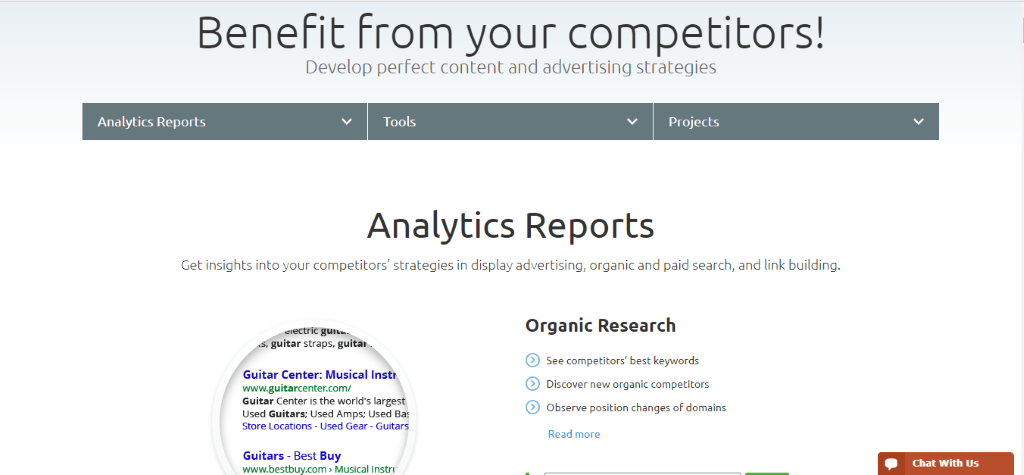 Content marketing
Besides topic research, this SEMrush feature also identifies what potential questions your audience could be inquiring about your chosen topic. The first step towards the creation of compelling content starts with understanding your audience, and SEMrush puts this knowledge on your fingertips. The platform will also monitor your blog and provide potentially useful backlinking opportunities.
Social media marketing
Its social media tracker does not only spy on your rival's brands but also unifies all of your social media channels. Even more useful, it has a social media-scheduling tool whose job is to organize all of your future posts and keep all channels' content fresh. In addition, if you want to introduce some other forces via an RSS feed, you can do so from the platform. Social media analytics can be potent drivers to your SEO strategy, and SEMrush will make them accessible via its interface or in PDF format.
Competitive intelligence
SEMrush's spy prowess does go beyond its already impressive arsenal of PPC ads, content distribution structure, rival's keywords, and backlink profile or their social media performance. The software also goes deep into your competitor's metrics through its Traffic Analytics.
You can also compare this data by country or by other parameters such as SEO strategies or paid search. Therefore, if you want to benchmark your brand against that of your rival for competitor analysis, SEMrush will assist you to do it.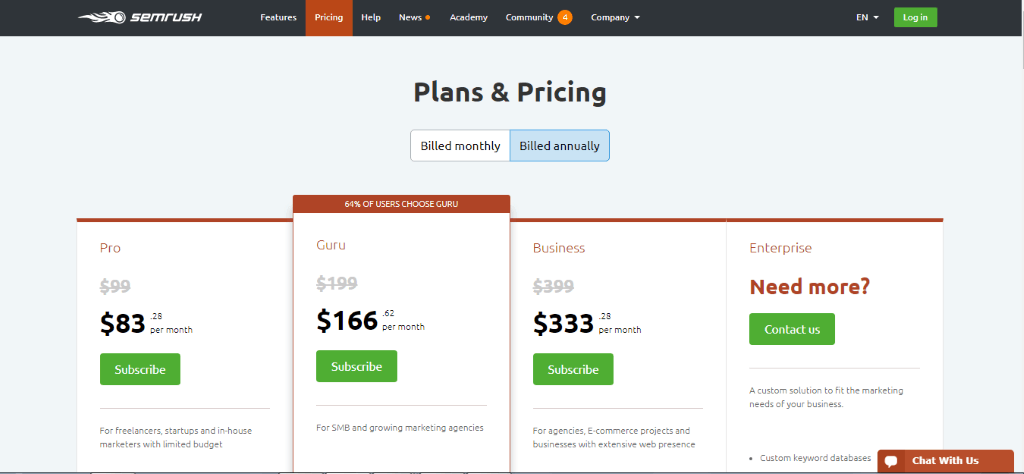 Accuranker vs SEMrush: The Verdict
Our Pick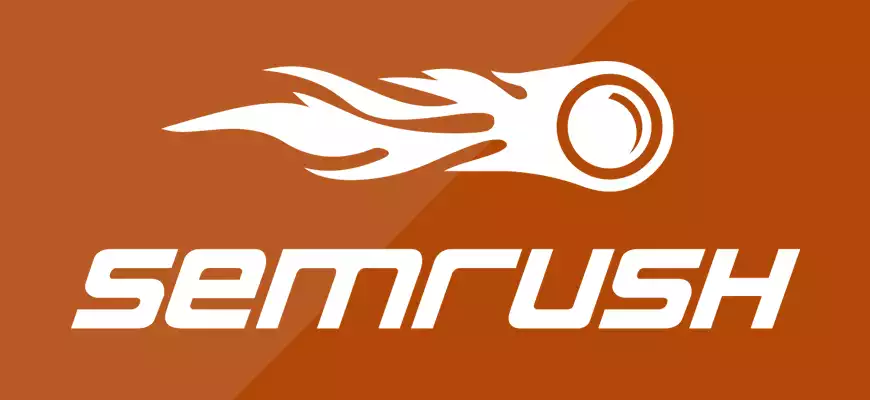 SEMRush is My SEO Swiss Army Knife
I use a LOT of tools. Probably more than I need to. There are a few that are truly indispensable. I have a SEMrush tab open EVERY day as I work. Keyword searches, technical audits, competitor analysis? It does it all. Try it out for free.
Get 14 Days Free
We earn a commission if you click this link and make a purchase at no additional cost to you.
Both SEMrush and Accuranker are excellent tools and do not come cheap. In their annual billings, for instance, SEMrush's Pro will cost you a good $83 per month, for some of its features. Accuranker wins in the pricing battle because it has one $71 per month annual billing for all its perks. In addition, for anyone willing to test-drive the platform, Accuranker has a 14-day free full trial of its features.
Both tools definitely beat vanila Google Keyword Planner or Search Console dashboards.
When it comes to features, SEMrush definitely is the content creator's and marketer's Swiss army knife.
It has most features that Accuranker has, then more. Its competitor's research is unrivaled. However, SEMrush has a steeper learning curve than Accuranker has. Its multitude of features could also be very useful to an agency or high-level content marketer but could be underutilized for smaller blogs and websites.
Bottom Line: If all you need here is a straight GOOD SERP ranking tracker, go with Accuranker here. However, if you plan on needing even a few additional SEO suite features, SEMrush is the DEFINITIVE SEO tool here.
Here are other related articles you may be interested in: