Last Updated on August 18, 2023 by Ewen Finser
I'm often asked, "is MarketMuse worth it?" Fair question. The answer is nuanced.
Spending thousands of dollars per month on a "SEO tool" isn't a decision to be taken lightly.
In this MarketMuse review, I break down the key problems the MarketMuse software solves (and doesn't solve) in our business, live examples of the tool in action, and finally comparing it to the rest of the content analysis SEO tools.
Hot Take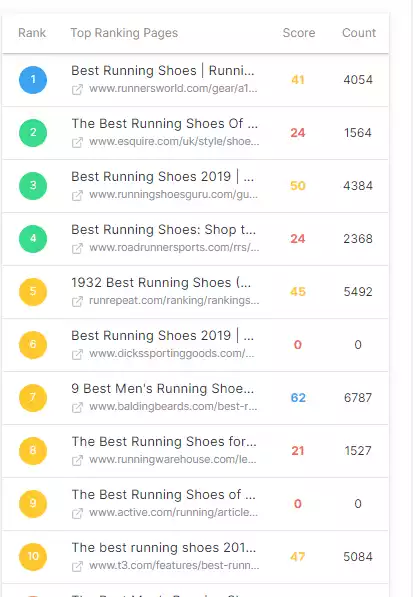 In a Rush? Here's my Take.
The knock on MarketMuse USED to be an opaque (and expensive) pricing structure. Not Anymore! It's all up front and you can get look under the hood for just $79. Don't be a cheapo.
Just Try it Out Already!
We earn a commission if you click this link and make a purchase at no additional cost to you.
What's the Problem with SEO Today?
Google's search engine algorithm is constantly changing. In fact, the rate of change, frequency of updates, and complexity appears to be compounding.
Of course, an in-house SEO is constantly trying to keep up, implementing the latest "best practices", but invariably also the latest SEO tricks.
The problem quickly becomes: What's the perfect title tag? Which keyword tool is best? What's the best link building tactic? How do you properly cloak your PBN? What's your anchor text distribution? How many backlinks do I need to build in order to rank in the Google search engine?
These aren't unimportant questions, but for the average SEO it's a losing proposition. Either your churning and burning sites and content strategies, or you are falling behind.
So, how can you stay ahead of the curve?
In short, follow Googles Quality Rater Guidelines. Yes, actually read it.
If the current iteration of Google's algo doesn't quite measure all these factors, you can bet that's where they are headed. In particular, content depth, coverage, and topical expertise appear as the commonalities rising to the top.
At the same time, this doesn't mean that we all need to go out and hiring writers and content creators with a creative writing degree.
Enter MarketMuse. What if you could optimize your content (new and existing) for the Natural Language Processing (NLP) that underpins Google Search?
MarketMuse Backstory
MarketMuse entered the stage initially as a single page optimizer. The idea was fairly simple. Enter your URL + target topic/keyword and then let the algorithm return suggested topics and keyword variations to add.
At a page level, it worked well to optimize for high quality content.
They then started branching out into custom reports / data crunching in masse for agency and enterprise clients (something they still do). But from these experiences, MarketMuse has added numerous features (and upsells), including features like "content inventory" which is a sort of standing report (updated frequently) for identifying content opportunities.
Still, I would argue the most useful and widely applicable feature remains the page level content optimizer.
Who Should Use MarketMuse?
Do you want to see how far quality content alone can get you? MarketMuse will help you answer this question.
Anyone with a sizable base of content to work with, either as a stand-alone business, agency, or large-enterprise should be a good fit.
Fair warning: it's not cheap and isn't typically a month-to-month contract, so it's best to take a demo + integrate fully into your team or risk disappointment.
More on this later…
How to Use MarketMuse?
First, let's start with a LIVE example…
MarketMuse Optimization Example
We took the phrase "best running shoes" as a sample to run through MarketMuse for this review.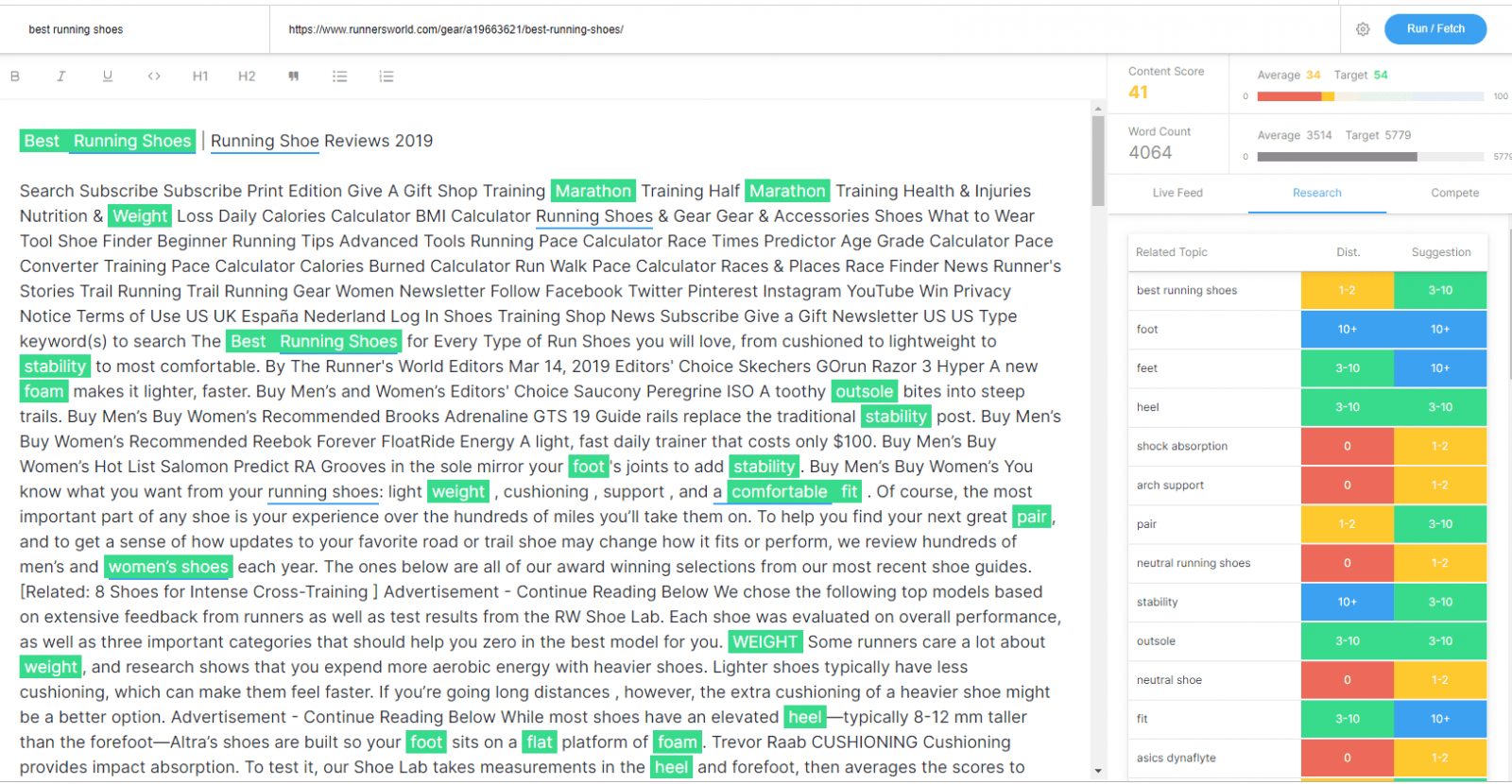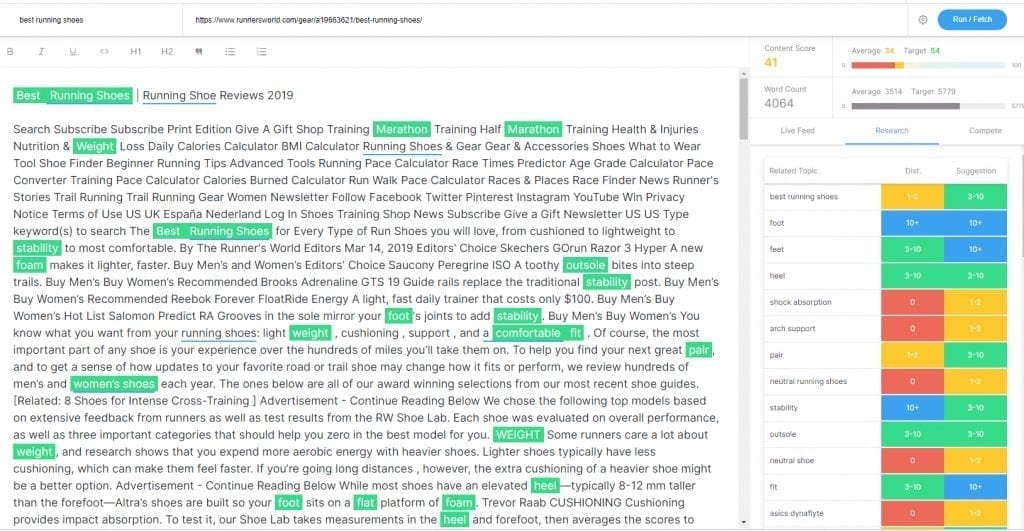 As you can see, the tool automatically pulls in the text field for any URL presented and compares it against the target keyword.
The meat and potatoes of the software is the field to the right, displaying "Research" recommendations (Dist. = the current distro for that URL and Suggestion = the recommended additions + frequency range).
Another helpful field is the "Compete" tab, which displays the top 20 organic search rankings and their content scores for the given term.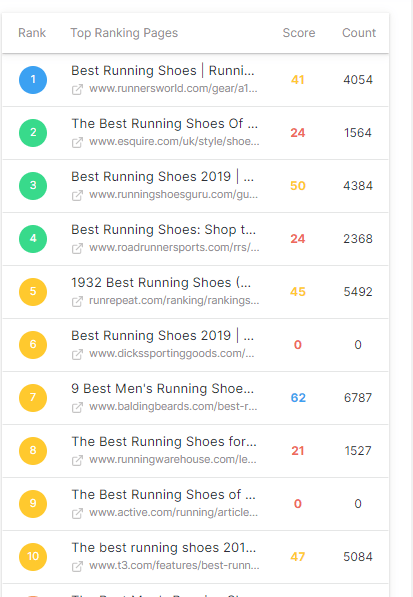 Now – this example clearly raises an issue. Why isn't "baldingbeards.com" ranking higher given their dominant content score of 62? Well, there could be a few answers to this:
Links Still Matter: While the overall importance of links as a ranking factor may be gradually phasing down in lieu of content quality indicators, they STILL MATTER. A lot. For example, Esquire.com probably gets by on their relative link advantage.
Overall Topical Relevance: I doubt whether BaldingBeards.com is a particular subject matter expert on running or shoes. Their topical subject matter expertise is probably in beards and beard care.
Content Efficiency Ratio: That's a lot of content relative to that content score. I'd venture that if ALL of these competitors wrote 6700 words, they would likely get a higher score. While LONGER content tends to score more highly, I would argue the "efficiency ratio" matters more.
RunningShoeGuru.com is a good example of a more efficient piece of content + relevant authority. They could probably up their score a bit to better compete with RunnersWorld, but I'd bet the key difference here is links and domain authority versus specific content marketing efforts.
Specific Ways to Use the MarketMuse Software Platform
There are really two main ways WE use the MarketMuse platform as part of our content strategy:
New Content Production: By including Content Briefs for our niche writers (or project manager), we can maximize the efforts of our talented content team. Content Briefs ensure that important concepts are covered. E.g. you can't effectively talk about the "best running shoes" without mentioning overpronation and underpronation. Probably a good idea to include a section on "pronation" in our buying guide.
Existing Content Optimization: Once we have 100+ articles live on a site, we like to go back and "80/20 rule" the content within striking distance of a meaningful ranking in Google. This could mean it's ranking in position #3, but we want it in position #2. It could also mean we have a tranche of content hovering on the top of page 2. We make sure to document the initial score, timestamp it, and then note the improved "optimized" score (so we can go back an evaluate later). In short, we are looking to IMPROVE rankings of existing content.
How NOT to Use MarketMuse?
Back in the "old days" SEOs used to keyword stuff articles in your niche, literally repeating sequences of words to rank higher. No need for a complex optimization tool. That worked for a while. Then it came crashing down (not really aligning to the end user experience, right?).
Similarly, while MarketMuse suggests phrases to include, this doesn't mean you just add them willy nilly (even if this might actually work right now).
How do we take this lesson to heart?
We typically evaluate our writers for 5-10 initial articles with MarketMuse, but BEFORE giving them briefs. We then compile the scores to create a quantitative "writer rating". Side note: sometimes our best writers are not the ones asking for the highest rates.
Once we have identified the NATURALLY great writers, we introduce MarketMuse to our Editing Team to refine and optimize their content as part of our Kaizen strategy. We rarely provide a brief up front to a writer BEFORE they have written an article.
Most writers are like artists. Asking them to follow a scientific data-driven processes, probably isn't conducive to the most engaging and authentic content in the context of the creative writing process.
Another way to think about it: If MarketMuse disappeared tomorrow, we would still want to know who are NATURALLY good writers are (some of them have been with us for 5+ years).
Ultimately, MarketMuse is a powerful tool, but only in the right hands. Simply hiring low-quality writers and then overlaying a MarketMuse filter SEEMS like it can work, but I wouldn't bet the farm on it.
What Could Be Better
Besides the pricing (more on that below), here are a few areas where I would love to see MarketMuse improve on:
Integrations with CMS Software: Ideally, a WordPress dashboard integration to help optimize content in one window. While you CAN copy/paste back and forth, it gets tedious, not to mention impractical if you have complex formatting. MarkerMuse DOES offer a fairly basic text editor within the tool.
Keyword Focused Opportunities: While the tool does do a good job of identifying topical coverage gaps and additional keywords to target (keyword recommendations), they aren't particularly focused on the business case of each client. E.g. an ecommerce store cares about different terms than an advertising agency or a review blog. While it's always GOOD to know where topical gaps are in an absolute sense, and you probably eventually want to cover every topic angle, it would be great to have a content inventory trigger/alert for specific types of keywords e.g. "promo codes" or "review" keywords in the most relevant topical areas. Basically, an AI powered keyword planner (or topical planner for content blueprints).
Rank Tracking and Change Detection: This is probably already on the product roadmap, but being able to MEASURE improvements and track keyword rankings on a site-wide basis would be an amazing additive benefit. Much of the main resistance to MarketMuse is the high price point and long-term contracts. If content marketers chould easily measure the data within the tool itself, the value proposition becomes self-evident.
MarketMuse Pricing
Ah, now the difficult conversation. MarketMuse isn't cheap. While they don't publicly list their prices, expand to pay a recurring fee of over $1000 + sign a long term contract (not month to month). Prices go up the more sites you keep in the "inventory". 2021 UPDATE: MarketMuse now lists their pricing publicly. Yay!
Even with the pricing tiers, it can still get pricey. That said, they do offer demos and free trials for serious prospects.
Bottom Line: make sure you have ENOUGH content to properly use on a monthly basis AND the team to implement it's powerful suggestions. Better yet, start with the basic Optimize Plan here to get familiar with the interface and graduate up if it works for your workflow.
Marketmuse Alternatives & MarketMuse Competitors
So what are the other good content marketing and SEO suites out there?
Surfer SEO Software
Surfer SEO is a relatively new tool on the market, newer even than MarketMuse. The high level bottom line here is that Surfer SEO focuses very closes on using AI to summarize the top results in Google and then present a variety of datasets to adjust or optimize content.
Where MarketMuse focuses more on topical modeling with a "secret sauce", Surfer is very much in the camp of on-page optimization (on-page SEO) using data-driven approaches to collecting search engine data.
I love Surfer for very specific use cases where you want to reverse engineer the competition. That said, it's not as user-friendly or intuitive as following a simple MarketMuse scoring system to improve content. It requires a smart operator to maximally leverage the data, with little in the way of suggested improvements or active analysis.
Still, it's one I have in my content marketing strategy toolkit.
BrightEdge Software Suite
Clearly, in the "enterprise search engine optimization" and content marketing category, BrightEdge offers a number of content optimization tools. The ContentIQ feature + DataCube offers a comprehensive content intelligence dashboard, analyzing many on-page content factors and crunching huge amounts of data. But overall, it acts more like a site auditing tool and less like a focused content optimization tool.
Finally, the price point puts it out of reach of many small to mid-size digital businesses and SEO agencies. Quite frankly, BrightEdge probably doesn't want my business because "content website portfolio" doesn't really fit any of their use cases.
Conductor Software Suite
Conductor is another massive dashboard solution that ALSO provides content strategy insights. Similar to BrightEdge, there are dozens of views and dashboards to slice and dice data.
For high-level recommendations, Conductor could be helpful for large brands. Again, there is no clear equivalent to MarketMuse here in terms of in-depth topical content optimization recommendations.
The price point again is probably prohibitive for many brands. Not to mention, the "feature creep" endemic in these big enterprise tools means that you will likely only use a few of the tools (e.g. not get your money's worth).
SEMrush (content analyzer)
SEMrush is a great "swiss army knife" tool. It can run technical site audits, competitor analysis, keyword research, and even do some basic TF-IDF (term frequency-inverse document frequency). In particular, their on-page content optimizer has an easy to use tool that highlights relevant terms to add based on your keyword input + live URL.
It's a great start and I personally have a SEMrush subscription, but not nearly as in-depth (artificial intelligence, advanced tuning AI platform) as MarketMuse and I primarily use it for site audit projects (backlink analysis, broken links, etc…).
Exclusive Offer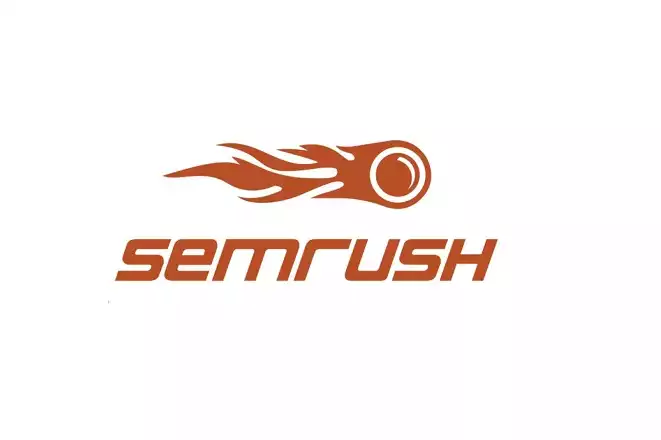 Get 14 Days of FREE SEMrush
SEMrush has generously offered our readers a double extended fully featured FREE TRIAL. Play around with the suite for 2 full weeks to see if it's what you need!
Activate FREE SEMrush
We earn a commission if you click this link and make a purchase at no additional cost to you.
Clearscope AI Powered Content Marketing Software
Clearscope is arguably the most DIRECT competitor to MarketMuse. Indeed, some of the views and features are almost identical.
The main draw with Clearscope is the pricing. At around $300 per month for the basic tier, Clearscope offers a month-to-month contract (cancel at any time) and a credit-based system where you essentially are capped in certain tiers based on "credits".
There are a few subtle differences – like the inclusion of basic search volume data (presumably from adwords keyword planner or SEMrush), readability analysis, bulk query functions, but otherwise the tools function similarly.
Jump down to see my full Clearscope vs MarketMuse thoughts.
Article Insights Content Editor

I'm keeping my eye on this one. Clearly it's a small operation, but it appears to use a basic (unrefined) AI source (IBM Watson maybe?), with similar optimization functionality. Like Clearscope, the data doesn't appear to be as robust or refined as MarketMuse, but it's probably better than what most content teams are using.
The main issue I have with ArticleInsights is that the interface is crowded and not very intuitive. It's also significantly slower than Clearscope and MarketMuse.
Still, ArticleInsights has a free trial period and seems to have some basic functionality available for free (indefinitely).
Frase.io Content Audit Software
Frase.io is a relatively new content optimization tool that features a similar style of optimization to MarketMuse.
Frase.io offers 5 core modules:
Question Research: Specifically targetting FAQ style keywords, this module pulls from sources like Quora, Reddit, and Google Search Console to suggest trending questions to include in your content. This is similar to the MarketMuse Questions application.
Content Briefs: Similar to MarketMuse, you can easily export a "content brief" for writers to utilize in their article research.
Content Creation: The text editor field provides an easy place to compose content and pull in relevant sources. Like MarketMuse, they aim to pull writers into their ecosystem.
Answer Engine: Not to be confused with the "Question Research" module, this is actually a unique ChatBot that acts as a navigating layer for users to be "guided" to the right content for their needs. This is quite innovative and not something that MarketMuse offers. It almost feels like a separate product, but DOES make sense in the context of providing "frictionless content discovery".
Content Optimization: This is where we spend most of our time. The core functionality is very similar to MarketMuse, with a topic coverage "percentage" versus a numerical content score. It's not readily apparent how much AI vs TF/IDF is in play here.
You can TRY Frase.io for free, up to 10 "documents" (across all the modules). After that, 1 Basic seat starts at $24.99/month, with a Growth tier at $99.99/month, Full Stack at $499.99 which unlocks the "answer engine" chatbot, and then customized Enteprise level packages if you need unlimited seats.
MarketMuse vs Clearscope
Here are some examples of Clearscope in action (using the same "best running shoes" query used in MarketMuse – so you can compare head-to-head):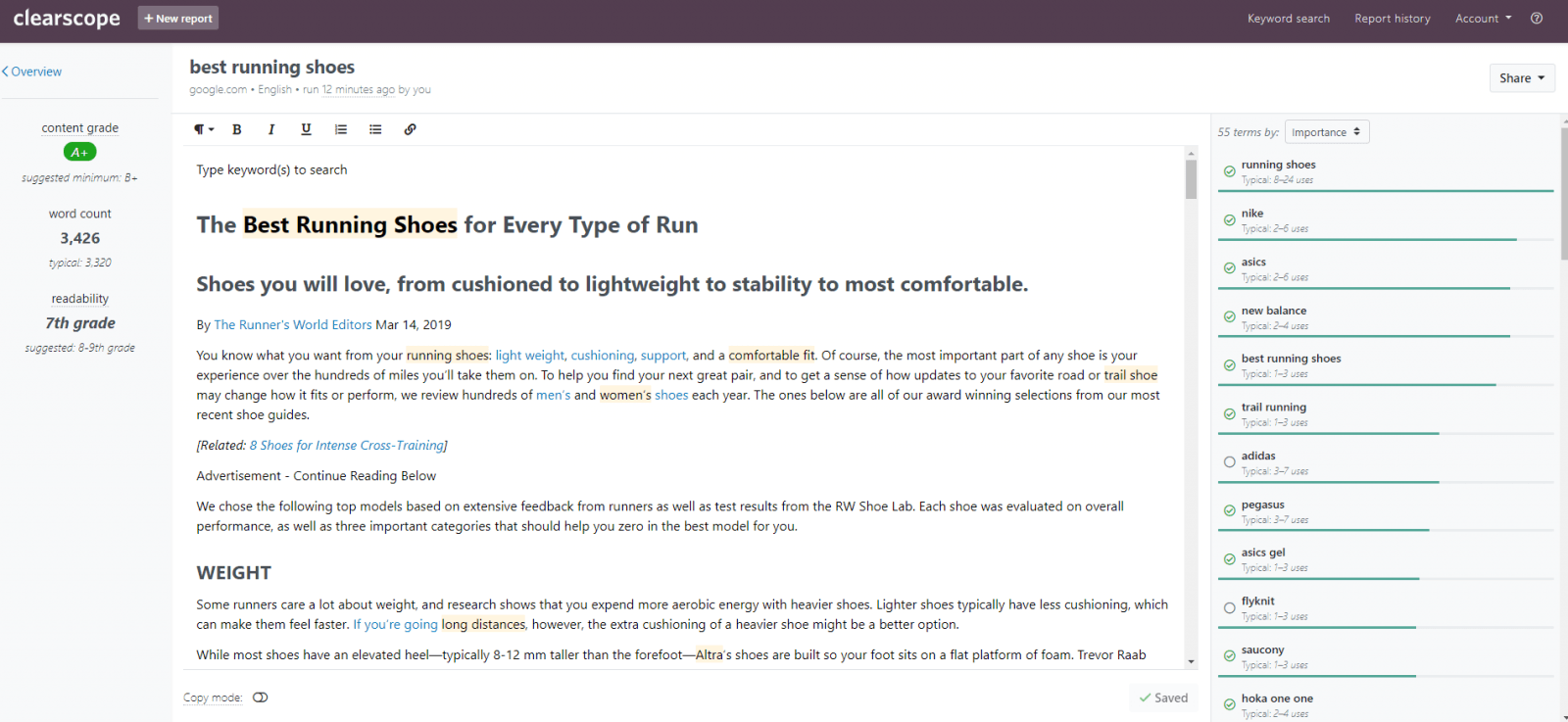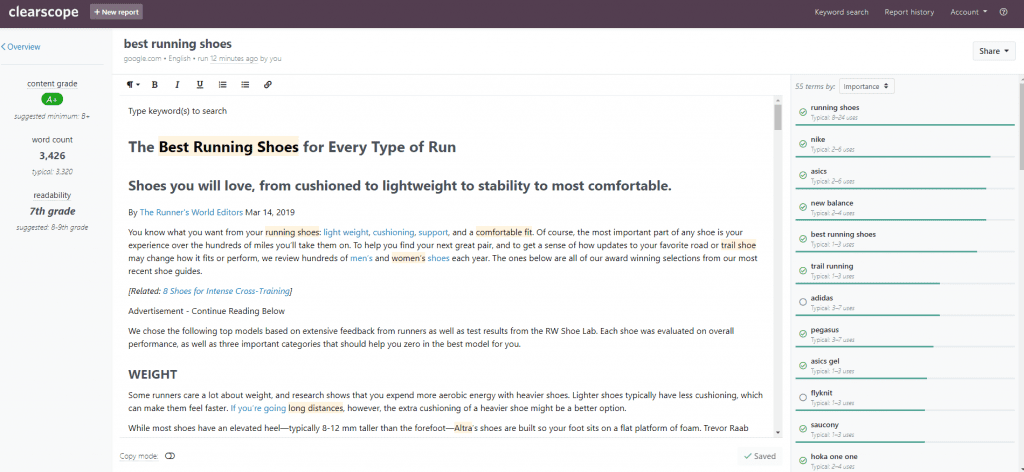 As you can see, the "Optimize" function appears similar to the MarketMuse view, with a few exceptions:
Letter Grades: Rather than numbers, you get a letter grade. It's sometimes nice to have it simplified, but why not just use a number? What happens if you are an A+ AND the top results are A+?
Readability: It's nice to see this added, but I'm unclear as to how this factors into the equation. What do I do with "readability"?
Topical Recommendations: As you can see, these appear a bit more "basic" than MarketMuse (for lack of a better word). For example, I would bet discussing the concepts of "Shock Absorption" and "Arch Support" (as MarketMuse recommends) matter more than repeating the brand name "Nike" and "Asics".
Similarly, you can see the Clearscope "compete" view below: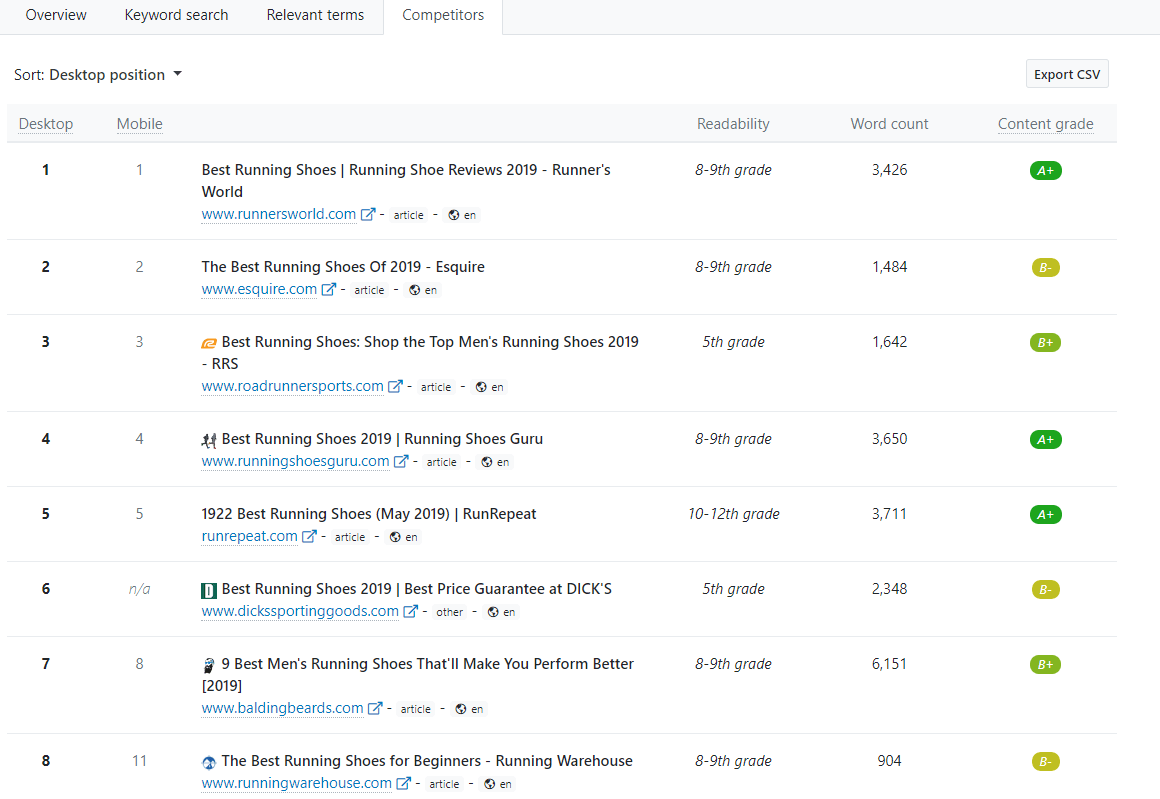 The main differnce here is the addition of the mobile vs desktop organic search index SERP ranks. On a search query with a Featured Answer Snippet (not this one), Cleascrope will also indicate as such. Both are interesting data points, but not necessarily actionable within the tool.
Using Content Services (that use MarketMuse)
It's worth noting that if you are on a limited budget, it might make sense to use a content service that subscribes to MarketMuse vs signing up yourself.
I'll update this section as I find more content creation services that use them, but here are the ones I know of:
Frequently Asked Questions About MarketMuse
How do you cancel MarketMuse?
MarketMuse typically locks you into an annual contract (can be paid monthly), so canceling can be difficult. Don't plan on paying just for a few months and then canceling…
Does MarketMuse have a free trial?
Not officially, although if you reach out for a sales consultation MarketMuse will likely let you test drive it for some specified period of time. UPDATE: They do now! Check out their free trial here.
Does MartMuse really work?
This really depends on your definition of success. I can say that after 3+ years of use, MarketMuse has helped us creative BETTER content, train our team to be better writers, and helps uncover further opportunities to optimize your content (and rankings in Google SERPs).
MarketMuse Review Final Word: Is MarketMuse Worth it?
For us, the answer really boiled down to 1) do we have "enough" content and 2) can we integrate it easily into our content process?
The answer to both – yes. We have over 30 different websites that leverage content creation and content planning in various ways. We also have a fairly systematic conduct production AND content optimization process, regularly revisiting "old" content to update periodically.
Bottom Line: If you can dedicate the budget to sign up for and USE MarketMuse, it's worth the money. It's not cheap. It still "hurts" to spend that much on a "tool", but it's simply the best content optimization tool on the market – a clear tier above the competition. UPDATE: If all of my drivel still hasn't convinced you, now you can just spend $79 to find out for yourself with their new cost conscious Optimize tier here.
Hot Take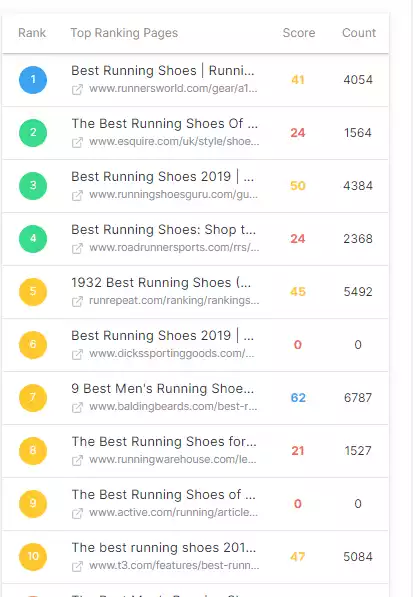 In a Rush? Here's my Take.
The knock on MarketMuse USED to be an opaque (and expensive) pricing structure. Not Anymore! It's all up front and you can get look under the hood for just $79. Don't be a cheapo.
Just Try it Out Already!
We earn a commission if you click this link and make a purchase at no additional cost to you.
As a pioneer for using machine learning and AI within content, MarketMuse has certainly established themselves as the leader of a brand new vertical. Still, as MarketMuse is relatively new player on the SEO tools block, IF you have experience or questions, please comment below!
Further Reading On Content Optimization & Search Engine Optimization Tools
Some of these options lean more towards the keyword research tool side, but definitely worth considering if you are on the fence: