Last Updated on January 23, 2023 by Ewen Finser
Looking to make the switch? I don't blame you. I've had a love/hate relationship with SEMrush for years.
On the one hand, it's the market leader for SEO tools. On the other hand, it's expensive and contains a lot of features I never use.
Before jumping in the deep end, here's my TL:DR on the top SEMrush competitors worth switching to…
Alright, but first things first… let's refresh on WHY you need a goo SEO tool in your kit.
Do you need a good SEO tool to increase website visibility?
The best SEO software can help you increase traffic, reduce bounce rate and boost overall visibility to your USP/offers.
It will help you do advanced keyword research, thorough competitor analysis, pop up hot SEO ideas, generate content marketing ideas and tips, analyze Pay Per Click (PPC) ads/campaign performance, and much more without much effort or initial investment from you.
Here's a quick primer (SEMrush review) on how SEMrush SEO works, just in case:
Perhaps you want to compare the SEMrush tool, have had enough of it, or just want a more advanced search engine optimization tool for your online marketing campaigns.
Spoiler Alert: Google Keyword Planner isn't going to cut it anymore… So, what are the best SEO tools similar to SEMrush? Here are my top alternatives to SEMrush: Here's my list at a high level
Moz Pro
Majestic
Ahrefs
Honorable Mentions: Long Tail Pro, Word Tracker, BuzzSumo. Here's my FULL analysis of each SEO tool…
SE Ranking is an excellent more affordable full SEO suite replacement for SEMrush.
SE Ranking also happens to be one of the fastest growing challengers in the SEO tools space (350,000+ users so far), with an SEO software toolset that's remarkably similar to the leading incumbents.
First off, it's all cloud-based, meaning there's no need to download clients (in this way it's very similar to SEMrush).
The SE Ranking suite also features a robust rank tracking functionality, with a super helpful "monitor changes" view to isolate issues for further SEO analysis.
If you think keyword research might suffer, SE Ranking pleasantly surprised me with 2 billion+ keyword data sets and a similarly easy to use keyword research tool and competitor research utility as SEMrush.
Best of all, the starting monthly cost for SE Ranking is just $39/month here, a much cheaper alternative to SEMrush, Ahrefs, and the "big" SEO tools.
Side note: I've noticed many of my peers also switching to SE Ranking from Ahrefs in light of their unpopular pricing changes.
Similar Features of SE Ranking
Keyword rank tracker
Website audit
On-page SEO checker
Backlink Checker
Backlink Monitoring
Keyword Suggestion Tool
Keyword Grouper
Page Changes Monitoring
Marketing Plan
SEO/PPC Competitor Research
White Label
Lead Generator
SEO Reporting Tools
API
Social Media Management
Further Reading on SE Ranking:
This advanced, yet easy to master SEO tool has been around for 12 years—similar to SEMrush. During that time, SEO Powersuite has developed a bevy of useful search engine optimization tools you can use on one dashboard.
Why Choose SEO Powersuite:
You will get the top four SEO tools you can get with a SEMrush plan:
Advanced keyword research tool —unlimited organic keywords for 329 search engines
Competitor site analysis—compare up to 10 competitors based on serp ranking, backlink checker / referring domains, and content factors
Rank analysis
Broken link checker
Optimize your link building strategy with inbuilt link analysis tools
Use several on-page and off-page SEO tools to optimize your white hat SEO campaign (site audit)
Here's a video highlighting how SEO Powersuite works in more detail:
And here's a shot comparing SEMrush to SEO Powersuite, head-to-head:


SEMrush vs SEO Powersuite One of the best SEO Powersuite features is the ability to track links and black hat link building (backlink) techniques that might hand you a Google penalty—even when you thought you were doing everything right.
SEOs will like it that they can get bounce rate data and traffic stats (search volume) for each seed keyword, related keyword, keyword idea or keyword suggestion. The SEO software provides several visual reporting tools that are easy to understand and inform decisions. Those reports can be easily emailed or printed out as well as uploaded to the web.
You'd have to upload to the web because SEO Powersuite is a desktop based SEO software solution—compatible with Windows, Mac, and Linux. You need to download it to every computer you need to use it on, and some SEM marketers will not like that. However, SEO Powersuite pricing might offer reprieve compared to SEMrush pricing.
You'd get lifetime access to SEO Powersuite full features as opposed to a premium monthly subscription when you choose SEMrush.
View the Latest SEO Powersuite Promos Here
Further Reading: SEO Powersuite vs SEMrush Compared
This is a powerful, top SEMrush alternative for several reasons.
One of them is the fact that on top of advanced keyword research tool, thorough competitor site and PPC campaign analyses, you can use SpyFu to reach out to your niche influencers and boost your content's outreach drive—something akin to BuzzSumo if you are already using it.
Why Choose SpyFu:
Another reason is it offers expert-level research data, analysis and reports. That means you can go beyond comprehending simple site SEO audit and serp ranking seo metrics (keyword position, etc…) and data to really digging in to find marketing segment-specific data, have it reported to you in graphs and other visuals you can easily interpret in real-time, so you can make informed decisions.
However, SpyFu's strength is in its SEO competitor analysis tool—as its "spy" bit screams out loud. Almost everything you do with SpyFu will be benchmarked against your competitors—at least three of them.
For example: Take the Negative Match feature which will help you find the most profitable keywords and keyword suggestions based on sources such as Google AdWords data. To do this, the SaaS solution will run your keyword ROI against your competitors' before it can advise you to drop keywords it deems unprofitable. Overall a great value for the SEO effort.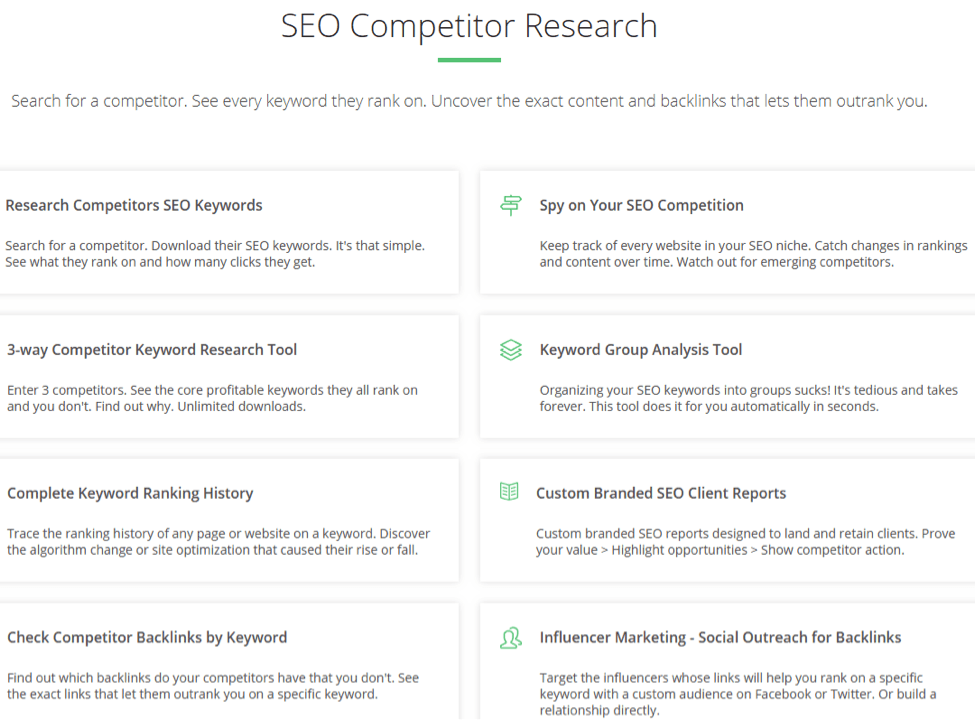 You can also go back in time to test how an ad has performed ROI-wise in past years, so you can decide which ad tactics work and which ones could be a little riskier to try out.
Also, their Keyword Grouper tool will allow you to paste a bunch of keywords copied from a third–party source. It will rearrange the keywords on your behalf almost immediately, saving you time and effort.
And in case you need expert help learning SpyFu features and benefits, they have a 200-video tutorials library you can help yourself out to.
Yet, if backlink analysis is important to you, SpyFu does not offer it. They also base their databases in the UK and US, making them limited to digital marketers researching other markets.
Otherwise, you can try it out for 30 days, free of charge (free trial) and decide whether you'd like to start out with their $33/month (billed annually) membership plan.
Further Research: SpyFu vs SEMrush Comparison
PPC and SEO professionals will appreciate Serpstat most for several reasons. Like other SEMrush alternatives here, they provide thorough keyword research (keyword planner module), referring domains tracking and analyses, site auditing and ad campaign performance.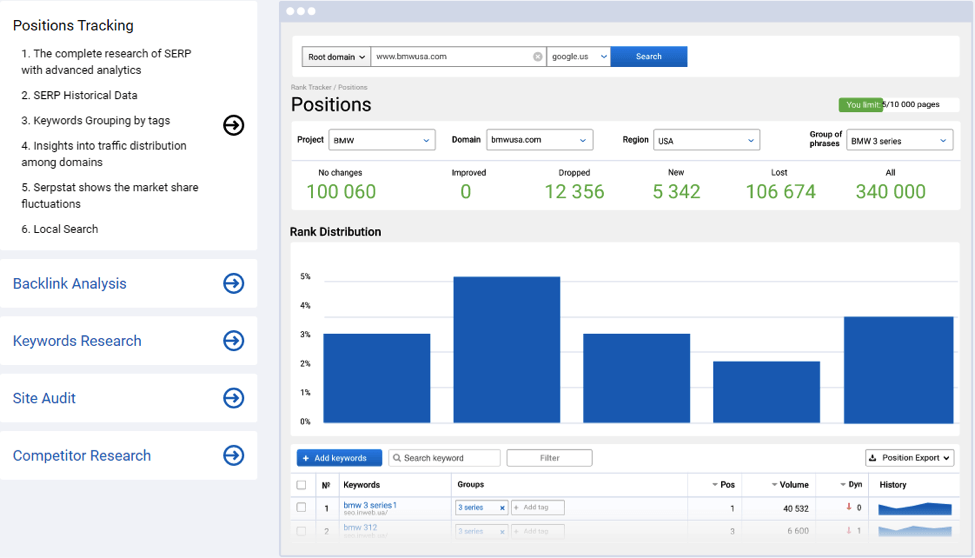 Why Choose Serpstat:
It is easy to learn and master Serpstat while on the job, so even starters can get started and start experiencing benefits in no time. In case you need more expert help to get things done on your own, their Academy section will help you learn how Serpstat works.
The Serpstart YouTube channel also hosts a decent number of videos to guide through their dashboard and different features and benefits.
However, here is an independent video review of Serpstat by Craig:
If you do not mind the content marketing crumbs in it, here is a more in-depth Serpstat tutorial from the company itself:
Unlike SEMrush, this SEMrush competitor offers up to eight pricing plans, so you can start out with them, test their SEO and SEM tools, and choose to grow with them by upgrading or downgrading to any plan whenever the need arises.
If you prefer an SEO and SEM tool with support for a keyword research API, Serpstat will start you off with a Serpstat API at the $69/month plan. That way you can go ahead and customize your keyword research strategy based on what you like and find easier to work with (costs $150 for 1 million units, which $349 cheaper than a similar API plan from SEMrush). However, it does not display video ads.
View the Latest Pricing and Promos on Serpstat
Further Reading: Full Serpstat Review and Serpstat vs SEMrush Compared
Like SEMrush, Raven Tools is targeted at both SEO and SEM professionals. Also, it comes with a social poster and social media analysis tool—like SEMrush does. From deep competitor analysis reports, site auditor, backlinks analysis and AdWords reporting, both have a lot in common—not surprising considering both start out at the same price point of $99/month as well.
Why Choose Raven Tools:
A special feature of Raven Tools is that it pulls data from other premium SEO tools online to develop well—informed reports you can use to make better SEM and SEO strategies. Those sites include Moz Pro, Majestic, Open Calais and Google AdWords (Google Ad data).
It integrates with up to 20 credible data sources including your preferred social media channels, Google Analytics, and Google Search Console (search console)
Compared to SEMrush, the Raven tool is a better backlink checker, backlink analysis and research tool. It can research up to 50,000 backlinks per site compared to SEMrush's 10,000 per site. And it will also automatically generate reports for you and your analysis team. However, you can only track two search engines compared to up to 29 when using SEMrush.
Here's a sneak peek of what to expect with campaigns: (ignore the marketing language):
And a more detailed Raven Tools demo:
Better yet, you can sign up for a 14-day trial to test Raven Tools here as opposed to the 7-day free trial period offered by SEMrush.
Further Research: Raven Tools vs SEMrush Comparison
There is Moz Pro and then there is the Moz version. The former is a robust, all-in-one SEO analysis and SEM tool that is much similar to SEMrush than the latter version. While it is pretty similar to SEMrush, there are clear differences between the two as well.
Why Choose Moz Pro:
Here's a quick Moz Pro vs SEMrush shot for comparison:


The most popular SEO and SEM features are the Open Site Explorer, Keyword Explorer and Moz Bar. The latter is a handy browser extension you can use to analyze websites' keyword ideas, link building techniques, and on-page seo metrics (on-page optimization) you can use to grow your own visibility and traffic.
For example, using Open Site Explorer for researching a backlink profile:
Moz Pro uses the combination of Domain Authority, Page Authority and On-Page Grader features to help you find areas you need to improve on to rank higher against your competition in Google (competitor analysis) —and meet your own SEO and SEM goals based on your domain authority score, on-site issues and so on.
Also, you will get a comparison report to show you how your domain and page authority metrics stack up against your competitors. You can expect to receive weekly reports and be a part of the Moz online community famous from the Moz blog post section, Rand Fishkin's Whiteboard Fridays, and online forums.
With a Moz Pro subscription, you will also be receiving discounts on Moz Pro seminars. Still, if you want customers to find your local business, it has Moz Local to help you optimize your keyword ideas and local search ranking to pull in the business. Again, if you are comfortable with APIs, the Mozscape API is available for you:

Moz Pro provides a 30-day trial period during which you can test it out and decide if it is the best SEO and business intelligence tool for your needs. Note: Moz is also used by many keyword research tools for accurate keyword difficulty scores.
Like SEMrush and the top SEMrush alternatives on this SEO tools guide, Majestic will help you track what your SEO competitors are doing right, discover profitable keywords in your niche, and point out on-site issues you can improve on. That way, you can build your domain authority, improve visibility and attract more visitors to your site(s).
Why Choose Majestic:
Having said it is an all-in-one SEO tool for SEM and SEO practitioners when you really get into using it, you'll realize it more biased towards link building.
All-in-one SEO software solutions get bashed for being jacks of all trades and masters of none. So if you are looking for a thorough link building tool, then Majestic could be what you are looking for.
Using Backlink Profile History, you have the power to compare the backlink histories of up to five competitors. You can see how they have managed to grow their traffic and search volume over time using white label methods. That means you can follow the same techniques to gain more and higher-quality inbound and outbound links as well.
Also, you will learn from the reports Majestic generates, how to avoid Google penalties or linking out to low-quality sites that can mess your brand reputation. Still, you can use the inbuilt bulk backlink checker to upload a bunch of links from a third-party source in one go. It will analyze the website URLs for you and bring up the respective metrics up for your analysis.
Want to see Majestic in action? Here's a step-by-step Majestic tutorial and review:
This is another all-in-one SEO tool for online marketers keen to boost their SEM and SEO strategies to increase traffic and grow their outreach hence businesses.
Ahrefs and Moz Pro are usually bunched together. The thinking is that both Ahrefs and Moz Pro work alike, but this is not true—not really.
Why Choose Ahrefs:
Take a look at how they compare as top SEMrush competitors:



While a younger competitor to the two, Ahrefs is nowhere near frail when it comes to the most important SEO tool features and benefits, including it's own Ahrefs Site Explorer. For example, Ahrefs will allow you to do thorough on-page SEO and backlinking analyses on a competitor's website as well as on your own site.
In fact, they boast of having one of the largest live backlink monitoring indexes in the business. And they are always updating their index, which is great. You can analyze over 100,000 pages for quality link building.
You can then catch the little on-site SEO issues that are failing your link building strategy and keeping you behind your competition via competitor analysis.
The platform provides you with the reporting tools to make it easy to interpret the numbers and a basic serp rank tracker to get alerts on important keyword movements in search engines (you can even track competitor keywords in a similar way).
That way, you can fix issues that might result in Google penalties, being blacklisted on some sites and/or linking to sites with poor reputations, which can hurt yours.
Ahrefs also has starting building out a very competitive site audit feature set with robust sitewide content analytics. It's still not quite at the level of SEMrush, but it's getting there. That said, many SEMrush alternatives also make great Ahrefs alternative options, too.
Note: Ahrefs also has a keyword difficulty scoring system that is considered fairly accurate within the "middle tier" of keywords. In other words, it's best for fairly competitive terms, but not super low competition keywords (it assigns a lot of "0" values on the KC score – stands for keyword competitor).
UPDATE: While some search engine optimization tools have duplicate content checkers, finding keyword cannibalization is a different story. The best method I've found is actually using Ahrefs with this approach (hat tip: Joshua Hardwick).
Here's how Ahrefs works for more details:
Further Research: Ahrefs vs SEMrush Compared
SEOprofiler is an internet marketing software tool, helping businesses achieve higher rankings on search engines like Google and Bing. Since the year 2000, the company has provided internet marketing solutions to almost 160,000 happy customers.
SEOProfiler includes a robust built-in keyword rank tracking module and keyword tracking (included – not a separate charge), site auditing, backlink audit, overal visibility scoring, and in depth keyword research. With SEOprofiler, you will benefit from over 249 million keywords. The determining factor for your success is the keywords you choose with the keyword planner (keyword analysis).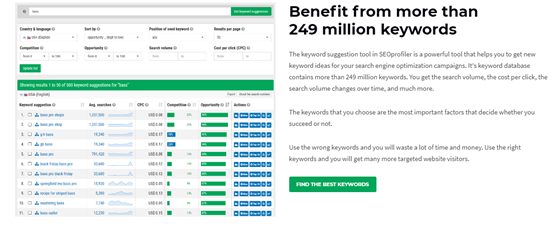 The website audit tool in SEOprofiler ensures that you get higher rankings by removing website errors. It also improves the user experience.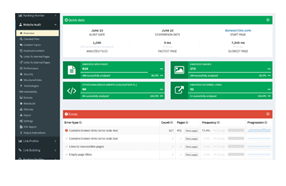 The website audit tool automatically checks all the important elements to enable such engines to index your web pages correctly. It checks spelling mistakes, duplicate content, security settings and more. This tool also optimizes your internal links.
SEOprofiler also has impressive features and tools that will take your business to the next level. If you're still undecided at this point, take advantage of the free trial on offer by each tool to make the decision easy.
View the Complete SEOProfiler Pricing Plans
Further Reading: SEOProfiler vs SEMrush Compared
Honorary Mentions:
A worthy SEMrush alternative, LTP is also a decent choice for search, both SEO and SEM campaigns, particularly with uncovering hard to find long-tail keywords with lower keyword difficulty. Wondering how Long Tail Pro SEO tools work? Here is how:
Check out the Latest Prices and Promos on LTP
Here is how Wordtracker works:
BuzzSumo does more than help you find influencers and share your content on your social media platforms. BuzzSumo is a great tool for discovering trending topics before they become mainstream content marketing fodder. See BuzzSumo keyword research tool, content discovery and "mentions" tools in action:
Other Search Marketing Contenders:
Final Note: Alternatives to SEMrush
These SEO tools all offer advanced keyword research, competitor analysis, site audit, rank analysis and related data, analytics and competitor benefits to SEO and SEM specialists. But anyone from freelance SEO experts to SEO and search engine marketing agencies can use them to grow their visibility online, attract organic traffic (search volume) and build authority in their niche.
Having at least one of these tools is critical to a robust digital marketing strategy, no doubt!
While most of the features are common between them, both SEMrush and its alternatives have unique selling propositions that make each one a better choice for different businesses and SEO needs.
Have a powerful SEO tool that you use and are ecstatic about sharing with your fellow marketers here? Over to you in the comments section below.
Bottom Line Summary: If you need a FULL SEO suite (like SEMrush), but at a much better cost I would personally go with SE Ranking here. However, if you primarily need to do backlink analysis, SpyFu is the clear choice. If your focus is just on accurately tracking progress, Serpstat has the best rank tracker and if you just need site auditing & offline access, SEO Powersuite is the way to go.
Further Research on SEO Tools
Here are some additional pieces we've published, related to the tools discussed in this article: