Last Updated on April 22, 2023 by Ewen Finser
SEO remains a vital aspect of any successful online marketing strategy. In fact, as many as 68% of all online experiences begin with a search engine.
The moral of the story is?
Unless you rank high on the first page of popular search engines, your content might never get viewed by organic visitors. You don't need me to tell you that the more visitors, the higher your chance of profitable conversions.
However, I know first-hand that improving your SEO is challenging without the right tools. Keywords and backlinks play an incredibly huge role, and the right software can tell you which keywords you should try to rank for. This, in turn, provides you with the info you need to create a more effective SEO strategy.
SE Ranking vs Mangools are two such SEO tools that allow you to perform keyword research, monitor backlinks, and analyze competitors.
So, in this review, I'll compare the two to help you decide which (if either) is better for your business.
Let's get started!
Bottom Line Upfront
I have to say that SE Ranking and Mangools offer very similar features at comparable prices.
However, I think SE Ranking offers a few additional B2B and social media management features, which some businesses may find helpful. In contrast, I believe Mangools is the more intuitive option and provides a great user experience and more transparent pricing.
To find out how I came to this conclusion, read on for a more in-depth analysis of both SE Rankings and Mangools:
SE Ranking vs. Mangools Compared: The Similarities and Differences
If you're here for a quick overview of how SE Rankings and Mangools are similar and different, I've got you covered. So let's take a look:
How They're Different
SE Ranking offers a white label interface, whereas Mangools doesn't

SE Ranking's pricing is more complex and flexible, whereas Mangools follows a simple tiered pricing structure.

SE Ranking comes with API access on its most expensive plan. Whereas, Mangools grants API access on individual bases, with custom pricing and documentation depending on your request.

SE Ranking offers a broader range of features, making it more complex than Mangools. Whereas, Mangools sticks closer to the SEO basics.
How They're Similar
Both providers offer keyword searches by country, region, or city.

Both come with backlink research tools.

Both provide competitor analysis features.

The starting prices are similar, and both offer three premium tiers.

Both offer a free trial. Mangools trial is ten days, whereas SE Ranking is 14.
About SE Ranking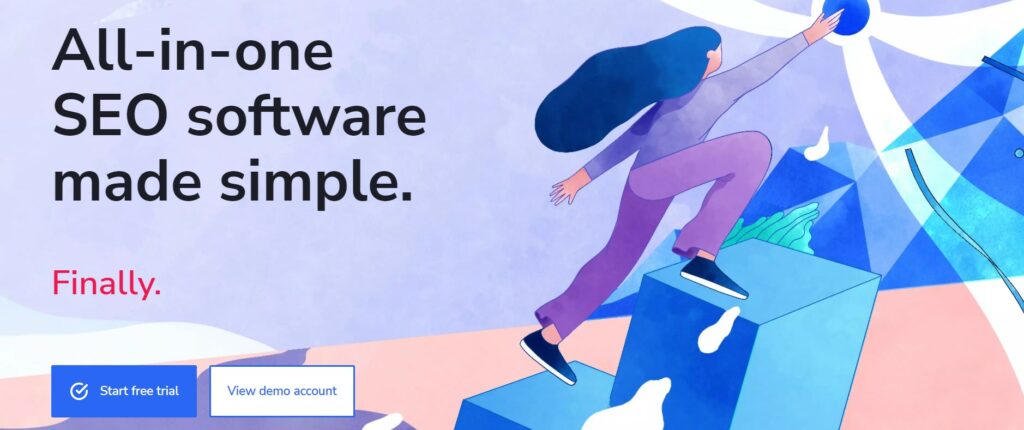 SE Ranking is an all-in-one SEO software suitable for anyone of any expertise. It's used by over 600,000 users and boasts stellar reviews and accolades across the web. For instance, SE Rankings won Best Value on Capterra in 2021 and has a 4.8 star ranking on G2 from over 1,000 reviews.
SE Ranking says they provide every SEO analysis and marketing tool you'll need, with accurate keyword and SERP tracking across your chosen country/region/city. In addition, you can perform competitor research and in-depth website audits, check backlinks, and monitor page changes across your and your competitors' sites.
About Mangools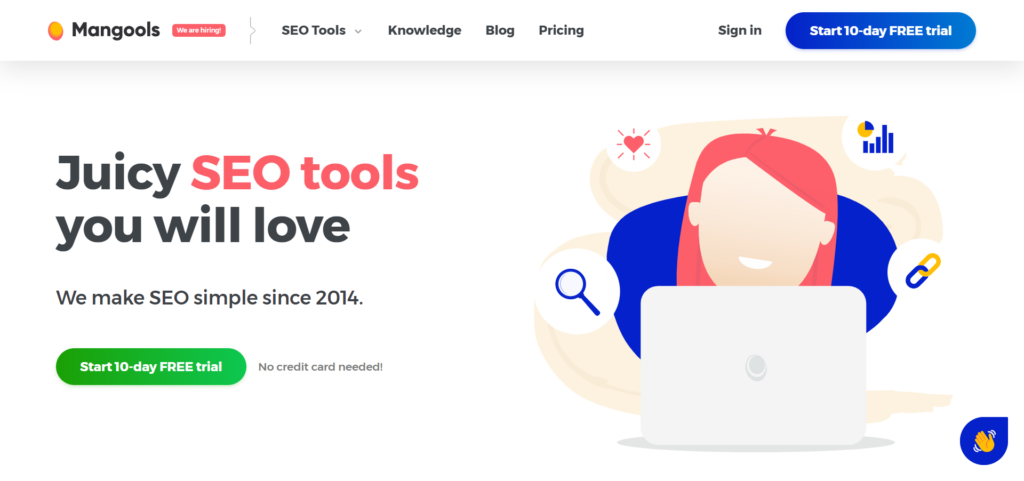 Mangools focuses on providing a great customer experience and an intuitive interface. Their journey started in 2014 when the team launched their first version of the KWFinder. The brand later began developing tools like the SERPChecker.
Finally, it brought it all together to form what we now know as 'Mangools' in 2016. They've innovated their service every year and added new tools and features.
Mangools helps online businesses find the right keywords for their SEO and marketing strategies. It digs into search engine results to tell you exactly where you rank for thousands of locations, including varying cities and countries worldwide. In addition, it helps you find backlinks and observe your competitors so that you can follow their success and learn from their mistakes.
Today Mangool comprises five tools packed into one easy-to-use UI, complete with a support team of SEO experts.
SE Ranking's Features
SE Ranking covers the majority of features Mangools has to offer and some others. It separates its tools into SEO Tools, Competitor Analysis Tools, B2B Features, and Social Media Management. Below, I'll take a look at each in turn…
Keyword Tools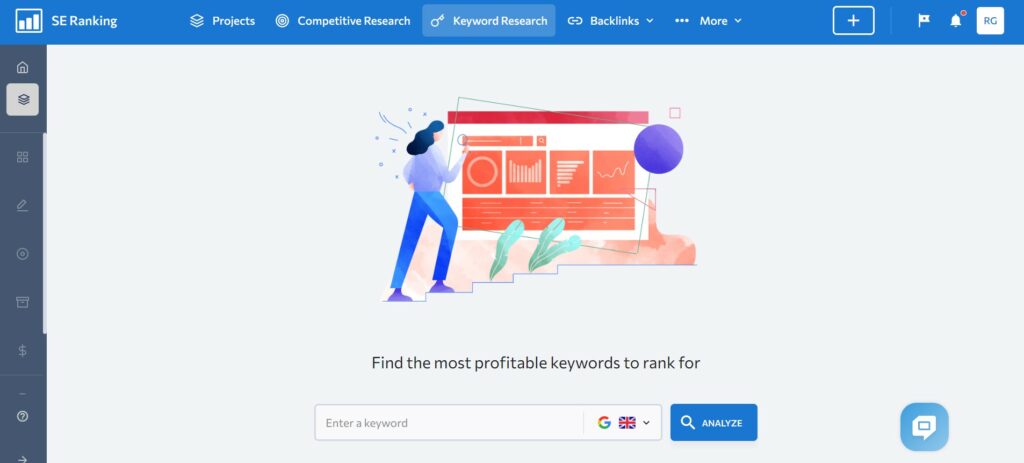 I like that you can use this tool to track keyword rankings across any location, search engine, and device. You can also keep an eye on competitors for your target keywords and analyze the top 100 search results for any keyword.
On top of this, you can expand your keyword list with similar, related, and long-tail keywords. Plus, identify which keywords competitors target in organic and paid search and analyze each keyword against major SEO parameters. Like Mangools, this keyword research tool also lists how difficult it will be to rank for each keyword.
Backlink Tools

Dive deep into any site's backlink profile. You can analyze referring domains, linking pages, and anchor texts. You can also measure the value of each backlink and learn where competitors are getting their backlinks from. In addition, you can monitor new and lost backlinks over time and quickly identify and disavow bad links. You'll also receive notifications if any backlinks change.
Competitor Research
You can view competitors' website traffic across organic and paid campaigns, compare your keyword list to your rivals, and learn of SERP newcomers in your market. You'll also get a list of your competitors' target search queries and can analyze them against crucial parameters.
For example, search volume, position, difficulty, estimated cost per target keyword, etc.; I like that all of this information can be intuitively represented in graphs. A handy timeline of website traffic also shows how algorithm changes impact your competitors' websites on Google.
Website SEO Tools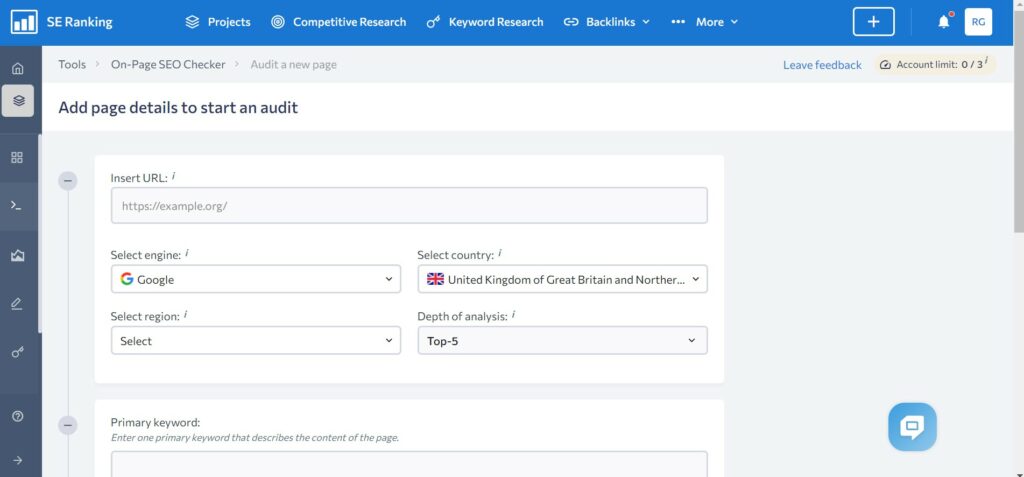 Here is where SE Ranking offers a few extra features that Mangools doesn't. For starters, you can create website audits that identify minor issues with your site that might hold it back from the top rankings. The software then suggests actionable fixes so you can quickly improve. Finally, you can compare audit reports for your site to learn what did and didn't work.
The On-Page SEO Checker also provides a detailed report on how well each particular page is optimized. This reviews components like usability, description, content, URL, media, SEO, and title.
Finally, you can monitor page changes over time. This automatically tracks the status of important competitor pages and notifies you of meaningful content or SEO updates. That way, you don't have to keep checking in manually.
Client and B2B Features
Suppose you're an SEO agency working with clients or want to present a branded interface to sell your services to other businesses. In that case, you'll be pleased to hear that you can white label SE Ranking to reflect your brand. You can also quickly build custom reports concerning your SEO progress to share with your team, partners, shareholders, and customers. You can send reports manually or automate a report schedule.
You can also share guest links with different access levels to permit teammates and clients to collaborate with you.
Social Media
You can integrate your SE Ranking account with your Twitter and Facebook profiles to monitor your social media success automatically. For example, you can review your sales rate, traffic, and engagement. You can also use the software to auto-post social media content – with just a few clicks; you can plan and schedule your content.
Mangools: Features and Services
As I've already said, Mangools and SE Ranking provide a similar core set of SEO features. This includes keyword, competitor, and backlink research tools and SERP tracking.
Let's start with Mangools, which I think has the more straightforward and more intuitive set of features available:
KWFinder for Keyword Research
Mangools' Keyword Finder enables you to discover long-tail keywords with ease. You can search by keyword or domain and define a location by country, region, or even city and language to explore.
The Keyword Finder then informs you of vital metrics for your keyword search. This includes search volumes, top-ranking URLs, keyword difficulty, ranking position, and more. You can also review the search volume history of a keyword to observe trends over time.
This allows you to pick keywords that are easier to rank for but still boast high search volume so that you can start focusing on optimal keywords to target.
I think Mangools' KWFinder stands out because of its breadth of features and ease of use. The interface is straightforward to navigate. I also love that you can filter out keywords that aren't profitable and search for hundreds of keywords in one request with its bulk-import tool. Finally, you can also organize keywords into lists and save the most desirable result to refer back to at a later date.
SERP Analysis with SERPChecker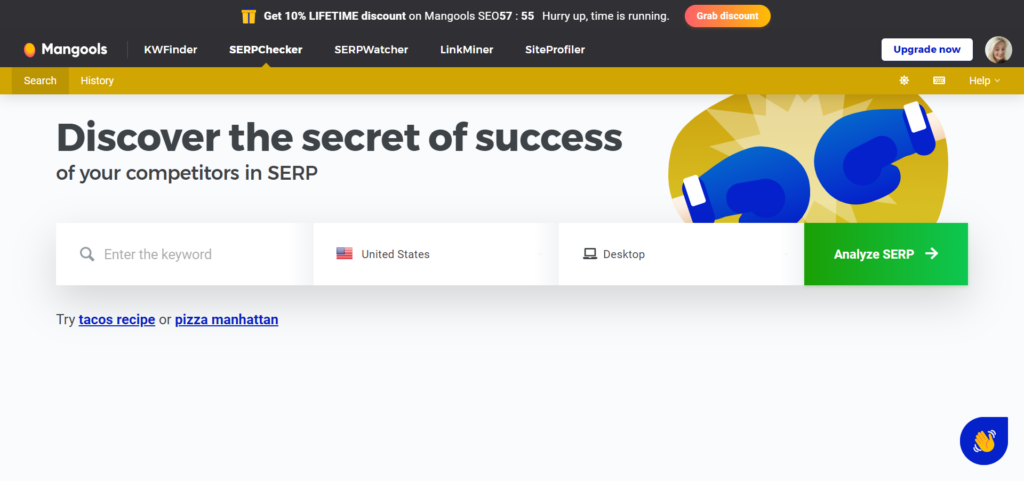 The SERPChecker functions similarly to the Keyword Finder. But instead, it focuses on finding weak spots in your competitors' content. Enter a keyword, region, and the user's viewing device to review a range of metrics. For instance, the number of results for each keyword, ranking difficulty, and the authority of the sites currently ranking highly for said keywords.
The tool even calculates the impact of rich snippets on the results, like carousels, answer boxes, and feature snippets. It also lists whether your competitors have referring domains or IPs, Facebook shares, external backlinks, citation flow, etc., to help you see at a glance what works for their site so that you can put a similar plan into action.
SERPWatcher – Track Your Ranking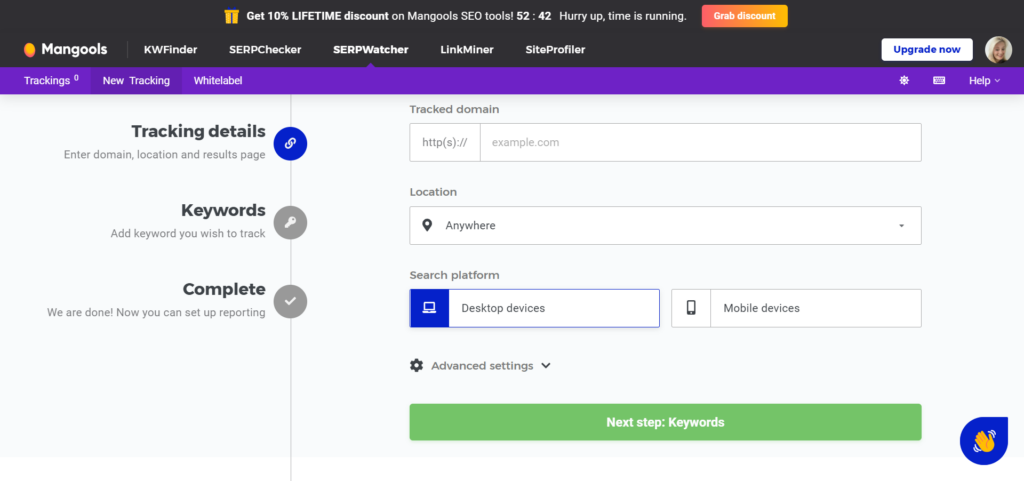 The SERPWatcher allows you to monitor your rankings over time. First, you decide which domain to track, and then you can review its performance index per week, month, or year or decide on custom periods. In addition, you can check estimated visits, top keywords improving in rank, keywords that dropped in popularity, and their changes over time.
Reading the performance graph and seeing whether you're on the right track is effortless. In addition, you'll get daily ranking updates so that you won't miss anything.
Finally, you can share ranking reports with clients and teammates with a direct link.
LinkMiner – Perform Backlink Analysis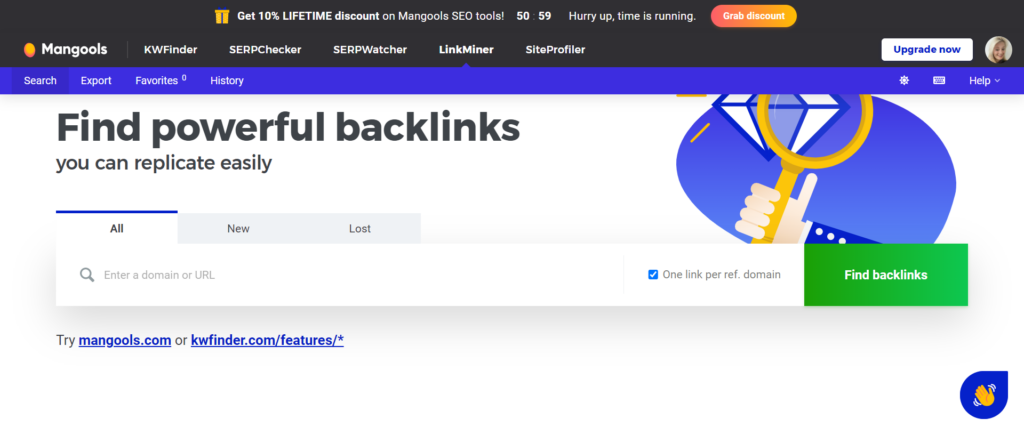 You can check for new and lost links with the backlink checker tool. In addition, you can quickly review how many active backlinks a domain has, how this has impacted its citation and trust flow, and exactly where each backlink comes from.
You can use this on your own site or your competitors to identify URLs that might wish to participate in a link-sharing collaboration. You can save your best backlink finds into a list to refer back to them whenever necessary.
SiteProfiler – SEO Metrics and Insights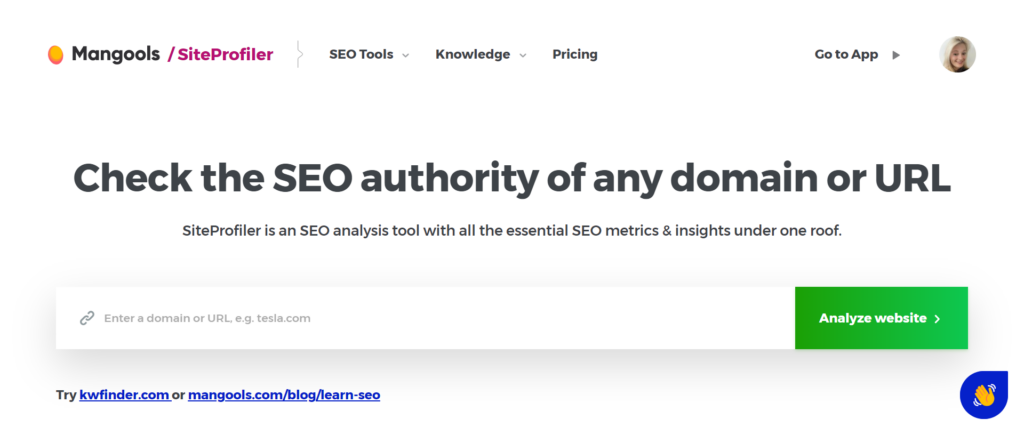 The final tool Mangools offers enables you to check the SEO authority of any domain or URL. This lists the target page's domain and page authority, citation flow, trust flow, and more. For example, referring IPs, Facebook shares, and Alexa ranks. You can also easily browse a URL's backlinks, top content, and competitors from here.
I think this is brilliant for anyone looking to develop new blog content ideas! The SiteProfiler also makes it easy to benchmark your URL against others to compare at a glance.
SE Ranking vs Mangools: Pricing
The goal of any SEO tool is to help you improve your rankings to win more conversions. Therefore, when evaluating pricing plans, you must ask yourself, will this platform generate a high ROI? With that said, I've listed the costs of SEranking and Mangools below.
SE Ranking's Pricing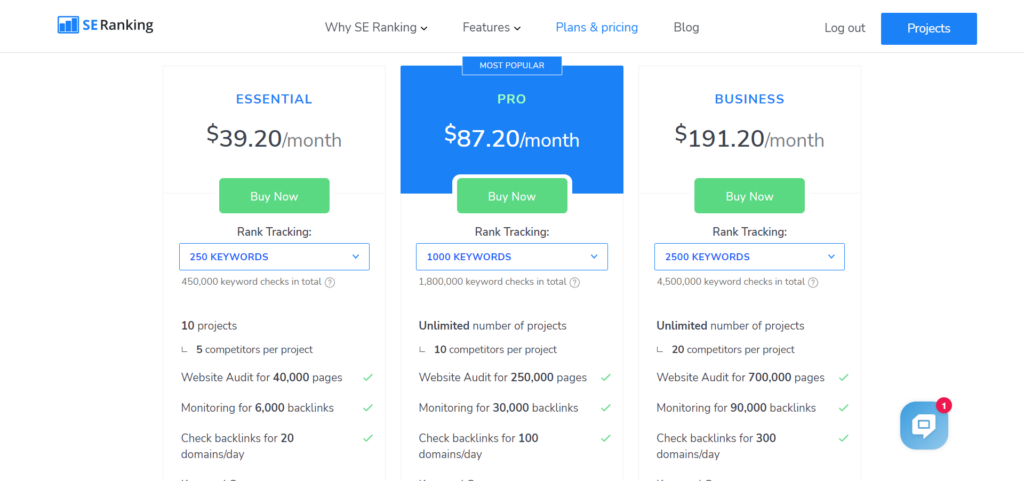 SE Ranking's pricing model is complex, but it offers tremendous flexibility, allowing you to pick a plan that suits your needs. There's also a 14-day free trial, where you can check out what the tool offers before you commit.
Pricing depends on three components:
The premium plan of your choosing

The subscription term (i.e., whether you pay every month or every three, six, nine, or 12 months for savings up to 20%)

How often SE Ranking checks your rankings – you can opt for daily checks or have the software check every three or seven days. Only studying ranks once a week presents a further 40% saving.

How many keywords SE Ranking checks for – This, in turn, depends on the plan. Understandably, the price increases considerably with the increasing number of keywords checked for.
Below, I've outlined the cheapest possible pricing on annual billing, with once-a-week rank checks. Under these conditions, the Essential plan costs $23.52 per month for 250 keywords.
This includes:
Auditing your website for 30,000 pages

Ten projects (A project allows you to group several relevant searches together). You can monitor five competitors per project and monitor up to 4,000 backlinks.

Check backlinks for up to 20 domains per day.

Competitive keyword research with 100 reports per day and 1,000 results per report

The keyword manager lets you create keyword lists and receive up-to-date metrics on search queries and monitored search results. On this plan, you can make 20 lists with up to 1,000 keywords per list.

Ten on-page audits for your own website

One user seat (I.e., you can only sign up one user.)

The ability to generate custom SEO reports

Social media analytics and management tools, like automatic scheduling, keyword research, and social media analytics
At its lowest price, The Pro plan costs $52.32 per month for 1000 keywords. This increases all the limits imposed on the Essential plan so that you now get:
Unlimited projects with ten competitors per project

Website auditing for 150,000 pages

You can check backlinks for 100 domains per day.

Monitoring for 20,000 backlinks

5,000 reports per day and 50,000 results per report for competitive and keyword research

Expand your keyword database to 10,000 keywords. (SE Ranking comes with its own database of keywords, but if this doesn't cover the keywords you're interested in, you can add up to 10,000 custom keywords).

Monitor up to 100 page changes (to quickly stay on top of competitors changing their page and strategy)

Up to three user seats

You can white label the software.
Finally, the Business plan for a minimum of $114.72 per month for 2,500 keywords pushes the restrictions even further; it also includes:
Monitoring for 250 page changes

10,000 reports per day and 100,000 results per report or competitive and keyword research

Access to the API

Up to ten user seats

Keyword database expansion to 25,000
As you can see, SE Ranking's pricing is a number's game, and without calculating your specific requirements, it's hard to estimate a quote. That's why there's a pricing calculator on their website, which is worth checking out. If these plans don't meet your requirements, you can also get in touch to request a custom plan.
Mangool's Pricing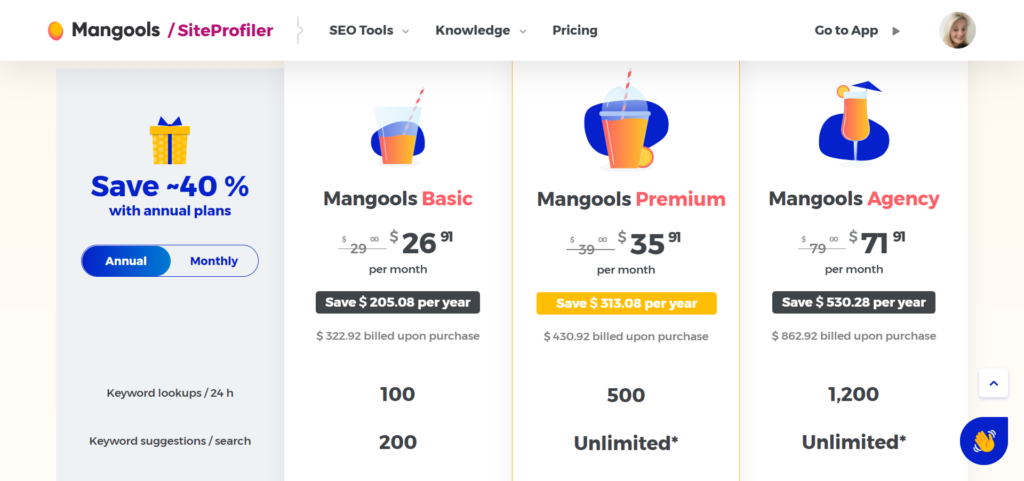 Mangool's pricing is a little more traditional and straightforward. It comes with a 10-day free trial and three premium plans, which you can pay monthly or annually. On annual plans, you save 40% (which is what the prices below reflect):
On Mangools' Basic plan for $29.90 per month, you get:
100 keyword lookups and 100 SERP lookups per day

200 keyword suggestions and keyword searches

25 competitor keyword searches

200 tracked daily keywords

100,000 monthly backlink rows (This is the number of backlinks you can track each month)

20 site lookups (URLs to analyze) per day

Only a single user can sign up
The Premium plan for $39.90 per month simply pushes these limits further:
500 keyword lookups and 500 SERP lookups per day

Unlimited keyword suggestions and keyword searches

Unlimited competitor keyword searches

700 tracked daily keywords

500,000 monthly backlink rows

70 site lookups (URLs to analyze) per day

You can sign up three users
The Agency Plan costs $79.90 per month and unlocks:
1,200 keyword lookups and 1,200 SERP lookups per day

1,500 tracked daily keywords

1,200,000 monthly backlink rows

150 site lookups (URLs to analyze) per day

You can sign up ten users
SE Ranking vs Mangools: Customer Support
When navigating new software, customer support and online self-help resources are worth their weight in gold. So, with that said, let's take a look at what SE Ranking and Mangools both have to offer in this department:
SE Ranking
SE Ranking ensures a manager contacts you after you sign up to help you learn the ropes and figure out how the platform can best benefit your project.
On top of this, there's a range of educational materials, including a blog, YouTube channel, webinars, and an online help center with a wide range of self-help articles and videos. In addition, you can ask questions via live chat or get in touch via phone or email.
Mangools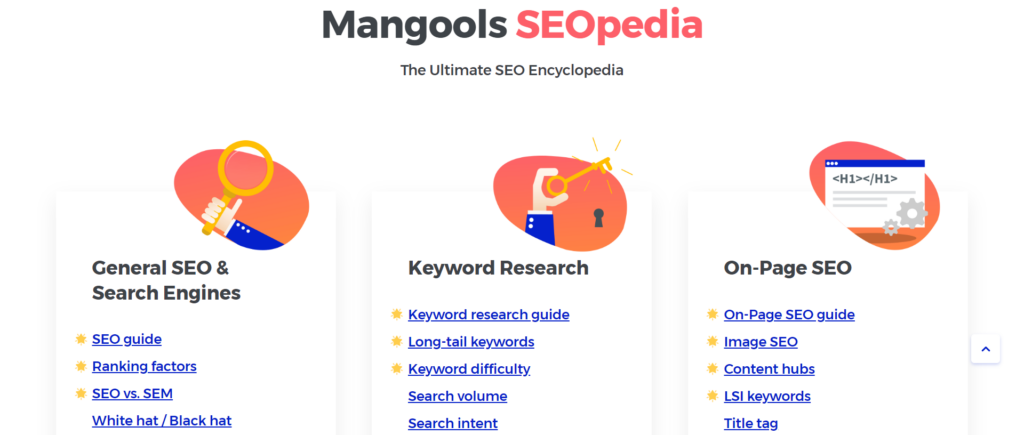 Mangools, similarly, offers a range of resources. This includes a blog and a SEOpedia that familiarizes you with key SEO terms and practices. Most importantly, you can access detailed guides that explore the features of every one of their core five tools. In terms of in-person support, you can send an email or start a live chat with the team.
SE Ranking vs Mangools: Alternatives
If, having read this comparison review, you're not sure whether SE Ranking or Mangools is the right fit for you, here are a few other alternatives for you to consider:
Semrush is also a keyword and competitor research tool. However, it's more of a one-stop-shop marketing suite that comes with SEO, PPC, SMM, PR, content marketing, campaign management, and analytics tools to boot.
But when it comes to keyword research, SEMrush provides the features you need to pinpoint invaluable keywords for your campaign. You can also get an insight into which keywords your competition uses and how they're fairing in search engine results. Then, with that information, you can adjust your keyword strategy accordingly.
You can paste a website's URL into the search bar to retrieve competitor insights. This will then populate various reports concerning that domain, including keyword data. Pretty simple, right?
Exclusive Offer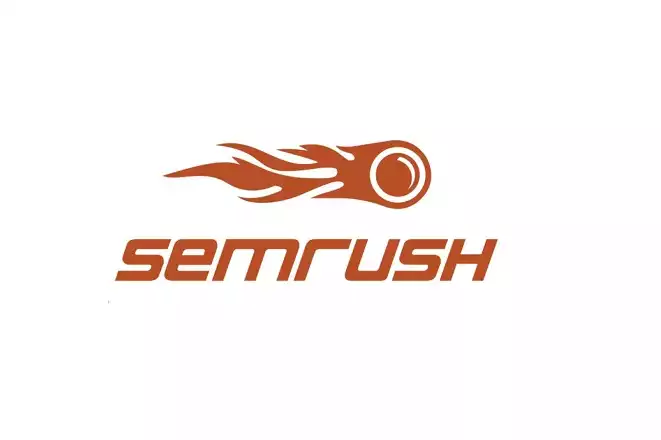 Get 14 Days of FREE SEMrush
SEMrush has generously offered our readers a double extended fully featured FREE TRIAL. Play around with the suite for 2 full weeks to see if it's what you need!
Activate FREE SEMrush
We earn a commission if you click this link and make a purchase at no additional cost to you.
Ahrefs
Another popular SEO and keyword research tool is Ahrefs. Ahrefs comes with everything you need to create a successful link-building strategy (including the ability to see what competing content has done well in terms of social shares and link building), dig into keyword research (for multiple platforms, including Google, YouTube, and Amazon), conduct competitor analysis, track your website's ranking, and run website audits.
At this point, it's worth noting that Ahrefs is best suited to marketing pros, agencies, and larger companies looking to up their keyword research and SEO game. It's jam-packed full of sophisticated features and uses a bit of marketing jargon, so if you're entirely green to keyword research and SEO, be prepared for a bit of a learning curve.
Moz Pro
Moz Pro is another favored SEO and keyword research software with lots of functionality to help you improve your visibility in search engine results.
Moz Pro comes with three notable features:
Link Explorer: Here, you can paste your website URL (or your competitor's URLs) to generate a report containing metrics like domain authority, the number of linking domains, the number of inbound links, and the number of ranking keywords.
Keyword Explorer: Like most keyword research tools, you populate metrics on the term you're researching (including monthly volume, ranking difficulty, organic CTR, etc.,) that's as well as a list of new keyword ideas.
Rank Tracker: Here, you can see where you rank amidst Google's search results.
FAQs
Question: What is a Trust Flow and Citation Flow?
Answer: We have mentioned trust flow and citation flow a few times in this article. However, both are important terms when it comes to assessing the authority of a web page.
A citation flow measures how many sites link to it. Whereas a trust flow also measures link quality. I.e., instead of just looking at the number of sites linking to the site, it measures the authority of the links. So, for example, a website with backlinks from a spammy blog will have a much lower trust flow score than one referenced by a reputable review website.
Question: Do Mangools and SE Ranking Have Mobile Apps?
Answer: SE Ranking has a mobile app available on iOS and Android. You can remove and add projects, hand-pick keywords to search, track your rankings, perform website audits, and review your SEO plan. In contrast, Mangools doesn't currently offer a mobile app.
Question: Do Mangools or SE Ranking Offer Any Discounts?
Answer: Mangools may offer discounts on Black Friday, Cyber Monday, and other holidays. You'll also get a discount for opting for annual billing. But unfortunately, there are no student or non-profit discounts available at present.
SE Ranking discounts your pricing if you opt for annual billing or less frequent ranking checks. Additionally, you can apply for their educational partnership program or a non-profit account, which offers further discounts.
Question: Which is Better Value for Money?
Answer: Mangools and SE Ranking offer similar pricing, so it's challenging to determine which tool is better suited to you. Overall, SE Ranking is the slighter cheaper option considering the additional features.
However, limiting how many keywords you want to track and how often you review your ranking is cheaper. If you require frequent real-time insight into your traffic, this probably isn't the cheapest nor the best-suited option.
In contrast, Mangools is marginally more expensive on its cheapest plan but is more straightforward and transparent. You get daily checks, albeit for fewer keywords. Mangools' higher tiers are less expensive, though you won't get social media management features or B2B capabilities.
SE Ranking vs Mangools Compared: My Final Verdict
I think it's safe to say that SE Rankings and Mangools are both advanced SEO tools that could revolutionize your keyword and competitor research. Both come with all the features you need to plan a comprehensive keyword and backlinking strategy.
However, I think it's worth highlighting that SE Ranking provides some additional features that may better suit B2B organizations. That's as well as a few extra social media management tools. These are useful, but the platform is a little more complex and less user-friendly than Mangools. In addition, SE Rankings pricing is complex, making it difficult to budget for your future SEO needs.
Mangools, on the other hand, is generally very user-friendly and intuitive. It presents no difficulty to beginners and comes with all the core features you'll need.
The most significant deciding factor might be SE Rankings' additional tools or the slight pricing difference. For example, do you want daily ranking checks and transparent, cheaper pricing? If so, I think Mangools is the best option for you. On the other hand, do you need extra features and want to save money on fewer ranking checks? If so, I think SE Ranking is the better choice.
Either way, let us know which one of the two you might prefer in the comments below and why. Speak soon!