Last Updated on January 15, 2023 by Ewen Finser
Some companies would rather focus on improving their business than pay attention to their competitors. Let's face it, sometimes focusing too much on your competitors could make you less innovative and turn you into a copycat instead. But this will only happen if you're not using competitive analysis tools like iSpionage and Spyfu.
Companies are spending millions of dollars on paid search, especially AdWords. These tools are useful in helping you to discover the conversion strategy of your competitors, writing outstanding ad copy that gets clicks and finding profitable keywords. They also provide tutorials and guides on how you can keep ahead in the market. The question is; which one is the better SEO tool?
To make an informed decision, let's get into the details on what each tool is about and what they have to offer.
Main Differences Between iSpionage vs SpyFu
The main differences between iSpionage and SpyFu are:
SpyFu offers much more comprehensive SEO and PPC data, whereas iSpionage is focused on content performance intelligence
SpyFU offers more backlink data, whereas iSpionage does not focus on backlinks
SpyFu's historical data goes back close to 20 years, whereas iSpionage only goes back 3-5 years
iSpionage provides landing page screenshots, whereas SpyFu does not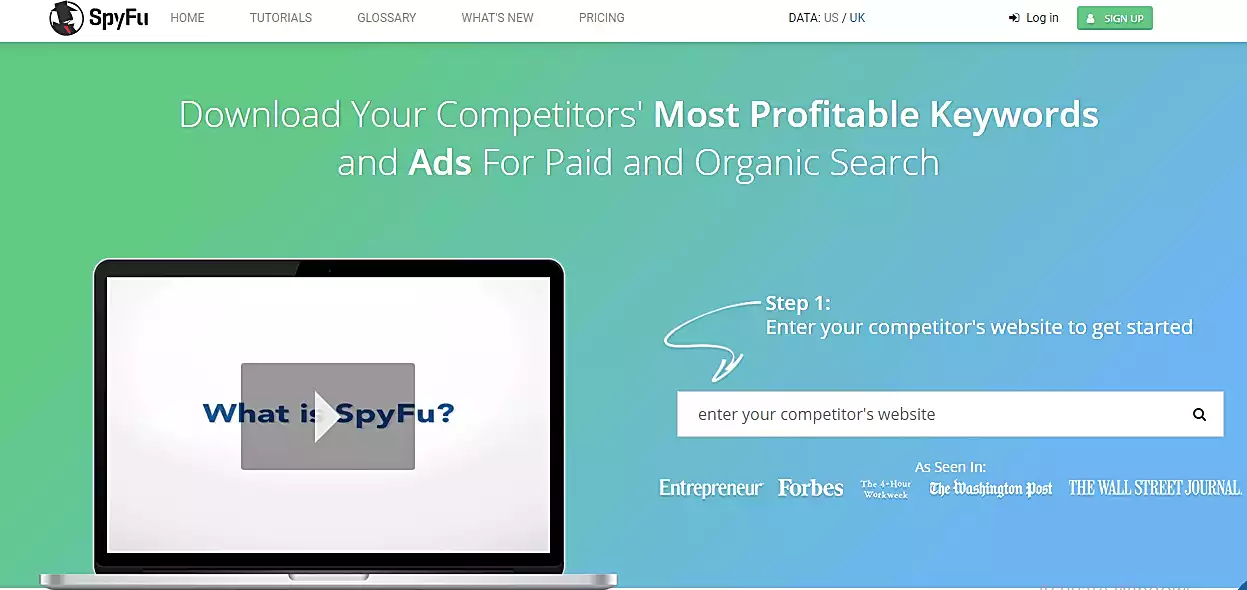 I Prefer SpyFu Here
SpyFu goes back 13 YEARS for data. That's incredible in the SEO world and is hard to beat. Plus, I much prefer the more user-friendly interface and dashboards. It's my preferred option here, no doubt.
View SPyfu Plans
We earn a commission if you click this link and make a purchase at no additional cost to you.
What is iSpionage?
iSpionage is a competitor analysis tool that helps businesses to generate more leads, drive targeted traffic and increase conversion rates. They do this by spying on your business rivals and finding out what attracts customers to them.
They then provide you with this information which could include; competitor SEO keyword lists, their most profitable keyword terms, their landing page and advertisement content and how much they spend on AdWords per month. iSpionage also helps websites to gain valuable insights by leveraging the power of PPC research.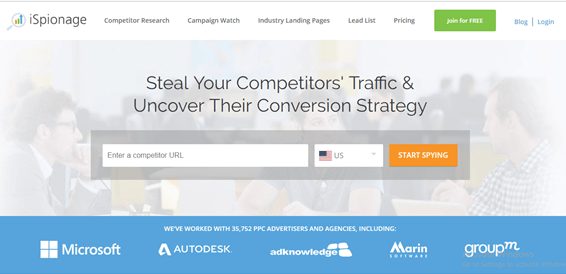 What is Spyfu?
Spyfu is a competitor intelligence tool that provides you with your competitors' secret marketing formula for success. Spyfu helps you to increase your web traffic, track your keyword rankings and generate sales leads and partnerships with reliable contact information.
They help you to achieve all this through PPC competitor research, SEO competitor research, domain leads and top lists, keyword research tools and providing step-by-step workflow guides for you to follow.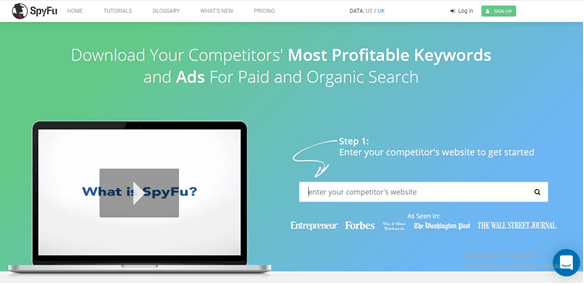 iSpionage Vs Spyfu: Which Competitor Analysis Tool Should You Choose?
As we've already discovered, iSpionage and Spyfu both offer a similar service and their goal is to help you make your business more profitable by providing relevant insightful information that drives the success of your competitors.
However, despite these similarities, it's important to delve into the details and differences between the two tools. This will make the decision to choose an easy one for you based on your priorities and business needs. Let's get into it;
Getting On Board
Signing up with either platform will simply require you to submit your email address. At this point, there's no need for your credit card details. A free iSpionage account will get you free online marketing tips, 10 free competitive reports per day and 3 complimentary competitor alerts. Spyfu offers unlimited searches with their free account.
Pricing
iSpionage offers four packages. The 'Starter' package is ideal for small business owners and digital marketers. It costs $59 per month. The second package is called 'Professional' and costs $99. iSpionage claims that it's most ideal for small agencies, consultants and in-house PPC managers.
The third package is the 'Advanced' package. Digital marketing teams and growing agencies will part with $299 per month for it. The 'Enterprise' package is mainly for businesses and agencies with particular marketing requirements. The pricing varies depending on your specific needs.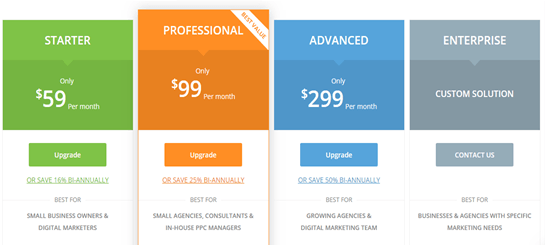 iSpionage also gives you the option of bi-annual payment plans. With this plan, they will bill you every six months. You have the opportunity to save money this way. For example, when you sign up for a 6-month 'Starter' package plan, you save 16%. The cost is $299 for six months. This results in $49 per month, saving you $55 every six months.
They show confidence in their product by offering you a 30-day money back guarantee on condition that you do not download over 1000 ad copy variations and keywords. Canceling your plan is easy and free of charge. All you have to do is click 'Account', then 'Cancel'. You can still have access until your account's next anniversary date.
Spyfu, on the other hand, has three plans. Each plan gives you access to unlimited downloads and searches. These plans are Basic, Professional, and Team. Each of them offers monthly and annual plans.
For the annual 'Basic' plan, the cost is $33 per month and $39 per month for the monthly payment plan. The 'Professional' plan annual cost is $58 per month, and for the monthly plan, the first month is $39 and then $78 per month thereafter. The 'Team' plan costs $ 199 per month for the annual plan and $299 each month for the monthly plan.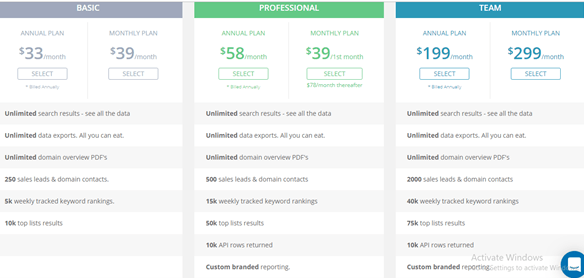 Similar to iSpionage, Spyfu offers a 30-day money back guarantee in case you're not satisfied with the product. They promise that it's a hassle-free process with no paperwork and can be done on the phone, via email or live chat.
Customer Service
iSpionage provides customer support through chat, but only on weekdays. You can also reach them by email and phone number. They provide a complete guide to SEO and PPC competitive intelligence. Tutorials are in article form and others are videos. Some of the tutorials they have to include:
How to find profitable keywords
How to spy on competitors' landing pages
Improve PPC click-through rates with ad effectiveness index (AEI)
iSpionage will send you monthly email alerts on your competitors' new PPC ad copy, new PPC keywords, and new SEO keywords. They are available on Facebook and Twitter.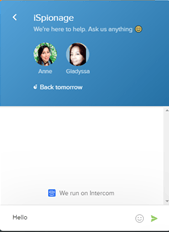 Spyfu lives chat is available from 2 pm to 3 am, from Monday to Friday. If the live chat is not your preference, you can give them a call. The phone number is available on their website. You can also fill in a form on the webpage with whatever queries you might have. They are also available on Facebook, Linkedin, and Twitter.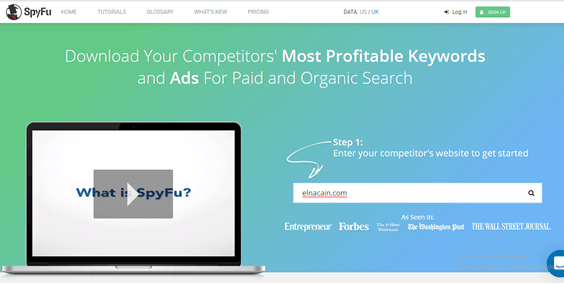 Spyfu avails you with a full video tour on how to navigate their site. The site has several comprehensive step-by-step guides. These include:
Researching your competitive marketing strategy
Starting an AdWords campaign from scratch
Selling SEO to your clients
Moving your business up the page for specific keywords
Improving your SEO campaign
Their site also offers 200 in-depth video tutorials. Some of these are;
Writing stronger ad copy
Keyword research 101
A beginner's look at SEO
Putting keyword groups to work
User Experience
Spyfu has a user-friendly interface. You do not need to download an app because this tool is hosted on the cloud. The background of the main page is a combination of cool hues of blue and green that are easy on the eyes. When you open the webpage, they greet you with a video that tells you who they are and what they do. You can immediately get started by entering your competitor's website.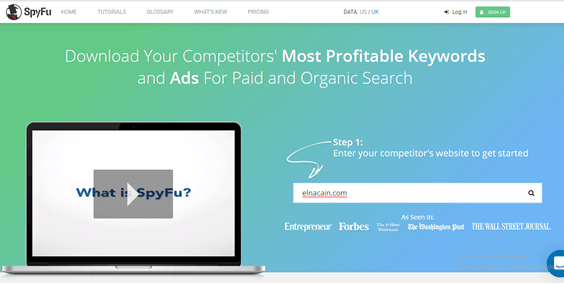 You will immediately see their monthly domain overview with organic search details like organic keywords and monthly SEO clicks. You will also see the amount inbound organic and paid clicks from Google. Spyfu provides you with this information as far back as 13 years.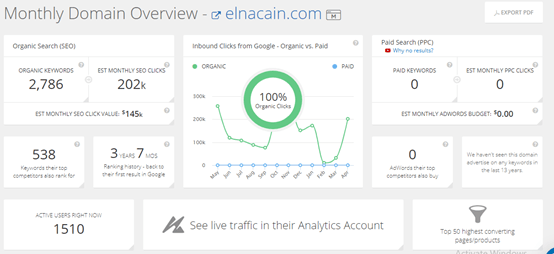 They provide you with a list of all organic competitors, top organic keywords that they rank for and their inbound links.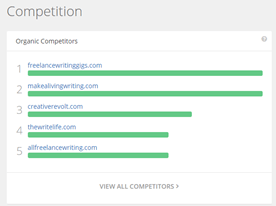 All the above information is provided before you even sign up. When you sign up for their free trial, you can access their analytics account through 'Nacho Analytics'. This analytics account provides you with the following;
Real-time view of their sales and how they obtain them. See their best selling product and how much money they make.
Their key lead sources. For example, social media, display ads, affiliate programs, etc.
Their best tactics for conversion. For example, A/B split tests, surveys, webinars, whitepapers, etc.
Nacho Analytics gives you a 7-day free trial and 30-day money back guarantee.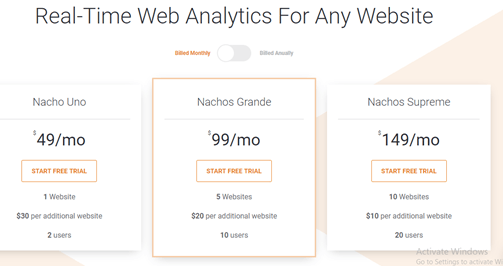 Nacho Analytics charges to access competitors' analytics account
The site contains drop down tabs for SEO research, PPC research, keyword research, backlinks, list builder, tracking and reports. This provides a clear view of the different products and makes it easy to navigate the site for particular information.

iSpionage is also quite easy to use. You don't need to download any app to use it because in runs in the cloud. All you have to do is go to the website, log in and start. The tabs above are the main sections that you can click to easily navigate the site. The home page allows you to type a domain name or keyword to search.

When you type your keyword, they provide you a list and graph of your top PPC competitors on Google and Bing/Yahoo, their monthly budget and number of keywords.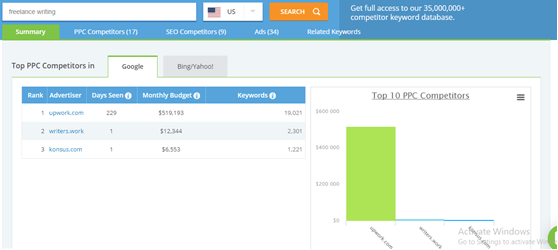 They list related keywords with their relevancy scores, search volume, and cost per click (CPC) estimate. They also provide a list and graph of top competitors with their Google and Bing/Yahoo ranks, and their SEO keyword count.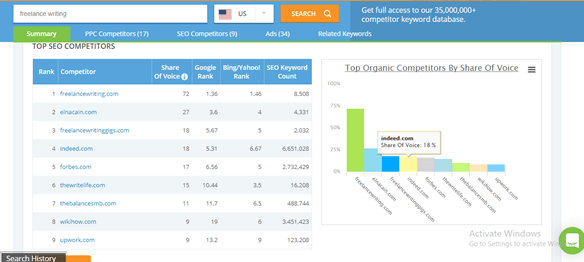 Key Differences between iSpionage and Spyfu
Backlink Analysis
Backlinks help your business rank for specific keywords. Spyfu helps you to focus on high-quality backlinks so that you can rank by targeting common links of your competitors, discovering links that other sites already rank for. iSpionage, on the other hand, does not provide this service.
Keyword Effectiveness Index (KEI) and Ad Effectiveness Index (AEI)
iSpionage offers keyword effectiveness index (KEI) and ad effectiveness index, which Spyfu do not have. KEI is one of the best and fastest ways to find high performing keywords. Ad effectiveness index is an algorithm that rates the effectiveness of a company ad based on the duration of the ad, whether the ad is still being used or not and the average position of the ad, among other factors.
The theory behind the AEI is that if your competitor has used this keyword for a long time, there are high chances that, it's attracted high targeted traffic. Otherwise, they would have stopped using it. It might be a good idea to use that keyword. AEI helps you to quickly see the best performing ads and make adjustments.
Historical Data
The historical data of your competitors is a great indication of how long they have been using successful tactics that have stood the test of time. Both these tools avail you with this data. While Spyfu will show you up to 13 years of historical data, iSpionage is only capable of displaying only two tears of historical data.
SEM Watch Campaign
iSpionage features a SEM watch campaign that enhances marketing automation. When you arrange a watch campaign for a competitor, iSpionage monitors them for any change in their digital strategy. You will then receive a weekly report in your inbox on these findings.
This allows you the time to focus on your business, while they are spying for valuable information. Your report will include landing pages, SEM performance, A/B test results, complete funnel campaign details, and SERP snapshots. Spyfu does not have a watch campaign.
Devices
iSpionage is accessible on several devices like Windows, Android, Linux, Mac, IPhone/IPad, and web-based devices. Spyfu is accessible with fewer devices Windows, Mac, and web-based.
Landing Page Data
iSpionage offers outstanding landing page information with galleries. You are able to access millions of landing pages that are used by top tier advertisers. This will help you to set up a highly converting landing page.
Custom Branded Reports
Spyfu makes sure that your reports look professional for your clients as by allowing you to customize them as follows:
Adding your company logo and branding
Removing the Spyfu logo from the report
Editing some sections you would not want to include
Adding themes for a consistent design

Wrap Up: SpyFu or iSpionage?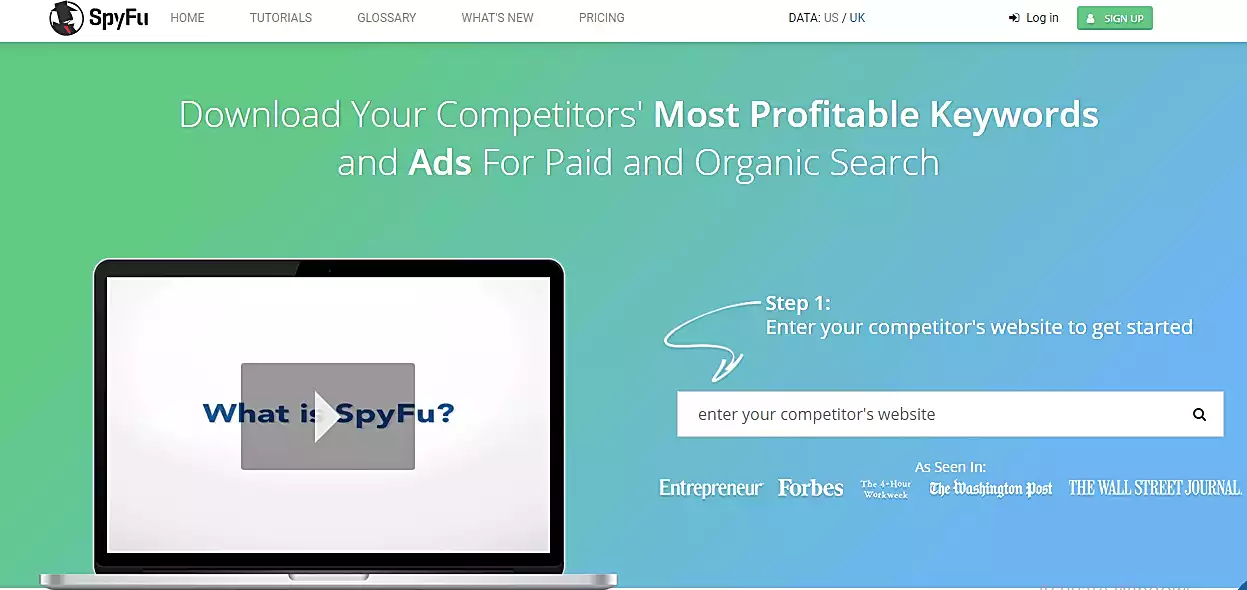 I Prefer SpyFu Here
SpyFu goes back 13 YEARS for data. That's incredible in the SEO world and is hard to beat. Plus, I much prefer the more user-friendly interface and dashboards. It's my preferred option here, no doubt.
View SPyfu Plans
We earn a commission if you click this link and make a purchase at no additional cost to you.
To beat your competition, it's imperative to know what they are up to. That's why you need tools like iSpionage and Spyfu. With the information above, you are now in a better position to make an informed decision. Both of them are great competitive analysis tools that could bring desirable results for your business. However, they also have their differences.
Choosing one over the other should not be based on one factor alone, for example, price. Both tools are useful to small, medium and large businesses. However, each business is unique and has specific requirements. Whichever tool you choose, all factors must be put into consideration to make the best decision for your business needs.
Botton Line: I personally prefer the more accessible and deeper data archives that SpyFu offers here. To be honest, it's a tool I use every day and haven't ever felt the need to swithc to iSpionage.
Here are some other related articles you may be interested in: