Last Updated on April 22, 2023 by Ewen Finser
Today we are going to be looking at Ahrefs vs SpyFu, two powerful SEO tools that can help you grow your online presence, bring visitors to your website, and boost your revenue.
Regardless of what type of business you're running, if you want your website to be found online you need to be working on your SEO.
Main Differences Between Ahrefs vs SpyFu
The main differences between Ahrefs vs SpyFu are:
Ahrefs has a broken link checker, which you can use as part of your link building strategy, whereas SpyFu doesn't have this feature
Ahrefs has an SEO toolbar feature, whereas SpyFu does not have a toolbar extension feature
SpyFu is much more affordable than Ahrefs, with plans starting from just $33/month, whereas Ahrefs' plans start at $99/month
Ahrefs offers a 7 day trial for just $7, whereas SpyFu doesn't offer a trial, although it does have a 30-day money-back guarantee
Great SEO tools are one of the most important investments you will make for your online business, and whether you are planning on hiring someone to help you with this, or doing it yourself, you will want to be sure you are using the right tools for the job.
Did you know that 90.63% of content published online gets no organic traffic from Google?
That means that there's a huge opportunity out there to get your website in the 9.37%, and with the right tools and a little effort, you can be in that group too.
I guess you're wondering why you should be investing time and money in SEO when you can just use paid advertising to bring visitors to your website; well, there are a few great reasons actually.
SEO generates better leads than paid advertising. This is because of the advanced algorithms search engines use to show users the right results, you will know that if someone has found your website through a search engine they are looking for exactly what you are offering, and are much more likely to make a purchase.
Your engagement rate will improve. Because the people landing on your website through search engines are very likely to be your ideal customers, they will spend much more time on your website engaging with your content.
Organic search results get more clicks than Paid Ads. Users trust search engines to provide accurate results, so many people these days will skip straight past the paid ads, and click on the organic search results instead.
It cuts your advertising costs over time. As your SEO improves and you start to get more clicks on your website through organic search results, your cost per acquisition will go down compared to PPC advertising. Although there will be an upfront investment of time and/or money for SEO, there are no ongoing costs as there are with PPC ads.
SEO gives you long term results. Although it can take some time for your website to rank in the SERPs, once you start to rank, it is rare to go back down again, whereas with paid advertising you will need to continually advertise or you will see a drop in visitors and revenue as soon as you stop.
Those are just a few of the reasons why SEO should be a big part of your digital marketing strategy.
The tools we are going to be looking at today both give you everything you need to create a winning SEO strategy for your online business.
We are going to be looking at exactly what features Ahrefs and SpyFu have to offer, as well as their pros and cons, and the pricing, so you can decide for yourself which one is the best choice for your business.
Let's dive in.
Ahrefs vs SpyFu: In-Depth
Ahrefs Overview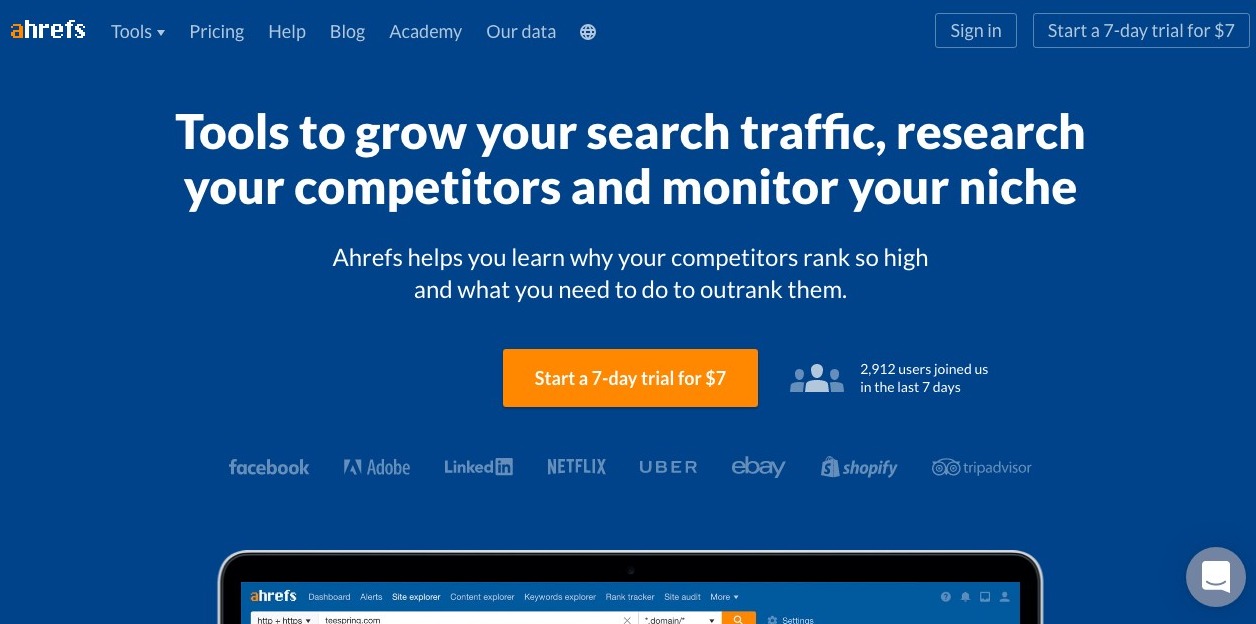 Ahrefs is a popular SEO toolkit that gives you everything you need to analyze your competitor's SEO strategies for dominating the Google search engine and see exactly how you can outrank them. Ahrefs are known for having the largest backlink database around (ideal for backlink analysis), with the fastest speed of index updates.
Ahrefs vs SpyFu: The Main Features of Ahrefs
Site explorer
Keyword explorer
Site audit
Rank tracker
Content explorer
SEO toolbar
Domain comparison
Batch analysis
Link intersect
Content gap finder
Email alerts
Backlink checker
Broken link checker
Website Authority Checker
Keyword generator
YouTube keyword tool
Amazon keyword tool
Bing keyword tool
SERP checker
SEO analyzer
Keyword Rank Checker
Keyword Difficulty
Ahrefs Site Explorer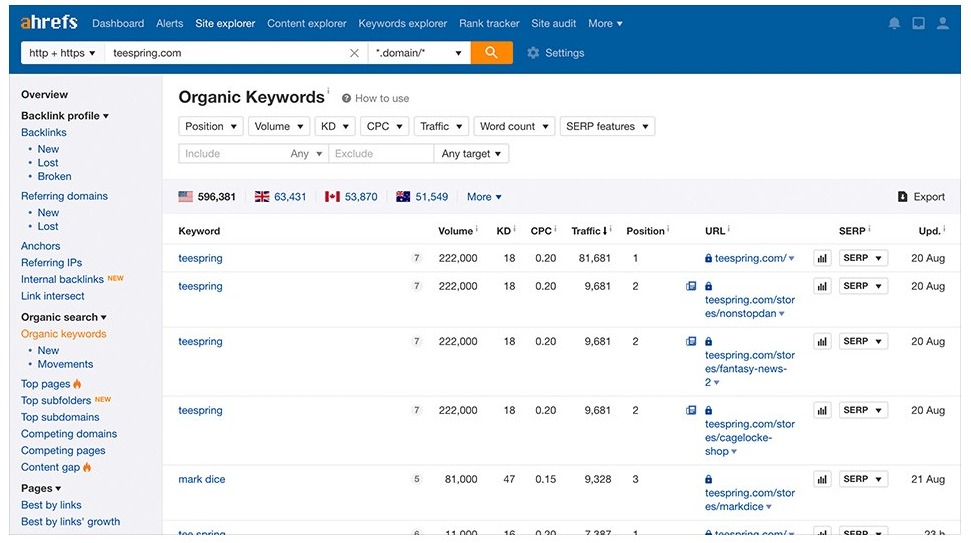 Ahrefs' site explorer tool gives you in depth insights into the organic traffic and backlink profile for any website you would like to check. This is the perfect tool for performing competitor analysis, as it allows you to see exactly how your competitors are performing in both organic and paid search results, enabling you to see exactly how they got there, and reverse engineer their strategies so that you can outsmart and overtake them!
The site explorer database currently has over 475 million keywords and an index of 1.9 trillion backlinks, and it's powered by the second most powerful crawler after Google.
When you enter a domain in the site explorer search bar, the overview page will give you all of the data you need, including the amount of monthly organic traffic, organic keywords, number of backlinks, number of referring domains, and overall traffic value on the site. Visual graphs help you to see and understand the growth or decline of organic traffic on the site you are checking, as well as the number of keyword rankings.
There is a pages section too, where you can see which pages on a website have the most backlinks and social shares, and also an 'outgoing' links page, where you can see which websites the website being audited is linking to.
Keywords Explorer
Ahrefs' Keyword explorer tool is the most complete keyword explorer tool on the market and runs on a database of over 7 billion keywords, which is updated every month so you can be sure that the data is always up to date, and you never run out of keyword ideas.
Even if you're not from the U.S., the keyword explorer tool provides keyword data for 171 countries, so no matter where you are in the world, you will be able to find the right keywords for your business.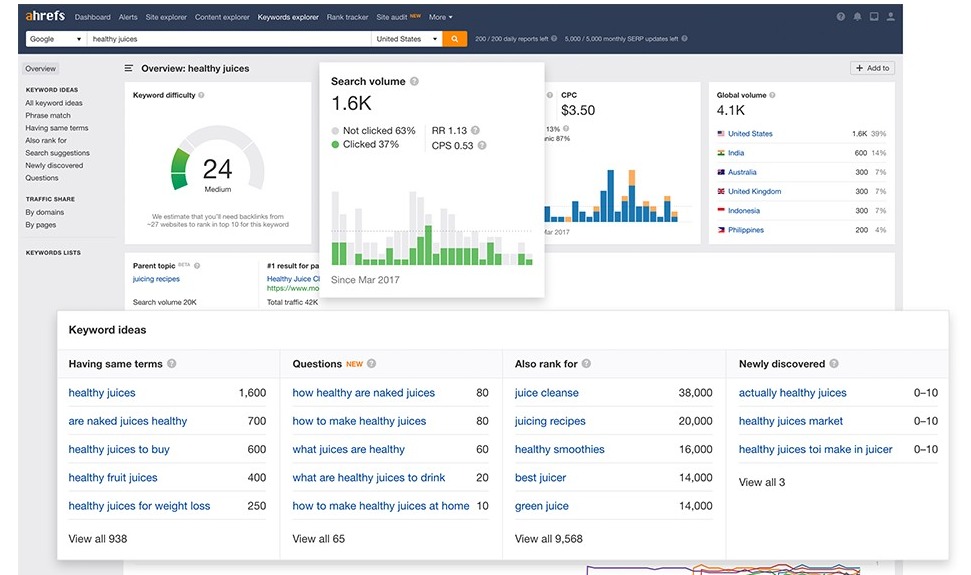 The keyword explorer doesn't only analyze keywords from Google, but also 10 other popular search engines including YouTube, Amazon, Bing, Baidu and more, so you can find keywords for other search engines and platforms.
The Keyword difficulty score calculates the difficulty for each word, to help you quickly find the easiest words that you can rank for, and once you have found the keywords you would like to target, you can easily save them and sort them into lists to come back to later.
Ahrefs is one of the only tools that provide click metrics as well as search volume so that you can see which keywords are generating the most clicks. This gives you a more accurate idea of how the keywords you are targeting could benefit your website since some keywords with high search volumes do not necessarily generate a lot of clicks.
Site Audit [SEO Audits]
The Ahrefs tool suite also offers a comprehensive site audit functionality. Site Audit feature enables you to see exactly how your website is performing when it comes to SEO, so you can see what you are doing well, and where you can improve. These features crawl all of the pages on your website and then provide you with an overall score, as well as a list of possible SEO issues with recommendations that you can fix to improve your overall score.
You can integregate Ahrefs data with your own Google Analytics and Search Console information as well.
The site audit tool checks for the following issues on your website:
Performance
HTML tags
Social Media tags
Content quality
Localization
Incoming links
Outgoing links
Resources
External pages
And if you are an SEO expert, and want to go even deeper, then you can check over 100 different data points on each page of your site, giving you a more accurate picture of any issues.
Rank Tracker
The Rank Tracker tool allows you to monitor your website's rankings over time, and see how it compares side by side with your competitor's sites.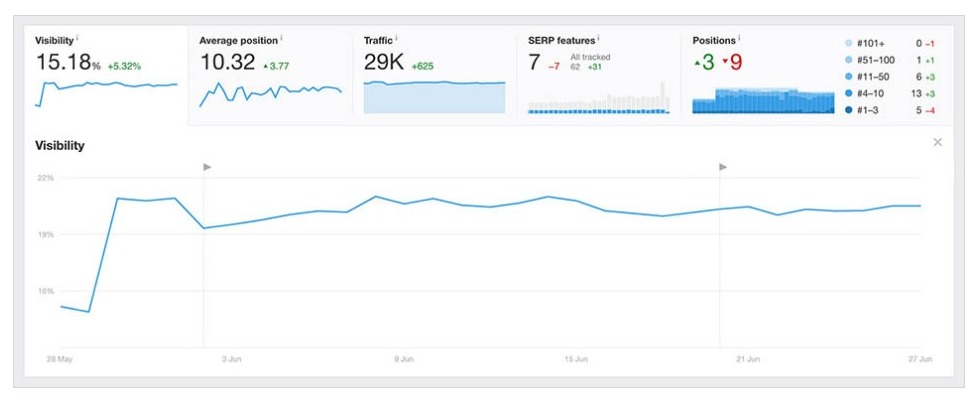 It allows you to visually see your progress over time, as well as enabling you to view keywords that have gained or lost their position in the SERPs. You can also see which other websites are ranking for your tracked keywords with the 'share of voice' function.
Content Explorer
The Content Explorer tool lets you quickly and easily discover the top-performing content in your niche, giving you all the data you need to analyze and outrank the content, asl well as look for new link building opportunities.
The tool itself is easy to use, all you need to do is enter a relevant keyword for your niche, and the content explorer will show you the top-ranking pages for each keyword. To find pages that attract backlinks you simply need to use the filters (you can filter out pages with a low number of backlinks) and look for similarities in the results that you can relocate with your own content.
You can also filter for websites with broken links so that you can build links by recreating the page with the 'dead' links, and asking the page to link to your content instead.
SEO Toolbar
Ahrefs' SEO Toolbar feature lets you instantly view SEO metrics for any website you visit by using the Chrome or Firefox toolbar. The toolbar gives you all the metrics you need at a glance, without having to open a new page, including:
Ahrefs Domain Rating (DR)
Ahrefs URL Rating (UR)
Ahrefs Rank (AR)
Number of backlinks
Number of referring domains
Estimated organic search traffic
Number of ranking keywords
It also provides an overlay on the top-ranking results in the Google SERPs, to help you see how easy or difficult it would be for your site to rank in the top 10 for this search.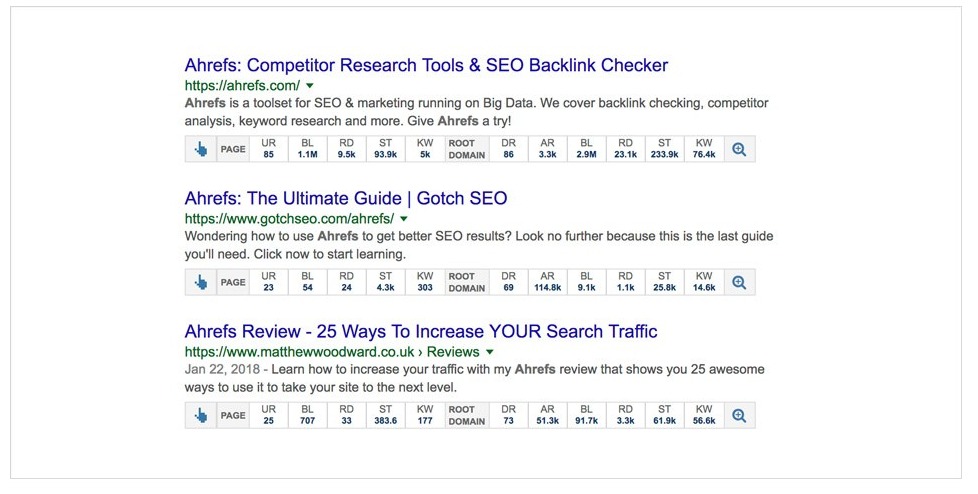 The Benefits of Using Ahrefs
Ahrefs gives you everything you need to create a winning SEO strategy and outrank your competitors, all in one place.
It has the largest database of keywords around.
The software itself is very easy to use, so it's perfect for both beginners and SEO experts alike.
They offer excellent customer support, with access to a private Facebook community if you need help and support from your peers.
It is regularly updated, so you can be sure that you are always working from the freshest data.
The Downsides to Using Ahrefs
The pricing for Ahrefs is quite a bit higher than some other SEO tool kits, and there is no free trial available, however, there is a paid trial if you want to try it out before committing to a plan.
The Lite plan has a lot of restrictions and limits on it, so if you are serious about SEO you will probably need to upgrade to one of the higher plans straight away.
SpyFu SEO Software Overview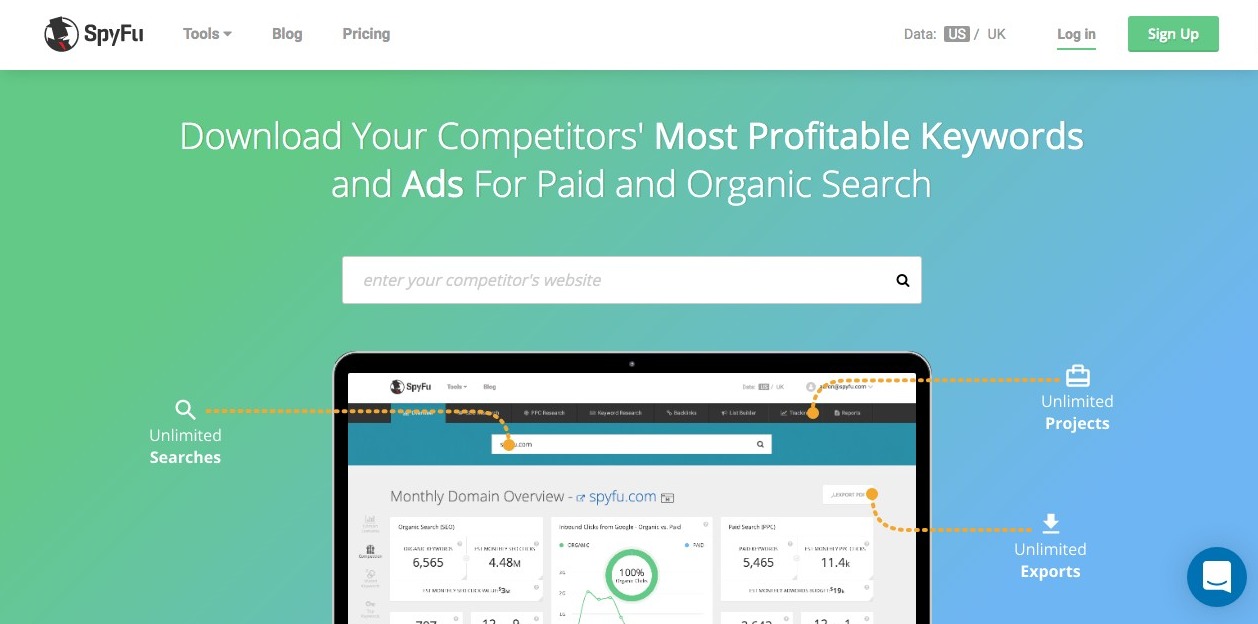 SpyFu is an SEO tool that helps you to find and download your competitor's most profitable keywords and Ads for both paid and organic search results so that you can work out exactly what you need to do to get ahead of them.
Ahrefs vs SpyFu: The Main Features of SpyFu
SEO Competitor Analysis
SEO Keyword Research
Competitor Backlinks
Domain Comparison
Rank Tracker
AdWords Competitors
PPC Keyword Research
PPC Keyword Suggestions
PPC Keyword Grouper
AdWords Templates
Ad History
Keyword Research Tool
Keyword Grouping Tool
Backlink Checker
SEO Reports
Keyword Rank Checker
SERP Checker
Domain Overview
Domain Overview Tool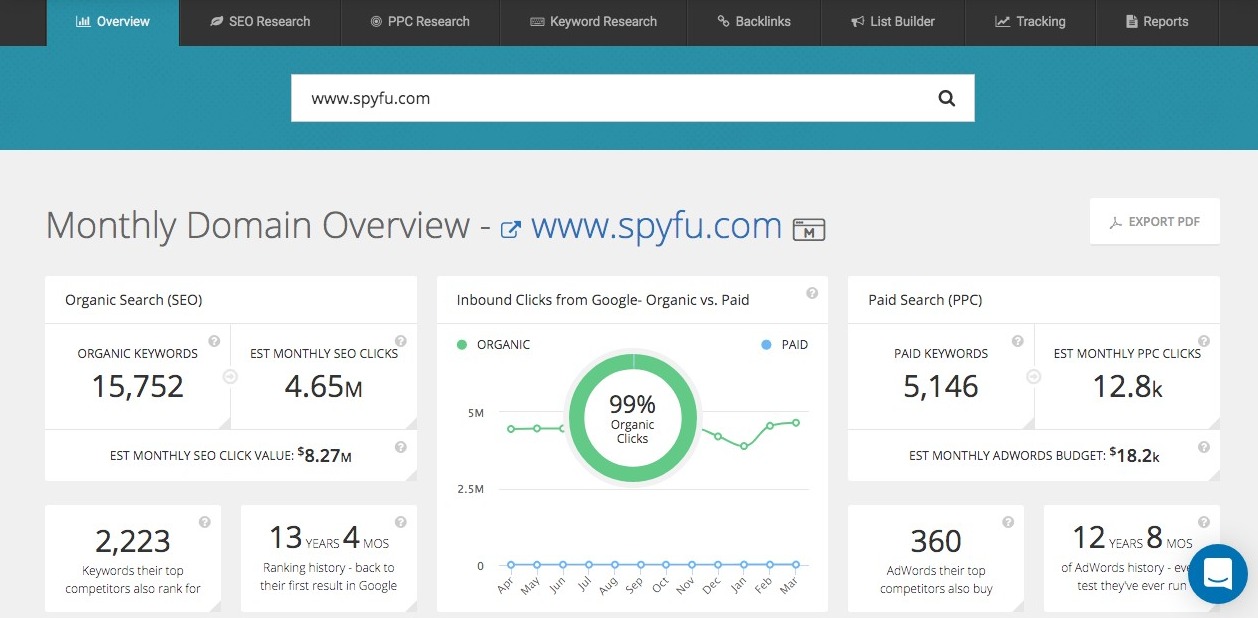 SpyFu's Domain Overview tool enables you to gain valuable insights to your competitor's marketing strategies. The data provided will show you all of the strengths and weaknesses so you can find opportunities to beat them in the SERPs. You can view their latest ranking wins and losses, as well as both their organic and PPC strengths and weaknesses.
Instead of confusing you with all of the data available on your competitors, SpyFu filters through all of the data to provide you with a concise overview of their PPC and SEO results.
Keyword Research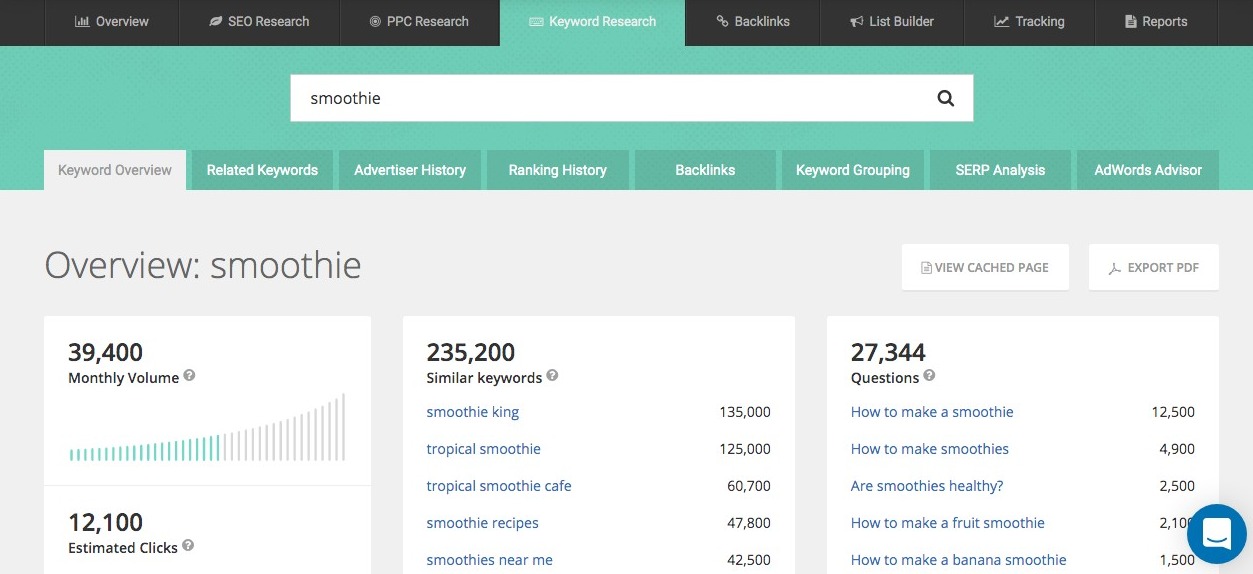 SpyFu's Keyword research tools give you all the data you need to find profitable keywords for your website. When you type a keyword into the search bar you are provided with the monthly search volume for that word, as well as the estimated clicks, similar keywords, and questions relating to the keywords, the recommended AdWords buys, as well as the most successful advertisers and their best ads.
You can view the top 50 organic results for the keyword, along with the number of organic clicks each domain and page is getting monthly, the domain strength, ranked keywords, and outbound links. The tool also shows you any related keywords, the advertiser history, ranking history, and the best backlinks that will help you rank for your chosen keyword. Once you have found the best keywords for your business, you can save them into lists to use later.
Backlink Checker
SpyFu's Backlink checker tool helps you to find the best backlinks that will enable you to rank for your chosen keywords. You can find links that are already helping other sites to rank in search engines, target the most common links from your competitors, and filter through the results to only show the types of pages you are looking for, such as blogs or forums.
The search results show you pages that Google considers to be an authority on the subject, so you know exactly who to target for the highest quality backlinks.
When it comes to backlink outreach, SpyFu not only helps you to find the right websites to target, but also provides you with everything you need to be able to contact the site owners, such as their phone number, email address and social media profiles so you can reach out to them. SpyFu rates the websites you are targeting so you can prioritize your time by targeting the highest rates sites first.
Rank Checker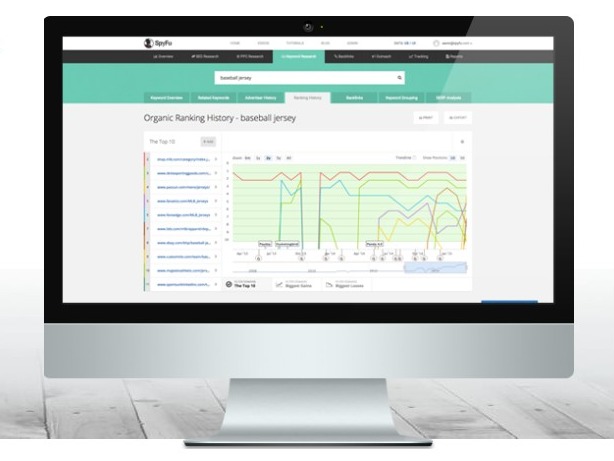 The Keyword Rank Checker allows you to see the history of each keyword while you are doing your keyword research. You can see how your competitors rose and fell while competing for the keyword, and learn from their past mistakes so you can outrank them in the future. You can also track the page ranking for blogs and even product pages, and use filters to sort out the strongest competitors.
SEO and PPC Reports
You can create custom SEO and PPC reports to give you a deeper analysis of a domain's strengths and weaknesses, as well as show you any opportunities where it can beat its competitors. You can choose exactly what you review in your reports, such as your site's organic presence, as well as a more targeted approach if you choose.
You can generate reports that recommend the best keywords for you to buy to get ahead of your competitors, even protect your PPC budget by using negative match to cut out any weak keywords that won't convert as well.
All of the reports you create can be customized with your own notes and branding, so if you are doing SEO on behalf of a client, your reports will look professional
The Benefits of Using SpyFu
SpyFu is an affordable keyword research tool that allows you to see which organic and PPC keywords your competitors are ranking for so that you can outsmart them and outrank them in the SERPs.
The software is very easy to use, and there is no learning curve at first like there is with some other SEO tools.
This tool is more affordable than some of the other SEO tool kits out there.
It's particularly good for anyone focusing on PPC ads, as it can help you create a winning PPC strategy based on insights into what's working for your competitors.
You can customize your reports with your own branding and notes.
The Downsides to Using SpyFu
SpyFu doesn't provide you with broken link reports as part of your link building strategy, it also doesn't provide results for other search engines such as YouTube.
Ahrefs vs SpyFu: Pricing
Ahrefs Pricing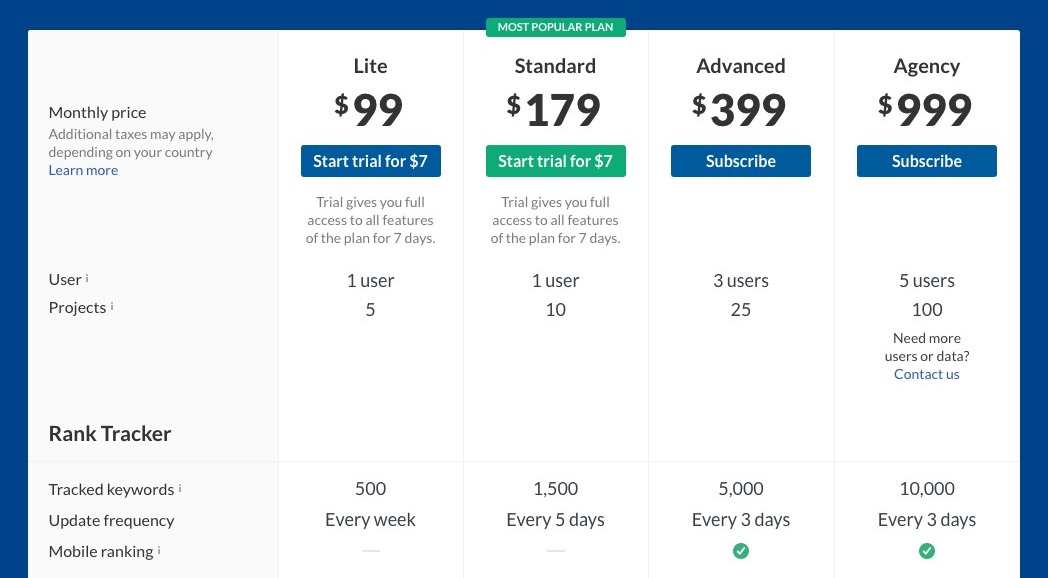 Ahrefs has four pricing plans available: Lite, Standard, Advanced, and Agency.
All plans have access to almost all of the same features, with the exception of the Lite plan which does not have access to recent index or historical index data, and broken pages. It also has limits on the 'alerts', providing alerts for new/lost backlinks and keyword movements on a monthly basis only, rather than a daily or weekly basis, and web mentions on a weekly basis, but not daily.
The Lite plan costs $99/month, and gives one user the ability to run up to 5 projects, track up to 500 keywords, and crawl up to 10,000 pages per month.
The Standard plan costs $179/month, and gives one user the ability to run up to 10 projects, track up to 1500 keywords, and crawl up to 500,000 pages per month.
The Advanced plan costs $399/month, and gives one user the ability to run up to 25 projects, track up to 5,000 keywords, and crawl up to 1.25 million pages per month.
The Agency plan costs $999/month, and gives one user the ability to run up to 100 projects, track up to 10,000 keywords, and crawl up to 2.5 million pages per month.
There is no free trial available, but Ahrefs are offering a 7 day trial with full access to everything from the Standard plan for just $7, visit their website here to check out the plans and give it a try.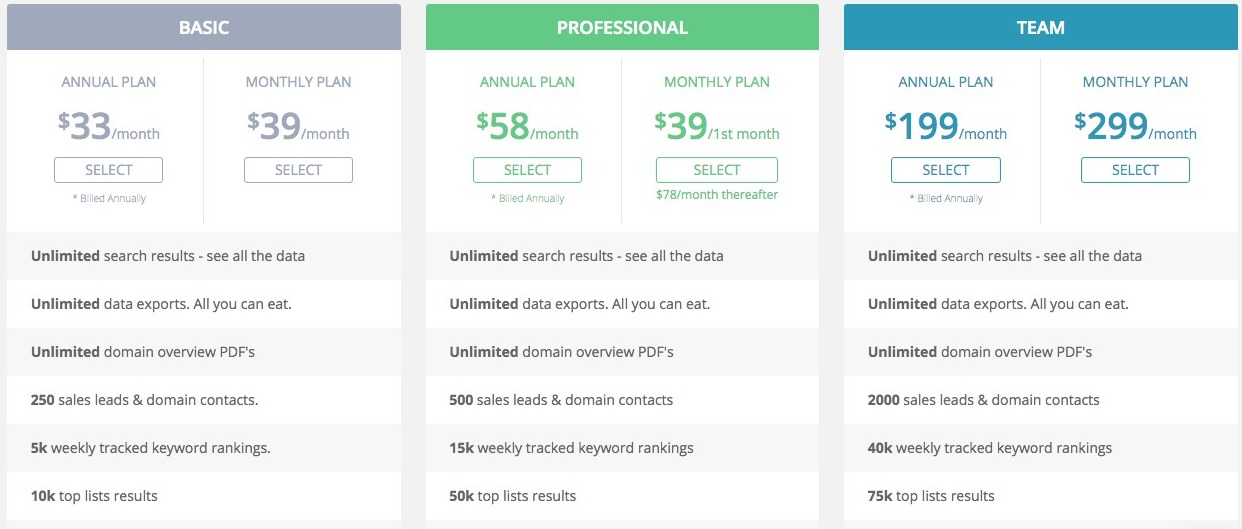 SpyFu has three main plans available: Basic, Professional, and Team. All three plans include unlimited access to all the SpyFu data, so there are no limits to the number of searches you can do. You also have access to unlimited domain overview PDFs.
The Basic plan costs $33/month, and includes 250 sales leads and domain contacts, 15,000 weekly tracked keyword rankings, and up to 50,000 top lists results.
The Professional plan costs $58/month, and includes 500 sales leads and domain contacts, 5,000 weekly tracked keyword rankings, and up to 10,000 top lists results, 10,000 API rows returned, and custom branded reporting.
The Team plan costs $199/month, and includes 2000 sales leads and domain contacts, 40,000 weekly tracked keyword rankings, and up to 75,000 top lists results, 10,000 API rows returned, custom branded reporting, and up to 5 user logins.
Unfortunately, SpyFu doesn't have a trial available, but they do offer a 30-day money-back guarantee, so if you're not happy with it you can cancel, no questions asked. Check out their plans and pricing here.
Frequently Asked Questions:
What data is the Ahrefs Organic Traffic chart pulling?
The traffic numbers reported in the organic traffic chart shown in Site Explorer is a moving average for monthly visits.
Is SpyFu accurate?
Over time, we've made many improvements including the example about taking shopping, video and other results into account. Realistically, these days, you can expect our roll-up estimates like Ad Budget and SEO clicks to be accurate about 90% of the time.
What is Ahref rank?
Ahrefs Rank (AR) ranks all the websites in the database by the size and quality of their backlink profiles basically, by their DR. The more and higher-quality backlinks a website has, the higher its DR is, and the closer its AR is to #1.
The Verdict: Ahrefs vs SpyFu – Which one is better?
Both Ahrefs and SpyFu have great features, and either one will go a long way to helping you with your SEO strategy, but which one of these two is better?
Overall, we have picked Ahrefs as the winner here, as it offers an incredible amount of features to help you get ahead of your competitors and build new backlinks to your website.
The only real downside to Ahrefs is the price. The plans start from $99/month, which may not be an option for anyone getting started on a shoestring budget, but if you are an established business that already has money coming in, then Ahrefs is definitely the way to go.
If you are on a tighter budget, then SpyFu is still a great option. It gives you everything you need to perform PPC and organic research on your competitors so that you can outrank them in the SERPs. The only thing is it's missing a few features that Ahrefs has, such as the SEO toolbar, and a broken link checker, but it still offers excellent value for money.
If you would like to check out Ahrefs and everything it has to offer, visit their website here, or if you think SpyFu might be the right tool for you, you can see their pricing and plans here.
Further Reading on SEO Tools