Last Updated on April 22, 2023 by Ewen Finser
Today we are going to be looking at ActiveCampaign vs SharpSpring, two powerful CRM and Marketing Automation tools that you can use to help you to grow your business.
The Main Differences Between ActiveCampaign vs SharpSpring
The main differences between ActiveCampaign vs SharpSpring are:
SharpSpring includes a landing page builder, whereas ActiveCampaign doesn't include landing pages
SharpSpring includes a blog builder, whereas a blog builder isn't included with ActiveCampaign
ActiveCampaign is suitable for small businesses and startups on a budget, whereas SharpSpring's plans are a lot more pricey, making them unsuitable for anyone getting started on a tight budget
SharpSpring includes comprehensive social media management tools, whereas ActiveCampaign does not include any social media management tools
SharpSpring does not have live chat or SMS messaging features, whereas ActiveCampaign offers both of these features

ActiveCampaign SCALES

Take the best email automation and mix it with all the best parts of a CRM. Result: ActiveCampaign. While I call it a "lite CRM", AC is no lightweight. I've been with them for years and LOVE the endless integrations and expandability.

Try ActiveCampaign FIRST

We earn a commission if you click this link and make a purchase at no additional cost to you.
It can be difficult to stay on top of everything when you're running a business. There's a lot to think about!
The good news is that these days there are lots of tools, functionality and software services available to help you streamline and automate as much of your sales process as possible so that you can focus on other areas of your business.
There are so many marketing benefits to using CRM software (automation software) for your business, including:
Saving you time by automating daily tasks
Helping you to build better relationships with your customers and clients on their customer journey
Helping you to keep track of your sales process so nothing gets missed out
Enabling your team to work together more effectively to make sales or land clients
Increased revenue and profits
Shorter sales cycles
And when it comes to marketing automation, not only can you save yourself around 12.2% in overheads, but you can increase your sales productivity by an average of 14.5%!
So, while CRM and marketing automation software may seem pricey at first, the benefits are worth every penny for the growth you will see in your business.
In this article, we will be comparing two well-known tools: ActiveCampaign vs SharpSpring. We will be looking at exactly what features they each offer, as well as their pros and cons, and the pricing, so you will have all the information you need to make the best decision for your business needs.
Let's have a look.
ActiveCampaign vs SharpSpring: Overview
ActiveCampaign Marketing Automation Solution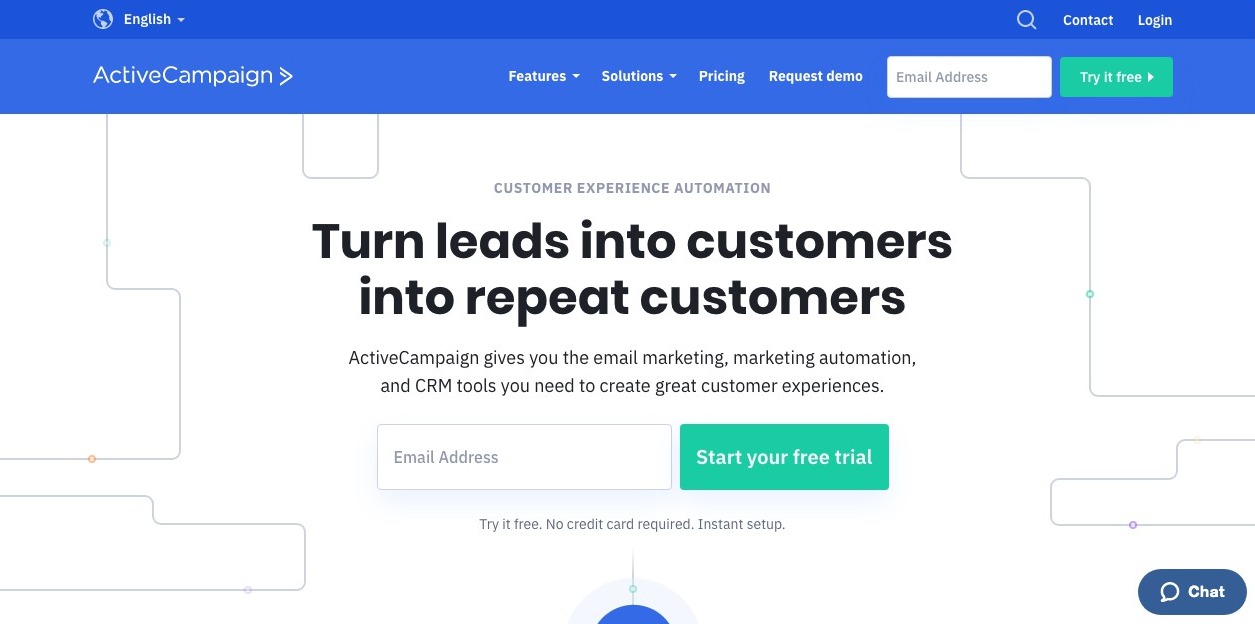 ActiveCampaign is a suite of powerful email marketing, marketing automation and CRM tools designed to help you streamline your entire sales and marketing process.
These tools enable you to create the ultimate customer experience, allowing you to stay on top of all areas of your business and provide a personal service to every single one of your customers or clients, regardless of the size of your business.
Main Features and Functionality of ActiveCampaign Automation Software
Email marketing
Subscription forms
Dynamic content
Email segmentation
Split testing
Marketing automation
Site tracking
Event tracking
Automation goals
Automation map
Attribution
Split action
Sales and CRM
Gmail extension for Chrome
Contact and lead scoring
Mobile App
Salesforce App
SMS
Site messages
Facebook Custom Audiences
Conversations
Machine Learning
Win probability
Predictive sending
How ActiveCampaign Works
ActiveCampaign has been designed to suit businesses of all sizes, from bloggers to large Agencies and SaaS companies, and even Ecommerce businesses. It includes all of the features you need to turn your web visitors into repeat customers, nurture and close ongoing business, and provide outstanding customer service to your customers.
The email marketing features enable you to send your customers personalized emails and newsletters by taking advantage of the dynamic content features.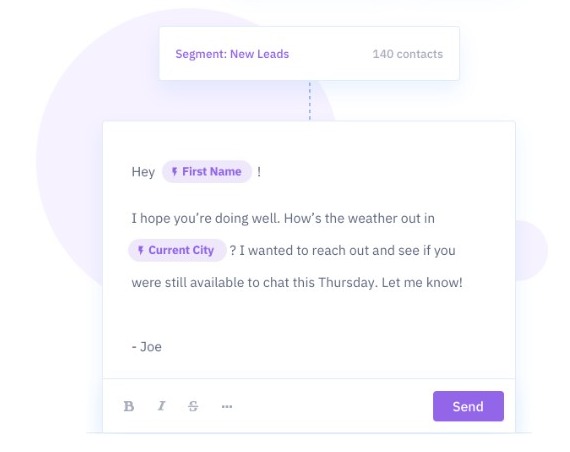 ActiveCampaign automation software gives you the flexibility to send all kinds of email campaigns, including newsletters, broadcast emails, triggers emails, targeted emails, email autoresponders, and sales funnels. You can also schedule emails ahead of time, so you are always on top of your marketing.
It's easy to build beautiful, branded emails using ActiveCampaigns drag and drop email designer, so once you have the content you need you can have your campaign ready to go in just a few clicks.
All the edits you make will be stored, so if you want to go back to an old email template you created, you can do so with just a few clicks.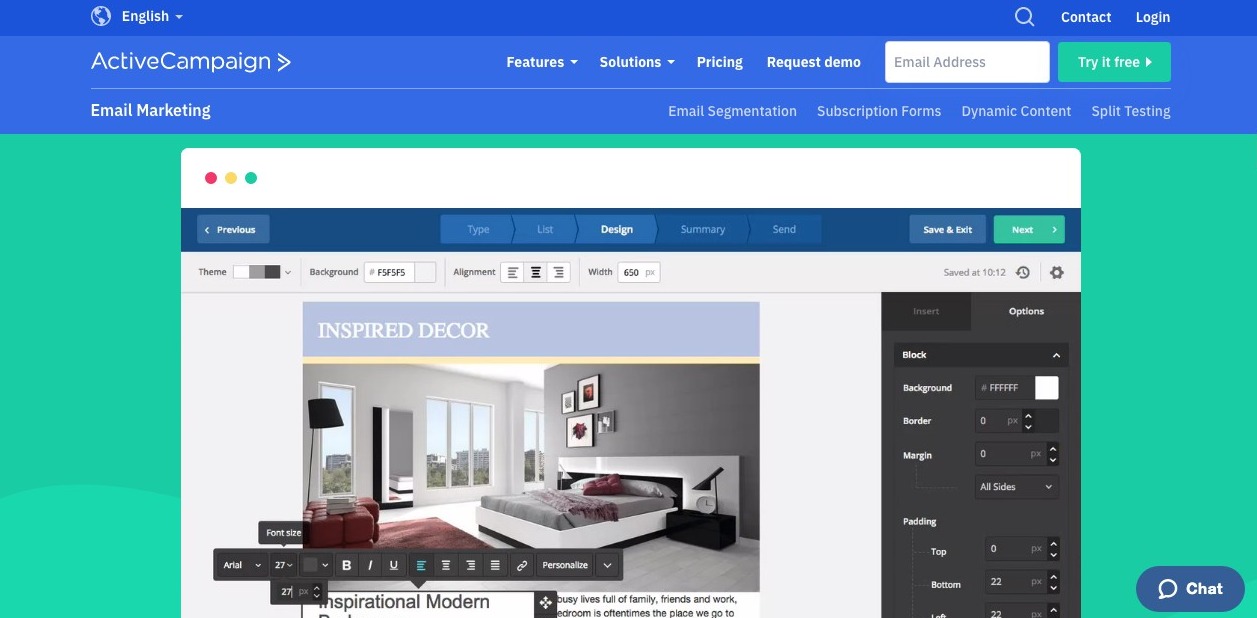 There are over 25 professionally designed templates for you to choose from if you don't want to start from scratch, all you need to do is add your own content and images and you are ready to go.
Once you have created the perfect email, you can also take advantage of ActiveCampaigns split testing features to work out which campaigns are converting best.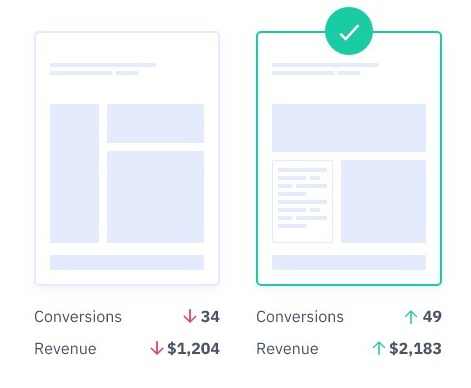 The content you include in your emails can be conditional, to show different customers different content based on their preferences, location or other needs, enabling you to create truly targeted campaigns. You can also send out geo-targeted campaigns by capturing your contact's location details when they sign up for your email list.
Once your campaign has been sent you can keep track of its performance with ActiveCampaign's analytics features, and if you want to go deeper, you can even integrate with Google Analytics to see exactly what customers are doing when they land on your website through a link they click in your email.
ActiveCampaign also has powerful marketing automation features that allow you to automate all the simple but time-consuming tasks in your business such as sending welcome emails or email series, sending thank you emails when someone makes a purchase, sending abandoned cart emails, adding contacts to specific lists when they sign up, and segmenting your lists appropriately based on your requirements.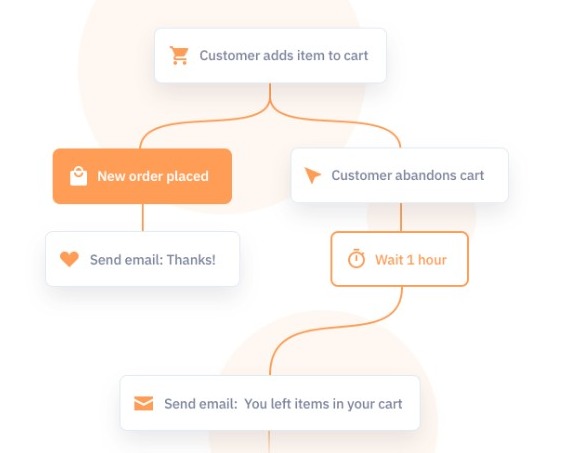 There's no need to worry if you're not a tech expert since all of your automation can be built in ActiveCampaign's drag-and-drop automation builder with just a few clicks. You can segment your workflows to ensure that the right people are receiving the right messages from you, and you can view everything from a birds-eye view so that you can easily make tweaks and adjustments to your automation if necessary.
ActiveCampaign's CRM features allow you to sell more of your products or services by not only helping you to streamline your sales process but also by allowing you to understand and build deeper relationships with your customers.
The CRM will keep all elements of your sales process running smoothly by automatically creating a new lead when someone fills in your contact form. The new lead will automatically receive a welcome email, and your sales team will be notified so they can follow up at the best time.
The CRM also has the power to create tasks and can create different tasks for your sales team based on the customer's actions, such as if they have visited your website and the value of their inquiry.
Leads can be nurtured automatically with a sequence of emails sent to them based on their interests and actions, and every interaction your team has with a customer is automatically tracked so that if they are unavailable one day, another team member can easily pick up where they left off with every little detail that has been spoken about already.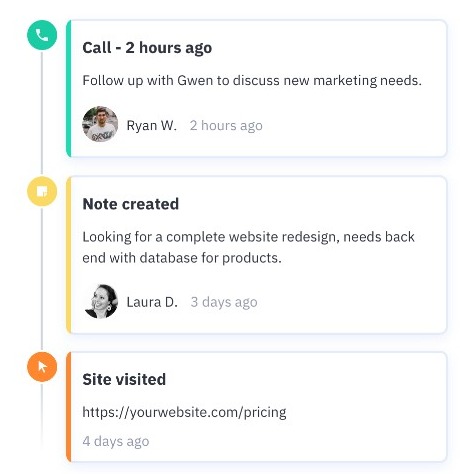 You can connect any email provider with ActiveCampaign, so you can continue to use your Outlook or Gmail with the confidence of knowing that all emails you send and receive will be tracked in the CRM too.
There's even an app, so you can still do business while you are on the go, including making calls and sending emails to contacts through the app. This is a great option for anyone who is out and about frequently but still needs to do business.
ActiveCampaign easily integrates with all of your favourite business tools, such as Calendly, Facebook, Unbounce, and Zendesk, so you can keep using them alongside ActiveCampaign.
There are lots of ways to reach your customers using ActiveCampaign, including SMS, Site messaging, Facebook custom audiences, and of course, email. The site messaging feature is particularly useful as it enables you to chat directly with your customers while they are browsing your website, so you can assist them in real-time, and boost your conversions by addressing any issues and answering questions straight away. You have the option to send personal site messages, but you can also automate them if you wish, with special offers, recommendations, and announcements.
ActiveCampaign's Machine Learning capabilities help you to make the best possible decisions for your business (and inform your marketing strategy). The Lead Scoring feature assigns points to each lead based on actions they have taken since they first made contact with your business, such as whether they have visited certain pages on your website, or clicked a link within an email. This enables your team to spend their time efficiently by contacting the leads with the highest score first, closing more sales and making more money for your business in the quickest possible time.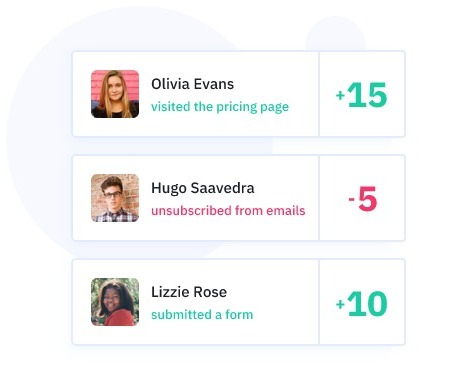 The other machine learning capability that ActiveCampaign has is predictive sending. The software constantly monitors and analyzes data from your email campaigns such as opens and clicks, to work out the optimal time to send out email campaigns. This feature always continues to learn, so your emails will continually become more targeted and therefore more engaged over time.
ActiveCampaign Customer Service and User Reviews
If you need to get in touch with the support team for any reason, you can easily submit a support request on the website, and a member of the support team will get back to you as quickly as possible. You can also speak to someone in real-time with the live chat support, and as well as that, there is an extensive support section on the ActiveCampaign website with hundreds of articles to help you out with all areas of the software.
As far as customer reviews go, ActiveCampaign performs very well, with a respectable 8.7 out of 10 on TrustRadius, and an overall rating of 'Great' on Trustpilot.
The Benefits of Using ActiveCampaign
ActiveCampaign is an all in one CRM and marketing automation tool, at a very affordable price making it a great option for small businesses and startups.
It allows you to send fully personalized email campaigns to create a unique customer experience.
The CRM allows you to really understand your customers, and build better relationships with them.
Machine learning features such as win probability with lead scoring enable your sales team to use the time in the most efficient way so that they can close more sales and make more money for your business in the quickest possible time.
Site messaging allows you to chat to customers when they are most engaged with your business, as they browse your website. This feature enables you to quickly answer questions and let them know about special offers to increase your overall conversion rate.
ActiveCampaign have great deliverability rates when it comes to emails, so you can be sure that as many of your emails as possible land in the right place to be seen by your customers and contacts.
The Downsides to Using ActiveCampaign
Unfortunately, the CRM functionality is not available with the Lite plan, so if you need a CRM tool in addition to Marketing automation you would need to consider upgrading to a higher-priced plan or using a free CRM tool like Hubspot.
SharpSpring Software Vendor In-Depth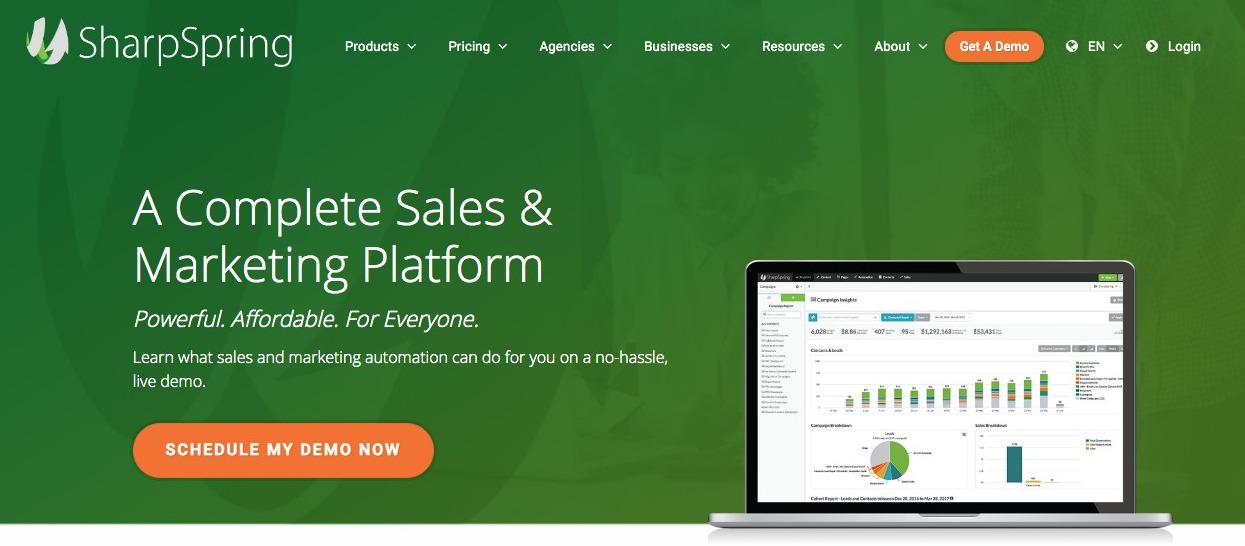 SharpSpring is an all in one Sales and Marketing platform, designed to help small to medium businesses, agencies, and enterprise businesses automate their sales and marketing process. As a business, SharpSpring themselves have grown incredibly quickly, going from just four employees to over 225 in just a few years.
SharpSpring includes everything you need to market your business effectively, including a landing page builder and blog builder, as well as marketing automation and an in built CRM. It also integrates seamlessly with a huge number of other tools such as Shopify and Freshbooks, so you can easily use everything together.
ActiveCampaign vs SharpSpring: The Main Features of SharpSpring
CRM and Marketing Automation
Dynamic Forms
Visitor ID
CRM Integrations
Landing Page Builder
Blog Builder
Reporting
Integrations
Social Media Management
Campaign tracking
User Roles
Developer API
How SharpSpring Works
SharpSpring's smart email and CRM marketing automation tools allow you to reach your customers in a personalized way that responds to their needs and behaviour. This helps you to truly understand your customers and build better relationships with them over time.
The email builder is easy to use, and it uses a 'what you see is what you get' email builder, so there is no need for any prior experience or technical knowledge to use the software. You can personalize all areas of your email using dynamic content, and take advantage of tagging to show customers different content and messages based on their needs and preferences.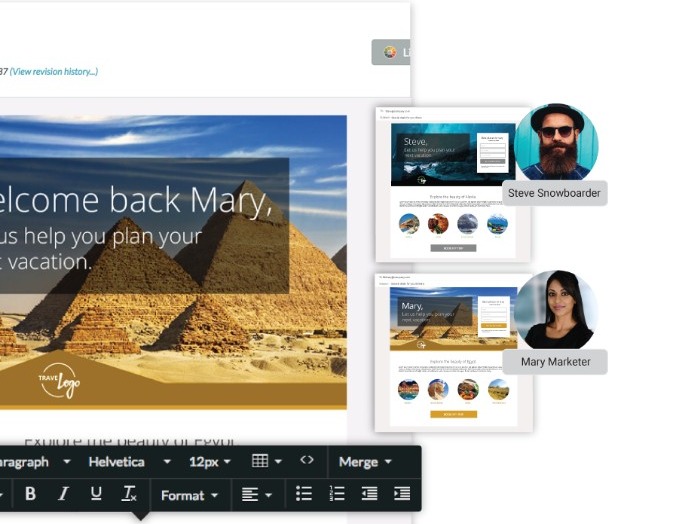 If you don't want to build your emails from scratch, there is a huge library of templates for you to choose from, and they are all fully responsive, so they will look great on devices of any size. You can see exactly how your emails will look before sending them to your list by sending yourself a 'test' email, so you can make any changes before sending it out to your entire list.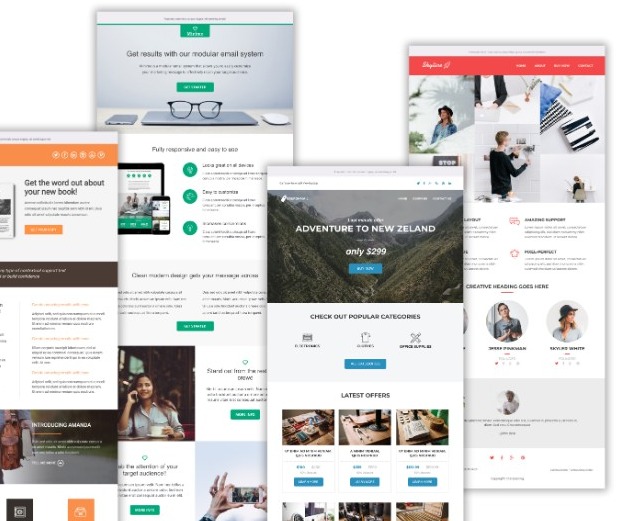 Once your email campaign has been sent out you can use the analytics features to see exactly how well it is performing by tracking opens, bounces, clicks, and deliveries, and even work out your ROI from each campaign.
After your customer has clicked on a link in your email, you can continue to track all of their further interactions with your website, such as which pages they visit, and if they fill out any forms or download anything from your site.
You can create powerful email campaigns by setting up behaviour based workflows to engage with your customers at exactly the right time, as well as setting up triggers such as alerts and confirmation emails based on a customer's actions.
ActiveCampaign includes a dynamic form builder to help you capture leads and grow your list. All of the forms integrate directly with the CRM, so as soon as a customer has filled in their details they will be added to the appropriate list, and a welcome email or email series can be triggered if you wish.
The workflow builder allows you to easily build custom workflows, and lead scoring can be used to identify the hottest leads for your sales team to follow up with and close at exactly the right time. SharpSpring uses VisitorID to track leads and customers, even if they haven't entered their details on any of your forms yet. This allows you to identify twice as many people using your site as some other marketing automation platforms.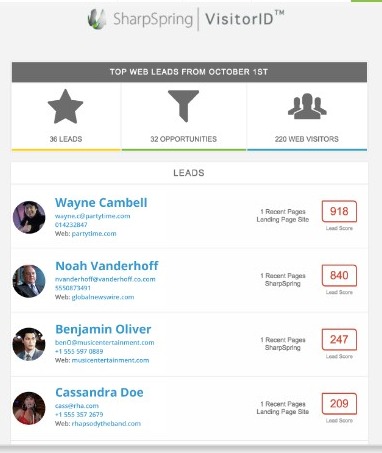 If you don't want to use SharpSpring's integrated CRM, you can easily integrate SharpSpring with your existing CRM, and use them alongside each other with two-way synchronization.
ActiveCampaign also has a landing page builder so that you can easily build high converting landing pages for your own sales funnels. The page editor is simple and uses an easy 'click and drop' builder, and if you don't want to build your page from scratch you can just pick a pre-designed page template from the library and add your own branding and content.
There is also a blog builder, so you can launch a blog of your own in minutes to encourage more engagement with your business. You can easily include social media widgets so others can share your content, and SharpSpring can track who visits your website after visiting your blog so that you can see which type of content is getting the most engagement and conversions.
Finally, SharpSpring includes robust social media management tools that allow you to run all of your social media accounts from one place, and view a central calendar of your scheduled content so you are always on top of things.
You can add multiple accounts for each social media platform, so even if you have 5 separate twitter accounts (for different areas of your business) you can still manage them from one place, with multiple user access.
SharpSpring Customer Service and Reviews
If you need to get in touch with the customer support team at SharpSpring, you can call support helpline between Monday – Friday from 8am – 8pm EDT/EST. You can also submit tickets online for support requests, or browse their comprehensive help centre. SharpSpring is doing fairly well for customer reviews with an overall score of 7.8 out of 10 on TrustRadius.
The Benefits of Using SharpSpring
The software is very user-friendly, so anyone can use it without any previous technical knowledge.
They have very good customer support, who are available by phone, and through support tickets, as well as a comprehensive help area on their website.
You can manage all of your sales and marketing from once place.
You can track each customer's activity on your website with Visitor ID, and lead scoring and automation enables your team to use their time efficiently to increase overall sales for your business
Social media management tools are included
Emails, forms, and landing pages are easy to build using the 'what you see is what you get' page builders.
SharpSpring offers a lot of tools at a competitive price compared to its closest competitors.
SharpSpring offers monthly rolling subscriptions, so if you aren't happy with the service you can leave at any time.
The Downsides to Using SharpSpring
There are some limits when it comes to building your emails and landing pages, so if you need something completely custom you may need to hire a developer. Although SharpSpring offers a lot of tools, over all it's still quite expensive, so might not be a suitable option for small businesses or startups on a shoestring budget.
ActiveCampaign vs SharpSpring: Pricing

ActiveCampaign has four different plans available: Lite, Plus, Professional, and Enterprise.
The Lite plan costs $17/month for 1,000 contacts. This plan includes unlimited sending, email marketing, marketing automation, chat, and email support, and up to 3 account users.
The Plus plan costs $49/month for 1,000 contacts and includes everything from the Lite plan, as well as CRM, contact & lead scoring, deep data integrations, custom user permissions, custom branding, one on one training, SMS marketing, conditional content, and up to 25 users on each account.
The Professional plan costs $129/month for 1,000 contacts, and includes everything from Lite and plus plans, as well as Site messaging, attribution, predictive sending, win probability, split automation, and up to 50 users.
Finally, there is the Enterprise plan which costs $229/month, and includes everything from the previous plans, as well as custom reporting, custom mail server domain, custom domain, dedicated account rep, in-depth onboarding, free design services, free social data, phone support, uptime SLA and unlimited users.
If you would like to give ActiveCampaign a try, you can visit their website and take advantage of their free trial here.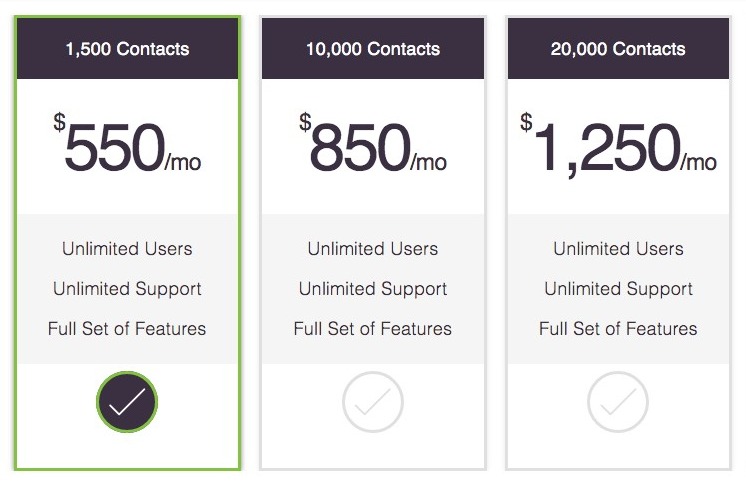 SharpSpring has three main plans. All plans include unlimited users, unlimited support, and all features
20,000 Contacts – $1,250/month.
You should also note that there is an $1,800 onboarding fee when you sign up. This gives you extra support for the first 60 days to ensure you get everything set up correctly and get the most out of the SharpSpring software.
To find out more about SharpSpring, head over to their website. They don't offer a free trial but you can schedule a demo of the software to see how it all works.
Frequently Asked Questions:
Is Active Campaign free?
Free trial capabilities. Our free trial allows you to test the platform with up to 100 contacts and up to 100 emails sent. The features available within our trial match our Professional tier of features. The trial period is for 14 days (but if you need a little extra time just let us know!)
Who uses SharpSpring?
The companies using SharpSpring are most often found in the United States and in the Marketing and Advertising industry. SharpSpring is most often used by companies with 10-50 employees and 1M-10M dollars in revenue.
Is Active Campaign a CRM?
ActiveCampaign CRM is a tool that really simplifies the process of deal management. In fact, the whole CRM is organized around the concept of being able to create, edit and progress deals – which is probably why they refer to it as the 'Deals CRM'.
ActiveCampaign vs SharpSpring: Which CRM and Marketing Automation Tool is Better?
Both ActiveCampaign and SharpSpring are powerful tools, with great features that will help you grow your small business, but they although they both have equally good CRM and marketing automation features, some of the other features they offer are different, so it's difficult to say which tools are better: it really depends on the needs of your business in this case.
For small business, inbound marketing, and bloggers, ActiveCampaign is a great choice. It has very affordable price plans starting from just $9 making it ideal for small business ventures, or lean bootstrapped startups.
Large businesses and Agencies with a higher budget, then SharpSpring is the way to go. Although it has a higher price tag, SharpSpring offers an incredible amount of features in one place, most notably the social media management tools, which offer multiple accounts per platform- an ideal automation solution for large businesses.
If you would like to check out ActiveCampaign, head over to their website and check out the free trial to see what's on offer. If you're a larger business, then head over to SharpSpring's website where you can schedule a free demo of the software to see if it's right for you.
Still not sure which one to choose? Check out our article on how to choose the right CRM software for your business for everything you need to know.
Further Marketing Automation Platform and Marketing Tools Reading: