Last Updated on June 24, 2023 by Ewen Finser
Creating landing pages is all good. Creating dedicated landing pages is top-notch.
Here's the deal:
Website homepages do not make the best sales pages, sales funnel, product pages, lead capture pages, and so on. Because homepages comprise of widgets and multiple links to other pages within your site, they are best for encouraging visitors to browse around.
This is as opposed to following up on a specific call-to-action, which is likely what you want them to do when you have an offer for them.
With a dedicated landing page builder at your disposal, you can create stunning landing pages in a few minutes, get all the features you need (and want) to boost your conversion rate (conversion rate optimization), as well as save hundreds of bucks in developer fees.
But with a bunch of landing page software companies like LeadPages, ClickFunnels, Unbounce, and Instapage all offering above average-to-excellent landing page services and tool functionality, which is the best landing page company for your needs?
This post focuses on the Unbounce vs Instapage debate. We'll dig in to help you find the best of them based on each one's special features—and not necessarily what essential landing page builder features overlap between them.
Shall we?
Main Differences Between Instapage vs Unbounce
The main differences between Instapage and Unbounce are:
Unbounce offers more flexibility and customization options, whereas Instapage works smoothly out of the box with more defined landing pages
Unounce is cheaper starting at $99/month, whereas Instapage is more expensive starting at $149/month
Instapage offers better analytics and reporting with heat maps, whereas Unbounce only has simple native reporting functionality
Unbounce offers more advanced customizable popups with exit intent, whereas Instapage offers basic popup functionality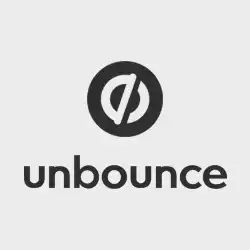 Landing pages and campaigns that convert | Unbounce
Unbounce's Conversion Intelligence Platform pairs your company's know how with machine learning to deliver great results. Get 20% off your first three months + 14 days Free Trial.
Start saving!
We earn a commission if you click this link and make a purchase at no additional cost to you.
Landing Page Tool Overview
But before launching straight to the Instapage vs Unbounce review, how about a little background—just to be sure of what's on review here.
Launched in 2009, Unbounce is the OG of landing page builder services. It inspired the likes of Instapage and LeadPages from about three years later.

Unbounce states that its main agenda is to help digital marketers convert more browsers to leads (lead generation), prospects, and customers. The Instapage alternative is fully web-based, has a free trial, and a powerful ecosystem around its landing page builder.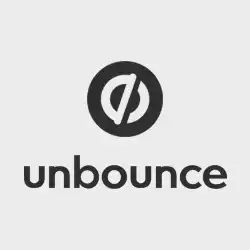 Landing pages and campaigns that convert | Unbounce
Unbounce's Conversion Intelligence Platform pairs your company's know how with machine learning to deliver great results. Get 20% off your first three months + 14 days Free Trial.
Start saving!
We earn a commission if you click this link and make a purchase at no additional cost to you.
Instapage has helped marketers create beautiful landing pages since 2012 when it launched. It is particularly popular with landing page creators because of its ease-of-use.

Over the years, the top Unbounce alternative has added more powerful marketer tool features to its standard landing page builder offering to make it one of the most used in the industry.
It is also fully web-based, offers pricing tiers for different needs, and various integrations to help marketers make the most out of their online marketing campaigns.
User-Friendliness and Customer Support
Instapage's landing page creator design is particularly easy to set up and get started with.
You get to use its drag-and-drop landing page editor to create decidedly beautiful pages in as little as 3 minutes. No coding experience required. But, if you have CSS experience, you get a blank template to build your landing page from scratch.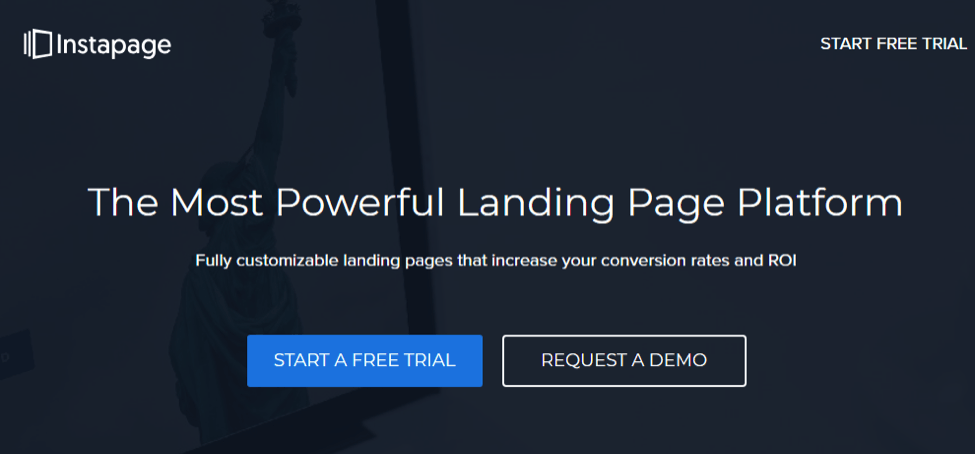 You can even choose an Instapage landing page template in the company's marketplace based on reviews from current users of a template you find appealing.
In case you need help along the way, Instagram customer support is available via Live Chat and email. You can also hop on to their blog and community/forum to get Instagram hacks you can use to empower you to DIY.
Unbounce may not be as easy to set up and master as much as Instapage is. But that is because it offers more landing page designs and tools, requiring more time and effort to learn and master.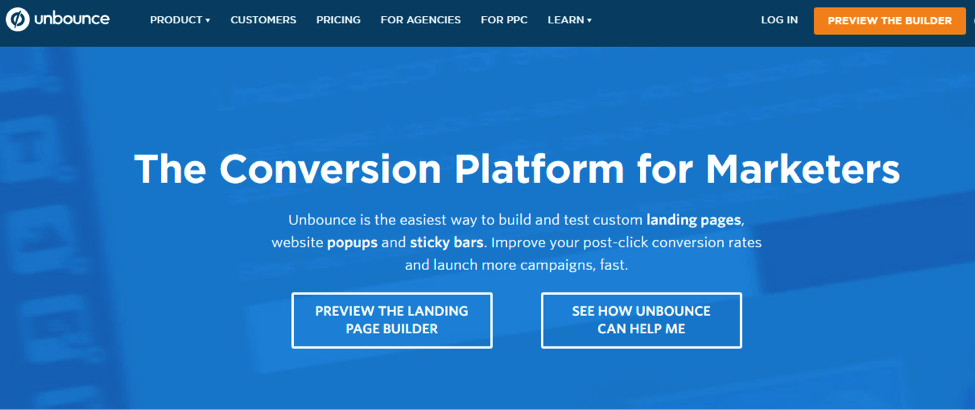 However, Unbounce does have a podcast, active blog and social network channels they use to help users get off on the right footing. They do offer call support, but that is only available with the Enterprise plan.
Choose another plan and Live Chat and email support will be what you get—which is good considering they typically get back within 12 hours.
Special Features
Here's the best part.
Both landing page builders will help you to create custom landing pages that comprise of:
Headers and paragraphs
Images
Forms
Video Embeds
Buttons
Countdown timers
Exit-intent lightboxes (modal pop-up boxes)
Icons and Shapes, and more
You can use A/B testing countless times with either landing page service, too. You can launch the feature right from the landing page editor in both accounts. Both Instapage and Unbounce split traffic (split testing) and channel it to the different versions of your pages automatically.
Also, while dynamic text replacement used to be an Unbounce stronghold, Instapage has recently also added the feature to its entire ecosystem, so its available in all plans.
How dynamic text replacement works is by helping insert searcher-generated keywords that automatically integrate into your landing page. The technology helps boost conversion rate. However, DTR is only available for use by Optimizer and Team & Agency subscribers.
Again, both Unbounce and Instapage provide mobile-responsive landing pages for mobile users, boosting your site's SEO and user experiences.
But, what are the unique features to actually compare between Instapage and Unbounce?
Instapage Special Features: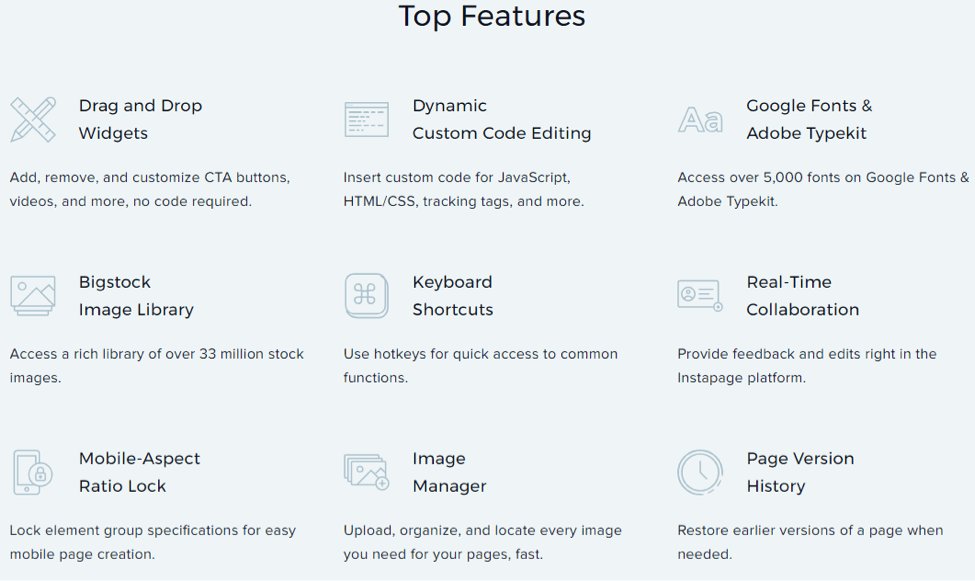 Instablocks:
This is a newer feature to Instapage users. Instablocks are designed to help you adopt a consistent style or branding across multiple landing pages. This is particularly helpful if you want to use several different pages but want to maintain a consistent messaging and color or theme in all of them.
The benefit here is you only get to create certain landing page elements once and re-use them. For example, you can use Instablocks to re-use headers, some images, pricing tables, and testimonials. But, Instablocks still won't let you change multiple pages' colors in one click—you'd have to manually change each page's colors at a time.
Unlike, dynamic text replacement, Instablocks is available to Core, Optimizer, Team & Agency, as well as Enterprise plans.
Instapage Instablocks have a dedicated video you can check out to learn more about how it all works together.
Heat mapping
Want to find out how visitors interact with your landing page elements?
You can visualize what visitors click, so you know where to focus your landing page optimization hacks to increase conversion.
And you do not need to shell out more bucks to add heatmapping services from third-parties such as Hotjar or Crazy Egg.
Heat mapping is inbuilt to Instapage as a conversion tool, complete with all the real-time analytics you can expect from such a tool.
You can combine the heat maps data with A/B testing. For example, if website visitors aren't scrolling as deep as you'd like or enough to convert, you can create a duplicate landing page, change the copy, and test if the new copy enchants visitors enough to scroll deeper.
Team collaboration tool:
Team collaboration tools for landing page software?
Thoughtful. How?
If you work with remote contractors, employees, clients, an off-site agency or aren't at the office yourself.
With Instapage's web-based collaboration tool, you and your team can work on a landing page together. You can live-chat and receive valuable feedback to make improvements without calling for physical meetings.
The tool will even display client histories, so you can find out what a specific customer's problem was and whether you solved it for them.
Besides, the collaboration tool makes leads onboarding seamless by directing new leads to specific departments as you wish.
Precision editing tools:
Instapage's landing page editor provides pixel distance information to help align different elements as best as possible for maximum impact. You can resize images, copy boxes, as well as drag and drop different elements anywhere on the landing page.
Parallax scrolling:
The landing page design feature will help you create the 2-dimensional illusion to make your landing pages pop and enchant—probably help you get more people scrolling deeper and deeper.
Publishing tools options:
You can publish an Instapage landing page in a WordPress and Drupal website or blog. Or you can use a custom domain for Google AdWords campaigns (with Google tagging and Google Analytics). Marketers using Facebook ads can also use the platform to publish landing pages dedicated to their Pay Per Click (PPC) campaigns.
Still, you are free to publish the completed pages on Instapage Demo Page to see how they behave before a full-on launch. Instapage can host your templates or completed pages there.
And if you want, you can download Instapage landing pages to your computer and upload them later—for example, when you want to continue with a subscription after canceling before.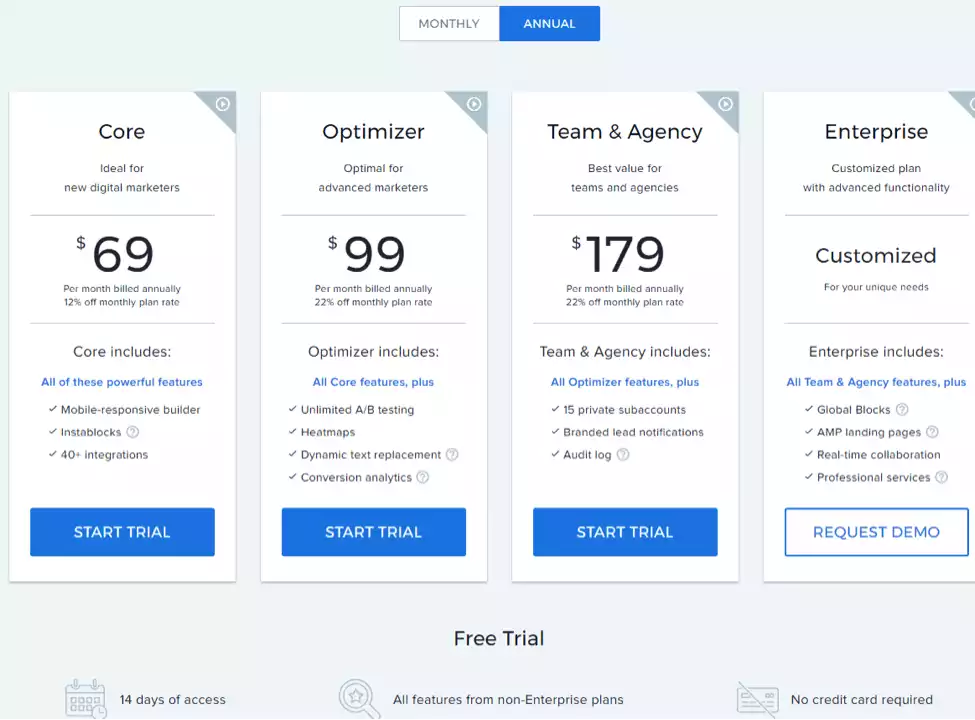 A Great Alternative: Instapage
Instapage just has better templates for just about every niche and is much more affordable than the alternatives, perfect for small – but growing – digital businesses.
View Promotional Pricing
We earn a commission if you click this link and make a purchase at no additional cost to you.
And what's so special about Unbounce?
Unbounce Review: Special Features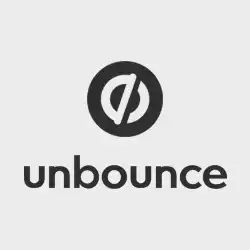 Landing pages and campaigns that convert | Unbounce
Unbounce's Conversion Intelligence Platform pairs your company's know how with machine learning to deliver great results. Get 20% off your first three months + 14 days Free Trial.
Start saving!
We earn a commission if you click this link and make a purchase at no additional cost to you.
Lead notifications
Once a visitor heeds your call-to-action and converts, Unbounce will send you, your client or boss an email to notify them of the new sign-up. That will help across all landing pages you have. If you work with clients you can brand emails with your logo and colors, too.
Unbounce builder
Not only is it drag-and-drop, but you can also create full-screen background images, 3D-like experiences using parallax scrolling and an even more powerful dynamic text replacement tool into every landing page. No coding required. No plans prohibited.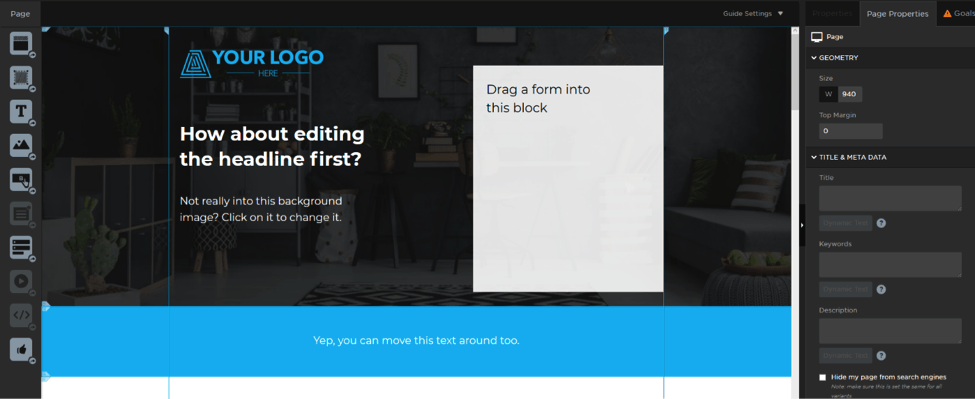 With over 840 font types to choose from, you can also customize the appearance of your copy to mirror your branding. You can also add more fonts using third-party integrations as you would with Instapage.
Unbounce will allow you to completely customize a template in the Unbounce Builder to match your brand. Or you can start with a fresh canvas and create an Unbound landing page from scratch.
Like Instapage, you can download landing pages into your computer for future use. However, with Unbounce, you can also upload one (more details in the templates comparison section below).
Unbounce Agency and Client Tools
You can duplicate your best popups, sticky bars and landing pages for future campaigns. That way, you can save time the next time around. Still, you can set multiple-user permissions, organize campaigns into relevant groups, transfer or archive idle client accounts without deleting anything, and manage multiple clients from one place.
And while at it, you can record and export different clients' leads from any page at the same time as a CSV file.
Sticky Bars Marketing Tool
These are horizontal bars that run across the bottom or top of your landing page to subtly show out your offer. You can schedule the sticky bars to display and terminate in accordance with your marketing campaign or season.
Still, you can set up the bars to display or hide to visitors based on their interactions with your site; conversion status, browsing history, referral domain, and more. Unbounce uses visitors' cookies to target them with Sticky Bars.
Or you can target by location, where sticky bars and popups display differently based on the location of the visitor. That way, you can market localized offers to people that are likely to want them.
Data Protection
On top of SSL encryption, Unbounce recently added data protection to be available to users by design.
The data privacy and security protocols include PCI-DSS, GDPR, and CASL. Also new is the ability to use two-factor authentication (using a trusted device and password to log in), Audit Logs showing user activity in your account, as well as Single Sign-on from where all account activity can be controlled.
Templates
Unbounce offers over 125 landing page templates to choose from compared to over 200 from Instapage.
Unbounce has a "product partnership" with Themeforest, and the landing page creators avail an additional 180+ templates to the Unbounce marketplace. You can even buy tried and tested third-party templates that have users reviews to help you decide if they'd work for your campaign.
But, depending on your needs you'll have to decide which templates between Unbounce and Instapage are more appealing to you and your target audience.
Alternatively, both services offer a What You See Is What You Get (WYSIWYG) builder. So, if you want to create a custom landing page from scratch, you can with either option.
Still, you can use either to create one-step or two-step opt-in forms, Thank You pages post-conversion, and single or multi-page forms. And both have template categories you can sift through by industry.
Marketing Automation Tools Integrations
Whichever choice you pick, you'll have plenty of email marketing tools like Campaign Monitor and MailChimp, marketing automation services such as Infusionsoft and, CRM tools like Salesforce and HubSpot CRM, and analytics tools like Google Analytics to integrate.
If you find any of your favorite tools missing you can still use Zapier to integrate other Instapage and 8Unbounce integrations to optimize your workflows.
Both offer WordPress plugins you can use to speedily publish a dedicated landing page on your WP site.
Analytics and Reporting Tools
All analytics display on the dashboard of either landing page software choice. While Unbounce used to offer more detailed data visualization, Instapage has since caught up and now compares head to head with the former.
You can embed Google Analytics into either account and it'll capture, process, and display the data you need to optimize your landing pages for better conversion rates.
Pricing Plan Comparison
You'll have several pricing plans to choose from.
A good thing is you can signup to either service as a beginner and have the landing page software scale with you as you grow your user base and need the higher tiers.
But before that, here are a few things to keep in mind:
With that out of the way, here are pricing snaps to help you choose the best landing page software service for your needs and budget.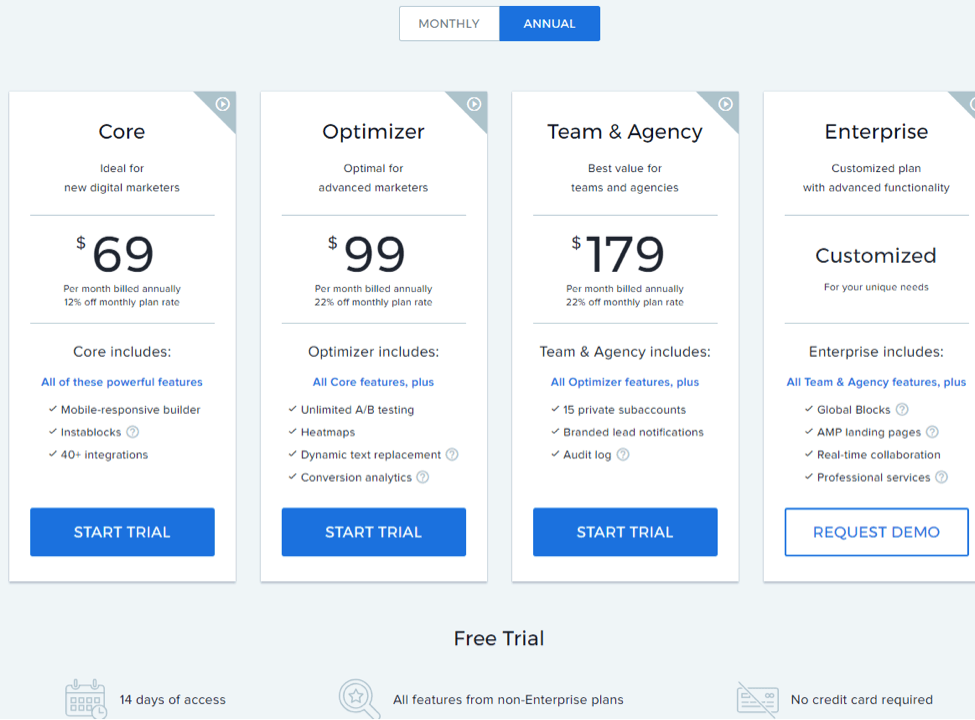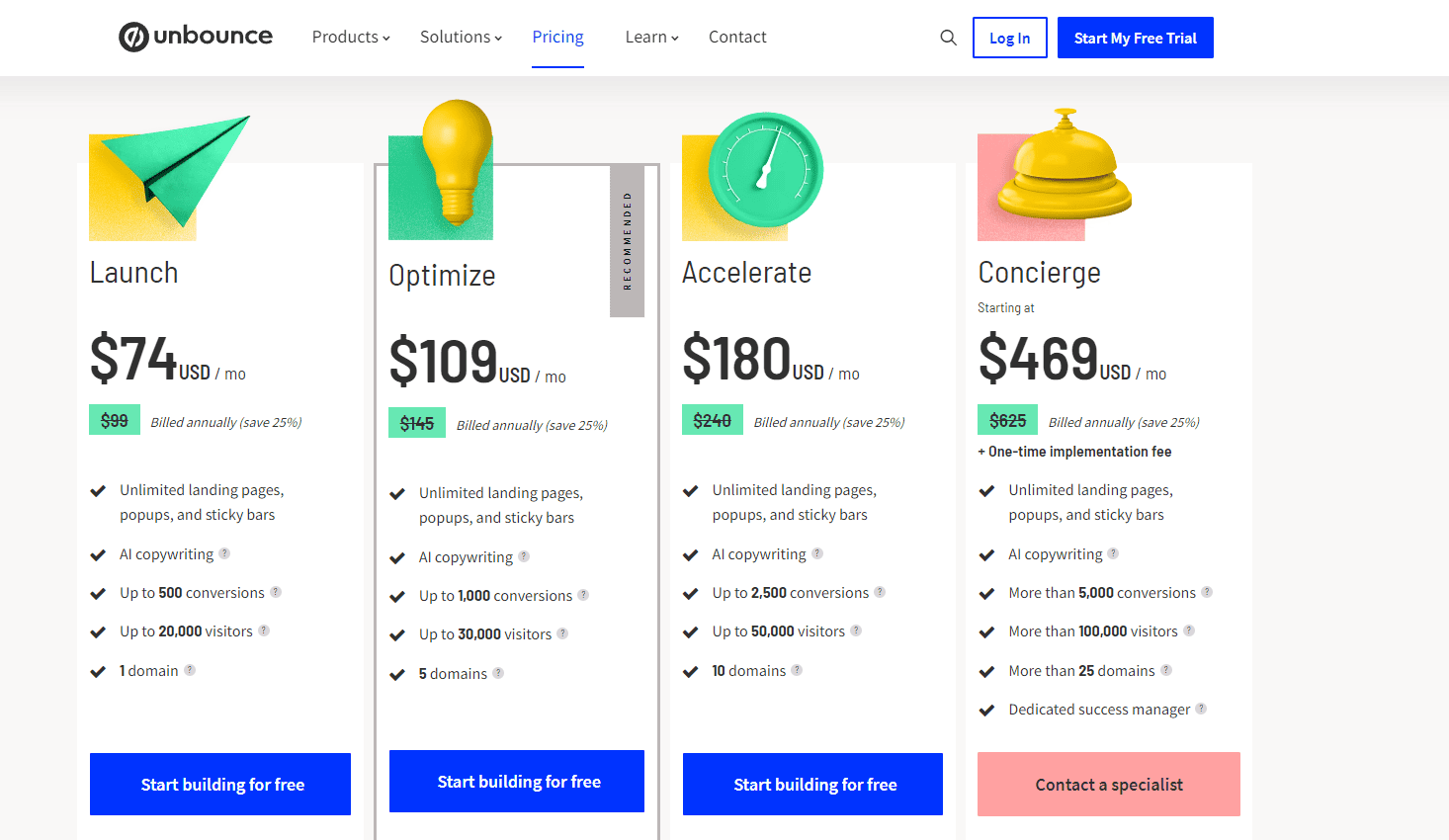 Instapage vs Unbounce: Conclusion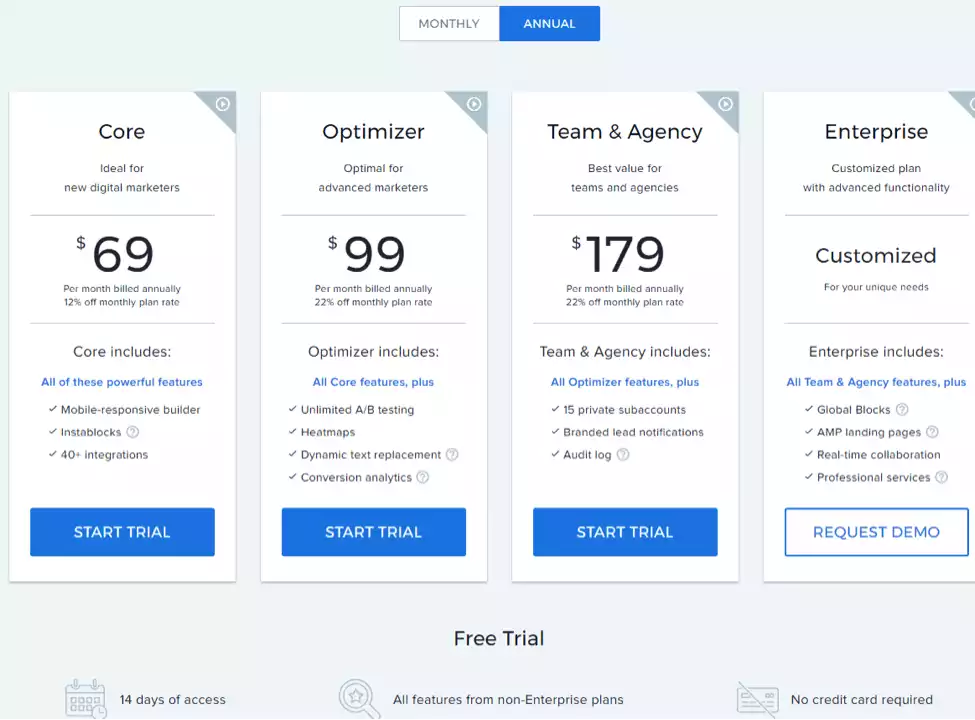 A Great Alternative: Instapage
Instapage just has better templates for just about every niche and is much more affordable than the alternatives, perfect for small – but growing – digital businesses.
View Promotional Pricing
We earn a commission if you click this link and make a purchase at no additional cost to you.
Considering its pricing and many features, a good chunk of which are designed for marketing agencies and teams, Unbounce could be ideal for you if you have a medium to large business.
Such a business would make the most out of Unbounce because you can design and create multiple pages, manage clients' leads separately, and protect their data accordingly.
Even for beginners, the cheaper entry level price point of Unbounce compared to Instapage makes it hard to pass up.
Unbounce could make an even better team and agencies' landing page company if it offered landing page sharing and collaboration tools like Instapage.
Bottom Line Summary: For the above reason, I strongly prefer Unbounce here as the better option.
Instapage is ideal for you if you want an easy to set up and run landing page creation service that has a ton of beautiful templates for just about any industry and use case. Also, while the base plan is missing A/B testing and fees are paid on an annual basis, Instapage does offer startup-friendly pricing tiers.
However, the best landing page builder for you is the one that can serve your specific needs—needs that only you know.
Still wondering how to choose the better high converting landing page service, marketing funnels or marketing automation tool between Instapage and Unbounce?
Hit reply and let your will be known in the comments below.
Other Landing Page Platform and Sales Funnel Alternatives to Evaluate
If you are still undecided, check out how both Instapage and Unbounce compare to some popular competitors below.