Last Updated on April 22, 2023 by Ewen Finser
Unbounce has powered over 1.5 billion conversions to date, but what other options are out there? In this best Unbounce alternatives guide, I will walk you through some of my favorite finds so you can find the best landing page builder for you.
Building landing pages can feel like you're trying to make the recipe but can't find the right ingredients. However, when you find the perfect tool to help you, it's like finding a cookbook with clear directions for the most delicious dish.
Continue reading this article to learn about some great alternatives to Unbounce.
Before we get into it, here are my top three picks in case you're in a hurry.
Unbounce Alternative #1: OptinMonster (Best Overall)
Unbounce Alternative #2: GetResponse (Easy to Use)
Unbounce Alternative #3: ClickFunnels (Great for Total Sales Funnel Builds)
Criteria for Choosing These Unbounce Alternatives
These are solid choices for landing pages builders because only the best made it through. I made my recommendations based on:
Ease of use
Effectiveness
Price
Dependability
Now that you have the top three alternatives for Unbounce and the criteria I used to pick the best ones—let's get into the details.
OptinMonster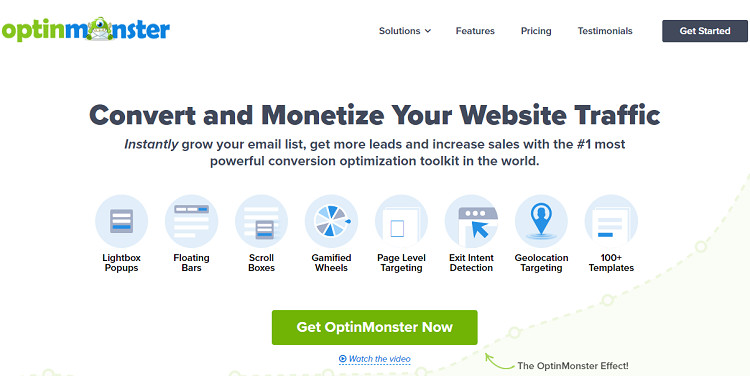 Summary: OptionMonster is under the umbrella of Awesome Motive. They also have other brands you probably recognize, such as WPBeginner, MonsterInsights, WPForms, and even SeedProd, which we will discuss below.
OptinMonster is a strong tool to help you capture leads, and I found it easy to navigate and customize. They are very reliable since their parent company has such a good reputation.
OptionMonster Advantages
Easy to use since its user interface is very intuitive. You don't have to hunt for the important parts of the creation process.
Great-looking templates that make you look like a true professional—even if you're a beginner.
The display options are great if you use WordPress, and they still work great on other platforms.
OptionMonster's support team is responsive and helps out when you feel stuck on getting set up or trying to get better results.
Built-in customizable CSS is built-in.
Exit popup to catch people that might be clicking away.
OptionMonster Disadvantages
Analytics viewing needs a little work, so it is easier to compare each campaign.
Missing some key integrations, but this seems to be resolving.
Nowhere to automatically set a time to stop running a campaign.
OptionMonster Pricing Plans: Pricing for the basic plan is $14/mo, the plus plan is $30/mo, the pro plan is $29/mo, and the growth plan is $80 per month. If you want to pay annually, there is a discount available.
Further Reading:
GetResponse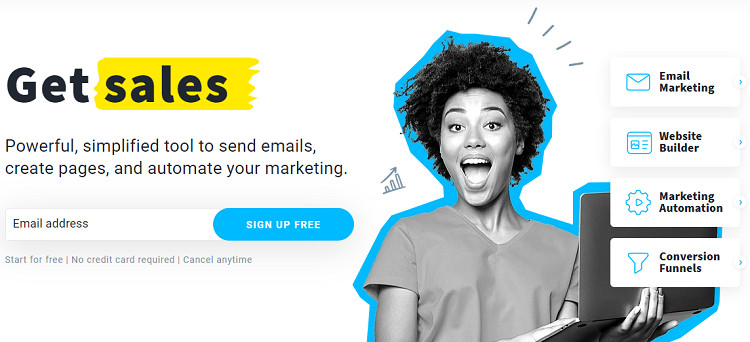 Summary: I've used GetResponse for email marketing and landing pages, and they do a great job with both of these. They don't have as many fancy features as OptinMonster does, but they are still very strong. I also like that they are very easy to use.
Keep in mind that they are not in the USA, so you might get notifications about a foreign charge on your card whenever their bill comes due.
GetResponse Advantages
Easy to make their templates look unique and original.
Very fast and knowledgeable customer support to help you with any issues.
Analytics are detailed enough to help you make decisions on future campaigns.
Nice user interface with great user experience for an enjoyable time while working on projects.
The GetResponse funnel builder is extremely helpful.
Get Response Disadvantages
A/B testing is helpful, but the gathered information can sometimes be confusing.
The mobile app isn't the best.
No refunds—even if you buy an annual plan.
GetResponse Pricing Plans: Pricing for the basic plan starts at $12.30/mo, the plus plan is $40.18/mo, the professional plan is $81.18/mo, and if you need more, you can speak to GetResponse about a custom plan with custom pricing.
Further Reading:
ClickFunnels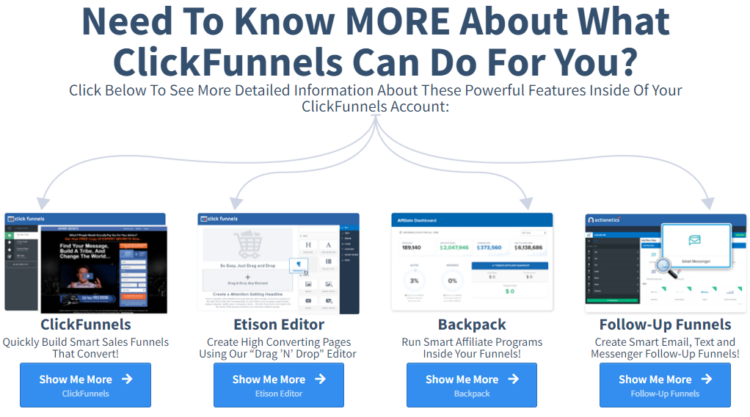 Summary: ClickFunnels is a funnel builder that has powerful technology behind it but it also has a powerful movement behind it.
The people that use ClickFunnels really love the software, and no other funnel builder can turn their head. While it does a great job, it is a little pricey, and there is a lot of hype behind it because of the founder Russel Brunson.
Don't get me wrong, it's a great company and a great tool to use, but it isn't the end all be all like some people treat it. If you don't mind putting out a pretty penny and want something that is easy to use with everything you need to create a great funnel, then this could be the perfect tool for you.
ClickFunnels Advantages
Simple to create the perfect funnel for your offer.
Shareable funnels so you can show your team exactly what you're working on.
Drag-and-drop style editor that is usable with pre-designed templates.
You can work with your team members by setting up their own login and rights.
Ability to set up payment gateways to make it easy for people to pay you.
ClickFunnels Disadvantages
The pricing is pretty high.
Training isn't the best, but you can find independent tutorials that make the process easier.
Support is lacking.
Setting up your first funnel can be a little confusing if you aren't familiar with these types of software.
Integrating ClickFunnels with a domain takes time and knowledge of backend development.
ClickFunnels Pricing Plans: Pricing for the basic ClickFunnels plan is $97/mo, the platinum plan is $297/mo, and if you really want to go wild, you can join the Two CommaClubX, which is $2,497/mo.
SendinBlue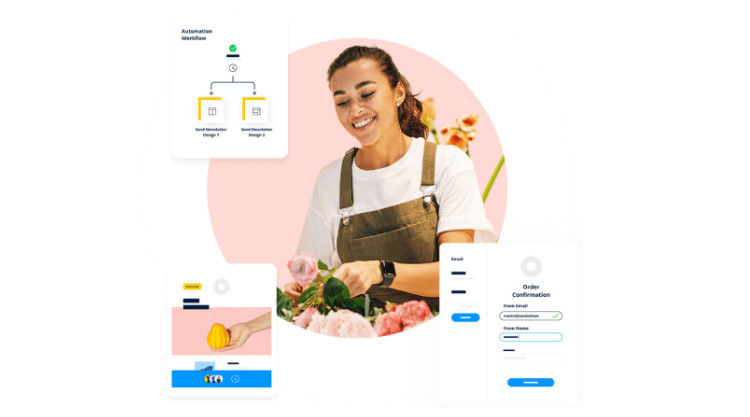 Summary: SendinBlue prides itself in being able to help people create beautiful landing pages within a matter of minutes. This complete sales and marketing setup is great for people who want to use landing pages and put together the rest of their online marketing in one place.
It has high converting landing pages you can put together with a few simple clicks, but it has other great tools like SMS marketing, CRM, marketing automation, and beyond.
SendinBlue Advantages
Highly effective, high-converting landing page template designs.
Easy-to-use drag-and-drop editor.
Mobile responsive designs make it easy to reach people on any device.
No installation is required, so you can use it from the web.
SendinBlue Disadvantages
Doesn't allow you to easily market with SMS and phone calls.
Photos don't reformat nicely.
Need more integrations.
SendinBlue Pricing Plans: SendinBlue allows you to get a limited account for free. After the free account, pricing is as follows: Lite plan is $25/mo, Premium plan is $65/mo, and if you need more, you can speak to SendinBlue about their Enterprise plan.
LeadPages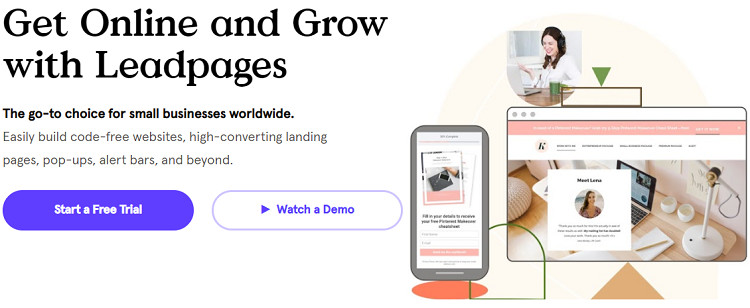 Summary: LeadPages prides itself in making it easy for everyone to get a landing page up quickly. They say you can guess less and grow more when you work with them, and many people agree.
I've used LeadPages in the past, and they're pretty simple to set up, and they look really good—and most importantly—they convert well.
LeadPages Advantages
Quick & easy to create landing pages
Ability to analyze traffic
Monitor social media
Listen to user suggestions on making LeadPages better
LeadPages Disadvantages
Glitchy at times when you move around different elements
Pricey
LeadPages Pricing Plans: The Standard pricing plan is $49/mo and the Pro pricing plan is $99/mo. If you pay annually, those prices change to $37/mo and $74/mo.
Instapage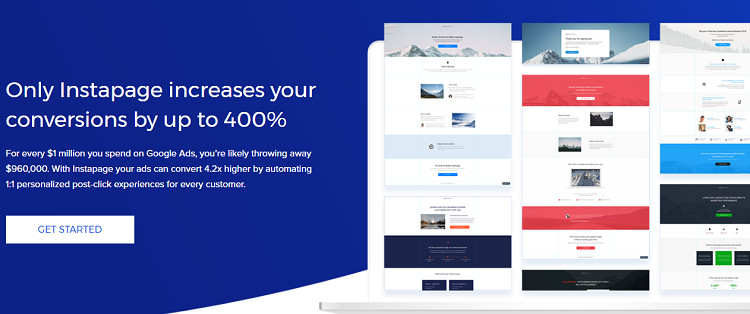 Summary: Instapage is on a mission to automate advertising conversion. They approach conversions from a scientifically proven method and believe that relevancy always works. After helping customers create over 3 million landing pages, they believe they know a thing or two about creating conversions. They make the landing page building process easy with their conversion-focused layout.
Instapage Advantages
Hosted in the cloud and has good site speed
Makes it easy to set up landing pages with templates and forms
Simple processing and editing of landing pages
Setting up vanity URLs is simple
Instapage Disadvantages
Needs better SEO tools
Pricing is on the high side
Instapage Pricing Plans: The Building pricing plan for Instapage is $299/mo or $199/mo if you pay annually. If you need a custom plan, you can also reach out to Instapage about what that looks like and how much that would cost.
Mailchimp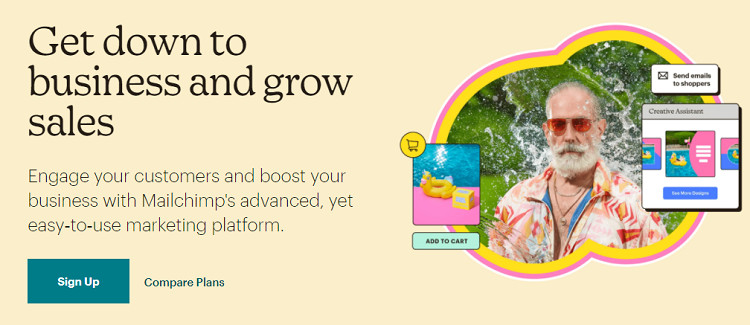 Summary: Mailchimp allows you to get the solution to all of your marketing needs in one place. The company came about in the early 2000s because of how expensive it was to use email software at that time.
Mailchimp stays true to its initial purpose and still helps many businesses get started marketing online. What's shocking is that you can get access to their services for free in some cases.
I personally don't love using Mailchimp because it feels clunky, and the user interface is ugly. However, if you're hard up for capital, it's a great way to get started.
Mailchimp Advantages
Easy to understand interface (even if it is ugly)
Drag-and-drop features make it easy to edit
All-in-one solution
Mailchimp Disadvantages
Some people have login issues
Not as many options as some people need
Mailchimp Pricing Plan: Mailchimp has a limited free plan, and then you get into their paid plans. The Essentials pricing plan is $9.99/mo, the Standard plan is $14.99/mo, and the Premium plan is $299/mo.
FAQs
Question: Where Does a Landing Page Fit in My Marketing Plan?
Answer: A landing page can help you gather leads by helping you capture email addresses or you may use it to drive sales. There are a lot of things landing pages can help you with, but these are the main two people focus on because landing pages are so effective at lead generation and driving sales.
Question: Can I Create Landing Pages for Free?
Answer: Yes. You can create landing pages for free. However, unless you know how to make a landing page convert—I wouldn't recommend DIY methods.
Question: Are Landing Pages Worth It?
Answer: If you build a great landing page and send relevant traffic to that landing page, you can generate a very nice return on your investment.
Question: Is a business building landing pages a good idea?
Answer: Yes. If you invest in good landing page software, you can charge a pretty penny to create good-looking, high-converting landing pages.
Final Note: Best Alternatives to Unbounce
As you can see, there are some great Unbounce alternatives, but some of them as just as pricey if that's what you want to avoid. As you went through the list, you might have seen some landing page builders that fit your needs better than Unbounce.
Whatever the case, these are all high-quality options, but I really like Optin Monster. Partly because of the company Awesome Motive that they fall under and partly because of all the easy-to-use features and ways it makes life easier when you want to convert website visitors.
Optin Monster is my go-to pick for an Unbounce alternative.