Last Updated on April 22, 2023 by Ewen Finser
Setting up your online real estate is important, but if you get lost in the weeds of figuring out whether to use Unbounce vs Webflow, you're setting yourself back. In fact, these two are pretty different, and you might even want to use them both.
However, I'll walk you through what they're good for, how they're different, how they're the same, and what the pros and cons of each of these platforms are.
Whether you want to set up a landing page, website, or both, these tools could be helpful to you. Continue reading to learn more about Unbounce vs Webflow and see which one fits your needs best.
Main Differences Between Unbounce vs Webflow
The main differences between Unbounce vs Webflow are:
Unbounce provides the main features you need, whereas Webflow goes above and beyond with its features.
Unbounce provides flexibility and customization, whereas Webflow doesn't give as much ability to customize.
Unbounce goes above and beyond with its tracking abilities, whereas Webflow lacks in this area.
Unbounce gives its customers amazing customer support, whereas Webflow doesn't have a great customer support team.
These companies serve a very different audience, so depending on your needs, you may find one more attractive than the other. Use the information below to make the best decision for your business.
Unbounce vs Webflow: Unbounce Overview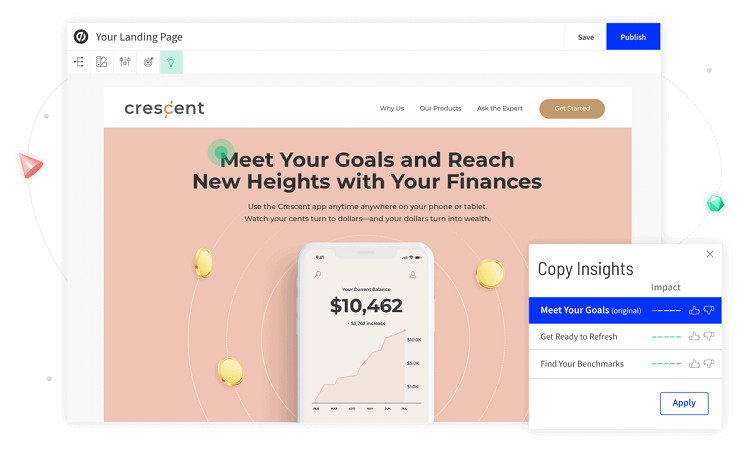 Conversion is the name of the game with Unbounce. They put all of the tools at your fingertips to make sure you get the most out of every visitor that sees the landing page. They even bring AI in on the conversion game, which enables you to get results faster than you could ever get them on your own or with a couple of other human brains.
Unbounce was the company that started it all by coining the term "landing page." When they first started saying it, no one really knew what it meant or why they would need one. That didn't last for long, though, and everyone hopped on board and noticed how important this tool is for online marketing.
A lot has changed since 2009, but what hasn't changed is how great Unbounce is at its job. For those of you that want the best of the best for your landing pages, Unbounce is a great option. They continue to improve their products and provide amazing customer service to their users.
The focus on high conversions makes Unbounce the popular choice for marketers that are serious about only getting the best out of the software they use. When you use Unbounce, you can pay for less traffic and get the same or higher results.
It is easy to add widgets to your landing page when you use Unbounce. You can use these to keep the user on the page longer until you get the desired action out of the customer.
Unbounce Pros
Easy to create beautiful landing pages
Does well with mobile
Easy integration ability
Unbounce Cons
Some customizations are difficult
Price
Unbounce vs Webflow: Webflow Overview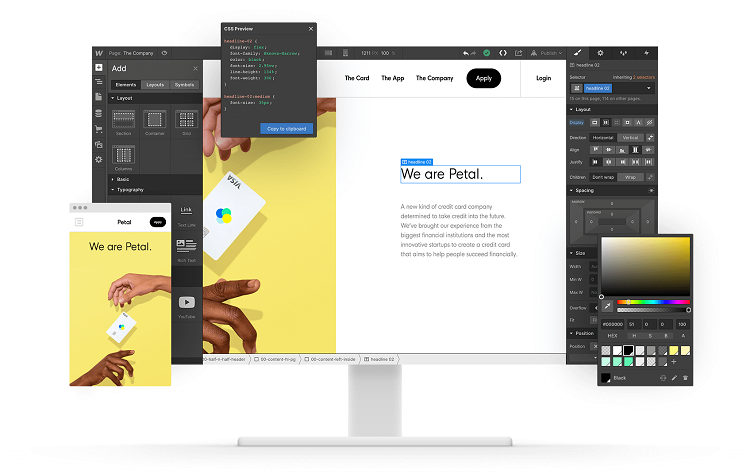 Webflow's vision is to be the most powerful no-code website building platform. They don't focus on landing pages, but you can build some great landing pages on their platform if you know what you're doing.
They focus on their four key behaviors, which are:
Earning customer trust
Getting it done, doing it right
Practicing candor with care
Dreaming big, shipping often
Webflow has been around since 2013, and even though it isn't a landing page builder-specific platform, it still gives people the ability to get the job done without coding. Their company has almost 300 employees and 2 million users around the world. They are a strong option for building your landing page but know that isn't their area of expertise.
Keep in mind that even though Webflow doesn't focus on conversion as Unbounce does, there are some workarounds for this. Webflow integrates with Zapier, so you can work with tools or apps that do help with conversion. What Webflow does well is SEO, so if that's your focus more than conversion, you'll probably want to go with Webflow over Unbounce.
Webflow Pros
No-code website builder
Great design without a designer
Easy to do SEO
Integrations
Webflow Cons
Price
Challenging to learn
Unbounce vs Webflow: Which One Is Easier to Use?
When you want to build a landing page, Unbounce is easier to use than Webflow. Since their platform focuses on helping its users make the best landing page for their marketing campaign, they've gotten good at making their landing page tool easy to use.
With Unbounce, all you need to do is set your campaign goal, write your copy, create your CTA, choose images, design your landing page, connect your landing page, preview your landing page and publish it. Once you do this, all you have to do is drive traffic, test, and optimize.
Unbounce vs Webflow: Which One Will Help You Get the Best Conversion Rate?
With Unbounce's AI backing its ability to help you get better conversions, it definitely beats out Webflow when it comes to conversion.
Pricing for Unbounce vs Webflow
Building landing pages for your sales funnel is an important part of your marketing campaign. This is where you either recoup your investment, make a profit or fail altogether. Having the best landing pages helps you avoid the total failure part.
Pricing Unbounce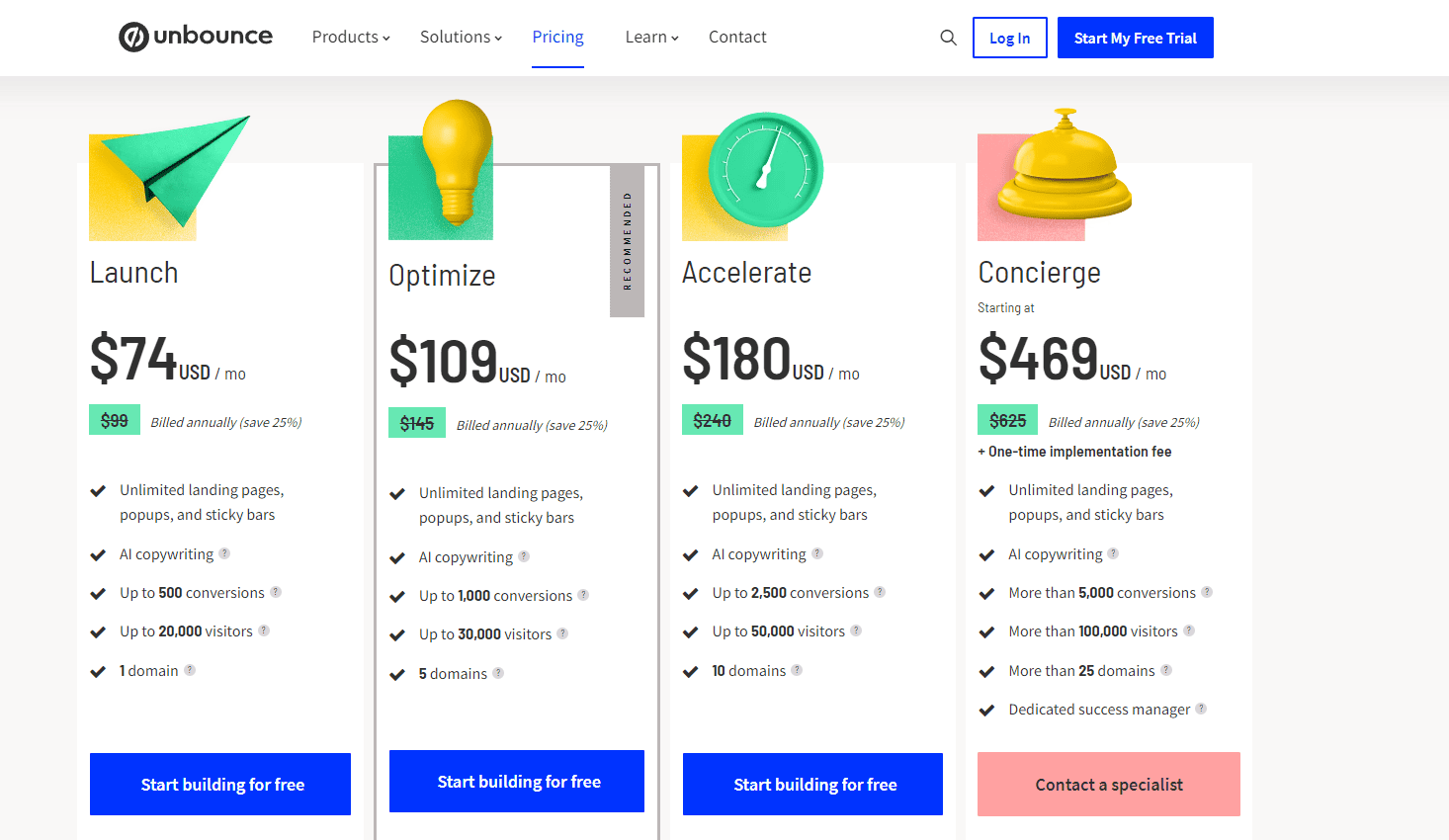 Launch gives you up to 500 conversions, up to 20,00 visitors, and 1 domain for $99 per month
Optimize gives you up to 1,000 conversions, up to 30,000 visitors, 5 domains, and 30% more conversions with Smart Traffic
Accelerate gives you up to 2,500 conversions, up to 50,000 visitors, 10 domains, and 30% more conversions with Smart Traffic
You can get a free 14-day trial of any of the plan options.
Pricing Webflow
Weblow tries to get cute and say you can use their platform forever, but that might not be the case if you need more than something basic.
You can see that this is priced out as a website builder because that is what it is. However, you can just use it as a landing page builder if you want to. Either way, you have to pay the price for a website builder.
Basic is best for simple websites that don't need content management systems and costs $15 per month
CMS is good for blogs or other content-driven websites and costs $20 per month
Business works best for websites with high traffic marketing sites or blogs and costs $45 per month
Enterprise plans allow you to tailer the solution to your business, and you have to contact them for the price
If you pay annually, you can get a discount on your rate.
Does Unbounce or Webflow Have Better Customer Support?
Unbounce customers rave about their customer support. On the other hand, Webflow isn't terrible, but they aren't as good as Unbounce.
Is Unbounce or Webflow Best for User Experience?
Both Unbounce and Webflow give a good user experience. If you were trying to find a good website builder then Webflow would be a good choice. When it comes to landing page builders, you should go with Unbounce for the best user experience.
Other Popular Landing Page Builders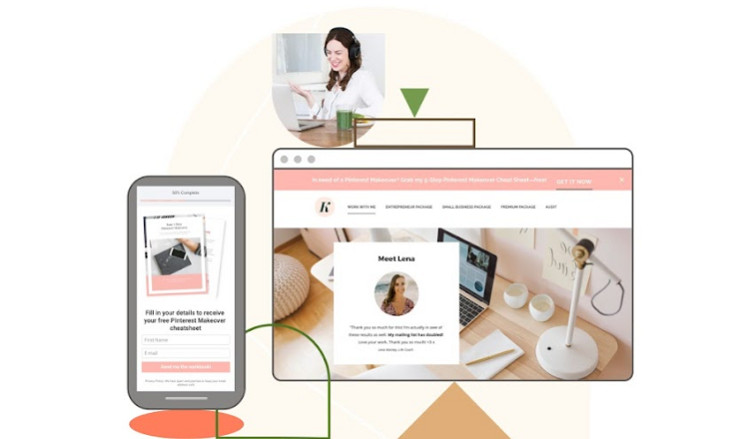 Leadpages is very easy to use and has been a popular option with many online marketers.
GetResponse makes it simple to build landing pages, and their price point isn't too crazy.
Mailchimp makes setup easy and isn't expensive.
FAQs
Question: What are the Best Features of Unbounce?
Answer: Customers love the Preview Smart Builder, Smart Copy, Landing Pages, Landing Page Templates, and Smart Copy Templates.
Question: Do I Really Need Landing Pages for My Business?
Answer: If you want to capture emails or make it easy to make sales, then yes, you need landing pages for your business.
Question: How are Landing Pages Different Than Normal Websites?
Answer: Landing pages drive the user to do one thing—like buying a product or giving their email address. On the other hand, a normal website page might have other navigation, link out to other pages, and try to get the user to stay on the website longer.
Question: Can You Have Multiple Landing Pages?
Answer: Yes. Many people choose to do A/B split testing on landing pages so they can see which one gives them the best results.
Question: When Should You Use a Landing Page?
Answer: You should use a landing page when you have a singular focus and don't want to distract your visitor.
Should You Use Unbounce or Webflow as a Landing Page Builder?
When you look at different landing page software and are trying to get the best lead generation campaign going, you need a good partner. Now that you know more about Unbounce and the website builder Webflow, you might have come to the same conclusion as I did.
Out of these two options, Unbounce is the clear winner because of its analytics, ability to help with conversion rates through its amazing conversation rate optimization ability and overall expertise in helping people create landing pages.
Whether you need to create one landing page or multiple landing pages, you can use Unbounce to help you get the results you want.
If you aren't ready to make a decision yet, you can read some of our other articles on the topic like LeadPages vs Unbounce and Instapage vs Unbounce.