Last Updated on July 13, 2023 by Ewen Finser
Sending people to a broken-down landing page won't do.
Everyone is upping their marketing game, and people hold onto their emails tighter, so you have to work harder to get them. Looking at Landingi vs Unbounce can give you an idea of how high-quality these landing pages are getting.
You could build landing pages yourself and spend hours trying to figure out if what you created converts. You could also hire an expensive, developer, designer, and conversion expert to help you with landing page creation and optimization, but many people don't have that in their budget. If you're a startup, you really need to save your pennies and get your baby off the ground.
Using platforms like Landingi or Unbounce is the equalizer between big companies and small businesses. Continue reading this article, and I'll walk you through the features of each of these services as well as their background, price, and more.
TL;DR: Both of these platforms are solid, but I prefer the additional AI enabled design elements and data reporting offered by Unbounce here. That said, if you prefer a drag and drop functionality, Landingi is worth considering.
Main Differences Between Landingi vs Unbounce
The main differences between Landingi vs Unbounce are:
Landingi has a normal drag-and-drop platform, whereas Unbounce has an AI-powered platform that helps increase conversions.
Landingi offers a much lower starting cost, whereas Unbounce caters to people with a bigger budget.
Landingi requires you to start with a blank page, whereas Unbounce offers "SmartCopy" that allows you to instantly generate copy with the help of AI.
Landingi offers over 400 templates, whereas Unbounce only offers 100 templates.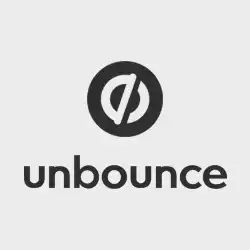 Landing pages and campaigns that convert | Unbounce
Unbounce's Conversion Intelligence Platform pairs your company's know how with machine learning to deliver great results. Get 20% off your first three months + 14 days Free Trial.
Start saving!
We earn a commission if you click this link and make a purchase at no additional cost to you.
Now, let's dive deeper into Landingi and Unbounce to see which one fits your needs best.
Landingi vs Unbounce: Landingi Overview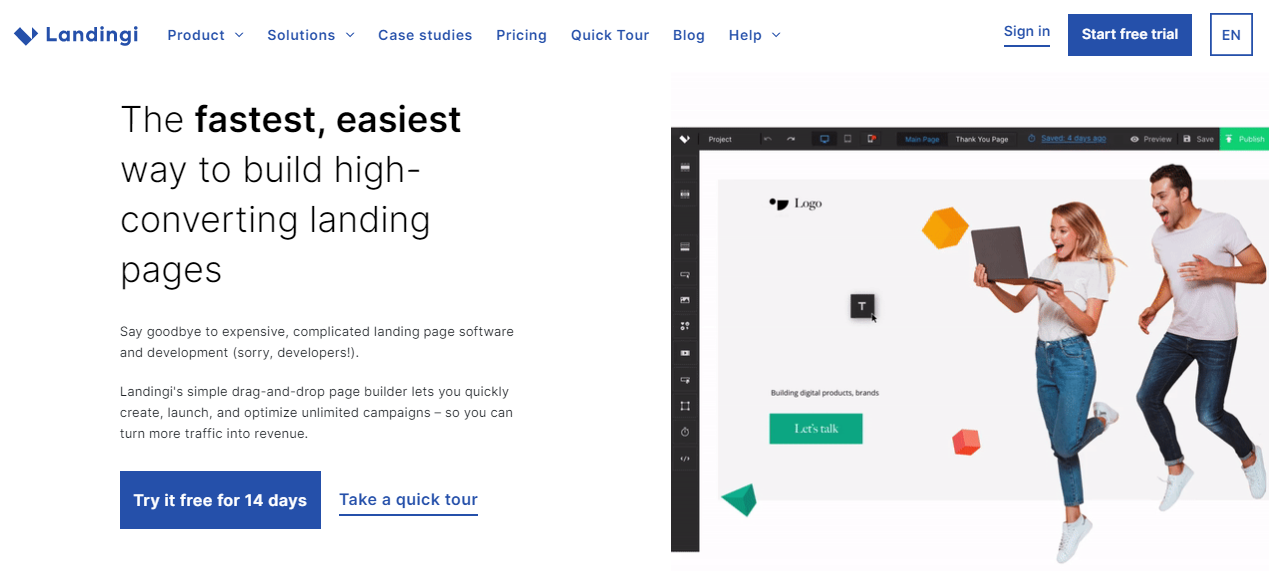 Błażej Abel is the founder and CEO of Landingi. He says they built the company on the foundation of their two passions: digital marketing and creating products. Landingi has been around for over nine years at the time of this writing, and they have customers in over eighty countries.
The company employs over sixty people, so it's not as big of a company as Unbounce. One of the benefits of this is that they are not totally set in their ways and welcome feedback and suggestions for how they can make the product better.
You can use Landingi to create, publish, and optimize your landing pages to get the best results. You don't need to be a coding genius or to spend hours of frustration working on a confusing project. The drag-and-drop editor allows you to get your design correct—right down to the pixel.
Pros
Attractive templates
Easy to use drag-and-drop editor
Responsive customer service team
Cons
Design not consistent across devices
Somewhat limited lightbox option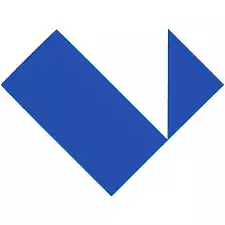 Landingi vs Unbounce: Unbounce Overview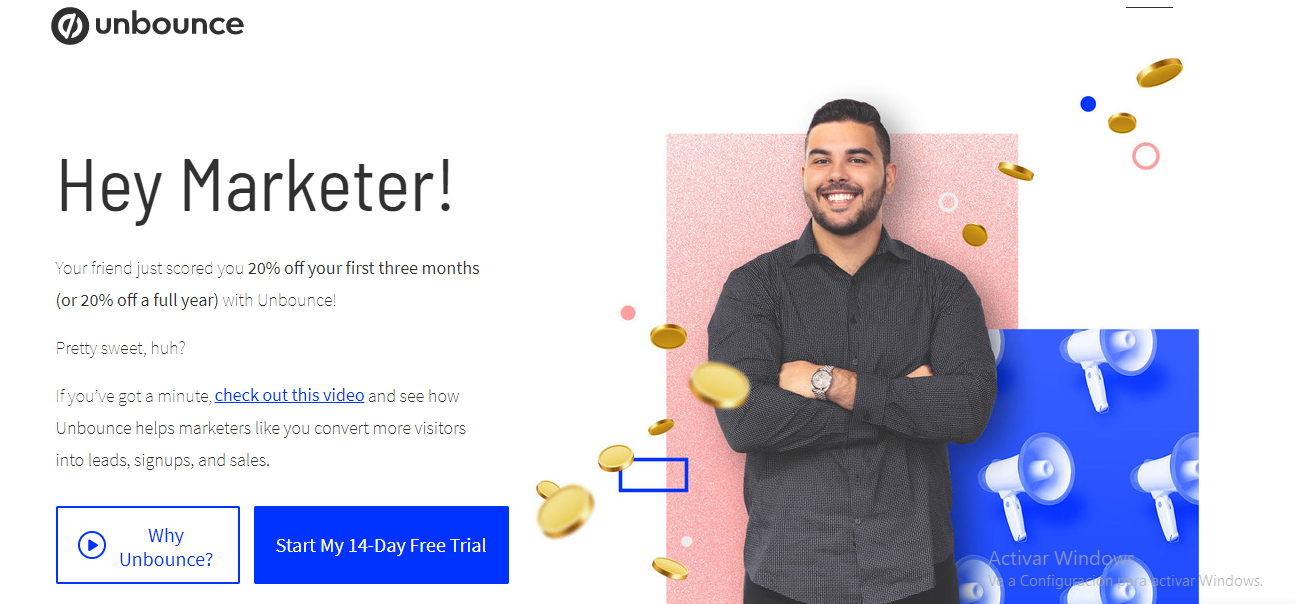 Unbounce boasts of being the first to market in 2009. At this point, the term landing page didn't really mean much, and it took a while to catch on.
The reason Unbounce came into being is due to its founder Rick Perreault's frustration. He didn't like waiting on developers taking their sweet time to get him the design he needed to run his business and get results.
Rick teamed up with Carter Gilchrist, Oli Gardner, Carl Schmidt, Justin Stacey, and Jason Murphy in a tiny room in Gastown, Vancouver, to bring Unbounce to life. Fast forward to now, and Unbounce is one of the most well-known landing page creators and is highly respected in the digital marketing industry. And they pride themselves in helping their customers get over 1.5 billion conversions.
Pros
Easy drag-and-drop editor
Templates that make creating a sinch
Helpful conversion tracking tools
Cons
This tool has an overwhelming amount of options
Missing built-in chatbot functionality
Not very easy to organize if you have a lot of Unbounce landing page campaigns
Landingi vs Unbounce: Which One Is Easier to Use?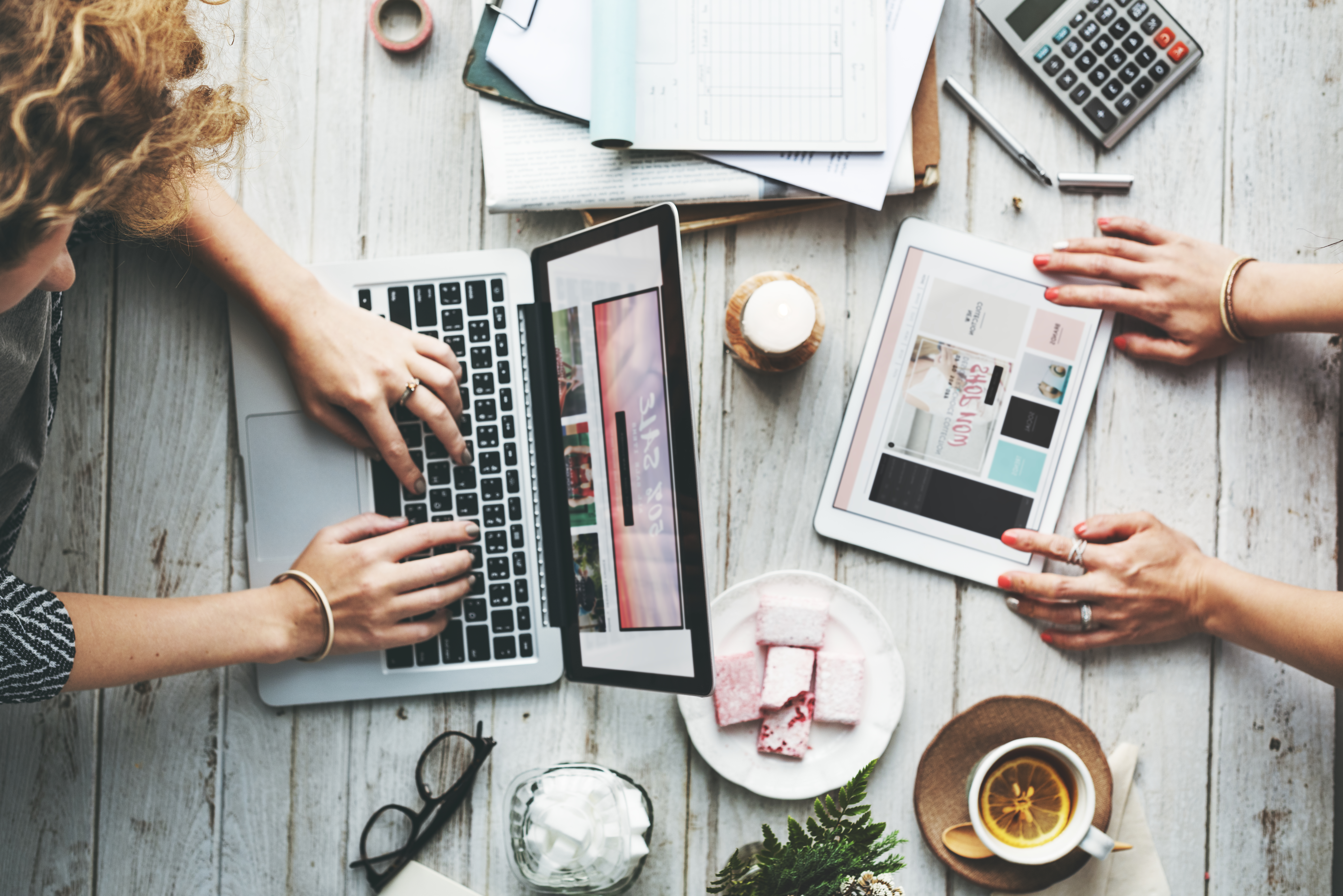 If you're reading this, it's likely this is your first time buying this type of software. Even if you have bought a landing page tool before, you may not have had too much luck with it because it was overcomplicated and confusing.
The good news is that both Unbounce and Landingi make it simple for you to use their template editors because they are both drag-and-drop editors. One thing to keep in mind is that Unbounce uses AI to help you get better conversions, so you don't have to brainstorm everything yourself, which does make using it very easy.
Does Landingi or Unbounce Get the Best Conversion Rate?
According to the Unbounce website, the average conversion rate for a landing page is 4.02%. However, each industry is very different, and not only that, but your landing page has everything to do with it.
You can get high conversion rates on both Landingi and Unbounce, but if you don't know anything about how to increase your conversion rates, you should go with Unbounce. Since Unbounce has AI behind it that can help you, that's your best bet as a novice.
Pricing for Landingi vs Unbounce
Depending on where you are in your business lifecycle, you may or may not have a lot of money in your budget. Every dollar counts when you're trying to get your business off the ground. Look at the pricing below to see which platform provides enough value to justify the price point.
Landingi Pricing
If you choose to pay annually, you get 2 free months.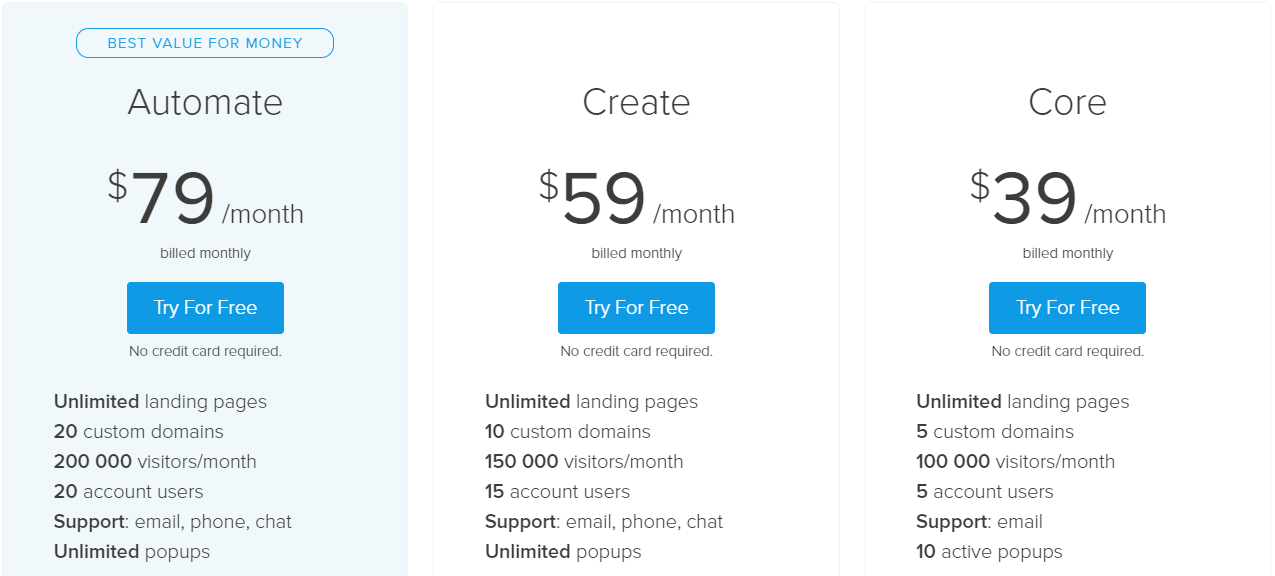 Unbounce Pricing
Launch costs $99 per month. It gives you up to 500 conversions, up to 20,000 visitors, and one domain.
Optimize costs $145 per month. It gives you up to 1,000 conversions, up to 30,000 visitors, 5 domains, 30% more conversions with Smart Traffic.
Accelerate costs $240 per month. It gives you up to 2,500 conversions, up to 50,000 visitors, 10 domains, 30% more conversions with Smart Traffic.
If you choose to pay for Unbounce annually, you can get 25% off the price.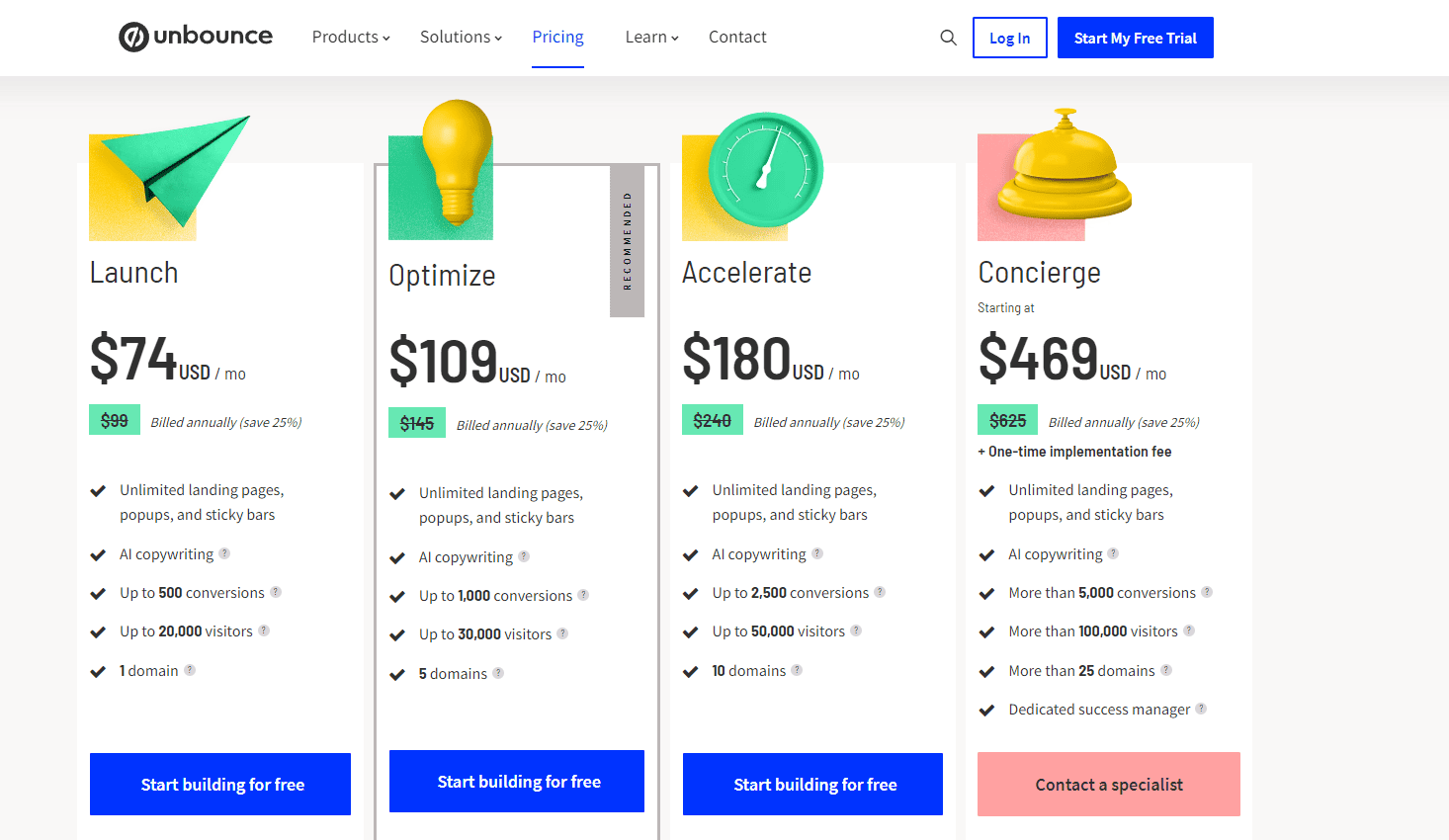 Is Landingi or Unbounce Best for Creating a Professional Online Presence?
Everything you put online gives people a certain perception of your business. You want people to feel like they can trust you and your business when they land on your page. If your page doesn't work properly or looks low-quality, you won't get the result you want.
Both Unbounce and Landingi give you tools to make your landing pages look like they were custom designed by a developer. The important thing is that you take your time and make sure they look good. With the simple templates that come with both Unbounce and Landingi, you can achieve a professional look.
However, keep in mind that you might need to tweak the templates since they might not have the right theme or photos in them as they are. Whichever one you choose, it is important that you make them fit your brand.
Other Popular Landing Page Builders
Leadpages has been one of the most popular landing page builders for a long time. Their pricing isn't unreasonable for what you get and it's easy to learn, so many marketers recommend this platform.
Instapage is another great option that allows you to quickly—almost instantly—create on-brand landing pages that are pleasing to the eye and attractive to customers.
HubSpot is a well-known name in the digital marketing world, and its landing page creator is impressive. They back it with their reputation and you'll be able to get good results using it
What are the Benefits of Using a Landing Page Builder Like Landingi or Unbounce?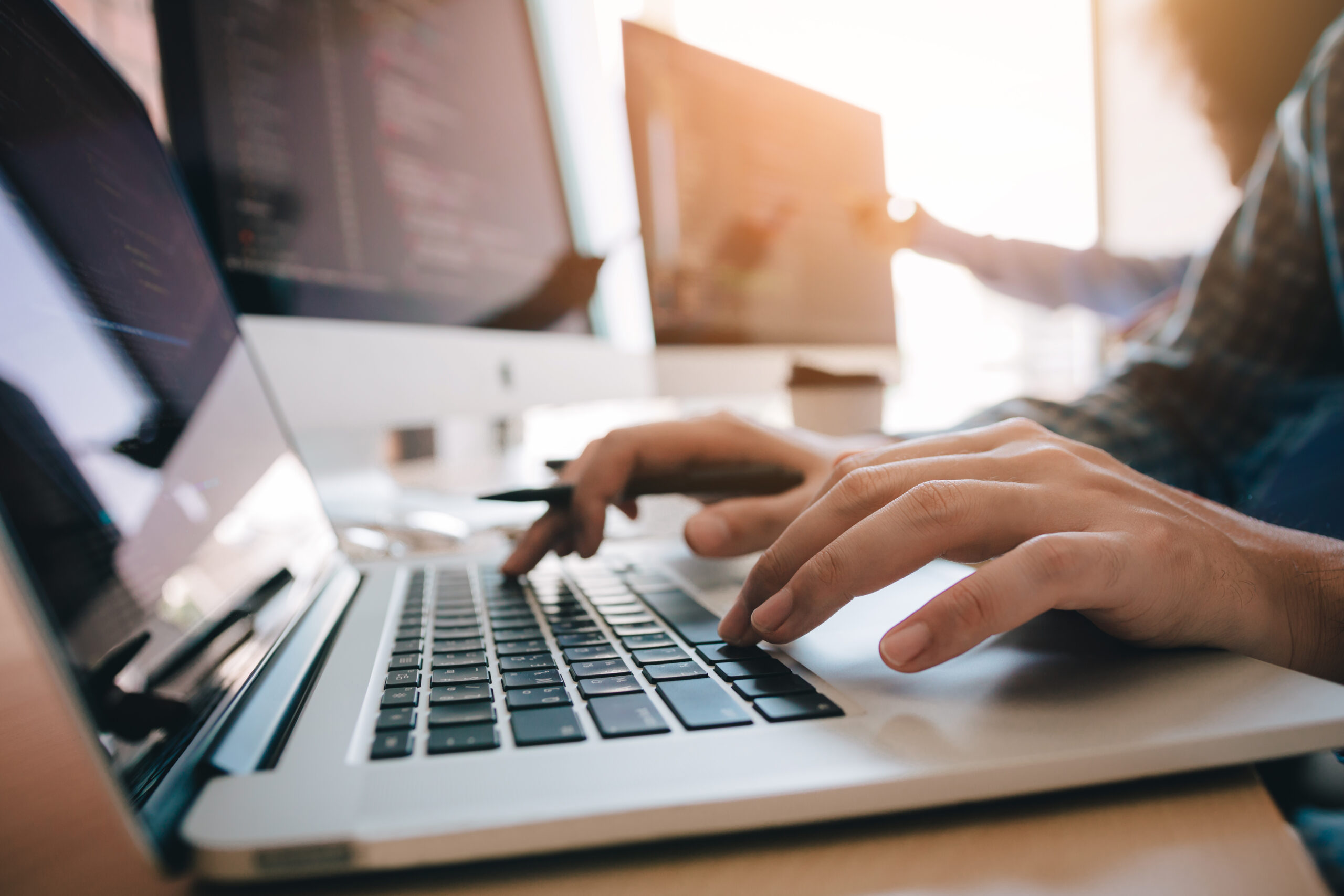 If you don't want to add another subscription to your budget, you might be trying to figure out if there are truly benefits to using a landing page builder.
Here are just a few key benefits of using a landing page builder. Even if you only took one of these, it would be worth the price of either Unbounce or Landingi.
Grow your email list
Improve customer conversions
Improve overall engagement
Allows for implementation of up-sells and down-sells
To put it simply, a landing page is an integral part of your sales funnel and overall online business.
FAQs
Question: Can you advertise a landing page on Google?
Answer: It depends on the landing page and the search term you want to advertise for. Google Ads has something called a relevancy score and if your landing page isn't relevant—it's a definite no. Make sure your landing page has valuable information that is serving the searcher and you're more likely to get the Google Ads thumbs up.
Question: When do you need to create a landing page?
Answer: You should use a landing page any time you put out an ad. The landing page should give more information after the ad got their attention.
Question: Can a landing page be a homepage?
Answer: There are no hard rules, but landing pages almost always have one focus and no links out to other parts of the website. The main goal is to collect an email address or to make a sale.
Which Platform Should You Use for Your Landing Page Needs?
Now that you know more about Landingi and Unbounce, it's easier to get an idea of which one makes sense for your business. In some cases, it's just too close to call and you need some help.
In my personal opinion, I really like Unbounce. Yes, it's more expensive, but the features it provides can really help with your conversion rates on the landing pages you create. If you increase your conversion rates enough when you have a lot of traffic coming in, you could easily recoup your investment and pay for the monthly or annual fees for using it.
If you are using webinars to drive traffic and sales, I also lean towards Unbounce here as they have a great feature set for landing pages here.
Landingi isn't a slouch either though. If you're on a tight budget, then by all means—give it a go.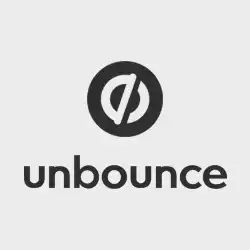 Landing pages and campaigns that convert | Unbounce
Unbounce's Conversion Intelligence Platform pairs your company's know how with machine learning to deliver great results. Get 20% off your first three months + 14 days Free Trial.
Start saving!
We earn a commission if you click this link and make a purchase at no additional cost to you.
Don't forget to check out our article on 7 Best LeadPages Alternatives before you go.
If you've narrowed it down to Unbounce, but want to see how it compares to some of the other funnel builder tools out there, check these out: