Last Updated on July 13, 2023 by Ewen Finser
When I see recommendations for landing page builders, two come up more often than any others: Instapage and LeadPages.
I've used both in the past personally, and they're both great landing page building tools. However, both have their own time and place to be used.
My goal with this comparison review is to help you figure out whether Instapage or LeadPages is best for your specific situation.
I've gone through the most important aspects of a landing page builder in both tools, and tried to point out the main differences between the two platforms.
Main Differences Between Instapage vs LeadPages
The main differences between Instapage and LeadPages are:
Instapage provides more editing ability over mobile pages, whereas LeadPages auto-generates responsive landing pages
Instapage provides more editing ability over mobile pages, whereas LeadPages auto-generates responsive landing pages
Instapage landing page tool is much easier to use, whereas Leadpages is at times quite difficult to use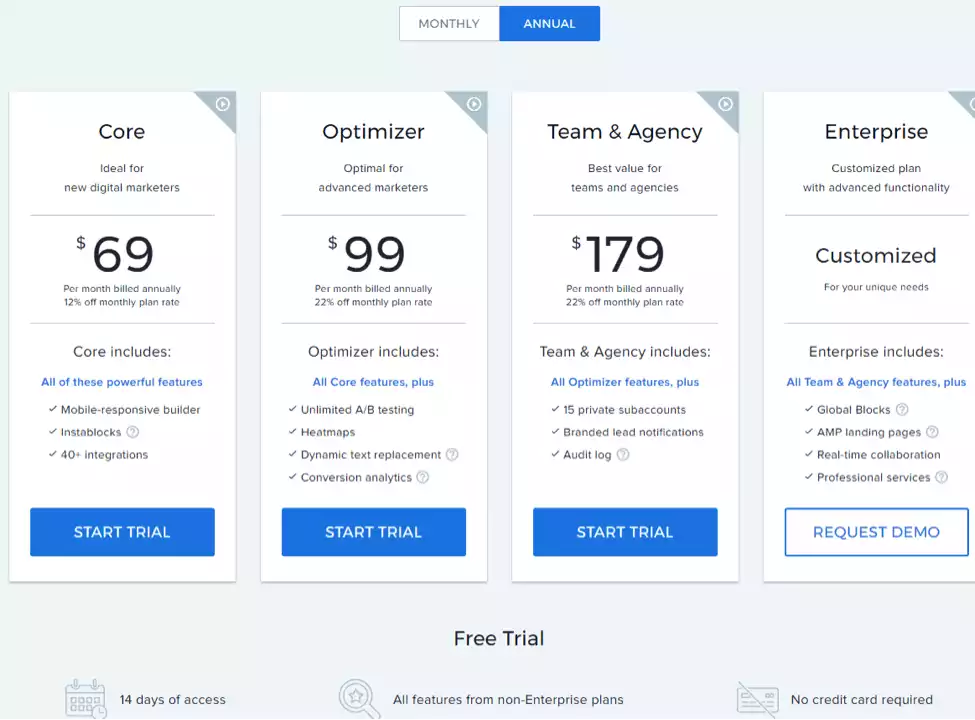 A Great Alternative: Instapage
Instapage just has better templates for just about every niche and is much more affordable than the alternatives, perfect for small – but growing – digital businesses.
View Promotional Pricing
We earn a commission if you click this link and make a purchase at no additional cost to you.
Instapage Pricing vs Leadpages Pricing
Let's start with pricing, since that's often the biggest differentiating factor between these two sales funnel builders.
Both platforms let you pay monthly or annually, with discounts for paying annually. However, LeadPages gives a significantly bigger discount for paying annually.
I've put together a table below based on paying monthly. For each tool, each plan that is more expensive than the next includes all of the features of the lower plan(s). I didn't include all features, only the most important ones.
| Instapage Pricing | | | LeadPages Pricing | | |
| --- | --- | --- | --- | --- | --- |
| Core | Optimizer | Team & Agency | Standard | Pro | Advanced |
| $79/month | $129/month | $229/month | $37/month | $79/month | $321/month |
| 40+ integrations | A/B testing | 15 sub-accounts | 40+ integrations | A/B testing | 5 sub-accounts |
| Save custom landing page templates | Heatmaps | Branded lead notifications | Leadboxes | Accepts payments (powered by Stripe) | Advanced marketing automation Integrations (Hubspot Marketo, Salesforce) |
| Email and chat support | Personalization | Audit log (for security) | Just email support | Email and chat support | Email, chat, and phone support |
| | Conversion rate analytics | | | | |
From here we can spot some differences.
Which extra features does Instapage have that LeadPages doesn't have?
Heatmaps (

Optimizer

plan)

Personalization (

Optimizer

plan) – Let's you have dynamic text

Branded lead notifications (

Team & Agency

plan)

Audit log (Team & Agency

plan)
Which extra features does LeadPages (Leadpages features) have that Instapage doesn't have?
Leadboxes (

Standard

plan) – Pop-up sign-up forms (opt-in forms) for non-landing pages

Natively

accepts payments

(Leadpages Pro plan) – Note that you

can

integrate PayPal with Instapage

, it's just less convenient.

Phone support (

Advanced

plan)
I'll be going over some of these in more details later in this comparison.
Free Trials
Both tools offer 14 day free trials to the plan of your choice with full functionality. If you continue with the tool, all your landing pages, and page elements will be saved.
The only difference is that you don't need to register a payment method for the Instapage trial, but you do need to sign-up with a credit card for LeadPages.
Which is Better for Enterprise?
Both tools have a basic plan for teams and agencies, but only Instapage has an enterprise plan, if you need that.
It comes with a few extra neat features like AMP landing pages and real-time collaboration so that anyone on your team can make notes or edit a page as you make it.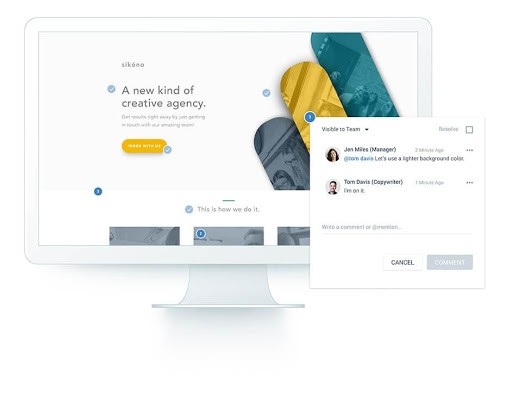 Onboarding
By onboarding, I'm referring to how easy is it to use the tool if you've never used it before.
Are you just thrown in the middle of a complex tool? Or are you guided through the first few steps.
If you're new to building landing pages and landing page software, this is particularly important.
Instapage
Right from the start, Instapage guides you through the first few things you'll probably want to do using pop-ups.
The first lets you add people from your team, or go right to creating your first landing page.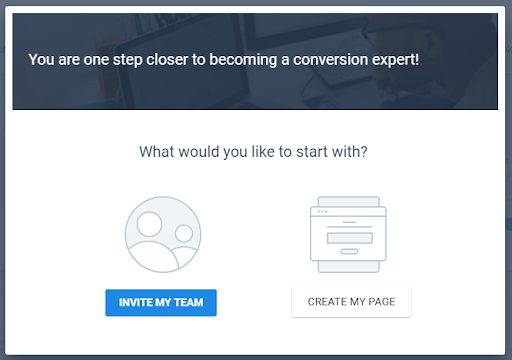 Clicking "create my page" takes you to the landing page templates page (Instapage templates), and then to the editor once you pick one.
As soon as you load the editor, a pop-up explains the most important parts of the editor (4 total, one per page):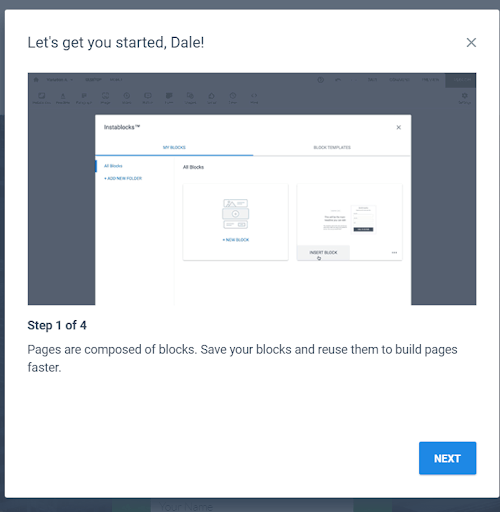 You can close this if you're not interested, but it's really helpful for a new user.
After that you're mostly left to your own devices, as the page editor itself is quite intuitive, as we'll look at later.
But, when you go to use certain features that may be difficult to understand, you'll receive further instruction, including gifs when useful: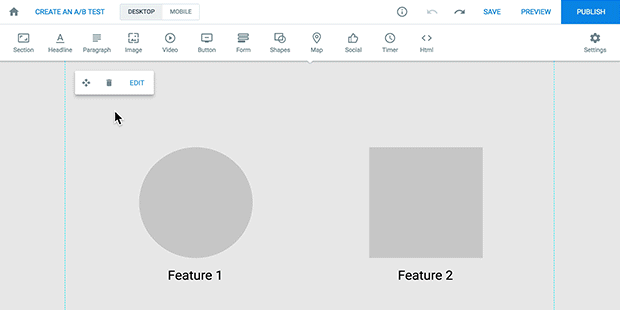 Finally, you'll also receive an email with an invitation to ask any questions you have, and a few links to popular help resources.
Overall, the onboarding process for Instapage is really smooth, and all potential tricky aspects are clearly explained, without being overwhelming.
LeadPages
Once you sign up for an account, you'll be prompted immediately to register for a subdomain where your landing pages will be published by default: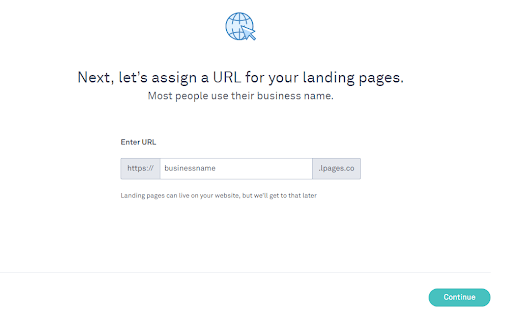 Next, you can optionally pick your brand colors, which will be easy to access from the landing page editor later.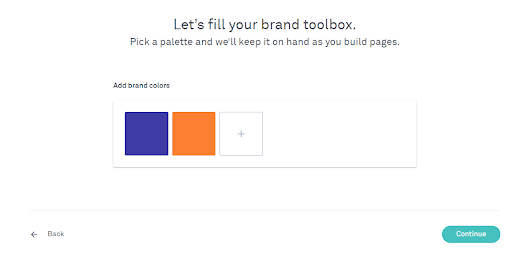 Finally, you'll be prompted to create your first page by picking from popular landing page templates. You can also click the button at the bottom to see all the templates.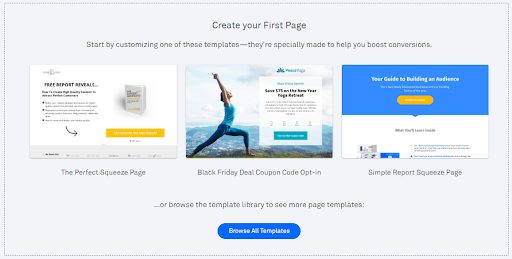 That's about it as far as onboarding on LeadPages goes. It's good to get you over the initial hurdle of creating your first landing page with the landing page tool, but then you're on your own.
Unless I missed it somehow, there's not even a standard welcome email.
It's not a terrible onboarding process for new marketers, but I think Instapage's onboarding process is far more polished.
Comparing Instapage's and LeadPages' Landing Page Builder
Each tool has 4 main steps to creating a landing page:
Picking a template

Customizing it with a drag-and-drop editor

Adding a call-to-action (CTA)

Publishing it
Let's take a more detailed look at both, starting with Instapage.
Instapage
The Instapage landing page builder has 5 main menu options in your account, "pages" is where all your landing pages are created and edited.
Landing Page Design Templates
When you click "create a new page" on your "pages" section of your account, you'll be presented with all the templates that Instapage offers.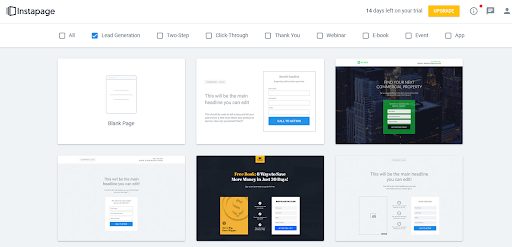 There are over 200, all of which are mobile-friendly and categorized. There's a huge variety and you can likely find one that is almost exactly what you're looking for in any situation.
During the preview, you can also toggle between desktop and mobile views.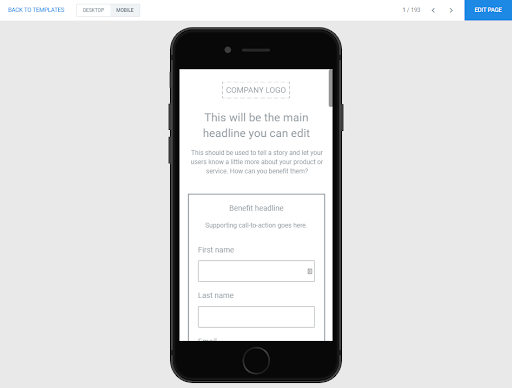 Drag-and-Drop Editor



Selecting a template will bring you to the drag-and-drop editor.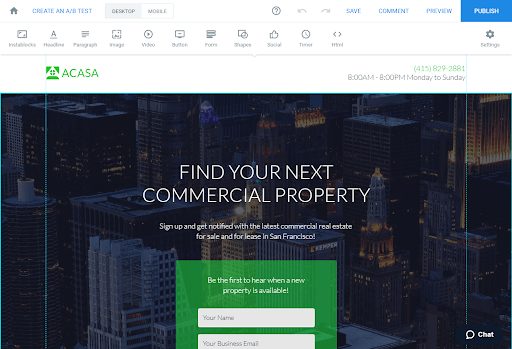 It's a standard visual editor that's intuitive for the most part. All the elements that can be added to the page are along the top.
On top of the basic elements, you can also add a:
Timer

Social icons (e.g. Facebook and Instagram)

Shapes

Forms
The very first element on the ribbon menu is the "Instablock" element, which is a unique feature that Instapage offers.
A block is a collection of elements (essentially grouping a few together) that you can save and then insert into any other landing page you have.
There are also many pre-made blocks to choose from.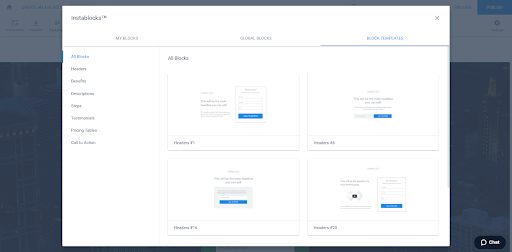 This can save a lot of time if you continuously use similar designs. Instead of having to place each element one at a time for each page, you just do it once and save it as a block.
There's a few final points of note about the editor:
Content personalization –

On the "Optimizer" plan and above, you can use dynamic text replacement to replace certain text on the page with data from URL parameters. (Here's

a quick tutorial

.)

Custom HTML, CSS, JS –

All 3 types of code

can be added to your page

.

Custom mobile page –

While all pages are responsive by default, you can create a separate mobile page so that it appears exactly as you'd like.
Capturing Leads
When you double click any form that you add to a page, it brings up a separate form menu in place of the standard elements menu.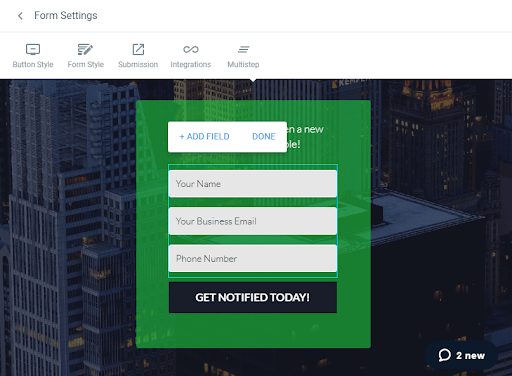 By default, Instapage will collect all the lead information and you can view or download it.
Alternatively, you can select marketing automation "integrations" from this menu and pick from all the top email marketing providers to connect with.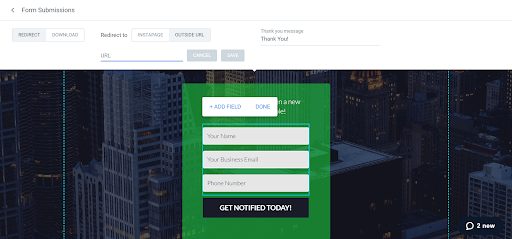 You have a lot of flexibility with your forms. When someone fills it out, you can decide if they are redirected to a different page, or are given a file to download.
Publishing Your Landing Page
When you think you're done your landing page, you can click the big publish button in the top right, or the preview button right next to it.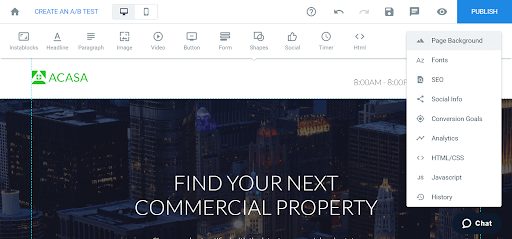 That will bring up 5 different publishing options: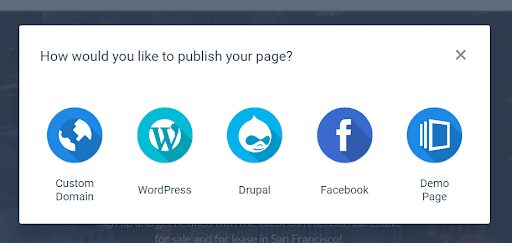 The demo page option lets you publish the page on a subdomain that Instapage owns, but in most real-world cases you'll want your own domain.
If you've installed the Instapage plugin (landing page plugin) on a WordPress site, you can push and publish the page here.
LeadPages
Both of the tools are pretty similar when it comes to their editors, but there are a few small differences that I'll point out.
Leadpages Builder Templates
A LeadPages account has 160+ templates to choose from. It's not quite as much as Instapage, but it's still a huge library with lots of variety. You can filter by several types of landing page categories.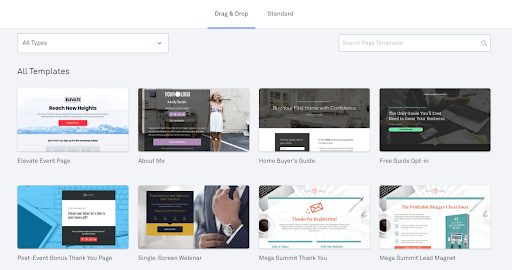 At the top you'll notice that some landing pages are "drag and drop", while others are "standard."
The standard ones are the old landing pages that use LeadPages old page editor, which is much less powerful. Stick to the newer drag and drop pages, even though that limits your choices a bit.
Slight edge in variety for Instapage here, but not usually a critical one.
Drag-and-Drop Editor
The functionality of LeadPages' editor is similar to InstaPage, but has a cleaner design with a left-side menu: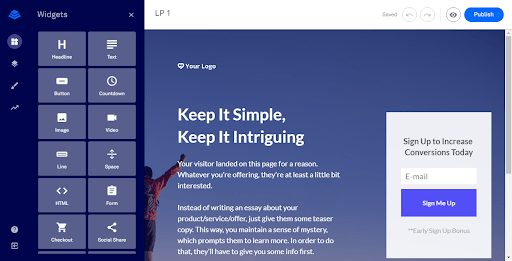 Personally I prefer it, but you may like the look of Instapage's more.
There are a few aspects of the editor you should pay attention to:
Custom HTML and CSS are both allowed, but not Javascript.

The "Checkout" widget allows you to accept payment through Stripe.

Pricing –

Pricing is similar on both

. LeadPages has the cheapest introductory plan, and offers big discounts for long-term payments. InstaPage has slightly better plans for agencies and teams.

Onboarding –

Instapage has a better onboarding process for new users.

Drag and drop editor –

Very similar.

Different user interfaces, but both have almost the same functionality. Of unique features, Instapage lets you group and save elements, and has more publishing options.

Split testing –

Both let you test multiple variations

. With Instapage, you can switch between each in the landing page editor, while in LeadPages, you manage them as separate pages in your dashboard.

Analytics and Reporting –

Both offer the basics, along with Google Analytics integration, but Instapage also offers heatmap tracking.

Integrations –

Virtually identical.

Both offer 40+ integrations to almost the same major tools.

There are both "Countdown" (timer) and progress bar widgets (shown below).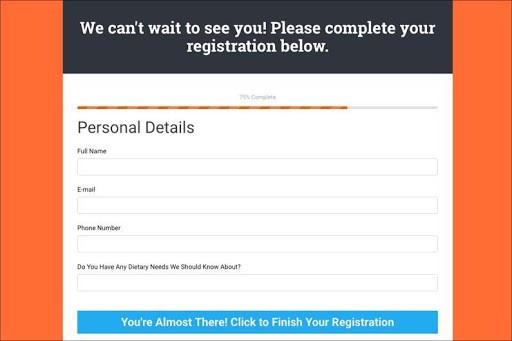 Overall it's a very smooth editor, and you have control over almost everything on your landing page.Capturing Leads
Just like Instapage, you capture leads (lead capture / lead generation) through forms on LeadPages.When you create a form or click on an existing one, a form options menu pops up on the left: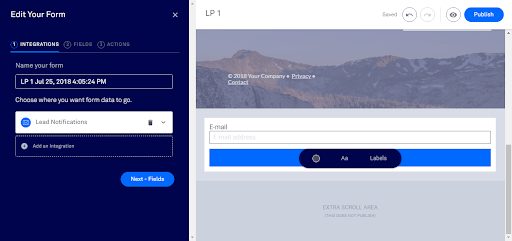 It lets you choose whether to store the data on LeadPages or integrate with an email marketing tool for e-mail advertising. You can add whichever fields you like, and choose an action (redirect) to take when someone fills it out.It's basically identical to Instapage, just a different user interface. The one small difference is that you can email a file to people who complete the form, but not have them download it directly.Publishing Your Landing Page
By default, the page will be published to the subdomain you chose when you signed up for LeadPages.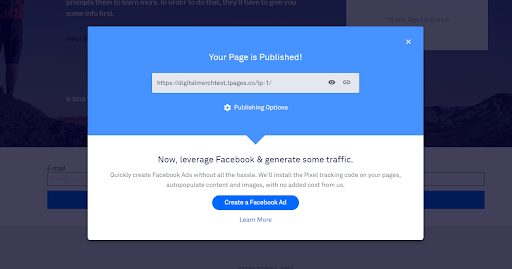 But you can also download the HTML code to put on a custom domain, or publish straight to WordPress.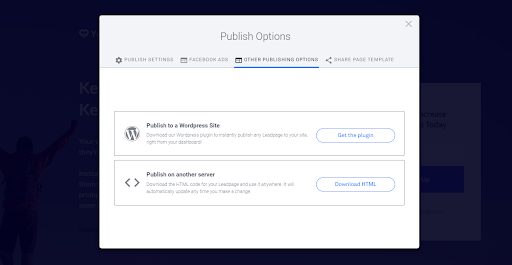 There's not quite the same amount of options as InstaPage, which may influence your decision if you have a non-WordPress site.A/B (Split) Testing
All modern landing page tools should have some form of split testing in order to be useful to marketers. Both Instapage and LeadPages do, so let's take a quick look.
Instapage
You're not limited to just A/B tests in Instapage, as you can create several variations while you're in the landing page editor of a specific page you'd like to test.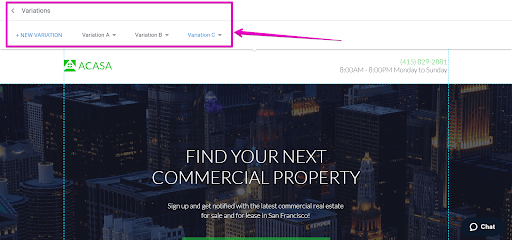 You switch between them and make any changes you'd like within the editor (near the top left of the page), but they're all considered part of the same landing page.
By default the traffic will be split evenly, but you can customize the traffic split as well:


That's about all most people will ever need when split testing their landing pages.
LeadPages
LeadPages also lets you create multiple variations of a landing page to test.
You'll find the option not in the landing page editor, but in your dashboard. When looking at pages, the options menu beside each page you've created so far contains a "create split test" option: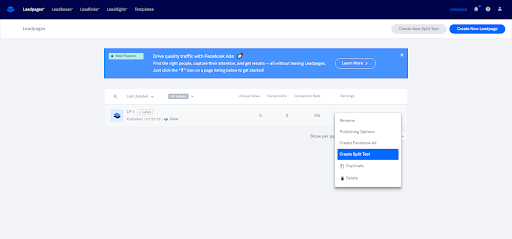 Here you can create many variations and give them all unique names.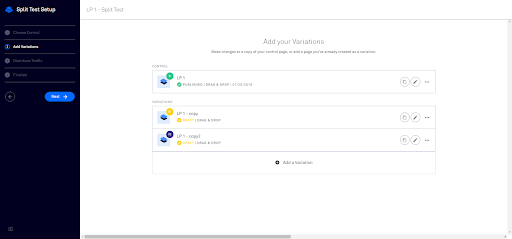 You have to edit these individually using the landing page editor.
Again, you can choose the traffic distribution between the pages:

They both have all the split testing essentials, if you have any preference it will come down to the way the pages are edited.
In Instapage, variations are all stored and edited in the same editor as the original landing page.
In LeadPages, all variations are treated as "separate" landing pages in your dashboard, and you need to go into each one to edit them. For some, this takes a bit of extra time and is annoying, but it also prevents you from accidentally editing the wrong variation.
Analytics and Reporting
Neither tool has extensive analytics data, but they do integrate with Google Analytics if you need more.
They both have all the basics, but I'd give InstaPage the advantage here because all plans but the basic one comes with heatmaps as well.
InstaPage
With InstaPage reports, you can segment by desktop or mobile traffic, date, and also see how multiple variations perform against each other on the same graph: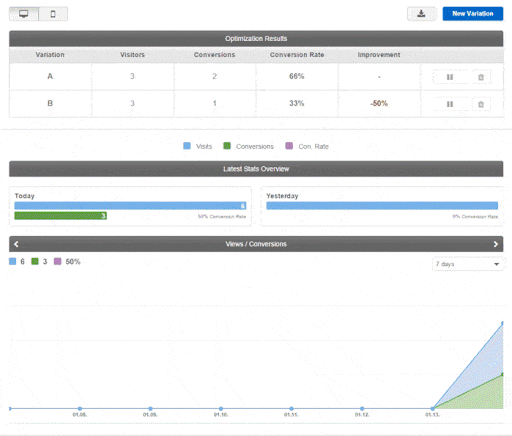 You get the basics like visitors, conversions, and conversion rate. If you need more, here's how to integrate with Google Analytics.
As mentioned, the top tier plans also come with heatmap recording software for your pages: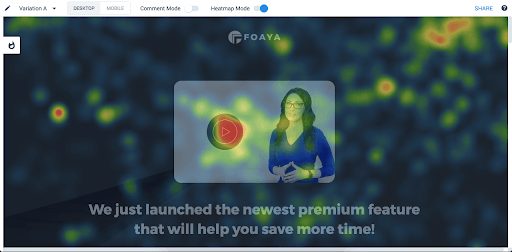 This information can be invaluable to tell you why a page isn't converting as well as you'd like.
LeadPages
Just like Instapage, LeadPages let's you sort by date, but not by mobile or desktop visits.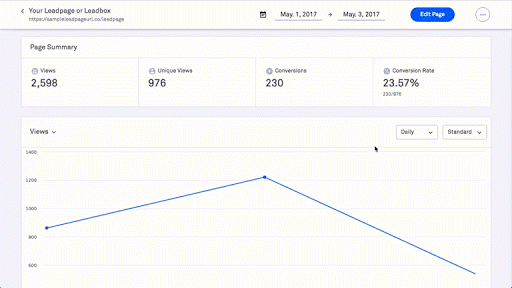 You get the same basic views, conversions, and conversion rate data. You can also integrate with Google Analytics.
For most marketers, either tool will have sufficient analytics to track conversion data, but Instapage is the stronger option here overall.
Marketing Integrations
I'll make this section brief since both tools are almost identical with respect to integrations.
Both offer over 40 integrations, which includes all the major software that you'd want to integrate with landing pages.
Just in case there's a specific tool that you'd like to confirm is supported, here's a list of Instapage integrations, and here are LeadPages' integrations.
In the Instapage dashboard, you have a separate "integrations" tab to connect to compatible marketing services:

Similarly, there's an integrations tab in LeadPages in your dashboard if you click on your user icon in the top right: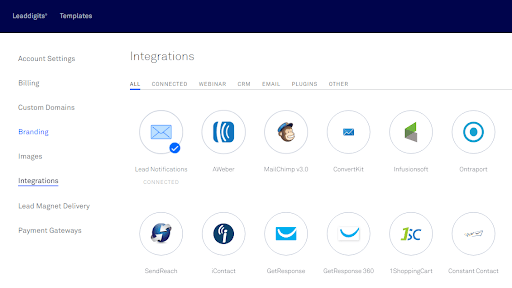 I'd say they're both as even as possible when it comes to integrations.
Marketing Support
Both InstaPage and LeadPages offer live support and have fairly comprehensive knowledge bases of help articles and tutorials.
InstaPage
There's a help icon available on every page while you are logged in.
If you're on the landing page editor, it opens a live chat. On account pages, a search pop-up comes up to let you search for a tutorial article.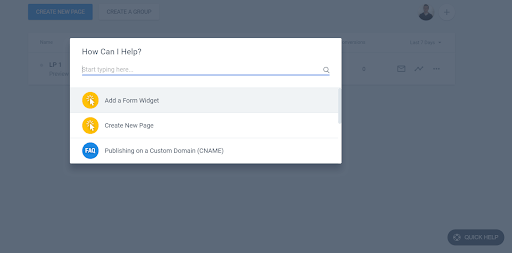 You'll also see a live chat bubble in the bottom left of your screen if you need help from an actual person.
There's also email support if needed.
LeadPages Platform
LeadPages also offers help on every page, but isn't quite as obvious at first.
In your editor, there's a little help icon with a question mark located on the left side menu right at the bottom. It brings up a help menu on the right side of the screen.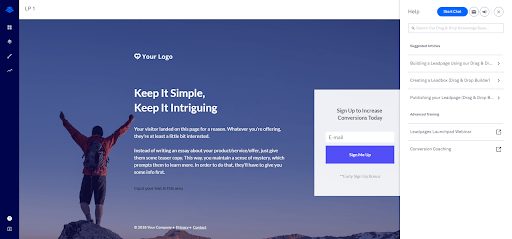 From there you can search for a help article, or start a live chat or support ticket (email). If you're on the highest tier plan, there's also phone support.
While on any other page of your account, the same help icon is located on the top menu bar, and opens the same menu.
Not quite as obvious as the bubbles on Instapage, but also less intrusive.
Both tools offer very similar support options and convenience, so there's no clear winner in this category to me.
Instapage vs LeadPages: Who's The Winner?
Let's start with a quick summary of the highlights of each section in this comparison review:
Pricing – Platform p

ricing is similar on both

. LeadPages has the cheapest introductory plan, and offers big discounts for long-term payments. InstaPage has slightly better plans for agencies and teams.
Onboarding –

Instapage has a better onboarding process for new users.

Drag and drop editor –

Very similar.

Different user interfaces, but both have almost the same functionality. Of unique features, Instapage lets you group and save elements, and has more publishing options.

Split testing –

Both let you test multiple variations

. With Instapage, you can switch between each in the landing page editor, while in LeadPages, you manage them as separate pages in your dashboard.

Analytics and Reporting –

Both offer the basics, along with Google Analytics integration, but Instapage also offers heatmap tracking.

Integrations –

Virtually identical.

Both offer 40+ integrations to almost the same major tools.

Support – Virtually identical.

Both offer live chat and email support on every page, with a fairly in-depth knowledge base.
The overall winner – Instapage: The LeadPages platform matches Instapage in most categories, but other than natively accepting payments through Stripe, there's not much that LeadPages offers over Instapage. Instapage offers a handful of extras like heatmaps, better onboarding, and reusing groups of elements.
That being said, that doesn't mean that Instapage is always the best, it depends on the situation.
In general, go with Instapage when:
You're signing up as an agency, team, or enterprise.

You're intimidated by new software and want guidance to get started.

You want a platform that's easy and approachable
Better integration as a plugin with WordPress

You create lots of landing pages and want to reuse groups of elements to save time.

You want heatmaps and deeper analytics of your landing pages.
And go with LeadPages here when:
You want the cheapest and most basic plan possible.

Budget is a priority, but you can afford to pay for 1 or 2 years upfront.

You want to accept payment through Stripe as easily as possible.

Needing more tools for webinar funnels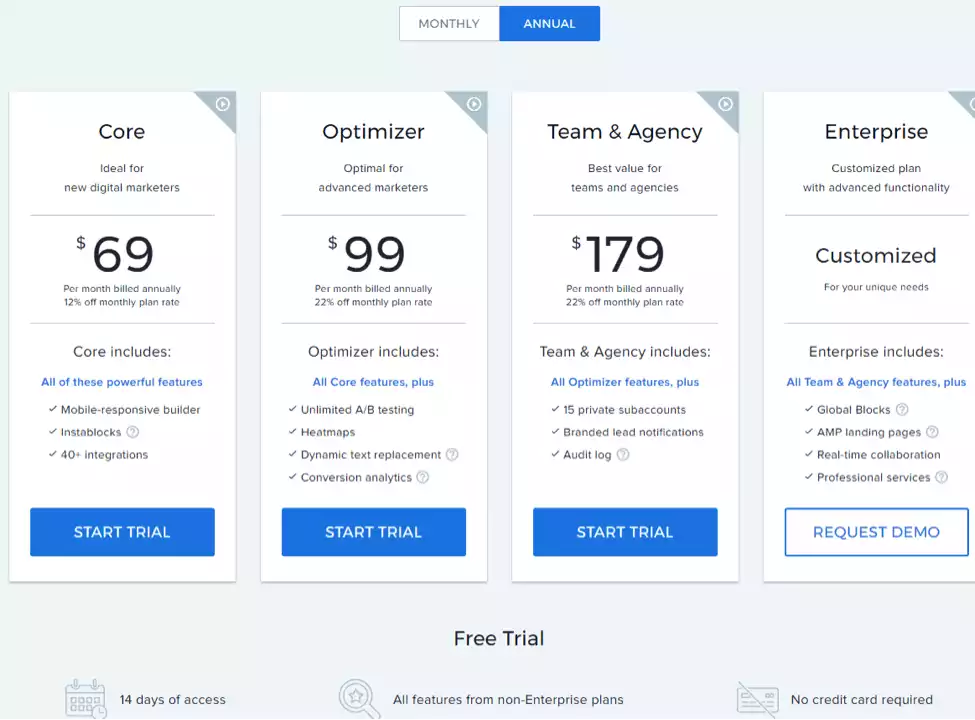 A Great Alternative: Instapage
Instapage just has better templates for just about every niche and is much more affordable than the alternatives, perfect for small – but growing – digital businesses.
View Promotional Pricing
We earn a commission if you click this link and make a purchase at no additional cost to you.
If you don't fall into any of those situations, either tool will work fine for you, so pick the one you like the look and feel of the most. Use the 14 day free trials to test them out if you're not sure from this review.
Frequently Asked Questions
How do I switch to a new plan in Instapage?
As an Instapage member, you choose a plan of convenience for your business, but your needs might change over the time, so being able to move to a more "premium plan" or vice versa is a good feature to have. If you are in this process, just click the "Update My Plan" button on your Instapage editor page.
When is the right time to start using Leadpages with my business?
In the digital marketing era, any tool that offers you the help all creative professionals need is very welcomed. We can ensure that at the first moment you have something to promote, Leadpage has something to offer, from responsive templates for a landing page, to conversion tools.
Can I connect my own domain with Leadpages?
Yes! Some creative professionals already have a domain but are looking to move to another app or platform, and this is not a problem with Leadpages. The app offers a feature to easily connect your domain to your new service.
Other Alternatives to Try
We have also covered other sales page builders, marketing automation solutions, marketing funnels and sales systems over the years. If you are still undecided, check these out: