Last Updated on May 2, 2023 by Ewen Finser
Barely a decade into the market, OptimizePress has already released 3 different versions. First came Optimize Press 1,0. Then it was followed by the popular OptimizePress 2,0. And now we have ourselves the all-new third version, hence the need for a detailed OptimizePress 3,0 review.
Well, by now, I assume you've already figured that OptimizePress is only a page builder. It turns out they don't offer supplementary hosting services. That means you have first to register a domain name and secure hosting from a third-party provider, before ultimately leveraging the OptmizePress page builder.
Ok, hang on a minute now. Why would you even want to go through all that just to use a page builder? And is OptimizePress 3.0 any good in the first place?
Well, here's the thing about OptimizePress 3.0. Many users report that it's no ordinary page builder. Apart from a user-friendly drag and drop page editor, it reportedly offers an array of high-converting landing page templates, a well-streamlined customization process, tested opt-in forms, premium integrations, solid membership support, plus responsive coding.
So, in a way, OptimizePress 3.0 seems like a conversion plugin for WordPress with everything you might need under one roof. You don't need to get yourself additional plugins for webinar registrations, sales pages, opt-in forms, or lead generation.
Quite a solid reputation OptimizePress 3.0 has there, I admit. But, can it truly live up to your expectations?
Let's find out through this OptimizePress 3.0 review. We've dug deep to uncover all the important facts, including intricate details that OptimizePress might not be quick to reveal.
In summary, this comprehensive OptimizePress 3.0 review explores:
OptimizePress Ease of Use
OptimizePress Templates
OptimizePress Page Editor
OptimizePress Page Customization
OptimizePress Mobile Optimization
OptimizePress Page Loading Speeds
OptimizePress Membership Features
OptimizePress Overall features
OptimizePress Pricing
OptimizePress Pros and Cons
Let's get straight to the point. OptimizePress is fundamentally a WordPress plugin that's capable of holistically transforming your blog into a full-blown conversion funnel. It targets digital merchants and marketers who'd like an easy way to create landing pages, membership sites, sales pages, and upsell pages.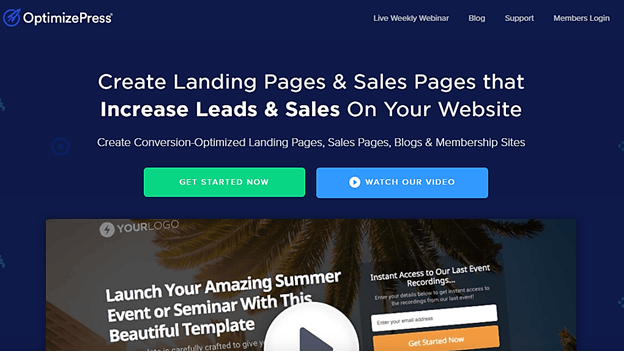 Its rise to fame began in 2010, a time when the digital sales funnel space wasn't very active. There were only a handful of solutions you could adopt for building impactful landing pages. In fact, most marketing teams relied on professional web developers. They'd be forced to hire them to code and set up custom landing pages because web-based editors could only support limited customization.
Then came the likes of OptimizePress 1.0 and things started changing. OptimizePress 1.0 went above and beyond the standard features that people had gotten used to. More specifically, it combined its optimized coding engine with a versatile design framework to offer advanced functionalities like membership support, cross-sells, up-sells, checkout, and dynamic conversion.
You can bet these provisions made OptimizePress an instant hit. Marketers increasingly adopted the OptimizePress plugin and capitalized on its generously-provisioned ecosystem to create streamlined funnels, without hiring developers.
However, as expected, OptimizePress' competitors noticed, and they began introducing tools to counter OptimizePress 1.0. But then OptimizePress didn't take long to respond to that. And as a result, OptimizePress 2.0 was released in 2013.
Well, as you'd expect, OptimizePress 2.0 was a much-improved version. It was, in short, OptimizePress 1.0 on steroids. The page editing process was more flexible, and marketers were able to design better landing pages. They even got additional tools for optimizing their sales funnels.
Consequently, OptimizePress 2.0 managed to propel the company even farther. But, only for a few years because, as fate would have it, the number of rival solutions continued to rise progressively.
Although OptimizePress 2.0 was a pretty comprehensive landing page builder with a decent set of tools, it eventually started struggling to keep up with the likes of ClickFunnels, Unbounce, and Leadpages.
With time, some of the competitors that had invaded its WordPress space were able to catch up and even overtake OptimizePress 2.0. Beaver Builder is one prominent example that ultimately secured its position among the top landing page plugins for WordPress, alongside Elementor and Leadpages.
All these options had left OptimizePress 2.0 feeling a bit dated by 2018. The plugin began losing its previous glory and popularity.
One thing the OptimizePress company managed to retain, however, is their progressive innovativeness. And so, in 2019, OptimizePress 3.0 was launched after two good years of development.
Now, going by how users have been responding to the new version, it's pretty evident that OptimizePress 3.0 is much more reliable than its predecessor. It's seemingly a cocktail of advanced conversion funnel building resources. The company, as a matter of fact, describes OptimizePress 3.0 as the easiest but most powerful WordPress tool for creating high-impact sales pages.
Principally, it comes with a visual drag-and-drop editor for real-time live customization of your landing pages. On it, you get to leverage over 40 different custom elements, including testimonials, multimedia, feature boxes, arrows, buttons, etc. Then to make things even easier OptimizePress 3.0 is accompanied by a wide range of customizable pre-designed OptimizePress templates.
And in case you're thinking about setting up an all-inclusive conversion framework, OptimizePress 3.0 can be integrated with various analytics, membership site management (via WordPress membership plugin), plus email marketing solutions, among other third-party software.
But, how does it all work? And what other features should you expect from OptimizePress 3.0?
Well, let's sample all of them on our OptimizePress 3.0 review of the main features…
OptimizePress Review – Main Features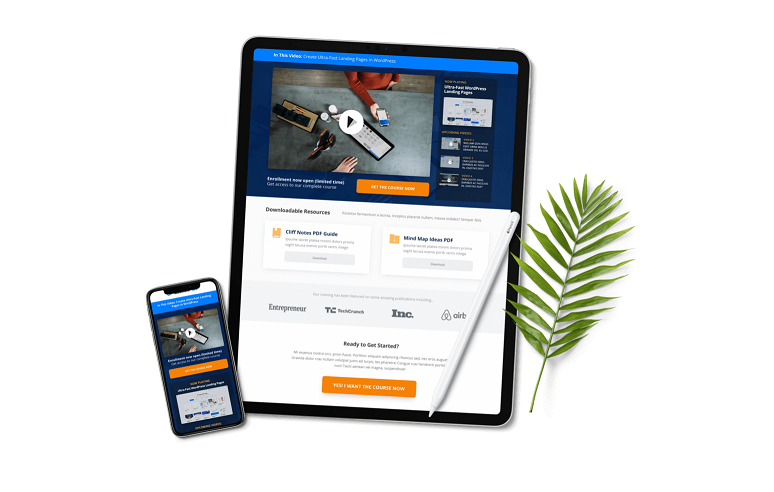 Ease of Use
I've got to admit that we were particularly curious about this aspect from the word go. We couldn't wait to ascertain if OptimizePress 3.0 is indeed the easiest WordPress landing page builder (functionally a website builder), as its developers claim.
Well, it just so happens that they might be right after all. Its overall user experience is, in fact, one of the best things about OptimizePress 3.0. That said, the process of adding OptimizePress 3.0 to your WordPress account might seem a bit overwhelming a first. But, it's fairly straightforward when you come to think of it.
Simply download the OptimizePress 3,0 plugin from the main site after completing your purchase. Then go straight to your WordPress dashboard and upload the plugin's ZIP file. Once it's installed, activate the plugin by obtaining a unique API key from OptimizePress main site, and then paste it onto your WordPress Optimize Press tab. That's all it takes, and you can proceed to create landing pages.
Now, as you begin navigating your OptimizePress 3.0 control panel, you'll notice that it's undeniably neat. The dashboard here comes with a minimalistic layout design with clear, understandable command options. So, of course, it doesn't take long to learn the ropes and start creating your own pages.
If you're familiar with WordPress page building, you should be able to design and embed a fully-featured landing page in less than an hour. That, however, doesn't mean that OptimizePress 3.0 was built for experienced users. Even novices can use it without any difficulties. But, it takes time to get used to all its tools, and subsequently, get to build pages much faster.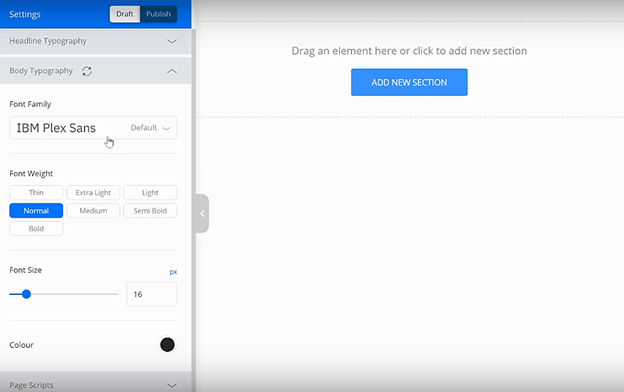 Speaking of which OptimizePress 3.0 templates are particularly handy when it comes to page building. They help you save a lot of time by availing ready-made designs for your site. So, instead of designing a page from scratch, simply choose a suitable template, and then customize it accordingly.
OptimizePress Review: Templates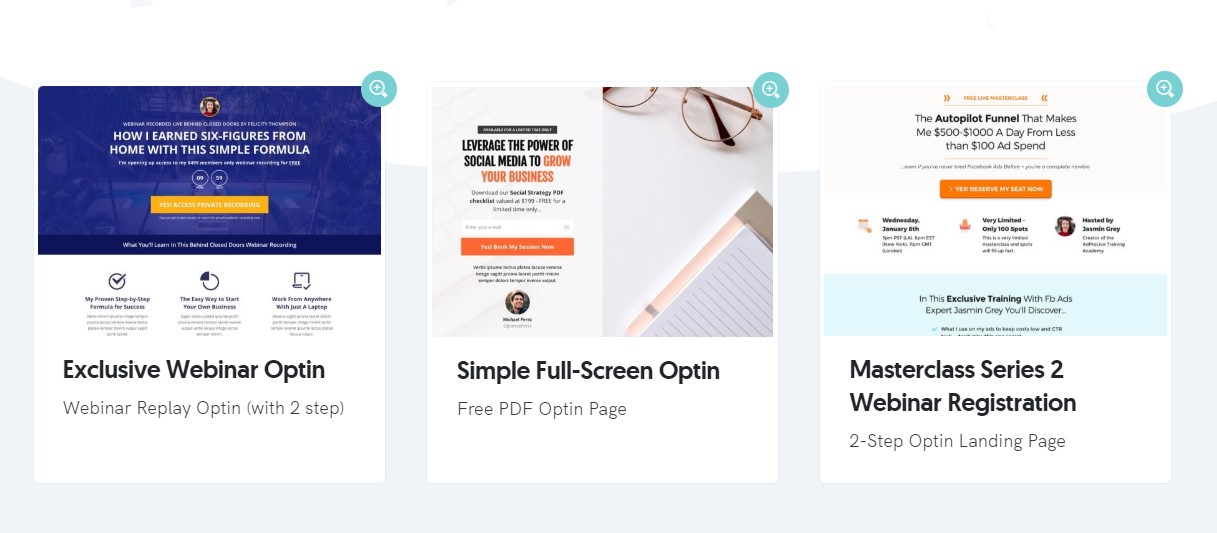 From the OptimizePress Template Library, it's fairly evident that its developers have been busy over the past couple of years. So far, they've managed to build about 60 different templates, which you'll be able to download and export to your OptimizePress live editor.
Now it's worth noticing that while landing pages are the principal focus here, the OptimizePress Template Library avails options for different types of pages. You should, for instance, be able to get templates for your sales pages, thank you pages, as well as webinar registration pages.
It doesn't end there though. If you want additional options, you can check out the OptimizePress Marketplace for premium templates. The range of options here stretches beyond 300, with attractive templates for all the typical conversion pages.
However, the only caveat is the most of the template options come at a price. But, thankfully, their pricing is very reasonable. Landing page templates, for example, will cost you between $8 and $18.
All in all, you're bound to find yourself several professionally-designed templates that would be a good fit for your site. And this applies to even the free options. So, you might want to check out what's available on both sides.
Then as you subsequently customize them, you'll notice that OptimizePress has taken the time to extensively optimize its templates for corrosion.
Page Editor
If you've used website builders before, then you pretty much know how drag and drop interfaces work. Most of them allow you to visually edit your page layouts using a host of sidebar options and pop-up menus.
While this approach is simpler than coding, let's be honest about one thing. Moving your mouse pointer to the side over and over again to work on every single layout detail can get a bit frustrating. To make matters worse, you might be forced to keep choosing between a wide range of settings even when you're customizing the tiniest stuff.
Considering this has been a common problem for quite some time now, OptimizePress decided to take a different approach with the OptimizePress 3.0-page editor. They made things much easier by making the editing process inline.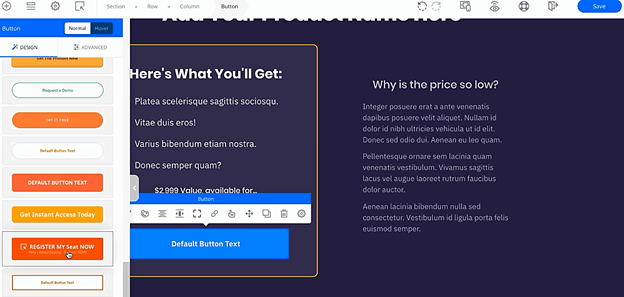 Consequently, you get to customize your layout elements directly from their position on the page. You don't have to keep navigating to any sidebar options. And to make the experience even more intuitive, the OptimizePress 3.0-page builder offers full-screen editing.
Therefore, with all editing options placed directly in front of you, you should be able to customize your campaign pages pretty quickly. An experienced user could, in fact, get everything done in less than 10 minutes. Fair enough. But, how far can you edit your campaign pages on OptimizePress 3.0?
Well, you can choose to create a page from scratch if you want a completely unique layout design. But, be prepared to spend quite some time working on every single element.
Personally, I prefer the alternative option of simply choosing an ideal template, and then customizing it to my liking. The toolbar here provides all the standard editing options you might need as you tweak the page elements inline.
Then to top it off, OptimizePress 3.0 has a rich library of elements for your pages. It provides an array of building blocks you could embed onto your website, sales pages, as well as landing pages. So, in the end, you should be able to achieve fully-featured web pages and sales funnels without touching a single line of code.
Page Customization
While visual editing is an intuitive way of tweaking your page's layout design, it has its fair share of drawbacks. Currently, the biggest one has got to be limited customization options. Expert web designers feel that eliminating the coding process substantially restricts your editing capabilities.
Well, technically, they are right about that. Visual drag and drop editors are not exactly the best tools when you need to extensively customize your page layouts. But, here's the thing. It's possible to achieve a perfect balance between visual editing and customization of freedom.
And that's precisely what the OptimizePress 3.0-page builder attempts. It gives you a range of options for increased flexibility when you're working on the layouts' elements, columns, rows, and sections. The fundamental goal here, therefore, is fast and intuitive editing without a lot of compromises on the customization side.
In short, OptimizePress 3.0 is not just about defining your page's colors, images and text. You can work on pretty much anything to align the overall design outlook with your brand.
That said, the customization framework essentially rides on the custom elements you choose for your layout. It just so happens that OptimizePress 3.0 offers more than 40 of them – from audio players and image placeholders to opt-in boxes. You can find all the standard layout elements you might need to customize your pages accordingly.
And when it comes to the actual editing process, you can start by adjusting your column widths and the adjacent gutters. It's as simple as clicking and dragging the column boundaries.
Then as you begin adding custom elements, you'll notice OptimizePress 3.0 provides what it calls OptimizePress Sections. They are basically pre-built element combinations meant to save you the trouble of integrating and optimizing elements individually.
The sections here include Testimonial Sections, Team Information Sections, Light & Dark Sections, High Impact Feature Sections, Pricing Sections, Opt-in Form Action Sections, Hero Sections, and more. You can add any by dragging and dropping, before tweaking their corresponding design options.
As a result, you should be able to transform any web page into a conversion engine without relying on additional plugins. OptimizePress 3.0 has prioritized on all the essential marketing components you can think of – from countdown times to popup overlays and opt-in forms.
When you're done customizing your layout, you can either save it as a template for adopting on several pages or simply save it then leverage the final design as a single page. If you feel particularly generous with the final design, it's possible to share your work with the OptimizePress community.
Sadly, the one important thing you might not be able to do is to customize OptimizePress 2.0. It turns out OptimizePress 3.0 doesn't support the editing of OptimizePress 2.0 pages. Not what you'd expect from an upgrade, but it's what it is. So, be prepared to start over afresh if you migrate from OptimizePress 2.0 to OptimizePress 3.0
Mobile Optimization
Over the past few years, OptimizePress has exceedingly factored in mobile site traffic. OptimizePress 2.0 provided mobile responsive layouts that were capable of automatically adjusting their sizes to various devices.
Fair enough. But, come to think of it, that's not everything you'd need to retain traffic. So, as a result, OptimizePress took mobile optimization a notch higher on OptimizePress 3.0.
They went beyond mobile display adaptation and focused on the conversion part too. Consequently, OptimizePress 3.0 is built to not only adjust your page layouts for mobile but also optimize the whole framework for the mobile-specific conversion.
To capitalize on that, use the Optimize For Mobile option on the page builder. It allows you to edit the whole layout design specifically for visitors viewing your site on mobile. In other words, therefore, it's possible to create separate sales funnels for PC, tablet, and smartphone surfers.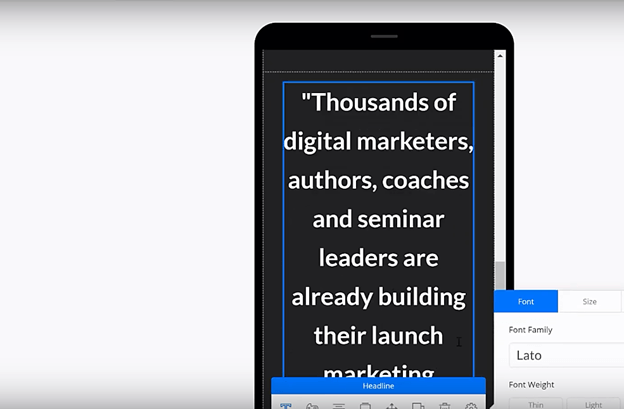 Ultimately, each visitor is bound to load a distinct page version optimized for their specific device. And that translates to higher conversion rates across the board.
Page Loading Speeds
I know what you might be thinking at this point. That OptimizePress is not a web hosting provider.
Well, you're right about that. But, in all fairness, your page loading speeds are not entirely dependent on your hosting solution. The page structure itself significantly affects how content is transferred from your host's servers to your visitors' devices.
So, we can agree that it all begins at the layout design level. Unfortunately, however, the vast majority of people who use website builders are only concerned about the editing tools offered. And since they are not familiar with coding languages, they might not be able to spot poorly-coded pages or unnecessary files.
Now, it goes without saying that such codes end up complicating the subsequent page loading processes. Hence, a page might take a bit longer to load, even on a well-optimized server network.
Thankfully, OptimizePress 3.0 tries to avoid this by maintaining neat, minimal code without any extra stuff. The development team seemingly worked from the ground up to build a page editor that automatically simplifies your page's code, even when you customize its design extensively.
We confirmed this after running various Optimize Press 3.0 pages through GTMetrix and Google Pagespeed tests. From their respective test reports, it was evident that their base coding complied with standard page optimization best practices.
Membership Features
Perhaps you're thinking about setting up a membership-based business, complete with renewable subscriptions and tiered customer privileges.
Typically, you'd be forced to rely on an external membership plugin that might come at an additional cost. But, fortunately, OptimizePress 3.0 saves you the trouble by availing its own range of specialized membership site features.
You can, for instance, get started by finding yourself a perfect template for your membership-based e-commerce site. Then as you proceed with the customization process, OptimizePress 3.0 allows you to set up custom membership site portals for your customers using elements like breadcrumb trails, lesson and module listings, login forms, etc.
The ultimate membership tool here, however, comes in the form of a plugin called OptimizeMember. It streamlines your entire business by implementing a systematic content delivery framework. Subsequently, you'll be able to protect your content by restricting access and distributing it to members only.
Come to think of it, this would be a perfect setup for online courses, product launch, book launches, and seminars.
While you're at it, you might want to integrate additional apps for a comprehensive membership sales funnel. OptimizePress 3.0 allows you to introduce ThriveCart and SamCart for creating member accounts, PayPal and Stripe for processing subscription payments, CRM systems for managing your members' details, email marketing
Overall Features
Marketing software integrations
Huge library of more than 300 templates
Elements library
Rapid page deployment
Over 60 free templates and plugin options
Mobile responsive page layouts
Conversion analytics (integrates with Google Analytics)
2-step opt-in forms and optin boxes
Small business WordPress site templates
A/B split testing
Free training pages
Funnel pages
Event pages
Microsites and mini-sites
Webinar registration pages
Highly-customizable converting WordPress theme options
Payments via Stripe and PayPal
Membership templates
Conversion tested landing pages
Membership portals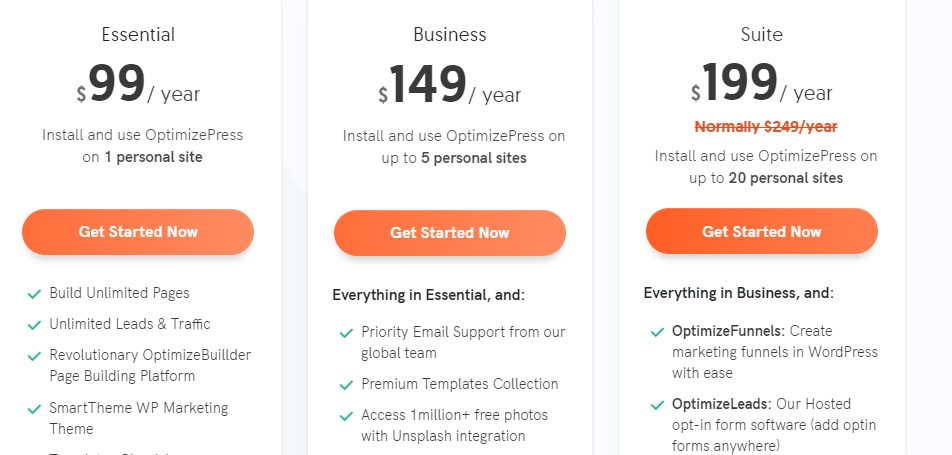 Core Plan – A one-off payment of $97 (Ideal for solopreneurs)
1 year of support and updates
Use on up to 3 sites
Complete site-building flexibility
You control your site (self-hosted)
Membership plugin included
Unlimited leads & traffic
Build unlimited pages
30-day money-back guarantee
Create unlimited pages
Publisher Plan – A one-off payment of $197 (Ideal for marketing teams)
All the Core Plan features
Use on up to 10 Sites
Exclusive plugins archive
1 year of priority support
Page engagement actions
Video backgrounds
Advanced elements library
A/B split testing
Membership plugin included
30-day money-back guarantee
Create unlimited pages
Pro Plan– A one-off payment of $297 (Ideal for small businesses and enterprises)
All Publisher Plan features
Use on up to 30 sites
1st inline access to new features
exclusive plugins archive
page engagement actions
video backgrounds
advanced elements library
A/B split testing
30-day money-back guarantee
Create unlimited pages
OptimizePress Pros and Cons
Pros
The pricing is fairly reasonable. OptimizePress 3.0 starts at $97.
There's an extensive library of attractive page templates.
The OptimizePress 3.0-page editor uses a simple in-line drag and drop system.
It's possible to set up a complete membership-based sales funnel.
You can customize your pages exclusively for mobile devices.
OptimizePress 3.0 supports standard WordPress themes and plugins.
The underlying page code is optimized for fast page loading speeds.
Cons
There are no free trials.
OptimizePress 3.0 does not seamlessly integrate with OptimizePress 2.0.
The page builder doesn't offer supplementary web hosting services.
OptimizePress 3.0 doesn't support extensive code customization.
Customer support is fairly limited.
FAQs About OptimizePress
Does OptimizePress integrates with WSO Pro/Warrior Plus?
Even though OptimizePress is considering to add WSO Pro as a possible integration in the future, by this moment, these tools are not available for your online business as a client of the OptimizePress membership.
Does OptimizePress integrate with Shopify?
OptimizePress is a great online business tool, but one of the cons of this platform is the lack of top eCommerce integrations like Shopify, but you can choose between other marketing pages such as JVZoo, Infusionsoft, and Clickbank.
Can I Hide My Blog Homepage from the Public Using OptimizeMember?
The HomePage is one of the main components of a website, and as an OptimizeMember, you would not be able to hide your main page, but you do can do that with your categories and posts.
OptimizePress Review – Summary
In a nutshell…
| | |
| --- | --- |
| Overview | OptimizePress was introduced in 2010 and has since released three versions. OptimizePress 1.0, OptimizePress 2.0, and OptimizePress 3.0. OptimizePress is a WordPress plugin for converting your blog into an impactful conversion engine. OptimizePress comes with an intuitive drag and drops page editor, high-converting landing page templates, a flexible customization process, versatile opt-in forms, powerful integrations, friendly membership support, and responsive coding. OptimizePress 3.0 can be embedded with a range of analytics, membership management, and email marketing applications. |
| Ease of Use | To integrate OptimizePress 3.0, download the plugin file from OptimizePress, upload it to WordPress, install, and then activate it by entering your API key. OptimizePress 3.0 dashboard has a simple clutter-free layout with straightforward command buttons. OptimizePress 3.0 interface can be understood right off the bat. OptimizePress 3.0 comes offers templates for increased convenience. |
| Templates | The OptimizePress Template Library offers over 60 template options with varying designs for different conversion pages. In addition to landing pages, there are sales pages, thank you pages, webinar registration pages, and membership pages template options. More than 300 premium templates are available on the OptimizePress Marketplace. All the templates are customizable and mobile-friendly. All the templates have been engineered for conversion. |
| Page Editor | OptimizePress 3.0 in-line editor allows you to work on the page element tweaks directly from the layout. The editing process on OptimizePress 3.0 occurs on a full-screen interface. It's possible to build a page from scratch. The fastest editing procedure entails importing a prebuilt template and then customizing it extensively. The OptimizePress 3.0 editor handles the underlying code while you visually edit the elements. |
| Page Customization | OptimizePress 3.0 attempts to offer visual user-friendly editing without compromising the corresponding customization capabilities. You should be able to customize all the layout elements. OptimizePress 3.0 comes with over 40 different custom elements. OptimizePress Sections are grouped pre-designed elements that have been optimized accordingly. It's impossible to edit OptimizePress 2.0 pages using the OptimizePress 3.0 editor. |
| Mobile Optimization | OptimizePress 2.0 offered mobile responsive page designs with auto-adjusting capabilities. OptimizePress 3.0 combines auto-adjustment with device-specific optimization capabilities. The Optimize For Mobile feature comes in handy for customizing the page elements on your mobile site version. |
| Page Loading Speeds | Poorly-coded web pages usually load slower than well-coded sites. OptimizePress 3.0 attempts to boost your page loading speeds by keeping the code neat and minimal without any unnecessary files. GTMetrix and Google Pagespeed test reports proved that OptimizePress 3.0 optimizes its pages' codes accordingly. |
| Membership Features | OptimizePress 3.0 offers its own set of functionalities for membership sites. You can start by acquiring a membership business template. The OptimizeMember plugin helps you control content access. You can embed supplementary apps for a fully-featured membership system. |
| Pricing | Core – A one-off price of $97 (suitable for solopreneurs). Publisher – A one-off price of $197 (suitable for marketing teams). Pro – A one-off price of $297 (suitable for small businesses and enterprises). |
And now, over to you. Have you had the chance to try out OptimizePress 3.0 or OptimizePress 2.0? How was your experience? Is this a tool you'd recommend to digital marketers / internet marketers and eCommerce merchants?
Recommended Reads: