Last Updated on April 3, 2023 by Ewen Finser
Discover OptimizePress alternatives, check out this roundup review comparing OptimizePress to all its alternatives.
If you have been looking for a page builder for your business, you will have no doubt come across OptimizePress. OptimizePress has its own pros and cons, and some of the reasons you may be looking for an alternative to OptimizePress could be the price, interface, features, ease of use, and more.
OptimizePress is an all in one-page builder plugin for WordPress which you can use to create sales pages, landing pages, blogs, membership portals, sales funnels, and webinar and event sign up pages.
Today we are going to look at the best OptimizePress alternatives, to help you find the best landing page and funnel builder for your business. We will be looking at the cost, features, pros and cons, and reviews of other popular landing page builder software to see which one wins.
Before we get stuck in, let's just take a look at exactly what OptimizePress is, and what it offers so we can compare the OptimizePress alternatives fairly.
These are the TOP OptimizePress Alternatives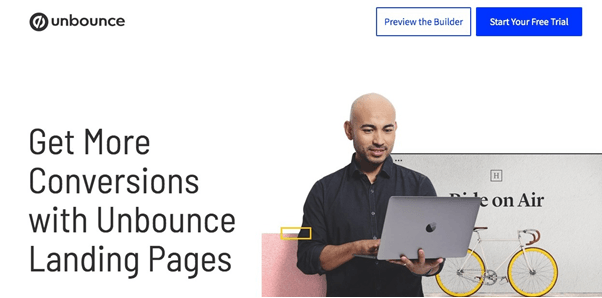 Unbounce is a landing page builder which lets you create beautiful, high converting landing pages for your campaigns. As well as building landing pages, you can also create popups and sticky bars to capture leads from people visiting your website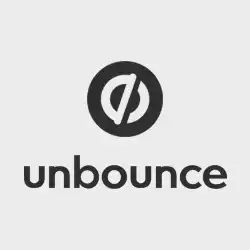 Landing pages and campaigns that convert | Unbounce
Unbounce's Conversion Intelligence Platform pairs your company's know how with machine learning to deliver great results. Get 20% off your first three months + 14 days Free Trial.
Start saving!
We earn a commission if you click this link and make a purchase at no additional cost to you.
Key Features of Unbounce
Sticky bars
Drag and drop interface
100% mobile responsive
Publish to WordPress with 1 click when you install the plugin
Video backgrounds
A/B split testing
Real-time analytics dashboard
The Benefits of Using Unbounce
Whether or not you are a WordPress user, Unbounce is a great choice for anyone who wants to create beautiful landing pages, popups and sticky bars to collect leads from their website. There is no need to have a lot of technical experience to use Unbounce since the page builder is 'drag and drop' so no coding skills are required.
You can build your pages from scratch, or you can customize the templates available (there are over 100 to choose from), so it's easy to create exactly what you have in mind, and match your company's branding. Once you have the perfect design, you can clone and edit the page to use for future campaigns, so there is no need to start from scratch every time.
If you are using WordPress you can easily publish to your website with just one click after installing the WordPress plugin. This makes it easier than ever to get your popups and landing pages up and running.
Unbounce offers a two-step opt-in so that you can capture your customer's information even if they haven't decided to make a purchase yet. This gives you the opportunity to continue the sales process and keep in contact with them to build a relationship with them and hopefully encourage future purchase.
Once a customer has made a purchase you can also add a custom form redirect, which sends them to any page after they have completed the opt-in form. This is perfect for if you want to send your customer to a free ebook or whitepaper after they have given their details. This feature can also be used for gated content such as reports.
You can optimize your landing pages and forms by taking advantage of the A/B split testing to make sure your page is converting as well as possible, and you can analyze your results with the real-time data dashboard. If you would like further analytics, Unbounce also integrates with Google Analytics.
Unbounce pricing ranges from $90 to $225/month. The 'Launch' Package is the cheapest option for $90/month, and it gives you up to 75 landing pages and 8 popups and sticky bars. Some of the features on the Essential plan are limited such as having client accounts and advanced popup and sticky bar targeting, so if you are a larger business you will want to go for one of the more advanced monthly packages.
Unbounce offers a Free 14 day trial if you want to give it a try.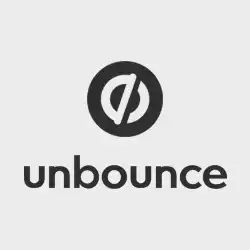 Landing pages and campaigns that convert | Unbounce
Unbounce's Conversion Intelligence Platform pairs your company's know how with machine learning to deliver great results. Get 20% off your first three months + 14 days Free Trial.
Start saving!
We earn a commission if you click this link and make a purchase at no additional cost to you.
The Downsides to using Unbounce
For a landing page and pop up builder, Unbounce is pretty expensive, particularly as it doesn't offer some of the features that it's competitors offer, such as membership portals.
Due to the high price this option may not be suitable for small businesses or people just getting started since there are cheaper or free options available with the same features. If you are price sensitive here, consider the other options here as Unbounce alternatives.
Check Out the Latest Unbounce Promos
Further Reading on Unbounce: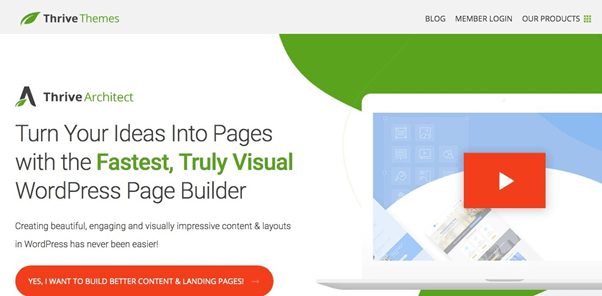 Thrive Architect is a visual Wordpress page builder that focuses on being the fastest and easiest page builder to use.
Key Features of Thrive Architect
Build any pages for your WordPress website
Build high converting landing pages
Create sales pages
Format blog posts
Create webinar pages and launch pages
Drag and drop interface
Fast and easy to use
Mobile optimized
The Benefits of using Thrive Architect
Thrive Architect makes it easy to build beautiful high converting pages within WordPress (you may know for Thrive Theme builder). It's a great tool for anyone who would like to build sales pages for their existing WordPress website.
It is usually quite hard to build a high converting sales page and landing pages on WordPress, as it can get quite clunky. Thrive Architect gives you the perfect templates to create landing pages and sales pages that convert. It also walks you through the copy as well, with tutorialized sales page templates so you just need to fill in the blanks.
Thrive architect lets you drag and drop page elements anywhere you want them to be, and you can move and resize elements at any time, giving you complete flexibility when customizing your design. A new that Thrive Architect offers is the ability to include dynamic animations and actions on your pages, as well as hover effects, tooltips, and animated text.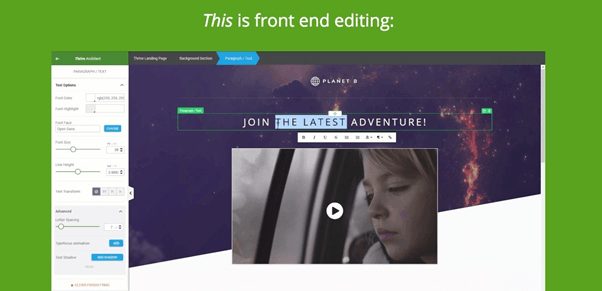 All of the blocks within the theme editor are optimized for conversion and include a call to action buttons, featured testimonials, lead generation forms, countdown timers, pricing tables, and much more.
Thrive Architect integrates with all of the major email marketing software, so you can use Thrive Architect to grow your list by creating landing pages with an opt-in form and connecting it to your email or webinar service provider.
A license for Thrive Architect on one website costs $67 and includes one year of support, and at the time of writing, there is also a special offer on a 5 license pack for just $97 instead of $335.
Since Thrive Architect is not a subscription service, there is no trial available, but the fee you pay is just a one-off one-time payment, so you have no recurring monthly fee to pay as you do with other landing page builders.
The Downsides to using Thrive Architect
Whilst Thrive Architect has an excellent page builder, it does have its limitations. It doesn't include the ability to create popups or sticky bars, and it doesn't offer any features to integrate a membership portal into your WordPress website as OptimizePress does. It also doesn't offer a free trial, so if you decide you don't like it you are stuck with it.
Check Out the Latest Deals on Thrive Architect
3. Kartra: An OptimizePress Alternative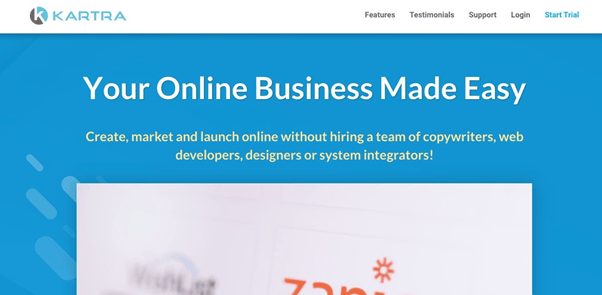 Kartra is an all in one marketing software suite that allows you to effortlessly build landing pages, sales funnels,a marketing funnel, sell products or services, manage and automate your email list and build membership websites.
Key Features of the Kartra Platform
Easy to use 'drag and drop' page builder
Checkout features
Collect leads
Build sales funnels and campaigns
Email marketing automation
Build membership websites without the need for external membership plugins
Helpdesk portal with live chat for your customers
Calendar scheduling features so your customers can book appointments
Affiliates
Comprehensive third-party Integration and API
The Benefits of using Kartra
Kartra not only gives marketers everything they need to build pages and funnels, but it also enables you to build your entire website with its suite of tools that work seamlessly together. Anyone with an idea can start their online business with Kartra, and have their website and sales funnel up and running in a day or so.

Unsure About Kartra?
I was skeptical at first, too. The features looked great, but the relatively short time in business gave me pause. I was finally able to find their FREE Trial (14 days) which put my fears to rest. It's "hidden", but here's the link!
Try it Free
We earn a commission if you click this link and make a purchase at no additional cost to you.
The Kartra interface is intuitive and easy to use, with a drag and drop builder for each page you create. This makes it a great choice for beginners, as well as seasoned pros, and if you do get stuck there is a support team who you can easily contact for help.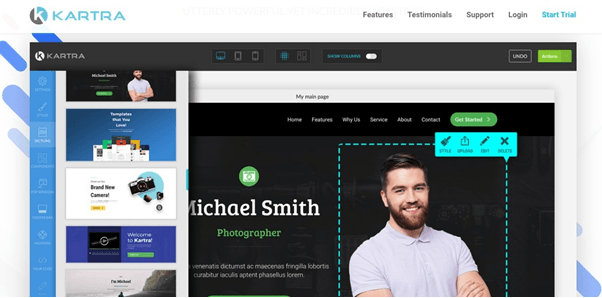 According to Kartra, it has the ultimate page builder, with over 500 page and section templates to choose from. It all works by dragging and dropping the elements you need, and you can customize absolutely everything on the page so you can get it looking just right. Since everything in Kartra is connected, you can easily integrate your page with any other part of the Kartra ecosystem, such as linking your lead page to your membership portal.
The packages available with Kartra are all 'all-inclusive', so all packages give you access to all Kartra features. The price difference between the packages reflects the number of contacts and leads you can have, and the bandwidth.
The 'starter plan' is $79 per month, which gives you up to 2500 subscribers, and has an allowance of 15,000 emails per month. You can also have one linked domain, 2 membership websites, sell up to 10 products and use a total of 50GB of bandwidth. The 'Silver' plan is $149 per month, and give you up to 12,500 leads, 125,000 emails, 125GB of bandwidth, and unlimited pages, products and memberships.
There is no free trial for Kartra, but you can try it for 14 days for just $1.
NOTE: Kartra is a GREAT Clickfunnels alternatve as well, with full sales funnel building capabilities.
The Downsides to using Kartra
We can't see many downsides to Kartra. The only thing we have noticed is that the support is a little slow, and can take up to 24 hours to respond to a ticket.
Check the Latest Kartra Features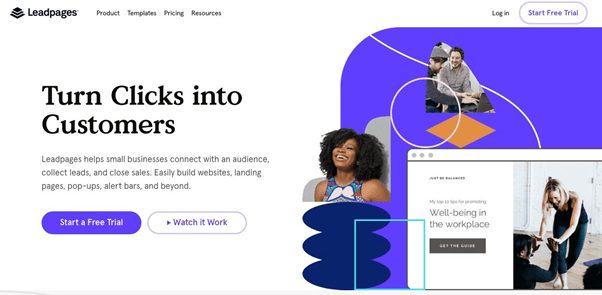 Leadpages is an advanced landing page builder that can be used to create landing pages, build websites, popups, alert bars, and more.
Key Features of Leadpages
Build websites
Landing pages
Popups
Alert bars
Social ads
Sell products & services
Analytics
A/B split testing
The Benefits of using Leadpages
Leadpages is an affordable way to collect leads, create popups and landing pages, and even build websites. The pricing plan is very reasonable, so it's the perfect solution for anyone getting started.
You can easily create conversion-optimized websites with Leadpages website templates. They are all 100% mobile opt mixed and have super-fast page loading speeds. There is no need to purchase additional hosting if want to build a website with leadpages, as hosting is included with all monthly plans.
Building pages and websites are easy, so there is no need to hire developers to help you – you can do it all yourself! There's no need to code anything, and there are lots of templates to choose from to get you started. All templates can be customized by dragging and dropping the elements you need to where you want them to be. Easy peasy.
One of the great things about Leadpages is that it doesn't put limits on how much traffic and pageviews you can have. You can also collect as many leads and subscribers as you want, and publish as many landing pages, alert bars and popups as you want to, making this one of the most affordable tools around for people who need to create lots of pages.
Leadpages integrates with most popular marketing software, allowing you to connect your pages with the other tools you know and love.
As well as creating pages, you can also sell digital products and services with Leadpages by using Leadpages Checkouts powered by Stripe.
The standard plan starts at $25/month, which gives you one website, unlimited landing pages, popups and alert bars, unlimited traffic and leads, a free domain name with a yearly plan, free hosting, Facebook and Instagram ad builder, and weekly group coaching. The pro plan is $48/month and includes everything in the standard plan as well as three websites, online sales and payments, A/B testing, email trigger links, and 10 x text message opt-in campaigns.
There is also an advanced plan for $199/month which is perfect for agencies as it includes 50 websites, 5 pro sub-accounts, and advanced integrations.
Leadpages offers a free 14-day trial if you want to try before you buy!
The Downsides to using Leadpages
There aren't really any downsides to using Leadpages, although if we are comparing it to OptimizePress then it lacks a membership feature.
Check Out the Latest Deals on Leadpages
Further Reading on Leadpages: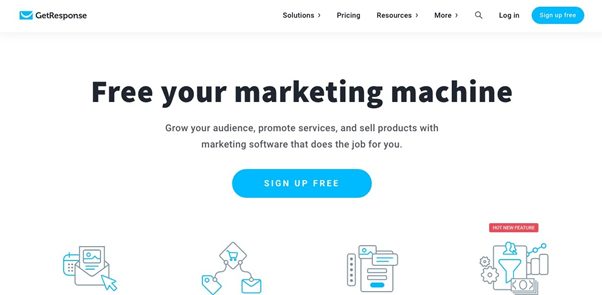 Get Response is an all in one marketing software for small businesses. It offers email automation, as well as landing pages, marketing automation, and ready, made sales funnels.
Key Features of Get Response
Autofunnel
Landing pages
Marketing automation
Webinars
Autoresponders
Ecommerce tools to sell products and services
The Benefits of using Get Response
Get response gives you all of the tools you need to start marketing your business, including email marketing, landing pages, and sales funnels. You can design and crease beautiful responsive email campaigns to send you to your followers, and manage everything through an intuitive easy to use interface.
Autofunnel is a ready-made automated sales funnel generator, where you can build your landing pages, collect leads, follow up with customers, sell your products, recover abandoned carts and convert your customers. Once you have created your funnel you can pay for targeted facebook ads from within Get Response, so everything can be done from one place saving you both time and the confusion of trying to piece everything together.
All landing pages are fully mobile responsive, and you can choose templates to fit your needs, whether you want to capture emails or sell digital downloads. You can even add a countdown timer to increase the sense of urgency for your customers and increase conversion rates.
As well as creating landing pages and web forms, you can also create exit-intent popups with Get Response, to capture the details of visitors who are about to leave your website so you can contact them in the future. Templates are provided for all these features, so you can simply add your own imagery and content and you are ready to go.
You can also use Get Response to run either free or paid webinars, which are all integrated into the Get Response software, so there is no need to try and use third-party software for this.
Get Response has powerful e-commerce features, so if you are looking to sell a product or service you can do it all in the same place. All of the sales pages are conversion-focused, so once your customer is ready to make a purchase they will be guided through the sales process from your sales page, and you then have the opportunity to offer upsells if you want to and follow up with any abandoned carts.
The pricing for Get Response is dynamic and varies by how many people you have on your list, making it perfect for small businesses who are just starting to grow. Pricing starts as low as $11 for the basic plan with 1000 subscribers. If you want more advanced features such as selling products, hosting webinars and CRM features, then you should go for the popular 'Plus' plan which starts at just $37/month for 1000 subscribers and goes up from there.
The Downsides to using Get Response
Since the pricing is determined by the size of your list, it can get quite expensive if you have a large list, with a list of 50,000 email costing $379 per month on the plus plan, however this tool does include email marketing and automation, which a few of the other tools we are looking at don't include.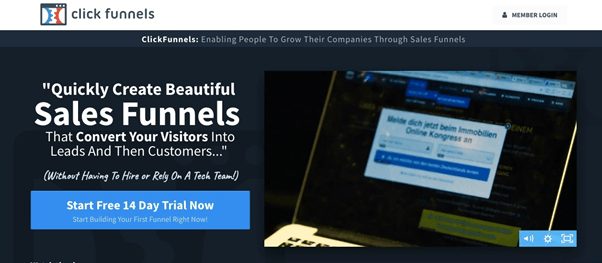 If you are looking to create high converting sales funnels, generate leads, and even build membership sites then Clickfunnels is a tool you should definitely consider. Clickfunnels is the only tool you will need to build landing pages, opt-in forms, and websites for your business.
Key Features of ClickFunnels
Drag and drop page builder
Shopping cart
Email automation and autoresponder
Easy to use
Mobile optimized
A/B Split testing
Create follow up funnels
Create membership websites
Offers the option to create memberships with drip content
BackPack affiliate program
Analytics and tracking tools
List segmentation
CRM and email autoresponder
The Benefits of Using ClickFunnels
The main benefit of using ClickFunnels is that is so easy to use. Absolutely anyone can create an automated high converting sales funnel or website in a matter of hours, with no need to do any coding or hire a developer to do it for you. You can use ClickFunnels in combination with your existing website if you want to, or use it on its own to build your entire website.
The visual drag and drop page builder makes it easy to see how your pages are looking as you build them. You can build landing pages, as well as upsell and downsell pages to ensure no opportunities are missed in your sales process. There are also 22 different funnel templates for you to choose from to make the whole process effortless, you simply add your own content and images and you are ready to go.
One of the great things about ClickFunnels is that it gives you the ability to have an affiliate program for your products without having to go through a third party. This feature is called the BackPack affiliate program, and you can add it to any products or courses that you are selling, allowing you to track conversions.
ClickFunnels is a monthly subscription service, so unlike OptimizePress you do not own the software, but pay a monthly fee to use it. While this does seem a little more expensive, you should remember that you will save a lot of money on other things that you won't need once you start using ClickFunnels such as hosting, shopping cart features, affiliate software, membership software, photoshop, and CRM and email autoresponders.
It also has the benefit of making your life easier, because since everything you need is in one software package there is no need to try and connect lots of different elements. They all work seamlessly together.
Clickfunnels pricing has two monthly subscription packages for you to choose from. For $97 per month, you get access to 20 funnels and 100 landing pages, and for $297 per month, you can create unlimited funnels, landing pages and have unlimited traffic.
There is a free 14-day trial for ClickFunnels, so you can give it a try before you sign up for a plan.
The Downsides to using ClickFunnels
The downside to ClickFunnels is that it is quite expensive, so it may not be practical for you depending on your needs and the size of your business. If you are just starting out a d just need a simple landing page builder to capture leads for an email list then ClickFunnels would probably not be what you are looking for.
Learn More About ClickFunnels Here
Further Reading on ClickFunnels:
What is OptimizePress and What's the Problem?
As we briefly covered in the introduction, OptimizePress is an advanced page builder plugin for a WordPress theme which you can easily use to create a variety of different pages for your business.
OptimizePress can:
Create high converting landing pages
Create sales pages
Influencer blogs
Membership portals
Complete sales funnels
Webinar sign up pages
Event sign up pages
Small business websites
Integrates with most popular marketing software
OptimizePress works with WordPress to give you all the tools you need to generate leads for your business.
There are over 300 OptimizePress templates to choose from, so regardless of the type of page you are creating you can be sure that your template has been tested and optimized for conversion. Editing your pages is easy with a state of the art 'live editor' where you can customize the design with your own images and content.
Pros and Cons of OptimizePress
Pros:
Lots of different features and uses such as building sales funnels
One time fee, so no monthly recurring payments
Affordable
Quite easy to use
One year of support included in the fee
Cons:
Only works with WordPress (WordPress landing pages)
While it is possible, it is difficult and time-consuming to build sales funnels with OptimizePress
No free trial
So now that we've seen what OptimizePress can do, along with its pros and cons, let's have a look at some alternatives. We are going to review some of the best OptimizePress alternatives so you can see for yourself what each one offers and decide which one will suit your needs best.
Conclusion: What is the Best OptimizePress Alternative?
As you can see, there are quite a few great OptimizePress alternatives, and this is mainly because a lot of its competitors have improved greatly over the last few years, offering all of the features that OptimizePress offers, and much more.
Sales Funnel builders like Clickfunnels and Kartra now include everything you need to run an online business, which can save you a lot of time and money over paying for lots of separate software products to achieve the same goal.
At first it may seem more expensive to use Kartra instead of OptimizePress, but once you look at the fact that Kartra can replace your entire website, and you won't need any other hosting or software you can see that Kartra will save you both time and money. The only other thing you will need to purchase is email marketing software.
That said, Clickfunnels and Kartra are not exactly in the same category as OptimizePress. They serve a wider audience, which means you could end up overpaying for things you don't need. This puts Unbounce and Thrive up as better direct OptimizePress competitors.
Bottom Line: After looking at all the alternatives we have decided to crown Unbounce as the winner of the best OptimizePress alternatives. This is because Unbounce offers all the features that OptimizePress offers, as well as some extras such as advanced testing (A/B testing, data analysis) and more professional out of the box designs.

Interested in other WordPress platform options? For more content centric websites, check out our Elegant Themes vs StudioPress comparison, Divi Theme vs Elementor review and our Beaver Builder vs Visual Composer guide.