Last Updated on January 4, 2021 by Ewen Finser
Elegant Theme's Divi and StudioPress's Genesis Framework are two of the most prominent themes to come off the WordPress compatible theme forge. Very popular with WordPress users, these themes are the perfect front end WordPress website development tools.
Most users new to WordPress are often in a daze when confronted by the sheer number of themes and features available on the platform. The good news is that you cannot go wrong with Elegant or StudioPress themes. There are subtle differences between them so use this guide to help you pick one that will give you an enjoyable and stress-free time when building your blog or website.
Elegant Themes' Divi
Elegant themes, without a doubt, make stunning web pages. They are sleek, modern with a clean and intuitive interface. They are budget and newbie user-friendly too. The latter seems to be the most praised attribute of Elegant themes.
Thanks to their flagship WordPress "Divi" theme anyone with scant knowledge of WordPress themes can build their own blog, and make it look as stunning as a professionally designed website.
Elegant themes will let you do what StudioPress won't. You will not have to learn any code work to build a fantastic site. Elegant themes have a pack of 87 stunning themes and five versatile plug-ins at a very pocket-friendly price.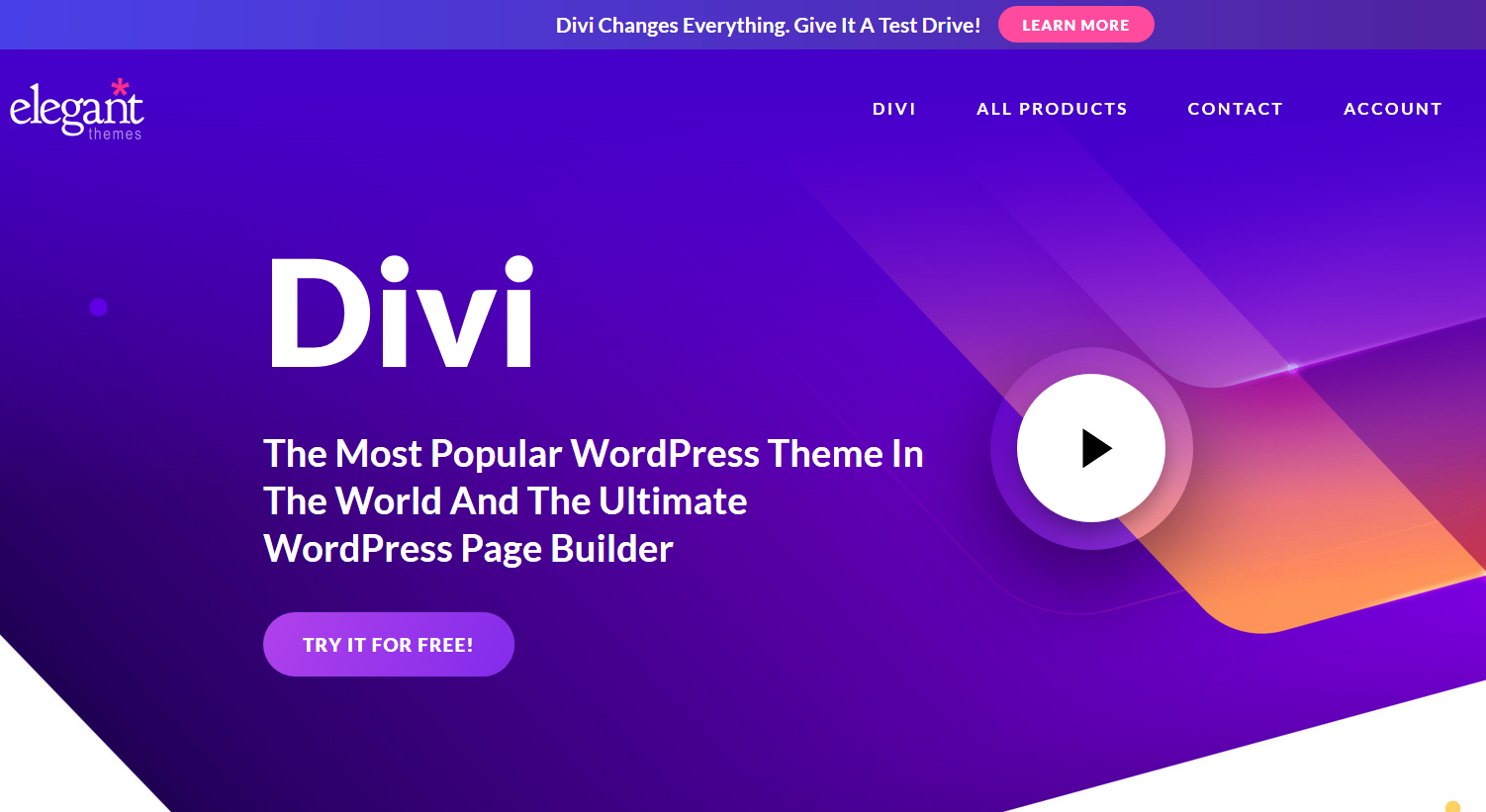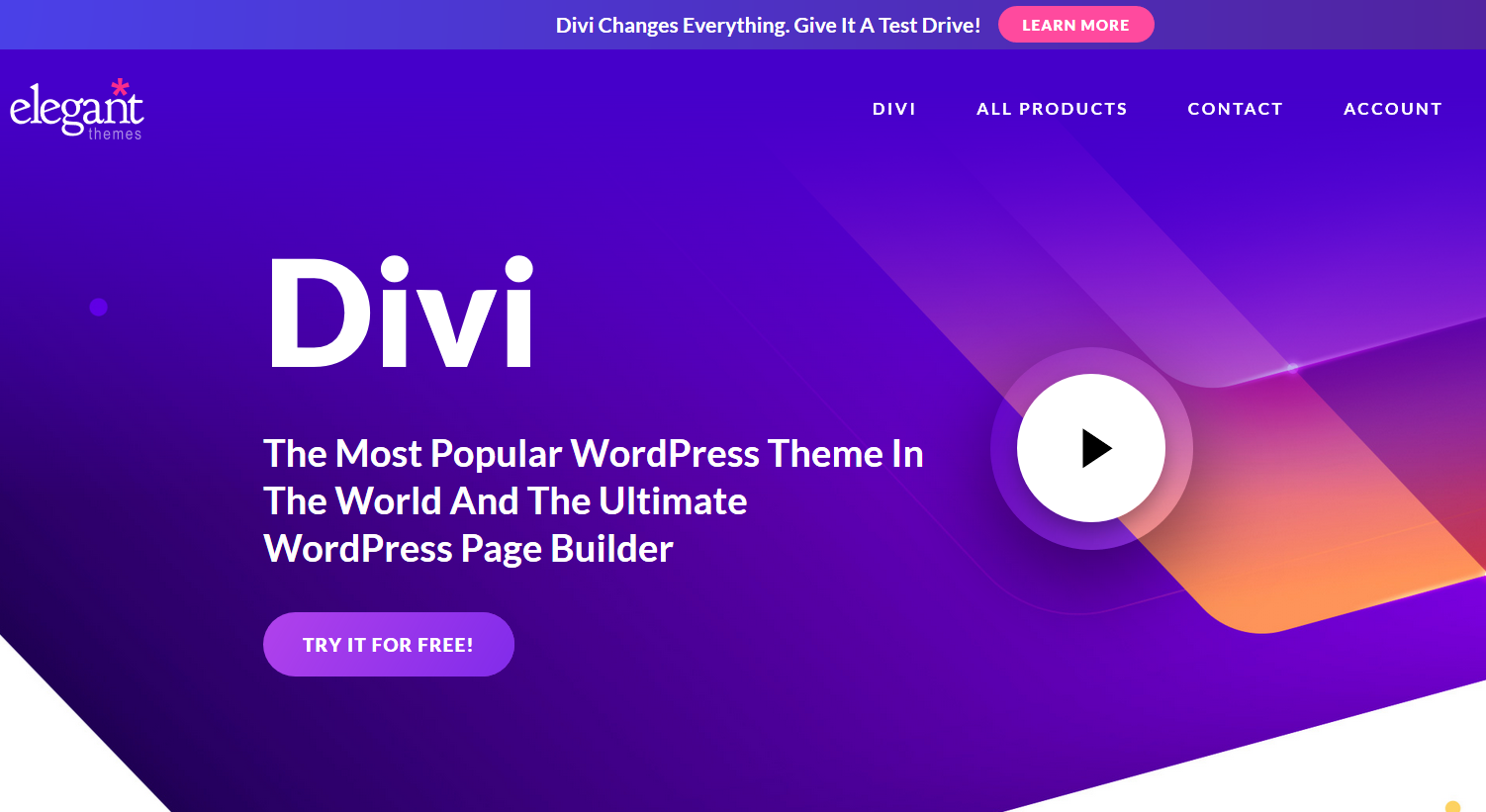 Elegant themes are also very versatile and suit all kinds of websites from monetized blogs to fashion blogs. Its Monarch plugin for social sharing and Bloom for email option are handy too. It also has a large community of active users who teach and encourage each other on business growth strategies using this theme.
While Elegant themes have many other WordPress themes, they have been marketing Divi since its inception in 2013 as their flagship theme. Their sights are set on making it the only WordPress theme worth having.
Divi does live up to its much-hyped status. It is multipurpose and is perfect for blogs, e-commerce stores, and your everyday business webpage. Besides its vast fan base amongst the online community with no knowledge of code, Divi has also been a hit with web design gurus too. It is an easier and efficient website building tool.
Divi not only has superb looking templates, but it is too a drag and drop page builder. All you need to do is load up a Divi layout, and build your website through its very intuitive front end page builder interface. What if you want your pages a bit more customized and unique?
With Divi, you can combine Elegant themes with your own point and click interface for customization. This helps speed up the design process while keeping the designer in control of the final product. The DiviLeads tool removes the guesswork out of a design.
Have you wanted to experiment on a color scheme or header to know which one your users will like best? DiviLeads allows you to run a split testing trial on your content. It will display several variations of your webpage and will enable you to read the reaction of your users.
Unfortunately, unlike other favorite WordPress themes like Enfold or Avada, Divi does not take its design prowess a notch higher and make a complete website demo. If only it were possible to populate demo content throughout an entire site, it would be easier to gauge the end product.
Elegant Theme's Extra
Elegant themes launched their Extra theme right after Divi. Extra is purposely designed for content-rich sites, blogs, and online magazines. Its homepage allows you to display content in a grid format using tabbed areas, carousels, mini article sliders, tabbed areas, and custom widgets to preview your content display.
Extra has a very stylish and clean image-focused layout for the homepage. The homepage utilizes featured images from your other content to engage your users. Its sole purpose is enticing clicks through to your articles.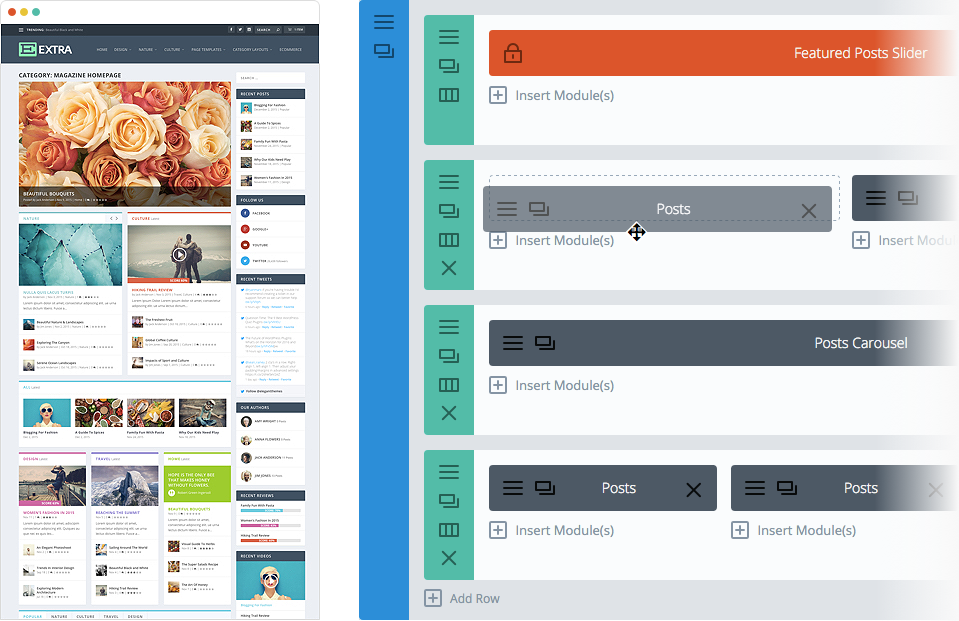 Extra has the Divi Builder too inbuilt to help customize your chosen templates. You can also customize your webpage design with its drag and drop builder and its host of cool modules. Through Extra you will find it quite easy to create text with overlay images, use pull quotes, apply multiple columns and photo collages as well on your web pages. These elements will push your blog to the professional zone in no time.
Extra supports WooCommerce making it the perfect e-commerce store building tool for WordPress. Building an online shop or adding a product to sell on your blog has never been easier. There are many other Elegant themes in their back catalog that can suit your website building tastes. The crème de la crème of Elegant themes world though can be found in the Extra and Divi themes.
The Elegant themes fantastic plug-ins
Divi builder
Divi builder has been inbuilt into the Extra and Divi themes, and it has a front end user-friendly interface. It is a standalone plug-in that can be used with any WordPress theme of choice. It helps create advanced page layouts utilizing the over 46 customizable modules available.
This drag and drop tool eliminates coding from web design. It allows you to copy and paste within it, duplicates page elements and allows endless redo's and undo's. Its ability and ease to incorporate CSS into your web pages are unrivaled.
Bloom email Opt-in
Use Bloom email opt-in to increase traffic, engagement, and sales, and to communicate with your users quickly. Sending that email about your new product just launched, book or a fresh article just published is fundamental to online business. Bloom helps your customers to sign up making it easy to build a subscriber list.
It also allows you to customize the appearance of forms and set time delay also for their appearance on your blog. You can also dictate where a specific form will be active on your site matching them to the articles they are displayed next to.
Monarch social sharing tool
Elegant Themes has created Monarch to help you share more content on social media. This will not only increase your blog's traffic but will help you rank better on Google's search results. Monarch will display a wide range of social sharing buttons on your webpage, and supports over 20 of them.

Pros of elegant themes
Fantastic customer support with a dedicated helpline
Has a vast number of users
Makes custom SEO titles and meta description
Makes canonical URLs
Lightweight and loads fast
Has handy plugins
Very elegant and stylish
Studiopress
The wide range of WordPress products can get a bit confusing, even intimidating for users. Making choices between themes, in WordPress is often an arduous affair, for the inexperience especially.
StudioPress curtails that confusion by helping you find that web design template that's perfect for you. Despite its wide range of over 80 WordPress templates, there is always room for customization. Most websites want to push the envelope and get the website design of their dreams.
StudioPress opens these doors for creativity. Its Genesis Framework is StudioPress's most recognizable theme. It is actually the link that connects WordPress software and your favorite website theme. This complex layer of code is basic in design and appearance but can be enhanced through the installation of child themes built for it.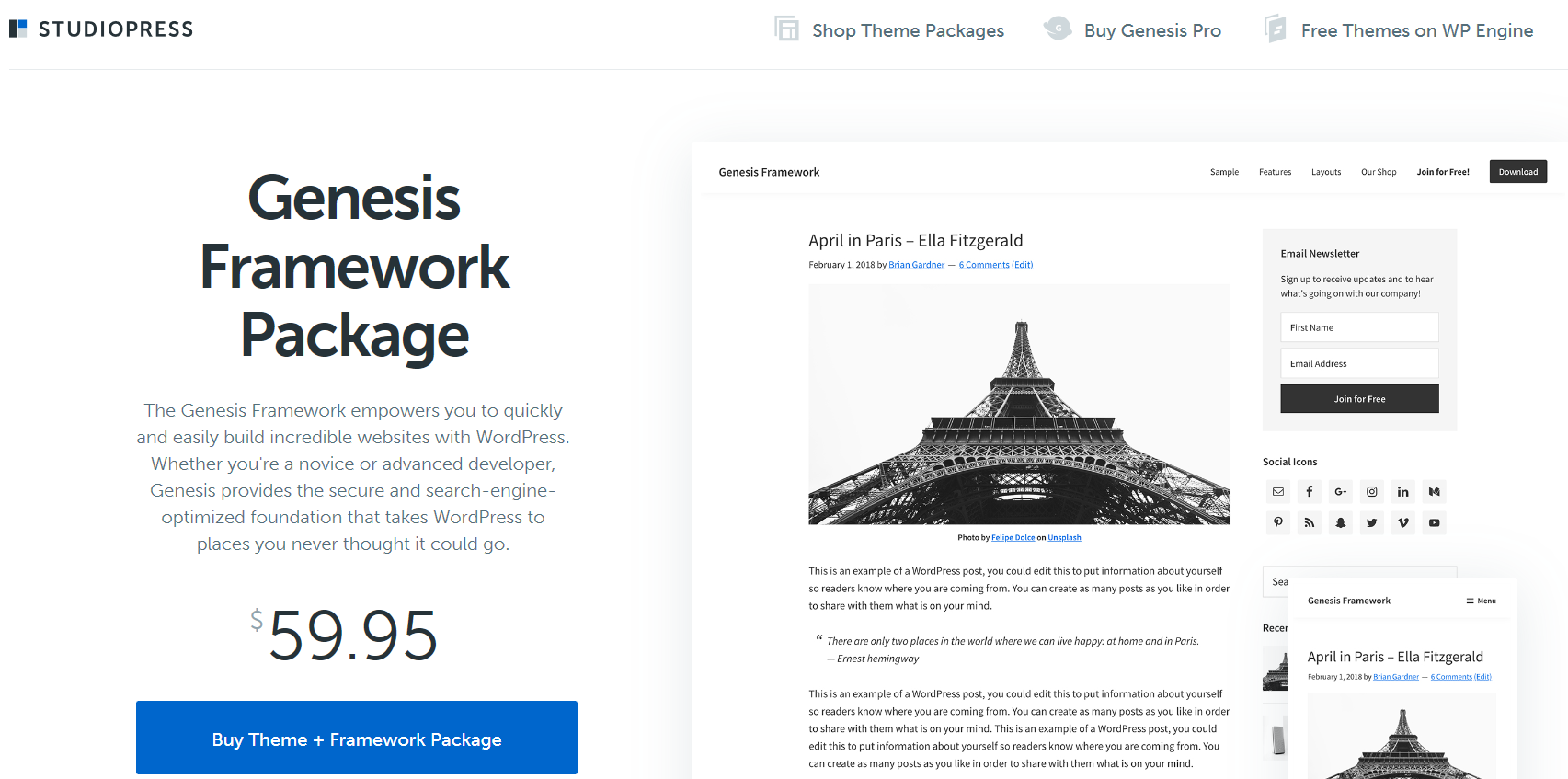 There are many child themes compatible with the Genesis Framework. Many more are also being birthed on a daily basis to keep the user experience top-notch. You can even create one yourself and make a tidy sum from it. The basics are that StudioPress themes need Genesis Framework to run, so you have to install it first before installing your chosen child theme.
Studiopress is stable, secure, and robust, one of the most reliable WordPress solutions there are. If you are going StudioPress, the first thing you need to buy is the Genesis framework. With Elegant themes, what you purchase is the theme you like.
The Genesis Framework helps to make WordPress themes SEO ready. It ensures that there is a valid HTML code that can be indexed by Google. It has excellent load speeds too with no bloat. Google loves fast sites, so the theme's website structure and schema markup of your site's SEO has to be taken into consideration during design.
The beauty of the Genesis framework is that once you have built your child theme on it, you can edit your theme in the future without having to rework your website again. And since Genesis receives constant updates, you will be able to update your site without further altering anything on your websites.
Genesis is pretty dull without its child themes. The child themes are what give it its attractive design elements. You can, for example, use the Business Pro theme for your commercial blog or Academy Pro for tutorials. Wellness Pro is perfect for that Lifestyle blog while Aspire Pro goes well with personal branding.
Pros of StudioPress
Was built with SEO in mind
Semantic HTML5 tags, schema data, and Google authorship tags may be small details but make a significant impact for SEO. StudioPress has given room to all these details required for a good SEO score. With a Genesis framework based website you have better chances of pleasing Google's page ranking systems.
Very secure platform
Hackers and malicious content can quickly disrupt your website's flow. Not so for StudioPress websites. Security here has been made top-notch, analyzed, tested, and improved over time to give it maximum data security.
Its coding standards are compliant
A website that's compliant with the CSS and XHTML code is faster and has fewer abandonment issues. Genesis framework themes are simple, clean and have a compressed code that loads efficiently.
Ready to use designs
If you have neither the time nor the patience to create a website from scratch, StudioPress has got you covered. With minimal effort, you will have your site running in to time. StudioPress is easy to use, and you only require bits of coding knowledge to enjoy its many benefits. It has a control panel that works perfectly well with the WordPress dashboard.
Superb customer care
Round the clock support, and a community forum that provides useful information on the framework is all yours with StudioPress
Constant updates
It has a one-click update tool that ensures that it is continually updated by its developers.
Studiopress vs. Elegant Themes Faceoff
So which theme deserves the title of WordPress best theme? Using standard WordPress parameters to gauge both themes, let us get down to the nitty-gritty and try to figure it out.
Ease of use
A good WordPress theme can save you time spent tweaking features and doing design changes. Elegant themes work like a charm on this front, thanks to their Divi feature. With Elegant themes, the default WordPress customization is powered to help even tweak the appearance of your mobile site. Divi is very easy to use with a very low learning curve. StudioPress themes, on the other hand, will require some coding skills to enhance them. They are very basic in build and are perfect if used as is. But if you want more from them, then you'll need to learn some basic code.
Conversion optimization
WordPress themes are designed with lead conversion in mind. Whatever the end goal of your blog or website is, whether selling a book, Ad revenue, online funnel, or getting hired, WordPress can help you maximize those goals. Elegant theme's Divi creates fantastic optimized sites. Their Monarch plugin assists greatly in social sharing, perfect for affiliate's sales generation. StudioPress themes take the cup for the most SEO optimized themes on WordPress. Divi's elegant themes though have more to offer regarding optimized theme features.
Regular updates and support
The ability to access timely updates and support for premium themes cannot be overemphasized. Elegant themes have a huge user base. They also have a good response rate for queries. Their minor updates are promptly released, and they are never short of significant upgrades as well. StudioPress themes are the epitome of professional after-sales service and creditability. The updates are fantastic thanks to a working team of developers and experts. If you want 5-star support, go Genesis StudioPress.
Affordability
Elegant themes cost an annual $89 and have a lifetime access price tag of $249. This price will avail you all their plug-in, updates, and themes. StudioPress has a hefty $499.95 membership access. This pricing does not include plug-in needed for conversions.
Conclusion
It is difficult to place any of these themes above the other since they all have their strong points. Elegant themes win on the affordability and ease of use arena. With StudioPress you will have vibrant support and top-notch SEO working for you. But is their price worth it?
Here are some other related articles you may be interested in reading: