Last Updated on May 2, 2023 by Ewen Finser
Congratulations! You started a business and you are ready to tell the world about it.
Now what?
It's time to start branding your business so customers think of you first whenever they need your products or services. To do this, you need a logo that will catch, and keep, their attention.
The Logo Dilemma
No pressure, right? Unless you are in the design business, which I'm guessing you're not if you are reading this, you need help designing a logo.
I've been where you are. After working in sales and marketing for decades, I needed a logo to help my writing business get noticed in the sea of online freelancers. Hiring a designer to create a custom logo was too expensive, so I searched online for the next best thing.
A Different Kind of Comparison
While conducting my research, I realized there are two disparate groups:
those that want to purchase software for long-term brand development (including logo design)
people who only want a logo design, and want it quickly
I am going to discuss four different software solutions:
Adobe Illustrator CC and CorelDRAW Graphics Suite X8 are the more professional software choice, so they will involve a higher learning curve, come with a higher price tag, and will produce more polished logos. This is the software online reviewers recommended for long-term brand development.
LogoMaker and LogoGarden are easy-to-use online applications that are more affordable; however they do not include the customization features like their high-end competitors so the logos look more generic.
By the end of this piece, you should know which option best fits your needs.
Let's get started!
Adobe Illustrator CC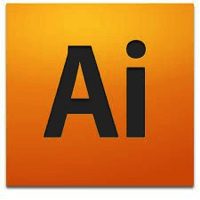 Adobe Illustrator CC is a vector graphics editor tool used in drawing applications to create professional designs and artwork. Widely considered the industry-standard, this graphics app lets users create logos, icons, sketches, typography, and complex illustrations for multiple mediums.
How to Buy
Adobe offers several different ways to purchase its Illustrator app (taken from their website):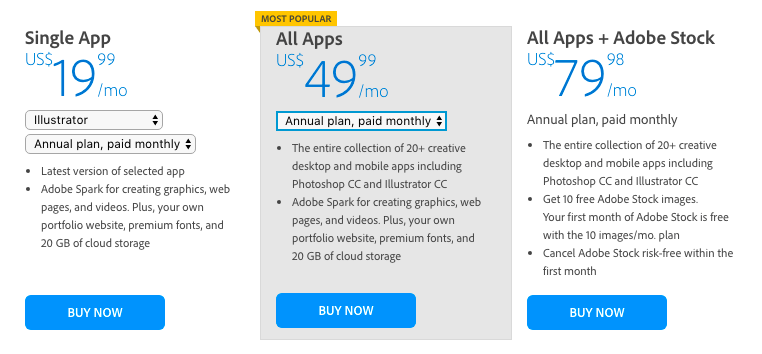 Price
$239.88/year for the single app at $19.99/month
$599.88/year for the Creative Cloud (all apps included) at $49.99/month
With each package, you gain access to Adobe's "Creative Cloud" which provides 20 GB of secure cloud-based storage to use when working with the app from any authorized mobile device or desktop.
When you purchase the "All Apps" package, also known as the Creative Cloud Suite, you have access to the entire collection of creative apps and built-in templates and tutorials to help in your design process.
For the sake of this review, I'll focus on the Adobe Illustrator app by itself, and how it can help you create a fantastic logo.
Features of Adobe Illustrator (Ai)
Vector drawing tool that creates a vector graphic output file. This kind of output file can be resized to any degree without diminishing the quality of the image.
Proper printing controls so the color format you see on your screen matches the color printed.
Drawing and processing tools that allow you to sketch on one device like a tablet or mobile phone, and view it on your desktop for revisions.
Color features like gradient control to create the ideal balance and shade directly on the object.
A pixel grid that allows for easy manipulation of words and objects.
Perspective grids that help add density and dimension to artwork.
Adobe Illustrator's Strengths
The vector drawing tool is the best feature of Adobe Illustrator and the reason people trust it when designing logos.


Since you want your logo to look professional, clean, and crisp on something as small as a business card and as large as a billboard, you need an output file that will translate across multiple mediums easily while maintaining its tone and balance.
Adobe Illustrator's Weaknesses
Most online reviewers agree that Adobe Illustrator isn't ideal for those new to using design software with one reviewer saying there is a "pretty steep learning curve, but once you learn the program…it's user-friendly."
To combat this weakness, Adobe offers various tutorials including online videos to help customers learn about and use their software.
Bottom line
If you have previous design experience, or are interested in learning something new, Adobe Illustrator will help you develop a professional logo that is easily transferrable across multiple mediums.
CorelDRAW Graphics Suite X8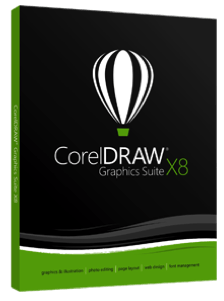 The CorelDRAW Graphics Suite X8 is a vector graphics program for PCs only (sorry Mac users) that promises professional results at an affordable price. CorelDRAW's marketing materials claim anyone can create a professional-looking logo; whether they are a first-time user or seasoned professional.
How to Buy

You can either buy CorelDRAW Graphics Suite X8 or sign up for a subscription.
Price
$399.00 for a digital download
$198/year or $16.50/month
There is a $199 upgrade fee for those who already own a previous version of CorelDRAW.
Features of CorelDRAW Graphics Suite X8
Pro software for graphic design, layout and photo editing
Multi-monitor viewing and 4K display support
Corel Font Manager helps explore, handle and organize fonts
Tutorials available regarding how to design a custom logo
CorelDRAW creates a vector graphic output file that is easily resized without diminishing the quality of the image
CorelDRAW provides 5 hours of training videos to help newbies feel at home, including a tutorial on how to design a custom logo for your business
Border and Grommet dialog box allows you to create a banner from a page or from selected objects on a page
10,000 clipart and digital images and 2,000 high-res digital photos (royalty-free)
1,000 open type fonts and 350 professionally designed templates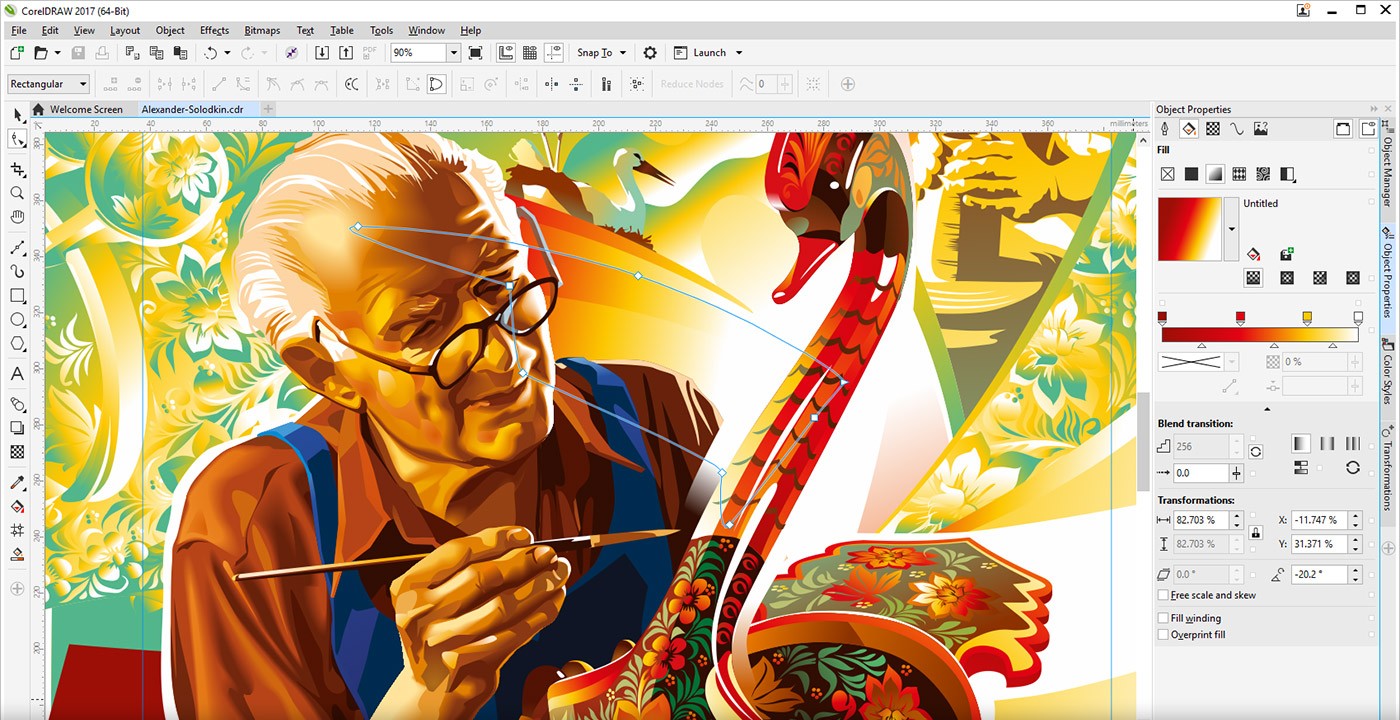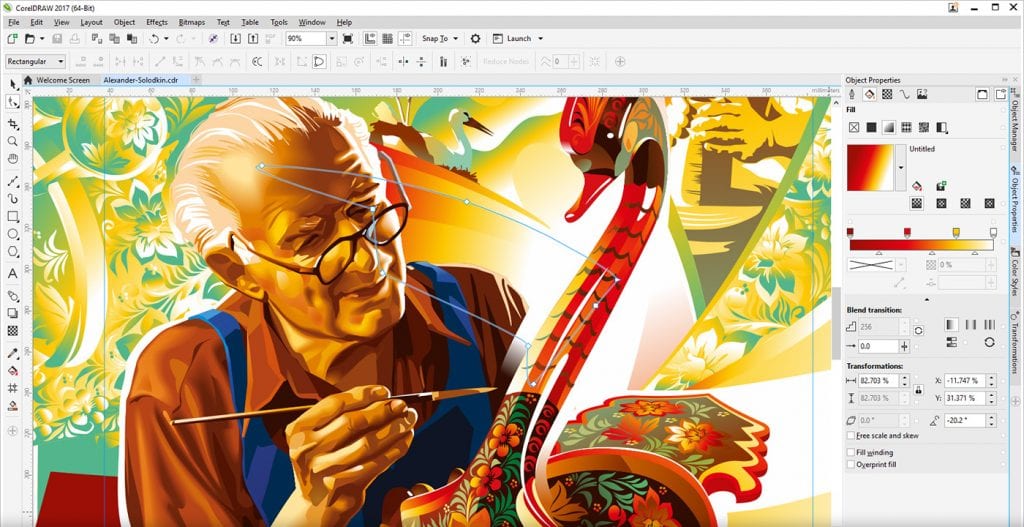 CorelDRAW Graphics Suite X8 Strengths
CorelDRAW a more affordable alternative to Illustrator and some say, easier to use. Many customers rave about its customer service support and enjoy the "Content Exchange" forum support by CorelDRAW for users to share design ideas with registered users.
CorelDRAW Graphics Suite X8 Weaknesses
CorelDRAW does not offer advanced design features like color correction tools, photo effects, and HDR imaging. Online reviewers also noted that some of the more desirable features of the software required a plugin that you must first purchase to access it.
Bottom Line
CorelDRAW is ideal for people new to logo design, and need the extra support to help navigate the design process. For many it is more affordable and a good first-step into the design world.
For those of you looking for the most professional-looking, polished logo these two options may be worth investigating.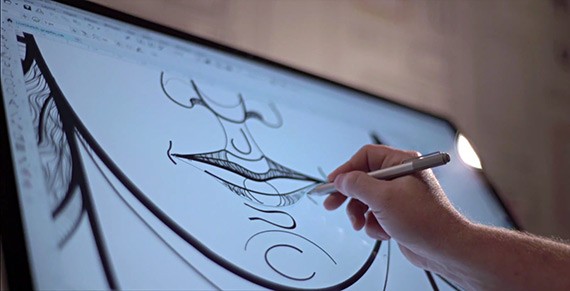 Remember, the software is only as good as the person using it so make sure you either have the time and desire to learn how to use it if you don't know how to already, or at least hire someone who can.
Now let's look at the other two (some would claim easier) options: LogoMaker and LogoGarden.
LogoMaker

LogoMaker is an online application that features a software-free logo builder that creates logos using a 3-step process. Since 2004, more than 3.5 million customers have used LogoMaker's free software to help brand their business.
How to Buy
A logo will cost $39.95 and includes the following (from their website):
Features of LogoMaker
Over 10,000 logo templates created by award-winning professional designers
It takes less than a minute to produce a logo a high-res or vector graphic logo
The application is user-friendly and backed by customer support
LogoMaker includes any file type needed for both online and offline purposes
Free web logo
High-resolution logo design files include the following formats: EPS, JPG, PNG, and GIF
Money-back "Love Your Logo" Guarantee
Create up to six designs before buying
LogoMaker Strengths
LogoMaker is easy to use, fast and provides many options for customization. I created a logo for my business to test its usability, and I was pleased with the result.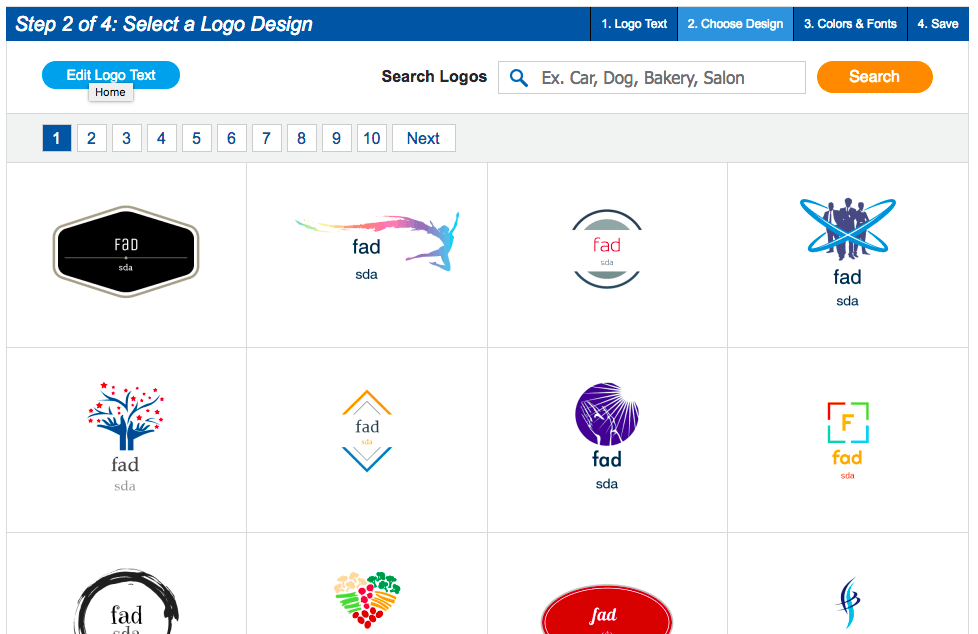 I would not say it produces a high-end logo, but it certainly could fulfill a need quickly for someone who needed something right away.
LogoMaker Weaknesses
Overall, its major weakness is the lack of customization opportunities. You can customize colors and fonts, but outside of that, it's limited what you can do. The result is a more generic-looking logo.
Bottom Line
If you need a logo quickly and aren't too particular, LogoMaker is an easy-to-use software application that can help.
LogoGarden

LogoGarden is an online application that allows users to create their logo for free using their free logo generator. Over two million customers have used LogoGarden to create a custom logo.


How to Buy
For a vector file, LogoGarden charges $39.99 and includes AI, EPS, and PDF files. It is only $12.50 to purchase a high-resolution file which is downloaded immediately after submitting your payment online.
Features
Graphics library includes thousands of icons and is regularly updated
Pick-n-click tools allow users to select colors, fonts and add effects to their logo
Hi-res and vector graphics capabilities
Save & Download feature allows time for editing before purchasing
Customer support and online tutorials are available
LogoGarden Strengths
I again created a logo for my business using LogoGarden so I could compare it to my experience with LogoMaker.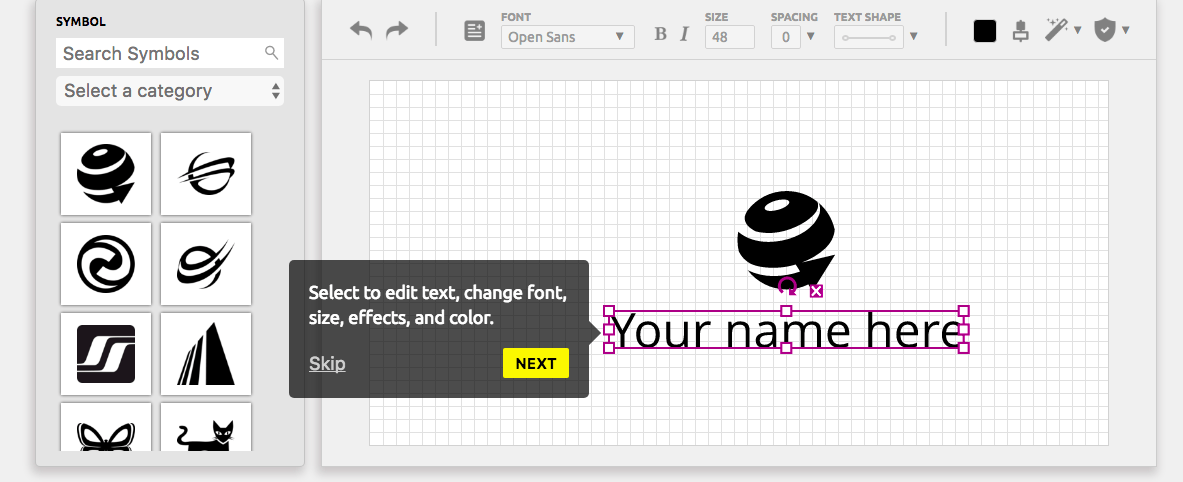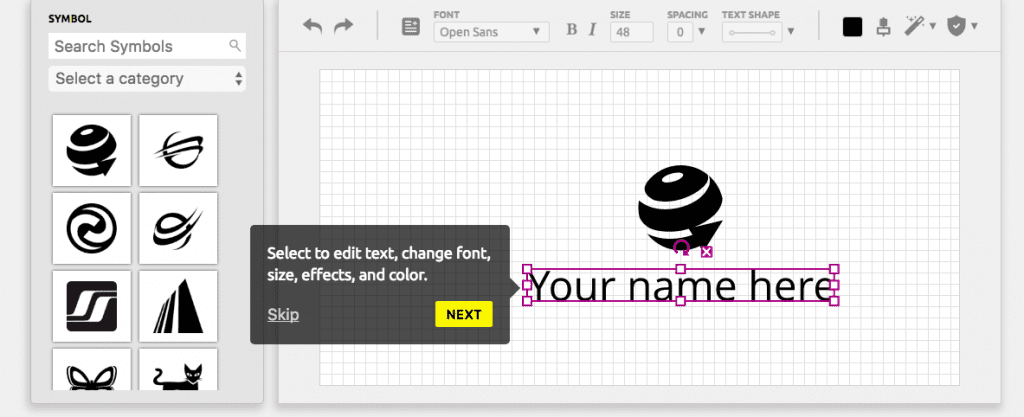 The website itself is easy to use and navigate, and the process is simple to follow. The logo I created was alright, but nothing I would consider purchasing.
LogoGarden Weaknesses
I found LogoGarden to be much more limiting than LogoMaker, which makes sense seeing it's the cheaper option. There were less graphics to choose from and less options for customization.
Bottom Line
LogoGarden is the most economical choice when using an online application to design a logo. It is best for those that require a logo for something rather than need it to brand their business.
Have You Decided?
Both the high-end logo design software and the online design applications can deliver the logo you need; it just depends on how invested you are in the creative process.
Which side are you on?
Further read: