Last Updated on January 15, 2023 by Ewen Finser
In a time when marketing departments and their budgets frequently come under intense scrutiny from directors and the C-suite, digital marketers need to have some knowledge of data analysis, or, if the team has capacity, a dedicated analyst.
There are lots of tools available. In marketing themselves, their appeals to you can all seem similar, and some of the recurring terminology might be confusing.
Data analysis is something every size of business should use, right from the outset. We'll look at just two of the products available. Looking at just two should help you decide either of these will work for your organization.
If one sounds like it might be a good fit, you should compare it to another product, and really try and narrow down your needs to get to the right product.
When you're researching data analysis solutions, your first impressions come from how the providers market themselves.
In this respect, Mixpanel are very modest. There's not a great deal of information about them. They're based in San Francisco, and were established in 2009. I couldn't find any indication of their user base, and they've avoided dropping the names of any major users.

It looks like a sales-orientated data analysis package. Nothing stands out as groundbreaking. It's hard to know what to make of that. Within 11 minutes of signing up, I received four emails. That seems excessive, and feels like a sales approach rather than marketing.
It doesn't have a WordPress plugin like other analytics tools, so if you're not technical, you may need to find somebody who is to get the best results.
Amplitude is also based in San Francisco, and is a bit of a newbie in the industry. They were founded in 2012 by two app developers who were frustrated, feeling that the level of data they could obtain for their product didn't go deep enough to inform effective decision-making.

They hail brands such as HubSpot, Western Union and POPSUGAR amongst their biggest client names. Last year, in 2016, they raised $15 million in series B funding. Not too shabby.
First impression of Amplitude is that more than anything, it's product-focused, aimed at helping companies refine their product offering, and inform decision-making that will influence product sales.

I'll be interested to dig a little deeper and find out more about the implementation, and whether it's more of a marketing or sales tool, or both.
Pricing options
Mixpanel
Mixpanel has two different types of plan. Let's look at their engagement plan first.
The engagement plan has four pricing tiers, and as you've probably guessed, the higher the tier, the more money you pay, and the more stuff that's included in your package. Tiered pricing is great for the company developing it, but users shouldn't get carried away with what's offered at higher tiers.
If it's not beneficial to your company, higher tiers can be a waste of money. Marketers need to remember that at the evaluation stage of their research.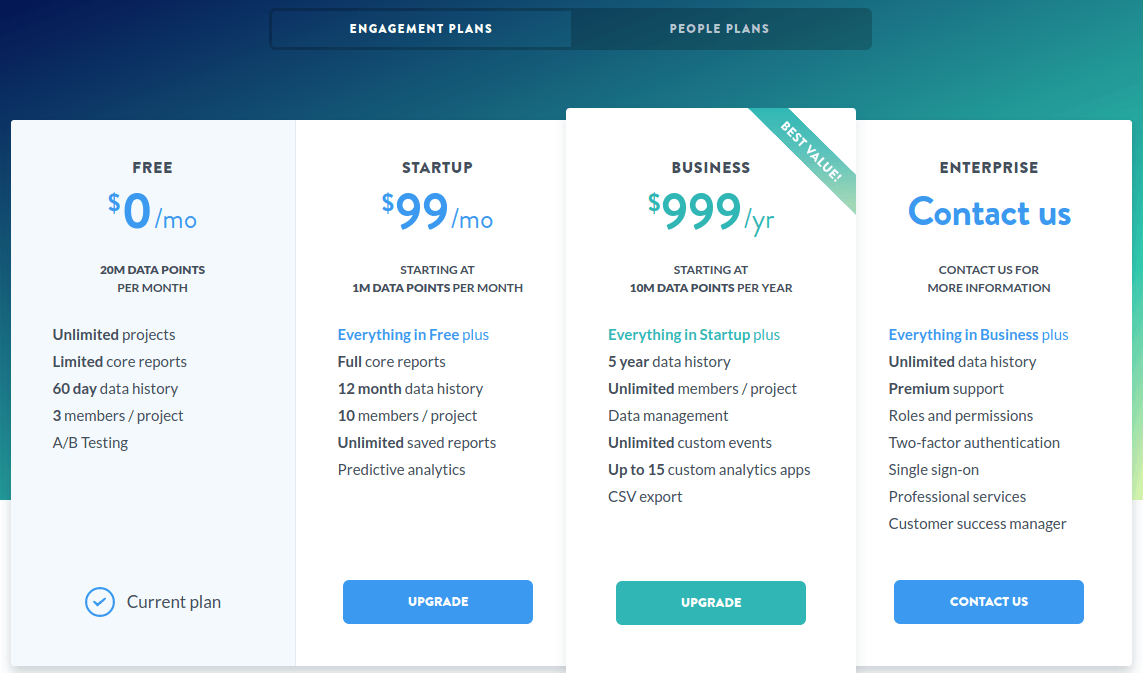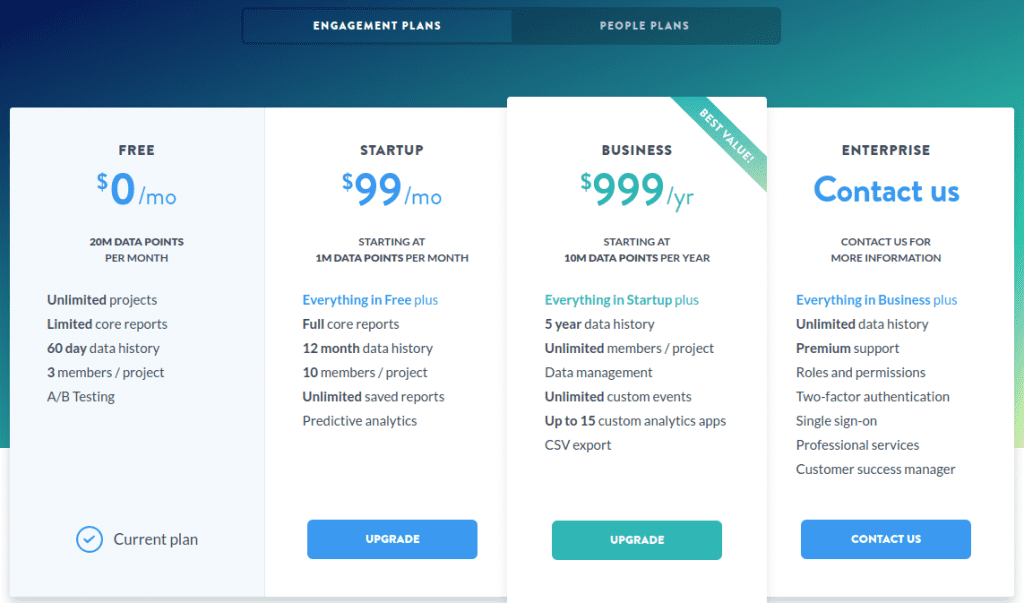 Mixpanel rock the freemium model, meaning their first tier is free to use. Free stuff in marketing tools is fine to a point, namely familiarizing the company with what it does, but it'll be limited in scope. In Mixpanel's case, the main limitation is that it provides 60 days of data. Not exactly ideal for mid-to-long term evaluation.
The second tier costs $99 per month, and features are largely based on extensions to what's available in the free version. For example, you can access 12 months of data as opposed to 60 days – but that's still not enough for a year-on-year analysis.
The Business tier costs $999 per year. Again, it's largely based on extensions to existing features. In this case, you'll get access to five years of data – you're able to perform year-on-year comparative analyses!
The second type of plan is the people plan, which essentially profiles visitors to your site. You get 1,000 profiles for free, and up to $1,800 for one million profiles.
Amplitude
Amplitude also employs a tiered, freemium model for their pricing.
At first glance, the free tier looks remarkably similar Google Analytics, another free website analysis tool. The main difference I can see, is that it is focused on actions that are taken on your website's pages, which they call events. This could be anything from video plays, to songs streams, to purchases.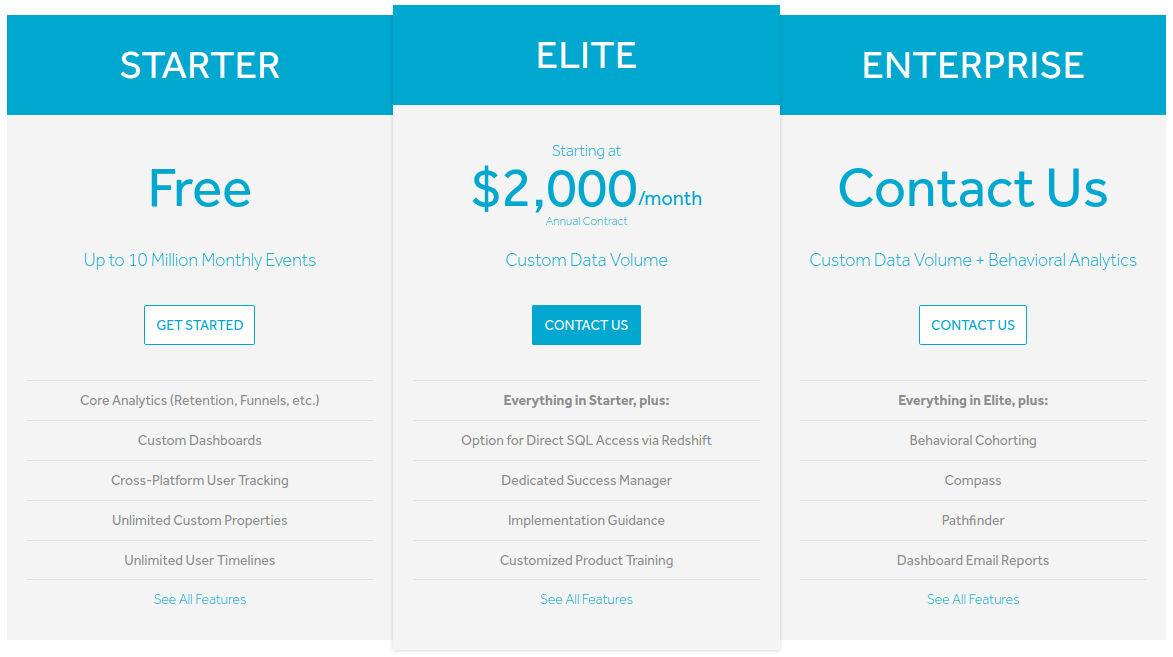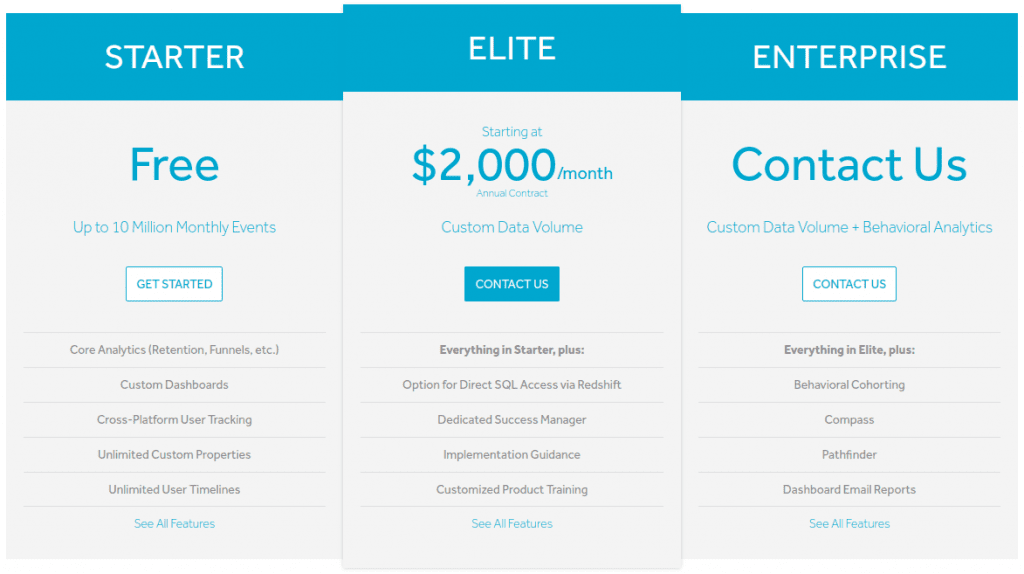 Their middle tier costs $2,000 per month. I know what you're thinking: that's an awful lot of money compared to some of the other analytical names out there. And that's just the starting price. The amount of data you want to process is customizable, which is great, but it's not clear what the increments for increasing volume numbers look like. You have to contact them to find out.
Beyond the data volume, the middle tier will also get you some additional features – we can take a look at them a little later.
The top tier that Amplitude offers – called Enterprise – is so expensive, they won't even put it on their website. The additional features provided to Enterprise users highlight behavioral analytics.
Looking through the features offered by each tier, there really is an awful lot of information to consume. There are seven tables just comparing what's available in each tier! None of which provides any explanation for what the features are, or mean in real day-to-day benefits to your company.
I don't think this makes it very friendly for users who are new to data analysis. In fact, I can see quite a few being put off my it.
Features
Mixpanel
The analysis provided by Mixpanel is fueled events that take place on the pages of your website, like purchases or downloads or completing a form – whatever happens that can be measured.
Mixpanel segments the data triggered by these events into the users who took this action. It certainly makes the mass amounts of data that can be collected into much more digestible chunks. This segmentation-first approach to data is the main focus of the interface.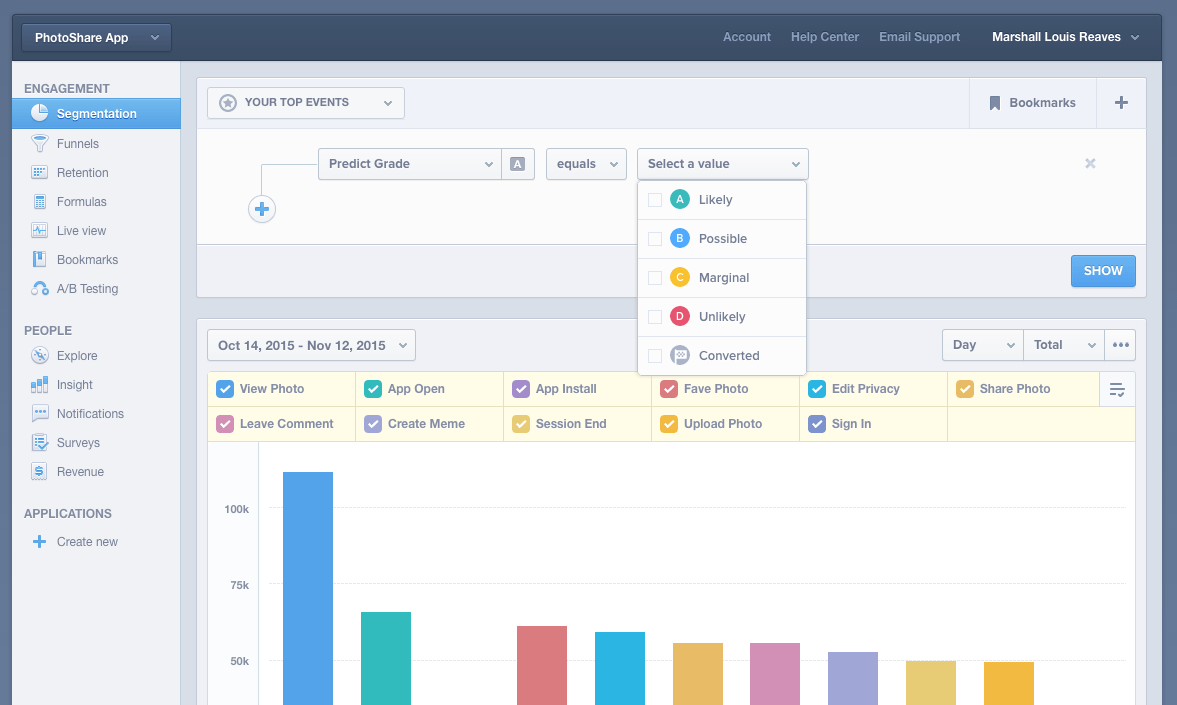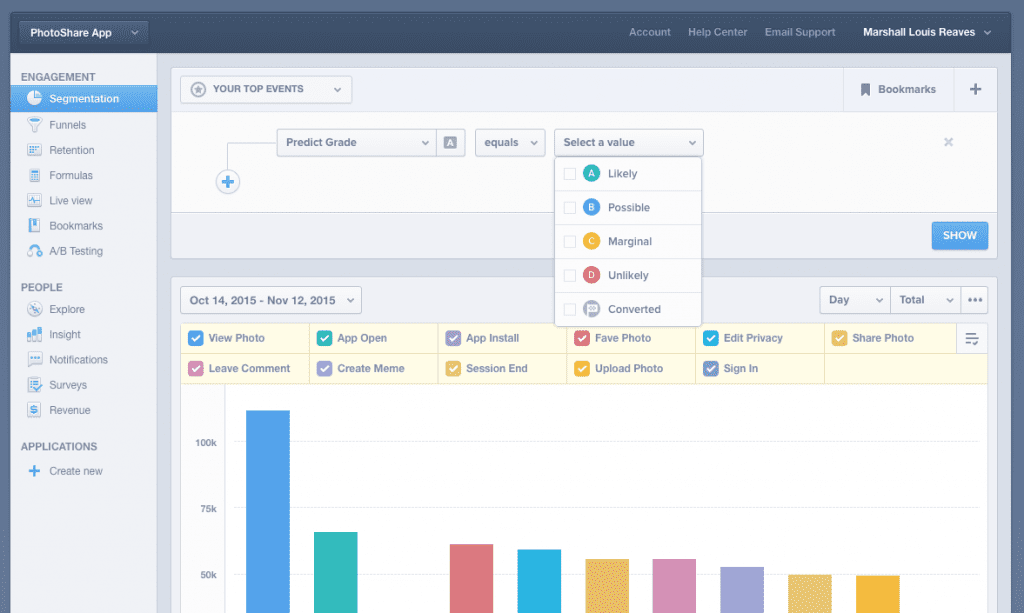 It's a good idea really. It can be hard to know where to start in data analysis, so it's good of them to just say "you're starting here!"
The A/B testing is a valuable feature, allowing you to measure the success of two variations of your website content, then implementing the most successful one. It's a better solution than creating a page, giving it a week to measure success, and then amend it, and so repeating that until you're satisfied with the results.
If you take the leap into the second tier, you should find the predictive analytics feature bordering between fun and interesting.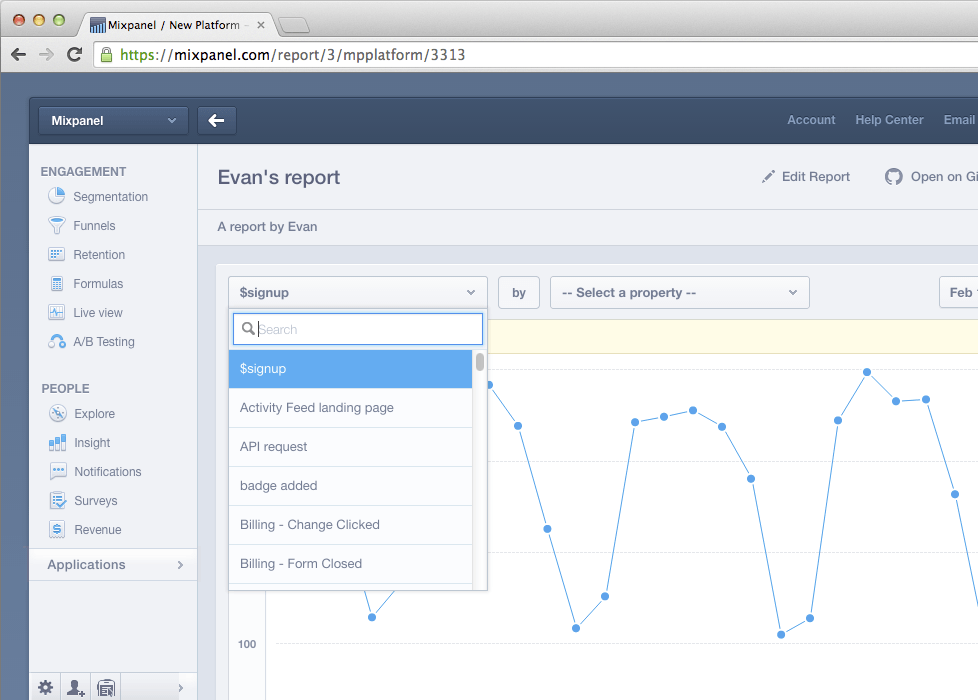 You can specify an event you want to measure, and Mixpanel will analyze data from user journeys that previously completed that event to predict the chances of future users completing the event at the end of the same user journey.
It will provide you with scores for it, and I'd love to take the time to play with it, and see just how accurate its predictions are.
The business tier allows you to export user information – a useful tool for CRM management.
Amplitude
Amplitude also take an event-focused approach to their data collection, and the analytical outcomes of this are many.
What Amplitude seems to take the most pride in though, is the visualization of the data it collects, in presenting you with bite-sizes of digestible and actionable information.
You can customize a lot of these chunks of information to suit yourself, but it does come with a bunch of – relatively standard – ones from the outset. I'm talking about things like customer retention, the ability to view real-time actions, and managing your analytics using a marketing funnel.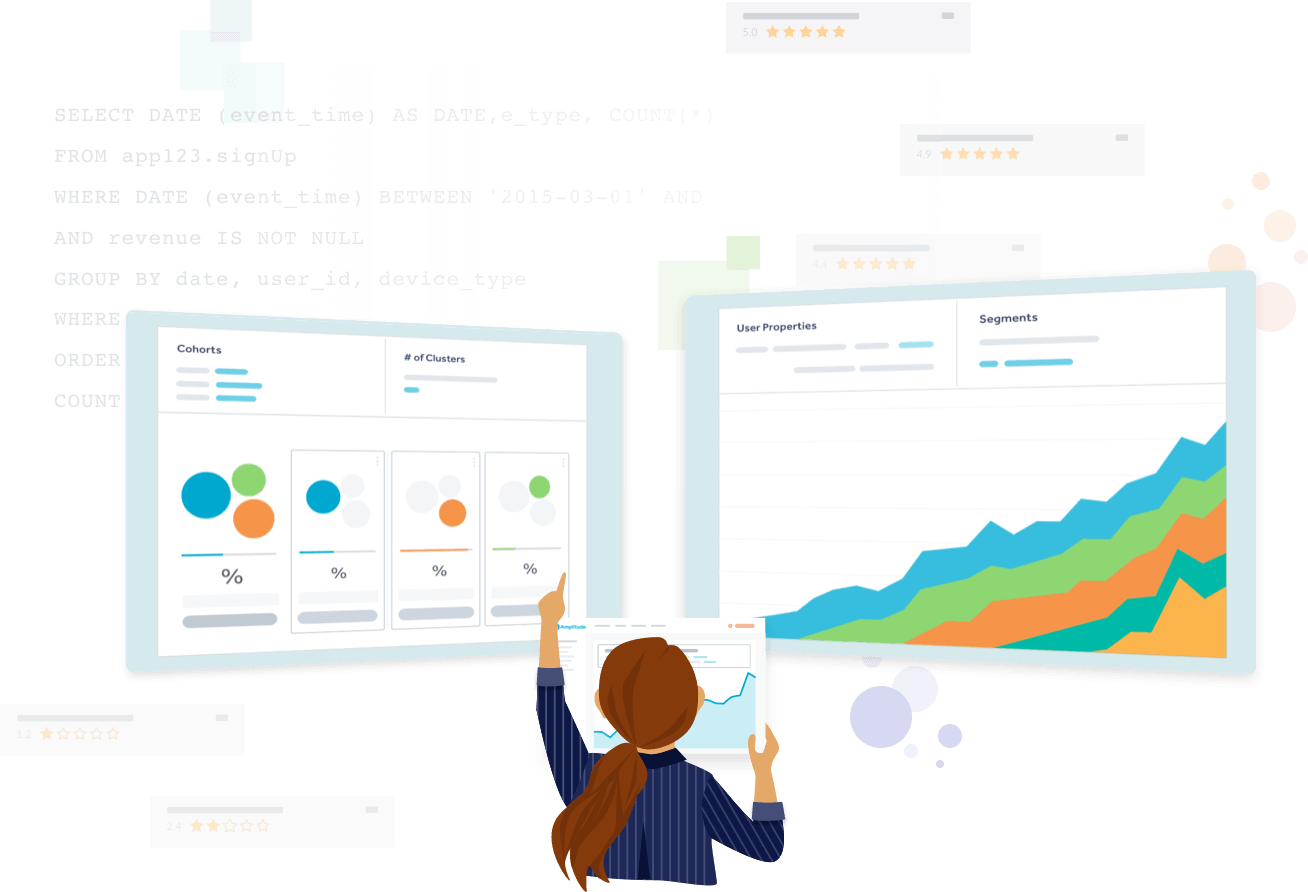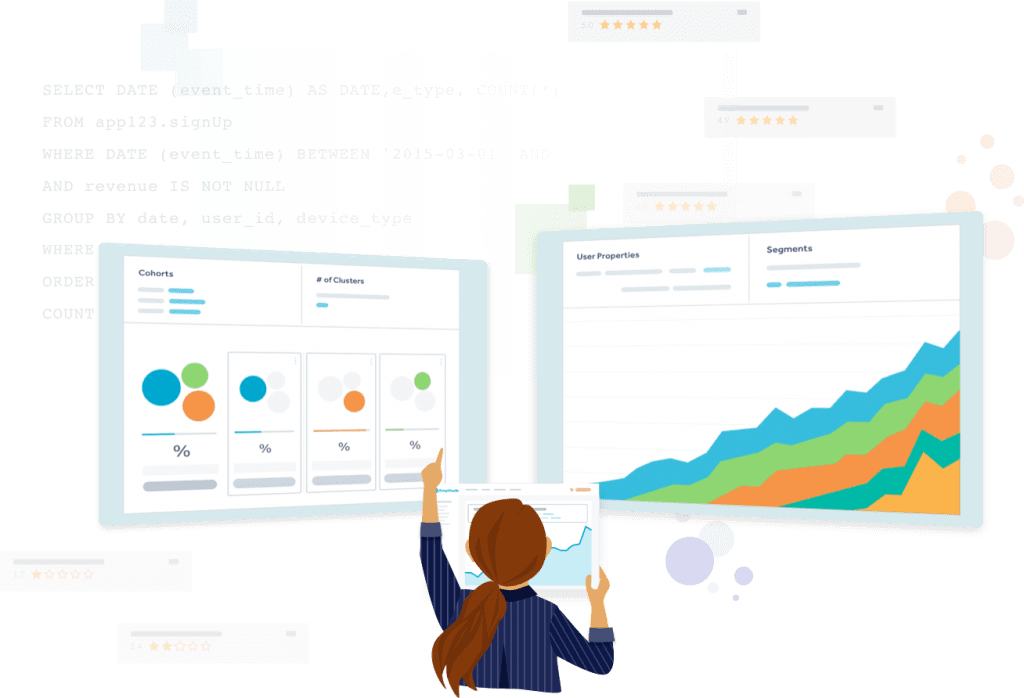 The data it collects is focused on the events though, but the events are derived from your products. The idea is that if you can interpret what users are doing relative to the products you offer, you'll learn what it is about the product you can do to improve it, or, if necessary, remove it.
Digital marketing service providers – Amplitude included – have this habit of saying you'll get 'priority support' when you move to a higher tier. All of Amplitude's support is via email, but from the Elite version it's a priority. The annoyance with this is that it's unclear what that means.
Shorter waiting times?
The option for a call back?
Some specifics would be nice.
The unpriced Enterprise tier does seem to offer a good deal more features. Specifically, its features seem more focused on actionable data. Things like its Compass, which is focused on advising on what events are retaining customers and visitors to your website.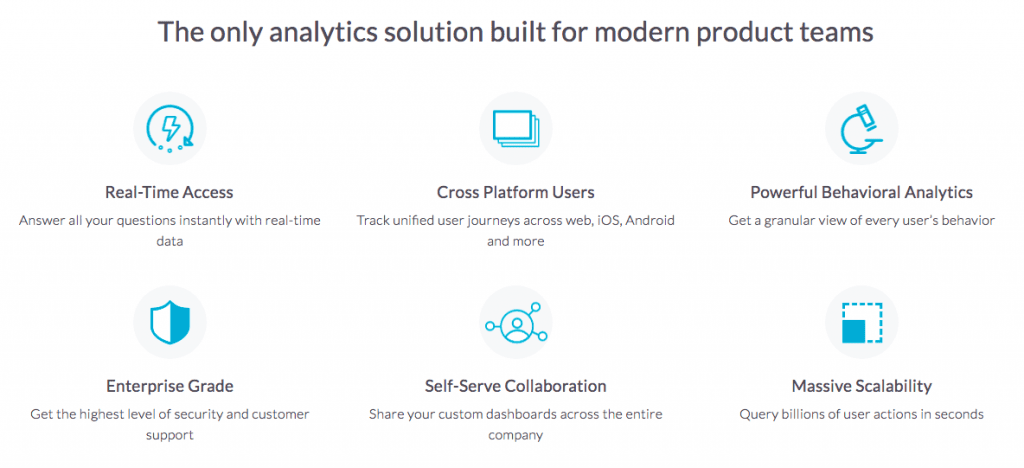 There's much more than what this review can cover!
Usability
Mixpanel
Mixpanel's usability is perfectly fine. Everything is clear, and everything is pretty much where you'd expect it to be. Nothing too surprising. It's got the usual left-hand navigation pane, and all the menu titles there are largely self-explanatory.
When you first start off, you can have a tutorial video on each element of the navigation pane, explaining what it does, and how it will help you when you're trying to interpret massive amounts of data. It depends on the user whether these are useful or not – some people really just want to read about it with some screenshots.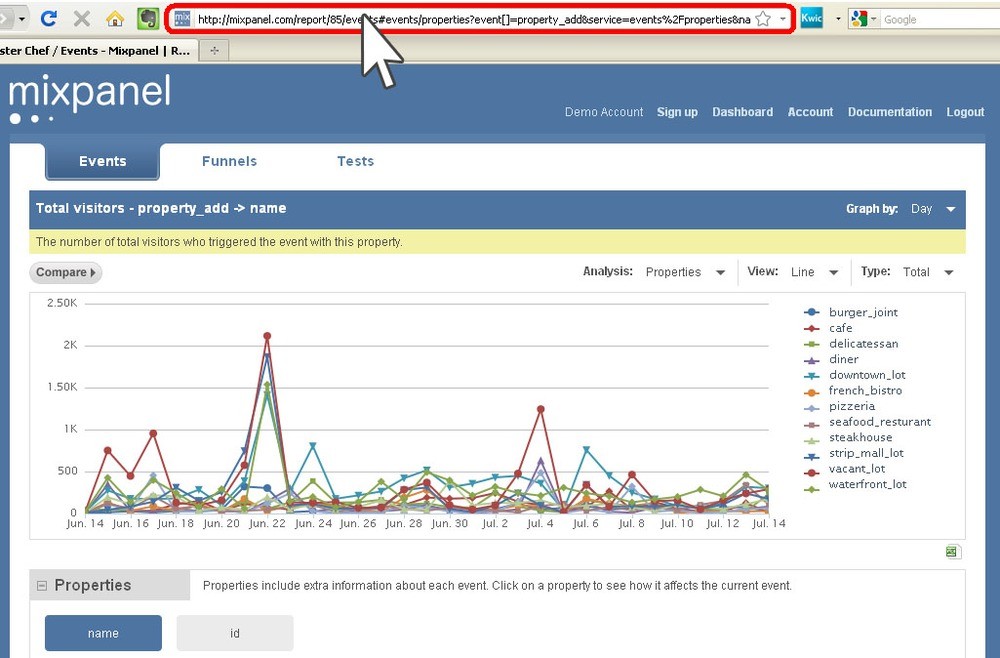 Setting up Mixpanel is a bit labor-intensive though. If you're opting to go with the code provided, you would need to be confident in using code. It does scare some people! In saying that, as long as you follow the instructions, and copy and paste when it tells you to copy and paste, you shouldn't go wrong.
They're not setting you up to get annoyed with it. They want you to use their product, and have the best experience, so do as they say!
If you have a WordPress website and opt for one of the third-party plugins, that's up to you, but none of them appear to come very well rated. If you do get stuck, their customer support is available via email during office hours, or live chat. Your access to live chat depends on which tier you're signed up for.
If you like your software on point, you'll enjoy Mixpanel. It's very usable, and presented with straightforward, digestible, no-frills clarity.
Amplitude
Amplitude's usability and interface can be best described as 'positive.' That single word really does sum it up.
From the bright colors used in the design of the user interface, through to the tone of voice used in the instructions when you take the initial demo tour, it really is all just very positive.
You know in a movie when they have an alternate reality or dream sequence, where everything is really positive, to the extent that the subject gets suspicious? It's like that, except I couldn't find anything negative, and wasn't pulled out of it with a shock.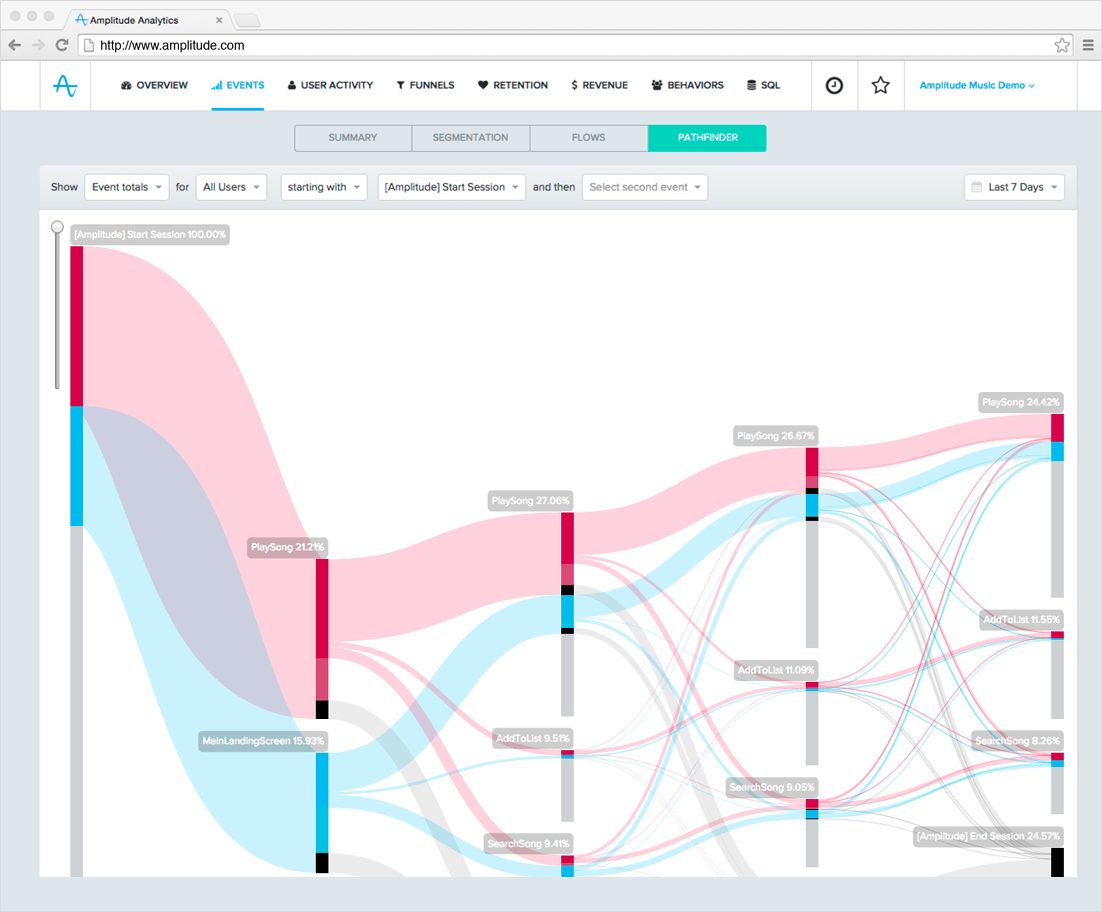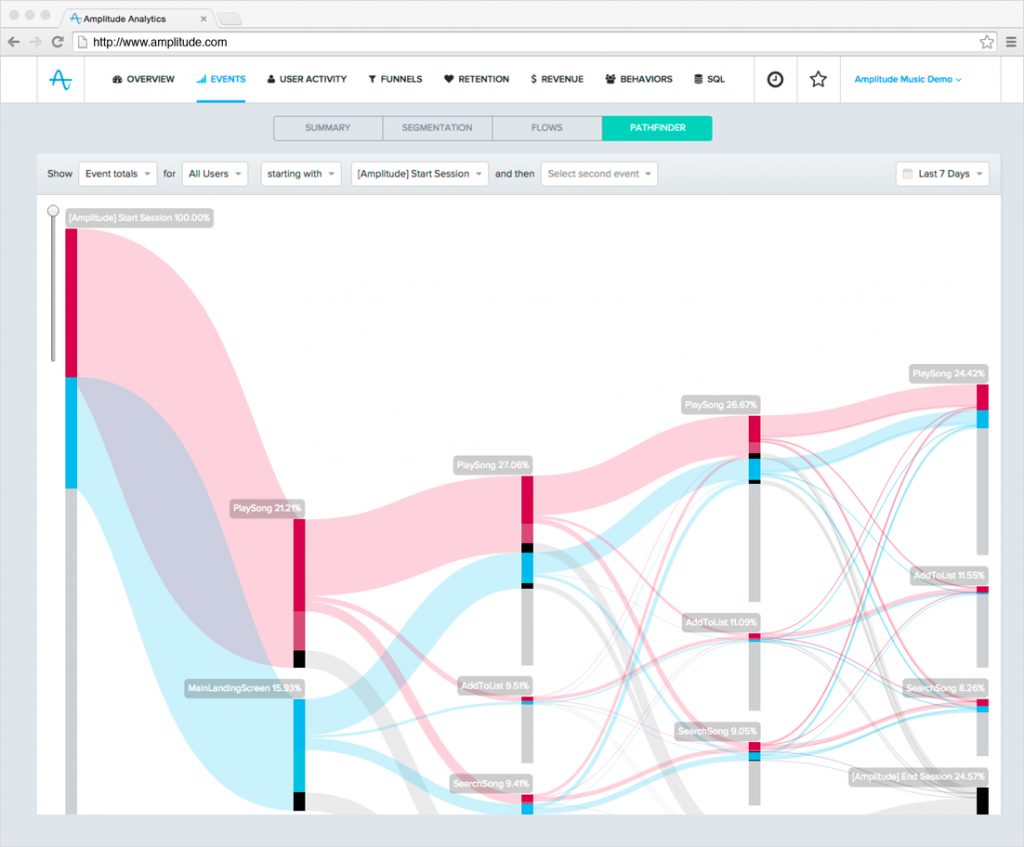 It's got the standard left-hand navigation pane, and the demo tour will take you through each one of those, explaining what they do. The various graphs and charts make great use of color to help with their clarity. Something about the design seems soft and friendly, more so than other graph-orientated analytics tools.
The one thing I'm not sure of, is if it retains this friendly demeanor as you move up through the various tiers.
In terms of initial setup, again, you'll need somebody to drop code in the various pages containing events you want to track. This means you'll have to either be confident in dealing with coding, or find somebody who is.
Unfortunately for WordPress users, there isn't a plugin available for easy access. Not even a third-party one. I didn't use any of the support services, but I couldn't find anything negative said about them.
Overall, Amplitude really is a great piece of kit for the product-orientated digital marketer.
Conclusion
Mixpanel
Mixpanel is really good for refining the mass amounts of data, into actionable reports, based on what you need or want to know. It's definitely useful, but the cost of getting year-on-year data will be a tough sell to any department director, or the C-suite.
Sure you could go with the free version, by defining your goals, and recording that data for every two month period. But what if it turns out your strategy needs to be adapted with different goals? You simply won't have the data to consider how the new goals might work. It's risky stuff.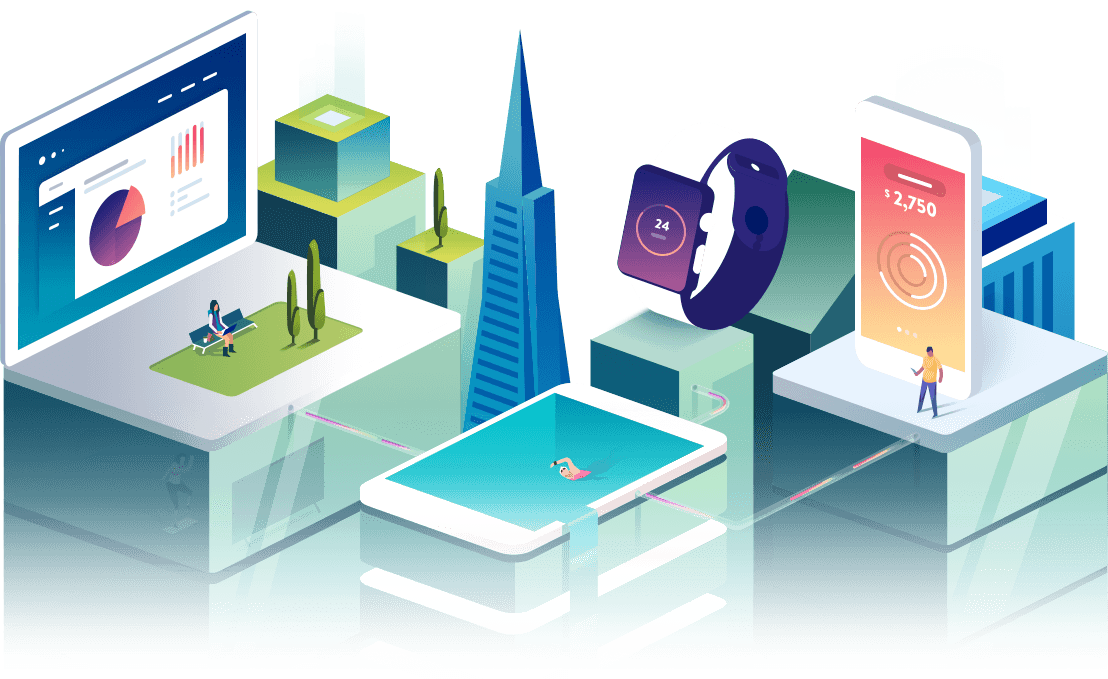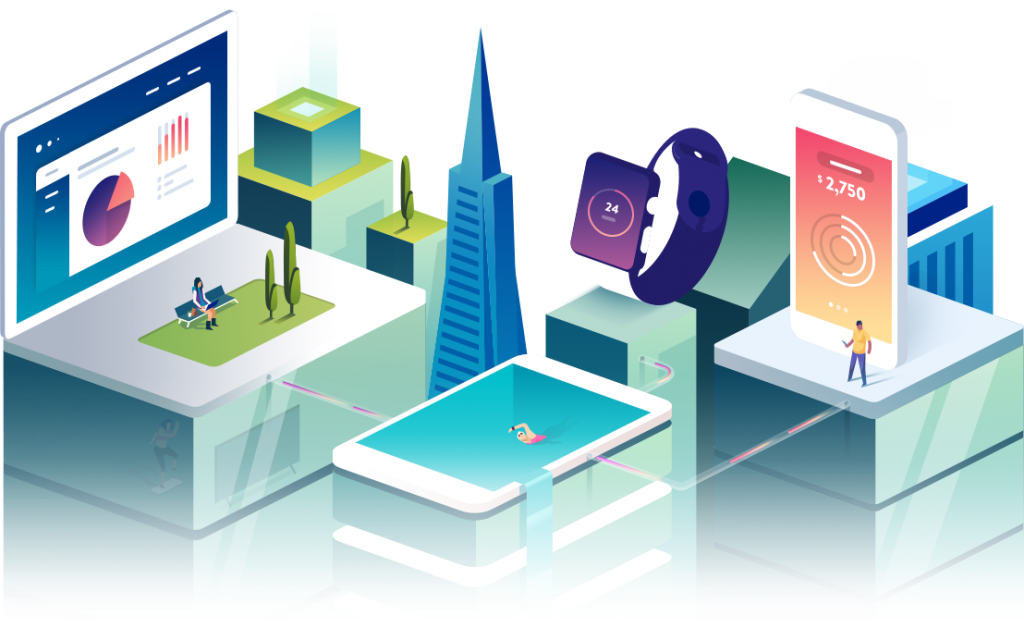 Investing in that amount of data, would likely be of most benefit to an organization who are already investing in the human resources required to make the data from that tier actionable and relevant.
Overall, Mixpanel is for sales.
Amplitude
The types of data collected by Amplitude is very similar to Mixpanel, as are the segmentation and reports.
However, the main focus of Amplitude is user behavior. The data it gives you has different sensitivities, so it has a slightly different application.
Unlike sales-orientated analytics tools that focus on the final sale, and what that sale meant in terms of lead generation to conversion ratio, Amplitude wants its users to focus on the journey between the customer landing on your website, and what they did between that and making a purchase.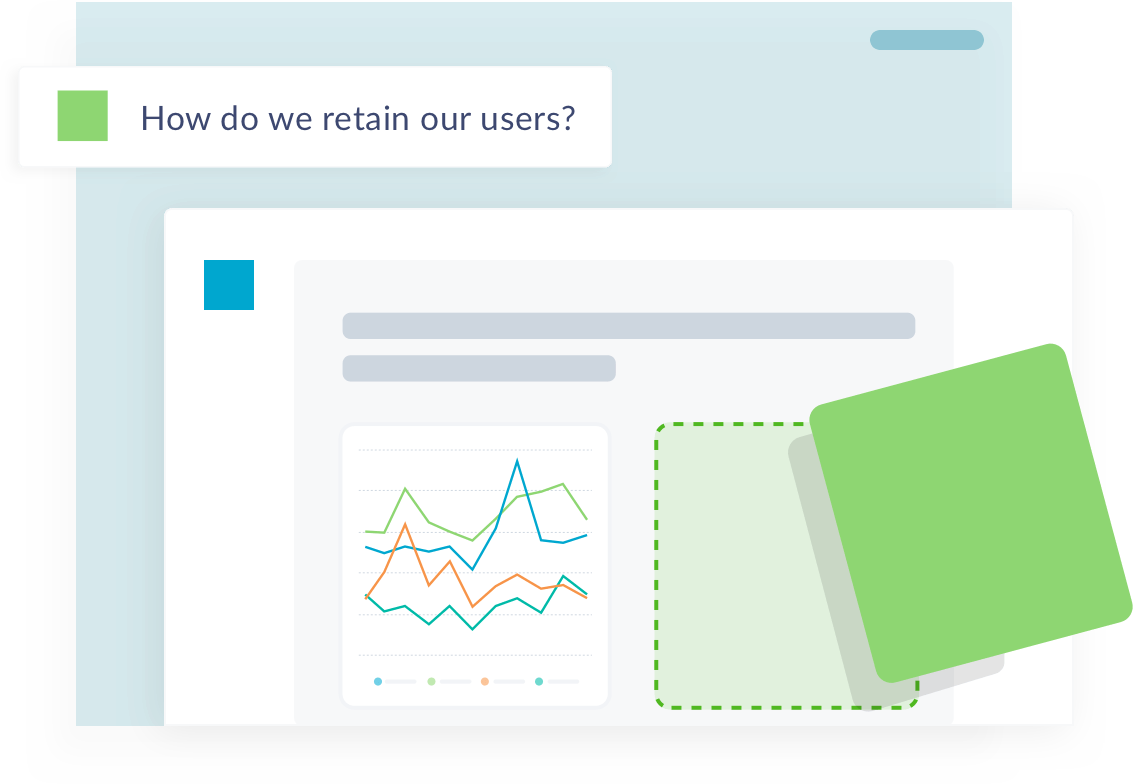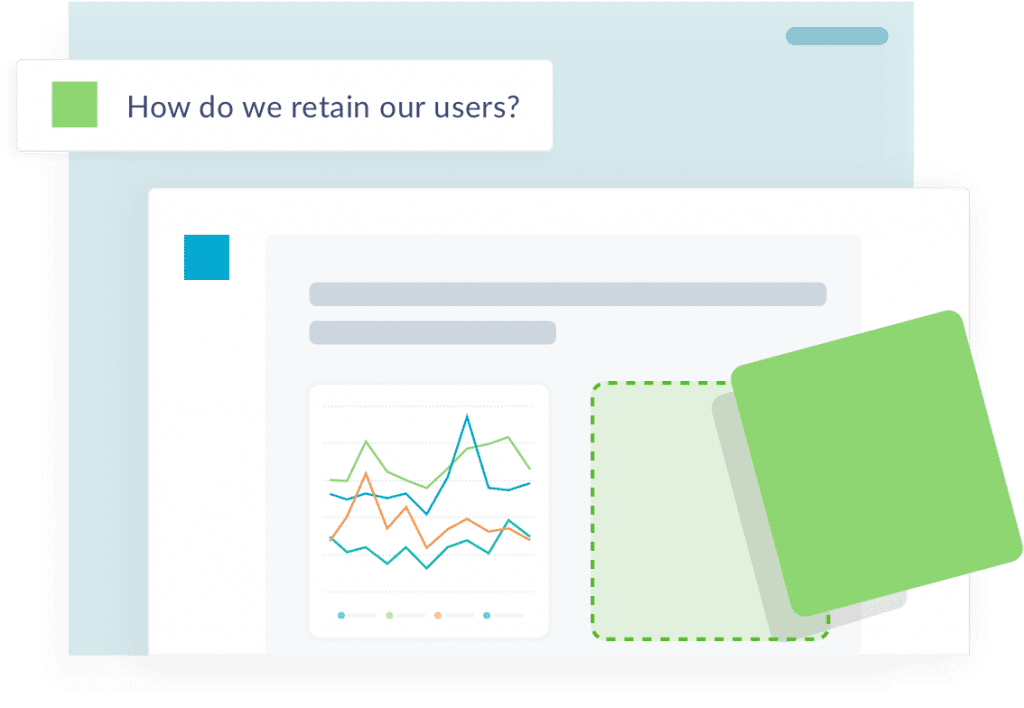 This behavior is then intended to signal to you what you can do to better fit your product, or align your product with different behaviors. It really is very clever: an impressive piece of kit.
It won't be for every marketer or analyst, but it's impressive.
Mixpanel
Amplitude
Pricing Options
Four tiers, starting with a free version
Three tiers, starting with a free version
Features
– A/B testing
– Predictive analytics
– CSV export
– Support available
– Customer success manager for top tier
– A/B testing
– Custom dashboards
– Cross-platform user tracking
– Dedicated Success Manager from the the second tier
– Predictive style analysis for top tier
Usability
Laborious to set up, but specific and refined in its results
Bright, friendly and positive
Conclusion
Good for sales-orientated digital managers with substantial revenue
Good for product-orientated digital managers
Final comparisons
I don't think I've ever reviewed two products so similar before! I had to dig deep to be able to find differences to tell you about!
Your organization has to be very committed to data analysis for either of these to pay off, both in terms of the time required from human resources to setup these tools, and convert the reports into actions, and in financial resources. The most beneficial tiers of these are not the free versions.
I can't fault either of them, but the marketer deciding between these tools needs to be clear about what's expected of them from their director, and in turn from the C-suite. Every organization has different expectations, and every team of senior management has different things they want to hear.
There's no point in telling them how to improve the products when they want to hear about sales.
Further read: