Last Updated on April 21, 2023 by Ewen Finser
While an Ontraport vs ActiveCampaign comparison review features numerous similarities between these two platforms, the truth is, they are not at as alike as you might presume.
ActiveCampaign and Ontraport have varying capabilities when it comes to marketing automation, email marketing, plus sales CRM.
My Bottom Line Up Front: Here's my high level…
So far, both of them have provided these solutions for over a decade now. ActiveCampaign was established in 2003 while Ontraport came three years later in 2006. And considering they've managed to dominate the industry for such a long time, you can bet they are both very reliable at what they do.
Don't get me wrong rough. I'm not giving you the green light to go ahead and blindly choose either of them for your e-commerce business or blog. Whatever you're planning to leverage them for, the fact is, Ontraport and ActiveCampaign are bound to give you different results.
So, you have to be extremely careful as you make your choice here. And that's precisely why we've prepared this detailed Ontraport vs Active Campaign comparison review.
Our team has been patient enough to intricately assess all the functionalities available on both Ontraport and ActiveCampaign platforms.
Consequently, we can now compare not only their pricing but also the main features. And to be specific, this ActiveCampaign vs Ontraport comparison review focuses on ease of use, contact management, campaign creation, and campaign automation features.
So, without further ado…
Main Differences Between Ontraport vs ActiveCampaign
The Main Differences Between Ontraport vs ActiveCampaign are:
Ontraport largely targets enterprises and established businesses that need advanced automation capabilities, whereas ActiveCampaign is particularly optimized for typical small to medium-sized businesses
Ontraport fully embeds e-Commerce marketing onto its platform to help you track sales, whereas ActiveCampaign doesn't come with such e-commerce functionalities
Ontraport allows you to organize your tagged contacts by grouping them accordingly, whereas ActiveCampaign only lets you find specific contacts after running a search on its built-in search tool
Ontraport leaves out Enterprise package users from its unlimited emails provision whereas ActiveCampaign is generous enough to offer unlimited email sends to all users
Ontraport has an interface with a steep learning curve and its made for experienced marketers, whereas ActiveCampaign comes with a sleek easy to use interface that's optimized for beginners
Ontraport has a starting plan for just $79 per month, whereas ActiveCampaign stretches as low as $9 per month for its Lite package
Ontraport was founded in 2006, whereas ActiveCampaign came three years earlier in 2003
Ontraport provides a full stack of customer relationship management tools complete with sales force automation, whereas ActiveCampaign only offers basic CRM software features
Ontraport vs ActiveCampaign – Overview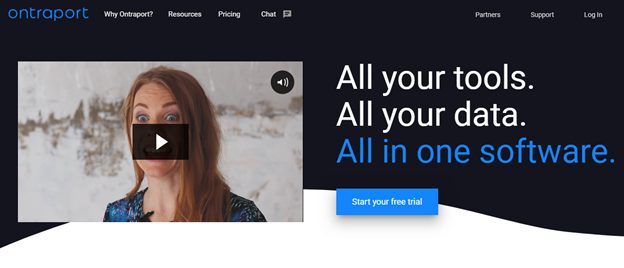 Founded in 2006 and then launched two years later in 2008, Ontraport is a campaign automation solution that has enjoyed progressive growth for more than 11 years now. It's particularly renowned for its email marketing, task management, lead generation, payment processing, and customer relationship management capabilities.
Now, to be precise, Ontraport currently describes itself as an "all-in-one" software offering "all your data" and "all your tools" in one place. That essentially makes it a business suite that provides a wide range of data-driven tools for powering automated campaigns.
The types of tools we are talking about here stretch from email marketing to customer relationship management. These two, in fact, are the core functions that Ontraport seeks to facilitate. They are further supplemented with tools for sales force automation, affiliate program management, marketing automation tool, marketing analytics, landing pages and business process automation.
Therefore, all in all, Ontraport is more of an omnichannel marketing suite that relies on intelligent insights to target audiences accordingly. You could, for instance, combine emails with Facebook campaigns, postcards, SMS messaging and landing pages to form a holistic multilayered campaign.
Such a framework intends to not only capture leads but also systematically direct them through a complete sales funnel. Ontraport gives you the tools you need to strategically engage them along different stages of the customer journey, leading to successful conversions.
That said, the type of users currently leveraging Ontraport include startups, solopreneurs, small businesses, e-commerce entrepreneurs, midsize businesses, digital marketers, sales teams, large businesses, and enterprises.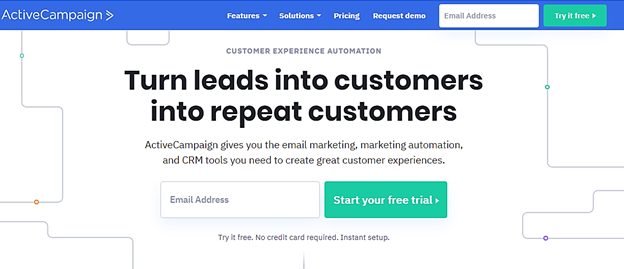 At first glance, you might presume that Active Campaign uses the same approach as Ontraport. It describes itself as a customer experience automation solution that "turns leads into customers and finally into repeat customers", using the combined power of sales/CRM automation, marketing automation, and email marketing.
Fair enough. But, while ActiveCampaign is capable of all that, it's more of an email marketing solution that comes with supplementary CRM features. Email marketing is the foundation here, with CRM coming as a supplementary function. Hence, you'll find pretty much all the email marketing features coupled with basic CRM functionalities.
In essence, small to midsize businesses get to track customer behaviour, build mailing lists, run automated marketing campaigns, design professional emails, create personalized messages, measure campaign performance, as well as manage contact information using various tools.
The tools I'm talking about have been optimized for email campaign analytics, website tracking, lead segmentation, social integration and tracking, lead capture forms (opt-in forms), plus drag and drop email design. In the end, you should be able to engage your target audiences across email, Facebook messaging, site messaging, and SMS messaging channels.
The customer relationship function, on the other hand, only goes as far as lead scoring, pipeline management, plus drag and drop deal tracking.
So, if you want comprehensive sales force automation features, you'll have to integrate ActiveCampaign with a third-party dedicated customer relationship management app.
Ontraport vs ActiveCampaign – Main Features
Ease of Use
Ontraport Ease of Use
As we've already established, Ontraport is an extensive platform that offers advanced tools for e-mail marketing, campaign automation, plus customer relationship management across multiple channels. And that, of course, translates to a heck of a lot of tools.
Although Ontraport has done a good job integrating all its tools within one platform, it fails the ease of use test. Only experienced digital marketers and salespeople who've used such software before are bound to have an easy time figuring things out. For the rest, especially beginners, Ontraport's system can admittedly be a hard nut to crack.
That said, at least the basics should be easy for everyone. You can bet you won't have a hard time finding your way around.
As soon as you land on the dashboard, Ontraport displays your essential campaign analytics (including Google Analytics) in a neatly organized layout. Then on the right side of the screen are its primary menu options – Dashboard, Contacts, Tasks, Sales, Partners, Sites, and Tracking.
When you proceed further, things such as adding and importing contacts should be a breeze. But then the headache begins when you get down to the nitty-gritty of customizing the system, plus building and managing campaigns.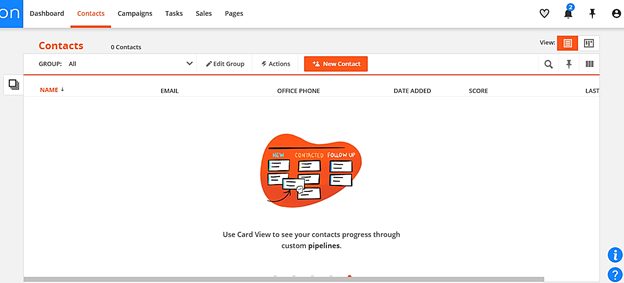 While it's a great thing that Ontraport is extensively customizable, beginners might need some onboarding and practice before they embark on the configurations. Campaign management is also a hassle to new users, and it'll probably take you quite some time before you grasp how everything works.
Speaking of which, Ontraport happens to offer a 14-day trial period. It allows you to get on board without divulging your credit card details, and subsequently try out its features for two weeks.
I guess that would be enough to get a good feel for the essential stuff. But, eventually, it'll take you longer to get used to all the tools, plus develop the advanced skills required for managing dynamic campaigns.
On the bright side, however, at least you have the option of bringing in specialized Ontraport experts to help you set up everything. Ontraport's website has published an entire page of various certified consultants along with their contact details.
But, here's the kicker. It'll cost you extra to hire the experts. So, I guess only established enterprises can afford to keep them for the long haul.
That's not your only hope though. If you're on a budget, you should be just fine relying on Ontraport's customer support documentation. You'll find a wide range of resources to help you learn the ropes.
ActiveCampaign Ease of Use
Considering ActiveCampaign competes directly with MailChimp and a host of other user-friendly email marketing solutions, it can't afford to compromise its platform's ease of use. Hence, it comes with a beautifully-designed interface that requires minimal effort to get used to.
Every single tool here is seemingly built to offer a favourable balance between user experience and functionality.
The dashboard itself, for instance, intuitively displays your KPIs in numbers and clear charts. Then when you proceed to the menu options and their corresponding submenu categories, you'll notice that ActiveCampaign is easily navigable. What's more, there are tons of customer support resources in its knowledge base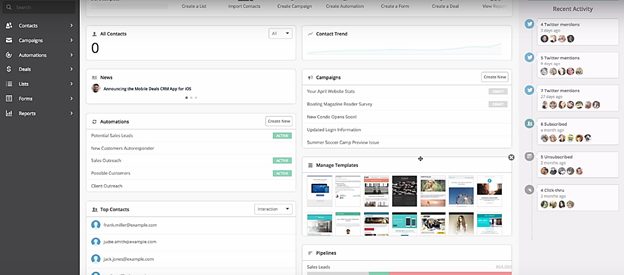 With such a straightforward system, therefore, you can expect to learn the ropes in a few minutes. You'll then possibly need a couple of hours with ActiveCampaign's automation builder. That should be enough to develop the skills you need for building complex automation sequences.
ActiveCampaign vs Ontraport Ease of Use Verdict (Winner: ActiveCampaign)
Although both Ontraport and ActiveCampaign attempt to simplify their tools, ActiveCampaign is decidedly the one that manages to achieve that. It comes with an intuitive user-friendly interface that maintains a good balance between functionality and ease of use.
Ontraport, on the other hand, happens to attract a much steeper learning curve because of its extensive array of tools. It'll take you quite some time to learn the ropes and unleash the platform's full potential.
Contact Management
Ontraport Contact Management
Ontraport gives you the power to capture customer and lead details directly from your landing pages through custom pop-up forms, lightboxes, and web forms. Otherwise, you could also hunt for them on Facebook or via affiliate programs.
Then as your mailing list continues to expand, Ontraport further allows you to segment your contacts into tags, campaigns, plus many other parameters.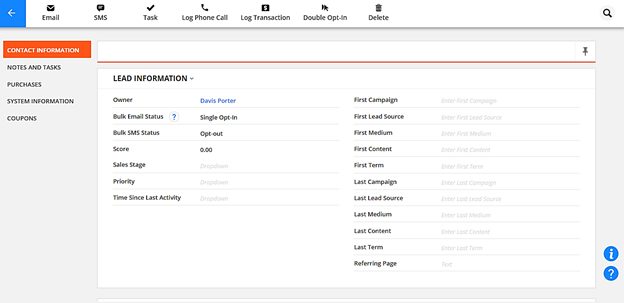 And that's not all. Turns out you could also organize your tags by grouping them accordingly. This might prove to be handy for dynamically complex campaigns with multiple tags.
ActiveCampaign Contact Management
ActiveCampaign's contact subscription system is not that different compared to Ontraport. You could hunt for subscribers and leads by taking advantage of web forms, pop-ups, floating bars, floating boxes, etc.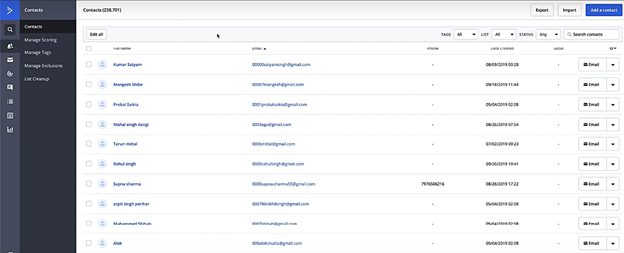 Managing the resultant information shouldn't be a problem either. Active Campaign helps you sort everything by applying tags and segmenting your contacts using custom parameters. These are the elements you'll ultimately rely on when you start creating personalized campaigns.
It's worth noting, however, that you won't be able to group tags on ActiveCampaign. So, you might need to work your way around by using an alternative info grouping method such as spreadsheets.
ActiveCampaign vs Ontraport Contact Management Verdict (Winner: Ontraport)
Both ActiveCampaign and Ontraport are capable of automatically capturing lead information directly from your website's landing pages, as well as organizing the resultant contact details. They are pretty handy when it comes to contact segmentation and tagging based on custom sorting parameters.
But, in the end, it's only Ontraport that allows you to dive much deeper. You can, for instance, sort even your contact tags into groups.
Designing Emails
Ontraport Email Design
It turns out Ontraport doesn't come with a dedicated page for email broadcasts. Instead, you'll only be able to send quick emails directly from the Contacts area. You just need to pick recipients from your contact list or the corresponding segments and voila!
But, make no mistake. Ontraport doesn't support email messages alone. It's an omnichannel marketing solution that allows you to also leverage SMS messages, onsite messages, as well as physical postcards.
That said, email design and customization are facilitated by an editing tool called OntraMail, which is accessible from the Campaigns area of your dashboard.
And once you click on it, Ontraport will open an intuitive block-based editor that offers the same functionalities available on the solution's landing page and form builders.
So, in other words, it seems like Ontraport relies on one visual editor for all design operations. The name might be different for each builder but their accompanying editing functionalities are pretty similar.
Now, when you get down to creating an email, Ontraport offers you two principal design options. You could either start from scratch and build everything from the ground up, or simply select one of its prebuilt templates and customize it to perfection.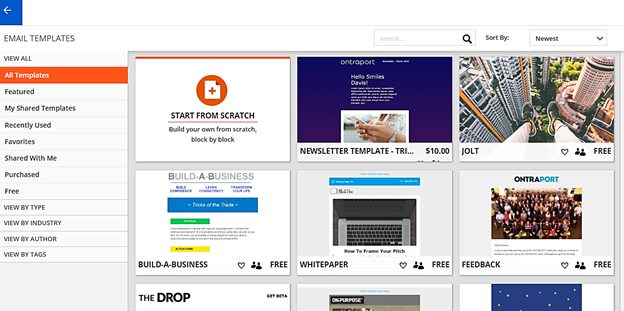 But then get this. The first option doesn't necessarily force you to painstakingly create every single element. On the contrary, Ontraport tries to simplify the whole design process by providing pre-designed blocks.
That means building an email from scratch is as simple as selecting the appropriate blocks, arranging them accordingly, and finally tweaking their appearance settings. Then since the editing options here are many, you should be able to come up with any standard email design you can think of.
The blocks range from email layout elements such as slideshows, dividers, and headers, to functional elements like social media buttons, countdown timers, and coupon offers. Come to think of it, all these design capabilities make this building method more flexible than customizing pre-built templates.
That's not to say, however, that Ontraport's templates are restrictive. Not at all. The editor allows you to configure stuff like font, colour, and shape, as well as introduce or eliminate layout elements.
And in case you're worried about finding a perfect template, Ontraport provides an array of responsive elegantly-designed options for varying categories. Plus, you can scout the new Ontraport marketplace for additional templates from other Ontraport users.
But, if you happen to have your own custom HTML code, you might want to design your email with Ontraport's Raw HTML editor.
ActiveCampaign Email Design
Just like Ontraport, ActiveCampaign provides multiple approaches to designing an email.
Its drag and drop editor, to begin with, is the simplest and perfectly suited for all types of users. This is where you get to pick a template and then tweak its elements through a visual WYSIWYG interface.
Well, you can bet the numerous template options are not only sleek but also extensively customizable. ActiveCampaign supports a wide range of template customizations, which allow you to configure your email content, the corresponding email elements, plus the overall email layout.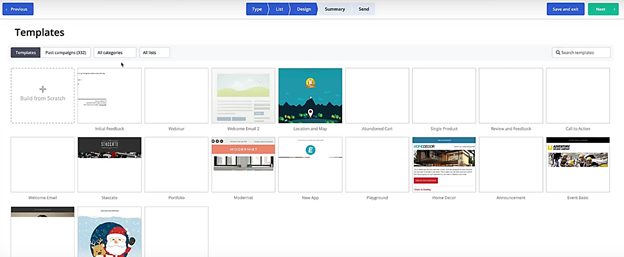 Now, if you know your way around HTML code, you could perhaps consider using the alternative HTML editor to build some of the emails. ActiveCampaign offers a straightforward but dynamic HTML editor, which gives you the privilege of loading and tweaking your own custom email code.
Otherwise, the only other type of email you could build with ActiveCampaign is a "Text-Only" message. Selecting this option from the Design area of the system launches an editor for simple plain text emails.
ActiveCampaign vs Ontraport Email Design Verdict (Draw)
Ontraport and ActiveCampaign are both very flexible and intuitive when it comes to email design. Non-coders get simple but dynamic visual editors along with numerous well-designed templates, while coders have the option of loading plus tweaking their own custom HTML.
So, in all fairness, let's call this a draw.
Campaign Automation
Ontraport Campaign Automation
Well, campaign automation happens to be the core feature on this platform. And apart from sales force automation, Ontraport is optimized for marketing automation, plus business process automation.
Combined, their tools add up to multiple automation channels. So, in short, Ontraport is worth considering if you're thinking of setting up an omnichannel email marketing and text message marketing automation framework.
Now, the ultimate tool for building and managing such campaigns on Ontraport is the Campaign Builder. It's essentially a visual editor that combines workflow customization elements and live statistics on one intuitive layout.
The workflows here are built as dynamic flow charts with multiple automation triggers along with their corresponding actions, goals and, filters.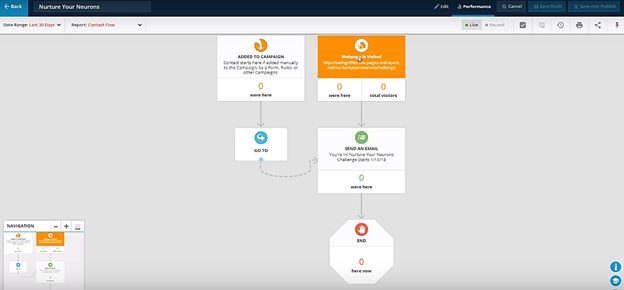 You can think of the triggers as specific conditional rules that specify the paths the system will take at various stages along a funnel. They follow "if/then/else" logic with the accompanying actions defining the specific responses Ontraport will give every time a selected condition is met.
Filters, on the other hand, are used to set special parameters for selected groups of contacts. Then goals are the ultimate objectives you intend your contacts to achieve at various stages. You could, for instance, add a goal like "subscribe to the newsletter" or perhaps "purchase a product."
In the end, Ontraport gives you the privilege of combining all these aspects across multiple layers to form a complex custom workflow. And to reach such a point, you have to begin with simple workflows.
Now, the good thing about using Ontraport for simple workflows is, it comes with several customizable pre-built templates. Plus, you could alternatively install workflow templates from other sources. And when you're done creating them, it's also possible to share your own automation workflows with third-parties.
ActiveCampaign Campaign Automation
While Ontraport offers a Campaign Builder, ActiveCampaign comes its own version of an automation builder. This specific one provides drag and drops editing to help you create full automation workflows in minutes.
And just like we've seen with Ontraport, ActiveCampaign's workflows are basically interconnected paths with triggers and actions at each stage.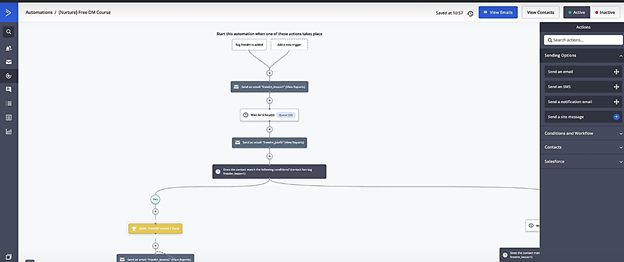 That said, there are numerous possible triggers you could use to set off your automation. ActiveCampaign supports not only the typical triggers but also complex ones that are commonly associated with advanced omnichannel campaigns.
In simple terms, therefore, you can proceed to combine basic triggers like contacts subscribing to your newsletters or joining a group, with advanced conditions such as visitors viewing specific sections of your site.
That said, the conditional logic here is the same old "if/then/else" formula, which is quite effective at defining multiple possible automation paths at each critical stage of the funnel.
Then what you choose as the subsequent system responses are called actions. And ActiveCampaign comes with a large variety of them.
You could, for instance, apply actions like sending personalized emails, updating custom fields, adjusting tags, waiting, etc. Or perhaps, embed more advanced options like posting to a webhook and sending personalized SMS texts. The choice is yours.
Whatever you select as you build your workflow, ActiveCampaign will certainly proceed to systematically execute every single action once the accompanying conditions have been met.
That said, a thoughtful way to quickly build your automation workflow would be simply customizing a pre-built template. ActiveCampaign happens to have loads of free ones in its marketplace, and they've been sorted into various campaign categories.
Hence, you should be able to find yourself templates for pretty much all the basic automation goals.
ActiveCampaign vs Ontraport Automation Verdict (Draw)
Evidently, Ontraport and ActiveCampaign are both dominant forces in the campaign automation space. Each of them manages to go beyond the basics by further providing advanced workflow management capabilities.
Both editors provide an intuitive layout for building simple and complex automation workflows using dynamic triggers as well as actions. What's more, ActiveCampaign and Ontraport customer support if/then/else condition logic along with omnichannel automation. Then to top it off, each platform here offers a host of customizable workflow templates.
So, all things considered, there are way too many shared features between them to pick a clear winner.
Ontraport vs ActiveCampaign – Pricing

Basic Plan – $79 a month
Contact segmentation
Lead capture
Lead nurturing
Automated follow-up
Referral links
Campaign forks
Automation split testing
Automation actions
Automation triggers
Automation go-to steps
Automation conditional filtering
Automation custom wait steps
Goal-based automation
Postcard automation
Facebook lead capture
Customer lifecycle automation
Pre-built campaign marketplace
Limited if/then rule-based automation,
2-way SMS text messaging
List segmentation (groups)
Email marketing
Campaign maps
Marketing tracking and analytics
Webform connector
Landing page personalization
Pop-up forms,
Broadcasts (mass email)
Spam scoring
Transactional emails
Ontraport email templates
Contact management
Business process automation
1,000 contacts and unlimited email sends.
Plus Plan – $179 per month
All the features on the Basic Plan
Custom metrics dashboard
Lead routing
Lead scoring
Task outcomes
Automated task management
Automated partner management
Partner tracking
LMS integration
Membership plugin integration
Affiliate center
Customer center
Automated subscription payments
Drip content
Page-by-page content protection
Multiple membership levels (via membership plugin)
Full if/then rule-based automation
Facebook custom audience
Cart abandonment automation
2,500 contacts and unlimited email sends
Pro Plan – $297 per month
All the Plus plan features
Custom objects
Campaign performance projection
First and last-click attribution tracking
UTM link generator
UTM tracking
Lead source tracking
Marketing ROI tracker
Free email consultation
10,000 contacts and unlimited emails
Enterprise Plan – $497 a month
All the Pro plan features
A dedicated account representative.
20,000 contacts
200,000 emails per month.

Lite Plan – Starts from $9 per month for up to 500 contacts to over $459 per month for over 100,000 contacts.
Up to 3 users
Live chat and email support
Marketing automation
Send newsletters
Email marketing
Unlimited sending
WordPress plugin
Plus Plan – Starts from $49 per month for up to 1,000 contacts and over $399 per month for over 25,000 contacts.
All the Lite plan features
Up to 25 users
Conditional content
SMS marketing
One on one training
Custom branding
Custom user permissions
Deep data integrations
Zapier integration
Contact and lead scoring
CRM with sales automation platform
Unlimited sending
Professional Plan – Starts from $129 per month for up to 2,500 contacts and over $599 per month for over 25,000 contacts.
All Plus plan features
Up to 50 users
Split automation
Win probability
Predictive sending
Attribution
Site messaging
Unlimited sending
Enterprise Plan – Starts from $229 per month for up to 2,500 contacts and over $499 per month for over 10,000 contacts.
All Profession plan features
Unlimited users
Uptime SLA
Phone support
Free social data
Free design services
In-depth onboarding
Dedicated account rep
Custom domain
Custom mail server domain
Custom reporting
Custom sending limit
Frequently Asked Questions [FAQ]
Ontraport vs ActiveCampaign: Who Wins?
The more in depth automation features of Ontraport make it perfect for medium to large enterprise business cases. In contrast, ActiveCampaign offers an approachable marketing automation suite for small to medium business.
After having Ontraport vs ActiveCampaign take on each other over several head-to-head rounds, we can agree that this has been a heck of a battle. Definitely one of the most exciting ones we've had so far.
And, in the end, the final results here speak for themselves. While Ontraport is a much more extensive marketing automation platform with numerous tools for advanced users, ActiveCampaign continues to fight back very strongly in both marketing and automation fronts.
So, in all fairness, ActiveCampaign and Ontraport are both extremely reliable marketing solutions. Each of them should serve you pretty well as far as omnichannel campaign automation is concerned.
It's only after you switch over to customer relationship management that the principal differences between their marketing automation platform capabilities begin to emerge. And to sum it up turns out Ontraport combines comprehensive email and SMS marketing automation with full-stack CRM, while ActiveCampaign integrates complete email and SMS marketing automation with basic CRM.
What you end up choosing, therefore, depends on your organization's structure. ActiveCampaign is ideal for e-commerce solopreneurs and SMBs that have standard funnels, while Ontraport seems like just the right platform for multi-departmental enterprises seeking to streamline their sales and digital marketing operations.
My Bottom Line: Here's my high level…
The choice is yours.
Further reading: