Last Updated on July 11, 2023 by Ewen Finser
Every business that is set up with the right marketing systems (whether inbound or outbound) has the potential to succeed.
Digital marketing automation, sales automation, and Customer Relationship Management lead nurturing take it to another level. It's no secret that automated systems bring efficiency to your business.
They allow business owners and other stakeholders to focus on the more important aspects of the business. No need to craft individual emails or manually update posts on your social media. You are also able to analyze the behavior of your leads (lead management) and customers through google analytics data.
I've used Hubspot over the years at various points. The Hubspot Marketing Hub does a LOT, but I've found the individual modules are not always the best for specific business functions. Hubspot can be a "jack of all trades" but "master of known" situation.
With this in mind, I wrote this article to highlight some of the top alternatives by specific use case that I've had better experiences with in our business.
8 Awesome Alternatives to Hubspot Marketing Automation
Hubspot not appealing to you or working for your marketing efforts or lead generation?
Doesn't fit your business marketing automation needs? That's fine. We've got you covered with four awesome multi-channel marketing automation alternatives you can choose from today.
Here's the TL;DR about the best Hubspot marketing automation replacement apps:
1. Pipedrive: Best Pure CRM Replacement
Our Pick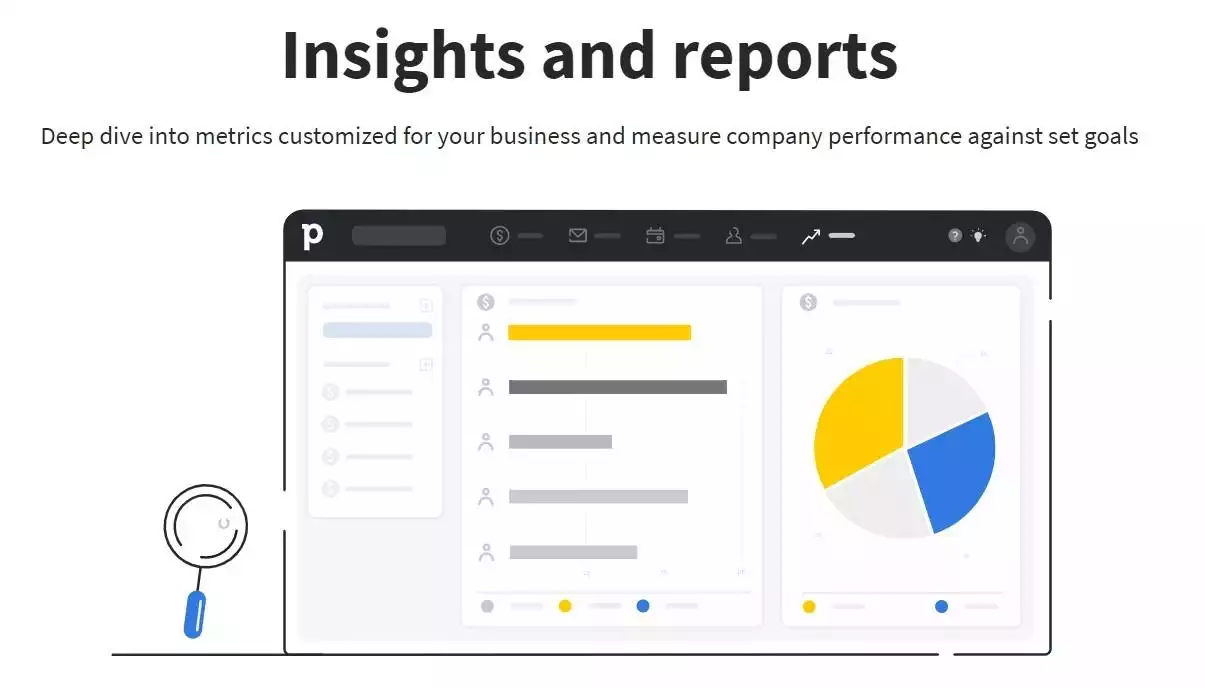 Why I Prefer Pipedrive
Pipedrive has mastered the art of a CLEAN INTERFACE while still having DEEP FUNCTIONALITY. For a pure CRM, I personally went with Pipedrive here.
Try Now
We earn a commission if you click this link and make a purchase at no additional cost to you.
Hubspot started as a CRM and has since expanded to almost every facet of digital marketing.
Pipedrive started as a CRM and has stayed a CRM! Continuing to refine their core, more focused, offering.
It definitely shows.
How is Pipedrive Better Than Hubspot?
CRM Focus: While Hubspot tries to be all things marketing automation, Pipedrive just provides a really well-thought out and easy to use Sales CRM suite. If this is what you really need, it pays to dedicate time with a dedicated solution like Pipedrive.
Affordability: To fully leverage Hubspot's CRM, you eventually need to sign up for at least some of their paid modules. As soon as you do this, the price skyrockets. Even though Pipedrive isn't "free" and doesn't have a free plan, it's also priced affordability and includes everything you might need for a CRM process; things that Hubspot often splits out into other modules.
Analytics & Reporting: Pipedrive has more robust sales process reporting and tracking. A lot of this data is also available with Hubspot, it's just not surfaced as directly or completely as with Pipedrive.
Pipedrive has four core pricing plans (plus a free trial available here):
Pipedrive vs Hubspot: Attractive Cost Savings
As you can see in the table below, Pipedrive is a great option to save some money and only pay for the specific features you need:
| Features | Pipedrive | Hubspot |
| --- | --- | --- |
| Free Trial | Yes (14 days) | Yes (Limited Features) |
| Starting Price | $12.50/user/month (billed annually) | Free (Limited Features) |
| Basic Plan | Essential: $12.50/user/month (billed annually) | Starter: $45/month (billed annually) |
| Mid-tier Plan | Advanced: $24.90/user/month (billed annually) | Professional: $450/month (billed annually) |
| Premium Plan | Professional: $49.90/user/month (billed annually) | Enterprise: $1,200/month (billed annually) |
| CRM | Included in all plans | Included in all plans |
| Email Marketing | Only in Advanced and higher plans | Included in all paid plans |
| Reporting & Analytics | Only in Advanced and higher plans | Only in Professional and higher plans |
| Custom Support | Only in Professional and higher plans | Only in Enterprise plan |
How Does Pipedrive Compare to the Competition?
2. monday.com: Best for Workflow Automation
If you've written off monday.com in the past as "just a project management tool" (like I did), it's definitely time to reconsider. They are automating everything work and now have a robust CRM offering.
monday.com started as a project management tool and this sensibility bleeds through to their new CRM tool and sales automation modules.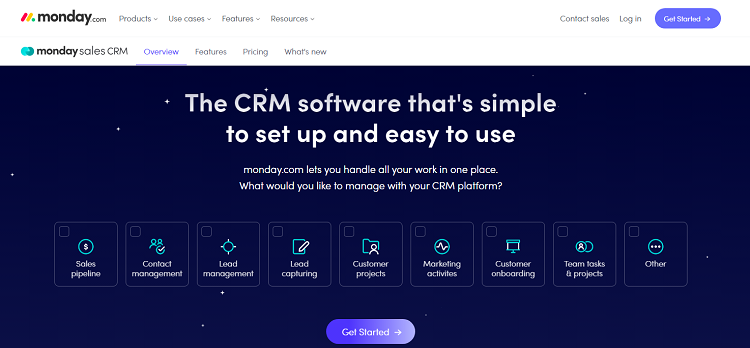 What are monday.com's Advantages Over Hubspot?
Ease of Use: Put simply, monday.com was designed to make getting things done, fun! The gamification isn't over the top, but it really does feel different and more playful than Hubspot.
Collaboration: It's much easier to collaborate across teams with monday.com, likely due to it's origins as a project management tool. Easily tag people who need to be involved or schedule automated workflows that only involve specific team members at certain points.
Project Management: I find monday.com to provide much better visibility of where sales processes stand from a bird's eye view. Again, imagine a CRM built out of project management principles.
Better Pricing: It's just plain cheaper per user or per organization, however you slice it (see below). Hubspot get's you hooked on their free CRM, but then over charges for everything else.
3. ActiveCampaign: Best for Automated Sales Sequences
ActiveCampaign SCALES
Take the best email automation and mix it with all the best parts of a CRM. Result: ActiveCampaign. While I call it a "lite CRM", AC is no lightweight. I've been with them for years and LOVE the endless integrations and expandability.
Try ActiveCampaign FIRST
We earn a commission if you click this link and make a purchase at no additional cost to you.
Sales and CRM
Maintain a seamless sales process with ActiveCampaign's sales automation CRM by focusing on the important tasks and selling more in less time.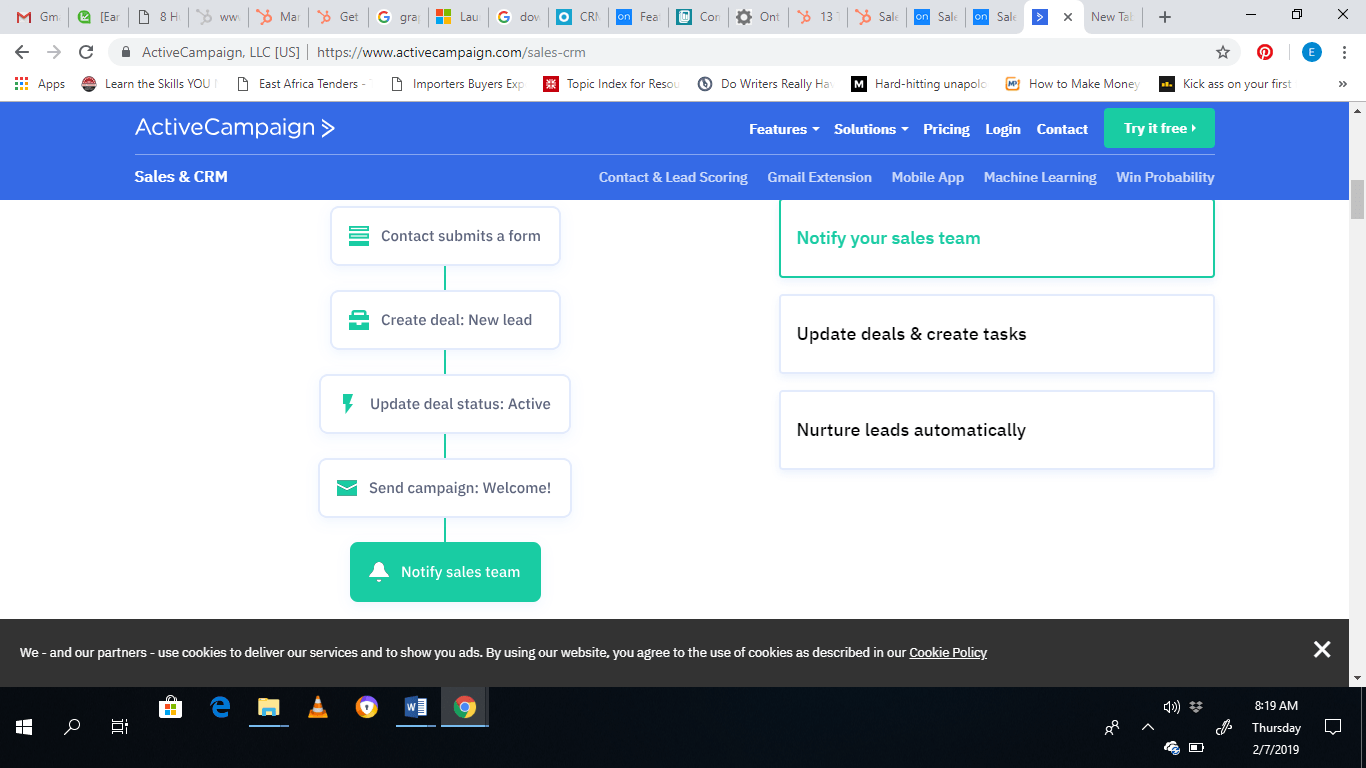 You can easily manage your contacts and view engagement history from the records. That way, any team member can pick up where another left off and everyone is on the same page. Segmentation and lead scoring identifies which leads you need to follow up with or send to a different landing page.
ActiveCampaign's Chrome extension allows you to manage your contacts directly from Outlook, Gmail or any other email provider. It also features endless zapier integration options for third-party pairing.
'Deals CRM for iOS' allows you to close deals from anywhere at any time with your mobile phone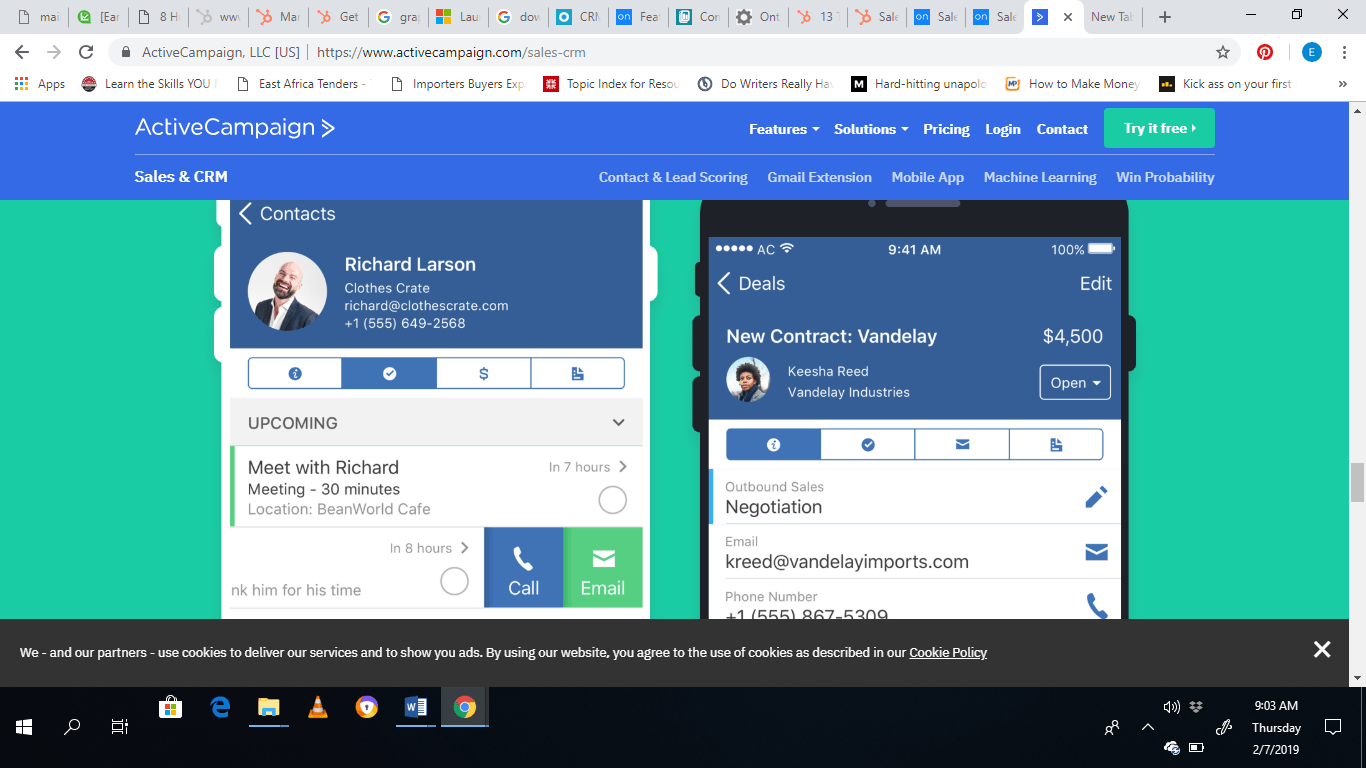 Other advance feature benefits of this platform include integration with over 150 apps, some of which you probably already use including Facebook, Calendly and Zendesk. You are also able to track the performance of your sales and marketing teams and tell the probability of closing a deal.
ActiveCampaign Marketing
Use email automation (email marketing) to set up a welcome series for your prospects, find your engaged contacts and integrate your favorite apps.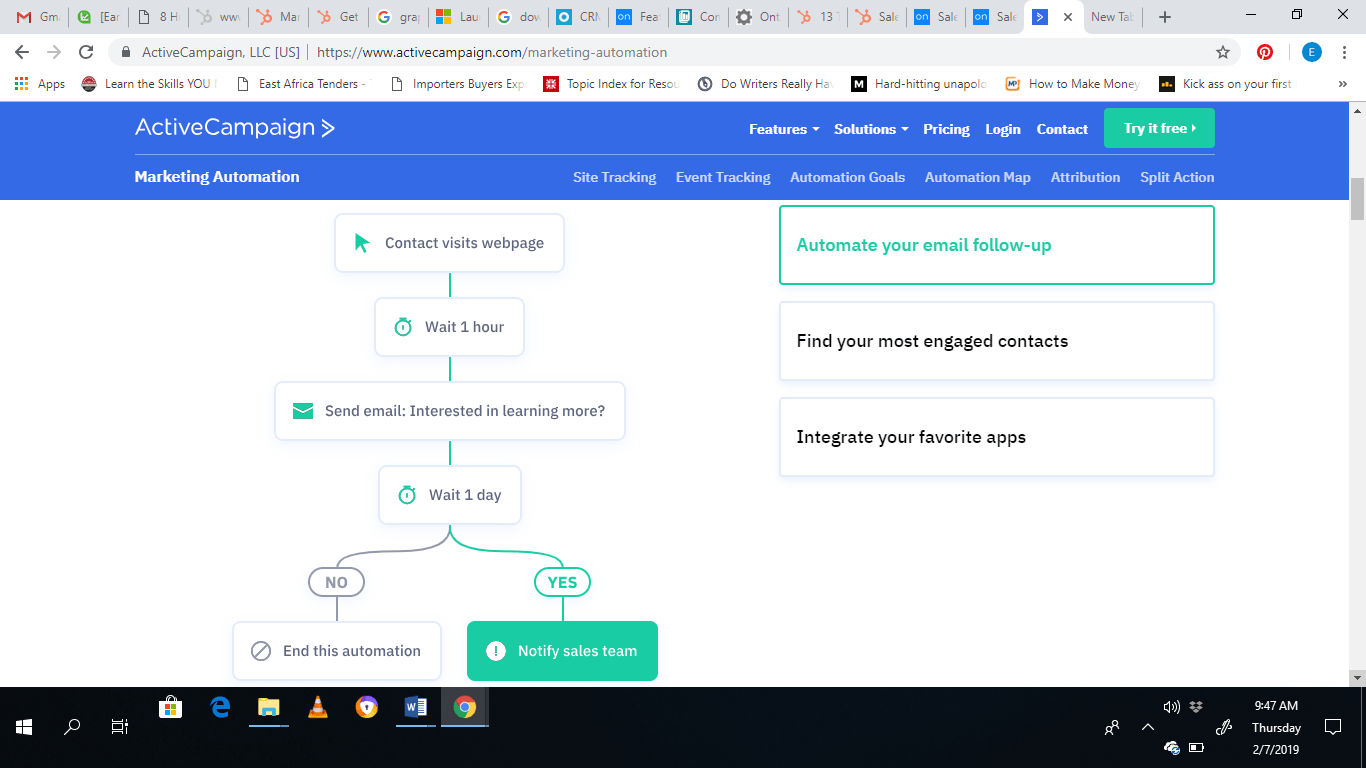 Automated workflows are easy to set up in a few minutes (easier learning curve) with a drag and drop builder. Segmentation ensures a better connection with your contacts by sending them what they want to see. The platform also maps out your entire marketing strategy so you can see it in a single view.
ActiveCampaign Marketing integrates with your favorite marketing e-commerce tools because you should have the freedom to use any tool you want, for example Shopify and WordPress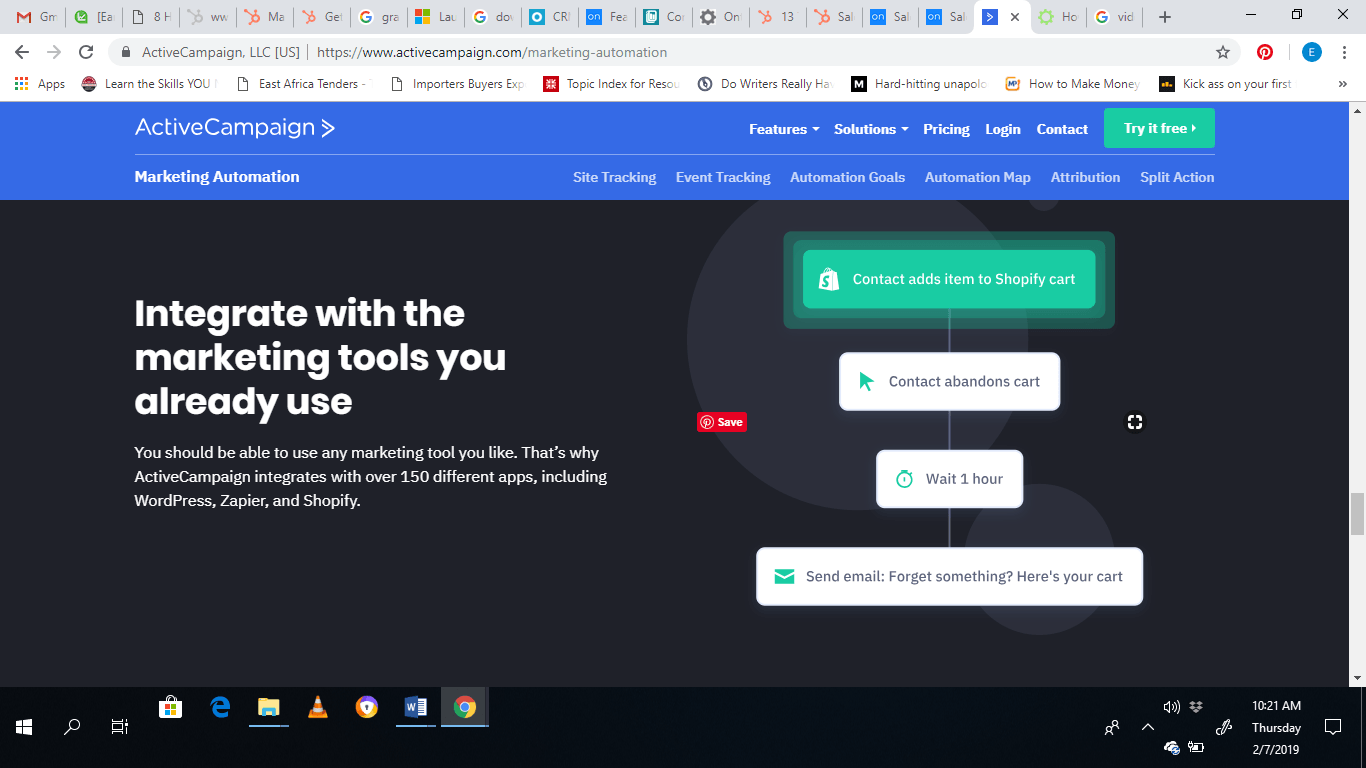 ActiveCampaign is constantly upgrading and adding automation features to help you grow your business. AC also is very well known for their industry leading number of integration partners and integration capabilities with third-party tools. They don't lock you into doing THEIR form of sales automation.
Other features include free migration services to their platform, site tracking, goal tracking, advanced reporting, notification emails, lead scoring and split action.
ActiveCampaign SCALES
Take the best email automation and mix it with all the best parts of a CRM. Result: ActiveCampaign. While I call it a "lite CRM", AC is no lightweight. I've been with them for years and LOVE the endless integrations and expandability.
Try ActiveCampaign FIRST
We earn a commission if you click this link and make a purchase at no additional cost to you.
The price of ActiveCampaign's automated software depends on the number of contacts you have. They have four packages and for 1000 contacts, the price ranges from $17 to $229 per month.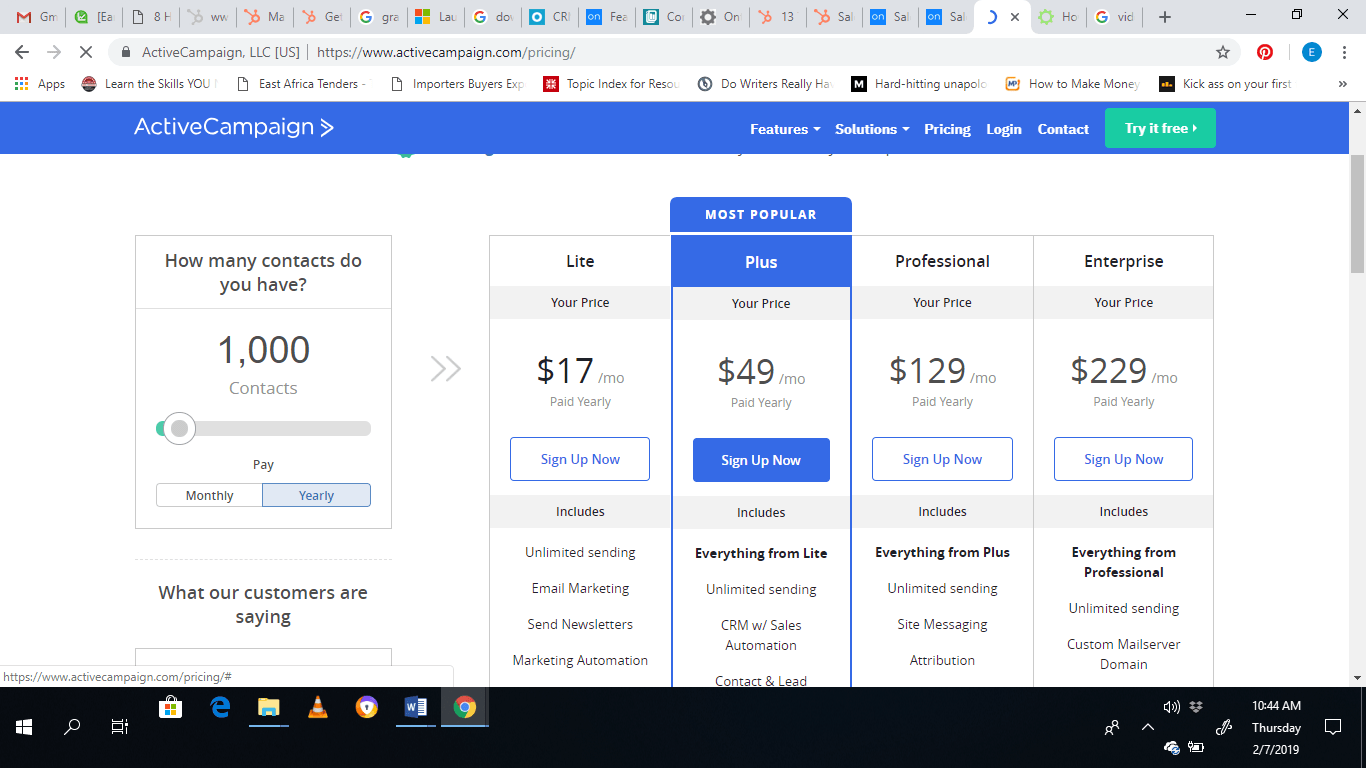 Learn More About ActiveCampaign Pricing Plans
How Does ActiveCampaign Compare to the Competition?
Here's how AC stacks up against it's peers:
4. Omnisend: Best for Shopify Stores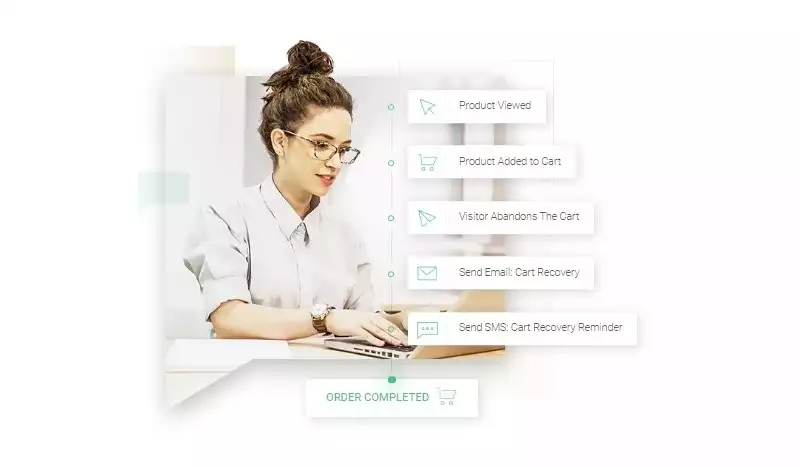 Why Go with Omnisend?
Take the shortcut to revenue growth with Omnisend's easy-to-use platform for ecommerce email marketing, SMS and automation.
Save 10% Off (Audience Exclusive)
We earn a commission if you click this link and make a purchase at no additional cost to you.
Omnisend is a marketing automation tool that is best suited for experienced users who have moved beyond basic email marketing platforms.
While not as advanced as a platform like Hubspot, it is a cloud-based platform designed for sales-focused e-commerce businesses and a perfect solution for Shopify stores.
A notable feature of Omnisend is the ability to track purchases made from specific emails. If your priority is automation, rather than list segmentation, Omnisend is an ideal choice.
Omnisend Features
A/B testing
Abandoned cart follow-up
Analytics and advanced reporting
Auto-responders
Customizable email template library
Drip email marketing campaign functionality
Event-triggered emails
Integration with messaging platforms
Landing pages
List management
Regulation compliance
SMS marketing
Web forms
5. Ontraport: Best Hubspot Alternative Overall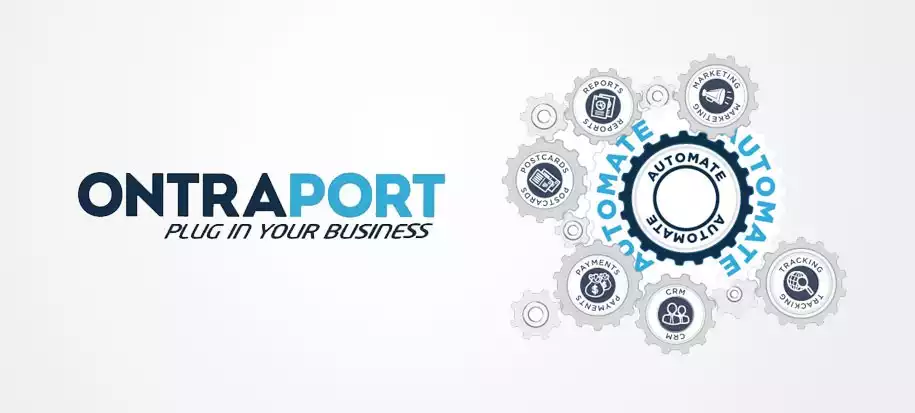 Replace Hubspot with Ontraport
Do you ever feel like Hubspot is WAY too complicated for what you need? I did too. That's why we switched from Hubspot to Ontraport. It integrates with everything, but is much more affordable.
Try Ontraport Instead
We earn a commission if you click this link and make a purchase at no additional cost to you.
This CRM and marketing automation system provides you with a platform to create lasting customer relationships by tracking all your contacts data, purchases and engagement for optimal lead nurturing. You can easily find your customer information through an organized records store.
Importing, maintaining and updating your client's data has never been easier (whether from a different platform or via analytics or third party tools). The platform also creates a detailed record of your past online interactions with clients to ensure a personal touch in your communication.
You can segment your contact list so that you send the right message to the right contacts. Send relevant messages tailored to particular groups of your audience based on demographics, behavior and other factors.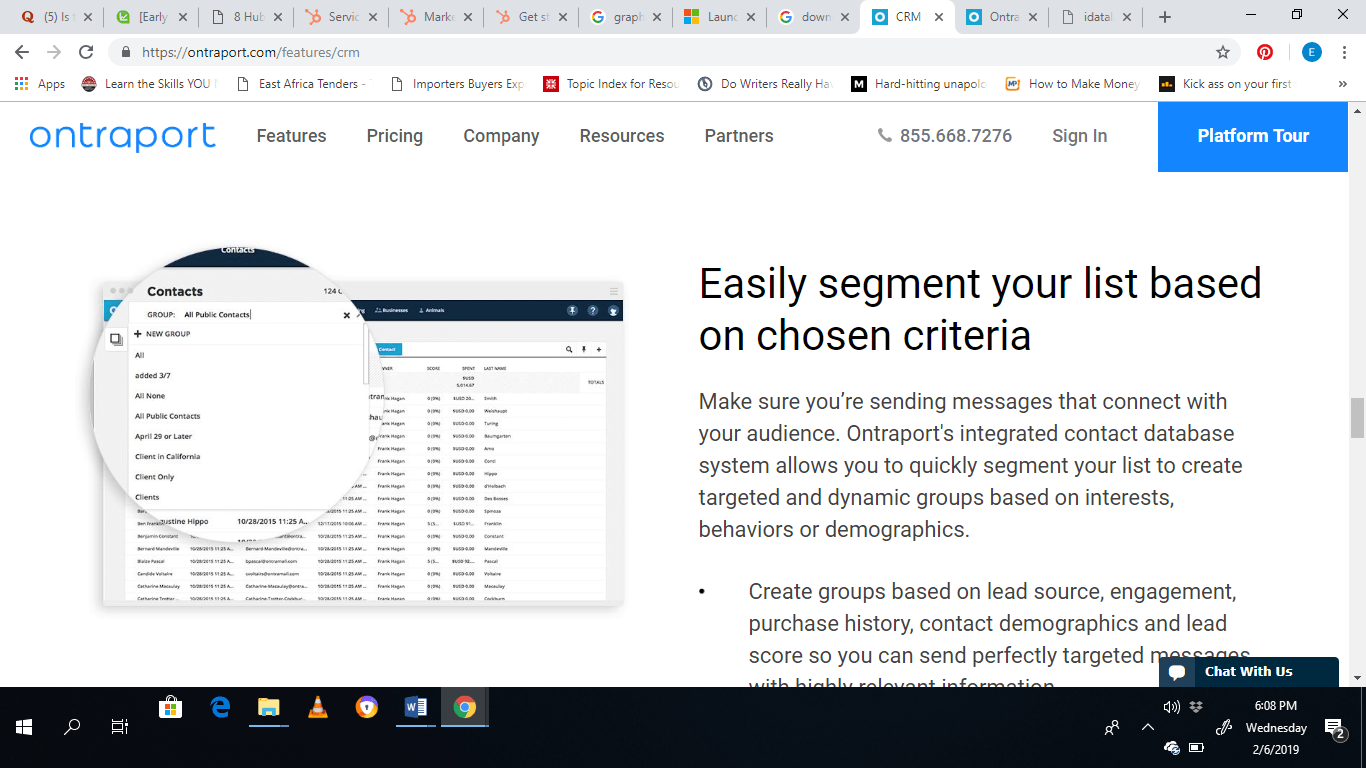 Ontraport Marketing Automation Tool
Ontraport's automated marketing campaign ensures a hassle-free experience for your leads and clients through your funnel. You can attain maximum results and great customer relationships by creating targeted experiences for your audience based on their preferences or behavior.
This all-inclusive, dynamic and powerful marketing automation platform is unique in a way that it can join your offline and online assets onto one campaign. You are able to fully take control of the customer relationship experience.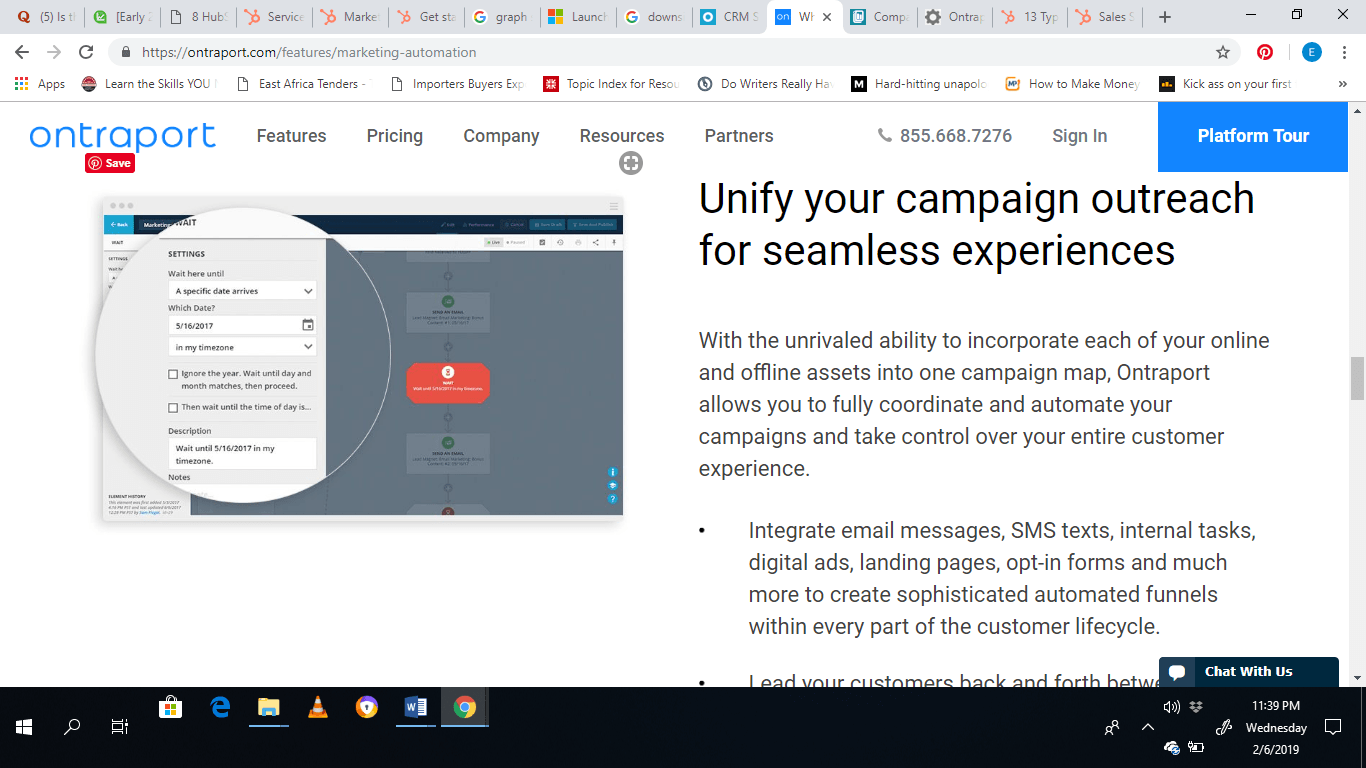 Ontraport Marketing and Sales Automation
Ontraport offers a high-converting, efficient and organized platform to facilitate lead capture, convert them into customers and close more sales in one marketing tool. One great automation feature is task automation, which keeps your team on track by reminding them to contact your leads.
You can record all your leads' information in the task automation platform (full scale lead management) so that communication with them has a personal touch.
You can nurture leads in your funnel with automated follow up by measuring engagement and thus identifying your 'hot' leads. Your digital marketing and sales team will receive a steady stream of these leads through automated lead generation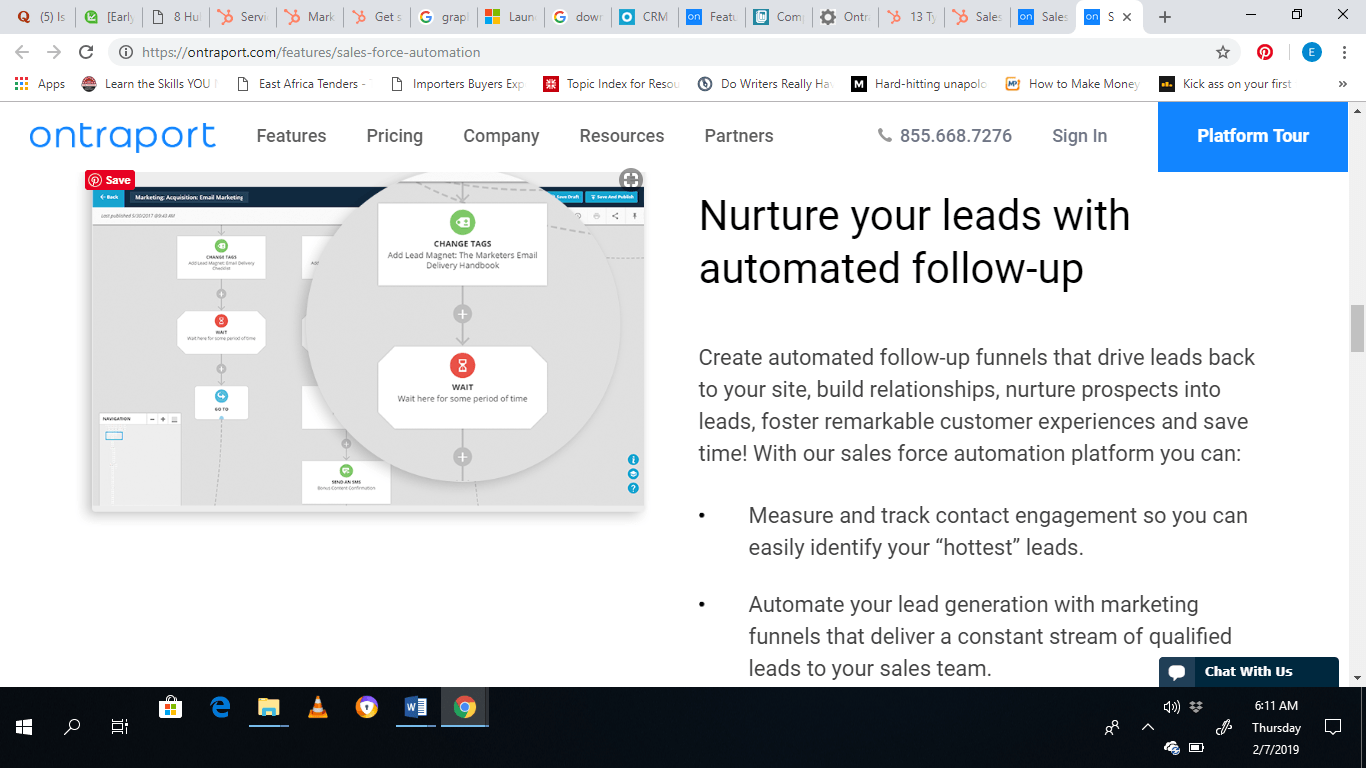 Ontraport uses their Round Robin marketing platform feature to effectively and equally distribute leads to each member of your sales team. Their Weighted Random feature ensures that the most experienced members of your marketing and sales team receive the highest number of leads.
You have an opportunity to choose one of their four packages. The cheapest is 'Basic' at $79 per month while 'Enterprise' is priced the highest at $497 per month. Ontraport generously offers you a 90-day money-back guarantee. It's basically risk free trial to sign up, so what are you waiting for?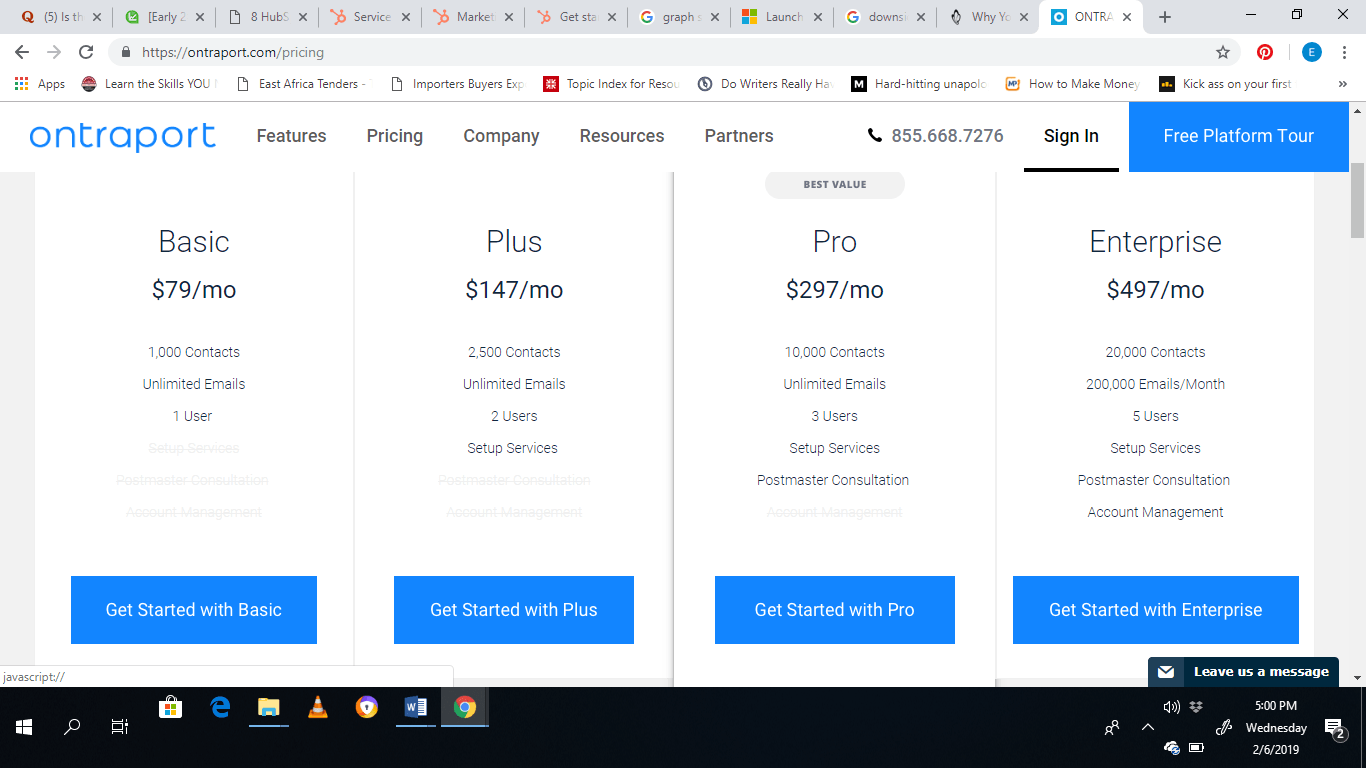 Learn More About Ontraport Plans Here
How Does Ontraport Compare to the Competition?
Our editorial team has also covered some of Ontraport's peers. Check these out, if interested:
6. Sendinblue: Best Transactional eCommerce CRM
Sendinblue might not be the first solution that comes to mind, but they have built out a surprisingly robust lite-CRM. At it's core, it's an email marketing platform but – like ActiveCampaign – it's evolved into a full stack marketing automation platform.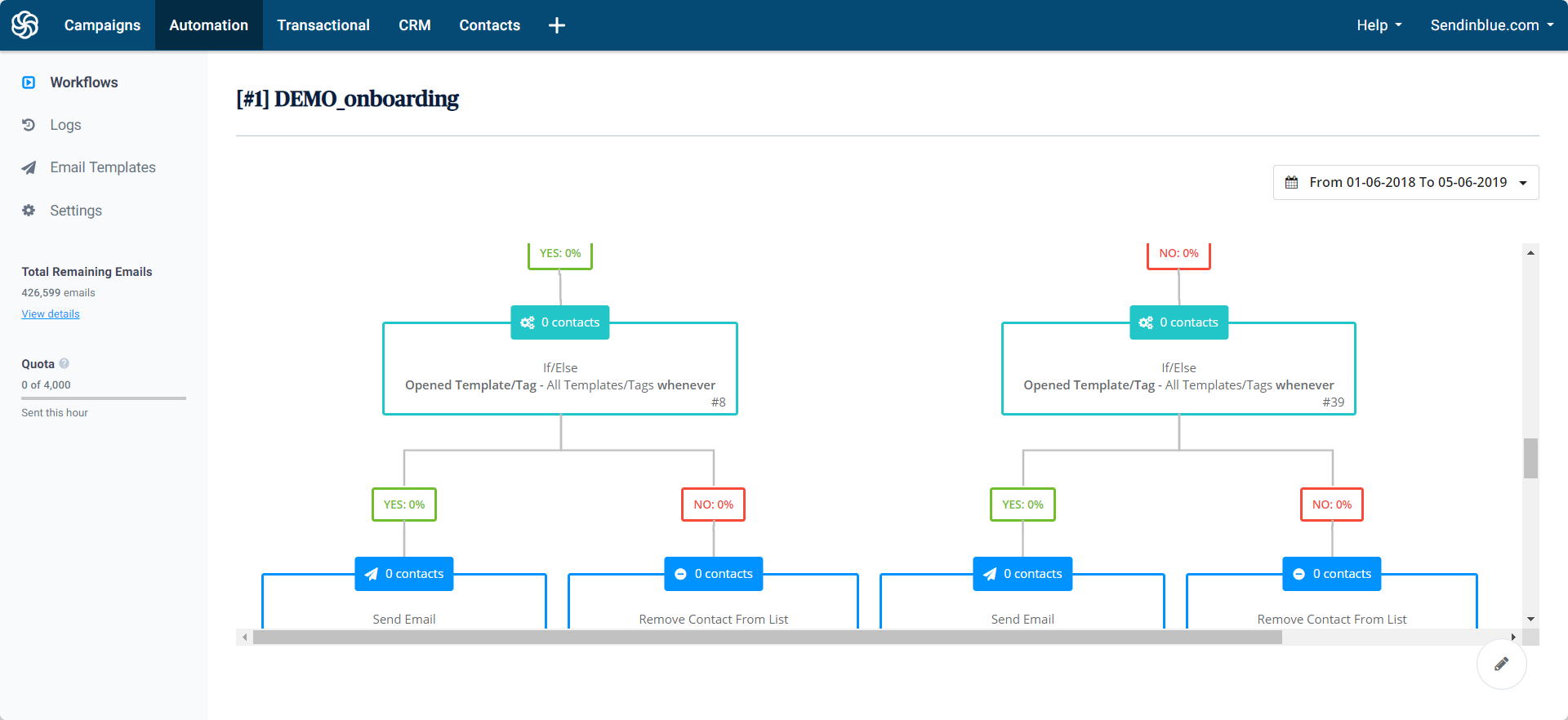 As the above workflow automation shoes, Sendinblue has all the core features of an advanced contact automation and tracking platform.
In fact, Sendinblue is worth checking out if only to compare pricing. Hubspot gets expensive VERY quickly, whereas Sendinblue is among the most affordable marketing platforms out there (and actually has a lot of horsepower under the hood).
For example, at 100k contacts, Hubspot costs $10,200 per month, but Sendinblue prices out at only $173 per month. Granted, there are some limits to the functionality, but take a close look at your ACTUAL business requirements to see if Hubspot is really 10X worth it.
How Does Sendinblue Match Up to the Competition?
Here's how Sendinblue stacks up:
7. Salesforce: Best Large Enterprise Upgrade
If you are pushing against the limits of Hubspot and can't afford to risk it on an upstart tech platform, upgrading to Salesforce is a solid option.

Major corporations all over the world use the effective CRM software Salesforce. Track sales easily, and adjust the software to your needs. It's app store allows for more flexibility, and its reporting and forecasting tools rival Hubspot's as a true peer competitor.
It's main disadvantage is that it's not the simplest for novices, but with training, it may be a strong instrument that produces fantastic outcomes for businesses, streamlining procedures and freeing up time.
What are Salesforce's Advantages Over Hubspot?
Customization: Salesforce allows more customization compared to Hubspot, specifically allowing creation of custom objects, workflows and formulas. It's not as simple to implement, but this is the trade-off between approachability and customization. Side note: you may need a Salesforce consultant or dev shop to fully implement.
Scalability: Partly due to the customization and also just due to the sheer number of features, Salesforce is more scalability for many large enterprises, particularly ERP or Sales based structures.
Security: Salesforce generally has higher data security protocols and customer privacy tools, with advanced security features like tokenization and encryption available.
Sales Cloud by Salesforce has four pricing plans:
How Does Salesforce Compare to the Competition?
Fresh Pick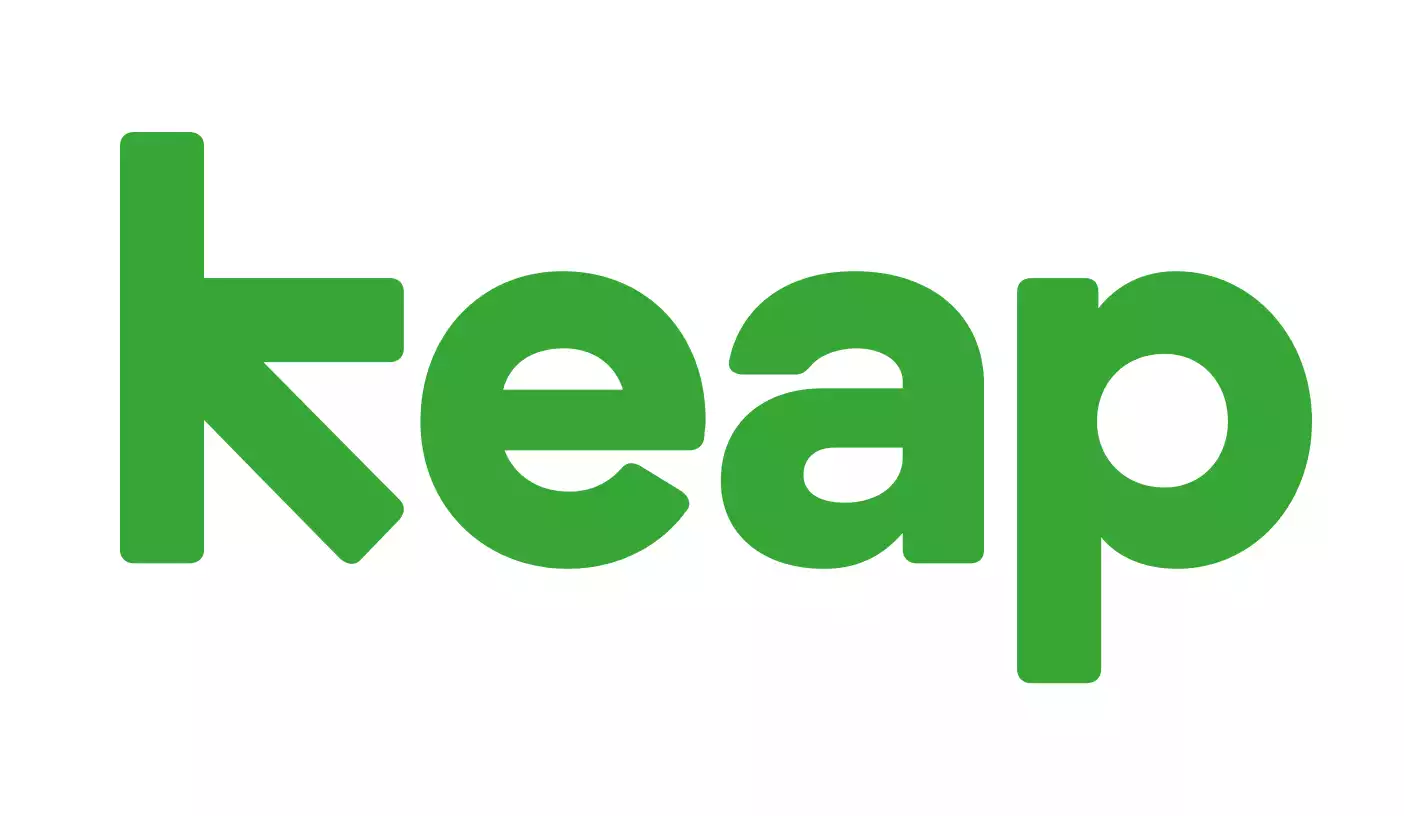 Have You Heard About Keap?
Infusionsoft is better now. Keap is the new name and the system is MUCH easier to use. Fully customizable, expandable based on what you need from basic email automation to advance sales CRM and landing page builder.
Try for Free
We earn a commission if you click this link and make a purchase at no additional cost to you.
Customer Relationship Management
With Keap's CRM system, you can easily keep track of your clients' information. The system is easily customizable, captures and stores leads with web forms, landing pages, mobile app or importing a list.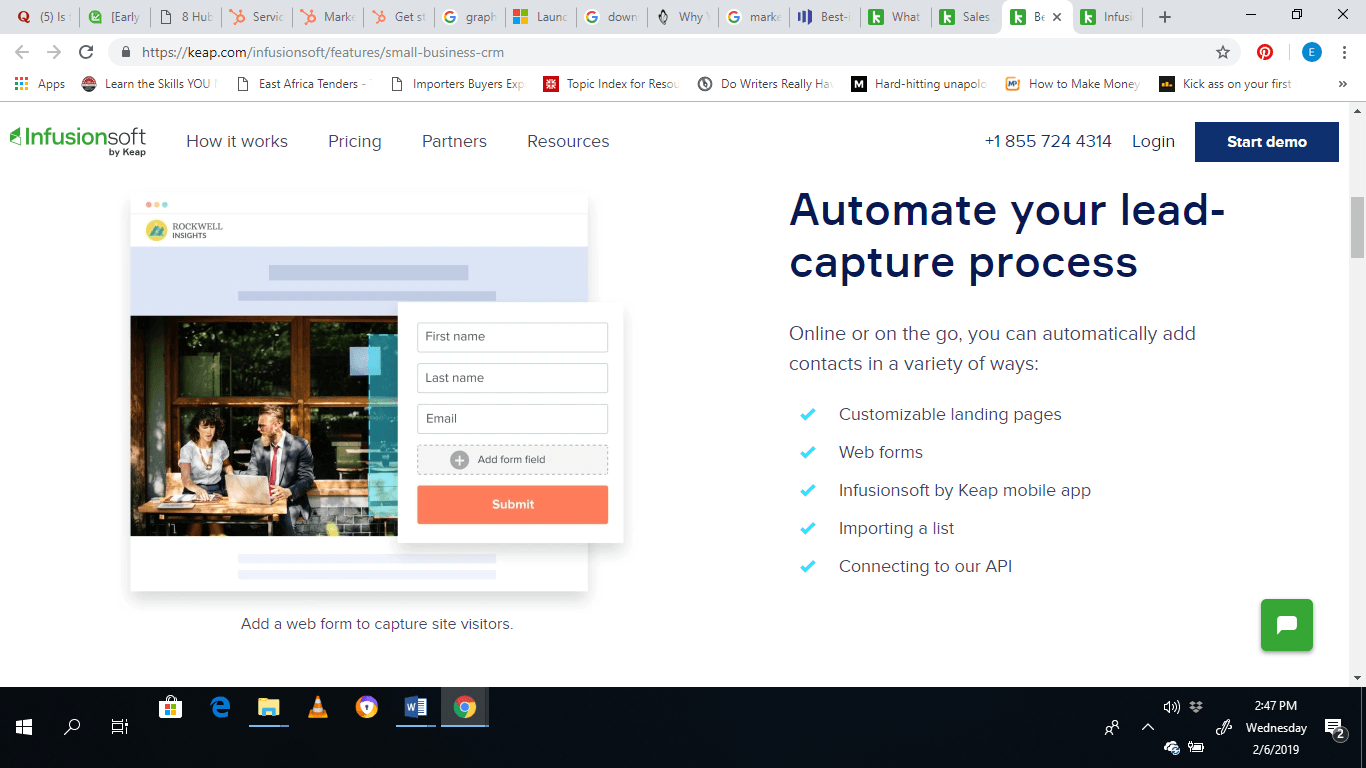 This platform helps you to easily segment your clients based on location and other factors and then send targeted messages to the right clients. Also, your client's records are organized and easily accessible from one place. The contact records give you a clear picture of email marketing results and sales opportunities.
The lead score system is available to show you who is interested in your products and who to follow up with. You can then nurture your leads to a sale through automated emails.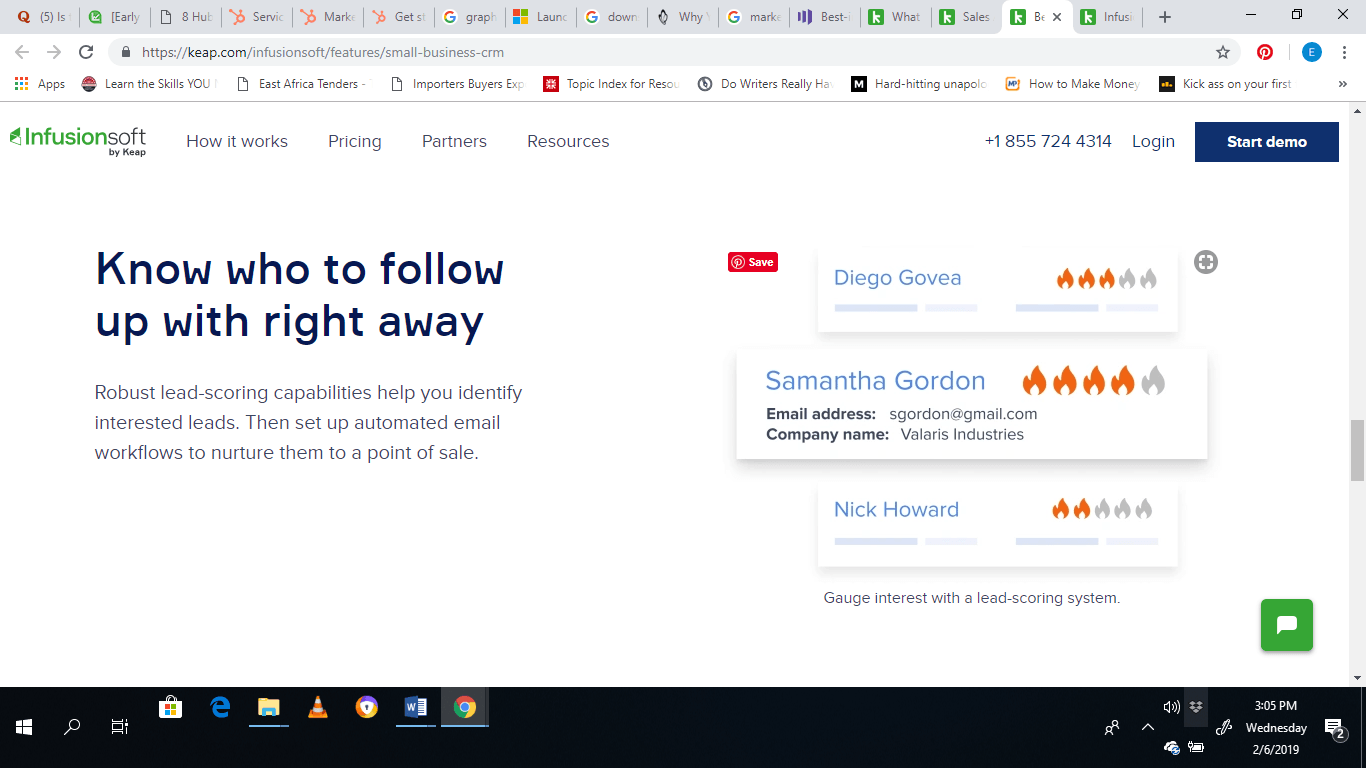 Keap Marketing
This automated marketing platform helps you communicate with your leads and clients more efficiently. It also presents you with a campaign builder where you can simply drag and drop sequences for your business processes.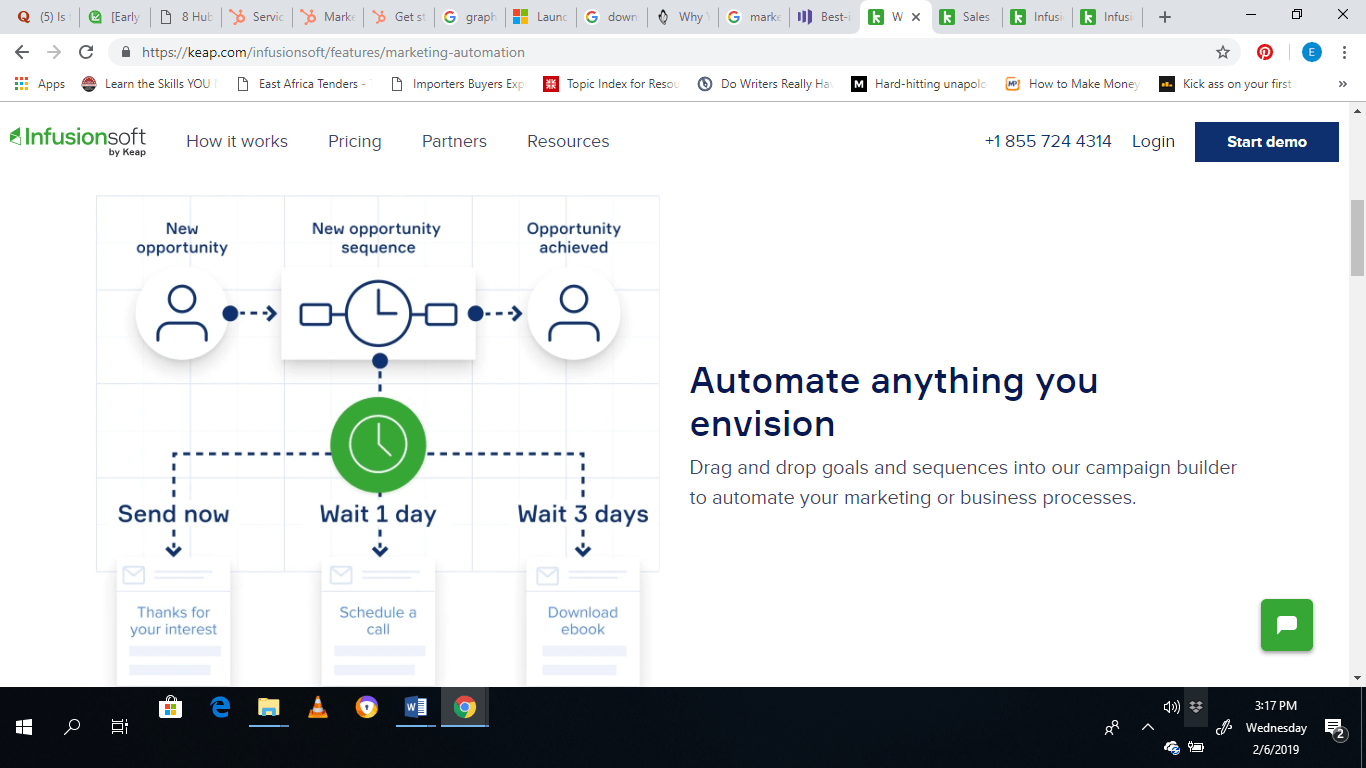 Running an A/B test shows you which email performs best with your leads and clients. You are able to test up to five different emails and automatically send the best one.
Within a few clicks, you are able to create a highly converting landing page using built-in templates to quickly start developing a lead pipeline. Simply choose your preferred landing template, add your own images plus text and you're good to go.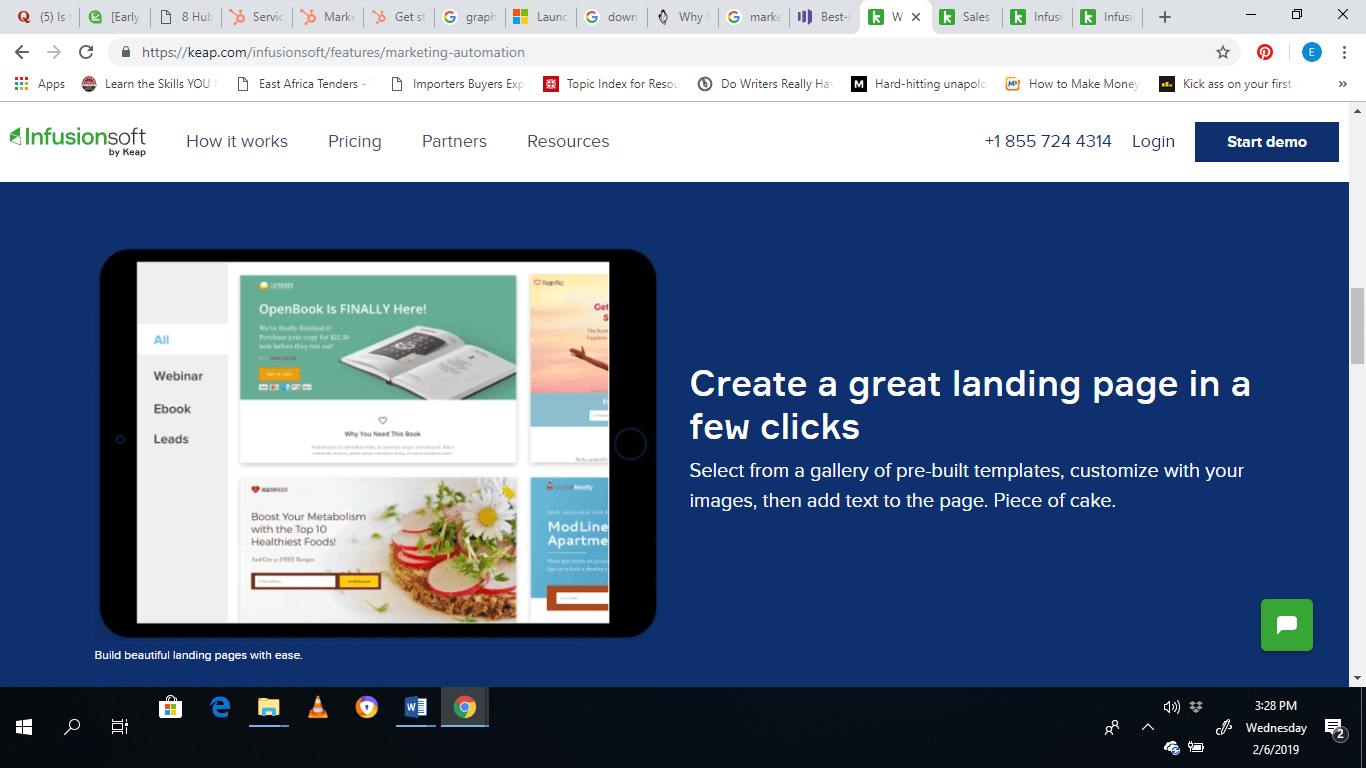 Keap Sales
You want to free up time and serve your clients better? Infusionsoft makes it possible to scale your business by using an automated sales system. Following up with your leads is easy with an organized and customized appointments schedule.
Personalized emails are automatically sent to your leads as they progress through each stage of your funnel guiding them until they become clients.
The Infusionsoft by Keap App creates custom quotes that clients will easily accept with only one click. They can also make payments online. Your sales team will receive email notifications when the quotes are accepted or not.
This sales platform offers a streamlined process to closing a sale through automating reminders, creating reports, training team members, creating forecasts and eventually converting leads.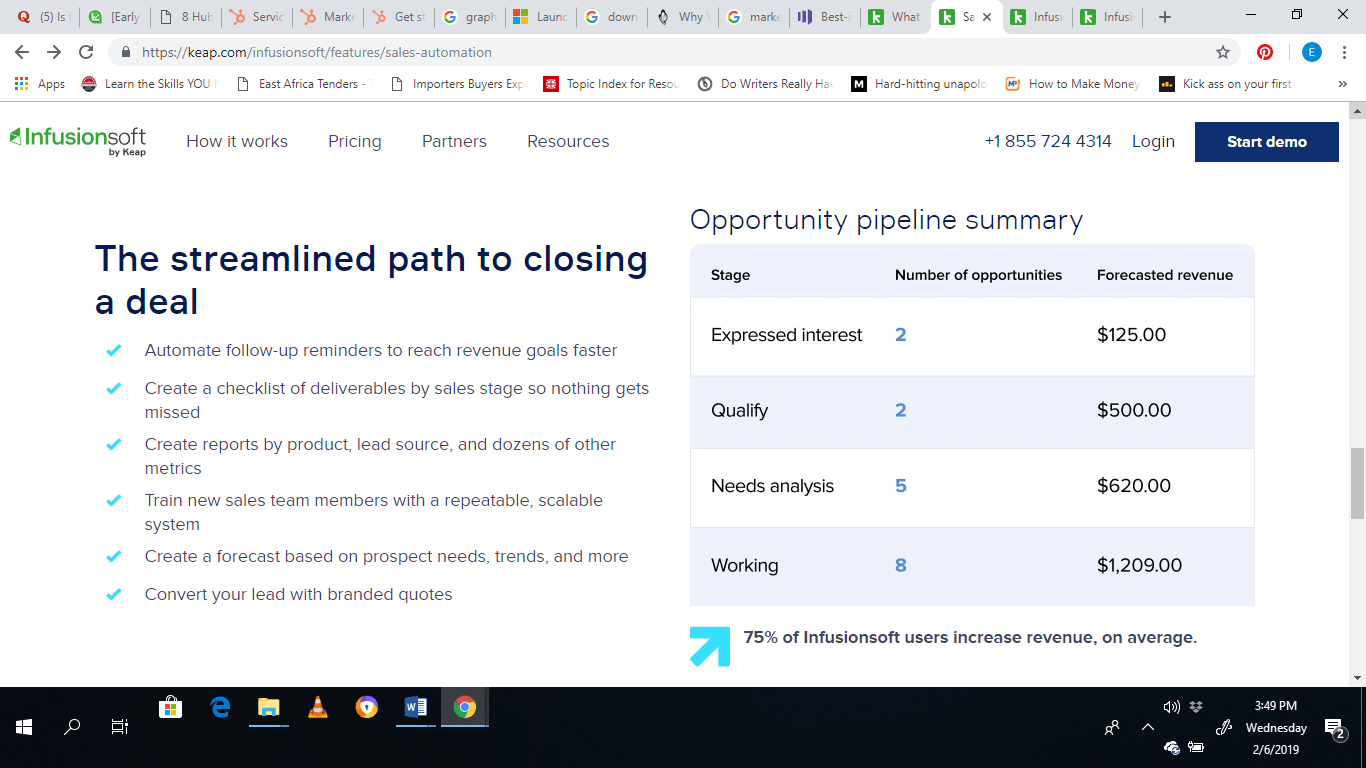 Keap Integrations
Keap connects with email, e-commerce and websites. You will save time because it automatically updates data fields when integrated. If your online store is on Shopify, Magento or WooCommerce, all you have to do is plug in Infusionsoft and let it do the work for you. Reconcile your business records automatically by integrating Xero or Quickbooks with no worry of double entries.
Infusionsoft connects with several other integrations.
Fresh Pick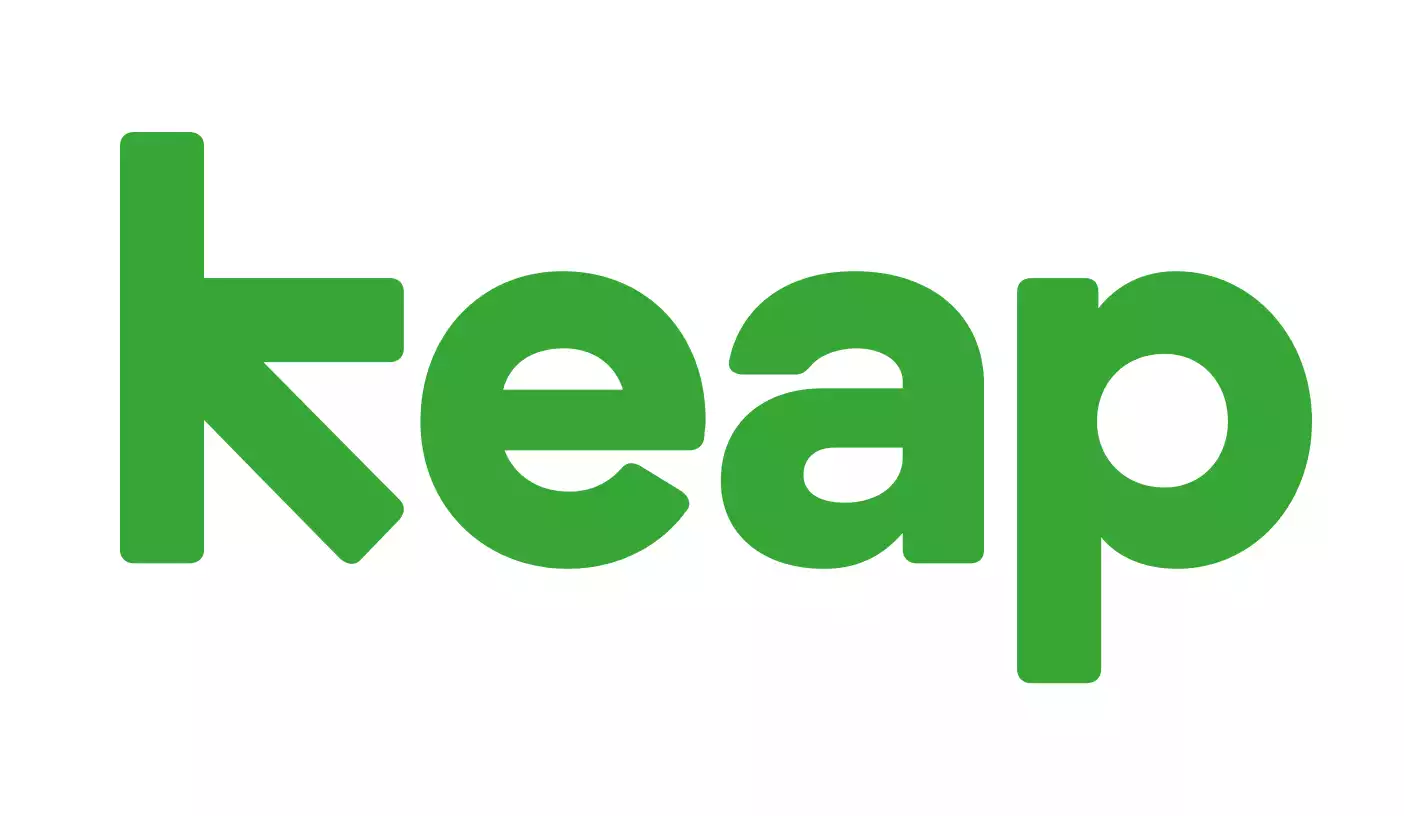 Have You Heard About Keap?
Infusionsoft is better now. Keap is the new name and the system is MUCH easier to use. Fully customizable, expandable based on what you need from basic email automation to advance sales CRM and landing page builder.
Try for Free
We earn a commission if you click this link and make a purchase at no additional cost to you.
Infusionsoft offers three packages. Basic, Plus, and Premium which cost $199, $299 and $399 respectively. Additionally, they offer a one-time coaching fee from $499. It's up to you to choose which plan works best for your business.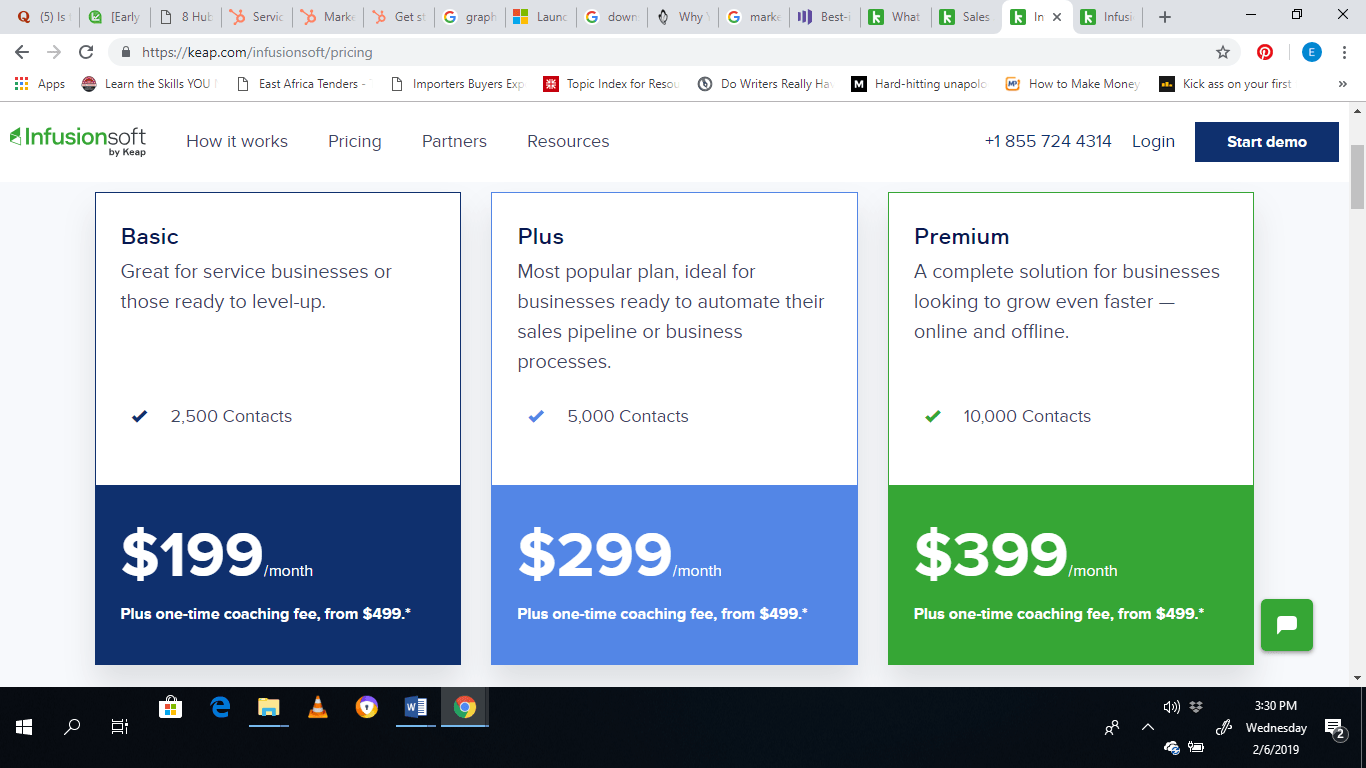 How Does Keap Compare to Competitors?
If you want to see how Keap stacks up against it's peers, check these out:
6 Runner Up's and Honorable Mentions
These are some additional options our team has compared or I've considered personally in lieu of Hubspot. They didn't make my top list, but there are some specific reasons to consider:
Zoho CRM Software: If you might end up more on the ERP side of the house eventually, or just want that option, Zoho has this expanded advantage over Hubspot. Otherwise, the Zoho interface and usability leaves something to be desired as compared to Hubspot's more modern aesthetic. See how Hubspot compares to Zoho CRM in depth.
Mailchimp: Mailchimp often comes up compared to Hubspot in the context of email marketing. If all you need is a solid list management & deliverability system, Mailchimp is great and Hubspot is probably overkill. But, if you plan using Mailchimp as CRM or may need any other features found in Hubspot, Mailchimp isn't going to cut it as a long term solution.
Drip: Drip is solid for eCommerce marketing, with some lite CRM features.
Aritic PinPoint: Similar to Hubspot, but heavier on the implementation side. A halfway point between Salesforce and Hubspot.
SharpSpring (now part of Constant Contact): Similar to Aritic, but I'm not entirely sure what Constant Contact will do with them. It's a logical extension of their email marketing suite, so it may be rolled in. Once this happens, it could be a juggernaut to disrupt Hubspot and company.
Kajabi: Useful if you are micro focused on engineering sales funnels, like if Clickfunnels had a baby with Hubspot.
About the Hubspot Marketing Automation Platform
Hubspot is also popularly known for 'Inbound Marketing'. With inbound marketing automation, instead of fighting for the attention of prospects in this noisy digital world, it focusses on creating helpful products and content to attract them. After that, through engaging content, continued value and solving client's problems, prospects begin to see your business as an authority worth trusting.
The majority of marketers will admit that they have interacted with Hubspot on some level. Either through their popular Inbound marketing Certification program (inbound marketing strategy or account-based marketing), webinars or massive library. The resources that Hubspot provides are without a doubt high quality hence their popularity.
Hubspot provides a platform for you to achieve your business goals through automated marketing, sales and customer service. They support your business in attracting prospects, generating leads, lead nurturing, and turning them into loyal customers. Let's get into the details of their offerings;
Hubspot Marketing
You want to grow your traffic, convert leads and achieve a massive ROI, right? Hubspot provides you with marketing software that helps you launch great marketing campaigns and gets people excited to know about your business and become customers (lead management).
This digital marketing software provides you with marketing tools to build and modify your website design. You are able to create relevant content strategies for your blog and social media. Your content gets in front of the right followers and influencers by publishing it at optimal times.
This tool helps you to launch an attractive and professional landing page (smart landing page builder) with a call-to-action that your leads cannot ignore. Running A/B tests for increased conversions is a walk in the park and you are able to personalize messages based on location, persona, and device. The best thing about this is that you don't need a web developer or coding knowledge (you just need to be able to follow step-by-step instructions).
Other great features include social media monitoring, SEO for visibility in search engines, sales force integration, and tracking ads performance.
Hubspot Marketing Package Pricing
You can start small with free access to basic marketing tools (not a free trial – unlimited free plan) if you're a small business with a tight budget.
If you're ready to take your business to the next level, the Starter package costs $50 per month, Professional costs $800 per month and Enterprise costs $3200 per month (Professional and Enterprise are both billed annually).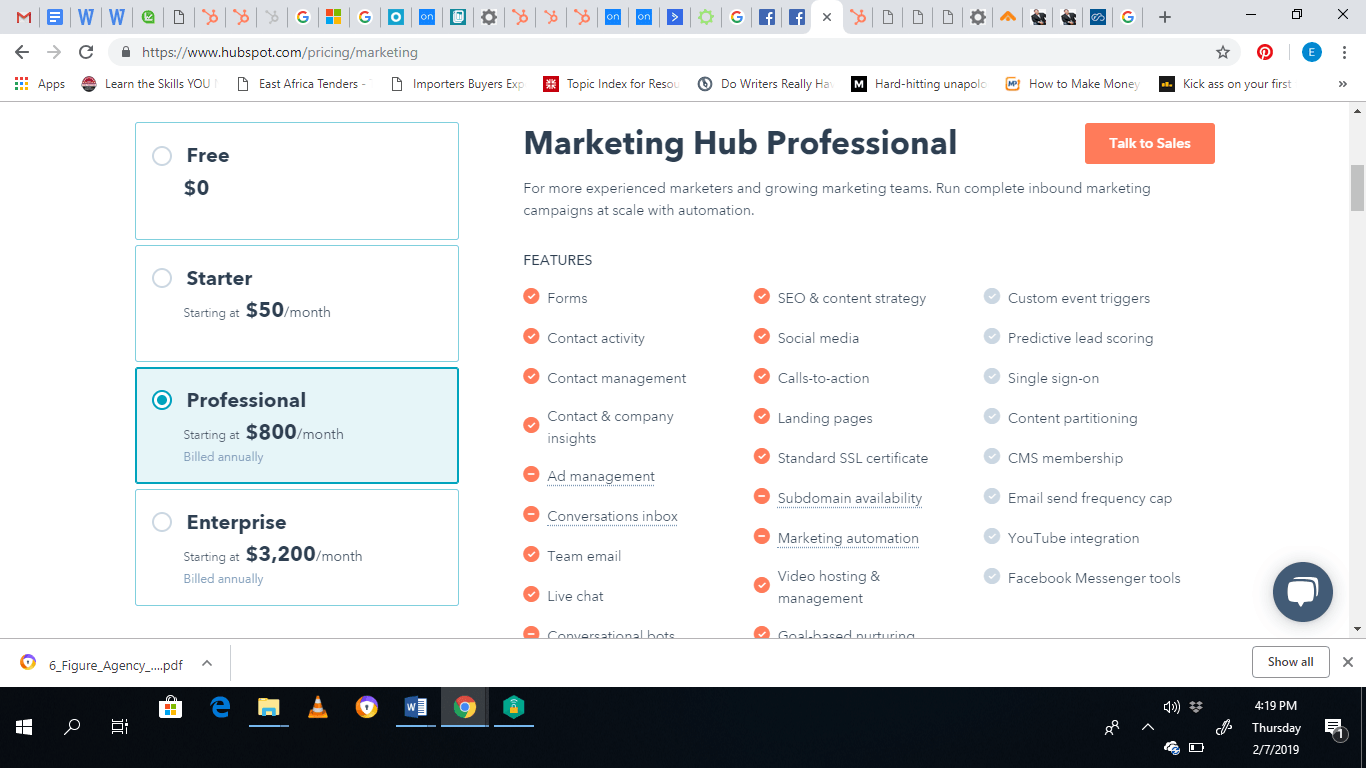 Hubspot Sales Hub
Sales is usually a daunting but necessary task in any business. It takes up a huge chunk of time that would otherwise be spent on other important tasks. The sales hub tool saves you time while you make money. Now, who wouldn't want that?
This sales system automates communication with prospects and customers while maintaining a personal tone. A sequence of follow-up emails gets delivered at the right time and you also get notified when a prospect has opened them.
The system enhances the relationship and connection with your prospects through live chat with your salesperson. You can queue, log, record sales calls and close deals easily.
Other important features include; email templates and tracking your entire sales pipeline-you can track deals in progress, won and lost. Also, you get to know who performs best on your sales team and why.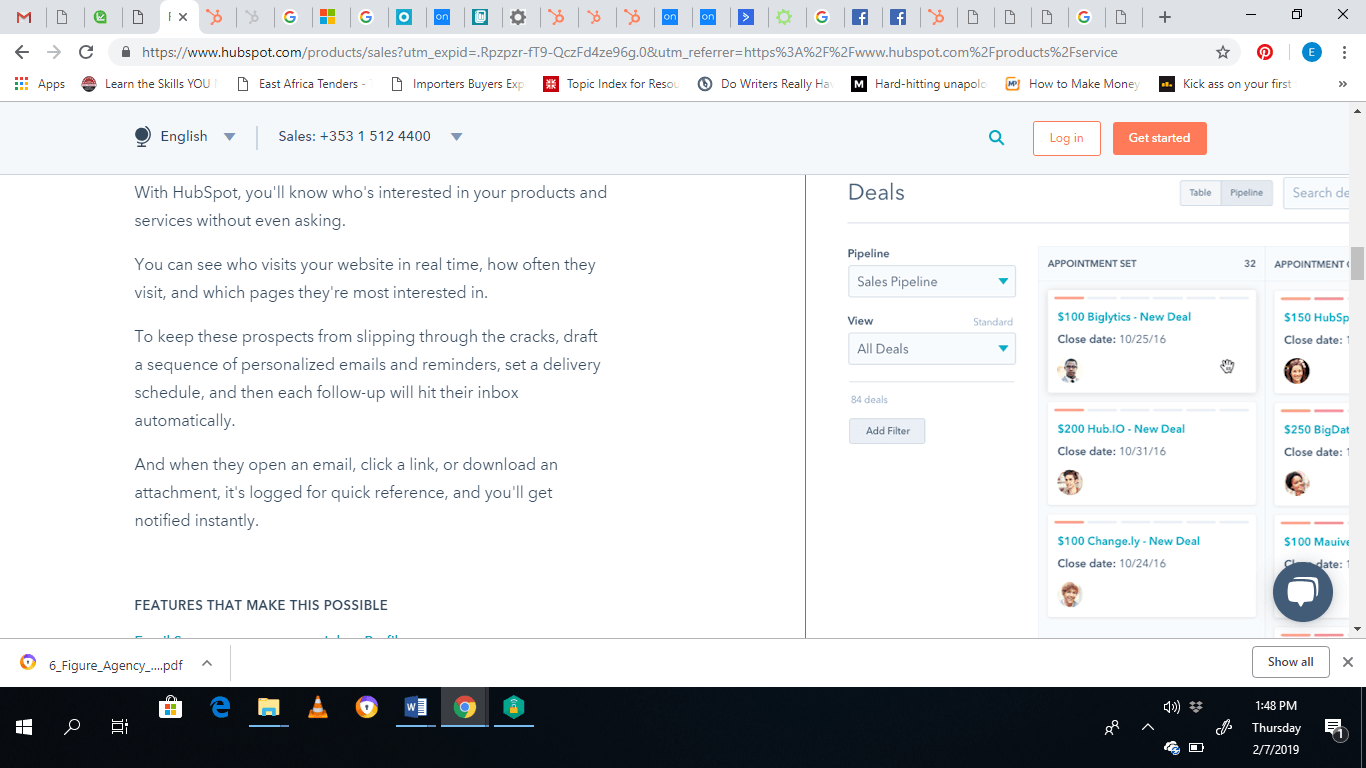 Hubspot Sales Pricing
The free and Starter version of this system is built for the individual salesperson. The premium versions, Professional and Enterprise worth $400 and $1200 per month respectively are suitable for sales and marketing teams of 5 users and above.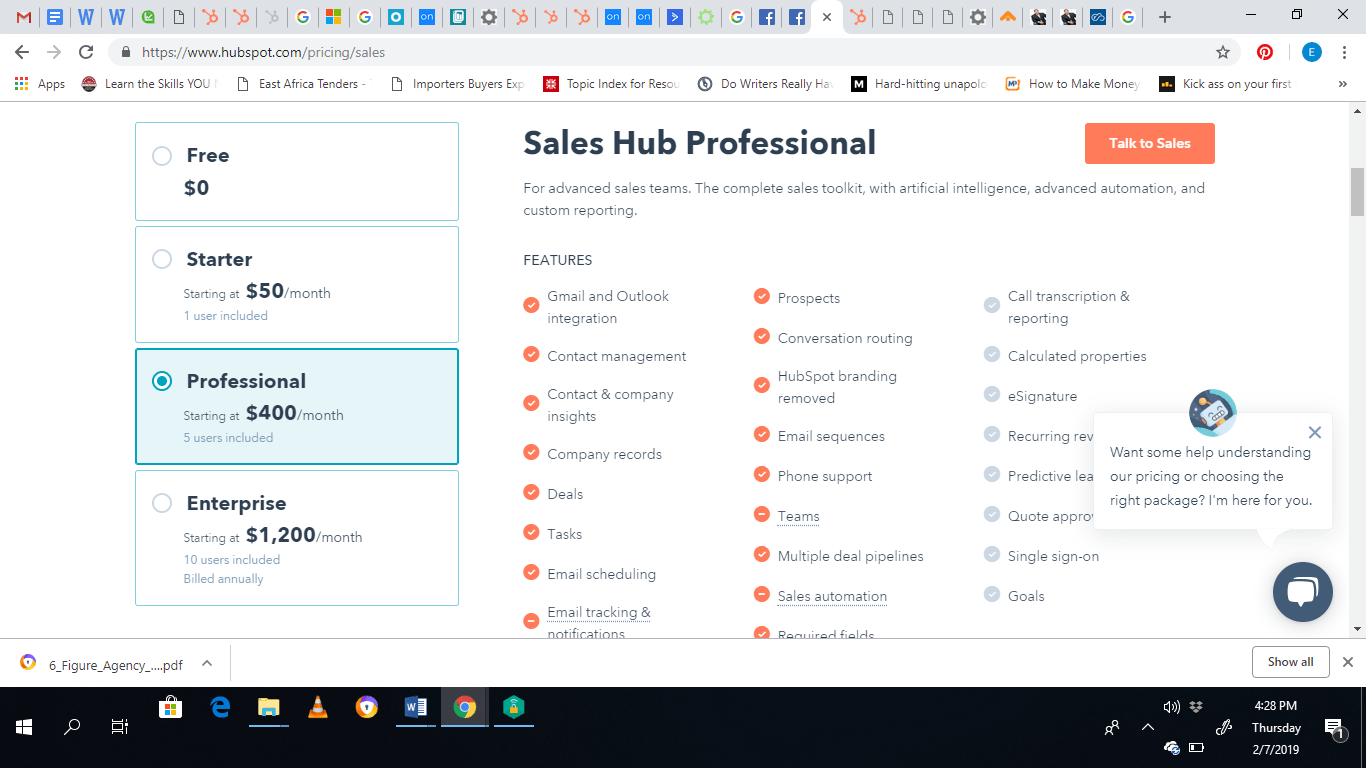 Hubspot CRM
Customer service goes hand in hand with the success of your business. 60% of businesses prioritize customer service over other areas of their operations. Focusing on having happy customers will go a long way with maintaining your brand reputation, resolving complaints efficiently, generating a high conversion rate and maximizing customer retention.
With Hubspot CRM software, you can understand your customers' needs better, consistently exceed their expectations and turn them into promoters. You can easily manage customer conversations through a universal inbox that your whole team can access. You can log your customers' issues in an organized manner to your team members.
The live chat feature enables real-time engagement with your customers. If you would like to know how your customer service efforts are impacting your customers, this system offers tracking tools. They provide you with data (typically analytics and contact history) on customer feedback, response time and a lot more.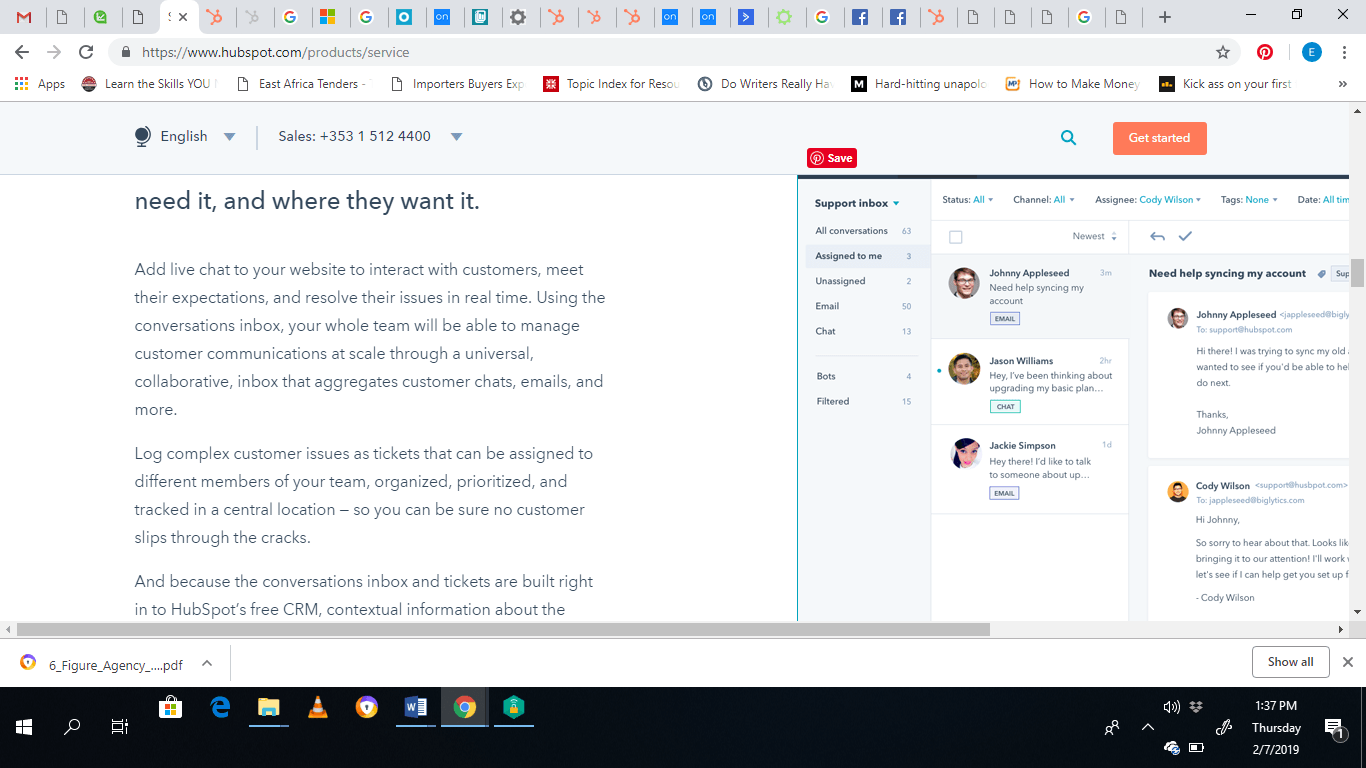 Hubpost CRM Pricing
According to Hubspot, their CRM platform is absolutely free of charge for inbound marketing. That's right, at least when it comes to Hubspot pricing for their CRM specifically.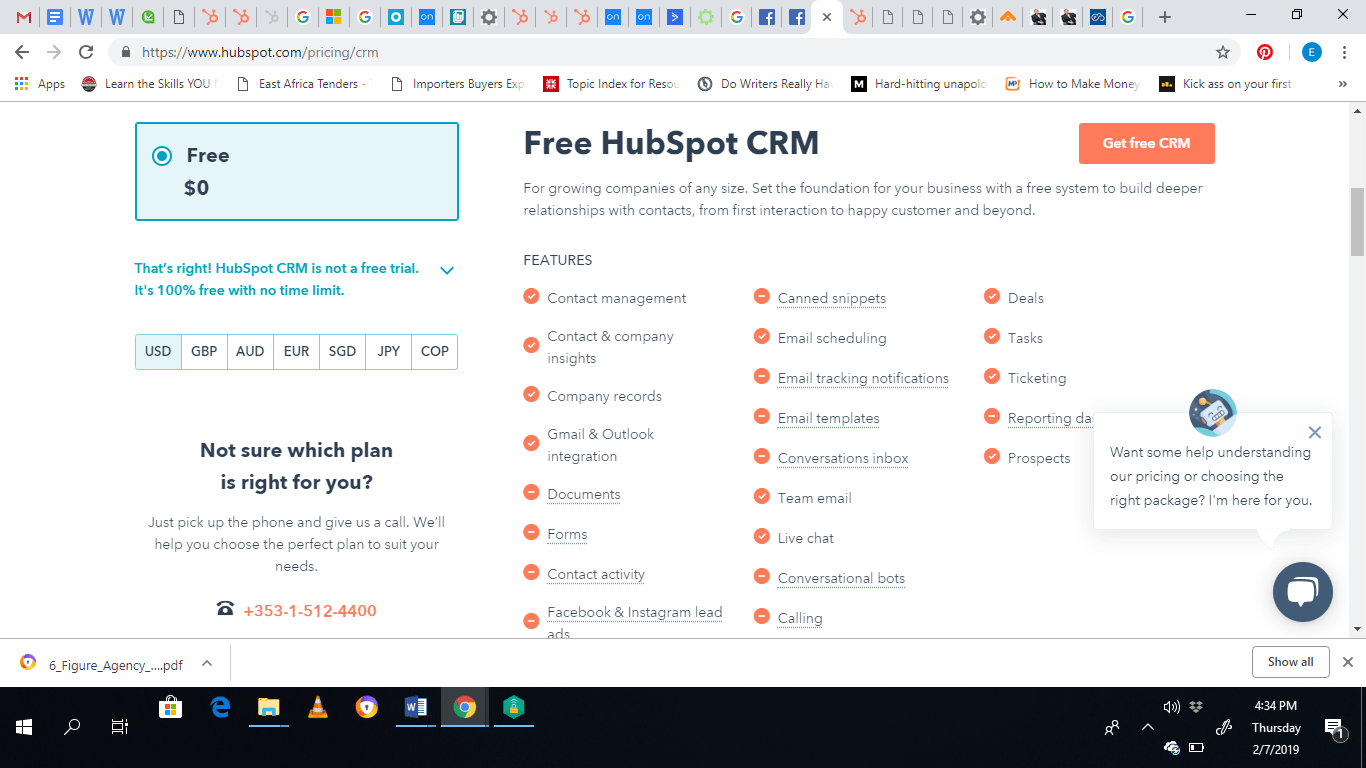 FAQs
Question: Which are the cheapest alternatives to Hubspot?
Answer: The cheapest alternative to Hubspot are ActiveCampaign, SendinBlue, GetResponse, and basically there are a lot more, so you need to compare their features and see which one will work best for you, and luckily there are free trials that will help you do this and make the final choice easier.
Question: Is HubSpot better than MailChimp?
Answer: Yes, HubSpot is better than MailChimp but it is not intended for small businesses as the monthly prices can be higher than those of MailChimp. Other than that, HubSpot offers better marketing strategies, allows you to create landing pages, and track the audience that has been engaging in your posts on all social media accounts you have, so you can create even better campaigns for better profit.
Question: Is HubSpot free worth it?
Answer: Yes, Hubspot free is worth it if you are just starting a business and you're figuring things out, and you don't want to start paying for a subscription yet. The only downside to the free plan is that you don't have access to all the tools that would have with the paid plans which would help you get even better results.
Final Choice: Best Marketing Automation Hubspot Alternative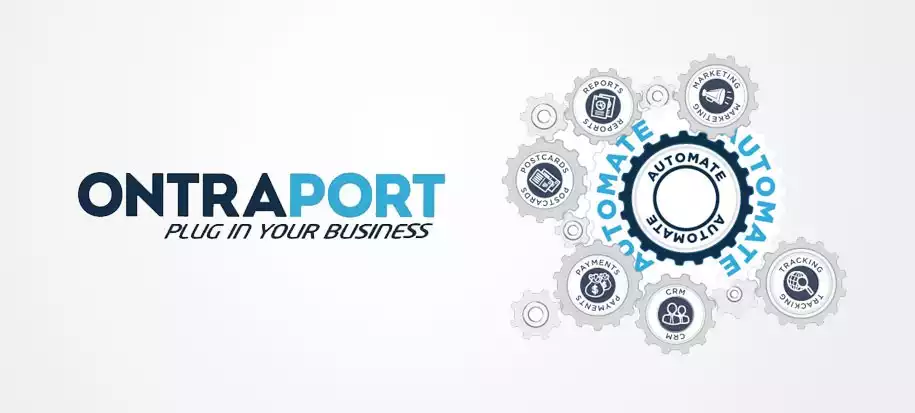 Replace Hubspot with Ontraport
Do you ever feel like Hubspot is WAY too complicated for what you need? I did too. That's why we switched from Hubspot to Ontraport. It integrates with everything, but is much more affordable.
Try Ontraport Instead
We earn a commission if you click this link and make a purchase at no additional cost to you.
Although this list is not complete, Keap, Ontraport monday.com, Salesforce, Pipedrive and ActiveCampaign are the best Hubspot alternatives on the lead automation market to consider when it comes to marketing automation features.
They both have similar functionality to many Hubspot features as a marketing hub, but offer a more scalable pricing and capability build-out that ends up not have the same Hubspot cost shock after you move beyond the CRM solution.
Other marketing automation solution alternatives worth mentioning include Drip (ecommerce email marketing tool), Sharpspring (automation tool), Aritic PinPoint and Kajabi (sales funnel tools). You now have all the information you need to make the right decision for your business. Over to you!
Other Top CRM Software Options Compared to Hubspot
Here are some related Hubspot alternative and marketing automation software articles you may be interested in: