Last Updated on April 22, 2023 by Ewen Finser
When running an e-commerce business, marketing is a must to keep your leads and customers engaged, announce sales and product alerts, and remain competitive.
While social media is on the rise, email is still king when conveying your authenticity as a brand.
Manually personalizing every email is impossible. However, with email automation platforms, you can customize each email to your leads and customers by providing them with the information they need when they need it.
Both Omnisend vs Sendinblue help take your marketing to the next level with industry-leading marketing tools, but which tools is best?
Bottom Line Up Front
Do you primarily sell products? Omnisend's automated product picker and a large variety of integrations will save you more time and meet your needs better than Sendinblue. However, if you need an unlimited daily sending limit and solid customer service with a low price point, Sendinblue is the budget choice.
Main Differences Between Omnisend vs Sendinblue
The main differences between Omnisend vs Sendinblue are:
Omnisend is located in the United Kingdom, whereas Sendinblue is based in France.
Sendinblue has a direct integration with WordPress, whereas Omnisend does not.
Sendinblue offers unlimited contacts and no daily sending limit for its standard plan, whereas Omnisend does not provide unlimited.
Omnisend does not provide phone support, whereas Sendinblue has phone support available (for higher-tier plans).
Omnisend has a built-in product picker, whereas Sendinblue does not.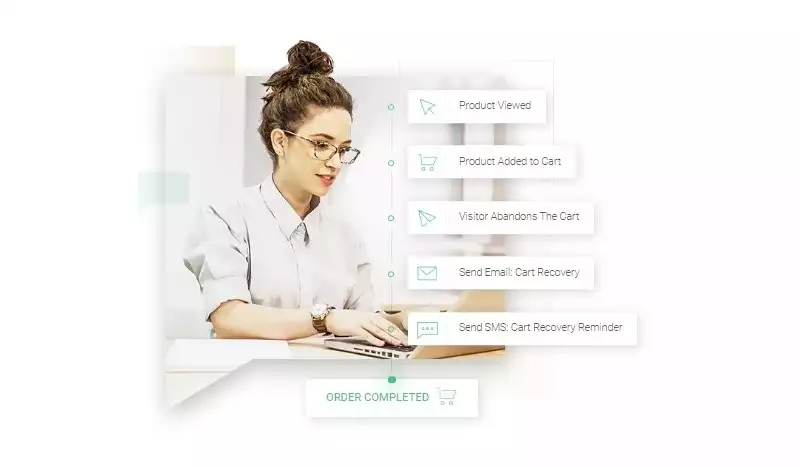 Why Go with Omnisend?
Take the shortcut to revenue growth with Omnisend's easy-to-use platform for ecommerce email marketing, SMS and automation.
Save 10% Off (Audience Exclusive)
We earn a commission if you click this link and make a purchase at no additional cost to you.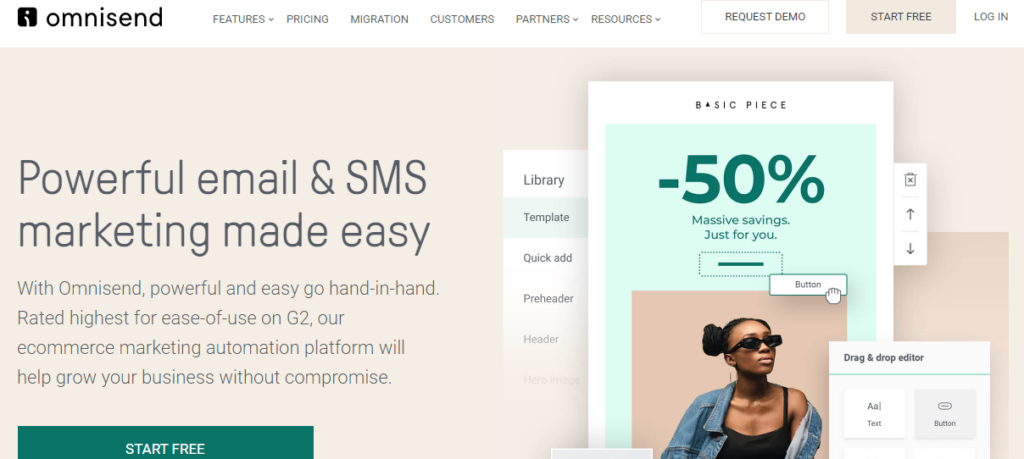 Omnisend is an all-in-one marketing solution that will automate that fully automate your day-to-day communication tasks.
From email, SMS, push notifications, segmentation, WhatsApp, pop-ups, and Google and Facebook ads, Omnisend's omnichannel marketing automation system can help you exceed your e-commerce goals.
Omnisend Pros
Up to 2,000 complimentary messages per month
Advanced automation features
Omnichannel marketing options
A large variety of integrations
Top-notch customer service
Segmentation options
High conversion rates
Built-in product picker
Omnisend Cons
Lacking in customization options
Social campaigns are not automated with data
Low send allowance for free plan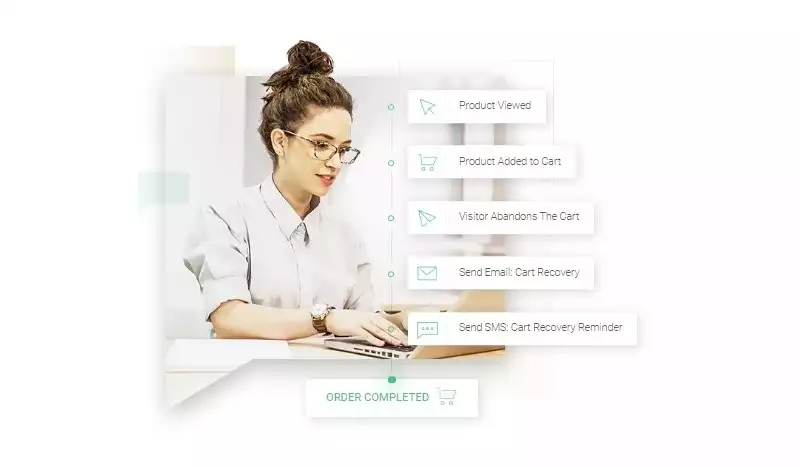 Why Go with Omnisend?
Take the shortcut to revenue growth with Omnisend's easy-to-use platform for ecommerce email marketing, SMS and automation.
Save 10% Off (Audience Exclusive)
We earn a commission if you click this link and make a purchase at no additional cost to you.
Sendinblue Overview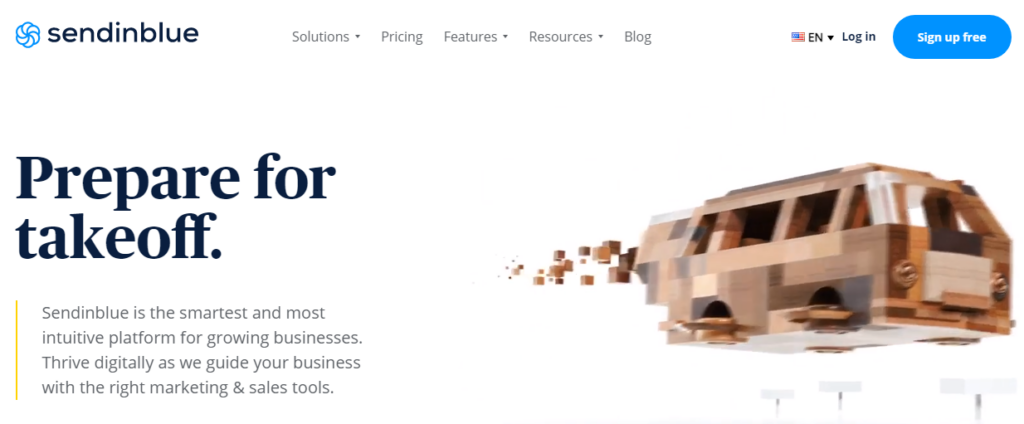 Sendinblue is a user-friendly cloud-based marketing automation tool that offers small to medium-sized businesses a wide range of services. With no daily sending limit starting at only $25 per month, Sendinblue makes marketing automation affordable to both new and established businesses.
Sendinblue Pros
Affordable pricing amongst competitors
Transactional and marketing combo email tool
Highly rated WordPress plugin
Advanced workflow automation
Basic CRM functions
A large variety of templates
Sendinblue Cons
The free plan has a max of 300 emails per day
The web application can lag (slow loading)
Importing data can be tedious
Templates with advanced features come at an additional cost
What to Look for When Comparing Omnisend vs. Sendinblue
Before choosing an email service provider, it's essential to research factors that affect the overall user experience, including customer support, pricing, and integrations.
Customer Support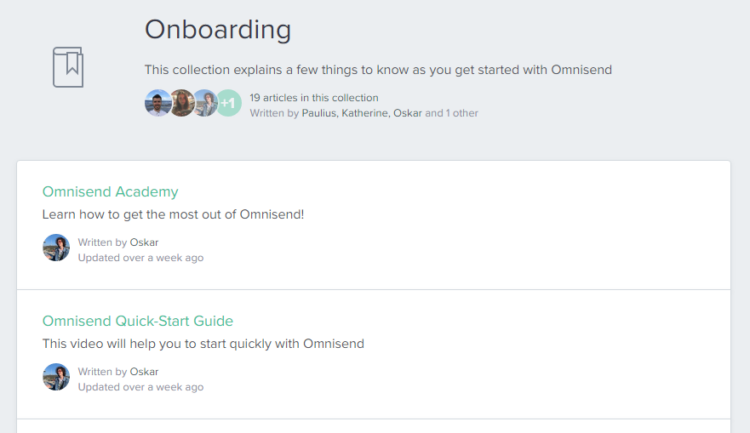 Omnisend
Omnisend offers an extensive knowledge base divided into practical categories, including new features, onboarding, automation, segmenting, reports, API, compliance, and more.
For example, in the onboarding section, there are currently 19 articles that contain a quick-start guide, tips, how to configure your account to get the most out of Omnisend, advanced feature modules, and even video webinars specific topics such as how to migrate from Shopify to Omnisend.
If you can't find what you are looking for on the 24/7 knowledge base, Omnisend offers two direct ways to contact them. You can send an in-app message when logged into your account or write them an email via [email protected].
SendinBlue
Sendinblue also has a detailed help center to answer your questions about your account, how to use the platform, etc. Plus, you can participate in a video course "Sendinblue Academy" or check out Sendinblue's YouTube channel. However, while the help seems similar to Omnisend, Sendinblue's website and navigation to this help are less impressive. If you dislike searching for the proper support, you may prefer Omnisend's user experience.
If Sendinblue's help center doesn't answer your questions, you can use the chatbot at the bottom right of the website. Specific questions or technical issues can be handled using a support ticket at the bottom of the chatbot by selecting "contact us."
Subscribing to Sendinblue's Premium and Enterprise plans provides you access to phone support (M-F). If you prefer to speak with a human or expect to have multiple questions, the extra cost of higher-tier plans may be worth it.
Sendinblue vs Omnisend Pricing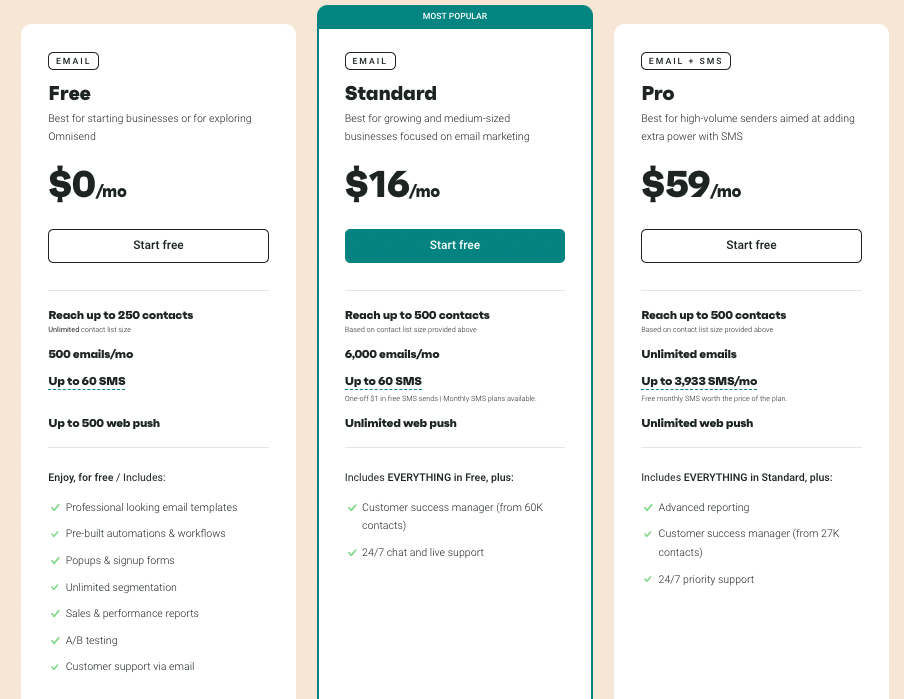 Email
500 emails (sends per month)
SMS/MMS
Free SMS credits
500 Web push notifications
Facebook custom audiences
Google customer match
Standard (starts at $16 per month)
Email
12x List email sends per month
SMS/MMS
Free SMS credits
Unlimited Web push notifications
Facebook custom audiences
Google customer match
Optional Omnisend branding
100 segments (segmentation)
Six months of web tracking
Email
Unlimited email sends per month
SMS/MMS
Free SMS credits
Unlimited Web push notifications
Facebook custom audiences
Google customer match
Optional Omnisend branding
200 segments (segmentation)
18 months web tracking
Advanced reporting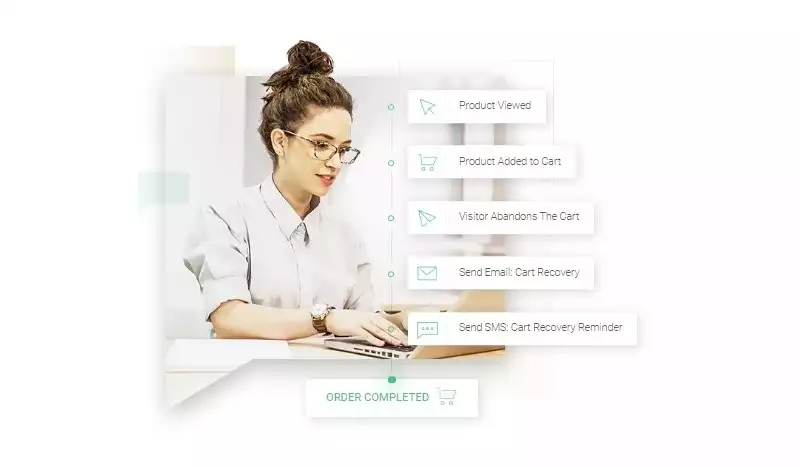 Why Go with Omnisend?
Take the shortcut to revenue growth with Omnisend's easy-to-use platform for ecommerce email marketing, SMS and automation.
Save 10% Off (Audience Exclusive)
We earn a commission if you click this link and make a purchase at no additional cost to you.
SendinBlue Pricing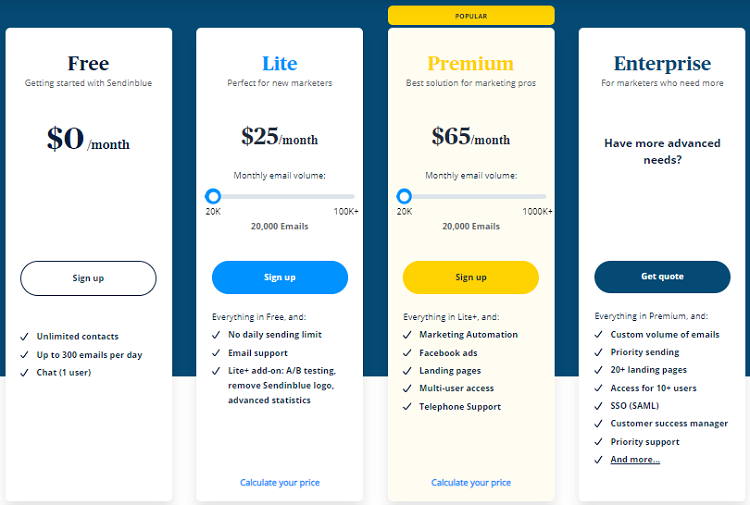 Unlimited contacts
Up to 300 emails per day
Chat (1 user)
Lite (starts at $25 per month)
Free plus:
No daily sending limit
Email support
Lite+ add-on: A/B testing, remove Sendinblue logo, advanced statistics
Premium (starts at $65 per month)
Lite plus:
Marketing Automation
Facebook ads
Landing pages
Multi-user access
Telephone Support
Enterprise (contact for quote)
Premium plus:
A custom volume of emails
Priority sending
20+ landing pages
Access for 10+ users
SSO (SAML)
Customer success manager
Priority support
Ease of Use
Integrations
Additional Features
Sendinblue vs Omnisend Integrations
Omnisend Interation Partners
Omnisend has over 70 integrations, including Zapier, that help you connect your favorite apps. Omnisend offers all the integrations you might need to run an efficient e-commerce store.
Popular Omnisend integrations include:
Aftership
LiveChat
Shopify
BigCommerce
Amazon Advertising
Smile.io
Alloy
GrowthHero
Zapier
Sendinblue Integration Partners
Sendinblue also partners with Zapier and direct integrations with over 60 apps. Its direct integration with WordPress is a game-changer (think access to Sendinblue right from your dashboard!) for the platform's e-commerce users, as Omnisend requires you to use the WooCommerce app indirectly access WordPress.
Popular Sendinblue integrations include:
WordPress
WooCommerce
Zenkit
SumoMe
Stripe
Salesforce
Stripe
Eventbrite
Google Analytics
Zapier
Omnisend vs Sendinblue Main Features
Omnisend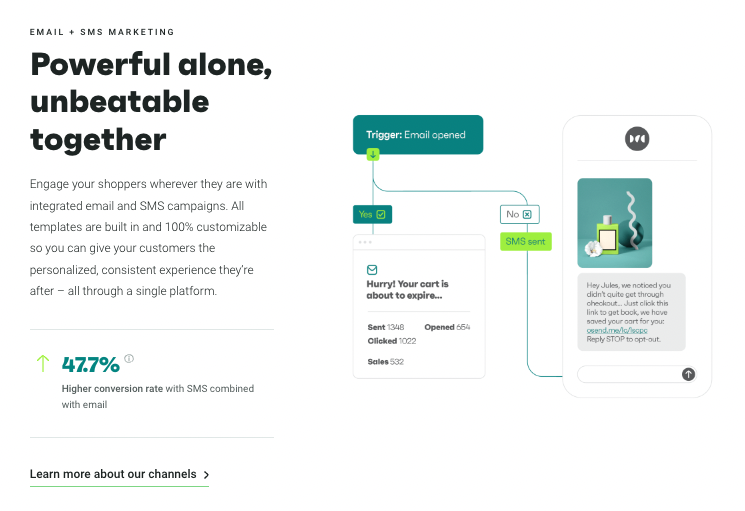 User experience
Omnisend has a short learning curve. You can get started within minutes, and the dashboard is straightforward even if you are not software savvy.
Automation
You can use pre-built email templates and workflows or customize one to your liking. No coding experience is required.
The drag and drop editor helps you visualize branded messages, including sequences, cloning, splits, and adding and removing channels.
Product picker
Need to add a product ad into your newsletter or email campaign. Just choose your selected product from the store, insert it into your marketing newsletter or campaign, and it's ready to go. The product picker automatically gathers the product photo, title, price, and brand colors, saving you a considerable amount of time.
Omnichannel Platform
Omnisend keeps all of your business communication in one dashboard. Whether you use social media, SMS, CRM, or other online avenues, Omnisend targets your customers and leads where they hang out so you can always target them with the right product at the right time.
Sendinblue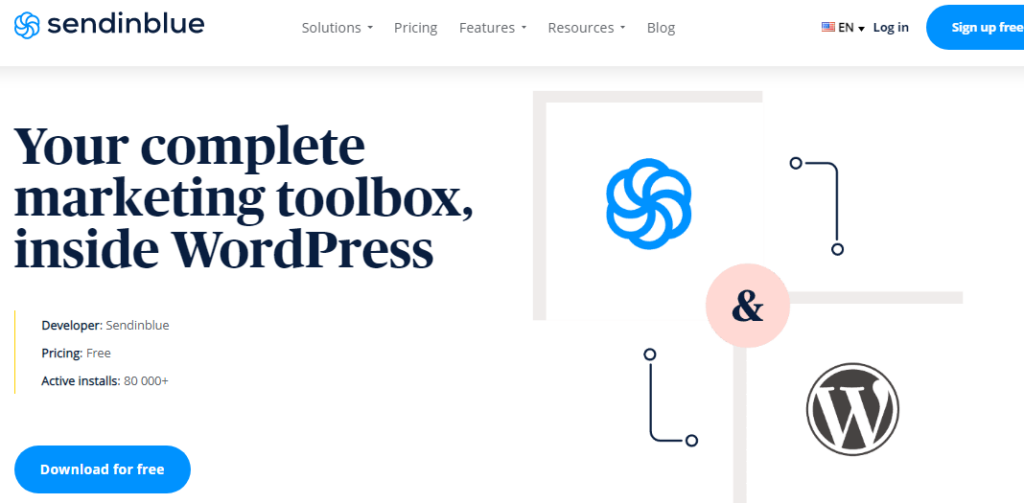 User experience
Sendinblue's drag and drop interface is streamlined with pre-built templates to help you design a newsletter or email campaign in minutes. Quickly change from one image to three, add social media handles, custom design elements, and more. If you prefer to use raw HTML code, you have the option and a rich text editor.
The sidebar menu allows you to switch from email, templates, SMS, Facebook ads, statistics, and settings. It will also provide you with a remaining email and SMS credit count.
Automation
The automation process with Sendinblue can be complicated or straightforward. For example, you can set up specific contact triggers such as an abandoned cart or a birthday and send a separate email to "follow up."
You can also create a whole sequence based on if the lead or customer is actively engaging with your company or not. Finally, you can mix and match triggers, conditions, or actions to make the custom workflow based on your specific needs.
WordPress integration
If you run an e-commerce business on the WordPress platform, Sendinblue offers an email plugin that is a game-changer for marketing your business. Automation trackers can gather data on contacts that visit your website, and you can easily segment those contacts to deepen the B2C relationship.
Sendinblue offers better open rates and detailed reporting so you can A/B test to refine your email marketing skills.
Omnichannel Platform
Similar to Omnisend, Sendinblue is an omnichannel platform that provides automated marketing no matter where your customer is.
In addition, Sendinblue offers complex automated workflow capabilities, powerful analytics, and multi-generational communication methods such as social media, live chat, and SMS.
Top Sendinblue and Omnisend Alternatives
Klaviyo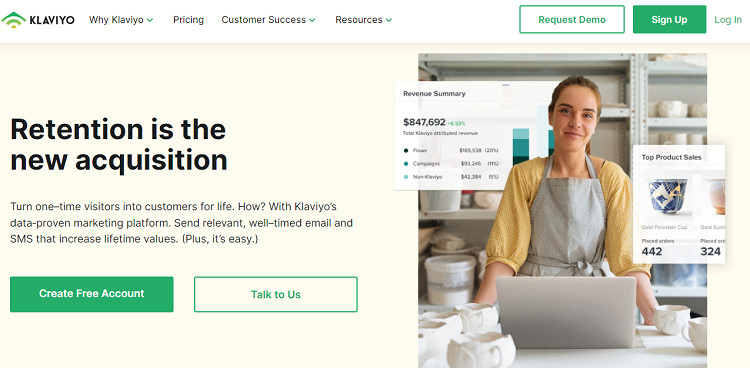 Klaviyo works on three main principles: database, experiences, and learning. First, the database works like a CRM, housing data-rich customer profiles, integrations, and segments.
Next, as your business scales, use experiences like email, SMS, forms, and social media to reach a wider audience. Finally, Klaviyo is excellent at gathering AI data, so you will never be in the dark regarding your sales reports, goals, and predictive analytics.
Notable companies using Klaviyo:
Blenders Eyewear
Custom Ink
Huckberry
Nomad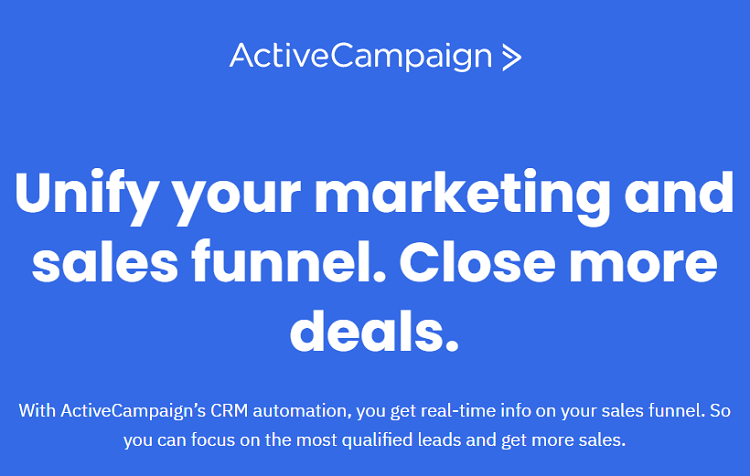 The active campaign has quite the client list with over 150,000 dynamic in addition, this. The platform is full of advanced features, including over 800 integrations with industry leaders like WordPress, Shopify, and Zapier.
Plus, take advantage of their 22 promises guarantee with options like a 2-year price lock, one-on-one training, owning your data, and only paying for marketable contacts.
Notable companies using Active Campaign:
Museum of Science and Industry
The Produce Moms
Morrow Audio
Hipcooks
Drip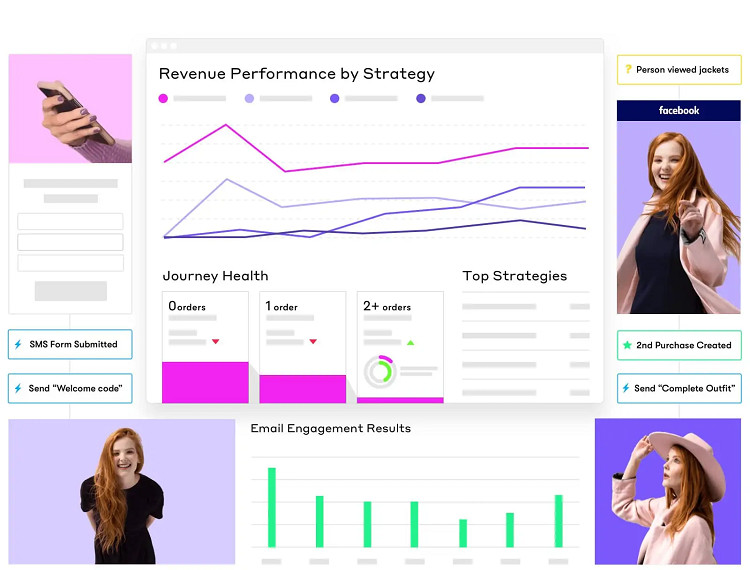 Scale your business to the next level with Drip. The user-intuitive platform helps you send personalized emails and SMS to the right person at the right time.
In addition, drip allows you to build pre-built or custom segments that update in real-time. The platform is excellent for implementing welcome emails, abandoned carts and encouraging repeat purchases.
Notable companies using Drip:
Live Nation
Universal Audio
The Spice House
Saint Jane
Fiat
Autopilot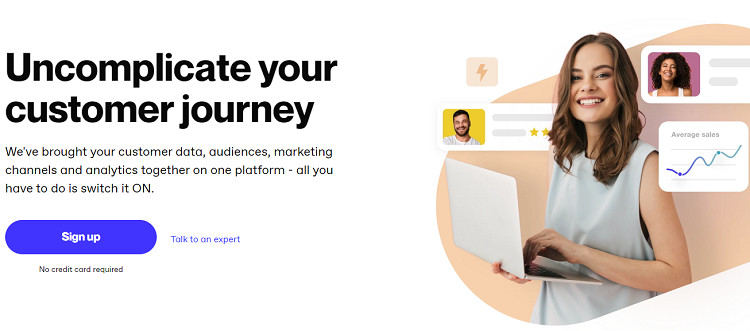 Autopilot allows users to create automated marketing campaigns and manage leads. The platform has a drag-and-drop interface that makes automated workflows a breeze. Use Autopilot to send custom messages, SMS, and more. Plus, it is free for up to 2,000 subscribers.
Notable companies using Autopilot:
California Closets
Microsoft
Flow
Taxibox
loveholidays
SharpSpring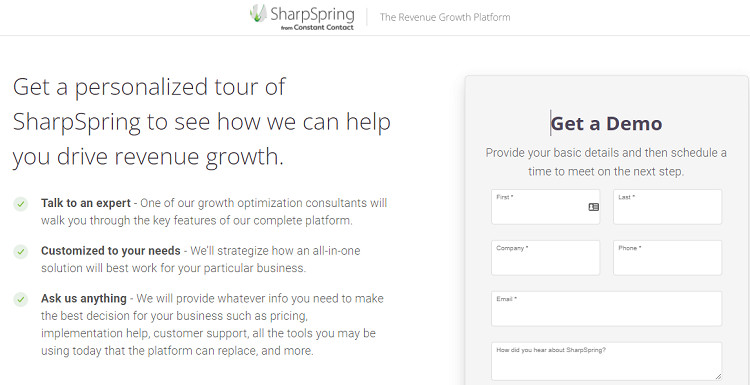 SharpSpring was founded in 2014 and delivered powerful marketing automation at an affordable price.
SharpSpring from Constant Contact tracks leads after the click to provide the user with powerful analytics that can be sent to the sales team in real-time. Plus, a dynamic CRM keeps all of your data integrated into one central place.
Notable companies using Autopilot:
State Industrial Products Corporation
Hertford Regional College
Michigan Credit Union League
ADTRAV
Blytheco
FAQs
Question: How Many Emails Can I Send in Sendinblue?
Answer: The Free plan has a limit of 300 daily emails. Both email campaigns and transactional emails count toward the total. If you do not use all 300 in 24 hours, these emails do not roll over to the next day.
Your Sendinblue account provides the exact number of emails you have left every day at the bottom-left side of your account.
Question: How do I Use Omnisend with Shopify?
Answer: To use Omnisend with Shopify, you must have an account with Omnisend and an active store on Shopify (Shopify store must not already be linked to a different Omnisend account).
The recommended way to link the two is by adding Omnisend from the Shopify Market place and registering your Omnisend account through Shopify admin.
While logged into your Shopify account, go to Apps, look for Omnisend Email Marketing & SMS, then click Add app. Then install the app with your preferred settings. Next, use the Omnisend help pages for step-by-step instructions and troubleshooting.
Question: Which is Better, Omnisend of Klaviyo?
Answer: While both platforms offer advanced email automation and segmentation tools, Omnisend features more email capture options, more channels for a better user experience, and a better subscription-based price point.
Question: What is Sendinblue's Inbox?
Answer: The Inbox platform on Sendinblue aggregates all of your email conversations in one place. Instead of logging into Gmail, Yahoo, and Outlook, you can use a shared inbox. Using Inbox keeps emails from falling through the cracks by making finding and sharing specific conversations among team members easier.
Free and Lite accounts get one inbox, Premium receives 3, and Enterprise can setup up to 100 inboxes.
Question: Can I Migrate My Existing Service from MailChimp to Omnisend?
Answer: Yes. However, it is important not to close your MailChimp account before checking to see if all data has transferred, re-creating automation workflows, and general functions are working correctly.
Click here for a detailed step-by-step guide on migrating from MailChimp to Omnisend.
Conclusion: Omnisend or Sendinblue?
While Omnisend vs Sendinblue is both capable of taking your e-commerce marketing to the next level, they both have strengths and weaknesses that set them apart.
Omnisend offers an automated product picker which is invaluable if you sell primarily products and many of them. Not manually entering product information every time you want to market through a workflow can save a significant amount of time.
Plus, Omnisend currently has more integrations than Sendinblue, allowing for more flexibility and proven high conversion rates for a seamless experience.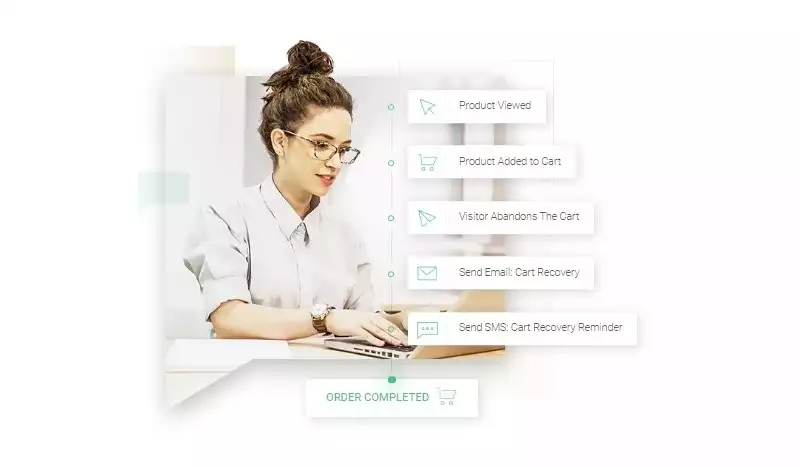 Why Go with Omnisend?
Take the shortcut to revenue growth with Omnisend's easy-to-use platform for ecommerce email marketing, SMS and automation.
Save 10% Off (Audience Exclusive)
We earn a commission if you click this link and make a purchase at no additional cost to you.
However, Sendinblue is our pick for overall functionality, pricing, and customer service. Sendinblue rivals industry leaders with a $25 monthly subscription without a daily sending limit. Add another $40 per month and receive dynamic Facebook ads, multi-user access, and dedicated telephone support.
Plus, Sendinblue has a direct plugin for WordPress. So integrating your WordPress data in just a few clicks can save you time and money down the road if you are a loyal WordPress user.
Omnisend and Sendinblue Compared to the Rest
If you still aren't quite decided, here's how our editorial team compared Omnisend to Sendinblue alternatives.
Omnisend Alternatives Compared