Last Updated on January 15, 2023 by Ewen Finser
While there are many effective approaches when it comes to digital marketing, the fact of the matter is, email marketing (CRM) is and has always been king.
There are multiple research studies that have proven this. And one specific statistic sums it up. That for every $1 spent on email marketing, e-commerce businesses end up generating $38. In other words, expect an astounding ROI of about 3800% from your email marketing efforts.
Sounds unachievable?
Bottom Line Up Front: I personally lean towards going with the easier to use, more fully featured, and more affordably priced Sendinblue here. That said, Klaviyo is not a bad option for ecommerce either.
Our Pick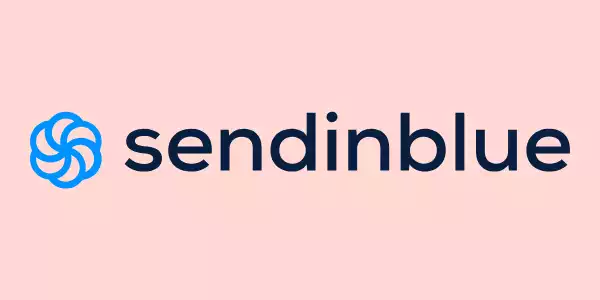 I Personally Prefer Sendinblue
You might not have heard about Sendinblue, but you SHOULD. It has the big box API tools of a SendGrid, the sales automation of an ActiveCampaign, but the user-friendliness of a ConvertKit. Plus, it's relatively cheap in comparison to each.
Try Sendinblue Here
Save 50% for Black Friday!
We earn a commission if you click this link and make a purchase at no additional cost to you.
Well, here's the thing. Even if your email marketing campaign fails to generate many leads, you're bound to attract increased spending from the few that respond. In terms of numbers, such leads usually spend 138% more than the rest. So, you can bet it's a win-win situation.
That said, there's one thing you need to be particularly careful about- the email marketing tool or app you leverage in your e-commerce business. The market is now saturated with all sorts of email marketing solutions, most of which are touting themselves as the "best email marketing tool."
Ok, I have to admit that the likes of MailChimp and AWeber are doing a pretty decent job in this space. Most of these dominant solutions have been around for about two decades now, and they continue to provide a wide range of effective marketing automation tools.
But, let's face it. They are not perfect for everyone. And thankfully, their weaknesses are being addressed by some of the newer entrants.
Speaking of which, two of the most outstanding automation platform solutions here are SendinBlue and Klaviyo. Both of them were launched in 2012, and continue to offer digital merchants a host of refined email marketing service provider solutions.
They've built names for themselves alright, but let's be honest. You can't possibly leverage both of them at the same time. You can only afford to stick with one for the long haul. So, the question is, which is better between SendinBlue and Klaviyo?
For that, we've got you covered. This SendinBlue vs Klaviyo guide goes beyond the details you might dig up from typical SendinBlue reviews as well as Klaviyo reviews. It combines both worlds to give you comprehensive insights about SendinBlue and Klaviyo, in terms of how they compare against each other.
More specifically, the piece holistically takes SendinBlue vs Klaviyo through the following rounds:
Overview
Ease of Use
Contact Management
Email Templates
Email Design Tools
Email Automation
Pricing
Now, let's find out- SendinBlue or Klaviyo?
SendinBlue vs Klaviyo – Overview
SendinBlue Overview
Our Pick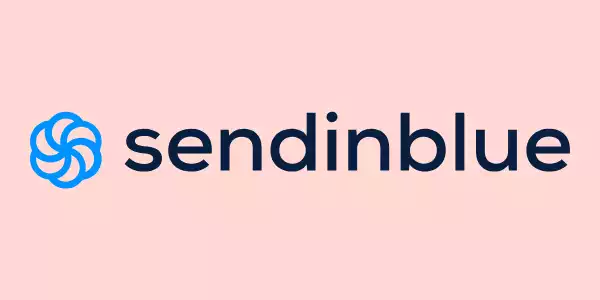 I Personally Prefer Sendinblue
You might not have heard about Sendinblue, but you SHOULD. It has the big box API tools of a SendGrid, the sales automation of an ActiveCampaign, but the user-friendliness of a ConvertKit. Plus, it's relatively cheap in comparison to each.
Try Sendinblue Here
Save 50% for Black Friday!
We earn a commission if you click this link and make a purchase at no additional cost to you.
SendinBlue, admittedly, continues to solve a wide range of problems. But, there's one particular challenge that underlines SendinBlue's fundamental objective.
SendinBlue was launched in 2012 to essentially address a major issue that small and medium-sized business had been facing. Digital merchants simply needed decent email marketing automation capabilities on a budget.
Consequently, SendinBlue managed to bundle automation tools for Facebook ads, landing pages, SMS, plus general and transactional emails, in one platform. And the whole thing is reasonably priced to give small businesses the power of competing fairly against their established enterprise counterparts.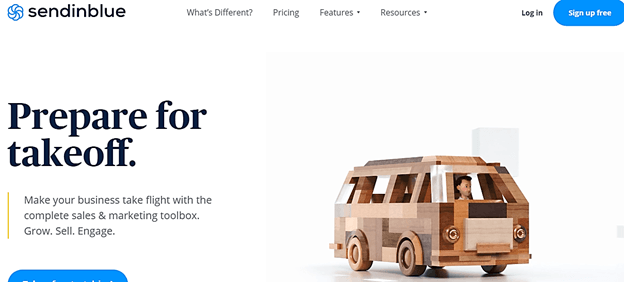 So far, these offerings have enticed many businesses over the years, subsequently pushing the number of active users to well over 50,000 by 2017. They now use SendinBlue to reach out to more than 300 million leads across 140 countries every month. Then get this – more than 30 million emails and SMS messages are sent through SendinBlue on a daily basis.
So call it what you want, but this is no ordinary email marketing tool. SendinBlue might be relatively young alright, but it's certainly far from being a small digital marketing platform.
Klaviyo
Just like SendinBlue, Klaviyo got into the scene in 2012, but it was guided by a different objective. The principal goal was to power businesses with tools for unique one-to-one marketing. In short, therefore, Klaviyo tends to focus largely on personalization.
Now, to achieve that, Klaviyo combines features like audience segmentation, analytics (including Google Analytics integration), third-party API integrations, and automation for ecommerce store platforms. You can use these for your email marketing as well as social media advertising campaigns.

How?
Well, for starters, you can take advantage of its integrations to connect the whole Klaviyo platform to your e-commerce ecosystem. This will centralize your data, consequently setting up a framework for deep consumer analytics based on your customers' behaviors.
The resultant insights then come in handy for targeted and personalized email marketing campaigns. You can even segment your customers according to their purchasing patterns and interests, among other relevant parameters.
With such provisions, Klaviyo targets small and medium-sized businesses stretching from 250 to over 1,000,000 contacts. What you end up paying each month, as a matter of fact, fundamentally depends on your contact list size. You can use the service for free or pay as high as thousands of dollars.
Verdict – SendinBlue and Klaviyo Overview
SendinBlue and Klaviyo were launched in the same year. And it goes without saying that they both target users in the small to the mid-sized business bracket. However, while SendinBlue attempts to provide affordable automation tools, Klaviyo prioritizes immensely on personalization.
That notwithstanding, it turns out you can use both SendinBlue and Klaviyo for free. See the pricing section of this article for the free features you get on each service.
Well, all things considered, SendinBlue and Klaviyo are seemingly effective when it comes to automated messaging. They've both included a range of powerful email marketing resources in their feature kits. But, we can only tell the better option after diving deeper and judging the two based on their respective capabilities.
So, let's take a look at their distinct features.
SendinBlue vs Klaviyo – Main Features
Ease of Use
SendinBlue Ease of Use
Considering SendinBlue was created for small and mid-sized business, it's very satisfying that they've designed their user interface to be simple and understandable. SendinBlue comes with a minimalistic layout that you can easily navigate through, plus straightforward options for quick understanding.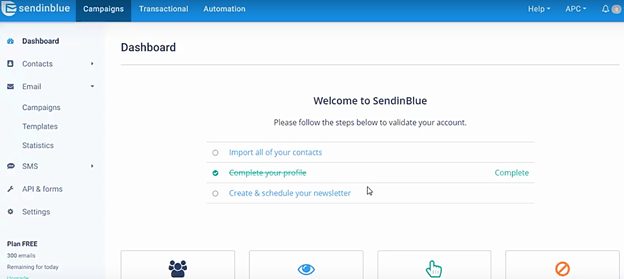 The top main menu, for instance, provides direct access to SendinBlue's contact management, transaction emails, automation and campaigns areas. Then the sidebar menu, on the other hand, allows you to easily switch between settings, statistics, Facebook ads, SMS, templates, and emails.
If you intend to set up an email campaign, you can start off by clicking on the new campaign button on the dashboard. SendinBlue will then assist you through the whole process by systematically taking you step by step.
The first one is all about the primary campaign details. So, you'll begin by specifying stuff like the campaign name as well your email subject.
After that comes the email design stage. I consider this the fun part because of the intuitive design tool provided by SendinBlue.
Once you've handled that, you can go ahead and enter your email recipients, then perhaps send yourself a test email, before finally releasing the email to your actual leads. It really is that simple.
Then for subsequent quick follow-ups, SendinBlue provides key analytics on the dashboard. Consequently, you should be able to keep tabs on your campaigns as soon as you log into the system.
Klaviyo Ease of Use
Interesting, the Klaviyo dashboard looks a lot like SendinBlue's. It provides an overview of campaign performance plus menu options for direct access to the key areas of the platform. Some of the functions you'll see laid out sequentially along the sidebar menu include email forms, image library, contact profiles, lists and segments, email templates, automation flow, and campaigns.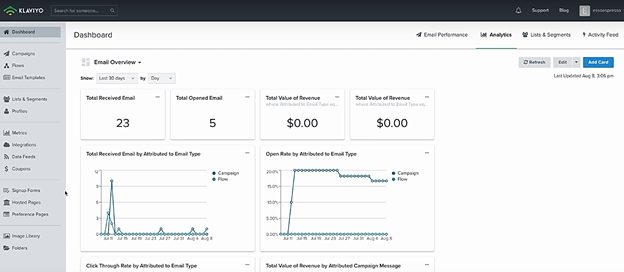 Well, I bet you can already guess what every single one of them means. So, of course, there's no learning curve here when it comes to navigating between the principal areas.
And come to think of it, setting up as well as customizing email campaigns on Klaviyo doesn't take much either. Even beginners can handle all that without any major challenges.
Designing an email, for instance, is super easy thanks to Klaviyo's intuitive WYSIWYG editor. Then to top it off, Klaviyo provides a wide range of email templates for increased convenience. A standard email, therefore, should only take you a couple of minutes.
However, things might start getting a bit complicated when you start creating automation flows. Although the layout is structured to be simple and straightforward, you might need some marketing expertise if you intend to set up flows with dynamic conditions.
Verdict – SendinBlue and Klaviyo Ease of Use
It just so happens that SendinBlue and Klaviyo have designed their dashboard layouts to look almost identical. The framework is pretty similar – both dashboards display key campaign insights alongside the primary menu options.
While you might be able to spot additional similarities as you navigate further, SendinBlue and Klaviyo have numerous variations here and there. But, all in all, their systems are pleasantly simple and straightforward. Even beginners should have an easy time because there's seemingly no learning curve.
So, we can agree that it's a draw in the SendinBlue vs Klaviyo Ease of Use round. Each one of them scores high points.
Contact Management
SendinBlue Contact Management
As you start off your email marketing journey, the first thing you'll need, of course, is a list of contacts to mail. Thankfully, SendinBlue comes with pretty much all the crucial contact management capabilities.
Adding contacts, for example, takes only a couple of clicks within the Contacts section. You can then proceed to group them into folders plus lists, and then define your sorting properties, as well as custom filters.

It's worth noting that the contact lists here go beyond the standard static functionalities. SendinBlue also provides dynamic lists in case you'd fancy automatic list updates in real-time. And yes, their corresponding parameters are set by users.
While you're working on that, you'll certainly enjoy the flexibility of SendinBlue's segmentation engine. It allows you to define your own rules for segmentation, and subsequently personalize your emails accurately. You can choose, for instance, to proceed with behavior-based segmentation along with socio-demographic grouping.
Now, the biggest challenge you might experience overall is importing contacts from external applications. SendinBlue, unfortunately, does not integrate its contact management function with third-parties. Your only option, therefore, is transferring all contacts manually.
When it comes to that, you might want to stick with either TXT or CSV file upload methods if you have a large mailing list already. Then to expand the resultant over the long haul, you can take advantage of SendinBlue's sign-up forms. They can be easily embedded onto your website.
Klaviyo Contact Management
Just like SendinBlue, Klaviyo is built to offer dynamic contact management functionalities. But, don't expect to find a Contacts menu option here. Instead, simply use the Lists & Segments area to manage your contacts.
If you're thinking about building a mailing list, Klaviyo offers various sign-up forms to integrate with your site. Consequently, you can have your leads enter their personal details, as well as consent to your emails and newsletters.
You might also consider supplementing the subsequent list with others you've possibly set up on other services. Klaviyo's integrations allow you to migrate contacts from third-party email services and even sync with them accordingly. However, if your previous service is not supported, you'll have to do the whole process manually via CSV.
And when you're done, you'll notice that Klaviyo provides a pretty comprehensive profile for every single contact. You can store and view a lot of contact information, most of which is updated automatically as you continue using the system to engage your leads.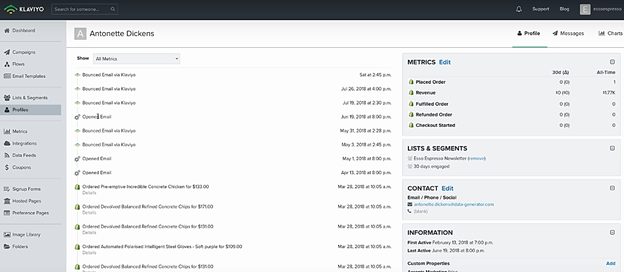 Interestingly, Klaviyo doesn't stop there. It goes ahead an applies predictive analytics on every single contact to give you the much-needed insight into stuff like expected order date, lifetime value, and churn rate.
Well, if that doesn't impress you, the segmentation capabilities here might. Since Klaviyo is developed to enhance personalization, expect a powerful segmentation tool. It comes with a couple of default lists that you can customize freely, and even supplement with your own user-defined lists.
Verdict – SendinBlue and Klaviyo Contact Management
Contact is to SendinBlue as Lists & Segments is to Klaviyo. But despite their varying labels, the contact management functions on these services share a lot of similarities.
Both SendinBlue and Klaviyo, for instance, come with sign-up forms to help you grow your mailing list progressively. You can also upload contacts in bulk via CSV, plus segment them with custom static and dynamic lists for email personalization.
But, while Klaviyo is capable of connecting with a few other email services to migrate and sync contact information, SendinBlue can only handle manual importing. Consequently, you'll be forced to first download contacts from your previous email platform, before uploading the file to your SendinBlue account.
Another area where Klaviyo outperforms SendinBlue is contact data management. It conducts predictive analytics automatically to provide critical insights about every single contact, based on their respective behaviors.
So, all in all, Klaviyo wins the SendinBlue vs Klaviyo Contact Management contest.
Email Templates
SendinBlue Email Templates
Admit it. Designing an email from scratch might sound like a simple undertaking at first, but it can turn out to be very challenging and time-consuming. Fortunately, SendinBlue comes with prebuilt HTML email templates to save you from that.
The number of templates here exceeds 200, and they're all adequately responsive. SendinBlue essentially helps you avoid coding by availing a wide range of attractive pre-designed email layouts.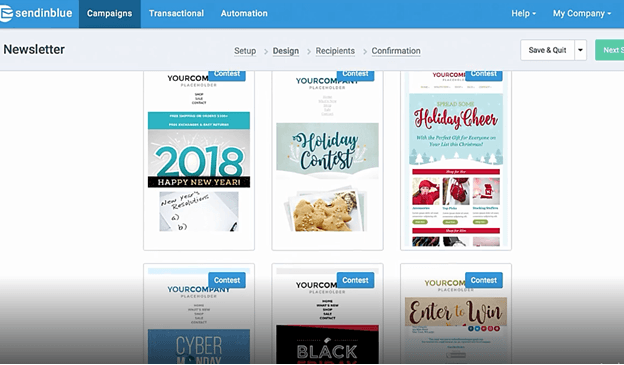 Consequently, you just need to choose an ideal template, and then customize it based on your preferences, before sending the whole thing as an email.
It doesn't end there though. If the array of SendinBlue email templates just won't cut it, you can search for additional options from external platforms. Some of the popular marketplaces for compatible templates include EmailOnAcid, Litmus, and Stripo.
Klaviyo Email Templates
Klaviyo seemingly understands the struggles of email building too. And as a result, it offers its own HTML email templates to help you get your campaigns up and running in no time.
They range from typical newsletters to marketing emails, as well as holiday-themed emails, birthday emails, educational emails, etc. You're bound to find all the popular email categories.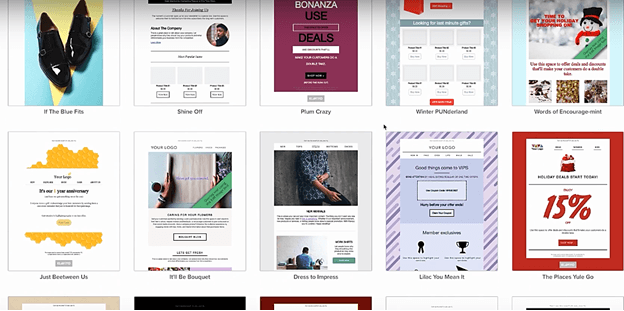 Sadly, you don't get many design variations because Klaviyo has only created a little over 50 email templates. On the bright side, however, at least they are all responsive, attractive and very customizable.
Verdict – SendinBlue and Klaviyo Email Templates
The process of creating well-designed emails on SendinBlue and Klaviyo is a breeze, thanks to the pre-built templates they offer. Both solutions attempt to provide responsive and customizable templates for all the types of emails that businesses typically send to their leads.
But, although Klaviyo has done a pretty good job on its templates, it can't match up to what SendinBlue has set up so far. The latter comes with over 200 options while the former plays around 50.
And that makes SendinBlue the winner of the SendinBlue vs Klaviyo Email Templates round.
Email Design Tools
SendinBlue Email Design Tools
SendinBlue is remarkably flexible when it comes to designing emails. While most email marketing solutions come with a single standard email editor, SendinBlue has gone ahead and developed an additional one. Cumulatively, therefore, SendinBlue offers two email design tools.
The first one, and arguably the most commonly used option, is the drag and drop email builder. Users predominantly prefer it because of its simplicity and responsiveness.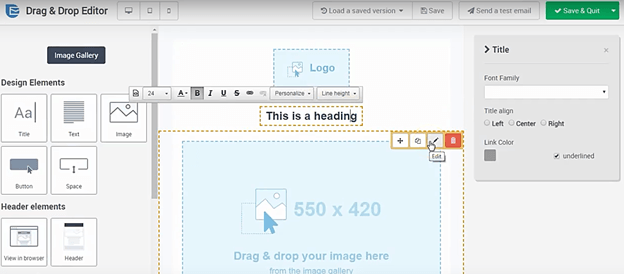 In essence, it eliminates coding from the email building process, consequently allowing you to design unique emails without any technical expertise. Simply choose a suitable pre-built email template, and then customize it by dragging and dropping elements on the layout.
You can, for example, arrange objects on the layout, delete unwanted elements, plus introduce additional items like text or images. And if you happen to add images, then drag and drop editor allows to further customize attributes like contrast, brightness, orientation, size, and much more.
Well, that sounds like one heck of a flexible email builder. But, interestingly, it just so happens that its customization capabilities cannot match up to SendinBlue's alternative WYSIWYG HTML editor.
This second designing tool allows users to dive deep into the templates' HTML code, and customize them extensively. In short, it's what you'd need to achieve a completely custom email layout. Sadly, however, only skilled HTML coders can work with it.
Klaviyo Email Design Tool
Compared to SendinBlue, Klaviyo takes a more streamlined approach when it comes to designing emails. It offers one email design tool – the Klaviyo drag-and-drop tool, or in short, the WYSIWYG editor.
Well, going by that, you should be able to guess what it entails. It's basically a standard drag and drop template editor with a WYSIWYG display. In other words, Klaviyo relies entirely on an email builder that handles everything graphically without any form of coding.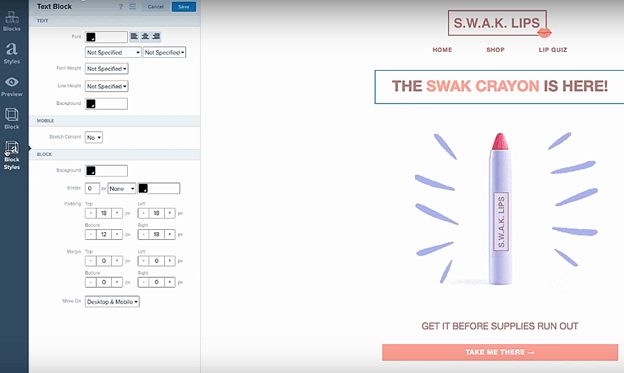 The good thing about this is that it simplifies the whole process of customizing templates. You can quickly come up with beautifully-designed emails by dragging a couple of layout blocks and adding relevant content.
Now, the most critical step here is selecting the base template. You should evaluate your options carefully if you intend to choose the best-designed template for your campaign. Then subsequently, Klaviyo's drag-and-drop editor comes in handy for tweaking elements like images, social links, color, buttons, columns, text, etc.
In the end, you'll be able to send emails with layouts that in addition to looking gorgeous, they can automatically adapt to their recipients' devices.
Verdict – SendinBlue and Klaviyo Email Design Tools
SendinBlue and Klaviyo have both built simple but responsive drag-and-drop email editing tools. After selecting an ideal template, each of these builders allows you to customize your template's layout plus content.
And to keep things simple, the editing is done through intuitive graphical interfaces without any form of coding. The entire process, in a nutshell, entails dragging and dropping elements, as well as defining their basic attributes.
Coding only features when we shift to SendinBlue's WYSIWYG HTML editor. Unlike the drag-and-drop builder, this specific one supports unlimited customization.
So, with two solid email designing tools, SendinBlue emerges the winner of the SendinBlue vs Klaviyo Email Design Tool round.
Email Automation
SendinBlue Email Automation
SendinBlue's email automation function is essentially engineered to simplify the process of creating workflows for automating typical email sequences.
Right off the bat, you'll notice it comes with about 8 predefined templates for basic workflows – product purchase, website visit, page visit, abandoned carts (cart abandonment – great for Shopify integration and works with other Shopify apps), birthday message, welcome message, plus activity-based templates.

Make no mistake though. These default workflows are not static. You can freely tweak them to redefine their rules for other tasks. The choice of yours.
Now, if you decide to proceed with your own custom workflows, SendinBlue gives you the freedom of laying four foundations. You could base the workflow on either a contact who happens to visit your site, a contact who enters their form info, a contact who completes a site or email activity, or simply an undefined contact.
After setting up the ideal group of contacts, you should create a sequence with "if/then" rules to govern the corresponding flow of automation. If a contact responds to your email, for instance, they should automatically receive a specific pre-determined follow-up message or offer.
Your options here are endless because SendinBlue does not cap the number of workflow activities. You can introduce as many as you want, especially if you're dealing with a wide range of email audiences. But, remember SendinBlue places restrictions on the number of emails you can send from your account.
That said, SendinBlue relies on its plugins to integrate with e-commerce platforms and track contact activities on your website. It can pick up basic e-commerce actions like product purchases, product browsing, as well as abandoned carts. Then subsequently, it'll send automated emails based on your workflow conditions.
And that's how simple this automation engine is. Hence, marketing beginners are bound to enjoy the ease of setting up workflows with SendinBlue.
However, advanced marketers might have difficulties coping with their limited capabilities. You can't, for example, run your automation workflows through A/B testing or embed search marketing.
Klaviyo Email Automation
While Klaviyo's email automation engine offers a range of powerful functionalities, there are two specific features that set it apart from the rest.
The first one is its pre-built automation templates. It turns out Klaviyo has a neat library that features a host of workflows for pretty much all the basic contact actions you can think of. The point of this, of course, is to help you quickly set up a complete automation system, without worrying about the accompanying intricacies.
That said, the second outstanding bit is increased automation accuracy, thanks to Klaviyo's powerful analytics. You could use the rich amount of contact data compiled by Klaviyo to create an airtight workflow with well-optimized conditions.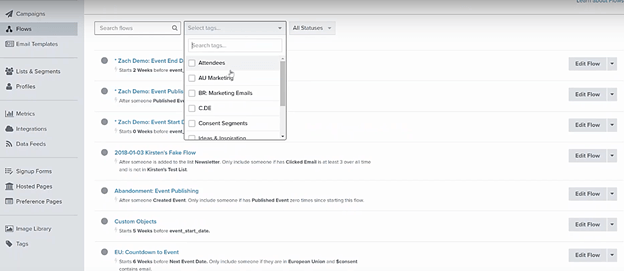 Speaking of which, Klaviyo's automation engine can be set to trigger emails based on contact actions on your website, when a contact is added to a specific segment, or when a contact opts into a list.
Using any of these parameters, you can start creating your own workflow from scratch. But since that would take a lot of time, it's always advisable to customize a prebuilt template instead. Finding an ideal one should be easy since Klaviyo's library attempts to cater to nearly every user activity.
Once you've made your choice, you'll be able to edit your workflow template through a simple graphical drag-and-drop interface. The end result should be a systematic visual canvas showing every single step of the entire automation framework.
Well, while you're at it, it's worth noting that Klaviyo allows you to even design emails directly from the workflow builder. Apart from adding, removing, and tweaking emails, you can choose the specific ones you'd like to set "live".
And in case you want to a more dynamic approach, Klaviyo can comfortably accommodate advanced segmentation. You can, for example, divide a flow to establish parallel paths based on your contacts' past activities.
Verdict – SendinBlue and Klaviyo Email Automation
SendinBlue and Klaviyo offer flexible email automation systems, whose conditions and triggers can be configured. While it's possible to create your own workflow from scratch, both services offer prebuilt customizable templates to make everything easier.
However, the numbers are not the same. Klaviyo substantially outshines SendinBlue by providing way more diverse options, particularly for ecommerce store owners and Shopify store instances. Then since Klaviyo relies on a drag-and-drop flow builder, you're bound to have an easier time with it compared to SendinBlue's flow editor.
Overall, it's fairly obvious that Klaviyo can handle advanced automation workflows, while SendinBlue restricts its features to keep things simple. And that makes Klaviyo the winner of the SendinBlue vs Klaviyo email automation contest.
SendinBlue vs Klaviyo: Pricing
SendinBlue Pricing

Free Plan – Permanently €0 per month
Unlimited contacts
300 emails per day
Lite Plan – €19 per month billed monthly or €15.20 per month billed annually
No daily sending limit
All Free Plan features
40,000 emails per month
Essential Plan – €29 per month billed monthly or €23.20 per month billed annually
Advanced statistics
No SendinBlue logo in emails
All Lite Plan features
60,000 emails per month
Premium Plan – €49 per month billed monthly or €39.20 per month billed annually
Marketing automation
Landing pages
Facebook ads
All Essential Plan features
120,000 emails per month
Enterprise Plan – Custom quote
Priority customer support
Dedicated account manager
All Premium features
Klaviyo Pricing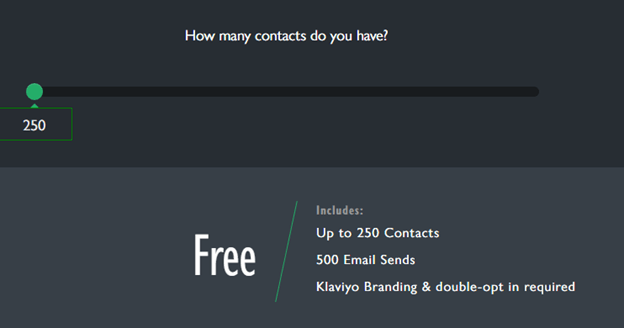 Free – $0 per month
Klaviyo branding
500 emails
Up to 250 contacts
Up to 300 Contacts- $20 per month
Email and chat support
Unlimited emails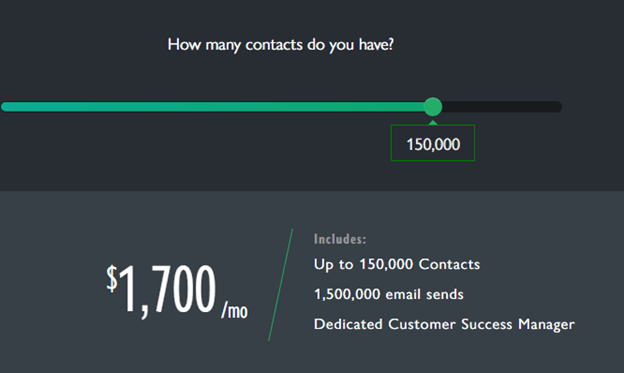 From this point, the pricing increases sequentially as the contact numbers expand – to $1,700 per month for 150,000 contacts. Beyond that, Klaviyo employs a quote-based pricing schedule that stretches past a million contacts.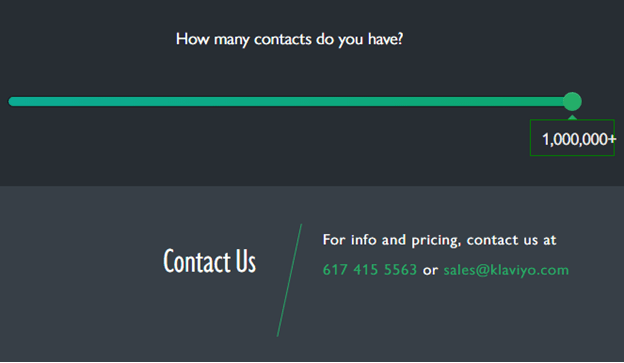 The standard features, on the other hand, remain constant on all the packages.
Our Pick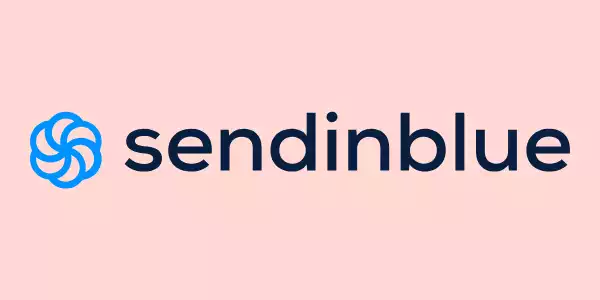 I Personally Prefer Sendinblue
You might not have heard about Sendinblue, but you SHOULD. It has the big box API tools of a SendGrid, the sales automation of an ActiveCampaign, but the user-friendliness of a ConvertKit. Plus, it's relatively cheap in comparison to each.
Try Sendinblue Here
Save 50% for Black Friday!
We earn a commission if you click this link and make a purchase at no additional cost to you.
SendinBlue vs Klaviyo: Which Marketing Platform is Better?
To sum up everything….
| | |
| --- | --- |
| Overview | SendinBlue and Klaviyo are used by small and mid-sized businesses. SendinBlue principally seeks to provide reasonably-priced automation tools for email marketing. Klaviyo primarily focuses on providing powerful tools for personalized email marketing. SendinBlue and Klaviyo offer free packages for beginners. SendinBlue and Klaviyo are both reliable when it comes to email marketing automation. |
| Ease of Use (Tie) | The dashboards on SendinBlue and Klaviyo have almost similar layouts. The dashboards show critical campaign analytics alongside the main menu functions. SendinBlue and Klaviyo's user interfaces are both neat, extremely simple, and well-laid out. There's no clear winner when it comes to ease of use. Both solutions are impressively easy to use. |
| Contact Management (Winner – Klaviyo) | Klaviyo's contact management functionalities are built into the Lists and Segments area, while SendinBlue's are offered through the Contact area. Both SendinBlue and Klaviyo offer sign-up forms, bulk importing via CSV, plus user-defined static and dynamic contact segmentation. Klaviyo can sync with and transfer contact details from a couple of third-party email services. The process of uploading contacts to SendinBlue is entirely manual. Klaviyo automatically analyzes contact data and the corresponding contact behaviors to generate predictive insights. Although SendinBlue's contact management features are fairly decent, Klaviyo's are far more dynamic. |
| | Both SendinBlue and Klaviyo come with a host of attractive and responsive pre-designed email templates that are easily customizable, like transactional emails for omichannel marketing. While SendinBlue offers 200+ template options, Klaviyo can only manage 50+. |
| | Both SendinBlue and Klaviyo have set up a straightforward drag-and-drop email design tool for graphical template editing without any coding. The drag-and-drop editors customize emails by dragging and dropping layout objects, tweaking their corresponding attributes, plus adding relevant content. SendinBlue offers yet another design tool, the WYSIWYG HTML editor, for code-based editing. It accommodates extensive customizations. |
| Email Automation (Winner – Klaviyo) | Email automation workflows on both SendinBlue and Klaviyo can be customized. You can capitalize on SendinBlue's or Klaviyo's workflow templates, or alternatively, create your own automation system from scratch. Klaviyo comes with more template options. Klaviyo automation is customized through a drag-and-drop interface. SendinBlue's email automation engine is designed with a minimalistic approach, while Klaviyo's is dynamic enough to handle advanced split flows. |
Your thoughts? Which of these two email marketing solutions would you choose – SendinBlue or Klaviyo?
Bottom Line: I personally lean towards going with the easier to use and more affordably priced Sendinblue here. That said, Klaviyo is not a bad option either.
Our Pick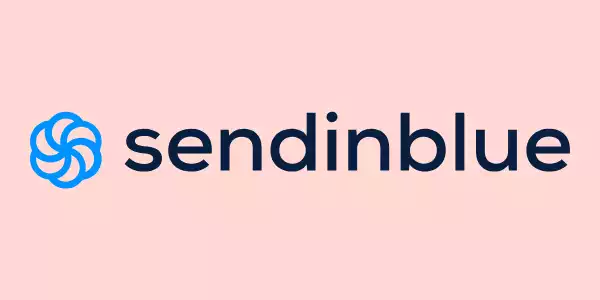 I Personally Prefer Sendinblue
You might not have heard about Sendinblue, but you SHOULD. It has the big box API tools of a SendGrid, the sales automation of an ActiveCampaign, but the user-friendliness of a ConvertKit. Plus, it's relatively cheap in comparison to each.
Try Sendinblue Here
Save 50% for Black Friday!
We earn a commission if you click this link and make a purchase at no additional cost to you.
Here are some other related articles you may be interested in: