Last Updated on June 21, 2023 by Ewen Finser
Are you thinking about setting up an online business? You have come to the right place. Our Kartra Review will give you a rundown of all the main features, pros and cons and factors to consider when making your decision.
If so, it could be a great decision: according to one study , 96% of Americans have made an online purchase in their lifetime, with 80% making a purchase in the past month alone. That's an incredible amount of customers you could be reaching (and sales you could be making) with your marketing efforts, specially with the help of a tool such as the Kartra membership.
But where do marketers start?
In our Kartra review, we'll be checking out this digital marketing tool that promises to do it all – from product creation to email marketing to lead managing to page creation – simplifying the process, so you don't have to sign up to lots of different services or different platform or software to get everything done.
Kartra Review: The Main Features of Kartra

Launched in 2018 by Mike Filsaime (proflific ecom entrepreneur), Kartra is a neat online business platform that allows you to create and market your eCommerce website without having to deal with digital marketing separately. A kind of Clickfunnels membership platform but all grown up. It was created by the people behind WebinarJam and EverWebinar, a popular webinar platform.
Kartra is a digital product that was designed to be easy to use, even for beginners – a complete package that takes a lot of the mystery and confusion out of online marketing automation.
Here's a quick overview of what they have to offer:
As a business owner, you can create an eCommerce store with a safe, secure cart and Kartra funnel
Upselling and downselling tools (Upsells and Downsells are a huge Kartra bonus) allow you to draw in new customers or encourage them to make more purchases
They have a digital Academy that teaches you all you need to know about the platform trough a Kartra tutorial and more.
Intuitive drag-and-drop page builder allows you to build your website even if you have no technical knowledge
Create marketing campaigns from scratch or choose from one of their many premade templates
Find and pursue leads using their lead management system
Create membership sites with their membership portal
Detailed analytics allows you to see clearly how your business is doing and how your customers are interacting with your site
Built-in affiliate marketing and affiliate management
Built in video platform allows you to see who is watching your videos and at what point they drop out
Calendar system lets you manage appointments and events
All of the above is interlinked, allowing you to use all of these features in harmony with each other
Signing Up to Kartra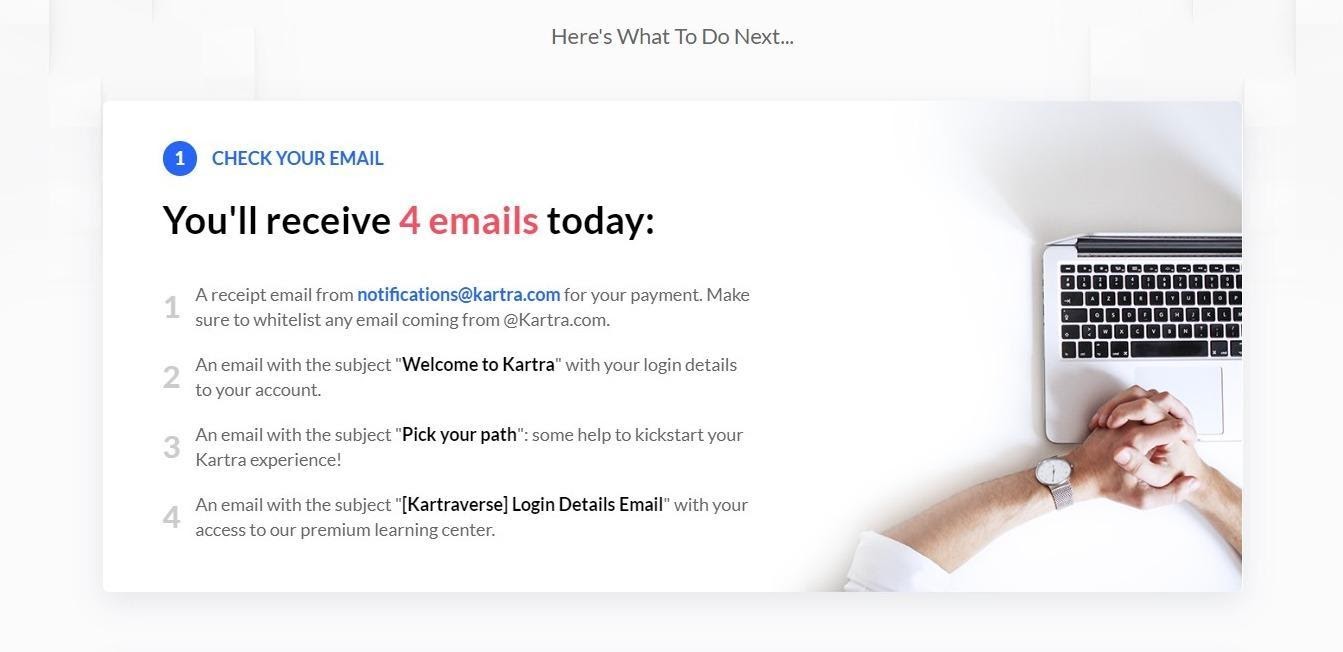 When you sign up for Kartra, you have the option of choosing a 14-day trial for $1. This allows you to test the platform before you commit to signing up to a plan.
They will send you four emails – one of these is the 'pick your path' email, which gives you some helpful hints about how to get started in the onboarding process. Another gives you login information for Kartra Academy (but more on that later).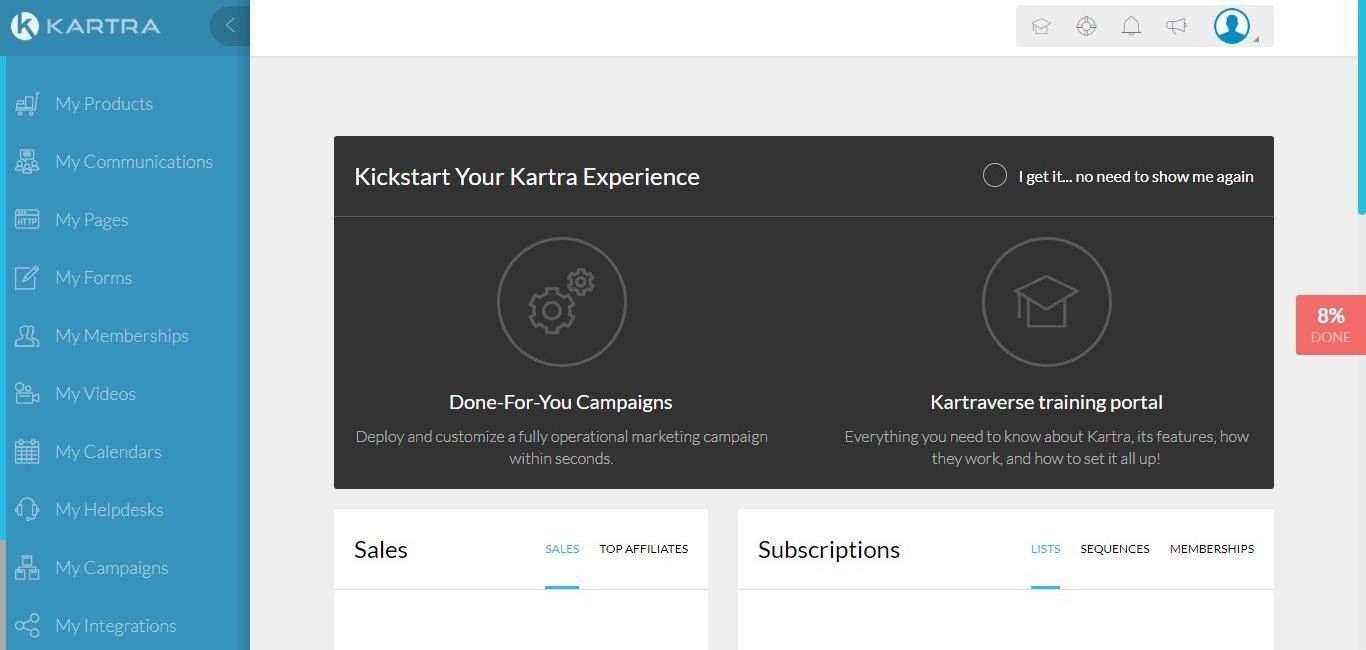 The Dashboard is fairly self-explanatory: the buttons on the left allow you to navigate through the sales marketing platform, and the area on the right shows you an overview of your sales and subscriptions. When you login for the first time, it plays a helpful video that shows you how to use the dashboard, as well as pointing out a beginner's tutorial that you can follow if you want to.
Checkouts
Kartra offers a secure shopping cart. They allow customers to pay via credit card or PayPal. They also offer one-click transactions – this is a great feature that will hopefully encourage more sales.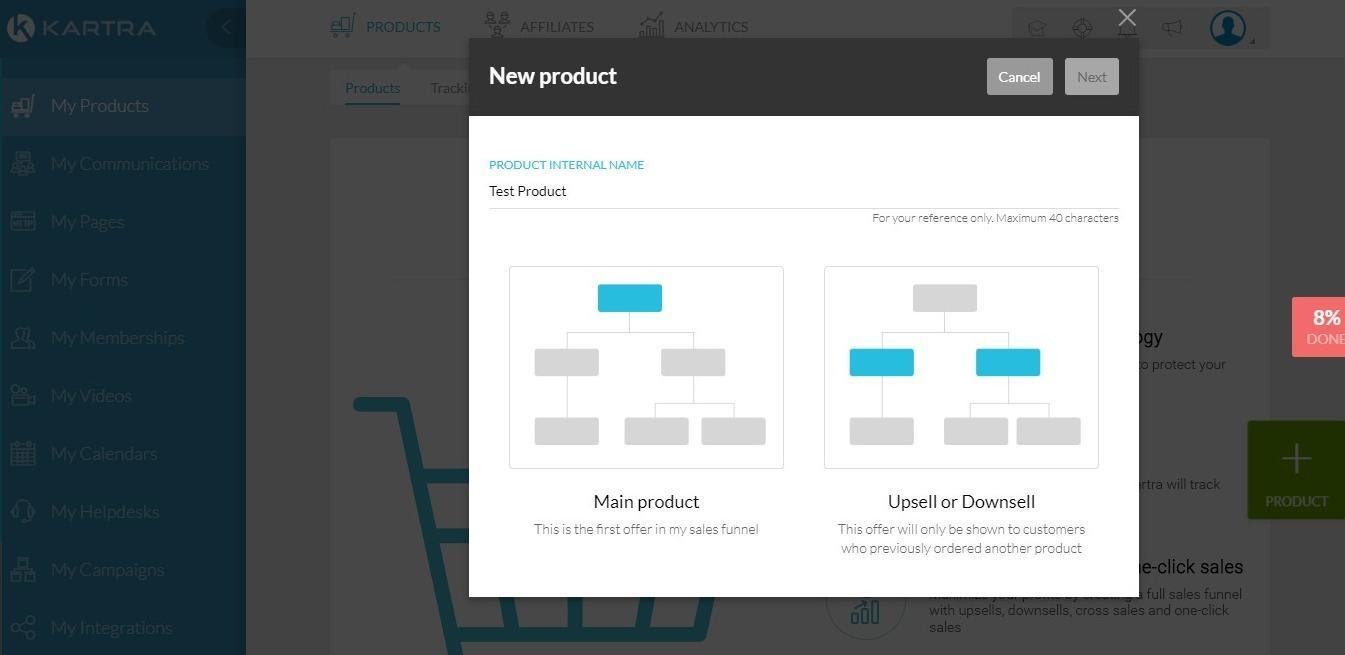 The green plus sign allows you to create a new product. You can choose from 'main product' or 'upsell or downsell' – these are products that you will offer to customers that have bought something from you before.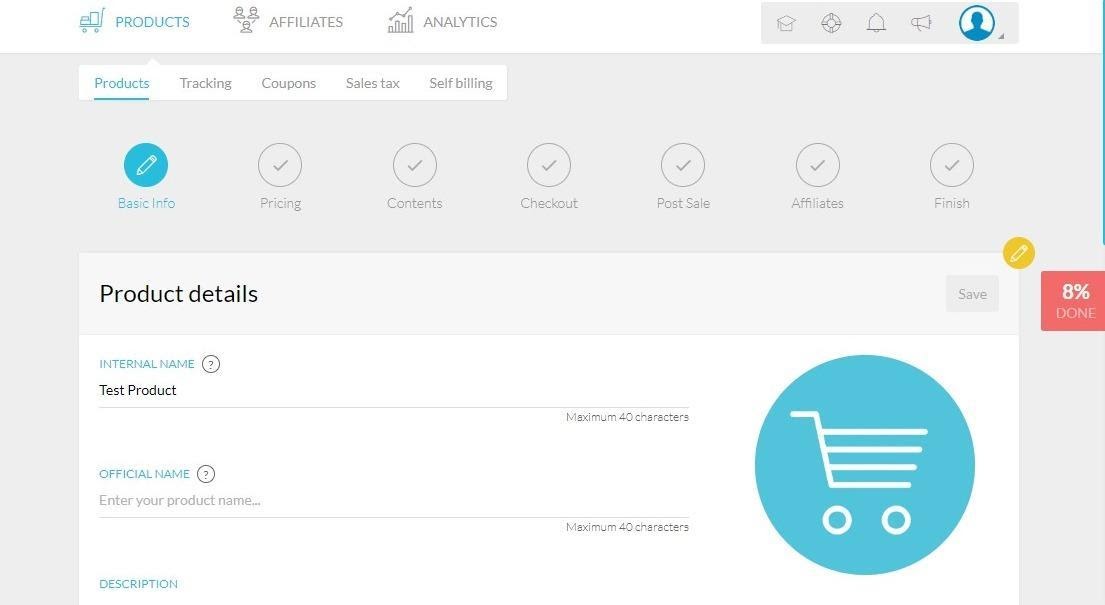 The product creation page is very intuitive and easy to use. It takes you through the process step-by-step. You can enter an 'internal name' for the product, as well as an 'official name' which will appear on the site. You can add an image, description, even a video.
You can add multiple price points – one-time payments, recurring payments, and installments. You can create special offers or free trials, if applicable. You can also select your refund policy and shipping arrangements, too.
Kartra allows you to set up a product page, as well as a thank you page (a post-sales funnel page). You can choose to link to an external page, but Kartra does have a page-builder for you to use.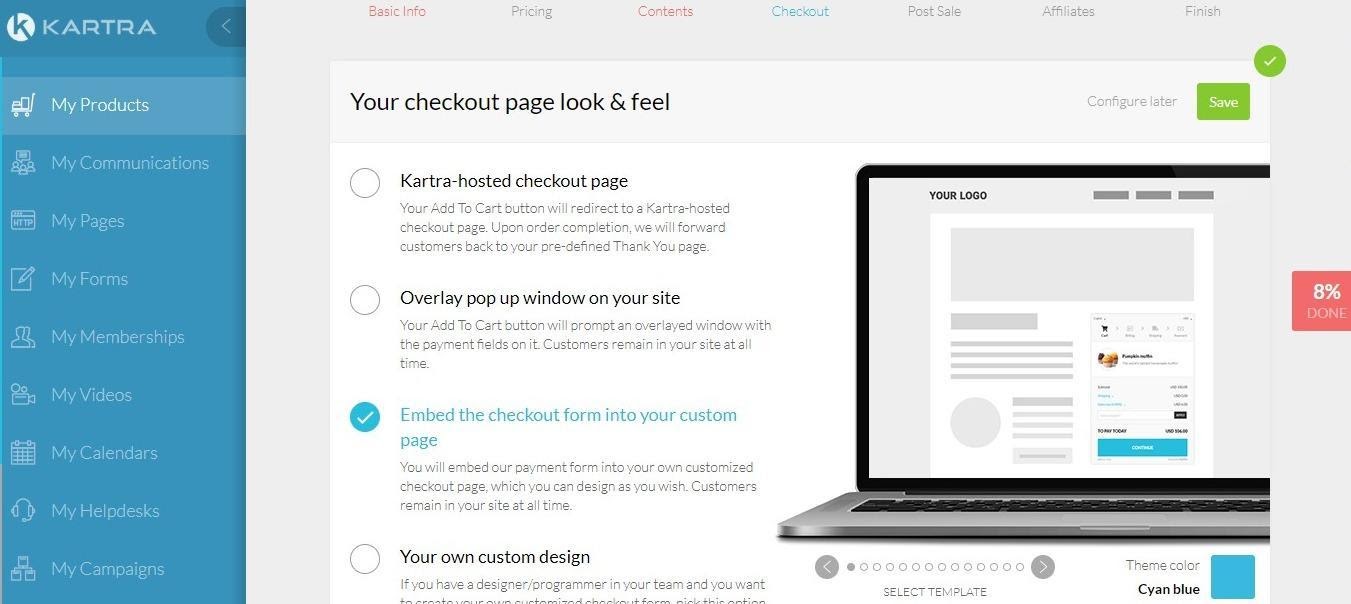 You can edit how your page looks here: you can add a logo, for example. You can also set languages, and set up a process for cart abandonment (for example, sending an email to a customer automatically when they abandon their cart). You can decide what happens with your customer's information here: for example, they can be automatically tagged or segmented or added to post-sale marketing automation campaigns.
Finally, the affiliate section allows you to set up your affiliate scheme, offering links to your affiliates which will give them commission if they get a sale.
It's a kind of lengthy process – but everything is straightforward, and it's great having the internet marketing tools built-in as you go.
What's great about Kartra is the upselling and down-selling: you can automatically present a second option to your customers as they checkout. Down-selling offers something of a lower value, to tempt them into buying. Hopefully, these options will land you more sales.
Pages
If you want to sell products, you need a website. You do have the option of linking your Kartra products to an external site – however, the page builder is pretty simple to use, and their premade templates are very extensive.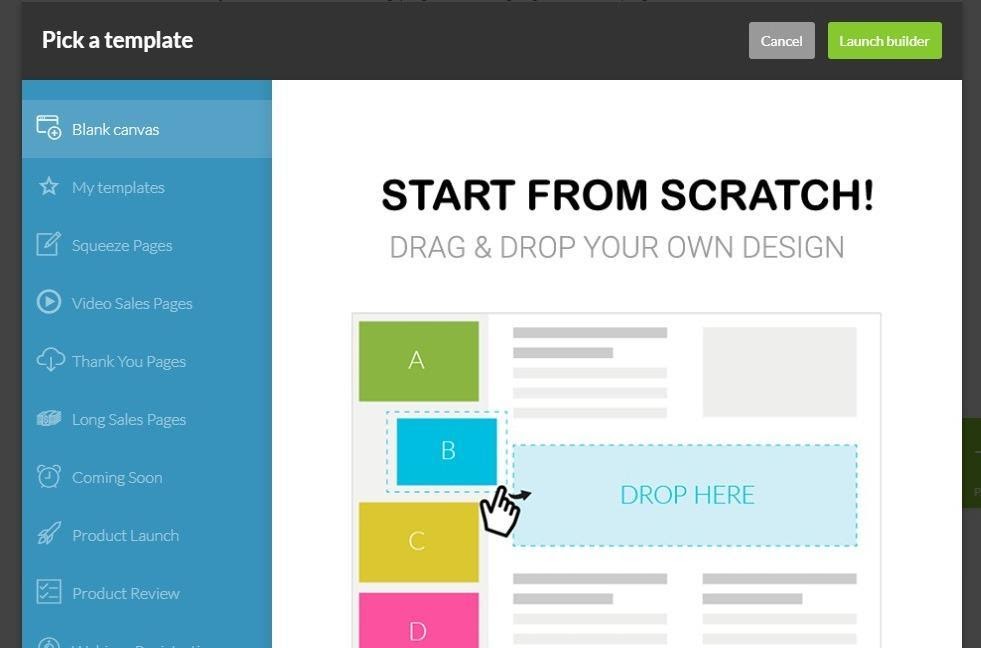 Their premade templates come in categories, which include:
Squeeze page
Video sales page
Thank you page
Long sales page
Coming soon page
Product launch
Product review
Webinar registration
Checkout pages
404 pages
Upsell pages
Membership login
Live event pages
Affiliate pages
Legal pages
Blog posts
Blog home
Obviously, not all of these will be applicable to your business, but you can see that they've thought about every eventuality – this is so helpful if you're starting from scratch. Each category has multiple themes to choose from, and they all look pretty professional. If you prefer, you can start with a blank template, making your own pages from scratch.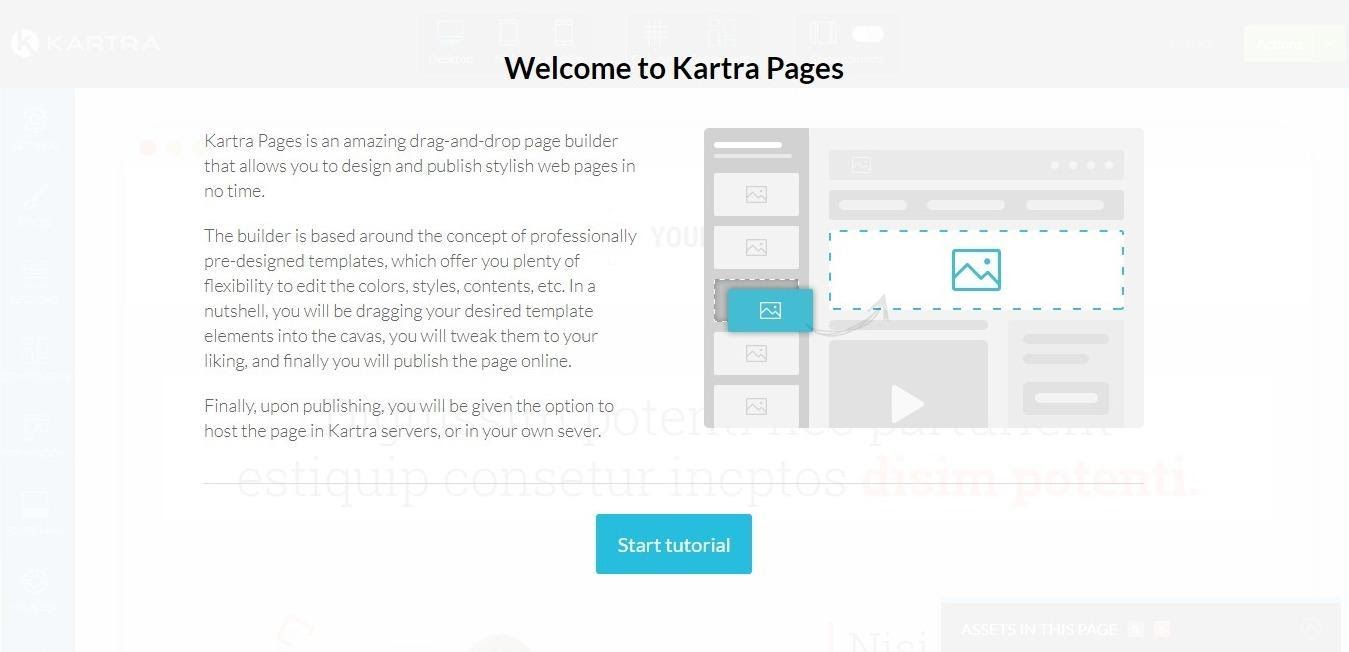 The template builder is a drag-and-drop affair, and it's pretty intuitive to use, although it does feel a little overwhelming initially. To combat this, Kartra offers a tutorial when you start, showing you the basics of how the template builder works.
It took quite a while to load when we tested it – this is a shame and could be an issue if you're using an older computer. However, once we got into it, we found it to be pretty straightforward. You can test how it looks on desktop, tablet, and mobile.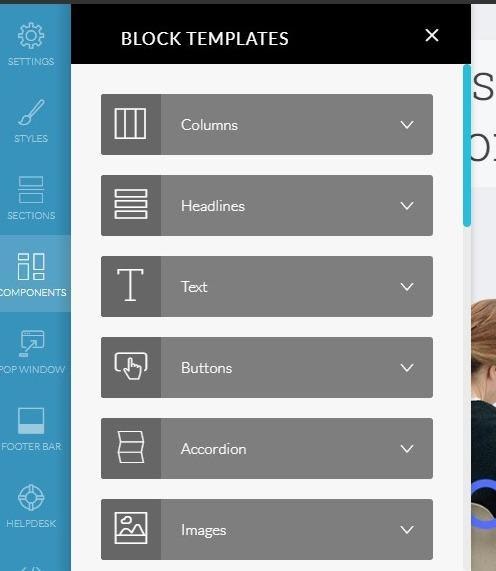 'Sections' allows you to change the structure of the page itself, i.e. where everything will go. 'Components' allows you to edit things within that structure. As you can see, you can add a lot of components: headlines, text, buttons, images, videos, countdowns, progress bars, opt-in fields, and more. It's a very powerful page builder, offering you tons of options, and the end result looks professional.
Leads
If you want to see your customers and understand more about them, Kartra enables you to do these marketing functions easily.
The example that they give on their website looks very informative: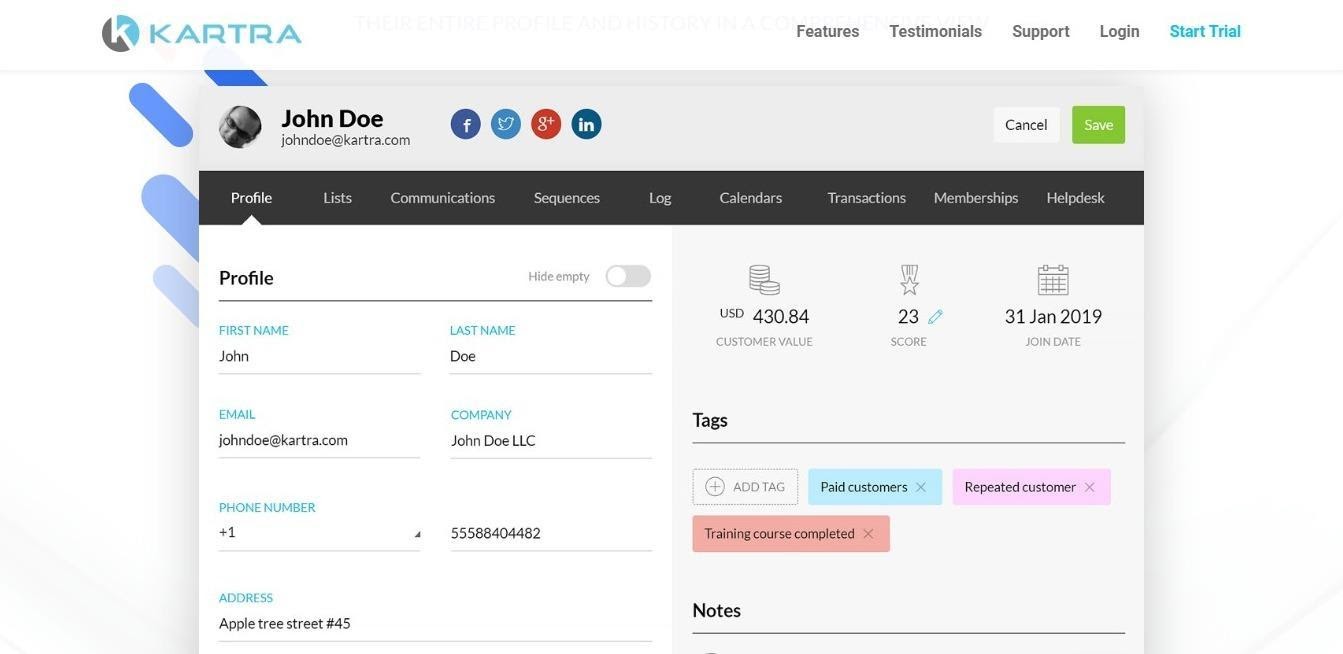 As well as being able to see their basic information, such as their contact details, you can also see how much they have spent with you, their lead score, when they joined, which tags you have assigned to them, and you can also add notes.
Being able to see this information so clearly is really useful, especially if you have more than one member of your team and you want to be able to access the same information.
The 'log' section allows you to see every interaction your customers have with you. We mean everything – from when they registered, to how many emails they've opened, to products they've ordered.
This is really one of the strengths of Kartra – it's all so easy to understand, and once you understand patterns of behaviour in your customers, you can make changes to encourage them to keep shopping with you. Managing customer relations is easy with Kartra.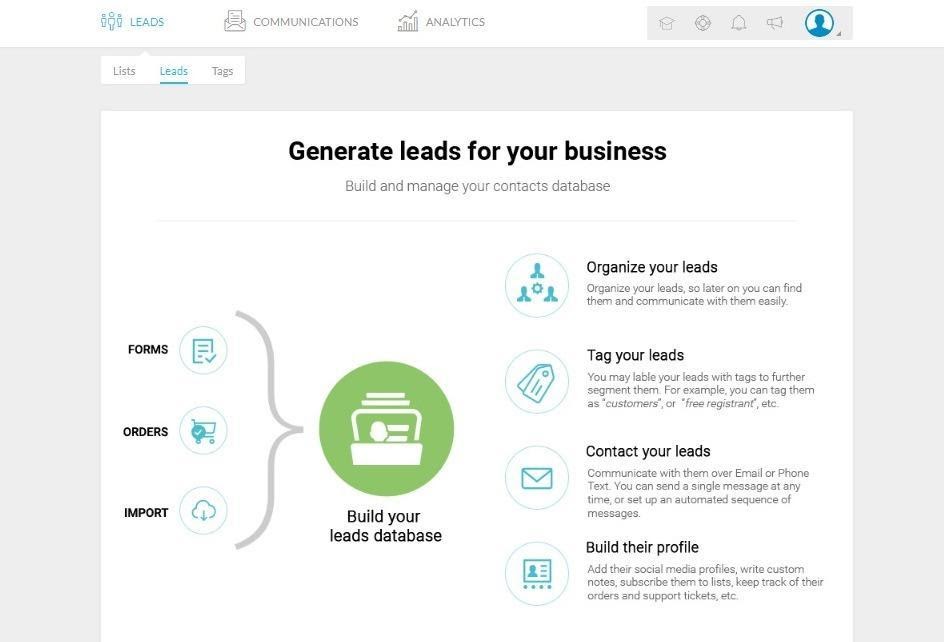 Lead tagging allows you to add custom labels to your leads – for example, 'prospects', 'VIPs', 'former customers' – this tagging allows you to send specific email marketing campaigns to them. For example, you could send an email campaign to a customer who hasn't shopped with you in a couple of months to try and tempt them back again.
Lead scoring gives each of your leads a 'score', a numerical value made up of the amount of interactions they've had with you. For example, clicking a link in an email could be 2 points – purchasing a product could be 5 points. Once they reach a certain amount of points, you can then start to market to them specifically. All of this is laid out very clearly on the Kartra platform, which is great.
They also allow you to import customers from another service – we weren't able to test this, but it is advertised as being a simple process.
Sales Funnels and Campaigns
Kartra offers a series of 'done-for-you' campaigns. These are designed to take the thinking out of your marketing – freeing up time and headspace for you to concentrate on other things.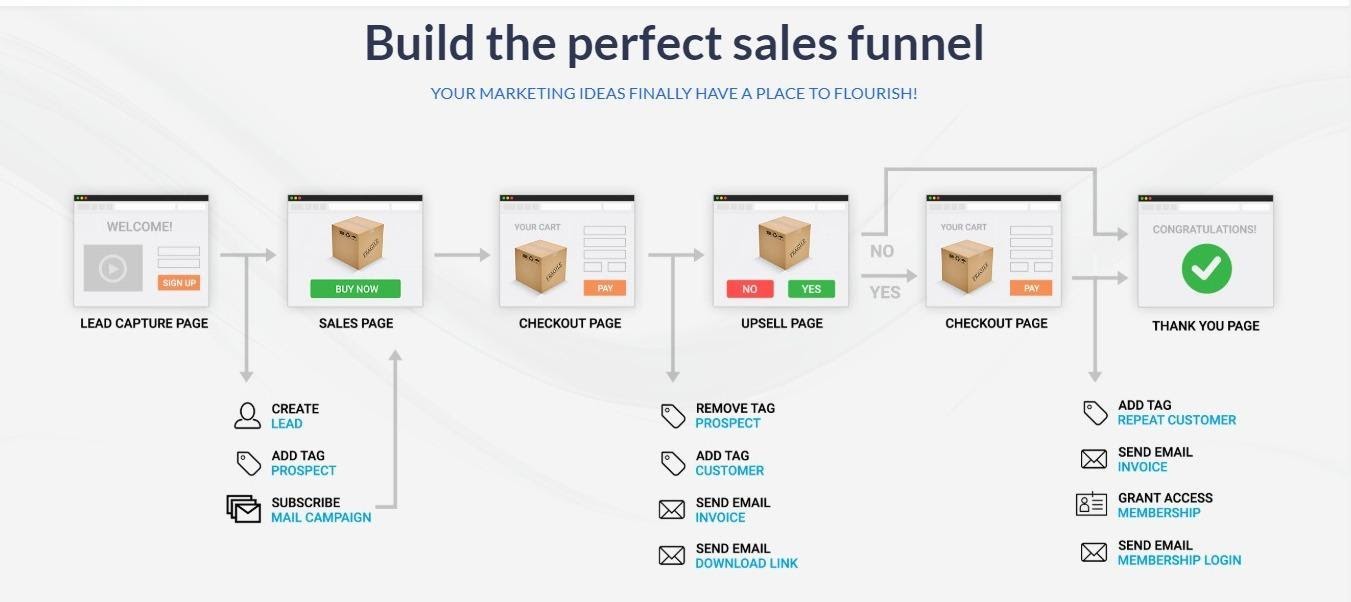 They have a simple drag-and-drop sequence builder. They encourage users to share their campaigns with others – they have a database of user-built campaigns for you to choose from, as well as their own templates.
They encourage you to upload a picture and a description for the campaign, or even a short video explaining it. This is a great idea – if you come up with a great marketing campaign that worked for your business, you can choose to share that strategy with others.
The campaign builder feels a bit overwhelming when you first startup, which is why the premade campaign templates are so useful. However, it's the area of Kartra where you can see how useful it is to have everything in one place.
Once you've set up your products and customer lists, you can easily create clever and specific campaigns. For example, if a customer buys a specific product, you can then have them automatically added to a specific mailing list.
This is a really basic idea, but you can build on it – for example, the email campaign could contain a voucher, later on, encouraging them to come back. You can get very creative with this if you are willing to invest the time into learning how it works.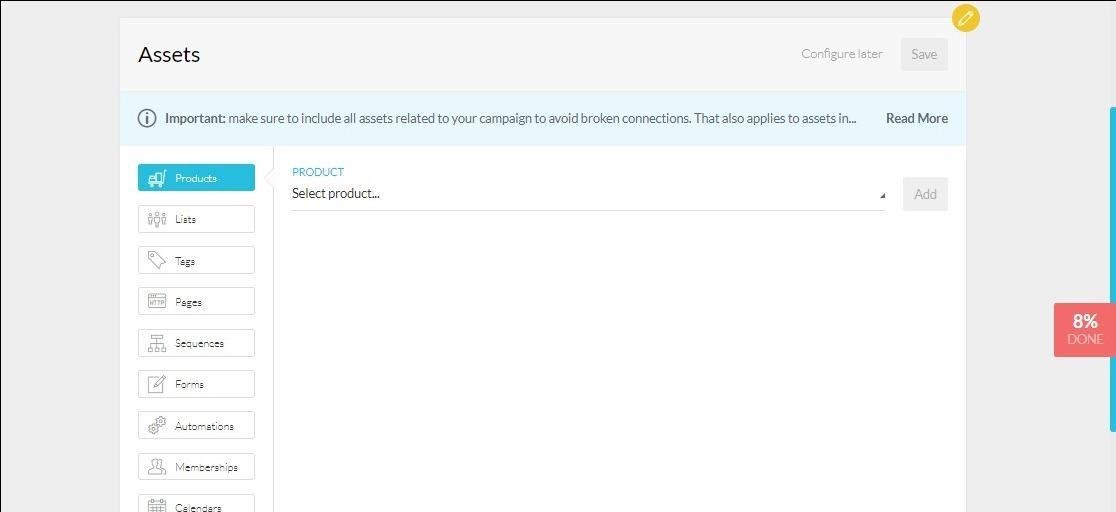 The 'done-for-you' campaigns are great. The ones we could see include:
Simple list builder – allows you to build a list using a 'freemium' download
List builder – allows you to build a list that sells a product
Quick Launch – designed for product launches
4-Day Cash Machine – make quick sales to an existing list
Book Funnel – uses a book to bring in customers
eShop Campaign – a catalog page for all your products
MasterClass Campaign – a webinar-style campaign
Agency Campaign – acquires agency clients from cold traffic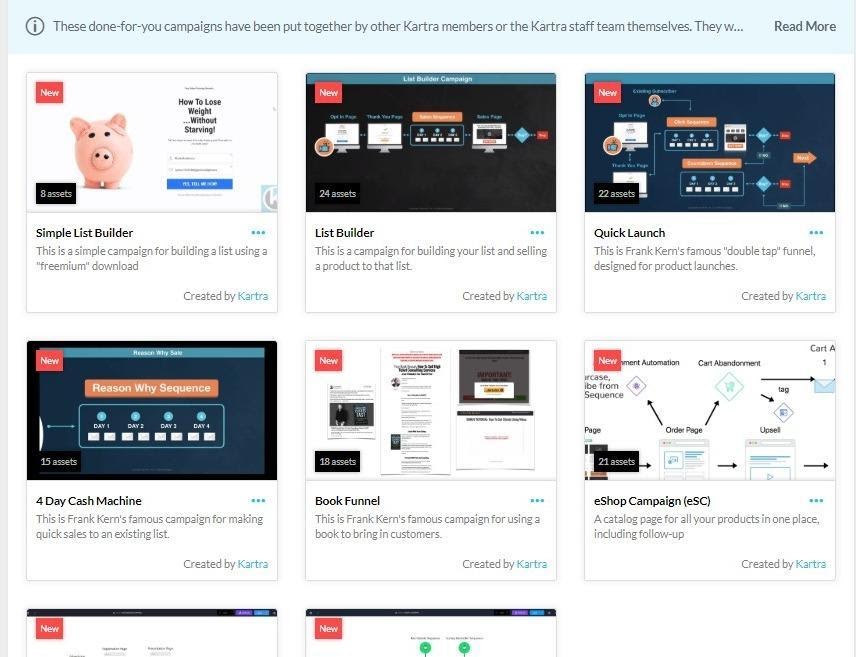 When you click on a premade campaign, you are taken to a video that shows you an overview of how it works. You can then click 'deploy', which activates the campaign. You can view the assets used in the campaign: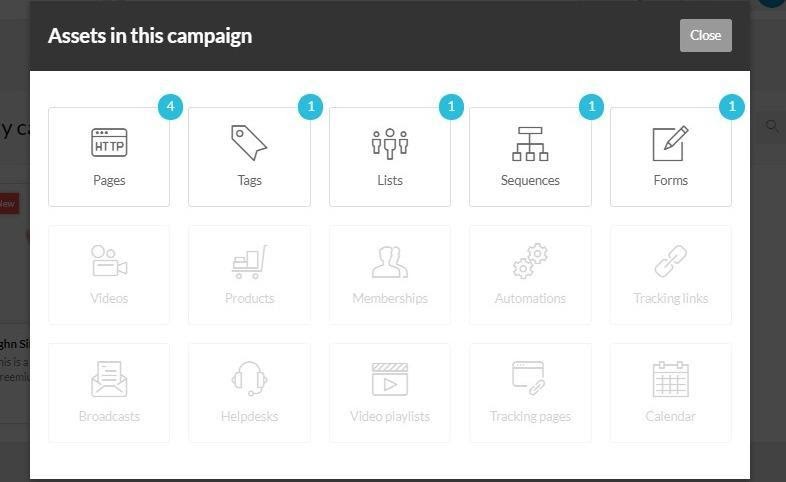 Like any kind of marketing automation platform, this does have a bit of a steep learning curve if you're not used to these kinds of tasks. However – if you can get the hang of it, you can see the possibilities. It does seem that they have thought of every eventuality in terms of campaigns and how you might want to reach your customers.
Communications
The 'my communications' section is where you can reach out to your customers.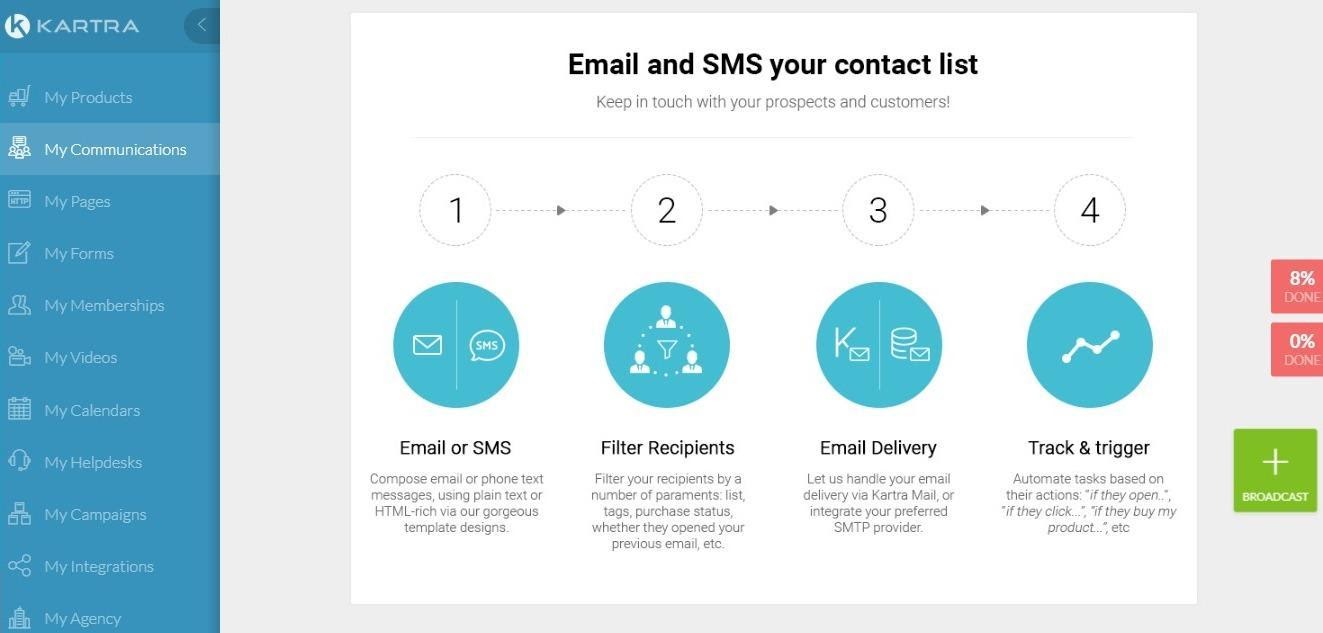 Have you ever had a timely SMS message from a company that has had you reaching for your wallet? A well-designed SMS/email marketing campaign can make a huge difference to your sales, and Kartra offers you the chance to create your own.
You can filter your recipients based on the tags that you give your customers, and you can also track the delivery and click-through rates. You can also set actions to trigger based on specific events, for example, 'if they open', or 'if they click'.
You can keep your broadcasts organized in categories, which is helpful over time if you're going to be creating a lot of them.
When you create an email, you can choose to create a single email or to begin an A/B split testing. This allows you to write different versions of the same email. The system will then track how well each email performs.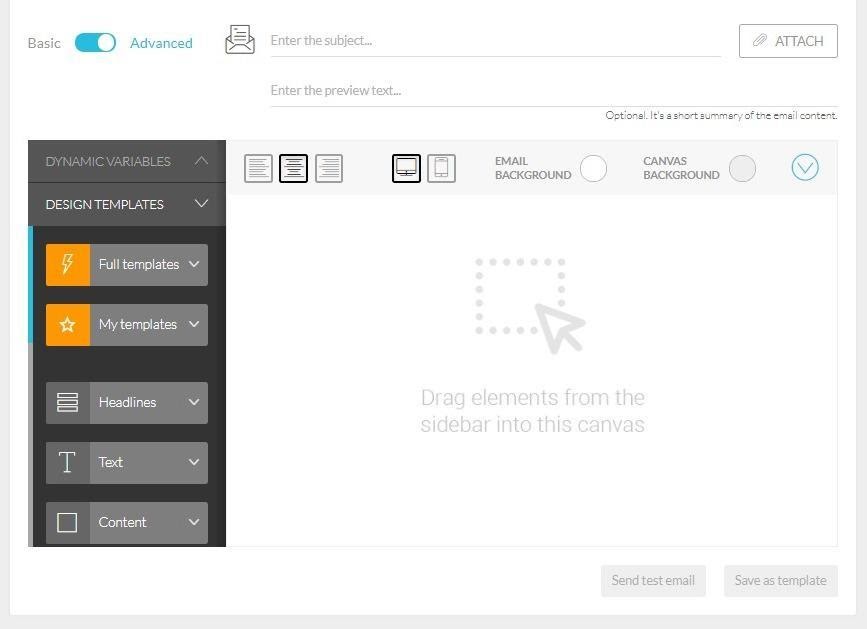 You can choose between a basic email editor and a drag-and-drop template builder. This is actually a good way of building emails, as you can choose from pre-made 'blocks' which you can drag from the sidebar into the email itself, editing it as you go along.
You can then select automation. This is a simple 'if/then' process – you choose an action that will trigger another action (for example: if a customer clicks through on an email, then you can assign them a new tag). There are quite a few options here: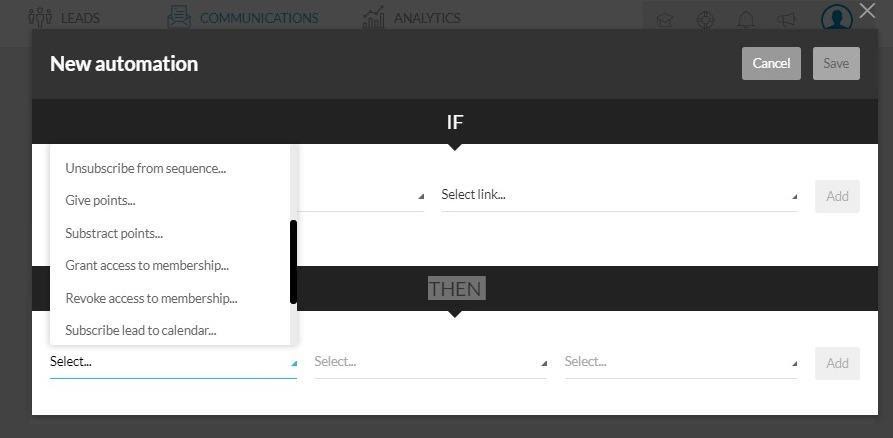 It's really handy having this in one place – Kartra lays it out in a way that makes it simple to understand.
Once you've set that up, you have the option of sending the broadcast, scheduling it, or saving it as a draft. Once you've sent ten broadcasts, Kartra will begin to offer you suggestions, like the best day and time to send emails to your customers.
Memberships
There are a few more features to tell you about – like the membership portal section.
Kartra enables you to set up membership sites. These are websites that allow access to certain customers (usually, they have to pay a fee to join, which gives them exclusive content). Membership sites are becoming more and more popular, and they're a great way to make a bit of extra income and engage your audience.
You can choose to have your website password protected or to allow access without a password (this is great if you want to offer some free content to followers).
The membership site builder works in a similar way to the Kartra page builder – on start-up, you will receive a quick run-through of how each feature works.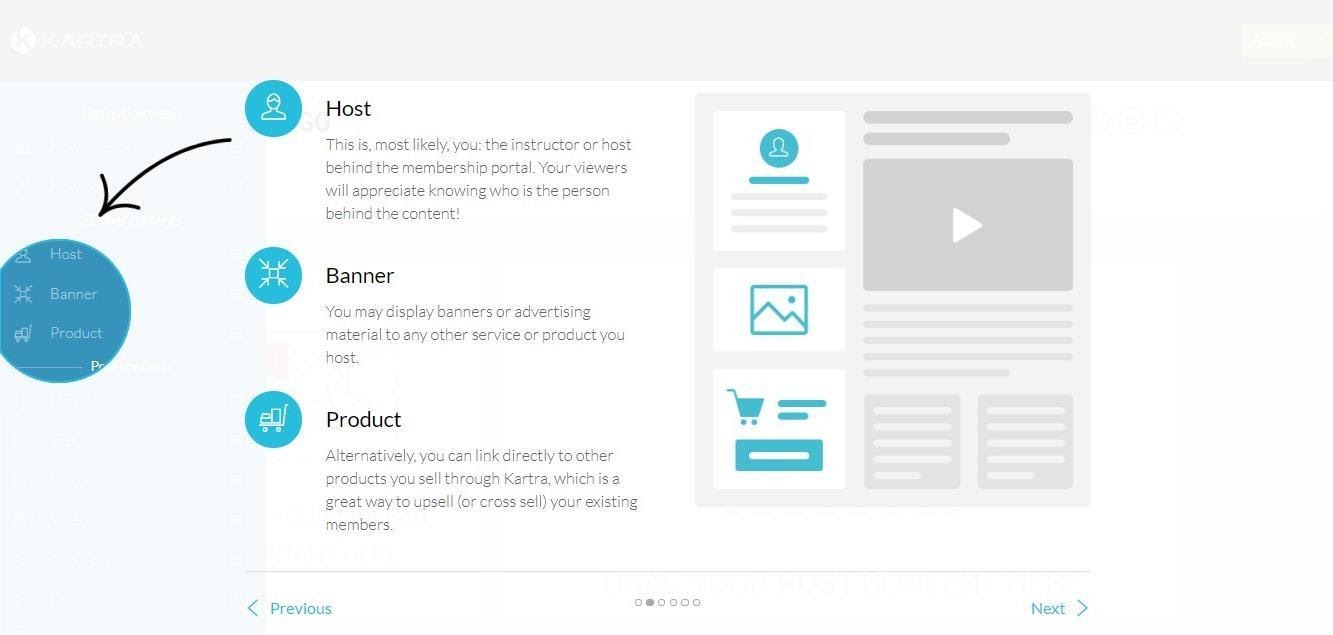 There are quite a few options to choose from in the membership site builder – it's very flexible, but it may take a little while to figure it out.
You can add text, images, buttons, videos, podcasts, and more. If you drag and drop a video, for example, you can choose where you want it to go on the page, and then choose where to get the video from: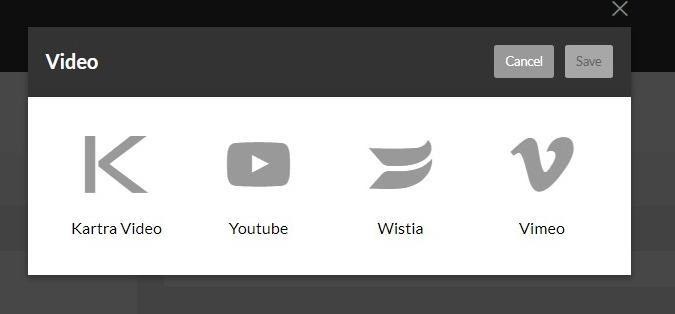 You can set up the menus on your website, and you can preview it at any time, so you can see exactly what your members will see.
You can also choose from a series of templates if you'd rather not start from scratch.
Once you've designed your membership site, you can set up comments, design your access levels (for example, different benefits for silver or gold members), set up a progress bar, choose to enable customer support, and set up welcome emails (and automations to go along with this).
Videos
Another handy feature is the video section. Kartra has a pretty cool video hosting and streaming platform. It allows you to pop in product links throughout videos, or even add tags to your customers if they drop out at a certain point. By giving you feedback from your videos, it could make a powerful difference to your marketing campaign.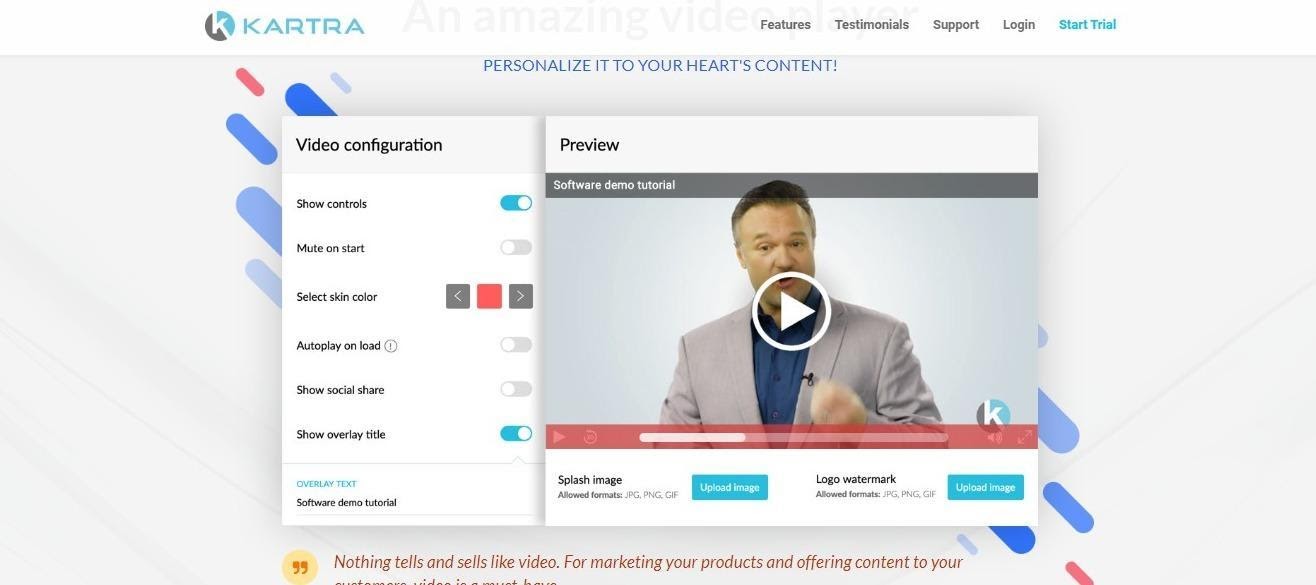 You can customize the video player and select if you want your videos to autoplay or not, as well as a few other options.
The real benefit of the video section is obviously the tagging – it's very clever that Kartra knows when your customers are watching, and the ability to tag and segment them based on which point they drop out of the video (or if they make it to the end) is a very interesting idea.
You can also add a call to action in your videos – for example, opt-in forms or checkout buttons.
Calendars
Of course, you may not be selling products in your store – you might be a consultant or a teacher, or you may be selling online courses. In this case, the calendar section will come in handy. Here, you can set up a calendar that allows you to manage all your appointments – or, more helpfully, allows Kartra to manage them for you.
Kartra will work with you, as you input your vacation days, lunch breaks, and blocks of time that you have free. It will then fill in appointments for you as your customer navigates your landing page.
You can create a landing page that fits in with the rest of your brand – and Kartra will email you (and your customers) the day before to remind you of upcoming appointments.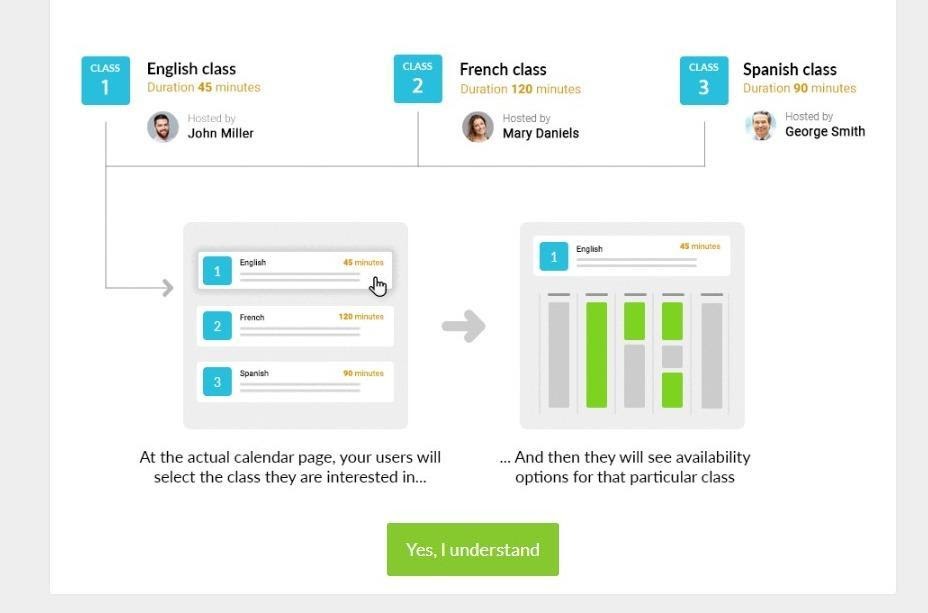 You can choose from a few different models:
The consultant model works best for one-to-one sessions. It allows you to designate your business hours, and your users can then choose a time that suits them.
The recurrent class model works well with weekly sessions and ongoing lessons and allows you to set a fixed number of sessions which people can book onto.
The gym model is great for gyms, spas, schools or training programs. It lets you set fixed times and sessions throughout the week, which users can book onto. It allows you to manage multiple classes or lesson types on one calendar.
The live event model is, as the name suggests, great for live events like concerts, conferences and workshops. You can input multiple events, which users can book onto. You can limit the maximum number of attendees if necessary.
Once you've chosen your calendar type, you can then add your own logo and a header to match the rest of your branding.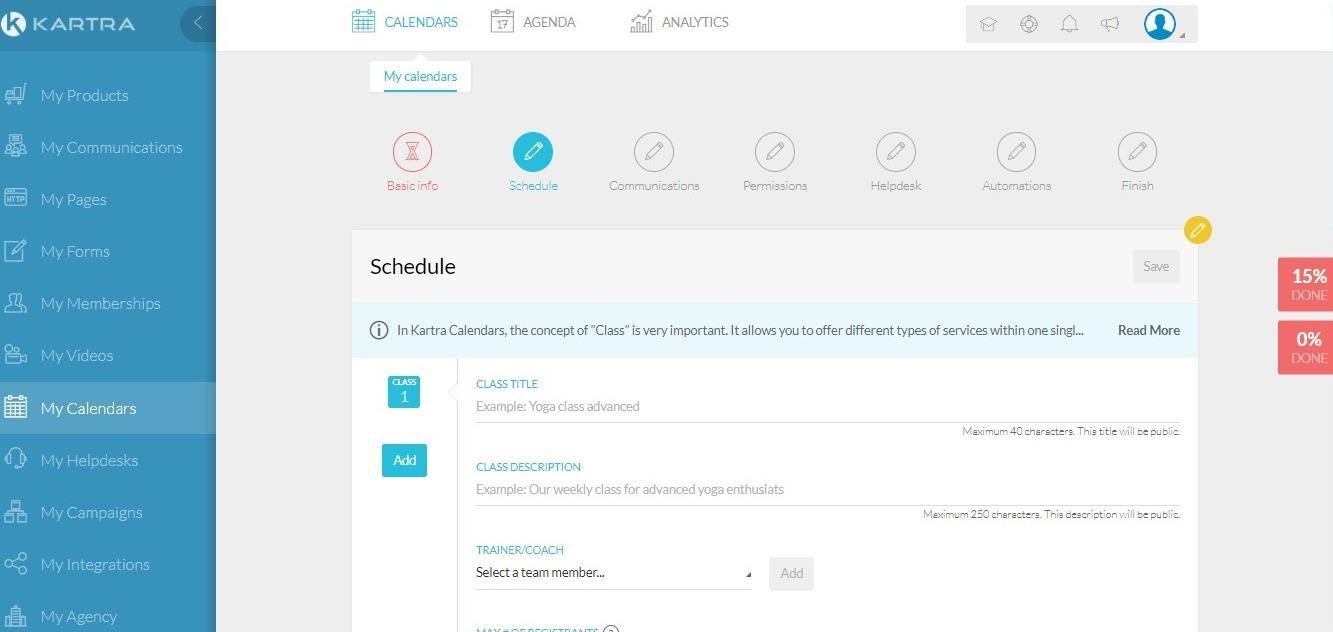 It's very straightforward to set up and use, which is excellent. You can also set up automations – this is great for continuing to grow your marketing campaigns.
Forms
Kartra also has an easy-to-use form builder for marketers. If you need to create a form for your customers or users to fill in, they've got you covered.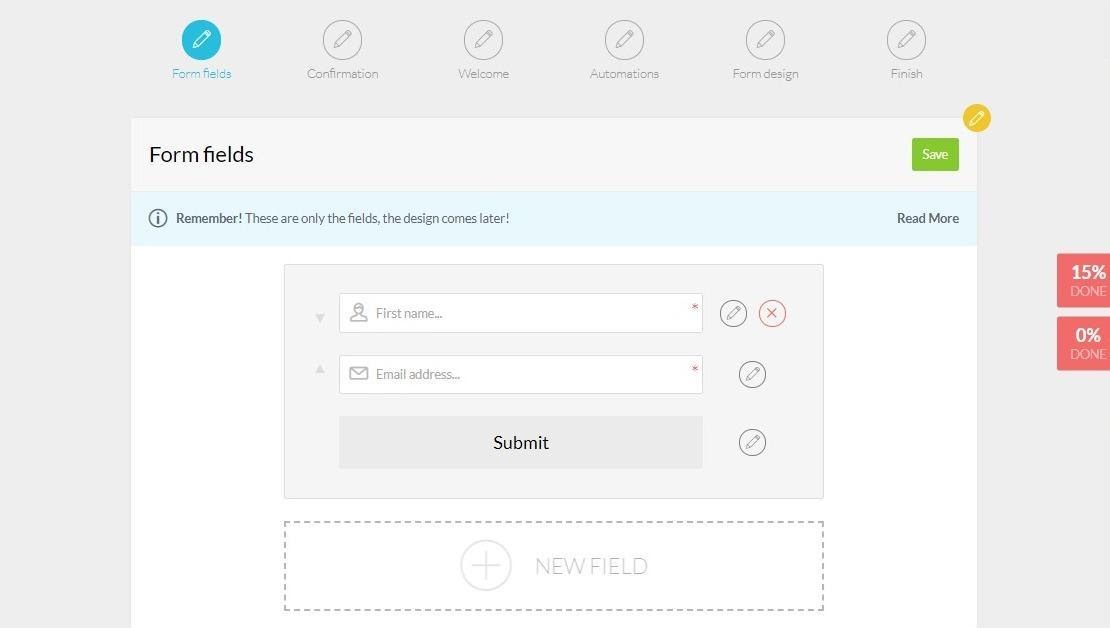 You can easily add, edit, and remove fields as necessary, as well as play around with the design. You can choose from single opt-in or double opt-in (double opt-in requires them to follow a link that is automatically emailed to them once they click 'submit').
You can create welcome messages, set automation to decide what happens once they have filled in the form (this is a good way of tagging your customers), and then you can choose whether you want to use the form in a Kartra page or membership site or to embed it into another site.
If you choose the former, you don't have to do anything else at this stage. If you choose the latter, the form builder opens up. It's similar to the others in that a tutorial kicks in when you start it up for the first time, and it has a pretty simple drag-and-drop interface with live preview mode for desktop, tablets, and mobile devices.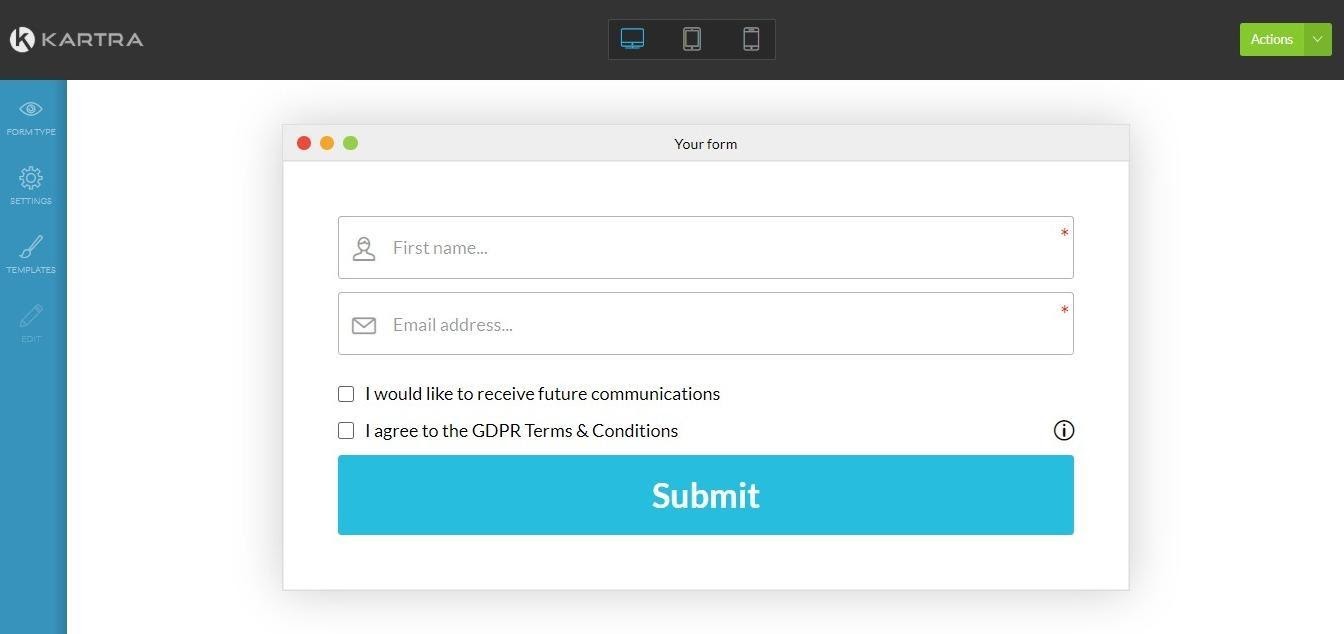 They have a ton of pre-made templates to choose from, which you can apply to your own form with just a click.
Kartra Help Desk
You can also set up help desks for your customers. What does this entail? Simply put, it's a ticket system and live chat to help solve any queries your customer may have.
You can assign your customers tickets to distribute among your team members, create canned answers for predefined questions, create a series of articles answering the most frequently asked questions, and issue cancellations and refunds.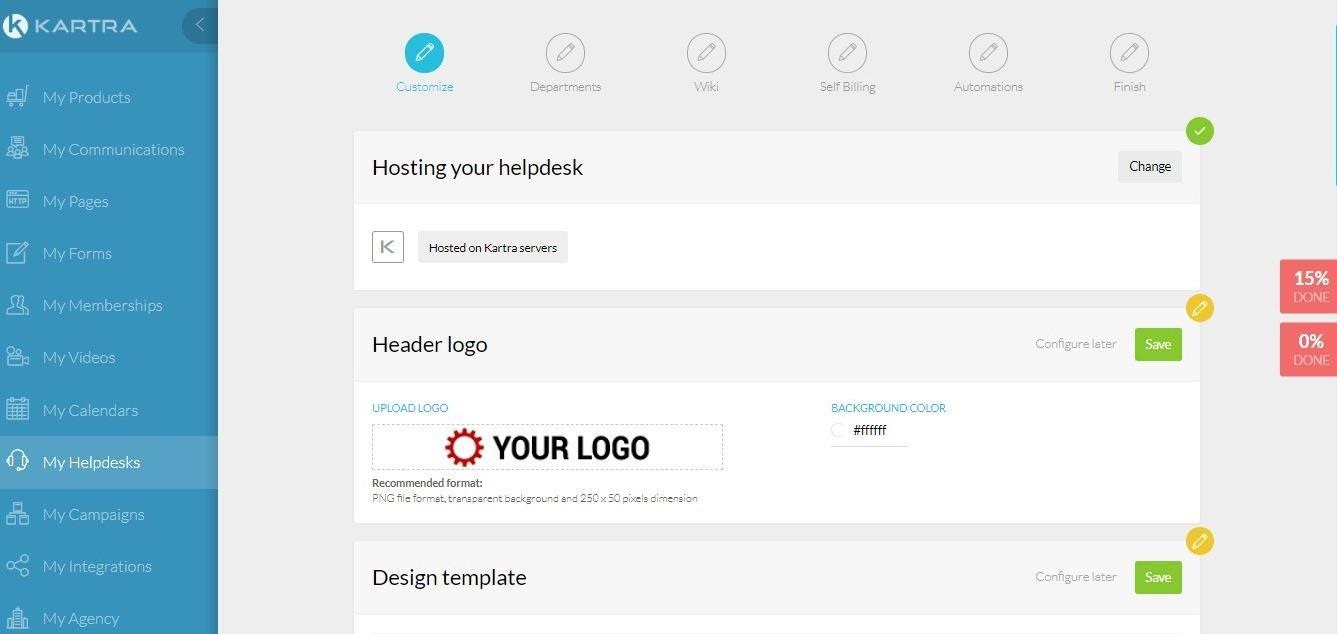 If you run a very small business, you may not feel the need to set this up just yet, but if you have a larger business with lots of customers, this could really help you to manage your customer relations and streamline your work processes.
You can configure the look of your helpdesks, as well as create content for a 'wiki' of frequently asked questions. Again, this may take a little time to get used to, but for bigger companies, this could really help to make things easier for your staff and your customers.
Kartra Academy
Does all this sound overwhelming? Kartra is a pretty unique marketing platform, and it's packed with features and content – there's a lot for marketers learn.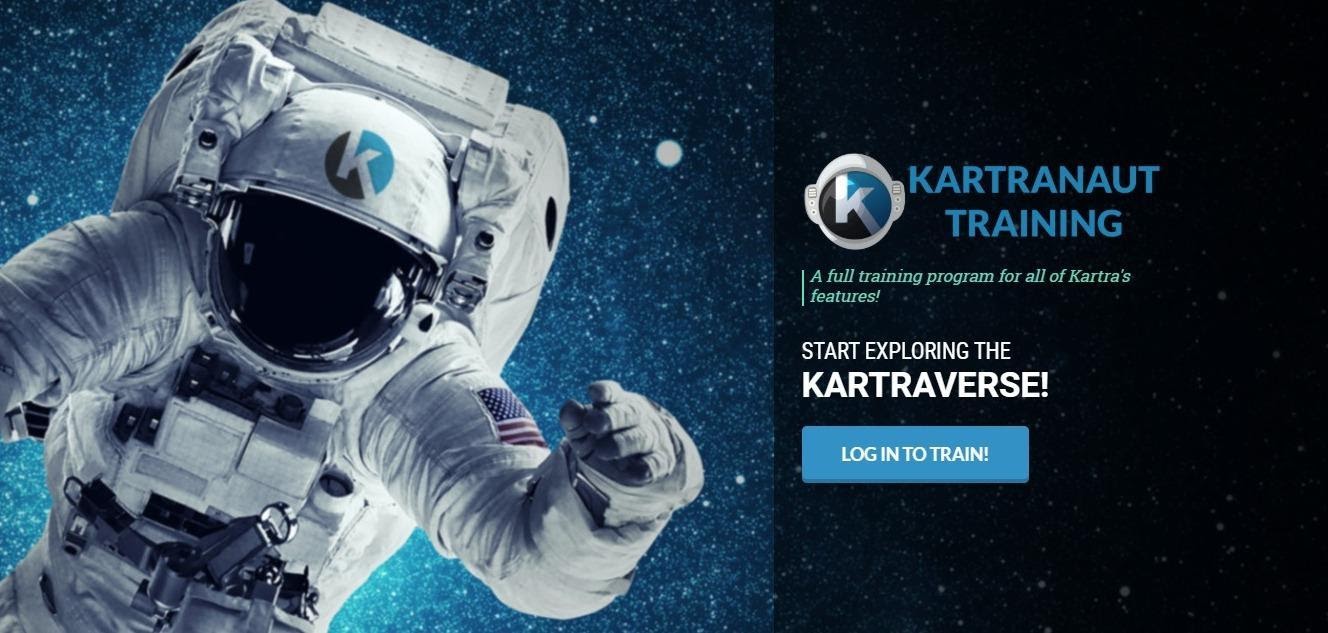 Kartra Academy is a learning platform that you will receive a log-in for once you sign up. We received an email shortly after signup inviting us to 'Kartranaut Training', which is split into sections and covers with extensive detail every aspect of Katra.
This is a unique (and user-friendly) way of training new users.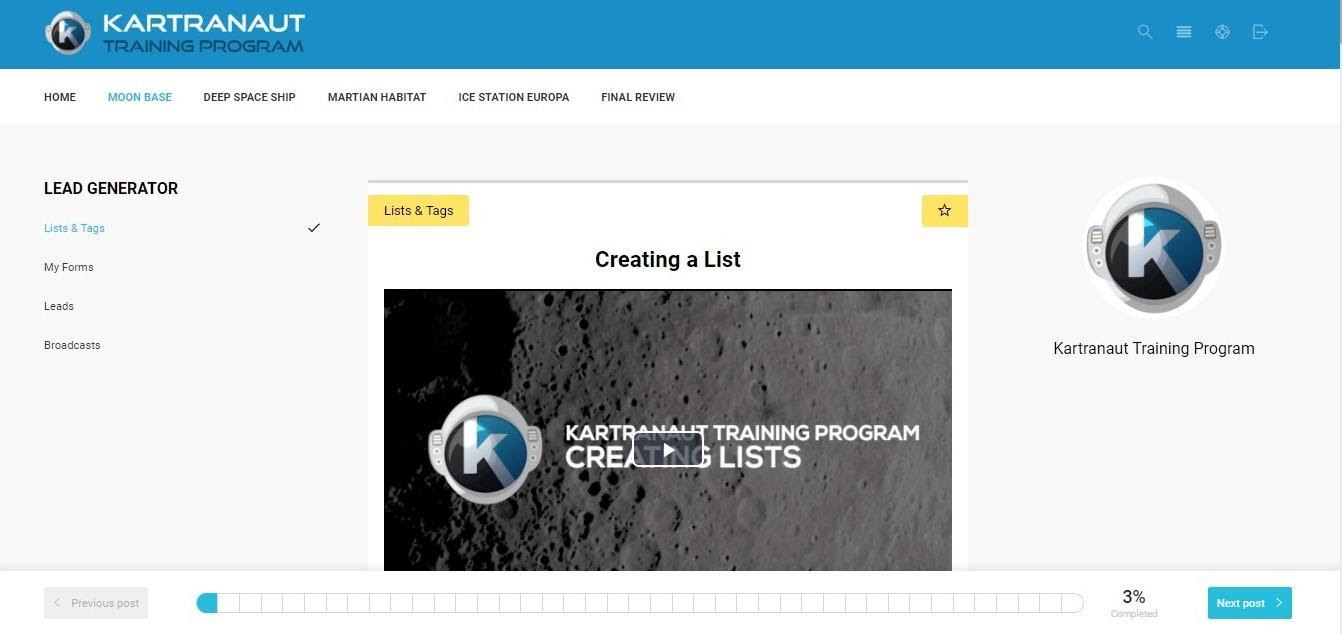 There's also the support helpdesk – this uses either a ticketing system or a live chat, so if you have any technical problems, you can find help here. There is also a Facebook group – this is great for connecting with other users.
Integrations
In terms of integrations, Kartra offers integrations with some of the leading payment and messaging services out there.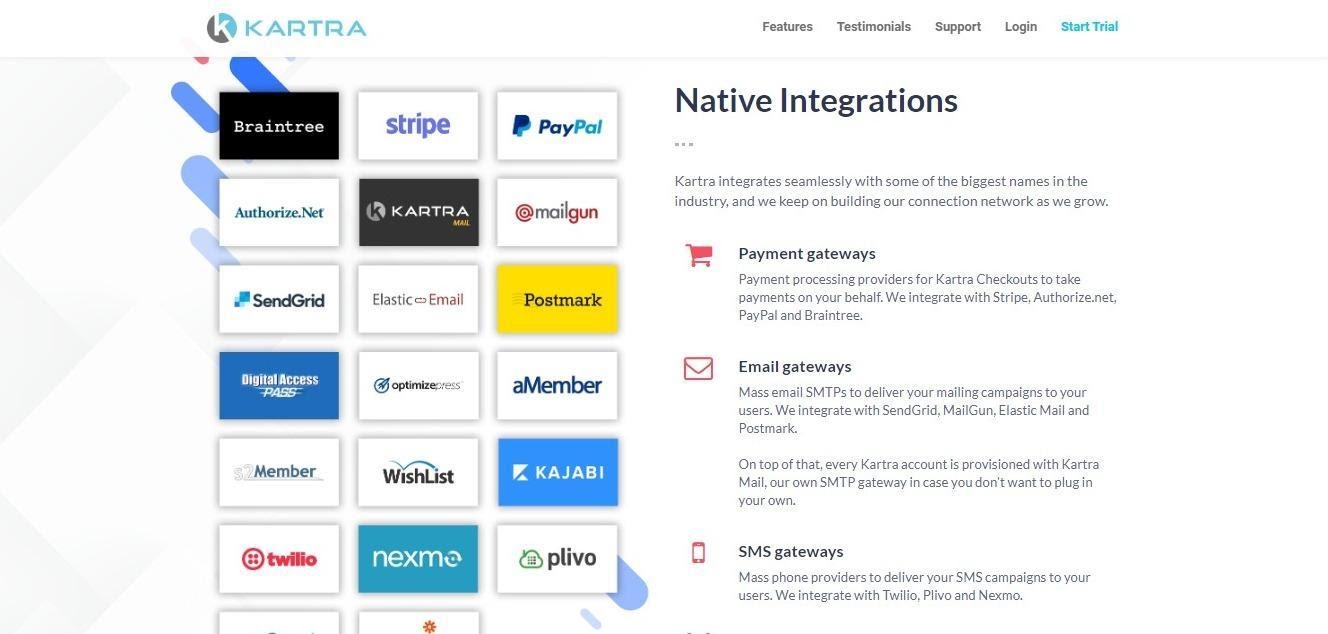 They don't offer a huge amount of integrations with other services, but then again, they don't need to – it's designed to be a self-contained platform.

Unsure About Kartra?
I was skeptical at first, too. The features looked great, but the relatively short time in business gave me pause. I was finally able to find their FREE Trial (14 days) which put my fears to rest. It's "hidden", but here's the link!
Try it Free
We earn a commission if you click this link and make a purchase at no additional cost to you.
Kartra Cost
One of the frustrating things about Kartra is that it was initially a little difficult to find the Kartra pricing plans – this could have been more clearly laid out right from the beginning. However, once we started the sign-up process, we were able to find out the price structure:
Kartra Starter Plan
The starter package is set at either $99 per month for a monthly subscription, $79 per month if you sign up for a one-year subscription (paid annually), or $69 per month if you sign up for a two-year subscription (paid every two years).
2,500 leads
15,000 emails per month
Stream 50GB bandwidth
Host 100 pages
Sell 10 products
Create 2 memberships
Silver
Silver is priced at $199 per month for a monthly subscription, $149 per month if you sign up for a one-year subscription (paid annually), or $139 per month if you sign up for a two-year subscription (paid every two years).
Up to 12,000 leads
250,000 emails per month
Stream 125GB bandwidth
Host unlimited pages
Sell unlimited products
Create unlimited memberships
Gold
Gold is priced at either $299 per month, $229 per month if you sign up for a one-year subscription (paid annually), or $199 per month if you sign up for a two-year subscription (paid every two years).
Up to 50,000 leads
500,000 emails per month
Stream 200GB per month
Host unlimited pages
Sell unlimited products
Create unlimited memberships
Platinum
Platinum is priced at $499 per month, $379 per month if you sign up for one year (paid annually), or $339 per month if you sign up for two years (paid every two years).
Up to 50,000 leads
Send 500,000 emails per month
Stream 400GB per month
Host unlimited pages
Sell unlimited products
Create unlimited memberships
Diamond
Diamond is priced at $699 per month, $519 per month if you sign up for one year (paid annually), or $469 per month if you sign up for two years (paid every two years).
100,000 leads
Send 1,000,000 emails per month
Stream 600 GB bandwidth
Host unlimited pages
Sell unlimited products
Create unlimited memberships
You can a get a 14-day trial for $1 to see if the platform suits you.
Pros of Kartra
Tons of features all in one place
Everything works together to create a comprehensive marketing strategy
Kartra Academy takes you through everything before you start
The platform itself is clearly laid out and easy to navigate
Hundreds of pre-built templates makes things easier for beginners
Features like Kartra Video and the Calendar are great
Cons of Kartra
The drag and drop builders can be a little slow
Can only sell 10 products on the 'starter' level
Will take a little time to get to learn everything the platform has to offer

Unsure About Kartra?

I was skeptical at first, too. The features looked great, but the relatively short time in business gave me pause. I was finally able to find their FREE Trial (14 days) which put my fears to rest. It's "hidden", but here's the link!

Try it Free

We earn a commission if you click this link and make a purchase at no additional cost to you.
Frequently Asked Questions About Kartra
Here are a few of the most commonly asked questions about Kartra:
Do you have to download Kartra?
No – it all works online, so you can work in your browser.
Does Kartra have a mobile app?
No – at this stage, Kartra does not have a mobile app.
Is it easy to cancel Kartra?
You have to contact customer services to cancel Kartra. It's not as easy as clicking a button, but it's still fairly straightforward.
Do my pages have to be hosted on Kartra or can I host them elsewhere?
No – you have the option of hosting them elsewhere if you like.
Can I use my own domain?
Yes, definitely! Kartra offer a step-by-step guide on how to do this.
How much technical knowledge do I need to use Kartra?
Not a lot. You need to have some computer confidence, and a bit of patience, but you don't need to know how to code – the drag and drop builders are pretty intuitive.
Kartra Review Conclusion – is Kartra worth it?

Unsure About Kartra?
I was skeptical at first, too. The features looked great, but the relatively short time in business gave me pause. I was finally able to find their FREE Trial (14 days) which put my fears to rest. It's "hidden", but here's the link!
Try it Free
We earn a commission if you click this link and make a purchase at no additional cost to you.
If you're setting up a new business, Kartra could be a great marketing and sales funnel builder option for you. If you can set up with Kartra right at the beginning, it will save you a lot of headaches and hassle having to sign up with multiple platforms to achieve different goals.
Likewise, if you have an existing business and you want to streamline and simplify your work, you could do well with Kartra. We found it a much better option caompared to market leaders like Russell Brunson's funnel builder and marketing suite (Clickfunnels sales funnel software and Clickfunnels landing page builder).
The main strength of Kartra is how connected everything is. Having everything 'under one roof' allows you to track your customers, giving you advanced analytics which you can then use to make changes to your marketing strategy. Not having to sort out any integrations is great – and Kartra lays out all the information so clearly that you won't have to waste time trying to figure out what it all means.
The 'leads' section is excellent. It presents the information about each of your leads so clearly without you having to hunt around for it, and then gives you multiple options for each lead.
The learning curve is a bit steep. Although it's very user-friendly and quite intuitive, there's still a lot of different parts of Kartra to get your head around. Kartra Academy is a great idea, but it will take some time to get through it all.
The slight lag in the drag-and-drop builder was a bit frustrating, too. They make up for it by being so easy to use, however.
The pricing is also pretty steep if you're just starting out – but you have to bear in mind you're paying for everything at once.
Bottom Line: So ultimately, would we recommend Kartra?
Absolutely. Remember, you can try it with the Free Trial "easter egg" here.
Having everything in one place not only saves you headspace, but also allows you to see a complete picture of how your business is doing – and that information is invaluable.
For further research, you can check out our direct Kartra vs Clickfunnels comparison, Kartra Alternatives guide, as well as our overall Clickfunnels Alternative guide.
Here are some other related articles you may be interested in: