Last Updated on June 1, 2023 by Ewen Finser
If you have digital products like downloads, memberships or looking to sell online courses as a course creator there are a lot of tools out there to choose from. Few are as easy-to-use and streamlined as the Podia platform, though.
Bottom Line Up Front (TL;DR): Podia is one of the BEST new digital selling platforms we have tested! That's actually saying a lot (our team has reviewed over 20). The simple, fun, and satisfying interface takes almost ALL of the intimidation out of launching something for people to buy. Take Podia for a FREE 14-day test drive here. I don't think you will regret it…
Podia is incredibly easy to set up and use thanks to the drag-and-drop builder platform, and there are just enough customization options to feel like you have control over your brand without being overwhelming.
You can create your digital storefront, sales pages and product listings to match your brand aesthetic, then move on to adding great content.
You won't get bogged down by a neverending list of menu options or be required to use HTML.
Here's something you should know right off the bat: Podia is where your digital products will live, where they'll be hosted so that customers can easily buy, download and access them.
This isn't a tool that's going to actually help you create those digital products, though.
You'll be able to upload content you've already created and Podia will host it in a way that's organized and easily accessible. You can decide how to present everything and what to bundle together.
You'll still need pre-designed content, though, so that should be your very first step when developing digital content.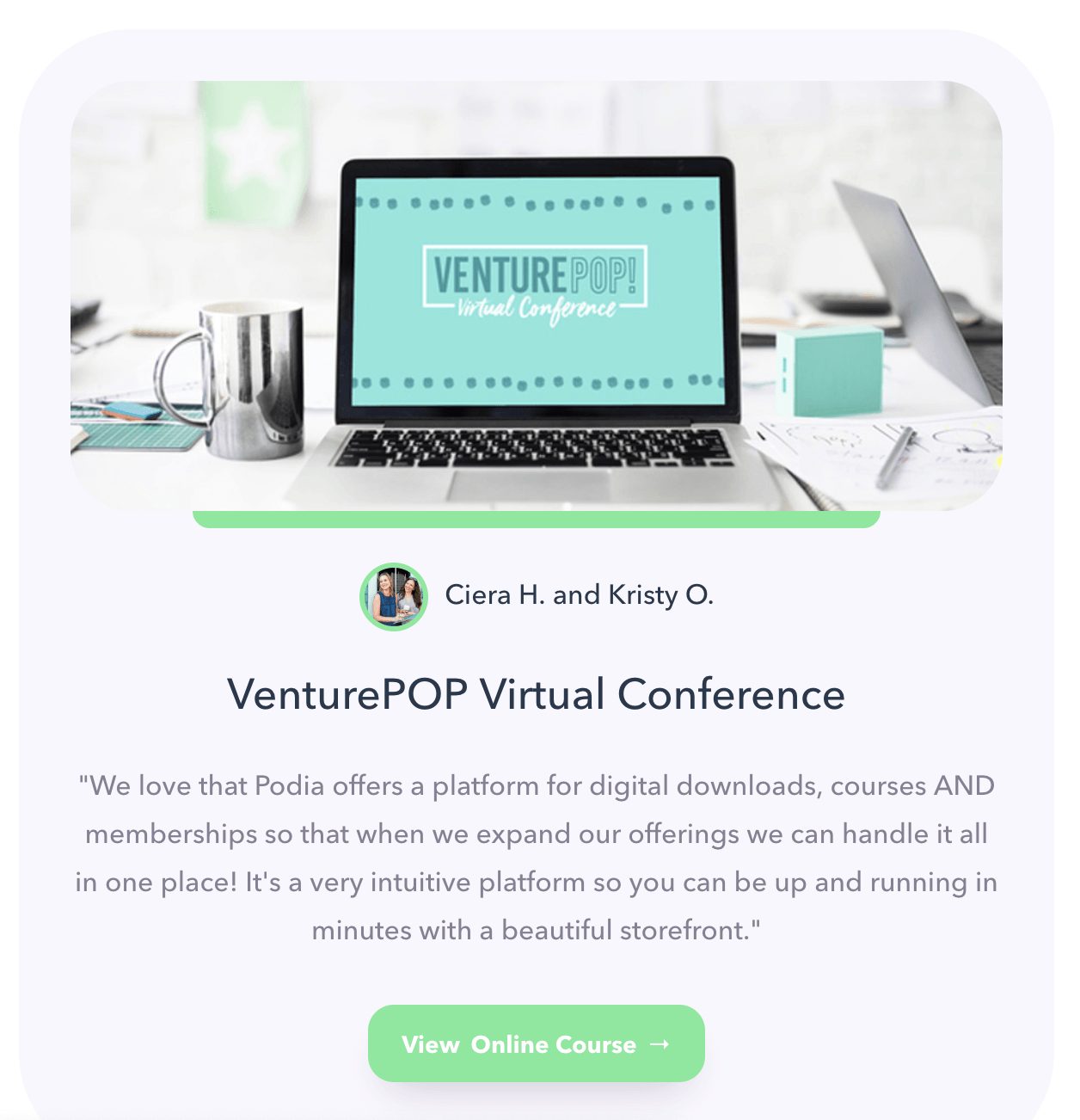 In this article, we're going to start by explaining why Podia may be the right choice for you. We'll then give you an overview of Podia's benefits and features before talking about some of them more in-depth. We'll also discuss Podia's email marketing functionality, usability and customization options. We have an entire section where we tell you what the experience is like for your students, and then we get into things like customer service and pricing for you, the creator. At the end, we quickly go over the pros and cons again, then leave you with our last thoughts.
Why The Podia Platform May Be Right for You
Let's say you have a WordPress website. You wanted to start selling products from it, so you found an e-commerce plugin to fit your needs. As your audience base, product listings and website grew, though, you seemed to come upon more and more glitches that you weren't tech-savvy enough to fix. When you face any issues with your e-commerce website, you run the risk of losing the trust of your customers and sales.
Or, maybe you've used a digital products host before but found that they had far too many options or a long list of features you had no use for. Paying for quality is one thing, but paying for features you never use is another. Even if you do feel like you could make the most of all those features, if the program is too complex to figure out, what's the point?
Another reason to switch to Podia is if you run a membership site. A lot of the time, your membership site has to be hosted on a different website from your other digital products, which makes the entire process complicated for users. The more steps a member has to take, the less likely they are to take them at all. With Podia, your members can access all of their digital products, their account and your membership site from the same area.
You may even be sick of your current digital products program because they take high transaction fees, cutting into your profit or forcing you to raise your prices even though you don't want to.
Benefits and Features of Podia
The biggest perk to using Podia is that you'll have one storefront on which you can host all of your digital downloads (ebooks, guides, etc.), courses and products, plus your membership site. This is the main feature that makes Podia stand out from competitors. Other platforms often have limits, like only letting you host your courses there but not your downloadable products or membership sites, or they make you link to a third-party app, like Dropbox, to host those other items. It can get confusing to organize and keep track of all those products, especially as your business grows. With Podia, all of your digital products, whether they're freebies or paid, can live in one place.
Here are some more benefits and features you'll get with Podia:
Custom domain
Customized branding and color
Embeddable opt-in form templates to collect emails from your website
Hosting for free or paid courses
Instant payouts so you never have to wait to be paid
Product bundling with support and customer service for digital downloads and courses
Track student progress
Unlimited bandwidth, courses, file size, sales and students
Now we're going to talk a bit more about the three types of digital products you can host on Podia (digital downloads, memberships and online courses), then we're going to discuss their email marketing features.
Digital Downloads
With Podia's digital downloads feature, you can sell any of your downloadable digital products. This may include audio, cheat sheets, checklists, e-books, guides, music, PDFs or videos.
Memberships
If you want to create an exclusive membership for your VIP customers, you can create a beautiful one even if you don't know a thing about coding. You can then upload all sorts of media to offer to your members, include MP3s, PDFs and video. Additionally, your members can chat with admins or other members. Note that you have to connect with your Stripe account in order to use this feature.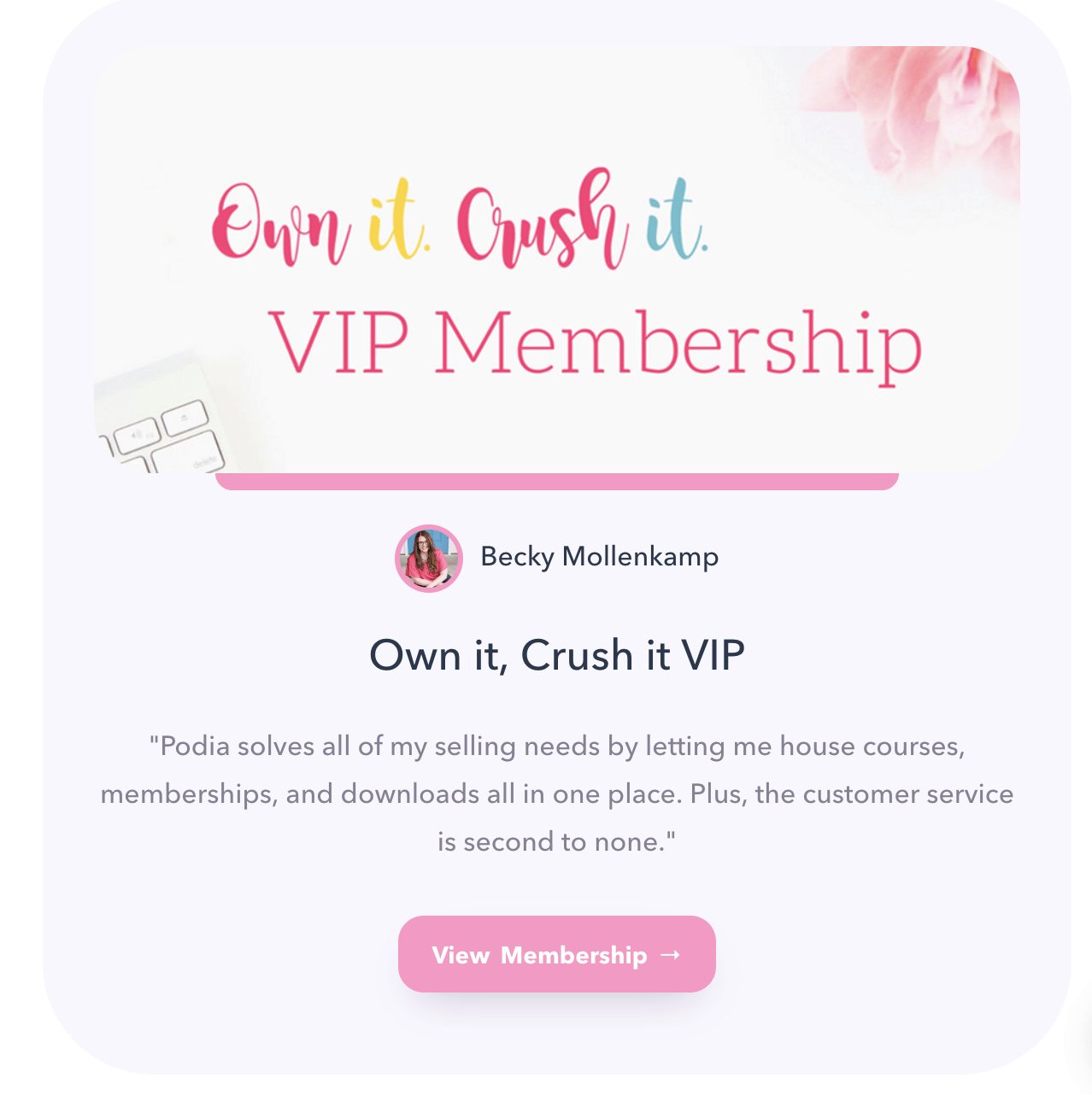 Online Courses
When designing your online course, you'll start with a clean, modern theme, then upload practically any type of file you want. Drip content allows you to send lessons in a spaced-out timeframe, which can help keep your students interested and engaged.
Podia lets you create as many courses as you want for as many students as possible, and there's no limit to how many sales you can make. There's a built-in sales page where you can offer coupons and collect payments. There's also a pre-launch page where you can pitch courses before they're live and gather email addresses from interested students.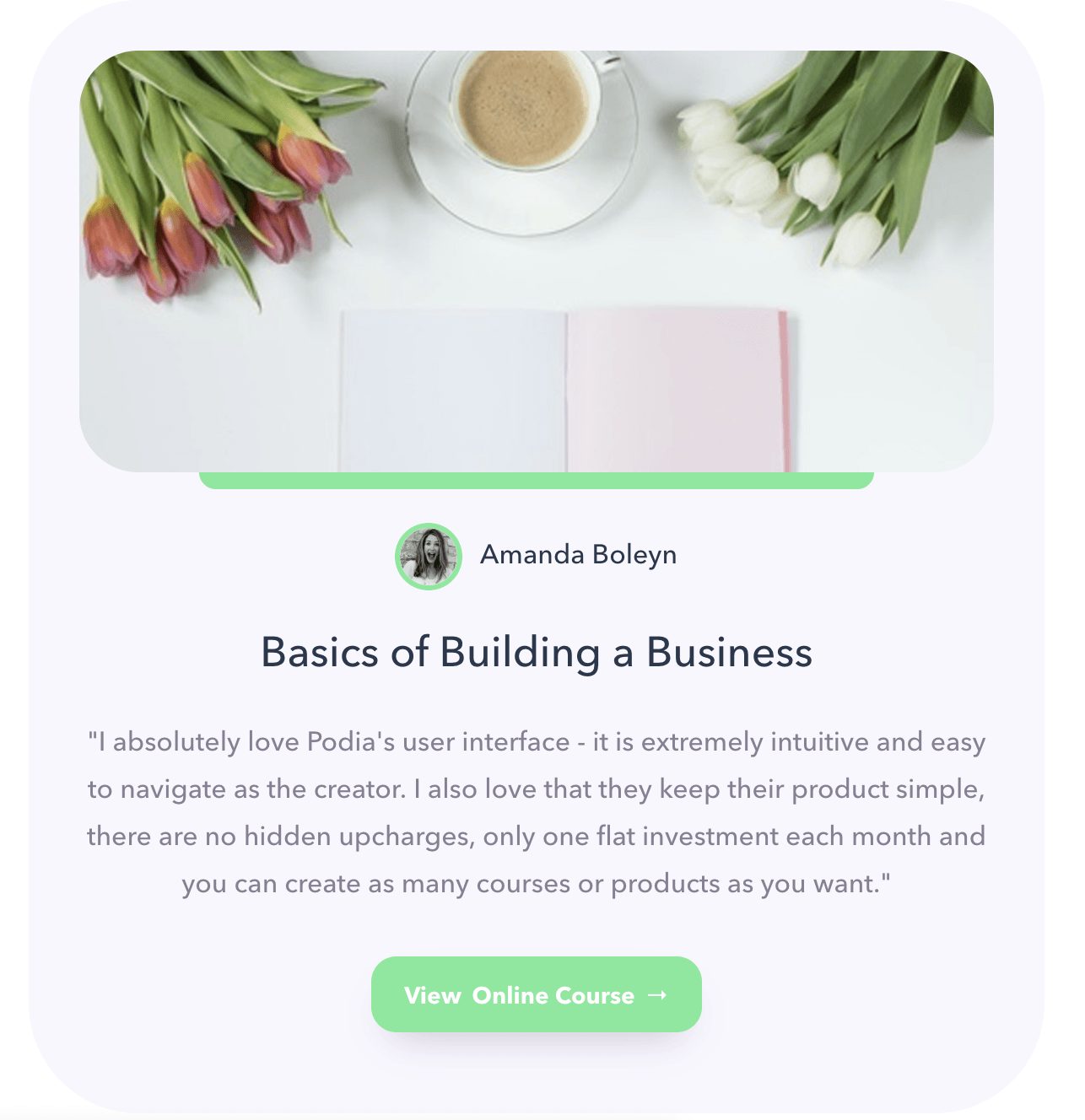 Email Marketing
There are all sorts of ways to use email marketing with Podia to your advantage. You can walk students through a drip course and automate everything by writing and scheduling the emails in advance.
You can also use email marketing to follow up with customers who download or buy a product. Or, keep in touch with members by sending emails and including audio, image or video updates, or send freebie downloads to enhance their experience.
The emails you send can include your branding and you can opt to send either an automated or manual email. You can also connect with your customers when there's an update to a product they purchased.
For example, let's say you offer an e-book in your digital downloads section. After a few months, you add a chapter to your e-book and you want the customers who purchased the e-book to have the newest version. You can send them all an email letting them know about the update and that the updated version is available in their account.
Email marketing is integrated into all your product modules, making it easy to gather email addresses from interested, potential customers or from your current users. You can put opt-in forms in your storefront and on your pre-launch pages, too.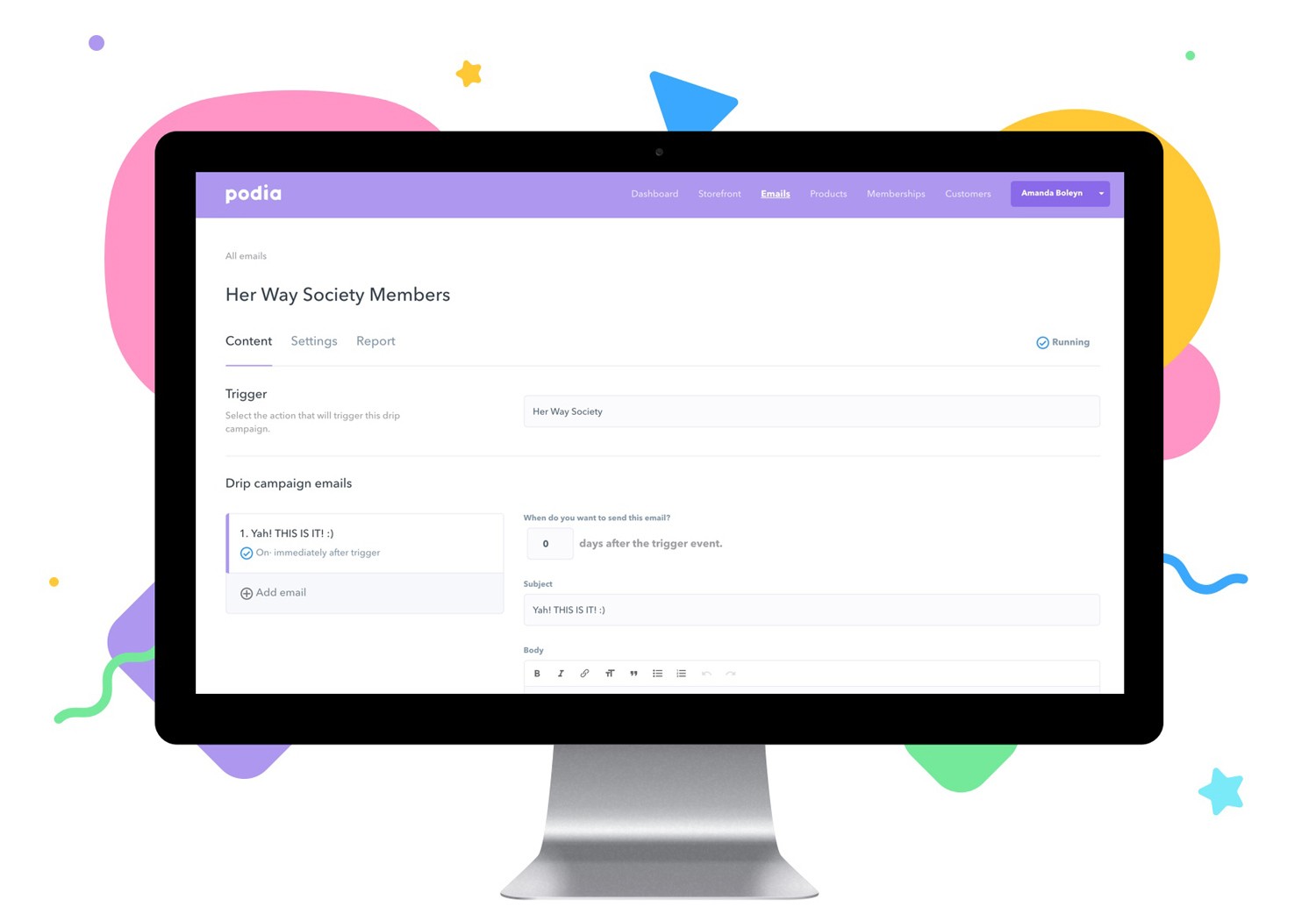 If you currently have an email list that's not yet on the Podia platform, you can import it. However, it's important to note that Podia doesn't function quite like a more robust email system.
You can create a basic newsletter, but there are lots of limits when it comes to formatting. Podia's email marketing is primarily for promoting downloads, courses and memberships, so it may not be a total replacement for your current email process.
Podia's email tracking gathers information about open, click and unsubscribe rates so you can get an idea for how well your emails are performing.
Platform Ease of Use
Podia is incredibly easy to learn and use. The interface is basic, but in a good way. It's clean and modern, with just enough features and options for getting your digital products up and ready to sell. Beginners can absolutely use Podia, but even some advanced sellers and professionals continue to use Podia thanks to its user-friendliness.
Signing Up for Podia
Signing up for the 14-day free trial couldn't be easier. You enter your name and email address, then tell Podia if this is your first time selling digital products. You can even skip right over this if you want by clicking the, "Enough questions, let me in!" link.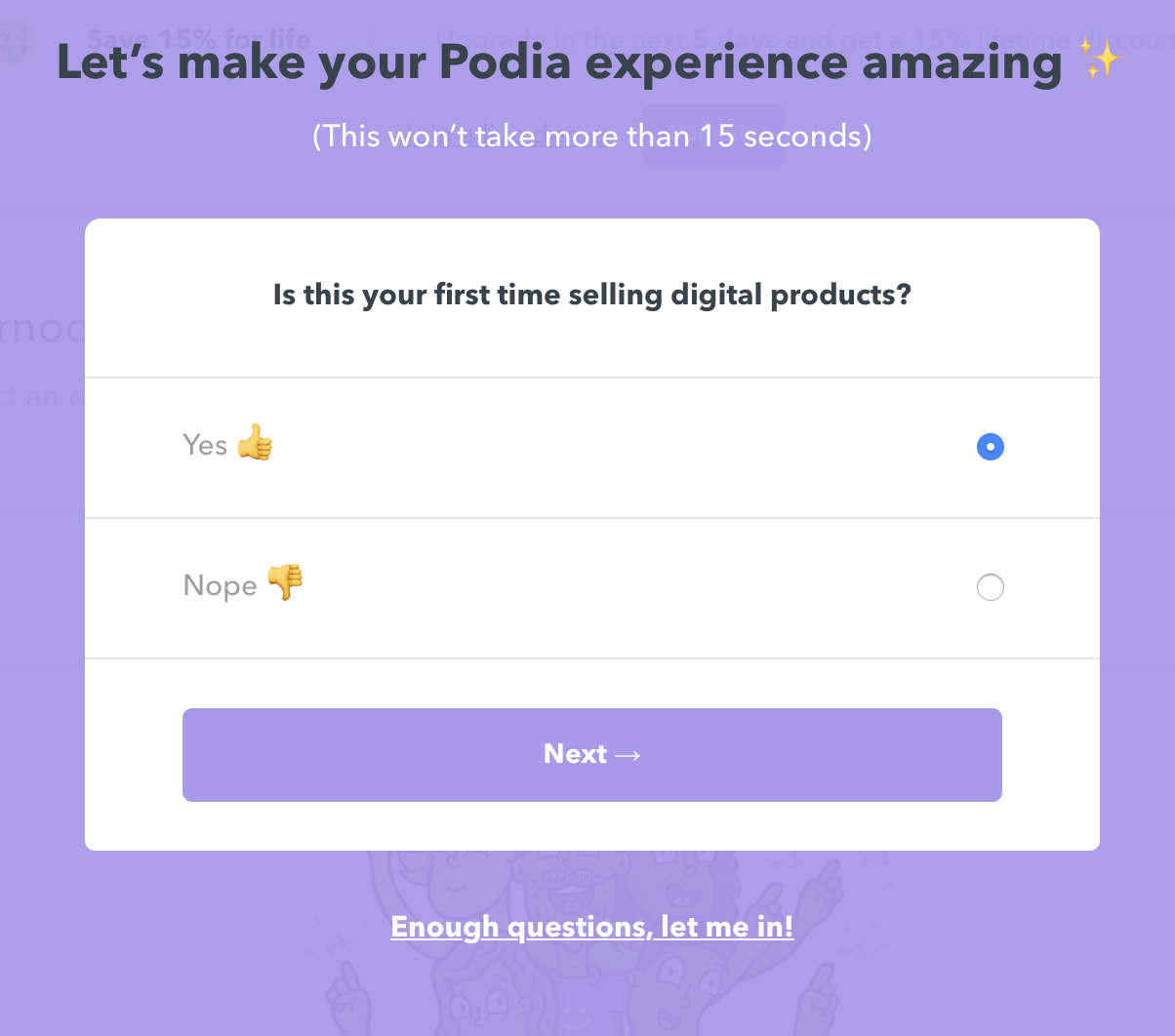 I clicked "yes" to say that this is my first time selling digital products. That brought me to the next question about whether or not I already had a product to sell on Podia. I answered "no" and was then directed to the dashboard.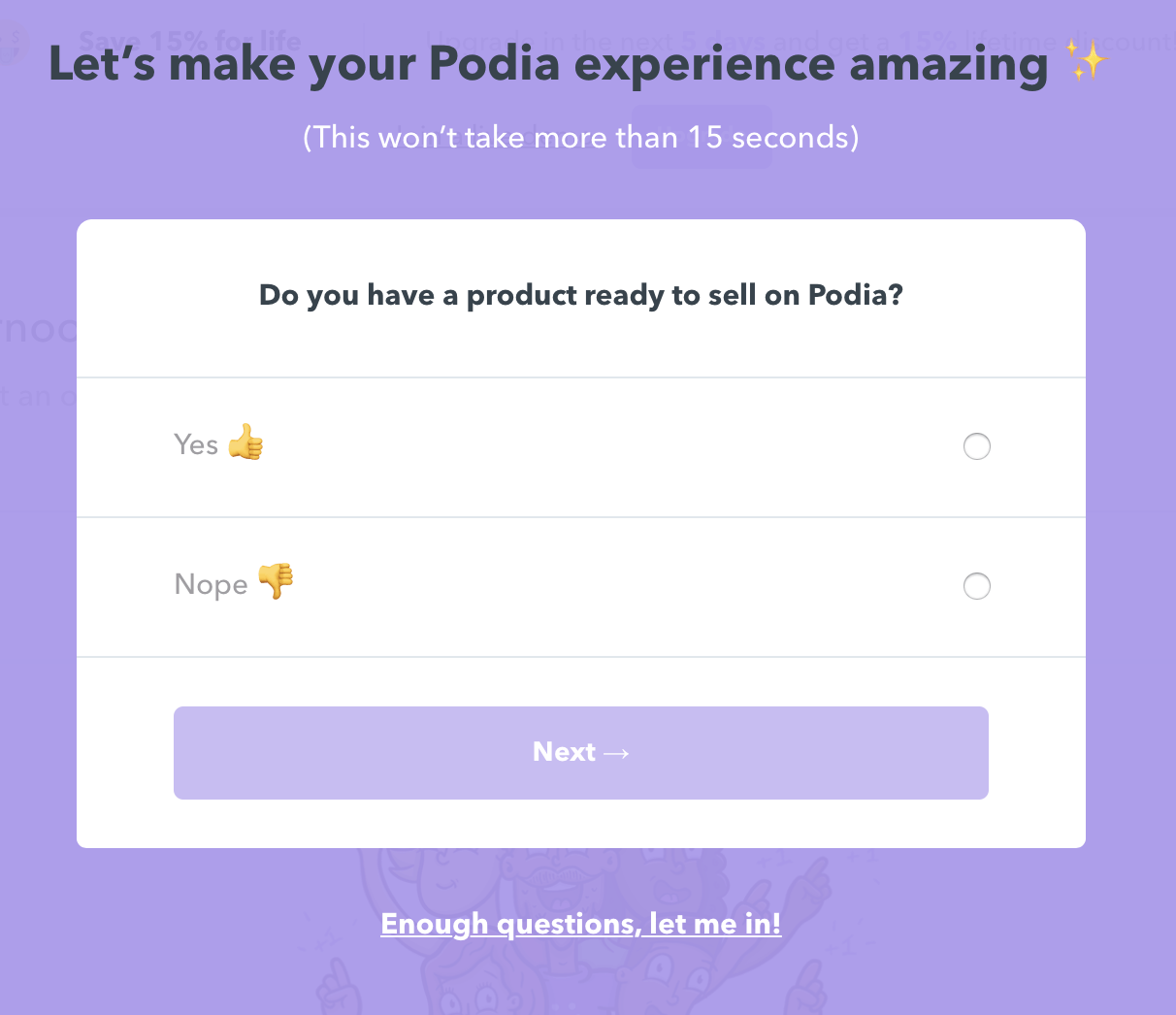 Creating a Digital Product
On the platform dashboard, I was given three options to get started making my first digital product. I chose "Digital Download." I was then asked what type of product I wanted to create. I chose "Digital download" and filled in the product name and storefront description fields.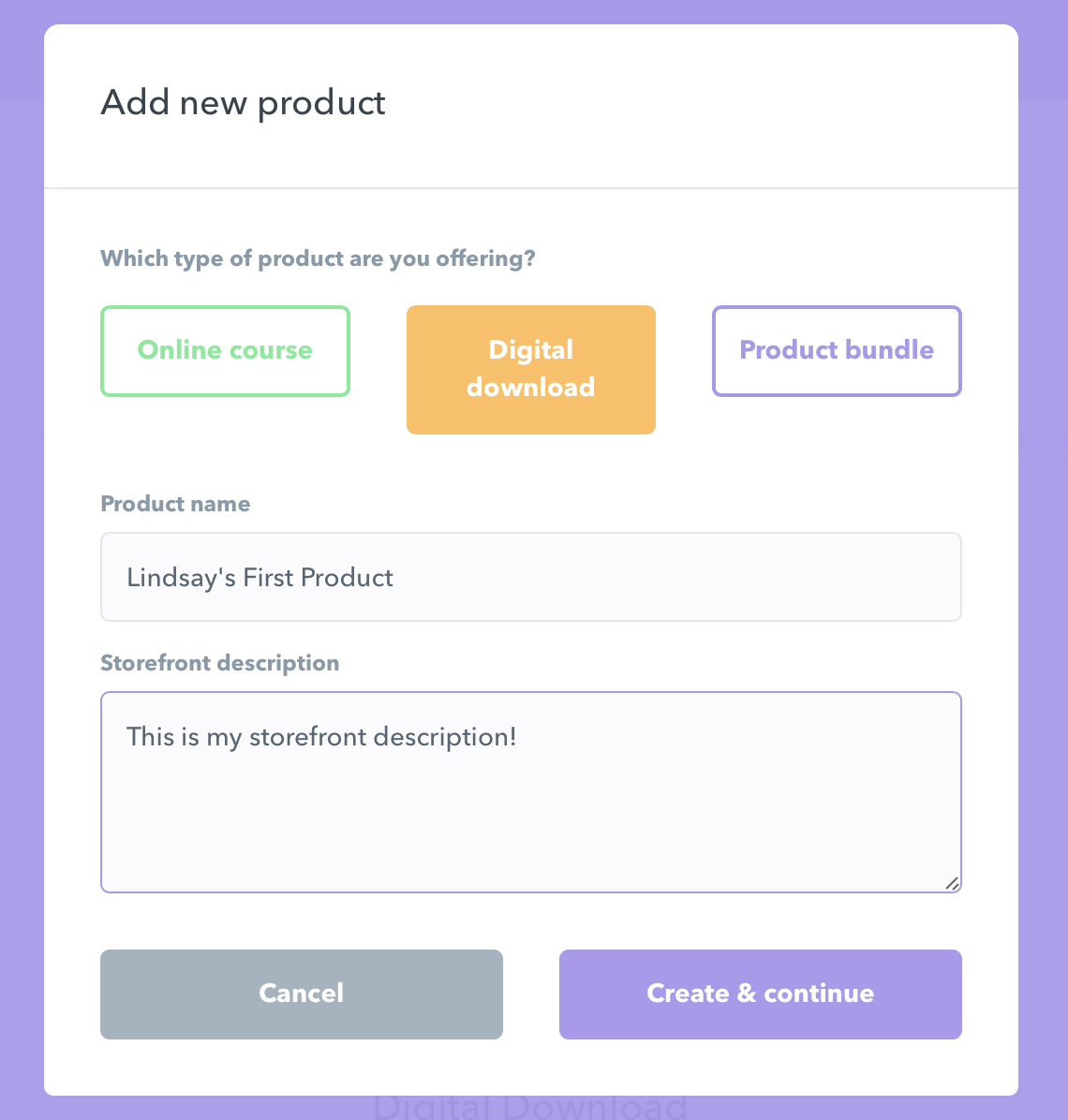 I was brought to the next screen where I could add a section or files. I figured this was straightforward enough – you upload your content – so I decided to click through the other tabs toward the top of the page. (Note that I talk about the Sales page a little later, so I skipped it in this section.)
The Settings page has a few options:
Hide the digital download from the storefront, which requires customers to have a direct link in order to access it.
Close enrollment to new customers; those who have already purchased the product will still have access to it.
Integrate with my own email service provider.
On the Pricing page, I can adjust my currency, set up how I want to accept online payments, create a payment plan option for student, add upsells and create coupons.
The Promote page has links to helpful resources: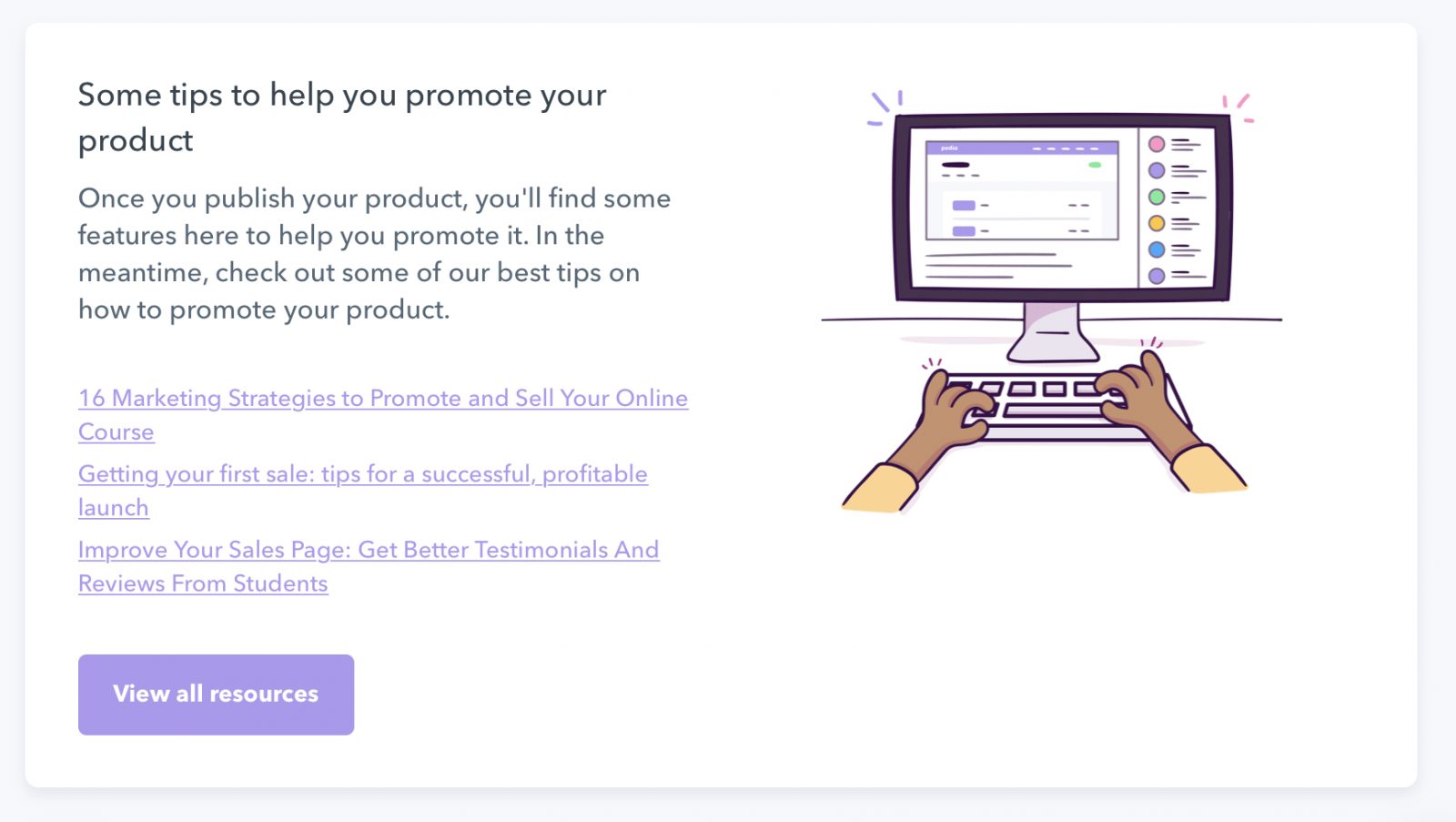 The Customers page is where you'll find information about your customers, including who made purchases, who made free "purchases" and who signed up for your mailing list. There's also a tab for all customers to get a bird's eye view of them. It also has links to helpful resources for helping me land customers: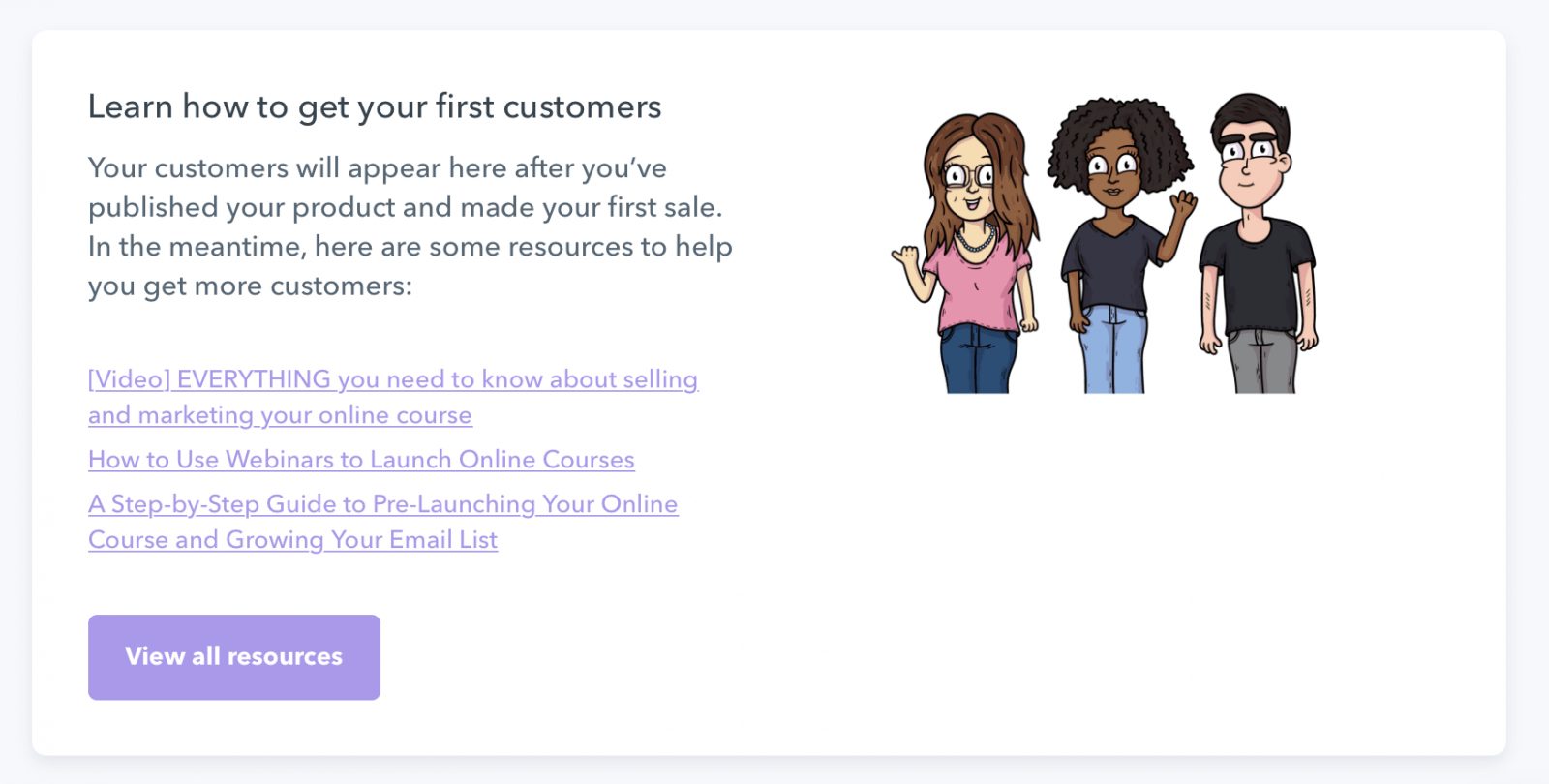 To get back to my products, I simply clicked the "Products" link on the very top of the page. This brought me to a page where all of my products live and where I also have the option to add a new one.

Customization and Design
Depending on how you look at it, the lack of customization and design options can be a positive or a negative.
The Positive
There's enough customization to let you add branding to your storefront by choosing the color and adding your logo. If you go with the default theme, you'll have a simple, elegant design with easy-to-use elements – formatting doesn't get much easier than this.
The sales page makes marketing and selling your products a breeze, and you can add information to help your customers make a decision, like a headline, product description, email opt-in form, FAQ, introduction video and shopping cart. You also have the option to give your products away for free, which is a good option if you're just starting to gather a customer base and want to show them how great your products are.
The Negative
There's no way around it: Podia's design options are very limited. While that's the point – to un-complicate the process of creating a space to offer your downloads – this is going to be a major hurdle for designers or highly branded companies to get around.
Professional developers who want total control over the design may want to look for a different tool or platform with more flexibility.
User Experience for the Student
Being able to effectively use Podia as the digital product creator is one thing, but what type of experience are you giving to your students? The answer: a phenomenal one.
Once a customer purchases a product, it's added right to their Podia account. The customer can simply log in to their account whenever they want to access all the products they've bought. They can also download products again if they need to, re-take courses as many times as they want and have unlimited access to your membership site.
Here are more of the perks your students will get:
Account to keep all of their free and purchased products in one place.
Instant access to self-paced courses after purchase.
Lifetime access to all of their digital products.
Plans, Pricing and Checkout Process for Students
You can create different plans that offer an assortment of content, perks and pricing. This lets you appeal to all sorts of students and gives customers the option to pick the plan that's right for them. You can offer monthly or annual subscriptions, too.
You can also offer things like coupons, promotional pricing and payment plans. With payment plans, you're able to get a customer who would otherwise not be able to pay in full for the digital product but who is able to commit to a smaller amount on a predetermined schedule.
The checkout process for customers is super simple, which makes it easier for you to convert interested, potential customers into actual customers. This fast checkout is no mistake – Podia wants you to have the highest conversion rates possible.
Customers can pay with either PayPal or Stripe, the choice is yours. While this may seem like a limited number of payment options, PayPal and Stripe are extremely possible in a number of countries. The checkout pages are secure and Podia doesn't collect customer information.
Customer Support and Security
Podia offers email and 24/7 live chat support for customers no matter what plan you're on. While they don't have phone support, their email and chat agents are highly responsive, so you'll never have to wait too long to get in touch with someone.
There's also a great database of information to help you make the most of your shop. You can learn about everything from customer personas and affiliate marketing to copywriting and course design. You'll even be able to access exclusive trainings and webinars as a Podia customer.
Podia Payment Gateway Options
As of this writing, Podia only supports Stripe integration for payment processing.
Podia does not currently integrate with PayPal or other payment gateways like this.
Podia Pricing
You can try the Podia platform for free (now UNLIMITED duration, but with limited features).
The best way to take advantage of this is to play around a lot with Podia in the first few days of the trial – if you have a feeling you're going to pay for a paid plan, it's well worth it to take the next step within those first few days. That's a big lifetime discount you'll get!
P.S. You'll only see this offer after signing up for a free trial.

The Mover plan is $39 per month or $33 per month if you sign up in the first five days of your free trial. If you pay annually, the price works out to $32 per month or $27 with the discount. This is the best option if you want to just get started with the basic plan making and selling your digital products.
Here's what's included with the Mover plan:
Digital downloads
Email marketing
Online courses
The Shaker plan is $89 per month or $75 per month if you sign up in the first five days of your free trial. If you pay the annual plan, the price works out to $75 per month or $65 with the discount. This is the best option if you already have a business and you want to grow with the help of affiliate marketing or passive income.
Here's what's included with the Shaker plan:
Affiliate marketing
Digital downloads
Email marketing
Free migration
Online course platform
Memberships
Third-party code
All of Podia's plans include unlimited customers and around-the-clock support, and you'll never pay transaction fees. Here are the other features that both the Mover and the Shaker plan include:
Custom domain
Data exporting
Drip email marketing
Email newsletters
Google Analytics
High-conversion checkout (tested for optimal conversion rates)
Instant payouts
Integrations (including Zapier integrations)
Payment protection
Pre-launch products
Unlimited courses
Unlimited digital downloads
UPDATE: Podia now has the Earthquaker Plan for $199/month or $166/month if you pay annually.
The Earthquaker Plan adds the following:
Priority Support
Monthly Creator Mastermind (with other peers)
Onboarding Calls
Arguably the best value here is the Mastermind calls, as this essentially acts like a collective brain to evolve best practices, new selling techniques and course creation ideas from.
Some feel that Podia pricing is a little steep, but that depends on what you value most in a tool like this. If simplicity and the ability to get your digital products up and ready to sell is what you care about most, the price may be worth what you get in return.
Podia Pros and Cons
Let's quickly recap the main Podia pros and cons:
Pros
One location for hosting all of your digital products
Incredibly easy to use end-to-end sales funnel builder and intuitive
Email marketing features, including drip campaigns
Instant payouts
Great experience for students
Unlimited bandwidth, courses, file size, sales and students
Easy on the transaction fees
One-stop shop (no additional tools needed)
Cons
Limited customization and design options
Not as robust an email system as other providers
Few payment gateways
While Podia is certainly LEADING the field for creators, the space is rapidly evolving as a whole. Our editorial team has reviewed and compared almost every course builder out there.
Here's how Podia stacks up with some of the best online course platform options:
FAQs
Question: Does course creation make sense financially?
Answer: Even after you factor in the transaction fee costs when you sell your courses, Podia and Podia alternatives leave plenty of profit over after they take their piece of the pie as long as you price your course properly.
Question: Will Podia membership pricing go up?
Answer: In this Podia review, you've seen the pricing and may think it's too good to be true. While pricing goes up on everything naturally, there are no plans to greatly increase the pricing plan.
Question: What happens to my course content if I terminate my Podia account?
Answer: Make sure to have backups of all your course content. Once you remove your content creator account, your content goes with it unless you have it unloaded elsewhere.
Last Thoughts: Is Podia Worth it?
Our Pick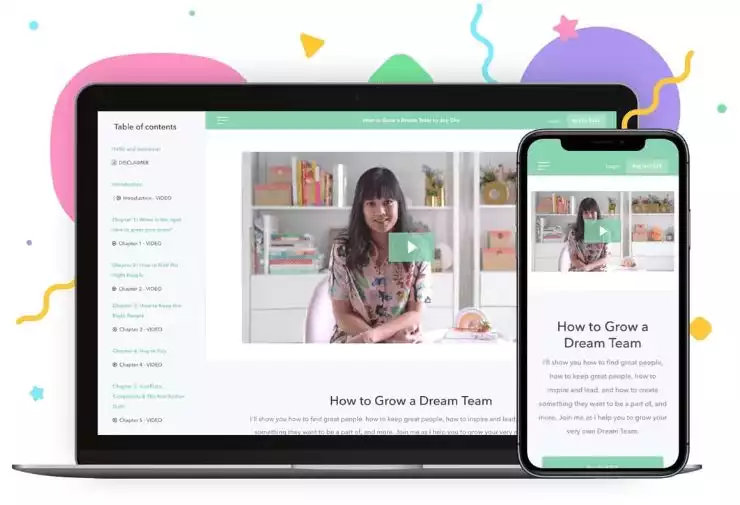 Podia IS Awesome!
I LOVE Podia. Here's why. It's simple to use . Fun. Works for courses, digital products, and memberships like a charm. It's going to be our FINALIST for 2023 Tools of the Year. Need I say more?
Free 14-Day Trial
We earn a commission if you click this link and make a purchase at no additional cost to you.
Podia is an excellent platform if you have skills or products that you feel will benefit others.
With so much flexibility when it comes to pricing, you can test the waters by offering a single digital download.
Plus, with the 14-day free trial, which doesn't require a credit card, there's plenty of time to get your product up and play around with the different email marketing and sales page features.
The Podia platform is also excellent if you want to offer your products as stand-alone downloads or try bundling them together. You can do both here, letting your customers pick and choose the right combination of products for them. This also lets you figure out what's the most enticing product you have and which ones customers just aren't going for.
Pretty much anything can be the topic of an online course or digital product. Whether you're an expert in your profession or you want to share your know-how about a hobby, Podia can give you the space to showcase your expertise and skills and to help others become proficient, too.
Bottom Line: Podia is one of the BEST new digital selling platforms we have tested! That's actually saying a lot (our team has reviewed over 20). The simple, fun, and satisfying interface takes almost ALL of the intimidation out of launching something for people to buy. Take Podia for a FREE 14-day test drive here. I don't think you will regret it…
Here are some related articles you may be interested in: