Last Updated on June 1, 2023 by Ewen Finser
Today we will be looking at the key features of each of the best Teachable alternatives, as well as the pros and cons, and the pricing, so you can decide for yourself which is the best option for you.
Creating and selling courses online can be a great way to start an online business, or add another stream of income to your existing business.
You don't need much to get started, just some knowledge about whatever you want to teach (people want to learn all sorts of skills from illustration to mathematics, and even learning musical instruments!) and you will need some software that can help you deliver and sell your courses.
You've no doubt already heard of Teachable, so today we are going to be looking at the best Teachable alternatives that you can use to build your online course empire.
Top Teachable Alternatives – Bottom Line Up Front
Thinkific
Podia
Kajabi
Udemy
Teachery
While Teachable is an amazing tool for some people, it doesn't suit everyone, so hopefully one of these alternatives will be a better fit for you and your business. Before we get stuck in, let's just have a quick look at exactly what Teachable is, and what features it offers so that we can make a fair online course platform comparison…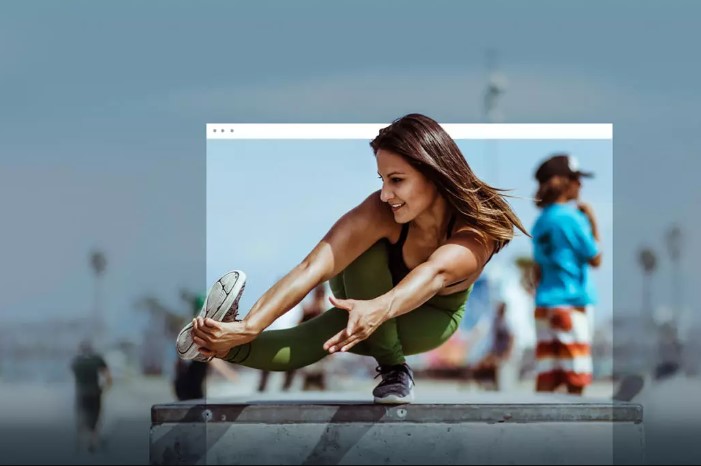 Thinkific is a powerful all-in-one platform that allows you to create (course creation), market, and sell your own online courses one of the top teachable alternatives. It's easy to understand and get started, and every element of your online course area can be completely customized to blend seamlessly with your existing website and branding.
Key Features of Thinkific
Drag and drop course builder
Videos
Quizzes
Build your entire website
Build-in SSL certificates
Upsell offers
Discussion forums
Secure cloud hosting
Email and phone support
Memberships and Bundles
Assignments
Scheduled (drip) content
e-mail marketing integrations
Unlimited courses and students (paid plans)
The Benefits of using Thinkific Course Platform
Thinkific is incredibly easy to use, so it's a great option for anyone, even if you have little to no previous experience with this type of software. If you've never created a course before, Thinkific provides a comprehensive knowledge base full of tutorials and webinars to help you get started, as well as active peer to peer support in their private Facebook group for Thinkific course creators.
Thinkific provides you with everything you need to create, market, and sell your online courses, and you can even replace your existing website with your Thinkific site, so you can save money, and manage everything from one place.
It's easy to start building your pages and create interactive courses using Thinkific's drag and drop page builder. You can create quizzes, upload videos, include areas for discussion, and organize your content in any way you like with the page builde for course creation.
Your courses can be customized in any way you wish, and you can create private and hidden courses if you need to too. You can include prerequisite lessons and course material, add multiple instructors, schedule drip content, add evergreen and expiring content, and even create membership sites to go alongside your content.
When it comes to marketing and selling your online course there are lots of integrations you can take advantage of to make this easy. You can connect your social media, email autoresponder, payment gateways, and much more to help you market and sell your courses.
There is also an affiliate program that you can use to sell your courses through affiliates in return for a commission, helping you to rapidly scale your business as your affiliates do the hard work for you.
There are multiple payment options available, and you can have more than one payment option available to your students, so there will be something to suit everyone.
There's no need to worry about hosting since Thinkific is securely hosted on the cloud. With an impressive uptime of 99.9% and 24/7 monitoring, you can rest assured that you and your students will always have access to everything you need. Your online course content and data are completely safe, and always 100% owned by you, and SSL certificates are included with your plan too.
Thinkific offers a free plan with, as well as three different paid plans. The free plan lets you create up to three courses, and there are no transaction fees to pay! This plan gives you access to all of the core features but does not include any advanced features such as affiliates, custom domains, drip content, and advanced integrations.
The first of the paid plans is the 'Basic' plan which is $49/month, which includes unlimited course and students, affiliate reporting, custom domain, email integration, and Zapier integration triggers.
Next up is the 'Pro' plan which is $99/month. This includes everything from the basic plan, as well as additional admin and authors, private and hidden courses, advanced pricing options, memberships and bundles, certificates, advanced customization, and communities.
Finally, there is the 'Premier' plan which is $499/month. This plan is well suited to large businesses delivering online education at scale. This plan includes all features, as well as 5 site admin accounts, 15 group analysts, 50-course admins/authors, and an onboarding package.
If you would like to give thinkific a trial, check out their free plan here.
The Downsides to using Thinkific Course Platform
The built-in discussion platform on Thinkific can be quite difficult to use; There is no search function, and it's tricky to edit and manage posts. The reporting feature also isn't great, but you can get around this with Zapier if you really need to.
Check Out the Latest Thinkific Promos Here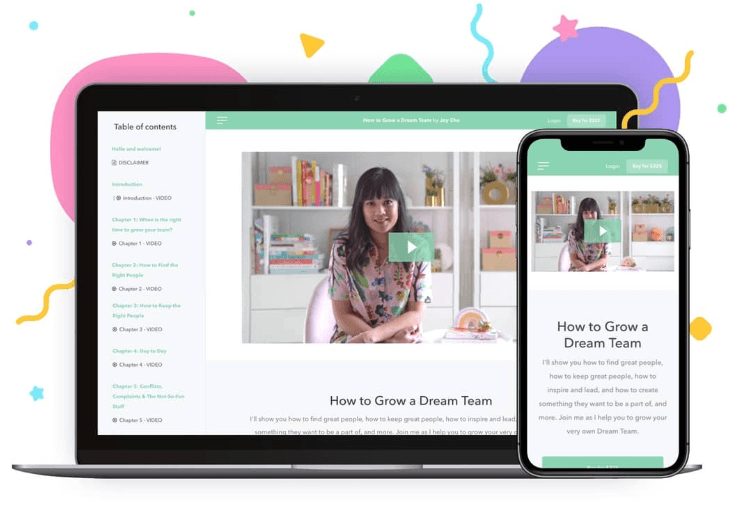 Podia lets you sell online courses, digital downloads, and memberships to your audience, all from one place. Podia includes absolutely everything you need to run your online business, so there is no need to pay any extra for services such as email marketing, a separate website, or hosting- You just pay one monthly fee.
The Key Podia Marketing Features
Sell courses, digital downloads, and memberships
Free migration management
Unlimited hosting
Build your entire website
Integrations
Live customer support
Custom URLs
Flexible page layouts
Mobile responsive
Drip content management
Payment plans
Pre-sell courses
Quizzes
Pre-launch courses
Offer free downloads as lead magnets
Bundle products and courses
Blog
Sales funnels
Email marketing tool
List segmentation
Affiliates
1-click upsells
Coupons
The Benefits of Using Podia
Podia is an all in one platform that lets you sell all your digital products in one place, including digital downloads, online courses, and memberships. You can even use Podia to replace your existing website and email provider, letting you truly manage everything from one central hub, for one monthly fee.
It's very easy to use Podia, so you can get started quickly even if you have no previous experience. The page builder is intuitive and easy to use, and you can add different elements to your pages such as text, video, and images, and easily reorder these elements until you have everything in the perfect order.
The page builder also offers a live preview feature, so you know exactly what your pages will look like before you hit publish.
With Podia, everything is unlimited, meaning you can create as many courses, and have as many customers as you like, with no additional fees to pay. You can take advantage of Podias affiliate center, where you can sell your products, memberships, and courses through affiliates in return for a commission. You can set the commission rate yourself so you are always in control.
Podia includes email marketing software at no extra cost, so you can easily grow your list, contact your subscribers, send newsletters, and track your results. Memberships are also included in the monthly fee with Podia, so you can sell memberships alongside your courses (membership site builder) to add another source of income to your business.
You can offer different levels of membership to your followers and students, with different perks available at each level, and you can even offer a free membership level to get people interested before nudging them towards a higher value paid plan.
Podia's pricing is simple, and there are two main plans: 'Mover', and 'Shaker'. The Mover plan is $39/month and includes your online storefront, online courses, digital downloads, email marketing, zero transaction fees, unlimited courses, students and subscribers, and 7 days a week support.
The Shaker plan costs just $79/month and includes everything from the Mover plan, as well as memberships, blogs, embedded checkout, affiliate marketing, third party code, and free migrations.
Podia doesn't have a free plan, but if you want to try out all of the features they offer a 14-day free trial!
The Downsides to Using Podia
Although the page builder is easy to use, and you can reorder the elements of your page, it's difficult to completely customize your pages which may be a problem for any brands that have strict requirements and need the customization options.
You will see that all Podia storefronts look very similar, they are instantly recognizable as Podia because of the welcome page layout.
Although email marketing software is included with Podia, the features aren't as advanced as features included with some other email marketing software, so if you are sending more sophisticated email autoresponder software you will need to use an additional dedicated email autoresponder like ActiveCampaign.
Check Out the Latest Podia Promos Here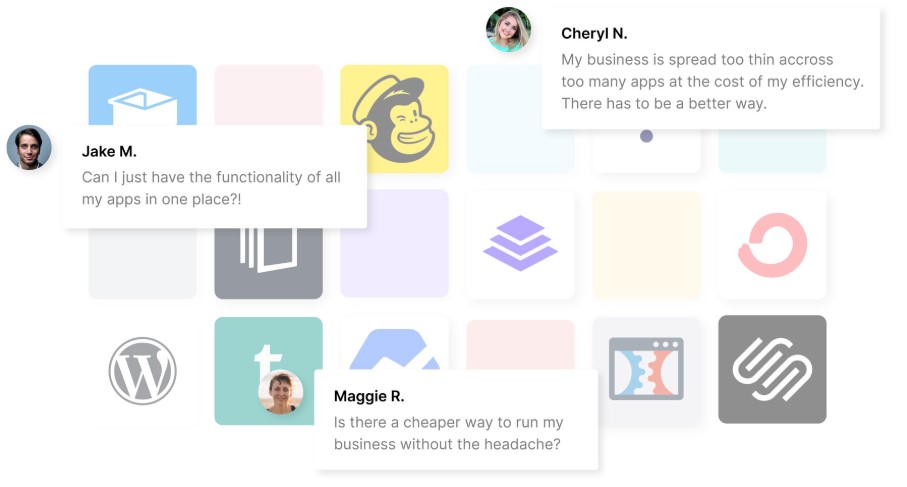 The Key Features of the Kajabi Online Platform
Build websites, courses, membership sites, and landing pages
Theme library
Custom URLs
Built-in blog
Reporting and analytics
Mobile responsive themes
Video hosting
Digital download capability
Community
Drip content
Bulk user import
Member dashboard
Multi-step checkouts
Announcements
User tagging and segmentation
Pipeline blueprints
Custom forms
Capture leads
Email analytics
Email broadcasts
Assessments
Webinars and events
Affiliate program
The Benefits of using Kajabi
Kajabi is an all in one platform that lets you create courses, build landing pages, launch marketing campaigns (marketing tool functionality), and build your website, all from one place.
Kajabi saves you time and money by allowing you to run your entire business from one central place. You can even replace your entire website with Kajabi, and it includes email autoresponder software too.
It is one of the most popular LMS software platforms around and is used by over 16,000 businesses including top thought leaders like Amy Porterfield.
It's very easy to get started with Kajabi, and there are lots of pre-built templates for you to choose from for your pages and courses that have been designed to convert, and rigorously tested.
All of the templates are fully customizable, so you can add your own logo, text, colors, images and more, until you have everything looking just the way you want it to. The themes are all fully mobile responsive, so no matter which type of device your students are using, you can be confident that your pages will look perfect.
You can create as many pages as you want to for your website, such as an 'about' page, or anything else you might want to include. There is also an in built blog, which you can use to share articles that your followers would find interesting- this can also help improve your SEO.
Kajabi also includes funnels (pipeline blueprints) and you can either build your own, or use one of the pre-built pipeline blueprints provided. If you have built your own funnel sequence, and it is working well for your business, you can save this and use it over and over again, and adapt it as you need to.
When it comes to selling and collecting payment for your courses and memberships, and there are no transaction fees, so you get to keep 100% of your hard-earned money. Your checkout pages are completely customizable, and you can even offer one-click upsells at the checkout to boost your revenue per customer.
Kajabi has a reporting and analytics dashboard which allows you to keep track of your sales. You can see sales you have made directly as well as sales that have come through your affiliates. Reports can be viewed on a daily, weekly or monthly basis, so you can always keep track of where you are and how you are doing.
Kajabi has great customer support with 24/7 live chat and email support for its customers, so if you have any problems you can be sure there will always be someone available to help you out.
Kajabi has three pricing plans: Basic, Growth, and Pro. The Basic plan costs $119/month and includes 3 products and 3 pipelines. You can create unlimited landing page builds and send unlimited marketing emails, have 10,000 contacts and 1000 members, 1 website, and 1 admin user. This plan does not include the affiliate program, and some pages can say "Powered by Kajabi".
The Growth plan costs $159/month and includes 15 products and 15 pipelines. You can have 25,000 active contacts and 10,000 active members, with 1 website and 10 admin users. This plan also includes advanced automation, the ability to remove the Kajabi branding, and the affiliate program.
Finally, there is the Pro plan which costs $319/month. This includes everything from the Growth plan, as well as 100 products and pipelines, 100,000 contacts, 20,000 active members, 3 websites, and 25 admin users. It also includes access to the code editor for your developers.
There is no free plan available with Kajabi, but you can try out all of the features with this 14 day trial.
The Downsides to Using Kajabi
Kajabi is a fantastic tool, and the only real downside we can see is the price. It's slightly more expensive than other online course builder tools, but you have to remember it does include lots of features that aren't included with other platforms, such as email marketing, funnels, memberships and more.
The other downside is that there is no free plan available like there is with Teachable and Thinkific, so if you want to use this platform you will have to jump straight to a paid plan after the free trial.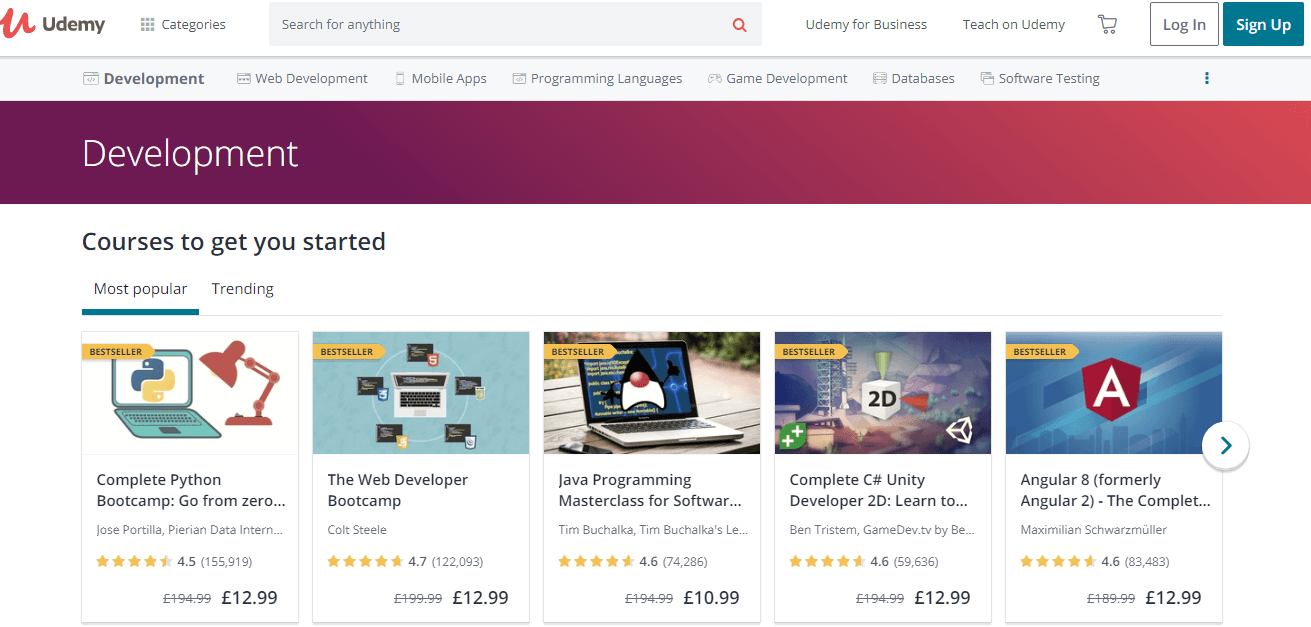 Udemy is a platform that allows you to create and sell your own online courses. As well as this, Udemy has its own marketplace, so you can start selling right away, even if you don't have your audience yet.
Key Features of Udemy

Create (course creation) and sell online courses
Get paid monthly through Payoneer or Paypal
Instructor dashboard
Free to create courses
Ready to use course templates
Ready-made community of students
SEO friendly
Good customer support
Certificate of completion

The Benefits of using Udemy
Udemy lets you create and sell online courses. It's completely free to build your courses, and there are no limits to how many courses you can create. If you have never built an online course before, Udemy provides free courses on how to get started building your own course and a community of course creator and digital product owners that you can connect with and ask questions.
It's very easy to use, there is a pre-built course template for you to upload your content to, and then you are ready to go.
Although Udemy courses are not accredited, you can provide your students with a certificate of completion upon finishing their course, which they can keep for their records and show off to family and friends.
There is no need to worry about SEO, as Udemy already ranks very well in Google's search engine, so you can rest assured that your course will have a fighting chance at being found online.
The main benefit of using Udemy is that you can put your course straight into Udemy's marketplace, giving you instant access to a pool of people who would potentially be interested in buying your course.
In return for this, however, Udemy takes a 50% commission of any of your sales that have come through the marketplace. This sounds like a lot, but there is a strong possibility that these buyers wouldn't have found your course without the help of the Udemy marketplace, so think of it as an affiliate sale.
If you promote your courses yourself through your own coupon or referral link then you get to keep 97% of the revenue, while Udemy takes just 3%, and if your course is sold through one of Udemy's affiliates, then you would get 25% of the revenue, while the rest is split between Udemy and the affiliate partner.
It's completely free to sign up with Udemy, so give it a test drive here.
The Downsides to Using Udemy
The Udemy marketplace has a rating system, so if you get a couple of bad reviews this could dramatically affect your sales, and there is no way to change this. It's also tricky to get sales when you have no rating at all due to being a new course, as customers may pick a similar course that already has good reviews.
Another downside to using Udemy is that they have a lot of sales, which could put the price of your course down to as low as $10, which wouldn't in turn seriously affect your earnings. The last downside to using Udemy is that it's difficult to customize your own course page, and although you can upload your own logo, you will always be able to see the Udemy branding.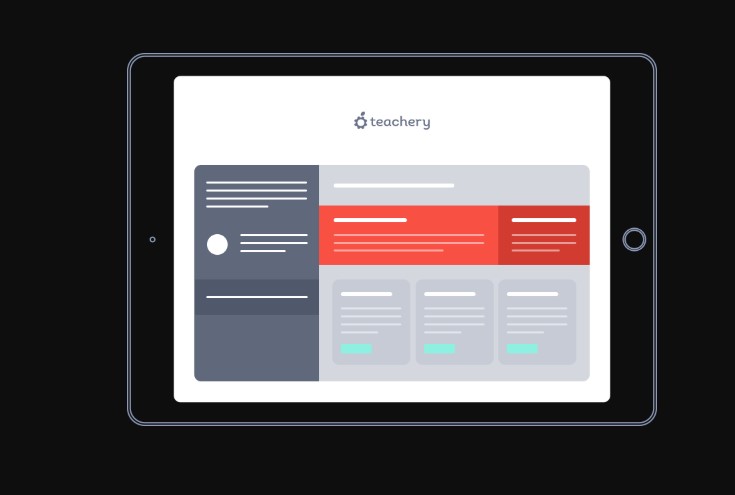 Teachery is an easy to use online course builder software that is easy for anyone to use, even with no technical skills or previous experience.
The Key Features of Teachery
Unlimited courses, lessons and students
Simple live course editor
Embed video, audio, slide presentations and images
Course style editor
Payment pages
Recurring payments
Sales pages, landing pages and lead pages
Email integration with MailChimp and ConvertKit
Zapier Integration
Easy customer exporting
Custom domains
Custom course homepage
Tracking code and analytics
Drip content
Welcome emails and course completion emails
Affiliates
Customer support
The Benefits of Using Teachery
It's super easy to start creating your courses with Teachery, and you can choose from two flexible course templates to get started. The templates are customizable and have been designed to help your students learn in the best possible way.
Teachery was designed by online business owners, for online business owners, so everything has been carefully built with you and your students in mind. You can build unlimited courses and have unlimited students at no extra charge.
You can accept payments for your courses in various ways including upfront payments, payment plans, or recurring monthly or yearly payments. There is also an affiliate program, so you can boost your sales by selling through affiliates in return for a commission.
If you don't have your own website already, you can build custom landing pages with Teachery's page builder. You can build as many pages as you like (there are no limits) and you can add your own domain or subdomain to keep everything on brand.
Teachery includes advanced analytics that allows you to view data on your customers such as their lifetime value, how much time they spend on your courses, and their average course completion time, and all analytics are displayed using easy to understand visuals.
Teachery is also a great option if you need to create courses for more than one website, as some other course providers don't allow this.
Teachery has the most uncomplicated pricing structure we have seen. There are two plans: Monthly and yearly. The monthly plan costs $49/month and the yearly plan costs $490/year, saving you 20% on the monthly plan. Either plan includes all features, so there are no surprises, and there are zero transaction fees.
Teachery offers a two-week free trial if you want to try it out for size.
The Downsides to using Teachery
Teachery does not include video hosting. You can include videos in your courses but you will need to host them on another platform like Vimeo or Youtube.
Teachery also doesn't included quizzes as part of the course content, which may disappoint some people, and there is no option to offer unbranded courses, the Teachery logo will show at the bottom of all of your pages with may bother some people.
What is the Teachable Online Learning Platform?
Teachable is a powerful learning management system (LMS) that lets you easily create and sell courses online for almost any type of learner via their virtrual classroom. It is well known for how user-friendly it is, and is one of the most popular course building platforms available, with over 18 million students using the platform and over 68,000 instructors selling their courses.
The Main Features of Teachable
Create and sell online courses
Provide multimedia lectures
Mobile responsive page layouts
Power editor for advanced customizations
Sales pages
Connect your own domain
Quizzes
Course completion certificates
Course compliance to ensure students complete their course
Student feedback forms
Integrations
Student list segmentation
Coupons and promotions
Advanced pricing options
Affiliate program
Advanced reporting and Analytics
Multiple instructor support
SSL certificate
Instant updates
The Pros and Cons of Teachable
Pros:
Easy to use software, suitable for beginners and experienced users alike
Create engaging courses with quizzes and multimedia lectures
Course completion certificates
Wide range of payment options and payment plans
Affiliate program
Free plan with no credit card required
Trustworthy and secure platform to use
Cons:
Free plan has limited features
No email software is included
So now that we've seen what Teachable has to offer, let's take a look at some of the alternatives available, so that you can see if one of these would be better for you and your business.
The Verdict: Which is the Best Teachable Alternative?
All of the Teachable alternatives we have looked at today are great options for you, so it really depends on your individual needs, since some of these provide additional features that may be useful to you, such as memberships and email marketing software.
Overall, we think that Thinkific is the best Teachable alternative, since it offers the most features, and allows you to create professional-looking courses and memberships that work seamlessly with your existing branding.
Since Podia offers so many features with the plan, you can move your entire business over to the Podia platform, which will save you money on hosting, email autoresponder, membership software and more.
And if you are looking for a free plan? Then go for Thinkific. It has one of the best free plans available, and allows you to create up to 3 courses for free, with no transaction fees! Of course, the free plan doesn't include all features, but it's a great option for anyone getting started or anyone who is bootstrapping their business, and you can always upgrade later when your courses start selling.
Hopefully, this has helped you choose the best alternative to Teachable for your business. If you would like to try Podia and see how it all works, take advantage of their Podia, and if you're after a free plan then definitely check out Thinkific here.
Still, looking for more teachable alternatives? Check out these related articles: