Last Updated on May 6, 2022 by DMEditor
If you are working hard to sell your products or service online, then some help to ensure that you hit your goals is often welcome. The beauty of online marketing is that more profits can be achieved through the automation of the marketing process.
Automation products are a dime and a dozen, but those that offer stellar performances are few. There are many factors to keep in mind when shopping for a tool that will help you manage your marketing goals. Your weapon of choice, for example, should above all offer useful features at an affordable rate for your business.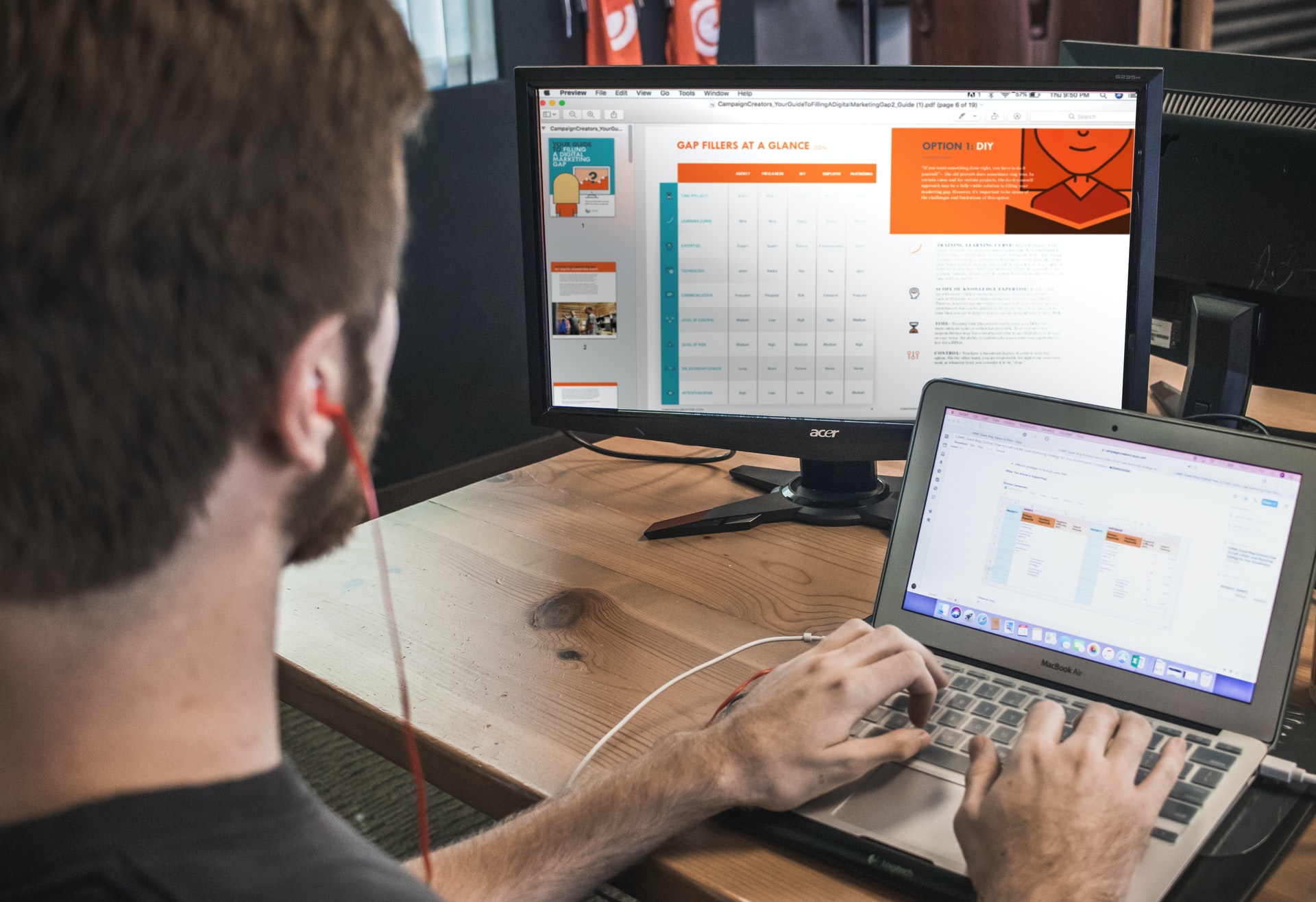 A platform that is intuitive and easy to use will help novices feel at home and encourage them to use it to their advantage. Support features are critical too when choosing an automation product since they do come at a price. You do not want to purchase a clunky and bugged out tool that makes your online marketing life a misery.
Amongst the very best of these products are ClickFunnels and Market Hero. We have done a review that highlights their prowess in making online marketing a breeze. We have also emphasized their differences which are not so subtle to help you pick one that will bring you the best return on investment.
ClickFunnels
Created in 2014 by Rusell Brunson, ClickFunnels now rakes in an annual estimate of over $100 million. It also has a vast active member base of over 65,000 as of August 2018. But what is ClickFunnels?
To help you understand what ClickFunnels is, it is essential to learn about sales funnels. A sales funnel is the purchase process that you lead your customers through when they are buying your products.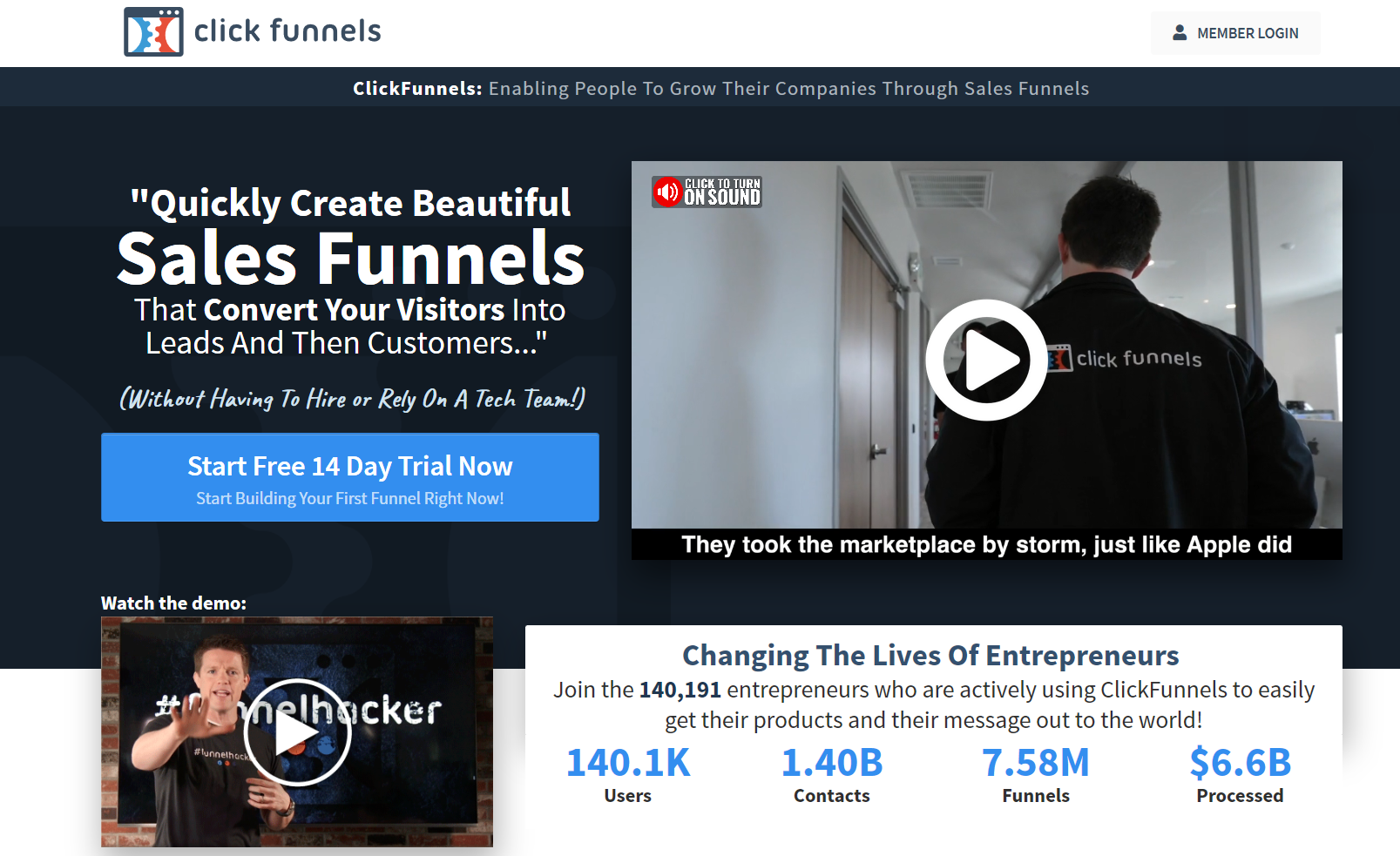 A good sales funnel on a, for example, help you to get your customer's email addresses. Once the email addresses are in the bag, you can start the process of creating an emotional connection that leads to trust. Trust is the gold standard of business. With it, your customers will have an easy time purchasing from you.
Through the same sales funnel, your customers will be led to your sales page. A well-converted sales page will bring on sales that will give you more revenue for advertising. With time advertising will bring on more customers through the same sales funnel. ClickFunnels can help you build one rewarding cycle of revenue and customer loyalty
ClickFunnels is fundamentally a sales funnels builder. It can create all types of sales funnels, with upsells and downsells and order bumps included. You can use it to build amongst other things, webinars, membership sites, and squeeze pages.
With its premium Etison Suite, you can use its Actionetics MD to replace your email suite and build an affiliate program on it using Backpack.
ClickFunnels is, therefore, all you need to start marketing and making some revenue online. With it, you can bypass those expensive developers and just do it yourself with ease. It easily integrates with Stripe, Paypal, and other payment processors, becoming the to-go-to place for all marketers who accept online payments.
What's more, Clickfunnels has its own analytics software that keeps you up to date on how your sales pages are performing. You can also use it to A/B test your pages to help optimize your site for most leads.
How does it work?
Click funnels is both a landing page and sales page editor and designer with lots of funnel and page templates. If you are interested in setting up a landing page for a product launch, go to ClickFunnels' templates.
There you can access landing page templates, live product launch pages and replay pages, a sales page, and a thank you page. The system is thoroughly designed and does not skip any step of a successful sales funnel.
Designing these pages from scratch can take a lot of time, effort, and money. ClickFunnel takes the work out of it, making the creation of a sales funnel a smooth, attainable, and easy to implement the goal. You can actually design your whole online business with ClickFunnels. No need to build a separate website or pay for different hosting fees.
ClickFunnels: The Good
A variety of funnel templates
Clickfunnels has 22 various types of funnels, divided into three categories. There are an event, sales page, and lead capture funnels. You can also access other funnels like memberships funnels if you need them. The Squeeze page funnel, for example, collects email addresses from visitors and sends them to the thank you page for sign up procedures.
The Tripwire funnel, on the other hand, is perfect for down selling and upwelling. Every funnel has it's own free design templates and premium templates as well. You do not require any coding or design skills to have the result of a professionally designed webpage.
Easy to use drag and drop visual editor
With ClickFunnels customization is pretty easy. You can drag and drop elements to achieve the design of your dreams. The editor is straightforward to use making the design process pretty seamless. All text elements can be done on the fly-out sidebar, with no time wasted hunting elements down.
A wide selection of attractive page elements
Page elements give you the flexibility you need to design your pages as desired. Every aspect from the text, input forms, buttons, headlines, images, and video widgets are available on Click Funnels. You can also access many others like countdown timers, FAQ blocks, progress bars, surveys, pricing tables, custom HTML and Facebook comments.
You are able to change these element's fonts, margins, alignment, and background colors easily to customize your pages to your tastes.
An awesome affiliate program
Its affiliate program pays at least 40% of all recurring commissions for referrals. You will also stand a chance to win a cool $500 if you hit 100 active references. There is also a 5% commissions from the affiliate referral program and another 40% commissions for promoting products from the Click Funnel's ecosystem. StickyCookie tool helps you earn commissions on upsells from purchases made by your referrals.
It integrates easily with other platforms
MailChimp, Aweber, Getresponse or ConstantContant… ClickFunnels integrates with most email marketing software perfectly. It also works like a charm with most payment processors including Braintree, Stripe, Clickbank, and Paypal. For webinars, you can use GoTo Webinar, Everwebinar or WebinarJam with ClickFunnels. This is just, but a fraction of integrations ClickFunnels is capable of.
The Bad
Has a few bugs
Adding funnels, for example, can be a bit slow, and few users have experienced a few minor bugs over some time
The customer service is not perfect.
ClickFunnels is not a free platform, so users are not prepared to grapple with bugs and hitches on their own. This has happened to a few ClickFunnels users. So while there a pretty good response, we hope it can be perfected with time.
Too many ClickFunnels products on sale
Many newbie users may get sucked in into ClickFunnels never-ending down sells, upsells, and affiliate products. All you really need for starters is the primary software to build your business on. With this platform, you really have to stay focused.
High Learning curve
There is a lot you can do for your online business with ClickFunnels. It can be intimidating to try to master it all. Mercifully, ClickFunnel's onboarding process is fundamental and intuitive.
Pricing plans
ClickFunnels has two pricing plans down from the original three. The cheapest goes for $97 a month, and it limits you to 20 funnels, 20,000 visitors and 100 pages. You also can not access Actionetics or Backpack. To get all that goodness you have to cough up $297 per month, which may be out of reach for small business owners.
Market Hero
Started by marketer and entrepreneur Alex Becker, Market Hero is an outstanding email marketing tool. A standalone platform, Market Hero, helps send emails, build marketing automation, and create forms as well.
Market Hero tracks your ROI and designs ways you can profit more from email marketing. It can for example highlight just how much your leads are worth. This will help you invest more on leads that bring in more revenue.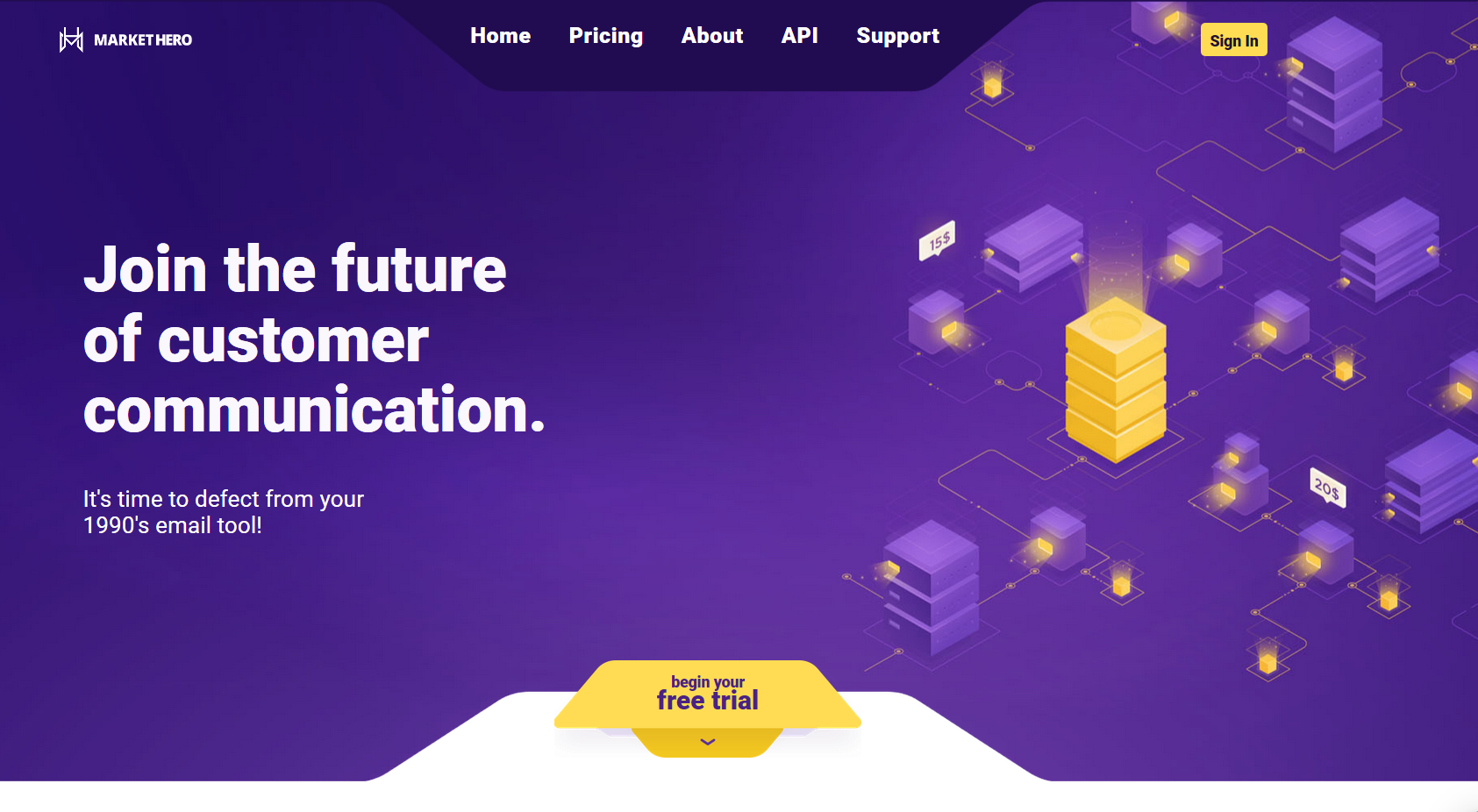 This platform beats its fellow email autoresponders hands down because it has a focus on in-depth sales metrics. It helps you track your sales revenue and is built for business owners rather than email marketers.
MarketHero helps you generate revenue from your leads through email marketing. It also helps you to advertise on YouTube through Adwords. It trains on retargeting and how to deal with audiences. The software also educates on the creation of opt-in webinar pages and trains on FB ads as well. You can also use it to segment your email list in ways other autoresponders cannot.
MarketHero platform's basics
Hero CMS
Has tons of Becker case studies on YouTube ads, how to get more clicks, conversions and how MarketHero strategies work.
Video Market Accelerator Program
Trains on YouTube advertising, using the piggybank tactic for example for more conversions
Hero Sales Academy
A section for learning about social media advertising and how to get more conversions.
H-Com Lite
Has a lot of email marketing studies and how to make money through online e-commerce platforms like Shopify.
Market Hero; the good
Super Cool UI
There is no doubt it. Market Hero's user interface is easy on the eye. Its dashboard is pretty simple too.
Very advanced tracking systems for your ROI
It will help you track your best buyers and even mark them with Market Hero's integrated tags. It also tracks conversions and sales and even enables you to mark your buyers for the next marketing campaign.
Email optimization prowess
Market Hero's system is designed to make the best email campaigns achievable. It can help you spot your most hardworking email headlines. It will also optimize your funnel by tracking your leads long term value to your business.
Intuitive design
Its whole design focus is to help you bring in profits fast. There is no bloat from unnecessary features or complications either. It has a simple WYSIWYG editor that allows you to create and customize emails. It helps add images, video and align text with a simple button. Its prowess at creating image buttons, opt-in boxes and lead boxes is very time-saving.
Automated lead follow up platform
Designing email sequences and segmenting them can be an arduous affair. Market Hero's simple to use UI will bypass this difficulty and assist you to create a segmented and intelligent list of emails for your subscribers. This eliminates much frustration from the email marketing system.
The bad
Market Hero has not yet eliminated all bugs from its system but is well on its way.
It has very few automation options.
They have a 24-hour support system on weekdays only.
They have a bad case of information overload which could be a bit intimidating for first-time users on their platform.
It's limited in features.
Pricing plans
| | | | | | | |
| --- | --- | --- | --- | --- | --- | --- |
| Subscribers | 500 | 1,000 | 2,500 | 5,000 | 10,000 | 15,000 |
| Market Hero | $19 | $19 | $49 | $99 | $129 | $299 |
Market Hero vs. ClickFunnels
While ClickFunnels helps build sales funnels to increase revenue, Market Hero focuses on email marketing automation. ClickFunnels helps you set up a functional sales funnel without the need of paying for hosting, design or autoresponders. It is a cheap way to sell online, with a unified package that has all you need to get started.
Market Hero will definitely draw you in with its crispy clean, neat interface, but it's really limited in use when compared to Clickfunnels. Market Hero is designed to engage customers through email powerfully and would be a better choice only if your product is more focused on email marketing. Its sales-focused approach can be very useful in such instances.
Click Funnels focuses on different types of sales funnels, and you will definitely have more features to work with and more markets to engage than with Market Hero.
Here are some related articles you may be interested in: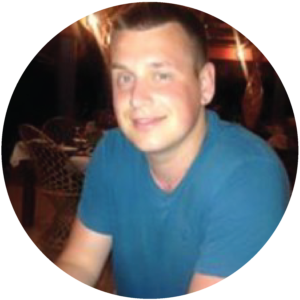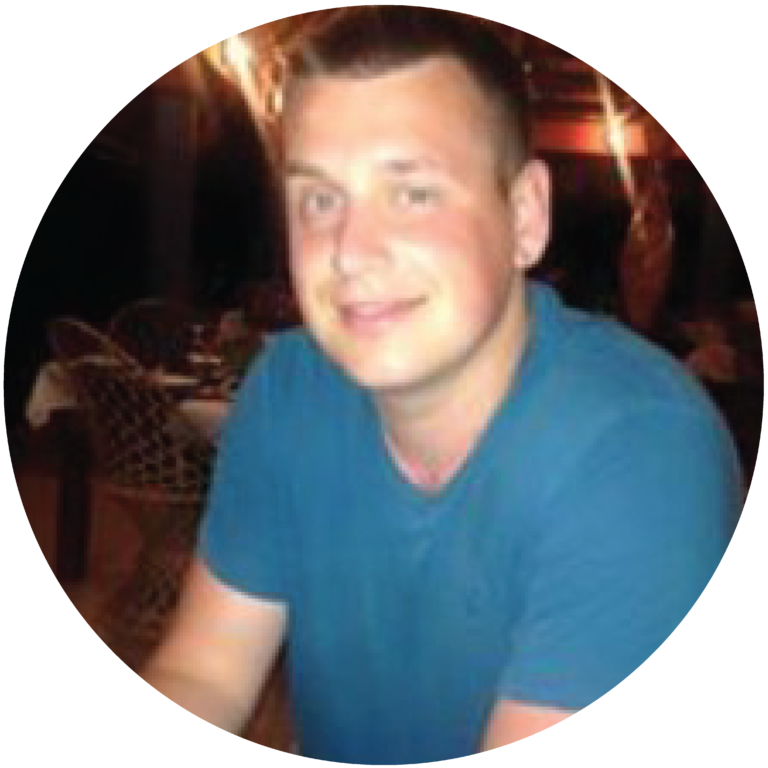 Latest posts by Ewen Finser
(see all)