Last Updated on January 15, 2023 by Ewen Finser
If you are a business owner, you should know that business success in this day and age is highly dependent on digital marketing.
It doesn't matter the size of your business. If you want to take it to the next level, there's no better time than now to engage an efficient platform for your automated marketing campaign.
Sendinblue vs MailChimp is two of the most popular email marketing platforms today, but which is the best choice for your business?
Research has proven that email marketing works and is 40 times more effective in acquiring customers than Facebook and Twitter combined. So, any business that's not investing in email marketing is leaving money on the table.
It's imperative that you choose a marketing platform that meets your specific business needs. Sendinblue and Mailchimp are great options to build and grow your business. Let's compare these two powerful marketing tools so that you can understand them better.
Bottom Line Up Front Summary: I personally found that the more powerful email automation tool was definitely Sendinblue here. When you combine best in class deliverability, advanced integrations and a full spectrum sales automation builder, it's hard to justify NOT at least trying it out first (completely for free, I might add).
Main Differences Between Sendinblue vs Mailchimp
The main differences between Sendinblue and Mailchimp are:
Sendinblue is much more affordable than Mailchimp
Sendinblue has a pay per send pricing model, whereas Mailchimp is pay per subscriber tiers
Sendinblue offers a free plan for up to 9,000 sends per month, whereas Mailchimp offers up to 2,000 subscribers per month free
Sendinblue offers lead scoring options, whereas Mailchimp does not
Sendinblue offers SMS marketing, whereas Mailchimp does not
Our Pick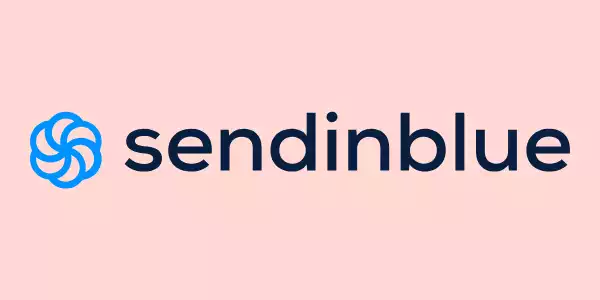 I Personally Prefer Sendinblue
You might not have heard about Sendinblue, but you SHOULD. It has the big box API tools of a SendGrid, the sales automation of an ActiveCampaign, but the user-friendliness of a ConvertKit. Plus, it's relatively cheap in comparison to each.
Try Sendinblue Here
Save 50% for Black Friday!
We earn a commission if you click this link and make a purchase at no additional cost to you.
Sendinblue vs Mailchimp
Sendinblue is a SaaS company that was founded by Armand Thiberge and Kapil Sharma in 2012. The goal of the company is to empower businesses to grow and maintain relationships with their clients through advanced digital marketing tools such as marketing automation and email and SMS marketing.
Having realized that many marketing automation platforms are more suited for large organizations, Sendinblue decided to cater to small and medium-sized companies. They currently partner with 50,000 growing companies around the world, proving that they are popular and in demand.
These businesses rely on them to efficiently send text messages, manage email campaigns and save time with marketing automation. They offer this marketing service in six different languages.

What is MailChimp?
MailChimp is an all-in-one marketing software platform whose founders have a mission to empower the underdog. Founded in 2001 by Ben Chestnut and Dan Kurzuis, Mailchimp started as an email marketing tool and was an alternative to expensive email software that existed in the early 2000s.
Following the growing needs of its clients, Mailchimp evolved into a fully-fledged marketing platform. It has since empowered several small businesses and helped them grow.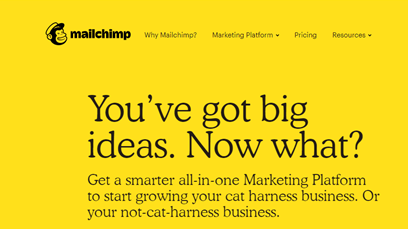 Sendinblue vs Mailchimp: Which Marketing Solution is better for Your Business?
Both marketing platforms are similar by the fact that they are both committed to helping small enterprises to build and grow their businesses through efficient relationships with their clients. But we know that's not enough for you to decide which one is better for your business.
You might be wondering: what are the exact features of each platform? What's the sign-up process like? How much does each cost? All these questions and more must be answered so that you can understand the platforms better and choose the right one. Let's look at them in detail.
Sendinblue vs Mailchimp Features
Marketing Automation
This feature allows you to do much more with less by automating tasks in your workflow. It creates a set of rules which prompt actions that you want to automate. Some of these actions are: sending SMS messages and emails, updating contact information and organizing contacts lists. Email and SMS campaigns can help you retarget warm leads.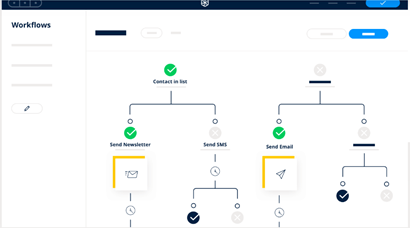 With Sendinblue, you can use the same dashboard to segment your contacts (segmentation), create professional email templates and personalize a sign-up form or opt-in form. You can easily monitor your customer's journey by tracking which products have been purchased and where carts have been abandoned.
Contact Management
Sendinblue helps you to import and manage your contacts easily before any campaigns or automation workflows. You can import your contacts in one of these three ways:
Import from a CSV or TXT file
Add them to Sendinblue manually one by one
Copy and paste them to a form in Sendinblue
The next step is to link the data and then choose a list to add your contacts to. The process has guided steps that make it so easy to follow. Sendinblue only allows you to import contacts that are opt-ins. After successfully importing your contacts, you can filter and select contacts depending on socio-demographic or behavior using their personalized segmentation engine.
The platform makes it easy to create contact lists for your email campaigns and manage large numbers. Imagine being able to import up to 250 million contacts and easily segment them according to your criteria.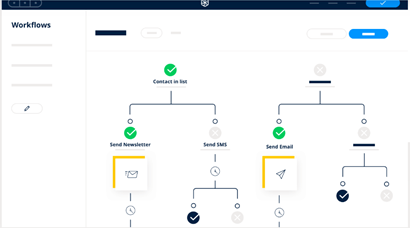 Email Designer
Not only does Sendinblue design email templates that are used by top-notch brands, but the templates are also adaptable to any screen size. Whether it's a mobile phone, tablet or computer, you don't have to worry about the display.
The inbox preview will show you exactly what the email looks like before you send it. You will also find templates for newsletters and transactional messages. The drag and drop editor saves you time with your email campaign efforts.

Transactional Messaging
Sendinblue believes that transactional emails are indispensable and require more attention than marketing emails. While email marketing campaigns help you to obtain customers and grow your business, transactional emails smoothen the operational processes on your site for your business and customers.
Following action on your website, transactional emails are automatically sent from an SMTP server. Customers may abandon your business if they don't receive these emails immediately. These messages serve important functions including:
Order Confirmations
Receipts
Notifications
Password resets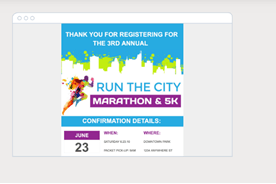 Unlike traditional platforms which have low added value, Sendinblue SMTP provides you with real-time monitoring feature that allows you to track your deliverability, open rate, click-through rates and so on. Not only can you personalize your transactional emails with quality designs and content, but action on your website will also result in a sent email.
This platform logs every message, email and alert that goes out so you're able to go back and check if you need to.
Campaign Reports
These reports help you to determine the location of each person that opened your email and clicked your links wherever they are in the world. You can also monitor the number of clicks and opens of your emails. Sendinblue's reports allow you to discover areas of improvement by analyzing your key performance indicators.
Their email click heat map gives you a clear picture of the areas in your email that produced the most clicks. This helps you to produce an effective newsletter by removing ineffective content and optimizing readability.

You can monitor your statistics and analyze your results in real-time. This is an important feature for a marketing platform to have.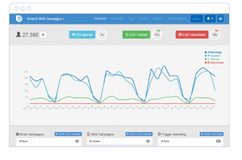 Deliverability
It's disheartening for business owners to put many hours into building an email list, creating campaigns and later on discover that only half of your audience is receiving your emails. Many email marketers experience the issue of ensuring that emails reach the recipients' inbox and not their spam folders.
Individuals might miss your emails because:
You have several emails sent to invalid addresses
Your IP address and the domain name has a negative reputation
Your emails are being marked as spam
Your recipients receive several emails that yours get lost among them
Sendinblue has been optimized to ensure high delivery rates. It blacklists invalid email addresses to prevent subsequent emails to them. You can segment your contacts depending on if they've opened your emails in the last 6-12 months. You can either re-engage them and send them activation emails or remove them.
This platform ensures authentication and security using a dedicated IP for secure email sign-in plus DKIM, SPF, and DMARK protocols.
eCommerce Options
Before evolving into an all-in-one marketing platform, the original vision of the company was to serve eCommerce businesses via list building and sales funnels. When there's a transaction on your store, the information appears on your dashboard including the date, amount, order ID.
Sendinblue vs Mailchimp – Mailchimp's Features
Marketing Automation
Mailchimp's automation helps you to get more work done in a shorter time, create more conversions and sales, create relationships and grow your business. It is easy to automate on Mailchimp. Like other advanced marketing platforms, you can create an email series that trigger activity by a subscriber.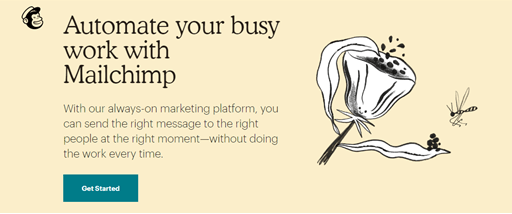 This feature is especially useful for eCommerce businesses since there's usually a high cart abandonment rate. You can create emails to familiarize a website visitor or new customer with services and products on your online store.
User-friendly Interface
Mailchimp's dashboard is known to have user-friendly elements. You can easily create lists, upload contacts, and invite colleagues and so on. Navigating the platform is a piece of cake.
Sign Up Process
You only need a username and email ID to sign up to the platform. Creating a free account is easy and you don't require contact details or a credit card.
Contact Management
For the free MailChimp plan, you get to add 2000 contacts. Based on buying patterns, demographics and purchase behavior, you can segment your lists and personalized marketing campaigns. Subscribers that have signed up on the Facebook sign-up forms also get onto the list for free.
A/B Testing
This is an important factor for any advanced marketing tool. It allows you to fine-tune your email marketing campaigns by creating two campaigns and set them off against each other to find out which one produced more engagement and conversions. Implement the successful strategy for subsequent campaigns and keep split testing to make your message even better. With this feature, Mailchimp delivers top results.
Facilitating Ad Campaigns
Ad campaigns allow your business to grow by connecting with your audience through ad channels and social media networks. MailChimp helps your business to build an online presence with powerful and effective behavioral targeting options for targeted emails.
The different social media ad campaigns include:
Facebook ads
Instagram Ads
Google ads
Landing Page Creation
It will take you just a few minutes to design a professional and attractive landing page with MailChimp. And you can create as many as you want. You do not require special designing skills to create highly-converting landing pages with this automation feature. Your clear call to action will entice people to join your list and purchase your products. With MailChimp's landing page creator, you can:
Announce a presale and provide access to your products before they become officially available
Collect email addresses through a contest or giveaway
Alert your best customers about your exclusive offers
Offer a free download to new audience members and grow your list
Email Templates
MailChimp offers a wide range of email templates to choose from depending on your specific need and industry. All you need to focus on is building your message. You will find templates for newsletters, eCommerce, events, holidays and more.
Automation
With this powerful feature, you can recommend similar products to your customers' interests, follow up purchases and monitor abandoned carts. You can turn visitors into customers by creating triggers and sending emails based on their actions on your site. Your drip campaign can include ads and landing pages as well.
Sendinblue Pricing vs Mailchimp Pricing
When you're getting started with Sendinblue, you can use the free package which allows for 300 emails per day to unlimited contacts (not unlimited emails). The Lite package is ideal for new marketers and allows you to send 40,000 emails each month at a cost of $25 per month with no daily sending limit within this pricing tier.
If you have a growing business, the Essential package is your best bet at $39 per month for 60,000 emails. It also includes advanced statistics and no Sendinblue logo in this pricing tier.
The most popular package called Premium is best for marketing pros and allows 120,000 emails per month at $66 per month. It includes everything in the Essential package plus a landing page builder, automated workflows, Facebook ads, multi-user access, sends time optimization and chats.
Finally, the Enterprise pricing package is commonly used by large senders or businesses with more specific needs. Depending on the need, a plan is a custom made to suit them.

MailChimp also has a free plan for businesses just getting off the ground with basic templates, one click automation, marketing CRM and 7 marketing channels. Post this, the paid pricing kicks in for advanced functionality and additional sends above the free tier.
The other plans are charged depending on the volume of contacts used for each plan. The Essentials plan comes with a price tag starting at $9.99 and provides everything in the Free plan plus A/B testing, all email templates, custom branding, and 24/7 award-winning customer support, including live chat support.
MailChimp highly recommends the Standard plan for growing businesses. Starting at $14.99 per month, not only does it include everything in the Essentials plan. It also provides you with custom templates, automation series, advanced audience insights, and retargeting ads.
The Premium plan starts at a whopping $299 and comes with advanced features for marketing pros that require more customization. Including everything in the Standard plan, it also provides businesses with multivariate testing, advanced segmentation, unlimited access, and phone support and chat support customer service.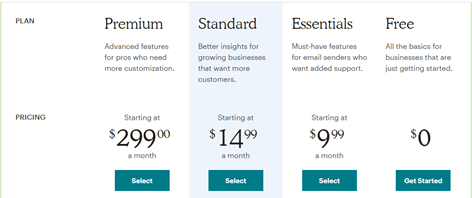 Sendinblue vs Mailchimp Integrations
Over 50 apps and tools can be integrated with Sendinblue. Some of them include Facebook, WordPress, WooCommerce, Optin Monster, Shopify, Drupal, Salesforce and Google Analytics.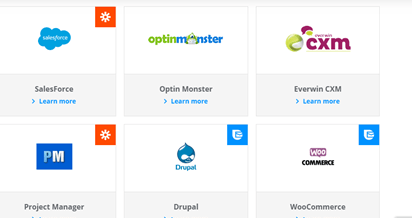 MailChimp boasts of an unmatched number of integrations. With over 200 integrations, Mailchimp will help you to step things up with your marketing. Some of them include Squarespace, Teamgate, SurveyMonkey, Textiful, Accelo Autopilot, and Beacon.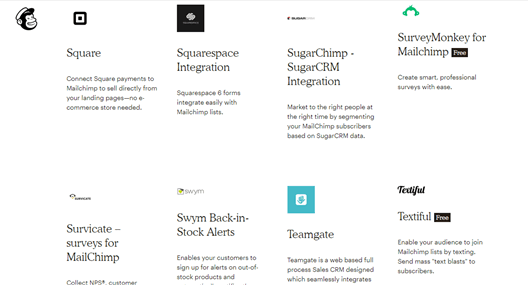 Sendinblue vs Mailchimp API (Application Program Interface)
Sendinblue has developed a powerful and easy-to-use REST API which uses a standardized interface to display all the Sendinblue features as stand-alone software. The API is structured in these three parts:
SMTP: your SMTP activity is aggregated every day. For example, setting up web sockets or webhooks, sending transactional emails, etc.
Campaigns: sending campaigns, creating accounts, managing senders, managing lists and contacts, etc.
SMS: SMS campaigns, sending transactional messages, etc.
Mailchimp's API 3.0 version makes it easy to link email activity and campaign stats to your database. The platform provides resources where you can learn the basics of the API. With the interactive Playground, you can explore the API with your own data. Mandrill is Mailchimp's delivery API that you can use to send automated transactional emails and one-to-one e-commerce messages.
Customer Support & Customer Service
Sendinblue has a blog with detailed articles that cover an array of topics from email marketing to landing pages. For any queries, you can fill your name, email and question in the contact form and they promise to get back to you.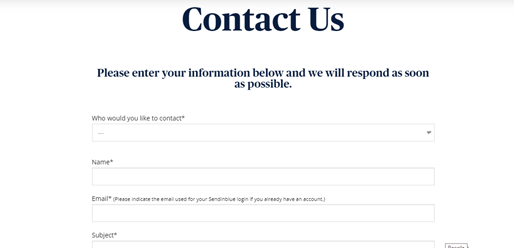 On Mailchimp, paid users can contact the support team through email and chat when they login to their account. The platform contains a large resource of guides and tutorials which help you to navigate the platform easily. They have an alphabetical list of topics where you would need help. For example Facebook ads, landing pages, mobile apps, and templates.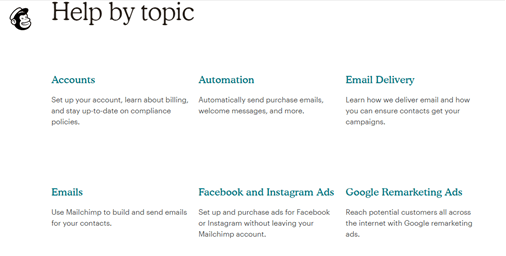 What's The Verdict – Sendinblue vs Mailchimp Marketing Software?
Our Pick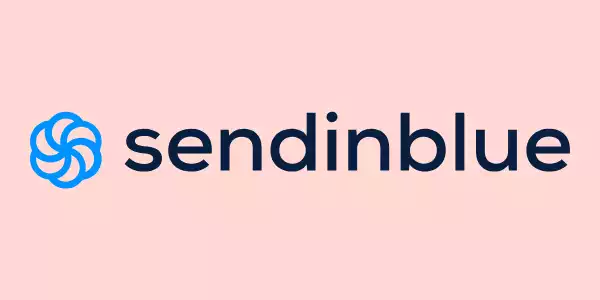 I Personally Prefer Sendinblue
You might not have heard about Sendinblue, but you SHOULD. It has the big box API tools of a SendGrid, the sales automation of an ActiveCampaign, but the user-friendliness of a ConvertKit. Plus, it's relatively cheap in comparison to each.
Try Sendinblue Here
Save 50% for Black Friday!
We earn a commission if you click this link and make a purchase at no additional cost to you.
We hope that all your questions about these powerful tools have been answered. Now that you know more details about them, which one will you choose for your business?
Sendinblue definitely has features that set them apart like SMS campaigns, transactional emails and deliverability which are fundamental for any advanced marketing platform for the modern email marketer.
MailChimp, on the other hand, is also a powerful marketing platform with one of the best email builders on the market. They also boast of several years of experience, especially in the eCommerce industry. Think about where your business is at the moment and where you want it to be in the next couple of years.
UPDATE: Mailchimp recently had a very public falling out with Shopify, the result being that they no longer "play nicely" together. This is a HUGE disadvantage in my book, particularly if you have a Shopify store. Sendinblue is a GREAT Mailchimp alternative in this respect.
Bottom Line: I personally found that the more powerful email automation tool was definitely Sendinblue here. When you combine best in class deliverability, advanced integrations and a full spectrum sales automation builder, it's hard to justify NOT at least trying it out first (completely for free, I might add).
Here are other related articles you may be interested in: