Last Updated on April 22, 2023 by Ewen Finser
If you've read this far, it's likely that you're looking into some email marketing solutions? You've probably seen a few names that keep coming up.
It's a predictable scenario. There are a lot of recurring names out there in the email marketing tool market, all telling you that they're the best for your business and email support needs, and they'll generate a bajillion leads, and therefore plenty of conversions.
If you're new to email marketing, you might be overwhelmed with recurring jargon, the different tiers and the rest of it. We're going to look at just two of the big names to see if they'll realistically help your business with email automation.
Two is plenty to consider at a time. If one of these sounds close, you can compare it to another product, to see if it gets closer, or further away, from a valuable asset.
Bottom Line Up Front: Especially in considering the features of each one, Campaign Monitor feels like it's very much about the actual email itself, especially when you get to the Premier tier and they provide you with a design consultant. That said, I much prefer the advanced automation (and scalable pricing) offered by ActiveCampaign here.
Main Difference Between Campaign Monitor vs Mailchimp
The main differences between Campaign Monitor and Mailchimp are:
Campaign Monitor has a visual journey builder, whereas Mailchimp does not
Campaign Monitor integrates more closely with Shopify, whereas Mailchimp recently had a very public falling out
Mailchimp charges for unsubscribed users, whereas Campaign Monitor does not charge for unsubs
Mailchimp offers retartegeting and social ads, whereas Campaign Monitor does not have these features
Mailchimp has considerably more market share compared to Compaign Monitor
Mailchimp offers built-in A/B testing, whereas Campaign Monitor does not offer A/B testing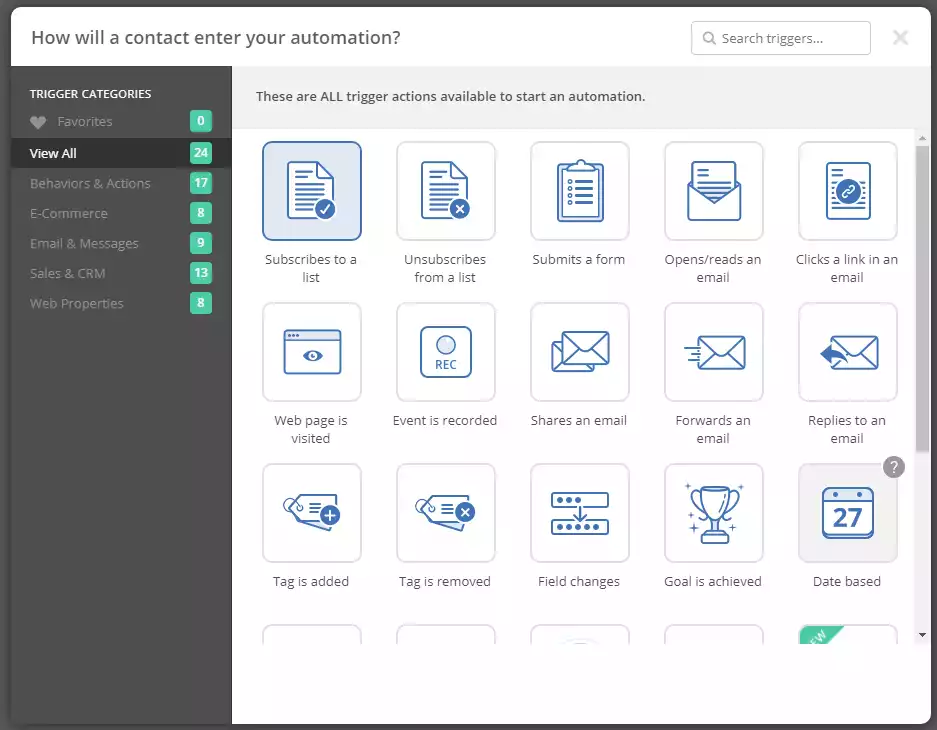 Skip Both. Go with ActiveCampaign Instead.
I personally SKIPPED both of these options and went with ActiveCampaign instead (this site runs on it!). AC offers more automations, more integrations, and SCALES as you grow. Best of all, it's generally CHEAPER at each pricing tier.
Try ActiveCampaign First
We earn a commission if you click this link and make a purchase at no additional cost to you.
A lot of what you learn about an email marketing service from your research depends on how these marketing tool options market themselves.
With this in mind, Campaign Monitor comes across as very modest company – you have to dig relatively deep to find out why they're a big deal.

Founded in 2004, they now claim use at 150,000 companies worldwide, a number which gives them over 2 million users. Amongst their bigger users are Disney, Coca-Cola and Buzzfeed. Companies like that won't put up with a substandard email marketing solution!
At first glance, their offer doesn't appear too different to what other providers offer: simplicity, lead generation, and the like.
That's why looking at these products in more detail important: finding out how or if its usability fits in with your business.
It's likely that MailChimp was one of the first names you saw when you started your research. It's the grandaddy of email marketing solutions: it's been around for 15 years.
It's so widely used, I'd guess that it was recommended by someone, or you saw their branding in an email you received!

In marketing itself, it presents itself as being easy to use – simplicity is probably the most standard of claims of such a service! Right from the outset though, MailChimp gives the impression of being friendly, in terms of its presentation and the tone of its content. That's not a something that can be said about others.
Going through what MailChimp can do for your business at first glance, looks like a standard affair. But let's take a look to see if it's right for you.
Mailchimp vs Campaign Monitor Pricing
Campaign Monitor Pricing
Remember that time you had to look into a digital marketing solution for your director, and they said not to worry about the cost? Yeah, me neither. It's far more likely that you've been told to find a free plan solution.
Alas, you get what you pay for, and with Campaign Monitor, free isn't an option, not even for their lowest tier. The cheapest option is $9 per month, which will let you say hi to up to 500 subs on your subscriber lists, in up to 2,500 emails.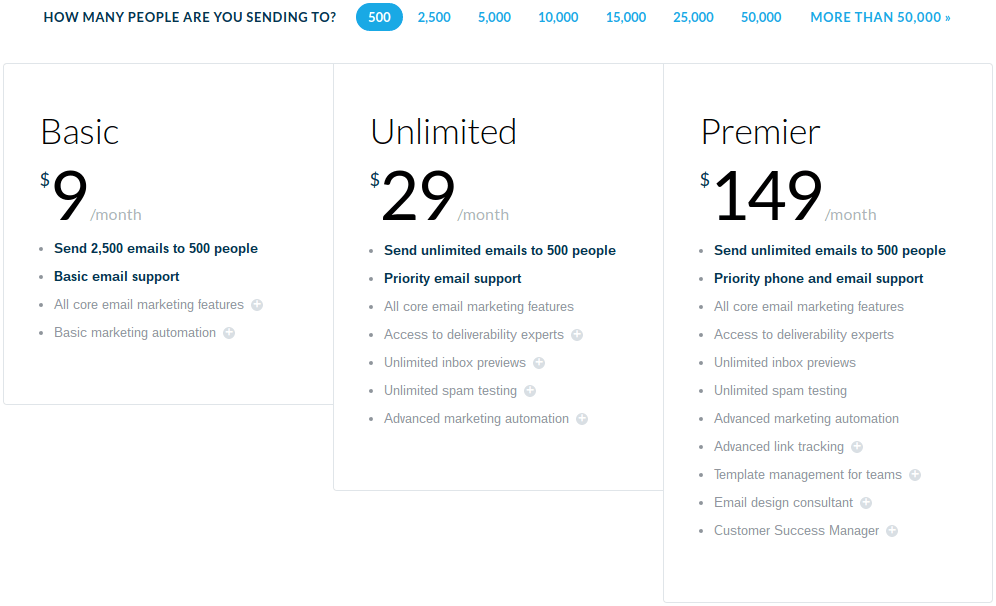 The tiers increase in terms of additional features. For example, if you still have 500 subscribers, but you want to send them an infinite number of emails – as a point of best practice, don't do that! – the middle tier allows unlimited sending, and a few other bonuses, for $29 per month.
The next, final, and most expensive tier, is the Premier tier, which, staying with 500 subscribers, will cost $149 per month. At this tier, I think you get quite a lot. You get even more personal time directly from the company, and it actually looks a lot like having an email marketing agency on retainer. They can take a lot of work off your organisation.
We've just looked at the base pricing for up to 500 subscribers. One thing I'm not a fan of, is that I find the numbers required for the subscriber number price increases to be large and rigid. For example, the next price point up from 500 subscribers is 2,500. That's quite a jump, without any middle ground.
MailChimp
One of the reasons for MailChimp's popularity is the fact that the first tier of their offerings is totally free. Not a trial period or anything, but, as they say themselves 'Forever Free.'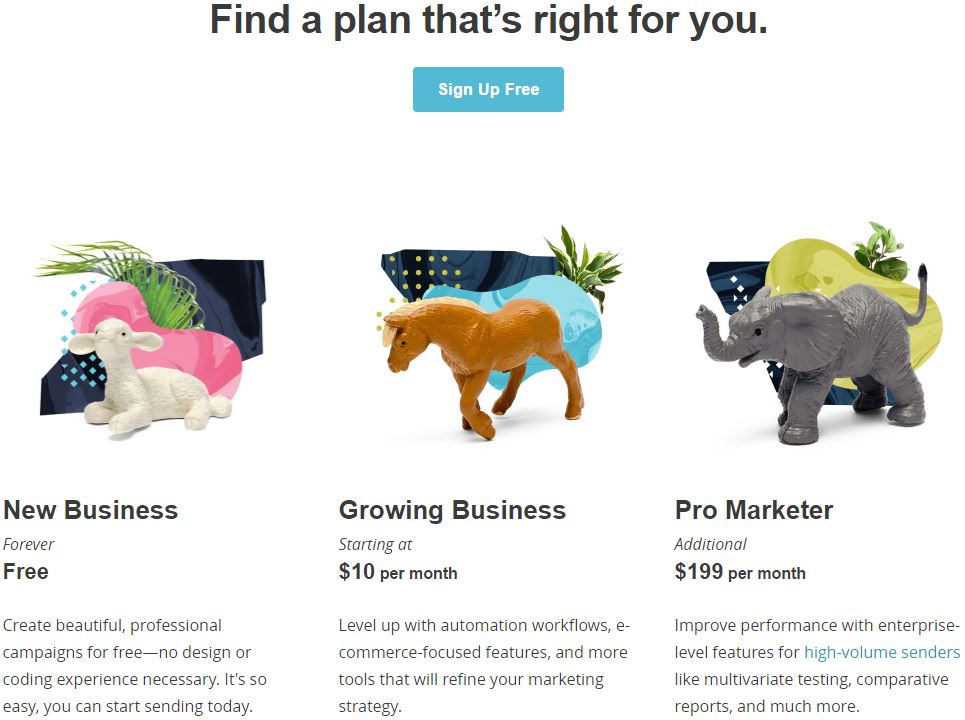 You've probably guessed without looking, that's going to come with some limitations. The main one is that you're limited to 2,000 subscribers. You can email them up to 12,000 times per month. How you use those 12,000 emails depends entirely on your business. You can email all your subscribers six times, or you can segment it for different things.
The paid experiences of MailChimp are a little messy. I'm happy to explain, but it's definitely worth going through them in detail to see what your business might need. Let's run through some paid options.
Sticking with that 2,000 subscribers as a baseline, if you want the additional features MailChimp's middle tier provides, it'll set you back $25 per month. We'll look at those additional features in more detail later on.
An interesting thing about MailChimp's top tier, which they call their Pro Marketer version, is rather than being an incremental amount based on your number of subscribers, is that it's a flat rate of $199 per month to access the additional features. That's a big ask for you to go to your director with, but again, we'll look at the value of that in a later section.
If you don't think you need to contact people every month, or if you're just experimenting with email marketing, they have a pre-pay option, which might suit better.
Plan Features
Campaign Monitor Marketing Software
If you've been researching email marketing solutions, you hit upon Campaign Monitor for its core function: it sends emails.
I mentioned that – as every other email client does – it hails its own simplicity, and the lack of technical coding knowledge required to put together a professional looking marketing email. And that's true, and for email marketing newbies, that's great.
It will guide you through the process in putting together a nice looking email, via a built-in template (Campaign Monitor has hundreds of free templates). It takes it one step at a time, and you can have things as simple or as fancy as you like. It's good to have an eye for design, and knowledge of email optimization.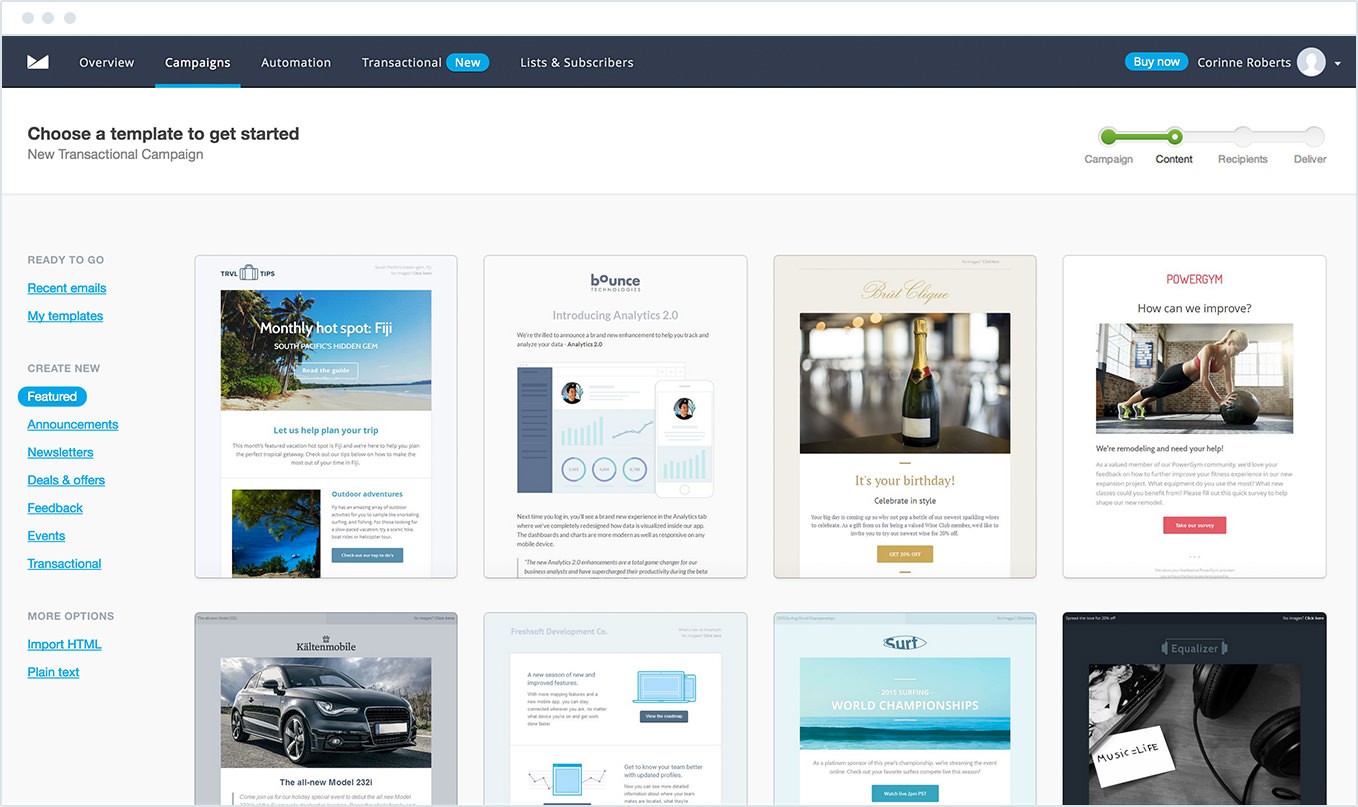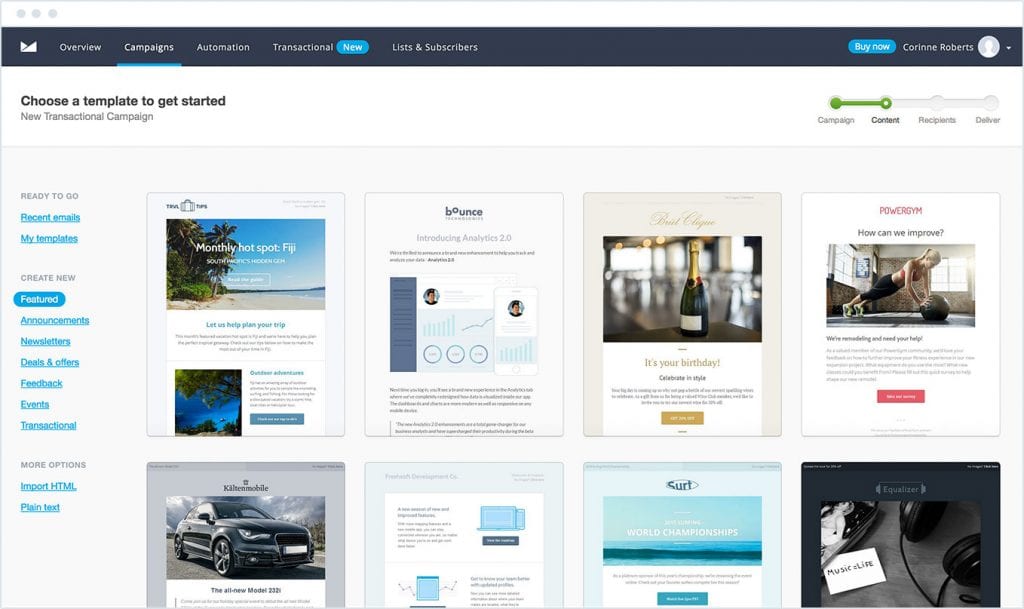 If you can use a content management system like WordPress, or even social media like Facebook, you'll definitely be able to follow the steps to create an email in Campaign Monitor.
The lower tier includes a marketing automation function. This should get you into developing drip campaigns. You'll have some limitations, but it will be a great starting point in getting your head around the kinds of tools you can have at your disposal.
For me, the notable difference in the increasing tiers of Campaign Monitor, is the amount of 'face time' you get directly with the company. It's a common characteristic in tech companies' customer support: the more you pay, the easier it is to get in touch with an actual human.
At Campaign Monitor, the Unlimited tier gives access to a deliverability expert, while the Premier tier give access to an email design consultant, and a customer success manager.
MailChimp Marketing Software
The free version will keep you ticking over functionally until you have the capacity for additional features, or until you get more than 2,000 subscribers, making it ideal for startups.
These key features that'll set you on your way include:
A form builder for creating sign-up forms / opt-in forms (and getting those all important subscribers)
Default double opt-in signup form (unless otherwise specificed)
Reports and data insights to show you how many people are clicking on your email, and what actions they're taking within that
Design templates to maintain synergy with your branding and Facebook ads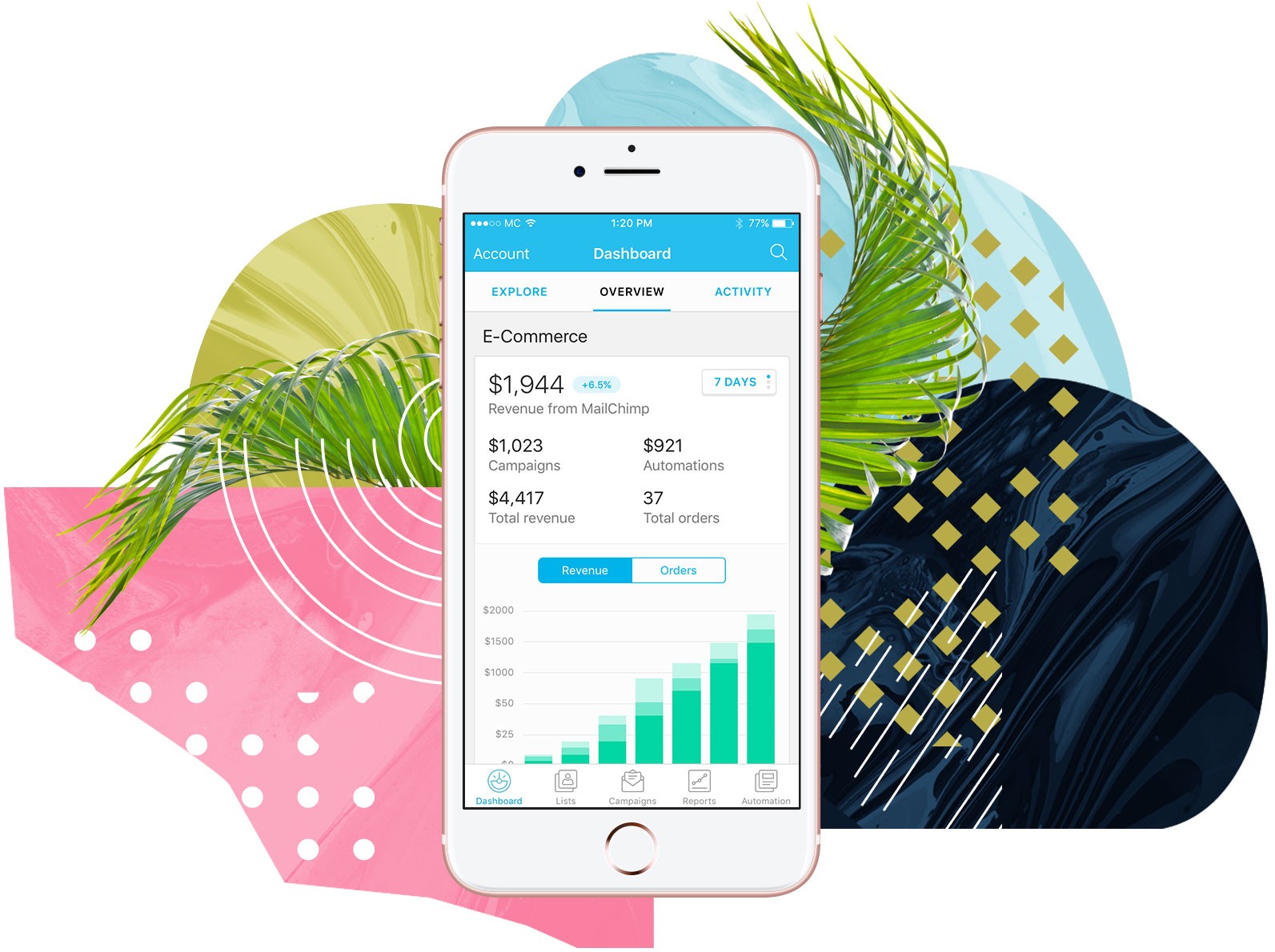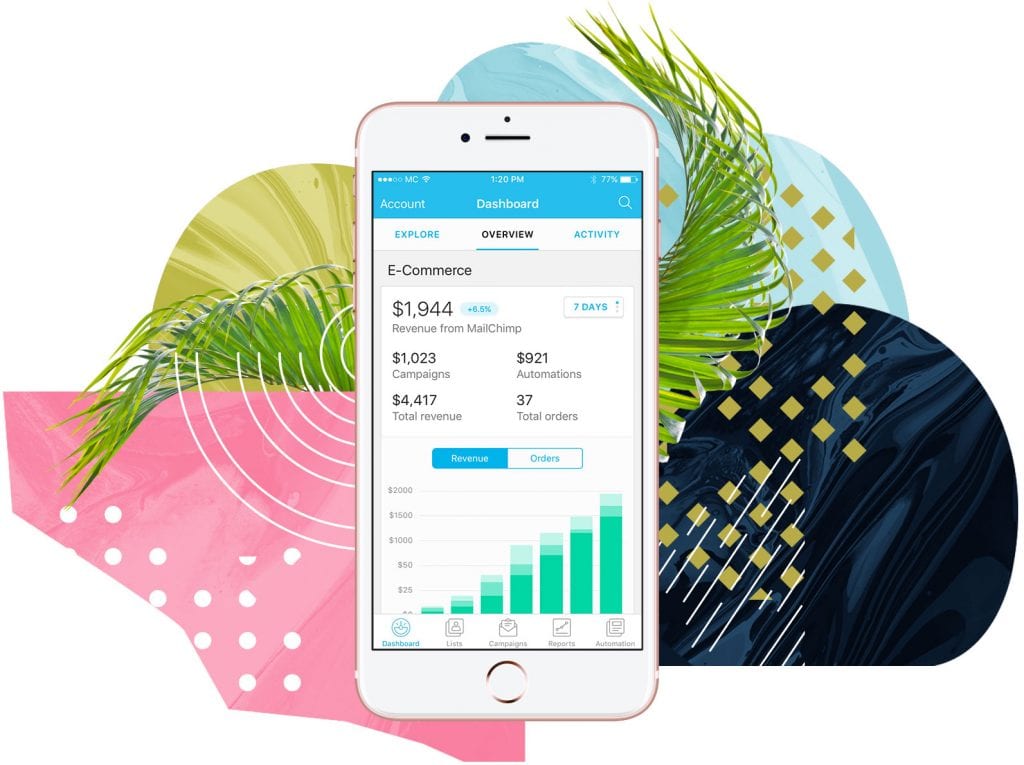 That's it. The skin and bones of email marketing. The reports and data are something new email marketers should be using from the outset, so they can see what's working and what's not.
The features you get at the middle tier are useful for sure – but only if you take the time to understand them, or can hire somebody with that knowledge, even if it's just on a freelance basis.
Marketing automation so you can have drip campaign workflows, triggered by users' taking certain actions, is certainly a big one. Integrations with a CRM is essential for e-commerce businesses – it can be fiddly to set up though.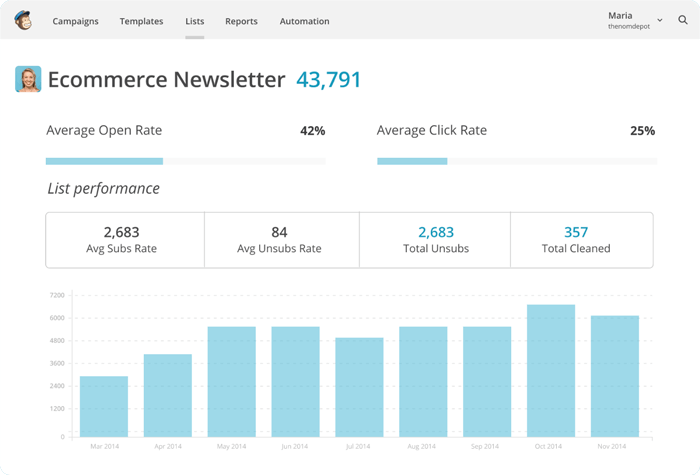 After that, it essentially give you a bunch more data-driven tools to optimize your email marketing. But if the time or knowledge isn't there to utilize them, don't waste your money.
The Pro Marketer tier comes with even more detailed data and analysis reporting (including integration with Google Analytics). It's definitely one exclusively for a company big enough to have a dedicated email marketing manager, who has time to consume the data, and put it to good use.
Marketing Platform Usability
Campaign Monitor
As noted earlier, all the email marketing solutions tell you how easy they are to use. And usually, they are really easy to use. I always have the mindset that I know what it's supposed to do, I just need to figure out how to make it happen!
Campaign Monitor are keen to demonstrate how easy their service is to use as soon as you log in. There's no messing around; you're straight into email design. They seem to be opting to throw you in at the deep end. It's not a bad approach – it won't give you time to worry about things.
The instructions don't feel intrusive, and the language is friendly, concise and encouraging. Think about your favourite teacher from school. That's the tone of these instructions.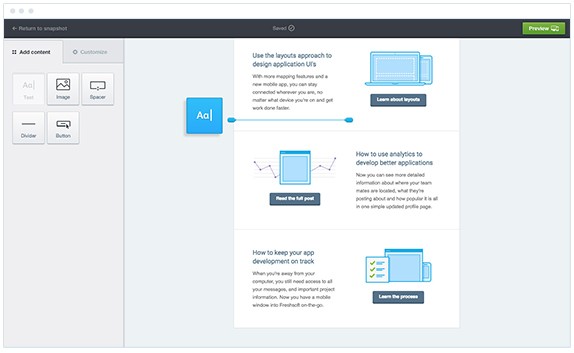 If you've looked into optimizing your emails for marketing campaigns – something I can't encourage enough – you'll see that the templates provided follow best practice. That's an easy win for you.
One of my favorite features of the higher tiers is the inbox preview. Every email marketing client should have it!
In days gone by, the only way to check your email was sending it to as many email types – usually Outlook on your work PC, as well as your Hotmail and/or Gmail accounts, and then look at them on your phone. It only took five minutes, but you don't need me to tell you how precious five minutes can be in a busy office environment!
It's interesting that spam testing is a higher tier feature – it's usually a standard offer.
MailChimp
MailChimp adheres to the same simplicity as other email marketing solutions. It's hard to make a mistake using it.
The process of putting together an email in MailChimp feels very… deliberate? I think that's the most appropriate word! The bright colors and hints of a cartoon ape give a somewhat childish approach, which is fine – nobody expects this to be fun, but you can appreciate them trying!
It's easy to use, and especially in the early days, it breaks the process of creating and sending an email down into small, bite-sized chunks. It's not be the quickest process, but it feels like the most careful.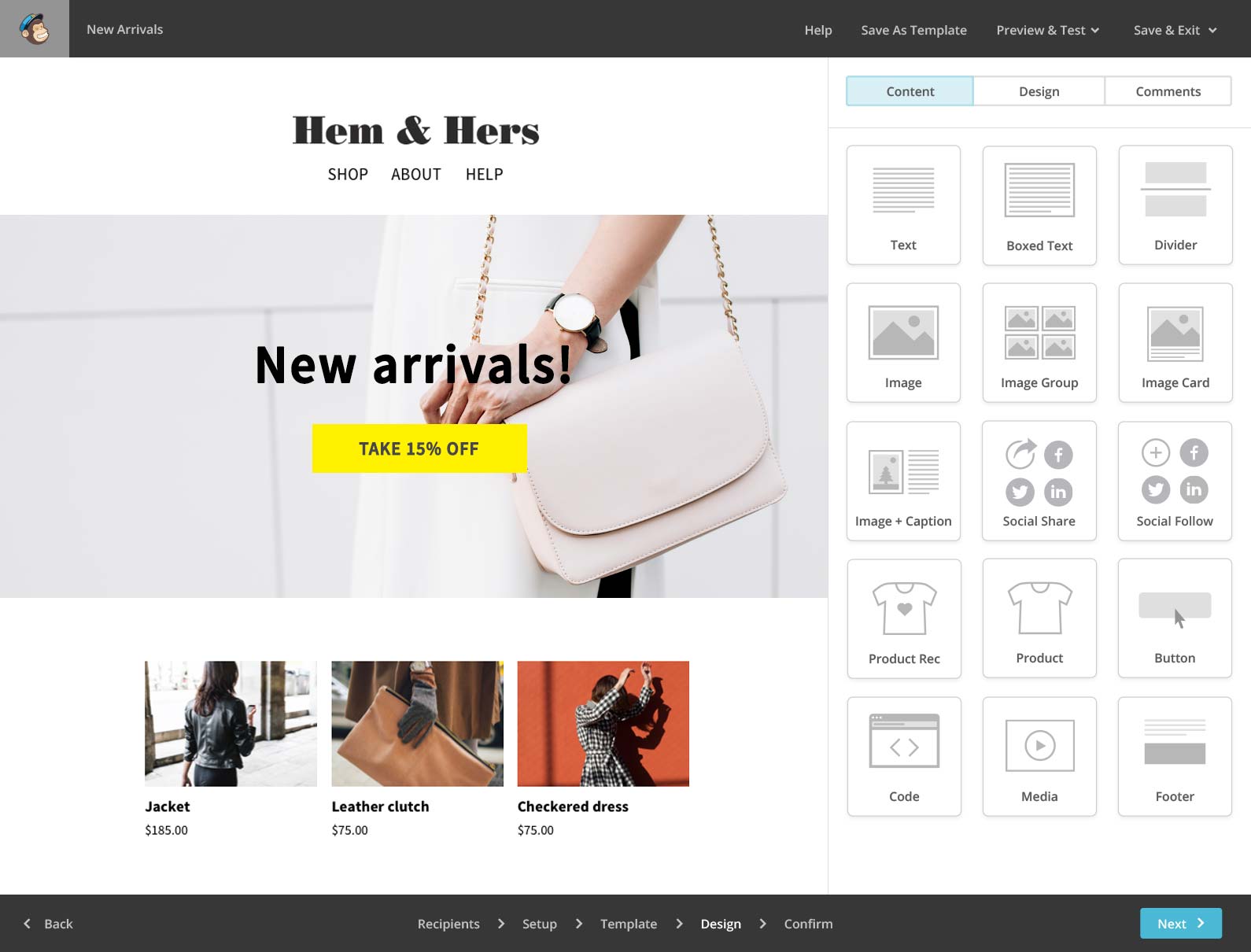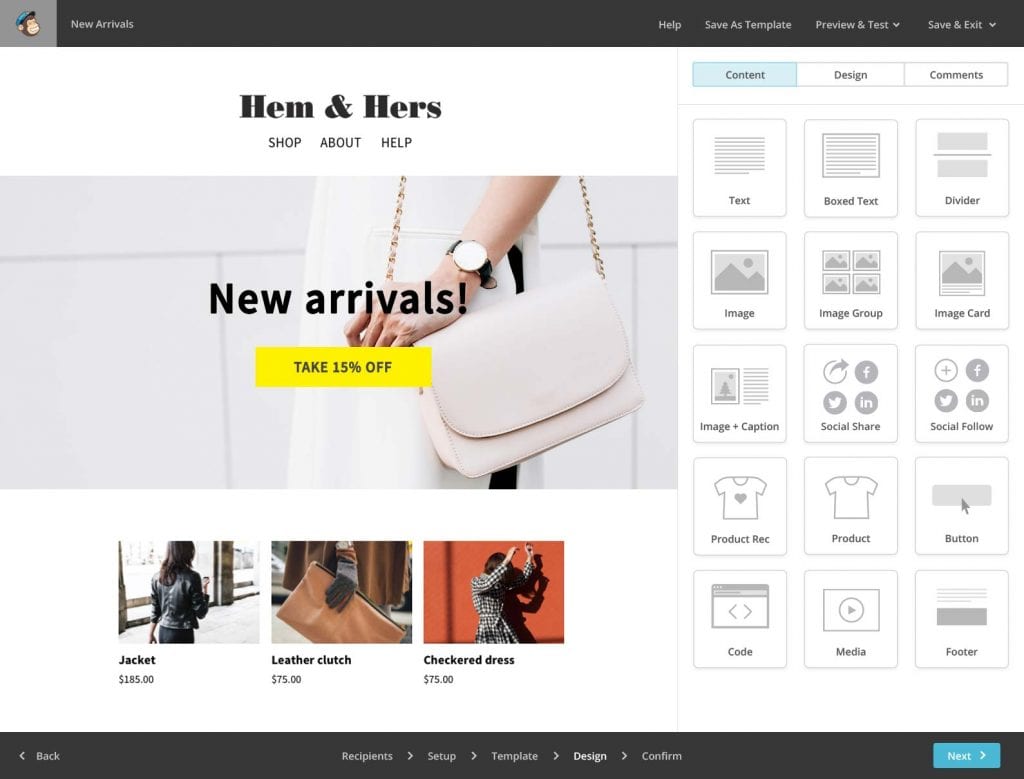 One annoyance, is that when you're going through the email creation process, it will provide you with options for the higher tier plan. So you might think "Oh, yeah, I want to remove MailChimp's branding so I can have it focused on mine – let me just check that box."
Then you'll receive a message saying that it's only available to users in the paid plans, and ask you for money. You might be OK with that, but it sure annoyed me.
For the higher tiers of MailChimp, the benefits are in the backend applications, rather than anything that will help you with the design of your template. The usability of the additional reporting and CRM integrations is going to be defined by the person using them.
One thing that I haven't had much joy with in MailChimp is clarification of what customer support they offer users. It seems focused on the self-help section of their site, regardless of tier.
Concluding Thoughts on Mailchimp vs Campaign Monitor
Campaign Monitor
Campaign Monitor is for the email marketer. It avoids integrations with the common e-commerce products that most email marketing solution include in their bragging materials.
With this in mind, it's probably best used by companies without an e-commerce integration function on their website, so an organization whose digital presence is focused on providing information, rather than selling stuff.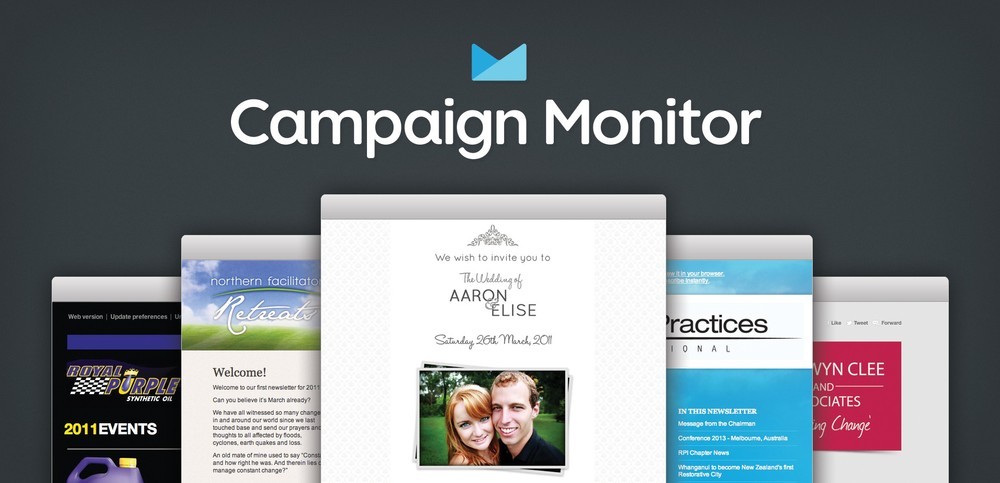 In the context of email marketing solutions, that's pretty unusual, but the use and value of it to some organizations isn't completely implausible.
For this review, there was no interaction with any of the 'face time' people of the middle and higher tiers – the deliverability experts, email design consultant, and customer success manager – but I'd sure love to know more about them and their roles.
Campaign Monitor is a really great product for the dedicated email marketer.
MailChimp
MailChimp's free tier will usually make it the winner when it comes to business looking at email marketing for the first time. And that's not something that's entirely without merit: it's a good solid and trusted tool to have in your digital marketing arsenal.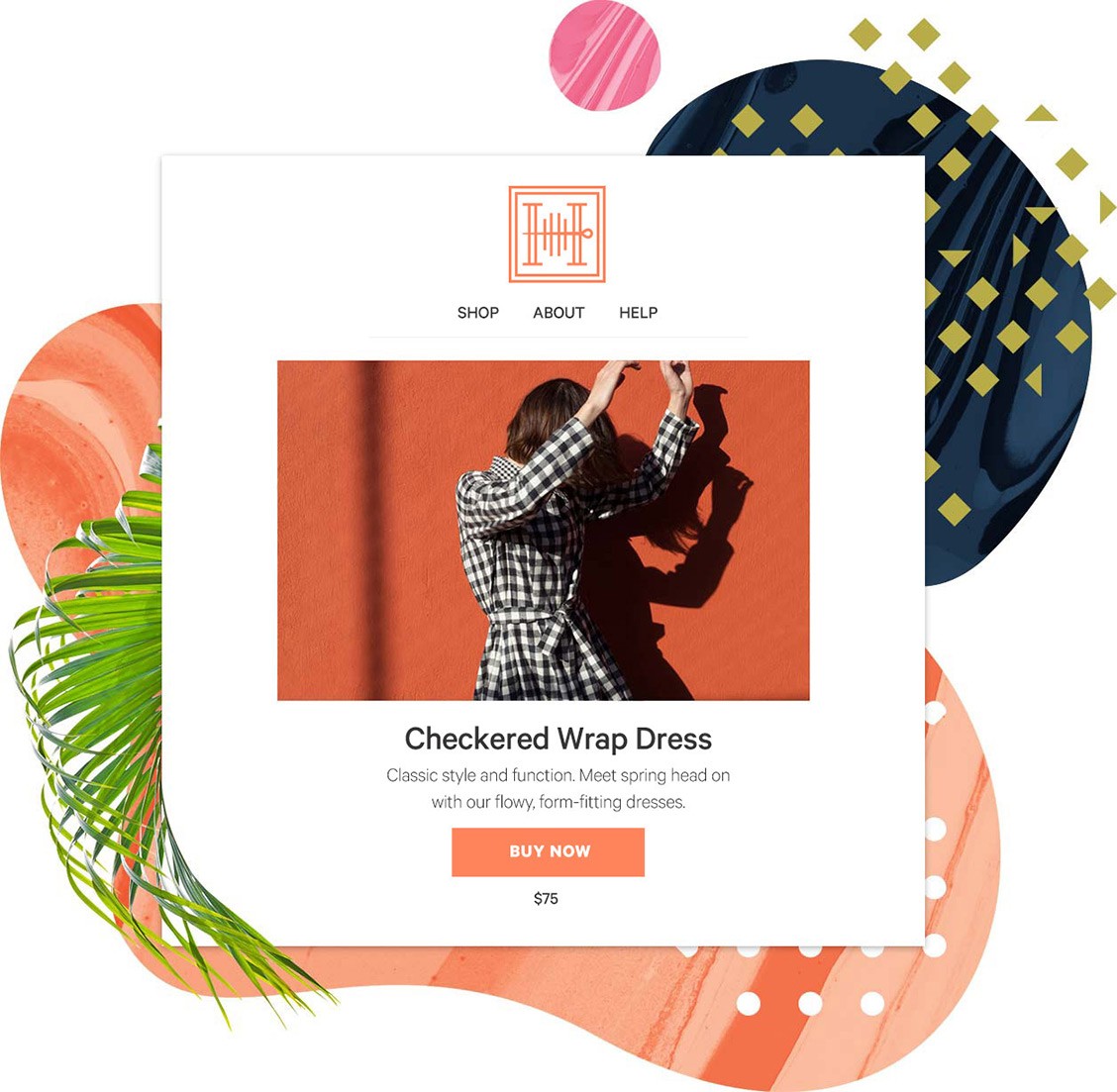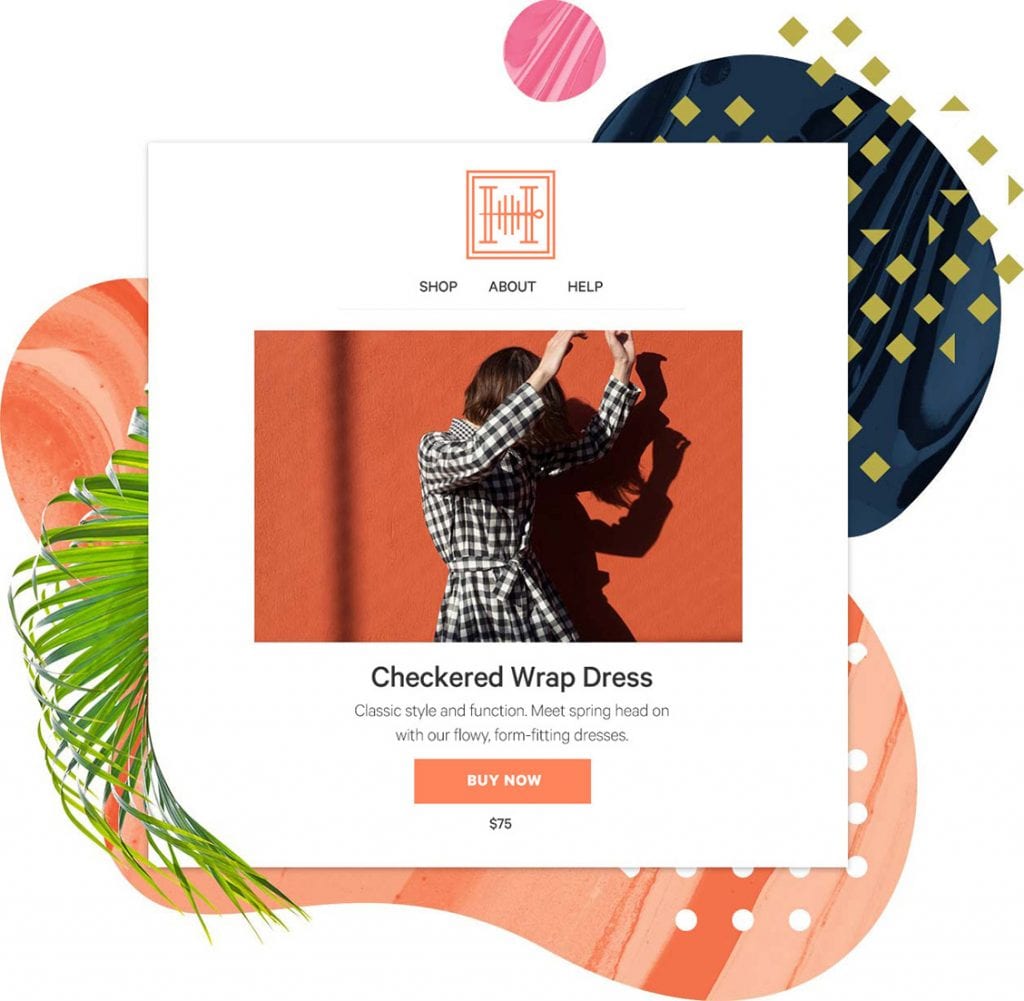 It's easy enough to see the reasoning behind the features they offer at the paid tiers. Once you get your company started on email marketing, it will thrive and grow, and MailChimp will continue to provide you with the tools you need as you grow, so you can refine what you send your subscribers so they'll be more likely to spend.
It makes perfect sense.
MailChimp is very much for the data-driven marketer, who loves to make sense of numbers, and enjoys integrating systems so they all hold hands.
Campaign Monitor
Mailchimp
Pricing Options
Three tiers, starting at $9 per month
Three tiers, starting at $9 per month
Features
– Standard email marketing functionality
– Limited sends at lowest tier
– Automation
– Inbox previews
– Spam testing
– Deliverability experts
– Design consultant
– Customer Success Manager
– Forms for signing up subscribers
– Data and insights reports

Paid versions:
– Automation
– CRM integration
– Segmentation, targeting and tracking

Pro version:
– Further automation options such as triggering
– Comparative reporting
– Multivariate testing
Usability
Simple to use – just follow the instructions
Simple with room to develop as your organization does
Conclusion
Good for dedicated email marketers
Good for marketers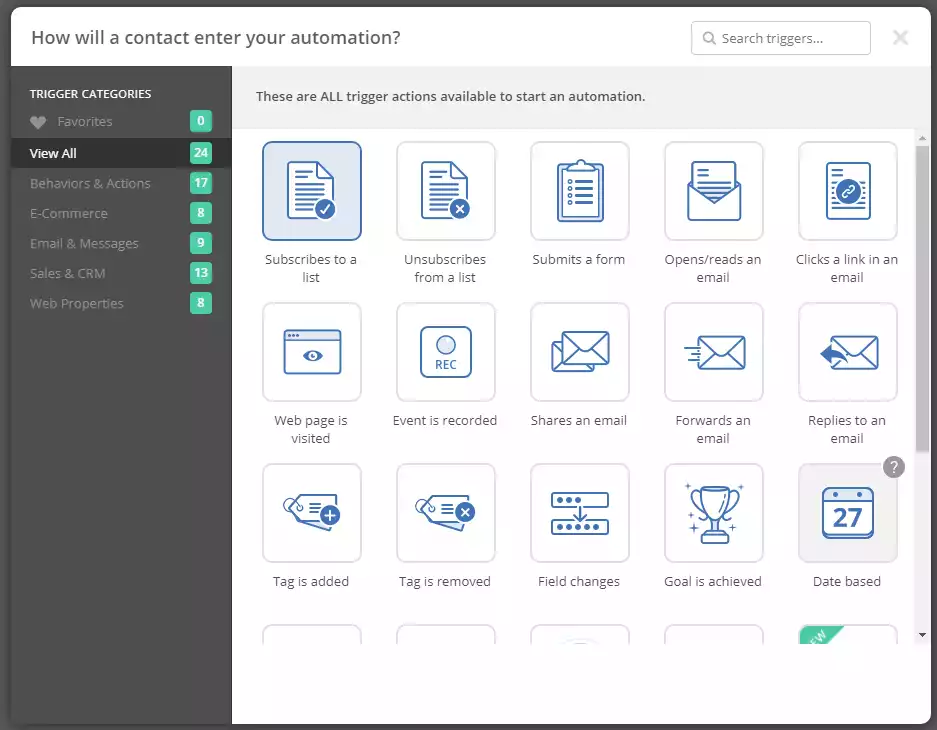 Skip Both. Go with ActiveCampaign Instead.
I personally SKIPPED both of these options and went with ActiveCampaign instead (this site runs on it!). AC offers more automations, more integrations, and SCALES as you grow. Best of all, it's generally CHEAPER at each pricing tier.
Try ActiveCampaign First
We earn a commission if you click this link and make a purchase at no additional cost to you.
Mailchimp Templates
Mailchimp promises over 100 different email templates to short-circuit email campaign building. Having tried some of them out, they tend to be a sampling of a variety of use cases. Unfortunately, the Mailchimp templates are hidden for members only, so it's much less transparent in terms of what to expect.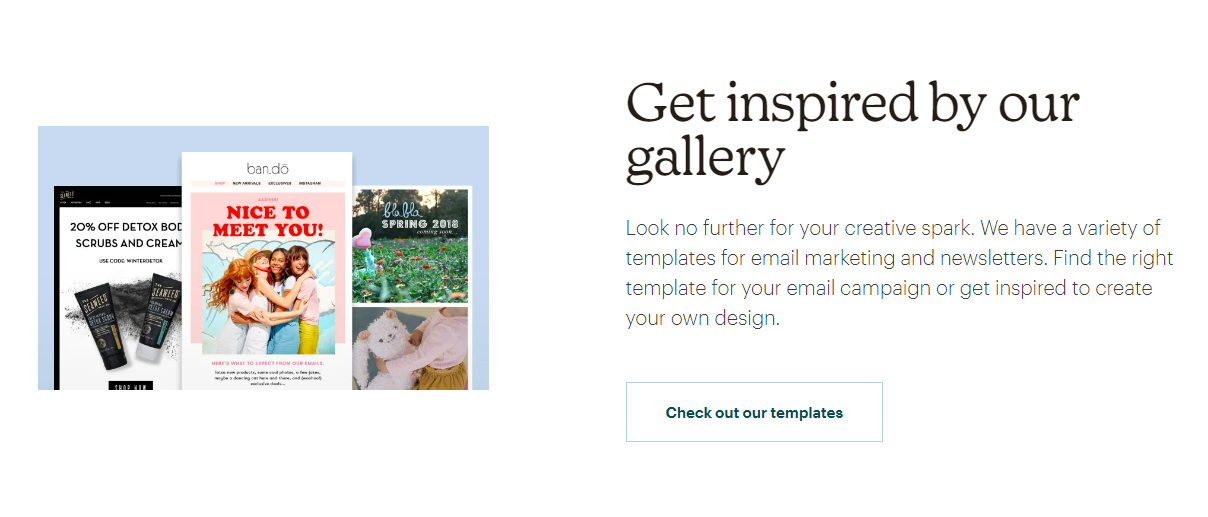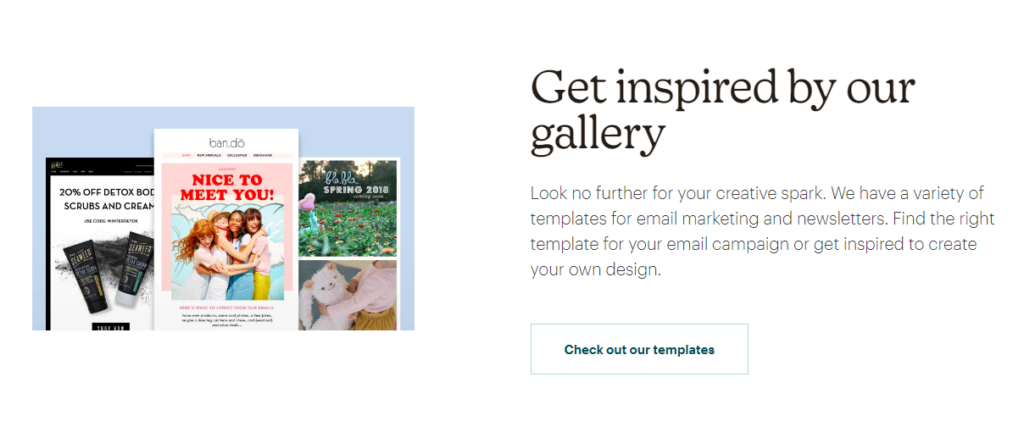 Where Mailchimp stands out a bit is with their landing page templates that integrate with email templates for a seamless (and optimized) sales journey. Of course, this is mostly useful if you are selling things, less so for a pure content marketing strategy.
Campaign Monitor Templates
Campaign Monitor – on the other hand – offers full access up front to their library of close to 100 email templates. They also organize these templates in a useful directory by typical use cases.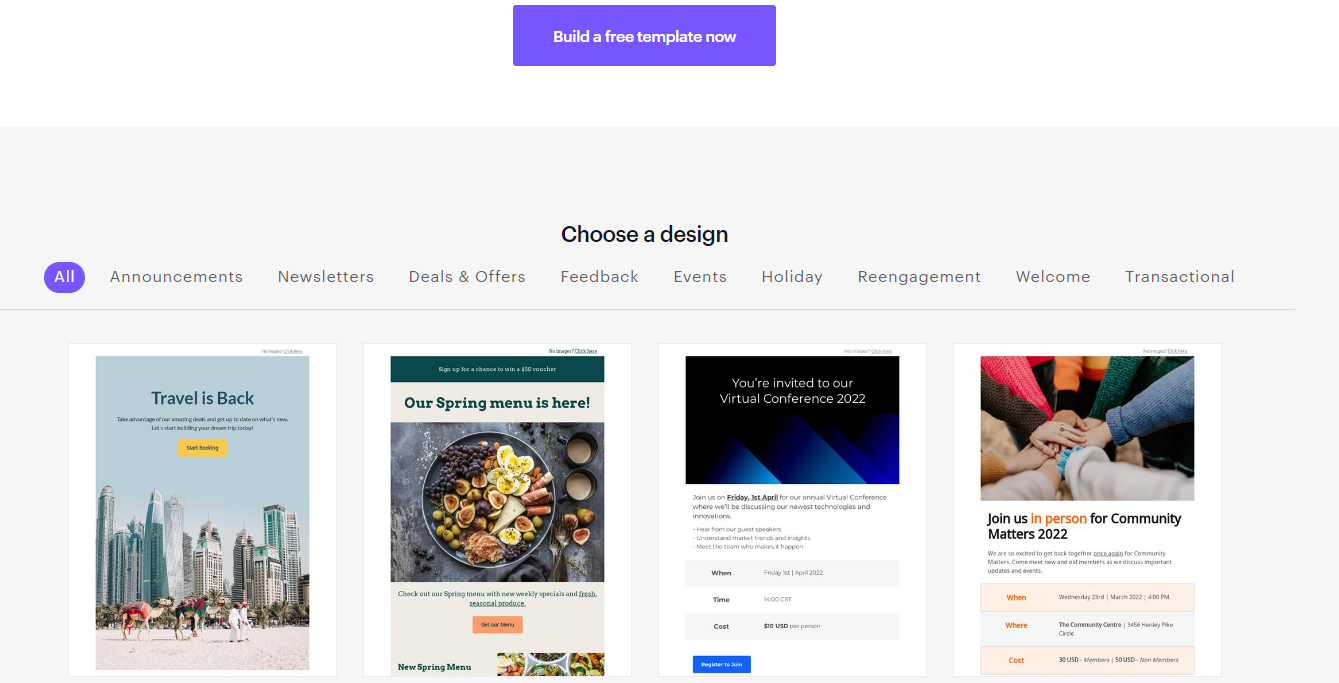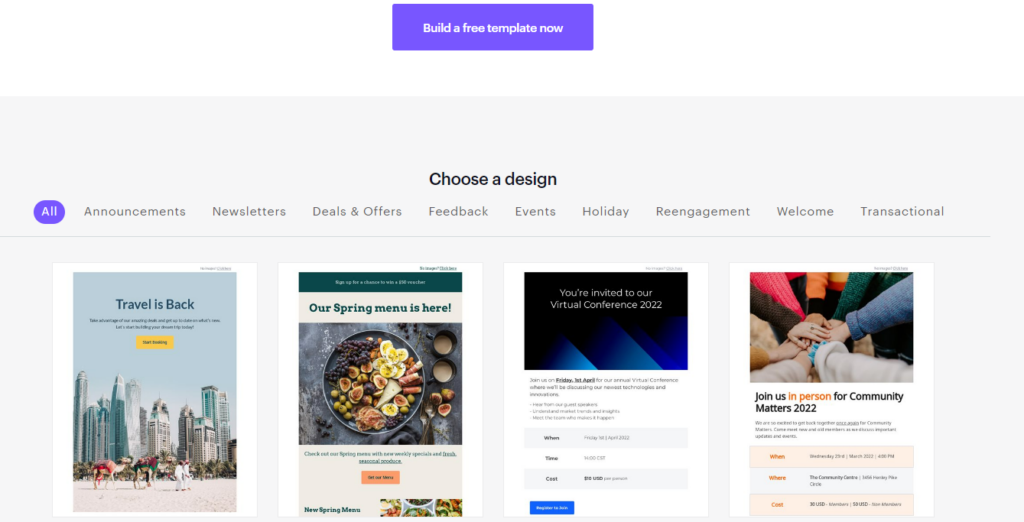 While some categories are less in depth (like Transactional templates), others are quite robust like the Holiday and Deals templates.
If you are looking for more useful out of the box templates, I'd lean towards Campaign Monitor here.
Mailchimp Shopify Integration
Mailchimp and Shopify famously had a falling out a few years back. At the time, many of the app supported integrations were removed. There were ways around with Zapier and the like, but it was a huge blow to Mailchimp.
Since then, Shopify and Mailchimp have patched things up a bit. Mailchimp now offers a Shopify app + Mailchimp integration on their platform.
This all being said, the cold war between these two digital natives has led to less inter-app development and attention.
There are a few reasons I'd avoid using Mailchimp + Shopify for email marketing automation unless I have to:
Mailchimp shifted away from Shopify and doesn't offer many templates or Shopify optimizations out of the box (beyond the simple integration)
Because of their bad blood history, I personally wouldn't build my Shopify store on top of Mailchimp. If it happened before, it can happen again. They are frenemies at best.
For additional context, check out our Mailchimp alternative buyer's guide where we cover some of the best Mailchimp alternative platforms.
Campaign Monitor Shopify Integration
Campaign Monitor offers a dedicated Shopify integration page with all of the key info you need to sync up your store.
The Campaign Monitor app is also available in the Shopify store and currently features a very respective 4.7 / 5 stars from 1000+ users.
On the whole, the integration options between Shopify and Campaign Monitor are more native, and seamless, with almost no technical skills required. Unless you've already built your business around Mailchimp, Campaign Monitor is the better option specifically for Shopify store owners.
Also feel free to check out our guide to the best Shopify email marketing apps.
Frequently Asked Questions
Is Mailchimp hard to learn?
The key feature of the Mailchimp platform is to make your life easier. This email marketing software is very intuitive. By using it for a couple of days, you can get familiar with the interface and start working on your email support.
Can you send a PDF through MailChimp?
Yes! One of the many benefits of using MailChimp as your email marketing platform is the ability to upload a PDF directly to your email support account and add a link to a brochure download.
How do I edit footer in Campaign Monitor?
If you need to design your footer on this email service provider, you just have to click in any part of the premade footer. This action will make appear a sidebar with all the customization options and settings you need in the platform.
Final Comparison: Campaign Monitor or Mailchimp?
Both of these are solid marketing software products, and will allow you to send emails to lots of people. No question about that.
The question of which one is right for your business really comes down to how much data analysis and real-time analytics you feel the need to apply to your organization's email marketing efforts.
Bottom Line Summary: Especially in considering the features of each one, Campaign Monitor feels like it's very much about the actual email campaign itself, especially when you get to the Premier tier and they provide you with a design consultant. That said, I much prefer the advanced automation (and scalable pricing) offered by ActiveCampaign here.
This is a sharp contrast to MailChimp, which, as you progress through the tiers, seems to take increasing pride in the amount of data it can provide you with, but falling just short of telling you that you'll need somebody to turn the data into actionable recommendations for your organization.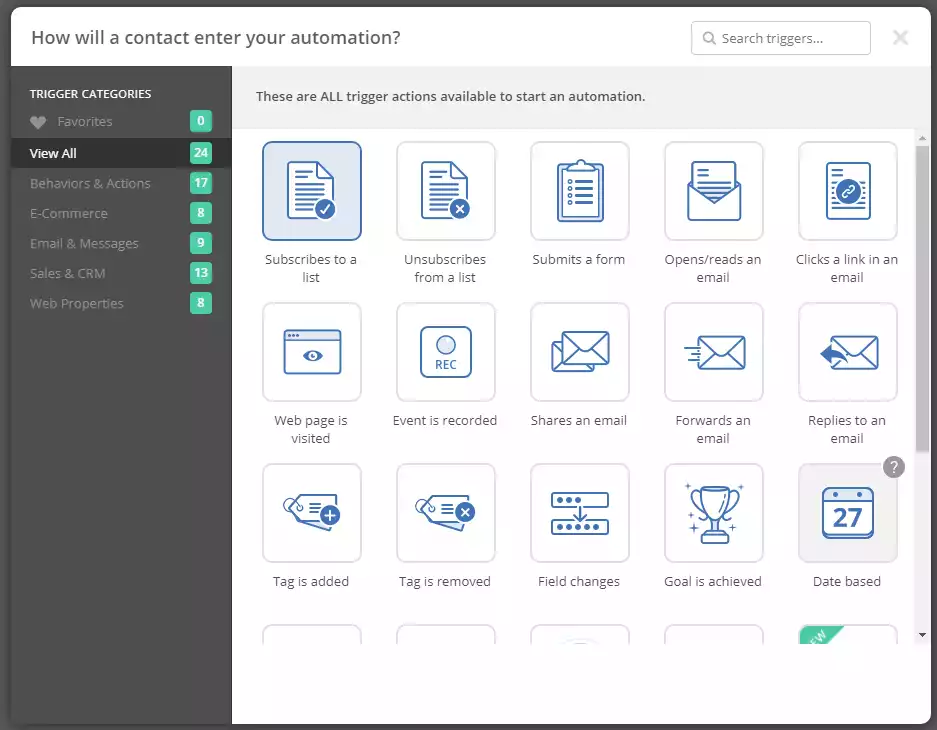 Skip Both. Go with ActiveCampaign Instead.
I personally SKIPPED both of these options and went with ActiveCampaign instead (this site runs on it!). AC offers more automations, more integrations, and SCALES as you grow. Best of all, it's generally CHEAPER at each pricing tier.
Try ActiveCampaign First
We earn a commission if you click this link and make a purchase at no additional cost to you.
Other Email Marketing Campaign Tools Like Mailchimp & Campaign Monitor
Still Not Decided? Check out some of our other reviews and comparisons of email marketing automation tools:
Other Apps Like Campaign Monitoring for Email List Building Compared
Other Marketing Campaign Suites Like Mailchimp Compared