Last Updated on October 6, 2021 by DMEditor
The email marketing industry is constantly changing and evolving. Today, we are going to look at Constant Contact vs Campaign Monitor and we'll take a look at what they offer and which one might be the best for you.
Since email marketing offers great returns and allows you to connect with your customers in ways that other forms of marketing don't, you don't want to get left behind. The problem is often that there are too many choices and you aren't sure what to do.
Continue reading this article and we will help you make the decision between Constant Contact vs Campaign Monitor.
Main Differences Between Constant Contact vs Campaign Monitor
The Main Differences Between Constant Contact vs Campaign Monitor are:
Constant Contact has iPhone & Android apps, whereas Campaign Monitor is only web-based
Constant Contact offers a 60-day free trial, whereas Campaign Monitor offers a free trial that doesn't end
Constant Contact starts at $20 per month, whereas Campaign Monitor starts at only $9 per month
Constant Contact has audience targeting, whereas Campaign Monitor does not offer this feature
Constant Contact vs Campaign Monitor: Constant Contact Overview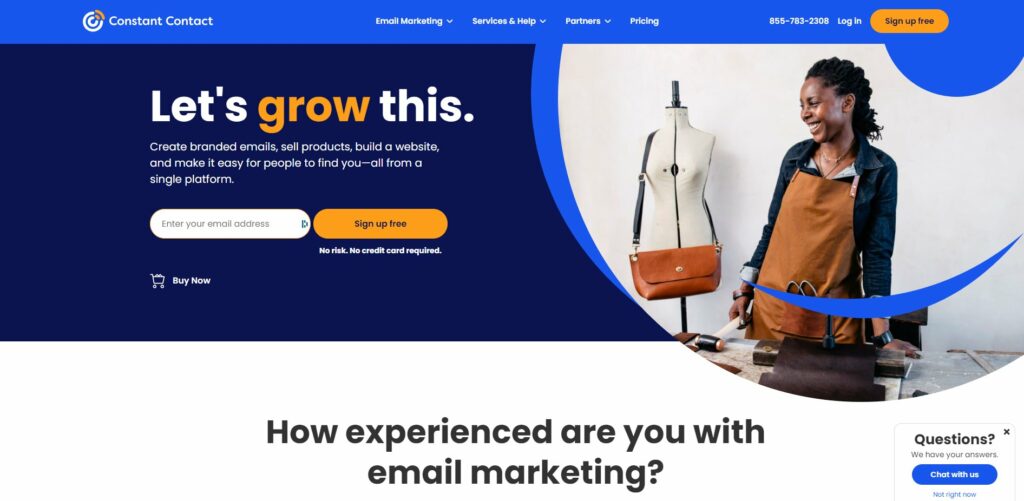 Constant Contact offers businesses the ability to create campaigns, measure results, and save on postage with one convenient service. Constant Contact is focused on helping small businesses grow by providing them with the tools they need to increase their business.
One of the main benefits of Constant Contact is how easy it is for small businesses to manage their marketing campaigns through the company's platform. The company was founded in 1995 and has since grown into one of the premier providers of cloud-based email marketing services and they also offer other services.
Constant Contact's mission is to help smaller businesses compete and win on the same field as larger companies. They went from all email marketing to offering other services to help businesses be even more successful online.
You can build your email list and market to those customers, but you can also start a website and work on getting the word out about your business in other ways. They help beginners, intermediate users and experts get their business to the next level using their tools and expert advice.
Getting Started & Using Constant Contact
For those of you that are ready to get started with Constant Contact, the good news is that you don't even need a credit card. They have a very "for the little guy" vibe and want people to be able to start without worrying about their money right away.
During the free trial, you can send out up to 100 emails using their hundreds of template designs to make it easy for you to start. Their social marketing tools make it even easier to keep in contact with your subscribers and you can track your results in real-time with their analytics tools.
Once you sign up for a free account, you can get started by creating your first opt-in form and getting some emails under your belt so you can send them out once people start opting in.
Getting Help from Constant Contact
Constant Contact doesn't just sign you up and hope that you'll make it. They have a lot of resources to help you get started on the right foot.
For instance, they have advice for writing engaging emails in the most popular industries so you aren't caught looking at a blank page with writer's block.
They help you with each step of the way with these four areas:
Email marketing
List growth
Online selling
Social marketing
Their claim is that their list-building tools help you grow your email list quickly—even if you have no email list at all. They also say that their reusable design templates make it easy for you to send out emails that make a difference.
They have tips for helping you communicate regularly with your list and about how to get people talking about your brand.
Customer Support
One thing everyone needs when they're just starting out with email marketing is help getting started. No matter how many great tutorials you've read, you might need to speak with a human.
Their chat support is available to help you and they have a phone number listed on their website—but they aren't available 24/7. Just keep those hours in mind and you'll be able to get the answers to your questions pretty quickly.
Pricing
Constant Contact makes it easy for you to start with their services by putting a starting price point of $20 per month for their lowest service level. If you want email marketing plus other services, it bumps up to starting at $45 per month and then starting at $195 per month for the next level.
Constant Contact vs Campaign Monitor: Campaign Monitor Overview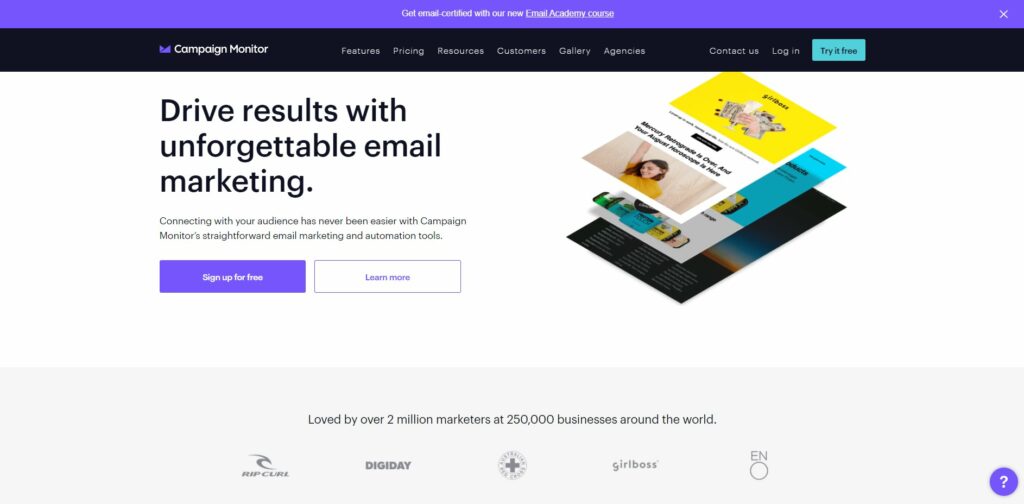 Campaign Monitor got its start in 2004 when two pals named Ben Richardson and David Greiner cooked up the idea.
Before starting Campaign Monitor they had their own website design firm and that's how they came around to creating their new business. They noticed none of the tools they had to use for their clients quite hit the spot.
Their target audience was primarily web designers in the beginning and they got a lot of attention and a lot of loyal followers. They decided to switch their focus from their web design company and put all of their efforts into Campaign Monitor and that's why it is where it is today.
Their claim is that you can get up and running in minutes.
Getting Started & Using Campaign Monitor
They aren't kidding when they say you can get started with Campaign Monitor within minutes.
Just like Constant Contact, they don't require you to have a credit card to get started. Unlike their competitor, they don't have a time limit on their free trial.
Keep in mind that you can't fully operate on their free trial. You can, however, try out the features and see how they work and what you like about them and what you don't.
The only time you'll see a prompt to enter your payment information is when you're ready to send an email to over five people or when you try to send journeys of transactional emails. Otherwise, you can take as long as you need to poke around under the hood to see how things are going.
Getting Help from Campaign Monitor
You can get some help from the Campaign Monitor website. It doesn't feel as structured as what you get from Constant Contact, but it does have some helpful information.
You can learn about broad business topics and there are some tutorials to help you as you're preparing your marketing emails.
Customer Support
So, what happens if you get stuck and you need to talk to a human being?
When you get into customer support, you'll see there are a few options to read information to help you get started. When you click on one of these, you get even more hyperlinks to help you with more specific information.
If you get desperate and you're trying to talk to a person, you can click the question mark in the lower right-hand corner. They'll try to put you through to speak with their bot, but if you say you want to speak with a person, you can get the form to send them an email.
It's not as easy to get through to customer support with Campaign Monitor as it is if you're trying to speak with the people at Constant Contact.
Pricing

If you're on a tight budget then Campaign Monitor's pricing can be pretty enticing. You can get started at only $9 per month for your email marketing campaign.
For those of you that plan on sending out a lot of emails, you can get started at the $29 per month level and if you need even more you'll need to upgrade to the $149 per month tier.
Constant Contact vs Campaign Monitor – Which Is Better?
If you look at the function of both of these platforms, you'll see both of them have a lot of positives about them and many people have left great reviews for both companies.
When it comes to pricing, you can start out the cheapest with Campaign Monitor. In fact, you don't have to pay anything until you're ready. Some people like this because they aren't sure how to start and want to take their sweet time.
On the other hand, Constant Contact has a little higher price but can help you with your website and social media as well as your email marketing campaign. The 60-day trial gives you some urgency to get things going.
Both platforms are pretty simple to use, but the lack of customer service with Campaign Monitor does give cause for a little worry. If you feel confident in your abilities, that might not bother you, but most people like to be able to contact support easily.
Constant Contact vs Campaign Monitor – Other Options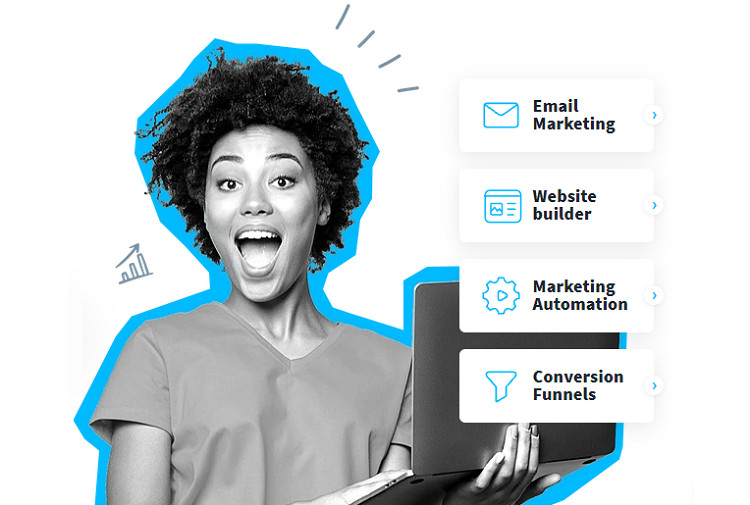 If you don't think either of these options is the right one for you, there are some other great companies out there that can help service your email marketing needs.
GetResponse is a reasonably priced email marketing service and they have great customer support.
AWeber has an amazing customer support team and good deliverability as well as easy-to-use contact form creation.
Mailchimp has free options that will allow you to run your business for quite a while until you have the budget to start paying. Their backend is a little clunky, but they're functional.
FAQs
Question: Why do You Need an Autoresponder?
Answer: Having an autoresponder makes it easy for you to send emails to people that enter your funnels so you can move them through the process.
Question: Is Constant Contact Hard to Use?
Answer: Constant Contact is easy to use and has support options to help you if you get stuck.
Question: What Does Campaign Monitor Do?
Answer: Campaign Monitor allows you to capture email addresses and send marketing emails to those addresses.
Question: Why Are Analytics Important in Email Marketing Campaigns?
Answer: When you know what's working, you can do more of it and less of what isn't working.
Bottom Line: Which Platform Is Better?
Now that we've gone through more information on Constant Contact vs Campaign Monitor, you've likely seen some things you like more or less about one platform or the other.
In my professional opinion, I think that Constant Contact is the best option for people wanting to get their business growing online. You can get started and have great customer support without breaking the bank, so I'd go with them.