Last Updated on April 22, 2023 by Ewen Finser
If you're looking for the best eCommerce marketing automation tools, you've probably come across Omnisend. When it comes to software, they're industry leaders for facilitating omnichannel marketing, lead generation, and automation.
Omnisend seamlessly centralizes your social media, SMS messages, and online presence, so you can keep an eye on all your marketing efforts from the convenience of one platform.
Bottom Line Up Front Summary: If you are an ecommerce operator, Omnisend is the right choice. It's easier to use than Klaviyo (and often LESS expensive) and has infinitely better features than a Mailchimp. The only reason I wouldn't use Omnisend is if you aren't selling products directly online.
So, if this sounds like the type of tool you're looking for, great! Continue reading as we review everything Omnisend has to offer.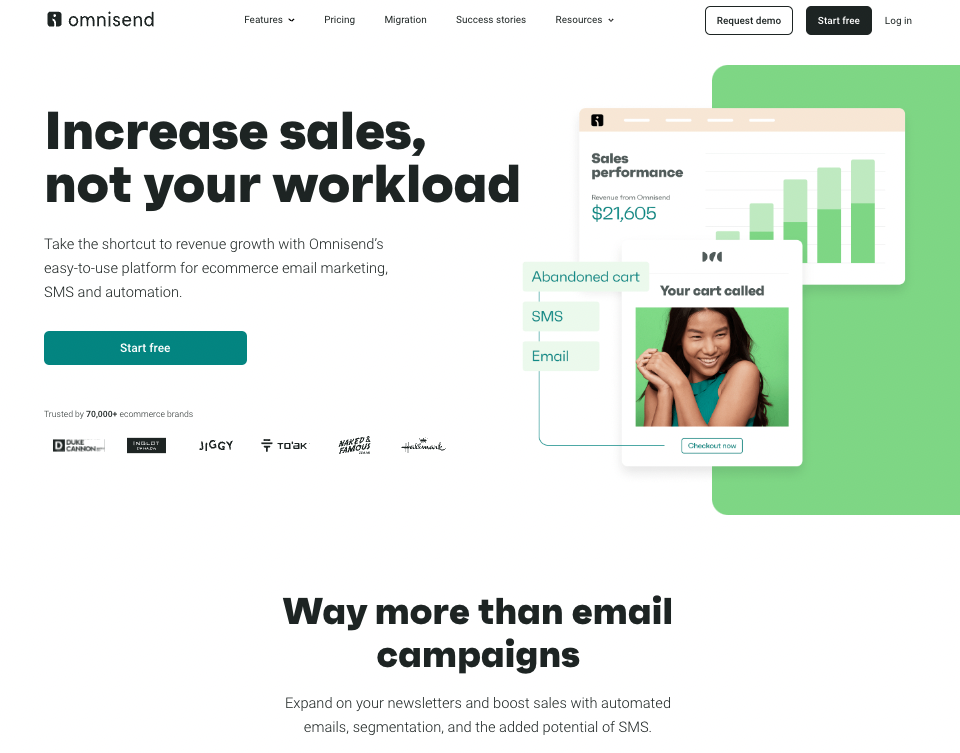 Omnisend is a leading e-commerce marketing automation platform and an innovative omnichannel marketing platform. Omnisend first started life back in 2014 as an email marketing platform called "Soundest." Since then, it's grown to become one of the best eCommerce marketing platforms on the market today.
Omisend positions itself as a platform specializing in eCommerce. It caters to ecommerce businesses of all sizes, from solopreneurs to multinational companies, serving customers across a wide array of industries.
Omnisend comes with a variety of in-built templates that you can use to create personalized emails. That's as well as tons of automation features for sending emails and segmenting your list. On top of that, the platform integrates seamlessly with Facebook Messenger and your SMS marketing campaigns.
Omnisend also comes with features that enable you to create engaging, compelling, and powerful lead generation forms. These work wonders for boosting your lead capture rates. There are loads of different styles forms to choose from, most notably (all of which can be seamlessly blended into the marketing campaigns):
Popups

Signup boxes

A more interactive 'wheel of fortune style form
…to name a few.
Last but by no means least, no marketing campaign is complete without thorough analysis. This is where Omnisend's reporting functionalities are worth their weight in gold. The platform's reporting features also come with click maps and real-time dashboards, so rest assured, you'll get all the data you need to evaluate your campaigns' success.
All in all, Omnisend provides everything marketers need to simplify their omnichannel marketing campaigns.
Omnisend Pros and Cons
Let's start with the pros…
The Pros:
The 'Product Picker' feature is fabulous. Just choose a product from your store to automatically insert it into your newsletter. Gone are the days where you had to add product images and descriptions manually.

Omnisend is incredibly user-friendly. It's effortless to sign up and get started with. Not to mention, its backend design is very clean and straightforward.

Harnessing the power of automation is easy, and you'll save tons of time!

Omnisend allows users to send 500 free messages a month.

Omnisend offers native integrations with plenty of popular eCommerce platforms.

Omnisend's customer service is reportedly excellent.
The Cons:
In comparison to its competitors, Omnisend's email design options are somewhat limited.

Some users have complained about of lack of communication where Omnisend's

updates are concerned. In some cases, this has prompted some confusion, forcing users to contact Omnisend's customer service team to get more info on how to navigate the recent updates.

There aren't any customizable themes for holiday marketing available.

You need to input data from scratch every time you launch a social media campaign.
Omnisend's Core Features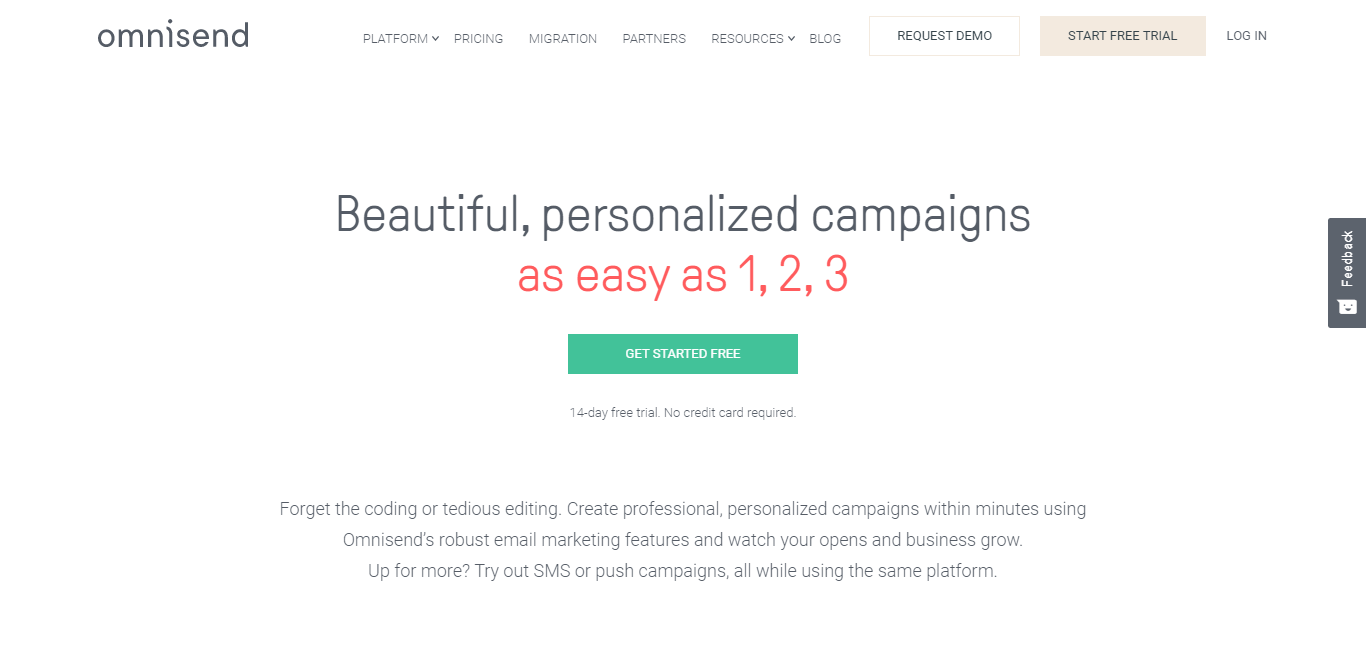 Now, let's dive deeper into Omnisend's core suite of features…
Advanced Email Marketing
Omnisend provides plenty of email templates and intuitive drag and drop email editor. This makes creating professional-looking emails a breeze.
When you couple this with Omnisend's product picker feature (as previously discussed) and Omnisend's CTR-boosters, like their dynamic discount codes and scratch cards…you're bound to create and send emails your subscribers want to engage with.
Smart Reporting
Omnisend's reporting features are designed for in-depth campaign analysis, empowering you to drill down into the specifics. Rest assured, you can analyze every aspect of your marketing campaign to see what's working, and more importantly, what requires improvement.
You can even generate customized reports based on your sign-up forms to get a better feel for who your audience is really is. For instance, you can get an insight into the languages your customer speak, their countries of origin, the devices they use while interacting with your brand, and so on…
Multi-Channel Marketing Campaigns
With Omnisend, you can create and launch marketing campaigns that span across a diverse array of channels – including SMS messaging, email campaign, and of course, social media. Needless to say, this works wonders for extending your reach.
Users can also merge all their social media and comms channels into one unified workflow, making automating and keeping an eye on your multi-channel marketing campaigns so much easier.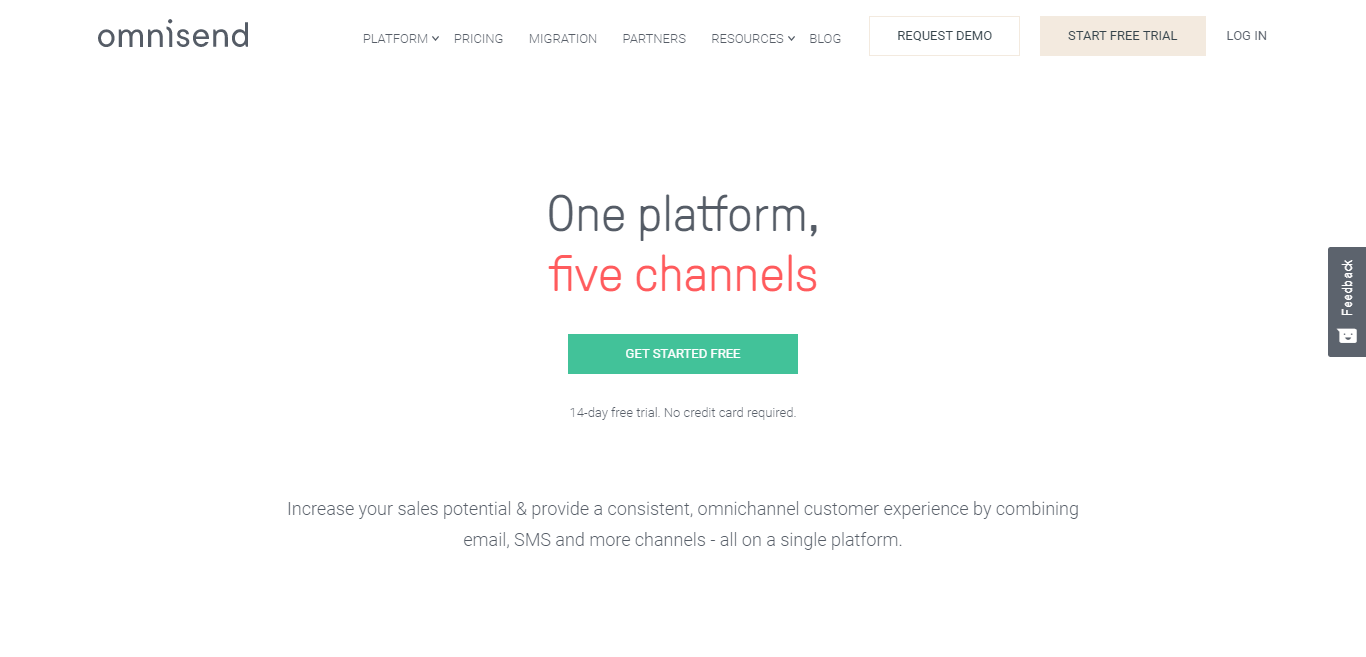 Versatile Lead Generation Forms
Omnisend offers lots of choices when it comes to capturing leads. For instance, users can opt for a low-key signup box. Traditionally, marketers would place these either at the bottom or to the side of their web pages.
Alternatively, you could go for a flexible popup widget. These are an increasingly popular method for collecting email addresses. Or, perhaps you're interested in dabbling in gamification? If so, you'll be pleased to hear that Omnisend permits you to launch a wheel-of-fortune-style signup form.
Irrespective of your lead generation strategy, there's a good chance Omnisend has a signup form to suit your needs.
Harness Automation to Personalize Your Marketing
Personalizing your messaging is imperative for nurturing the relationship you have with your audience. With the help of Omnisend, you can pinpoint where subscribers are on their customer journey and send them materials that complement where they are in the cycle.
You can set smart triggers to ensure the right message is sent to the right pool of customers. For instance, a welcome email is sent to new subscribers. Or, an order confirmation email is sent to a shopper who's just made a purchase. These are just a couple of examples, but you get the idea.
Best of all, Omnisend comes with a variety of pre-built marketing automation workflows. These are incredible for ensuring you're using automation to the fullest – saving you and your team plenty of time!
Smart Segmentation
Omnisend's smart segmentation feature enables you to divide your email list into small subdivisions. You could base these 'segments' on your subscriber's demographics, purchasing habits, the relationship they have with your brand, etc., empowering marketers to send more personalized messages, and consequently, boost customer engagement.
You can also utilize Omnisend's 'auto-renewed' segments, which enables you to smartly categorize your customers based on their:
Shopping behaviors
The channels they use to interact with your brand
Their campaign activity
…To name a few.
This kind of segmentation is super helpful when it comes to creating custom promotions and personalized messages.
In-Depth Examination
Omnisend's smart reporting features allow you to drill down into specific aspects of your marketing campaigns, to get a feel for what's working, and more importantly, what isn't.
Programmed Item Suggestions
With the help of artificial intelligence, Omnisend empowers users to make customized item proposals based on their customer's purchasing history.
What Does Omnisend Integrate With?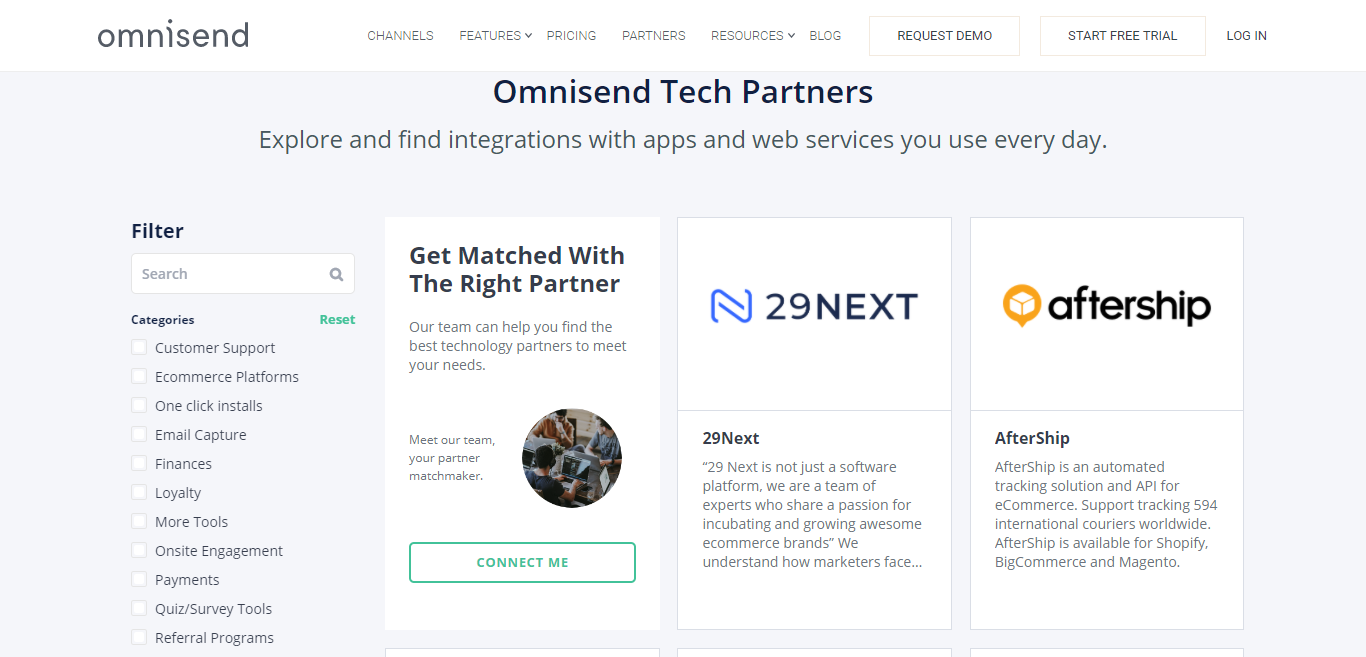 Omnisend boasts native integrations for more than 30 apps across various categories – for example, shipping and logistics, eCommerce platforms, sales conversion, and optimization, customer support, to name a few.
Some of Omnisend's more popular integrations include:
Shopify

Shopify Plus

Opencart

Woocommerce

Enormous Commerce

Volusion

Magento

Prestashop+
Omnisend Pricing: How Much Does Omnisend Cost?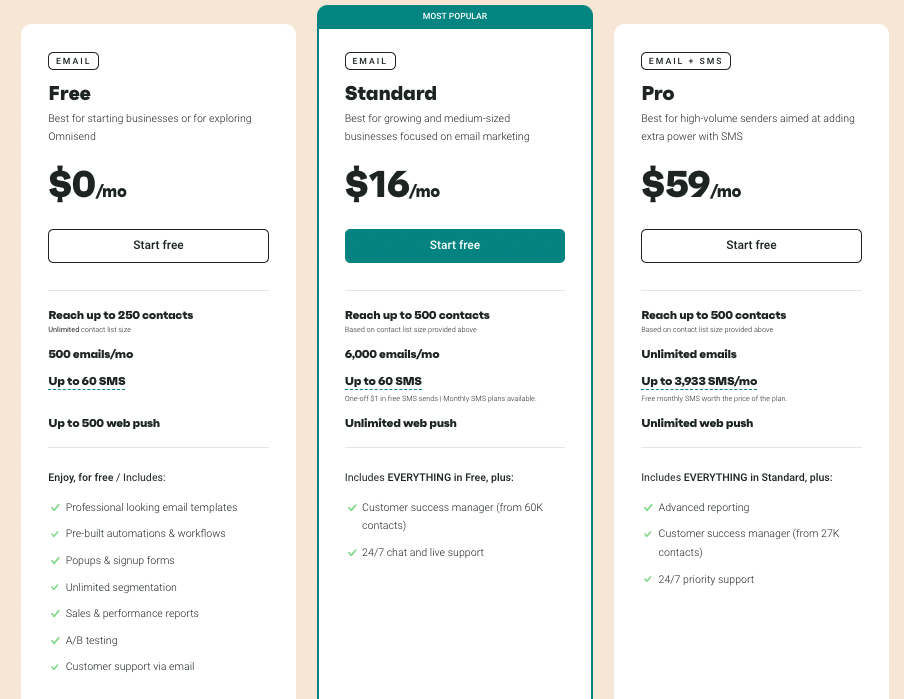 Omnisend offers three pricing plans:
Free

Standard

Pro
This is not a free trial. Rather, Omnisend offers a free basic plan that's available for 365 days. This imposes a limit of 60 messages sent each day and 500 emails every month. It's great for new businesses just dabbling with email promotions, especially those who don't feel they can yet commit their hard-earned cash to a marketing platform.
The Free plan comes with limited features:
A drag-and-drop email editor

Prebuilt email templates you can select, modify and send

Website tracking

with a data history for up to one month

You can publish up to three active

signup forms

You can send

s

cheduled marketing campaigns

Access to email segmentation

Sales report

ing

Click maps (These are delivery reports that come with a visual view of the recipient's clicks, so you can see which email elements caught their attention)
This is the first of Omnisend's paid-for plans and entitles you to everything in the free plan, plus:
x12 the sending limits of the Free plan

Automation reports (These display data about your automation workflows)

You can automate various workflows

– for instance, to send birthday emails, welcome messages, abandoned cart reminders, and so on.

Access to website tracking with three months worth of data history

You unlock SMS marketing campaigns and automation.

You can publish an unlimited number of signup forms.

You can register

multiple users

to your Omnisend account.

You can create up to 20 email segments.

You get access to 24/7 live chat support and third-party

app integrations like Smile, Yotpo, LoyaltyLion, ReCharge, etc.

You can run A/B test campaigns.

You get access to advanced email features like Omnisend's 'Product Picker'

and

'

Product Recommender.'

You can create 'Wheel of Fortune' style sign up forms. Here subscribers click on the wheel to spin it for a chance to win something – discounts, free shipping, a freebie, etc., in exchange for their name and email address.
The Pro plan covers everything in the Standard package, plus:
x15 the sending limits of the Free plan
You can create up to 50 email segments.
You get access to website tracking with up to six months' worth of data history
You unlock more third-party plugins like CartHook, Gorgias, and Easyship
You can send unlimited push notifications a month
You can operate using your own custom domain
You'll receive a deliverability support
You can utilize Google Ads Customer Match to target your ideal customers better
Omnisend's Customer Support
Omnisend provides users with both live chat and email support. However, users are encouraged to first consult with Omnisend's Help Center to resolve their issues themselves before approaching the customer service team.
If you're a Pro or Enterprise user, you'll get a dedicated account manager. This is an easily reachable point of contact who's job is to ensure all your issues are resolved quickly.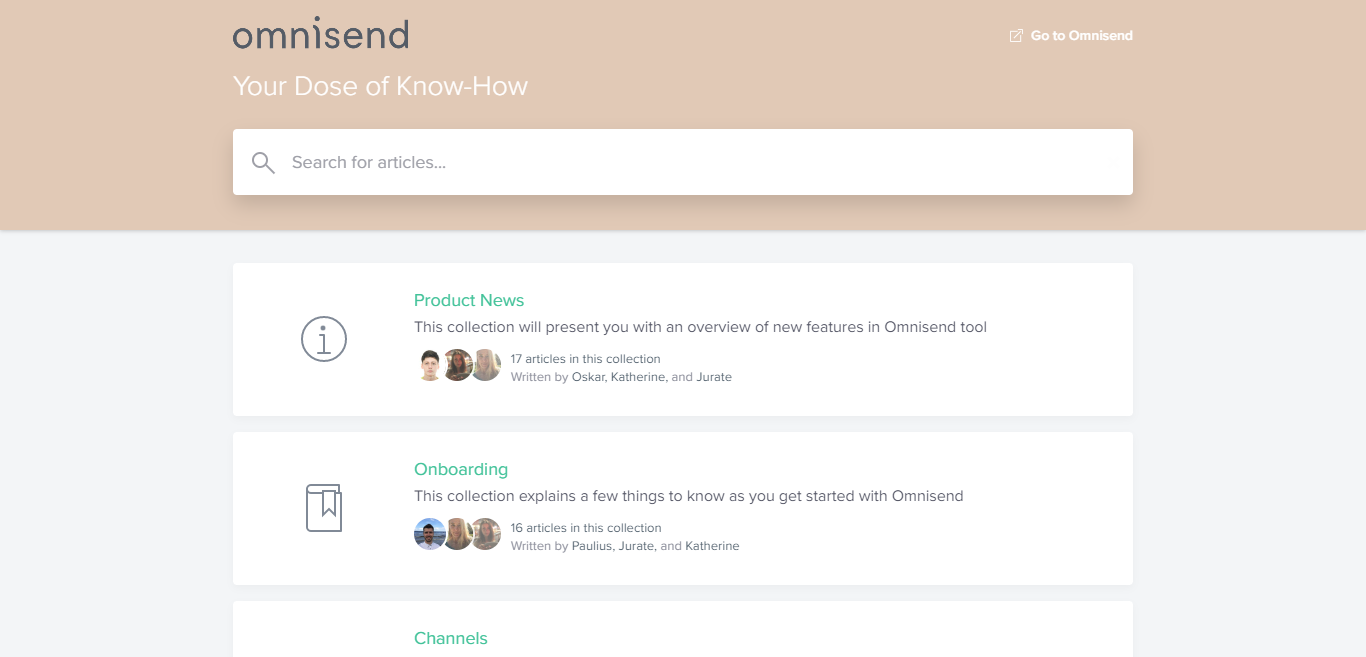 Omnisend Alternatives – How Do They Compare?
For years, omnichannel marketing has been the lifeblood of many a business. So it's unsurprising there are many alternatives to Omnisend on the market. With a quick Google search, you'll find the following competitors (amongst others). So, we've taken a moment to list some of the most popular and dive into how they compare…
MailChimp

MailChimp is perhaps one of the most widely known email marketing tools for small businesses. First and foremost, it allows you to customize and automate your email campaigns. It also provides users with valuable insights in the form of analytics and reports. Needless to say, these work wonders for helping you finetune your campaigns.
On top of that, you can also build personalized customer journeys, optimize the time messages send, create transaction emails, and set triggers when specific messages are sent.
Mailchimp boasts over 250 native integrations, so there's a good chance this platform will integrate with your eCommerce store and existing tech stack.
Where Mailchimp and Omnisend differ is their primary target audience and purpose. Mailchimp is best known for its ease of use and is, therefore, a suitable platform for beginners. It's not as advanced as Omnisend, especially where segmentation is concerned.
In comparison, Omnisend is better suited to eCommerce merchants looking to market themselves across a broader range of channels while harnessing the power of automation.
Pricing: MailChimp offers a tiered pricing system. The free plan allows you to send messages to up to 2,000 contacts across one audience. Paid plans start at $9.99 a month and go up to $299 a month. MailChimp's most expensive package introduces advanced segmentation, phone support, and unlocks the platform's most generous contact limit.
Further Read: Full Omnisend vs Mailchimp Comparison.
ConvertKit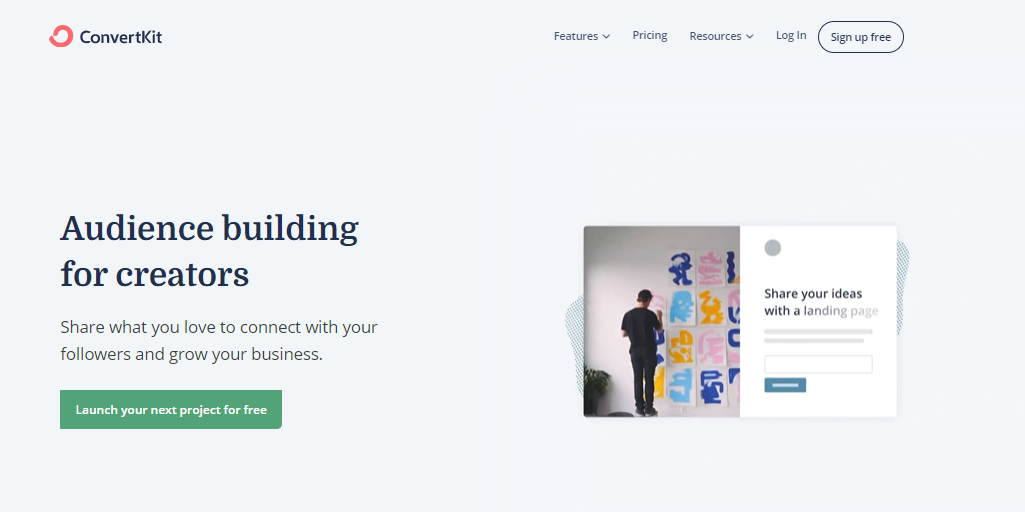 ConvertKit markets itself as an email marketing solution for online creators, helping them build audiences, share what they love, and connect with their followers. As such, the platform is best suited to those with a passion for sharing knowledge.
Its main features include custom landing page and subscription form creation. You can offer free downloads, send personalized content, automate your sales funnel, and sell digital products.
Unlike Omnisend, ConvertKit focuses on email marketing alone and doesn't allow you to send SMS or web push notifications or work on any other marketing channel.
Pricing: For free, ConvertKit lets you create unlimited landing pages and forms and manage 1,000 subscribers. You can also send email broadcasts and handle unlimited traffic.
After that, the Creator plan starts at $29 a month, which unlocks automated funnels and email sequences for 1,000 subscribers.
Next is the Creator Pro plan, which introduces Facebook custom audiences, extra team members, and deliverability reporting, at $59 a month.
However, these prices snowball if you want to increase your subscriber count. For example, to manage 20,000 subscribers on the Creator plan, you're looking at $179 a month!
MailJet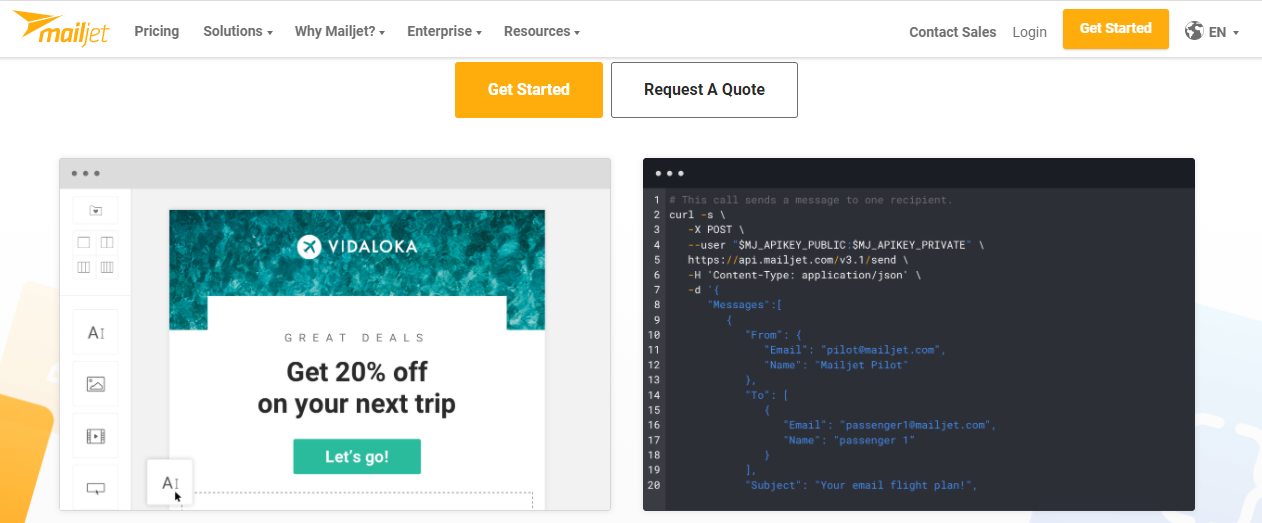 Mailjet is one of the few Omnisend alternatives that also allows you to capitalize on SMS marketing. This platform offers an advanced set of features consisting of email builders, contact management tools, and sophisticated analytics.
On top of that, it also comes with more in-depth developer tools such as email API integration and SMTP Relay. As you can probably tell, this tool is intended for tech-savvy users and developers. This is one of the reasons leading brands use MailJet; they love the flexibility it affords them. Amongst its customers, you'll find the likes of IKIA, Microsoft, and DHL, just to name a few.
Like Omnisend, MailJet allows you to build emails from scratch or from an email template. You can collaborate with colleagues in real-time on their design, too. The tool also permits you to send transactional emails triggered after specific actions – most notably, receipts and confirmation emails.
Pricing: If you can handle MailJet's more complex learning curve, you might find their pricing reasonable. With their free program, you can send up to 6,000 emails a month (200 emails a day) with unlimited contacts. The APIs are already there for you to use, and you also have access to their advanced email editor.
After that, prices depend on how many emails you want to send. For 30,000 emails a month, you'll pay between $9.65 a month on the basic plan and $20.95 on the Premium plan. This is where segmentation and marketing automation comes into play. From there, the prices nearly double when you also double the number of emails you send.
A custom priced enterprise plan is also available if your email needs surpass 900,000 messages a month.
Other Omnisend Alternatives to Consider
FAQs
We'll now round off this review with some of the most frequently asked questions we hear about Omnisend:
Ready to Start Using Omnisend?
In summary, Omnisend is the ideal omnichannel marketing solution for any entrepreneur looking to level up their marketing campaigns with an automation workflow.
Bottom Line Summary: If you are an ecommerce operator, Omnisend is the right choice. It's easier to use than Klaviyo (and often LESS expensive) and has infinitely better features than a Mailchimp.
If you're on the fence about whether Omisend is the right marketing automation software for your ecommerce business, why not give their free plan a try, or take advantage of their 3 month 10% off discount here.