Last Updated on June 1, 2023 by Ewen Finser
Did you know that most salespeople give up after one attempt?
If you invest your time contacting leads and following up, you can be one of the few that start bringing in sales that makes you the envy of all of your co-workers. Once you've decided you want to boost your sales, you need a great CRM to help you.
We will talk to you about using Freshworks vs Salesforce, so you can get the best results and continue to boost your revenue. Continue reading this article to find out if Freshworks or Salesforce is the best option for your business.
TL;DR: If you just need something lightweight to get starting, the modular (pay for what you need) approach with Freshworks is more incremental, specifically starting with something like Freshsales CRM module here and then adding on other modules as needed. Otherwise, if you need a best in class sales platform, it's really hard to beat Salesforce as the superior option here. You'll probably eventually grow into Salesforce anyway!
Main Differences Between Freshworks vs Salesforce
The main differences between Freshworks vs Salesforce are:
Freshworks has beginner-friendly pricing, whereas Salesforce's pricing is geared toward bigger businesses
Freshworks gives you enough data to analyze, whereas Salesforce gives you so much data you might feel overwhelmed
Freshworks allows you to get started quickly with a short learning curve, whereas Salesforce requires a lot of training to get it right
Freshworks doesn't require you to buy paid add-ons to get the results you want, whereas Salesforce has many paid add-ons from which you can choose
Freshworks vs Salesforce: Freshworks Overview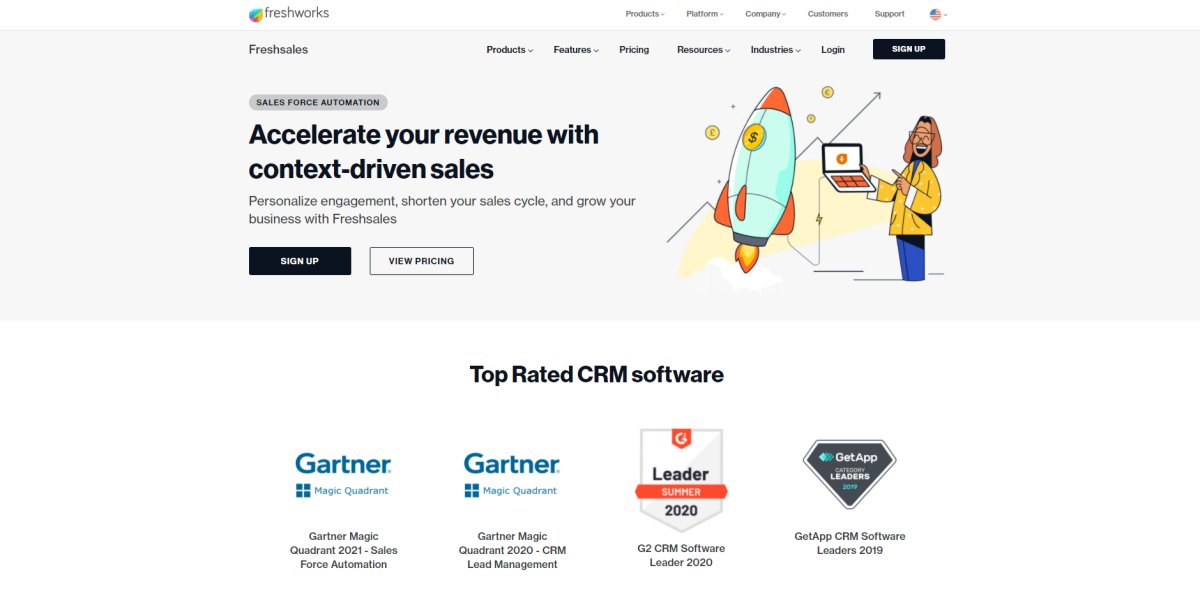 Freshworks CRM is a Freshworks product and is now known as Freshsales.
Girish Mathrubootham of Chennai, India, founded Freshworks in 2010 when he saw an opportunity arise in space. Another CRM company—Zendesk—raised their prices 60% – 300%, and people weren't happy about it, so in stepped Freshworks, which was known as Freshdesk at the time.
Fast forward over 10 years later, and Freshworks is a well-trusted company that helps many businesses boost their sales. Their goal is to help businesses bring in more revenue quickly using context-driven sales. They do this by helping your sales team personalize their engagement and shorten their sales cycles by growing business with their platform.
Since Freshworks even has a free version of their CRM software, many people jump at the opportunity to use it. Once your business needs more, you can easily increase your plan from the free version.
Freshworks Pros
Great customer support & customer service
A low (free) starting point
Easy to get started
Only add (and pay for) the modules that you actually need
Freshworks Cons
Limited dashboard customization
No user forum
Freshworks vs Salesforce: Salesforce Overview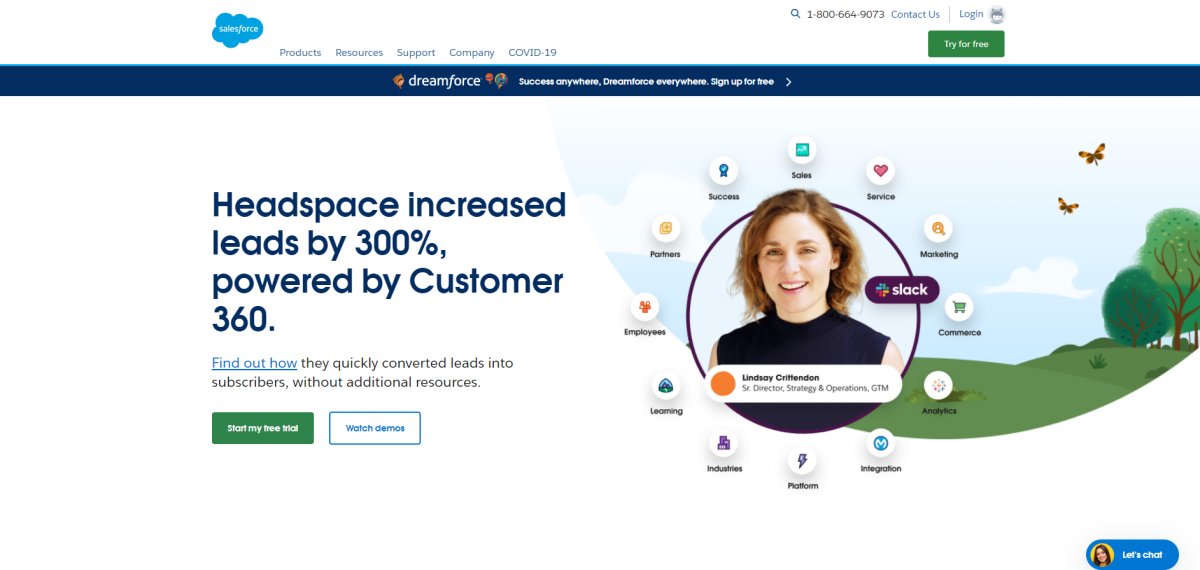 Salesforce is one of the best-known CRMs in the market—if not the most well-known. That familiarity alone gives people the ability to trust the platform with their information, but that doesn't necessarily mean it is the right choice for every business.
Salesforce was founded in 1999 in a one-bedroom apartment next to Marc Benioff's house in San Francisco. Parker Harris, Frank Dominguez, and Dave Moellenhoff also worked with Marc on the Salesforce project.
Their vision was to create business software in a way new to business owners everywhere. This model is now widely known—Software-as-a-Service aka SaaS. Salesforce definitely shook up the business world and continues to grow in popularity, having 19.8% of the CRM market.
Salesforce allows users to pick which features their business needs—and you'll definitely need to pick—unless you have a massive budget. Once you look through all of the Salesforce add-ons, you'll see they can get pretty pricey.
One thing that makes Salesforce a clear choice for many businesses is its long list of integrations and the many tools & apps that help each part of your business.
Salesforce Pros
Long list of integrations (including popular ones like Stripe)
Ability to pick features you want
24/7 support for higher-tier plans
Salesforce Cons
High prices
Overwhelming information
Long learning curve
Freshworks vs Salesforce: Which One Is Easier to Use?
Freshworks talks about how easy its platform is to use because it really is intuitive and allows even beginners to easily tap into the power of CRMs. On the other hand, Salesforce can give you a headache just by looking at the dashboard.
Keep in mind that Salesforce does give you more customization than Freshworks does. If you don't want all of the confusing information in your face, you can figure out how to take it off the main screen. However, if you want the clear winner for easiest CRM to use between Freshworks vs Salesforce, then Freshworks comes out on top.
Freshworks vs Salesforce: Which Platform Can Help You Get Sales Faster?
While ease-of-use and low pricing might be attractive, can Freshworks give you the results Salesforce does?
Many people believe that Salesforce is a must for bigger businesses that need more results. Salesforce is more robust than Freshworks is and has a lot of information you can't get through using Freshworks. The more information you have and use properly, the more sales you can get, so that's why Salesforce comes out on top when it comes to getting faster and better results.
Pricing for Freshworks vs Salesforce
Whether you're just starting your new business or you have a well-established business, you still have to think about your budget.
Understanding the pricing differences between Freshworks and Salesforce will allow you to get a better idea of which one will fit your budget best & provide the ideal customer experience.
Freshworks Pricing
Free includes contact and account management, contact lifecycle stages, built-in chat, email and phone, 24×5 support (customer service), and mobile app
Growth costs $18 per month and includes everything from Free plus a visual sales pipeline, AI-powered predictive contact scoring, sales sequences, product catalog, custom reports, and dashboards
Pro costs $47 per month and includes everything from Growth plus multiple sales pipelines, time-based workflows, AI-powered deal insights, and next best action, chat campaigns, and WhatsApp business
Enterprise costs $83 per month and includes everything from Pro plus custom modules, auto-profile enrichment, AI-based forecasting insights, audit logs, and a dedicated account manager
There is a discount if you choose to go with annual billing.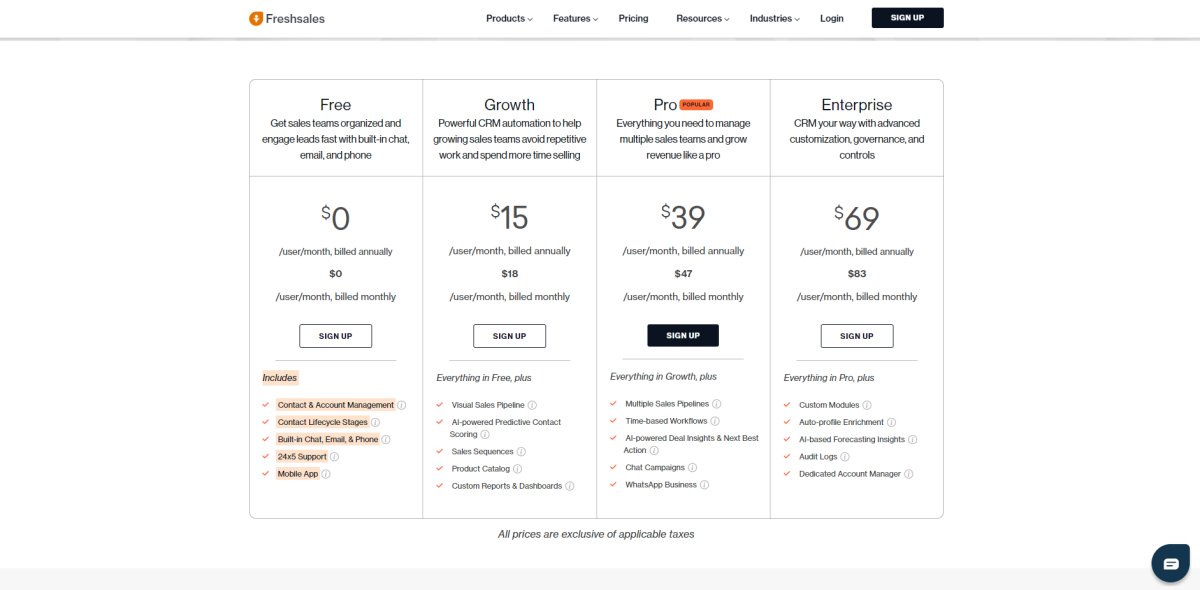 Salesforce Pricing
All plans are billed annually.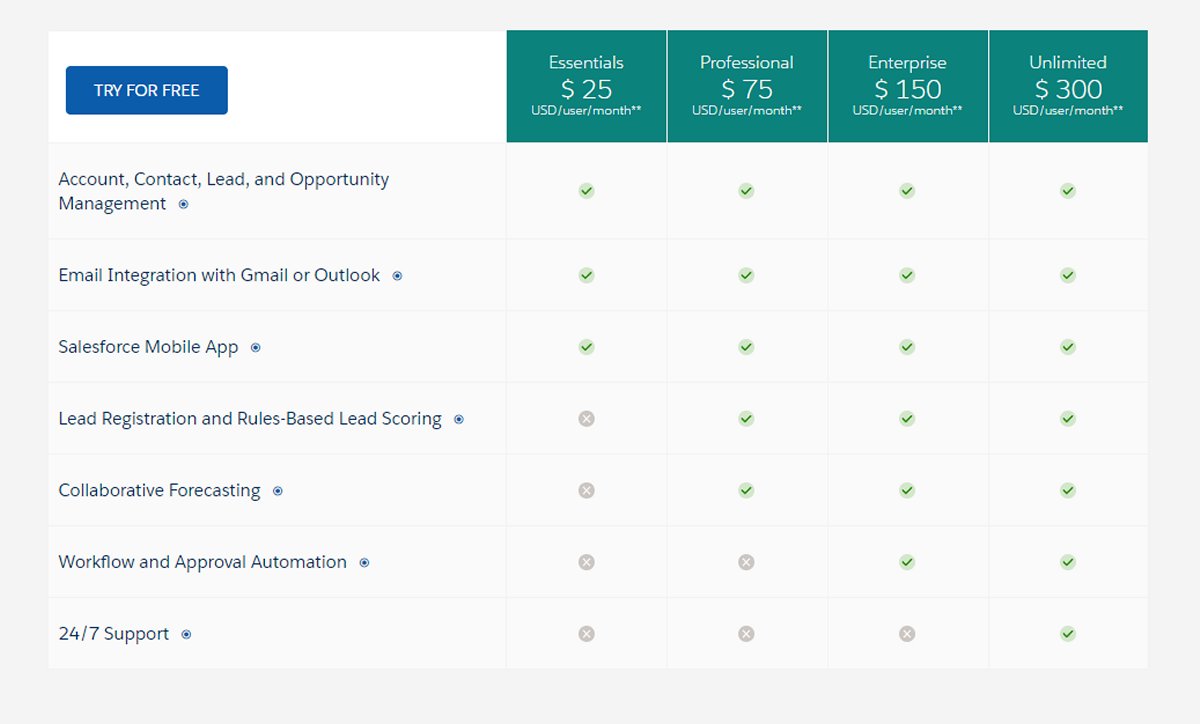 Is Freshworks or Salesforce Better for Building Business Revenue?
When you want to build your business revenue, choosing the right CRM software makes a big difference in how quickly that revenue grows. Even though Salesforce can help you grow your business income higher than Freshworks, keep in mind that it only works if you know how to work it.
If you don't plan on learning all the ins and outs of Salesforce, it makes more sense to use Freshworks. You can get started right away without having to sit and watch hours of instructional videos to learn how it works.
Salesforce and Freshworks CRM Alternative Options: Other Popular CRM Software
Oracle NetSuite
Salesmate
Monday.com (CRM meets Project Management)
What are the Benefits of Using a CRM like Salesforce or Freshworks?
Customer relationship management systems help you not only with closing leads but with increasing the revenue you bring in from current customers. Current customers love hearing from companies they spend money with at the right times.
It is easier to get people that already buy from you to buy from you again. If you aren't following up with current customer base, you're missing out on revenue that costs you very little to acquire relative to other marketing efforts.
Also, keep in mind that if you aren't talking to your customers, your competition is likely talking to them and could win them over to do business with them.
When you use CRMs, you'll provide better customer service, bring in more sales, decrease busy work and increase productivity. Being able to track marketing and sales activity helps your business and your salespeople become more effective so they can get more done in less time.
The marketing and relationship tools within these platforms allow your salespeople to automate many of the mundane tasks they've had to do manually (any good marketing automation tool should do this), which can also be good for morale within the company.
FAQs
Question: Does my business really need to invest in a CRM?
Answer: Yes. Having a reliable CRM to help you follow up with leads and current customers is essential to help you increase your business revenue.
Question: Do I need to move my entire organization to Freshworks or Salesforce all at once?
Answer: No. It's better to transfer your organization slowly so you can have some people learning the new platform while others continue to work on your current platform.
Question: Is the Freshworks Free plan worth signing up for?
Answer: Yes. Signing up for the Freshworks Free plan will allow you to get used to the platform before pulling your credit card out.
Which Platform Should You Use for your CRM Needs?
Freshworks CRM vs Salesforce is a hard decision since both companies are reputable and offer great value for businesses. However, Freshworks is the best option for those just starting out, with many of the features Salesforce offers, but in a "pay as you go" model.
However, if you are larger enterprise or will be soon, Salesforce is the right choice, but for most people, a less expensive and highly effective CRM like Freshworks will do the trick.
Do you want to learn more about Freshworks? Check out our Freshworks review for more information.
Freshworks and Salesforce Compared to The Competition
If you still aren't quite settled on either Salesforce or Freshworks, check out how Salesforce compared directly to their top competitors (respectively) other below.
Salesforce Competitor Alternative Options Compared