Last Updated on April 23, 2023 by Ewen Finser
If you've ever wondered what the difference between Netsuite vs Salesforce is then you've come to the right place. This article aims to compare these two eCommerce platforms with the aim of clarifying the controversy surrounding which is better.
Most of you who landed on this topic are probably considering buying a CRM or maybe even integrating Salesforce and Netsuite. That's good. Again, you've come to the right place. I'll give you a commonly held verdict on whether Netsuite is a better option than Salesforce for CRM.
But first, I'll be going over what to expect and what not to expect from both platforms while mentioning some useful features on both accounts.
If you read CRM industry news, you might have noticed that Salesforce has begun adding some, what might be considered, ERP features to its offering. Apparently, the tool is aiming to make a push into the mid-market. I'll be telling you whether Salesforce is a worthy Netsuite competitor, so stick around for that.
I'll also be answering some frequently asked questions people have regarding Salesforce and Netsuite. Take a quick peek and you might find an answer you mightn't have expected. Finally, I'll also compare both Salesforce and Netsuite for support, pricing and deliver a clear buying decision.
Bottom Line Up Front Summary: If you are looking for a full-spectrum sales enablement platform, definitely stick to Salesforce here. However, if you need to integrate accounting, resource planning and sales under one roof, Netsuite is the more comprehensive solution for larger enterprises.
If you're interested in gaining enough information to prevent making some expensive mistakes, then keep reading!
Main Differences Between Netsuite vs Salesforce
The main differences between Netsuite vs Salesforce are:
Netsuite is regarded as the "leading integrated cloud business software suite", whereas Salesforce is best known for being a hugely popular cloud-based software company that provides a robust CRM solution.
Netsuite is an ERP, whereas Salesforce is a CRM.
Netsuite doesn't provide any pricing information through its website, whereas Salesforce does provide a pricing structure.
NetSuite provides accounting software, whereas Salesforce does not.
Netsuite comes with many out of the box tools, whereas Salesforce relies on integrations with third-party apps to get the same functionality as Netsuite.
Netsuite is a solid CRM solution that's versatile with solid sales and planning tools, whereas Salesforce is a robust CRM with powerful sales tools and CRM related products.
Netsuite vs Salesforce | A Comparison of Essential Features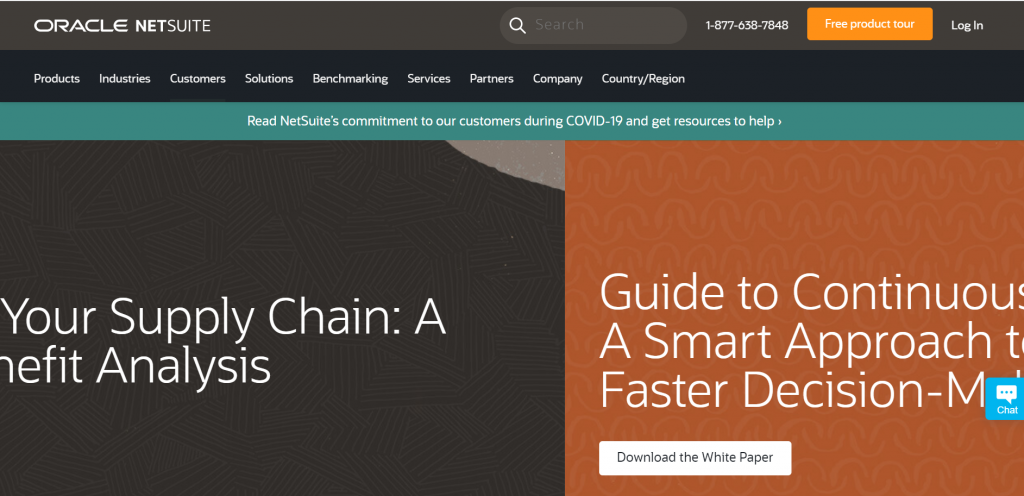 In this section, I'll provide some information about the main features of Netsuite and Salesforce. It'll provide you with a clearer indication of what to expect from an ERP vs a CRM.
Here's a list of some of Salesforce Best Products and their Features
Marketing Cloud
Salesforce offers a range of marketing automation tools, email marketing features, the ability to integrate digital advertising data as well as studio tools, and more through Marketing Cloud.
Sales Cloud
The Sales Cloud offers some of the best sales tools around in terms of enabling your sales reps to close more deals. One cool feature of the Sales Cloud is Einstein AI. Which, lets Salesforce users score leads more effectively using AI to heighten the chance of earning a sale down the pipeline. Lead and opportunity management, sales collaboration, sales forecasting, and contact management are also available.
Service Cloud
This Salesforce product is aimed at providing personal, robust customer service. Some cool features are the knowledge base, lightning service console, case management, and omnichannel routing.
Quip
This Salesforce integration makes it easier for members of teams and different departments to communicate effectively. Create shared documents, slides for informative presentations, spreadsheets that can be analyzed using a live-chat and live apps for additional functionality.
Here's a list of Netsuite's Best Products with some Features included

Email Marketing
Netsuite provides a host of features to help you run your email marketing campaigns. Benefit from being able to personalize, automate and analyze your email activity. (Available through Bronto.com)
CRM
Netsuite's CRM system comes with some impactful customer service management features. These include time tracking, case management, and customer portal.
Accounting Software
Netsuite has its accounting software system as well as its partner accounting program. Some impressive systems features include fixed assets management, synchronised billing and real-time data reports.
ERP
Supply Chain Management (SCM) is one of Netsuite's many ERP tools. The ERP's SCM bundle includes features such as planning, execution (e.g. purchase order creation) and collaboration.
CRM – Customer Relation Management & Systems | Netsuite vs Salesforce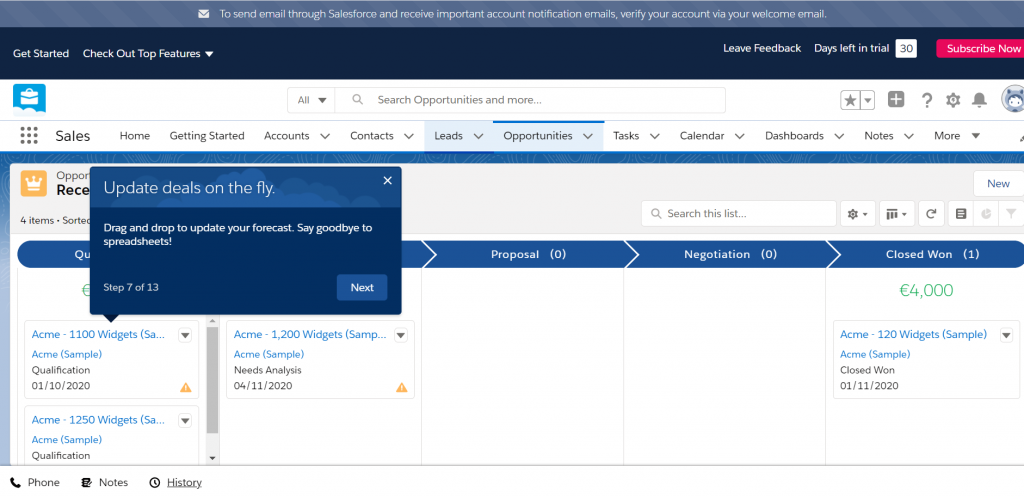 CRM activities are concerned with creating and developing valuable relationships between a business and its current customers as well as its leads (potential customers).
As a result, CRM software provided by the likes of Netsuite vs Salesforce has become invaluable due to its ability to streamline relationships with customers and ultimately improve profitability. Long story short, a CRM system can help find the balance between market orientation and satisfying stakeholders or the exec.
To get back toward helping you make a buying decision, it's important to note the difference between these two platforms when it comes to CRM applications. The first port of call is noting that Netsuite isn't an effective standalone CRM solution (whereas Salesforce is!).
Netsuite's CRM functionality ties into its selling point of providing an integrated offering for storing data within a localized system.
Netsuite's CRM features positively affect sales and marketing automation, communication within the pipeline, the sales process, partner relationship management, reporting, and analytics as well as UX (User Experience). Netsuite, when compared to Hubspot, comes off second best in terms of purely providing CRM software.
So, Netsuite's CRM solution is the best option unless, of course, you're looking for a solid CRM within a cloud business suite. Insightly could be an option for anyone looking to bundle sales, marketing and PM tools at a reasonable price.
Verdict
In contrast, the Salesforce CRM system has a features list that makes it stand out ahead of Netsuite. Salesforce would offer more than Hubspot regarding sales features, but Hubspot is superior in terms of inbound and content marketing (CMS Hub, Marketing Hub, Customer Service Hub). A big difference between Salesforce and Netsuite regarding CRM is that Salesforce can effectively operate purely as a CRM solution.
To clarify, Nesuite's software is suitable for small businesses seeking CRM features and functionality. It's got some good sales tools, customer and project management as well as marketing automation. But, Salesforce is a better option for anyone operating on a larger scale and even at the SMB level. Overall, Salesforce offers a better CRM system.
ERP
ERP is an acronym for Enterprise Resource Planning. For the most part, ERP can be adequately summarized as a system that manages the day to day business activities within a company. ERP software achieves this end by providing features and functionality to aid in business processes such as marketing, partner management, customer management, accounting, project management, risk management as well as management of activities across the supply chain.
As with all things, there are certain features and benefits an ERP system must provide to earn its stripes. Some of these include:
Data reporting and analytics
Integrations (Apps as well as API)
CRM (discussed previously)
Visibility of activity within all channels
Accounting
Automation
The key thing to note here is that NetSuite provides a superior ERP system because Salesforce doesn't offer ERP (although it's moving in that direction).
The core reason Salesforce was founded was to simplify CRM by removing CRM software from EPR systems to hopefully streamline the process of CRM. Which, it did. Hence, CRM is such a profitable software vertical in 2020.
Anyway, if you're looking for ERP and CRM, then Netsuite is your best option. I like the fact that Netsuite hires "Netsuite Consultants" who basically help you work through any problem areas within your business model and or operations. I also think that Netsuite does a brilliant job of addressing the fundamental aspect of ERP: Netsuite provides an ERP database that intuitively stores data within a single system.
On a side note, for anyone seeking extremely robust ERP and CRM, it may be an idea to integrate Salesforce with Netsuite. It'd give you pretty much the best of both worlds.
Netsuite vs Salesforce Integrations
To kick on from my point about ERP, I'd like to highlight how Netsuite's tools come out of the box. You've got your accounting, management systems, CRM and more.
But, the key thing to note is that Netsuite offers more integrations "Out of the Box" than Salesforce. And that's because Salesforce is, again, a standalone CRM system.
Aside from that, both platforms offer some excellent opportunities for integrations with third-party apps as well as API connections and customisations. Let's take a look!
Salesforce Integrations
We'll start by taking a look at some of the integrations available to Salesforce license holders. The Salesforce app store (or App Exchange as it's known) provides integrations with tools (both paid and free) by type.
These types include, but are not limited to:
Finance
Marketing
Sales
IT and Admin
Integration
Analytics
Salesforce Labs
ERP
Salesforce integration patterns can be found using this link. This document is an example of the support provided by Salesforce to developers accessing the CRM's API.
It rightly notes that not all connections are the same between apps, so the document shouldn't be viewed as a method of flattening the learning curve across the board.
For anyone interested in maintaining or editing the Salesforce integration architecture, they can do so by completing the relevant exams linked. Salesforce refers to such individuals as "integration architects". Coupled with integration consultants (their cousins), consultants and architects ensure a formiddable integration experience during the onboarding process.
Some of the most useful Salesforce integrations include Stripe, Qualtrics and Hubspot. Qualtrics can be connected with Salesforce through its "Actions" tab. Upon doing so, the connection will enable surveys to pop up automatically when an action is performed within a Salesforce page.
This is yet another way for marketers using the CRM to gain better data insight into their customers' perceptions and desires. Such integrations can go along way to improving a firm's market orientation.
Meanwhile, Hubspot is an attractive integration due to the prospect of combining Salesforce' CRM sales tools with inbound marketing as well as content marketing functionality contained within Hubspot's offering. Here's a link to a guide on the integration of Hubspot with Salesforce.
Netsuite Integrations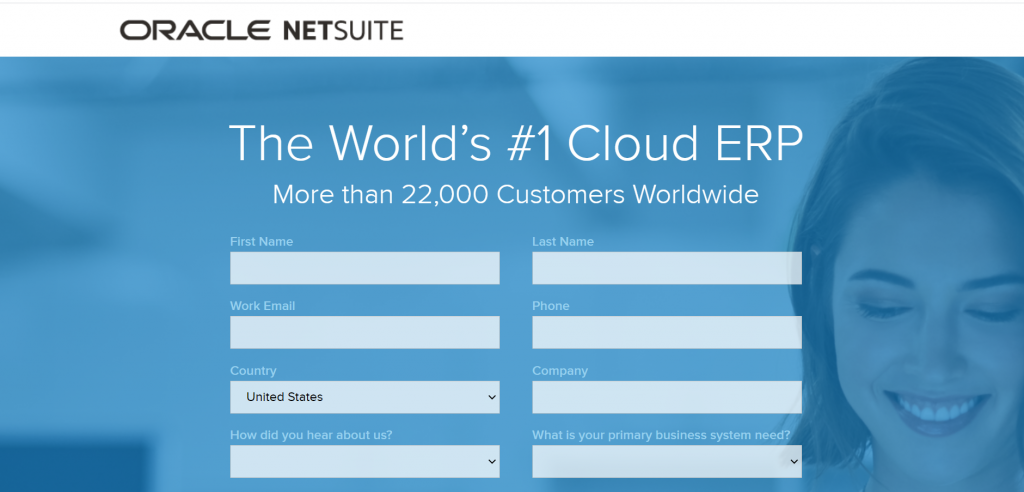 Considering Netsuite is an integrated cloud business suite, it differs from the likes of Hubspot and Salesforce in that integration with external third party apps should be less necessary.
Nevertheless, you may wish to access additional functionality. Which is possible using the Netsuite app store created by Oracle. What I like about Netsuite's app store is the ability to search by both vertical and business need. It streamlined the process of finding the right app.
For anyone looking to integrate Netsuite with an eCommerce platform, then this integration guide from eSided should prove useful.
If this article isn't enough, then I suggest reading this resource created by Jitterbit (Jitterbit is a Netsuite integration partner). It'll provide anyone attempting to make connections using Netsuite's API with best practice tips and tricks. This information comes in the form of white papers, ebooks, etc. It's worth a read.
Like Salesforce, Netsuite can be integrated with some big-name tools. Shopify – the leading eCommerce shopping cart solution in the world – is a spicy example. Although an integrator will likely have to be used.
Overall, both Netsuite and Salesforce do excellent jobs at helping toward successful integration. You'll have access to tonnes of tools and features through third-party apps. While both possess APIs for developers and IT teams to make more advanced customisations and connections.
Accounting Software
Accounting software helps bookkeepers, accountants and financial departments keep tabs on their financial transactions. It should provide data reporting and analytics to further your understanding of your finances.
There are also advantages to be gained by using accounting software. For instance, you can store financial data within one integrated system. It spells the end of sifting through ledger after ledger searching for accounts. The ability to process financial transactions (account payable/receivable, send invoices, etc.) within that same system is another benefit of using accounting software.
Other advantages and benefits of using accounting software include:
Improved decision making
Quicker access to data
Powerful automation
All team members can easily access financial data
Quicker than manual accounting
As previously mentioned, accounting is an important aspect of ERP. So, it's no surprise that Netsuite possesses an Accounting Information System (AIS). As Salesforce is a CRM, it doesn't have bookkeeping, payroll, financial forecasting or any of the other features present in AIS. So, you'll have to integrate with a third party software provider or find an accountant operating in an office setting near you.
Some of the best options for small businesses and self-employed people include Intuit's Quickbooks and Xero. Netsuite is a great option for anyone looking for an enterprise-level software solution, but Acumatica is also an excellent choice.
Salesforce doesn't offer an accounting solution, or, at least, its accounting features aren't robust enough to manage by themselves. So, you'll have to integrate Salesforce with accounting software. Here's an insightful blog post that goes into much more detail about how to choose an AIS.
In terms of Netsuite and Salesforce as relates to accounting software, Netsuite is the winner.
Support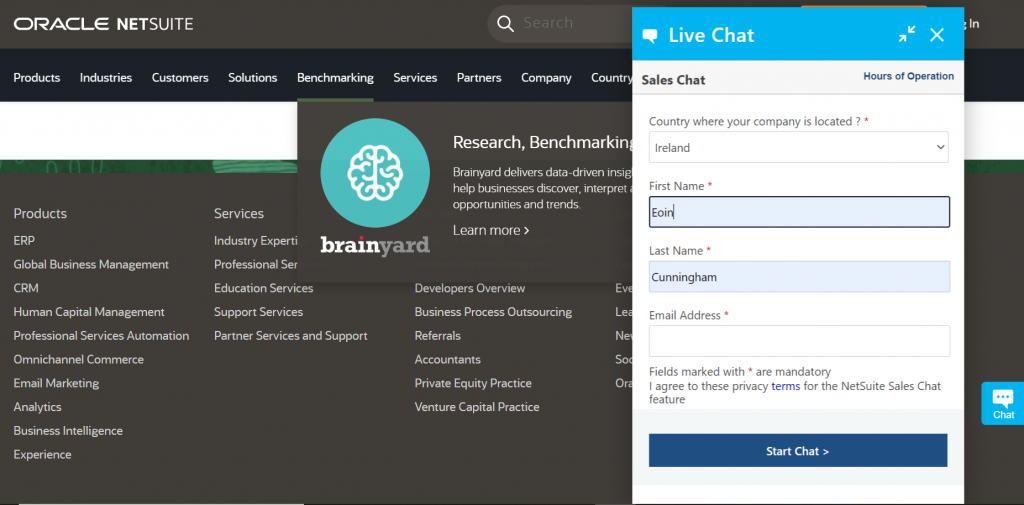 You can contact Netsuite using the company's phone number. Of course, depending on where you live this number is different. For example, Netsuite's corporate headquarters in the US has a different number compared to its offices in Chicago, Australia, and Vietnam.
Salesforce also possesses a phone number to provide customer service. Like Netsuite, this number changes depending on where you are in the world. It's a good thing that both platforms provide support based on geography. That way you receive a personalized support experience from people who understand the needs of your domestic market.
Netsuite and Salesforce have detailed contact pages displayed channels of support such as addresses, fax and email. I particularly like the way that Salesforce links its "Sales" and "Technical" departments' contact forms. It's convenient. Although Netsuite does offer something that Salesforce doesn't, the contact details of its PR officer.
Salesforce does offer a live chat during the onboarding phase. Netsuite also offers a chat feature – although it isn't live – during onboarding. However, depending on the pricing plan you choose support levels impact on the availability of features (applicable to both Salesforce and Netsuite).
For instance, Salesforce users cannot fully benefit from online customer chat support unless using the Service Cloud's "Enterprise" and "Unlimited" support plans. Further, it'll cost an extra $75 per month to gain live chat functionality with the Enterprise plan. Which is costly.
Both eCommerce platforms – much to their credit – provide both technical and sales support teams. Salesforce support engineers, analysts, administrators and managers. So, there's a clearly defined structure in place within the Salesforce support centre. Similarly, Netsuite also advertises many support jobs. An example is the Netsuite support consultant positions part of the IT and management roles.
On all plans, Netsuite offers basic and premium support. But advanced support is available at additional cost. Overall, the level of support provided by Netsuite is higher than with Salesforce due to Netsuite being an ERP solution. CRM is merely a subset of ERP, so it's understandable as to why.
Netsuite vs Salesforce Pricing
Pricing Structure
Netsuite doesn't disclose its pricing online. Instead, you've got to reach out to Netsuite directly and request a consultation. Your Netsuite price architect will then help organise a quote based on the tools you need. I like this approach to pricing because it helps people receive what they from the get-go with NetSuite.
That being said, I also like the simplicity of Googling "Salesforce pricing" and skimming down through each plan individually looking at what features are included and left out. It's nice to be easily able to get a ballpark figure in just a few short clicks.
Pricing Plans
Netsuite doesn't offer pricing plans via a webpage. You can however use Netsuite pricing calculators to get an estimate of how much Netsuite will cost. Netsuite's price list starts at roughly $990+ (per month) to buy your initial license. It then costs $99 every time you register a user (per month). Depending on the suite tools you need this figure will be cheaper. Netsuite's pricing model is also affected by the level of support and storage you require.
In contrast, Salesforce does provide pricing plans over the web. Like Netsuite, Salesforce sells functionality via suites. The more power and functionality you require the higher the price. I'll include a screenshot of Salesforce Einstein pricing. Anyway, Salesforce pricing strategy lets you bundle the products you need together and also add on features. It's like Netsuite in that respect.
You're best served to contact Salesforce and Netsuite directly to get a clear quote.
Salesforce vs Netsuite Free Trial Offers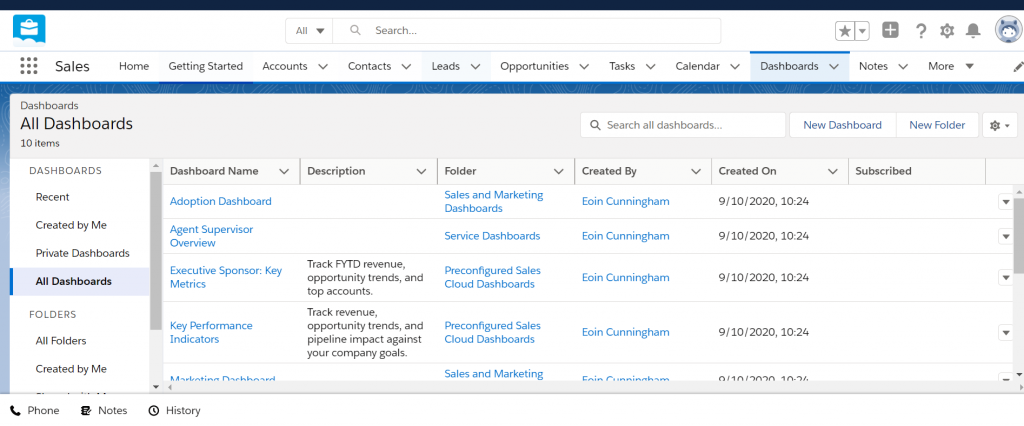 Salesforce offers a free trial of its product editions. Netsuite doesn't offer a free trial but instead offers a free product tour. Netsuite will contact you after filling out their form to arrange an introductory session with one of their reps.
FAQs
What is Netsuite?
Netsuite is a cloud-based business software suite. It aims to provide all the products and solutions a brand needs to succeed at eCommerce. Netsuite offers the following:
An ERP system
Accounting
Supply Chain as well as Inventory Management
Marketing Automation as well as Email Marketing
Omnichannel Commerce
Reporting and Analytics
HR and Payroll Management
CRM
How Much Does Netsuite Cost?
Netsuite's pricing is purely dependant on your needs. It's impossible to say how much Netsuite will cost without an understanding of which of its products you wish to purchase. That being said, there are some Netsuite price calculators I'll link to for you.
From what I understand, the ERP's pricing model operates using a tiered basis. To throw you a ballpark figure, Netsuite's basic plan is $990+ and costs an additional $99 per month per every user you wish to grant access.
To get a clear quote, contact Netsuite directly.
What exactly does Salesforce do?
Salesforce provides people with a cloud-based CRM system. Despite what you'll see online, it's not a SaaS, but rather a PaaS. A PaaS provides people with the functionality they need to build, manage and maintain business applications without having to purchase the infrastructure to do so within the cloud.
From a business aspect, Salesforce PaaS enables the user to manage and track customer interactions, data and analytics, progress within the sales pipeline, offers sales tools to boost the efforts of sales teams, scale their business, improve customer service, communicate effectively, access marketing features and more.
Does Salesforce Require Coding?
No, Salesforce doesn't require coding. It's quite intuitive and functions aren't time-consuming compared to a CRM such as Insightly.
Buying Decision: Salesforce for CRM & Netsuite for ERP
Netsuite is the best option for someone looking for a basic CRM solution that's integrated within an ERP. It lacks marketing segmentation capabilities and opportunity tracking, for example. Such features are important aspects of advanced CRM systems.
Salesforce is, therefore, a much better option for CRM, of course, if you're in the market for an ERP then Netsuite is the obvious choice. To get the best out of both platforms, I suggest integrating Salesforce with Netsuite. But you should first make sure you need that level of power.
Netsuite and Salesforce Compared to Other CRM & ERP Solutions
If you are still on the fence, or just want to be confident in your decision, check out these other direct comparisons our editorial team has published.
Salesforce Alternative Options Compared