Last Updated on May 20, 2021 by Ewen Finser
If you're looking for the best Amazon product research tool, you may have stumbled upon MerchantWords. It's an easy-to-use platform with some great keyword and product research tools. The question is, is it worth the money? How does it work, and will it really make a difference to your product sales? Our opinion is this: we like MerchantWords a lot and we will of course, explain everything in this Merchant Words Review.
It's easy to use, beginner-friendly, and pretty nice to look at. Plus, it has some great tools to help you get going with keyword research. However, if you want maximum features for your money, you may feel that MerchantWords doesn't have enough to offer you.
Keep reading to find out more, including pros and cons, and an in-depth look at the keyword research tools. We'll also see what their support and pricing are like, and offer some other recommendations for product research tools to check out.
What is MerchantWords?
MerchantWords is a suite of keyword and product research tools for Amazon sellers. It was launched in 2012. It's ideal for sellers doing large amounts of keyword research, as it allows you to bulk search and keep your keywords organized into categories.
The Pros and Cons of MerchantWords
If you're in a hurry, here are the pros and cons straight away:
Pros
Very easy to navigate
Easy to understand search results
Provides good insights on top-performing keywords
Allows you to keep keyword research organized
Cons
A little pricey compared to some other platforms
Only good for keyword and product research – lacks other functions
The Main Features of MerchantWords
MerchantWords has several tools for Amazon sellers, but it does feel a bit sparse in comparison to similar platforms. For example, JungleScout and Helium10 offer more in terms of features, including browser extensions and inventory management tools. We'll get into this a little later in the pricing section.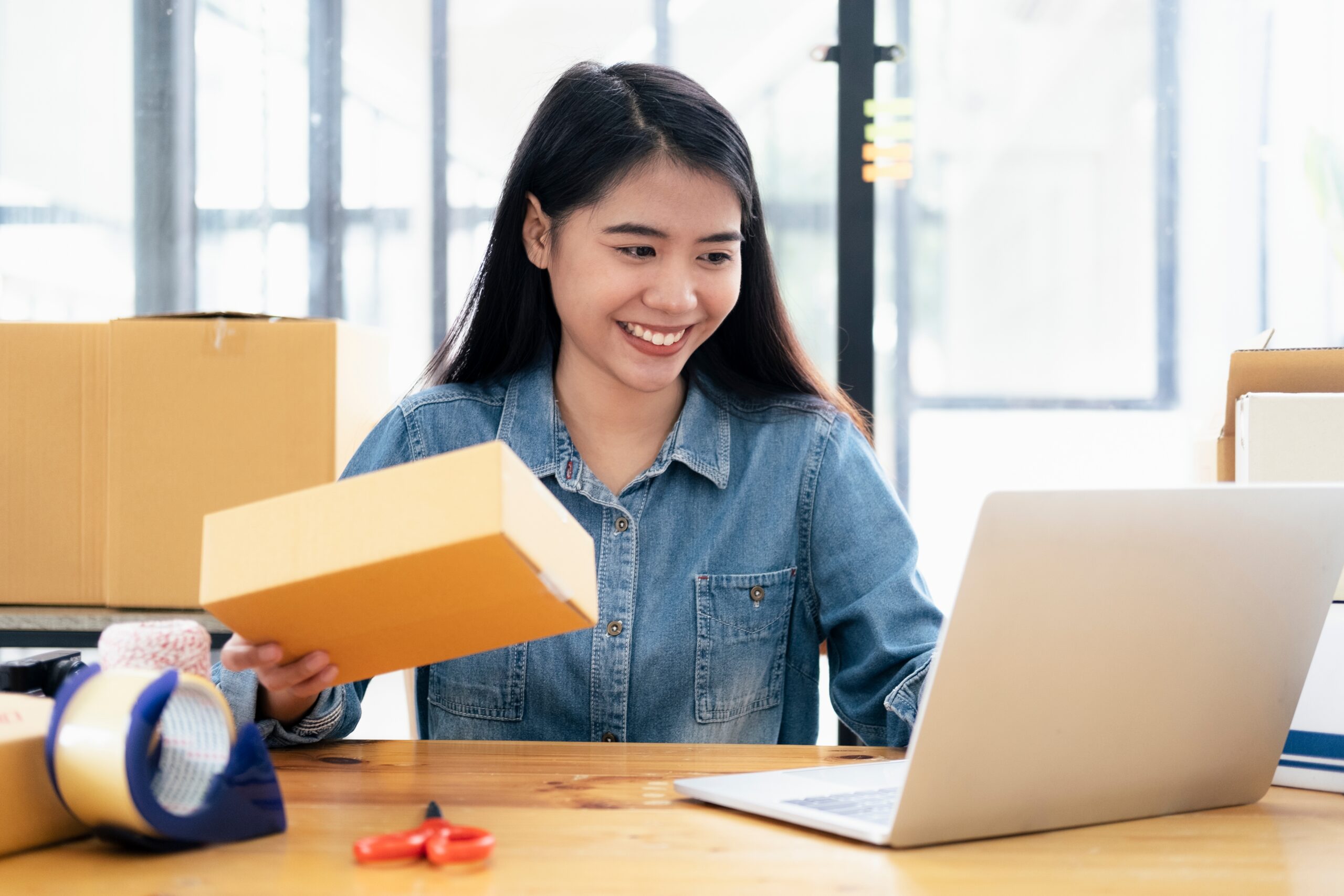 Let's take a look at each one in more detail.
UX/Ease of Use
The platform itself is really easy to navigate. You can test out some of the tools for free without even having to sign up, and it's really easy to find your way around, even if you're completely new to keyword research.
If you want something that doesn't have much of a learning curve, MerchantWords is a good choice. It gives you all the information you need without feeling too overwhelming.
Market Insights
The Market Insights tool allows you to closely examine your closest competitors to see how similar products are performing. Just type in an ASIN and click 'add', and you'll receive a report. You can find similar products and filter them:
This gives you a helpful overview of the products currently available. It's a useful tool if you have a product and you're not sure how you should be pricing it, for example. You will be entitled to a certain number of reports per month depending on the plan you choose (from 50 reports on the lowest price plan through to 10,000 reports on the highest).
Digital Shelf
This is a tool that can help you to refine your SEO strategy.
You can view:
Organic rank performance
Digital shelf insights (showing page 1 keywords, rank average, review average, and more)
Frequently seen words
Similar products

It's very user-friendly and easy to understand and can give you some practical steps to take to improve SEO on your product listings. For example, looking at frequently seen keywords can ensure you use the right keywords in your product descriptions.
SEO is a really important thing to learn if you want to sell online – feel free to grab some tips from our article, How to Find the Best SEO Tools for Digital Marketing.
Emerging Trends
The name says it all here – this will give you a glimpse of emerging trends on Amazon. They rank trends by search volume, so you can see at a glance the hottest products. You can view brand new keywords (new buyer search terms) or rediscovered keywords (search terms that haven't been seen for at least 12 months and are re-emerging – seasonal items tend to pop up here).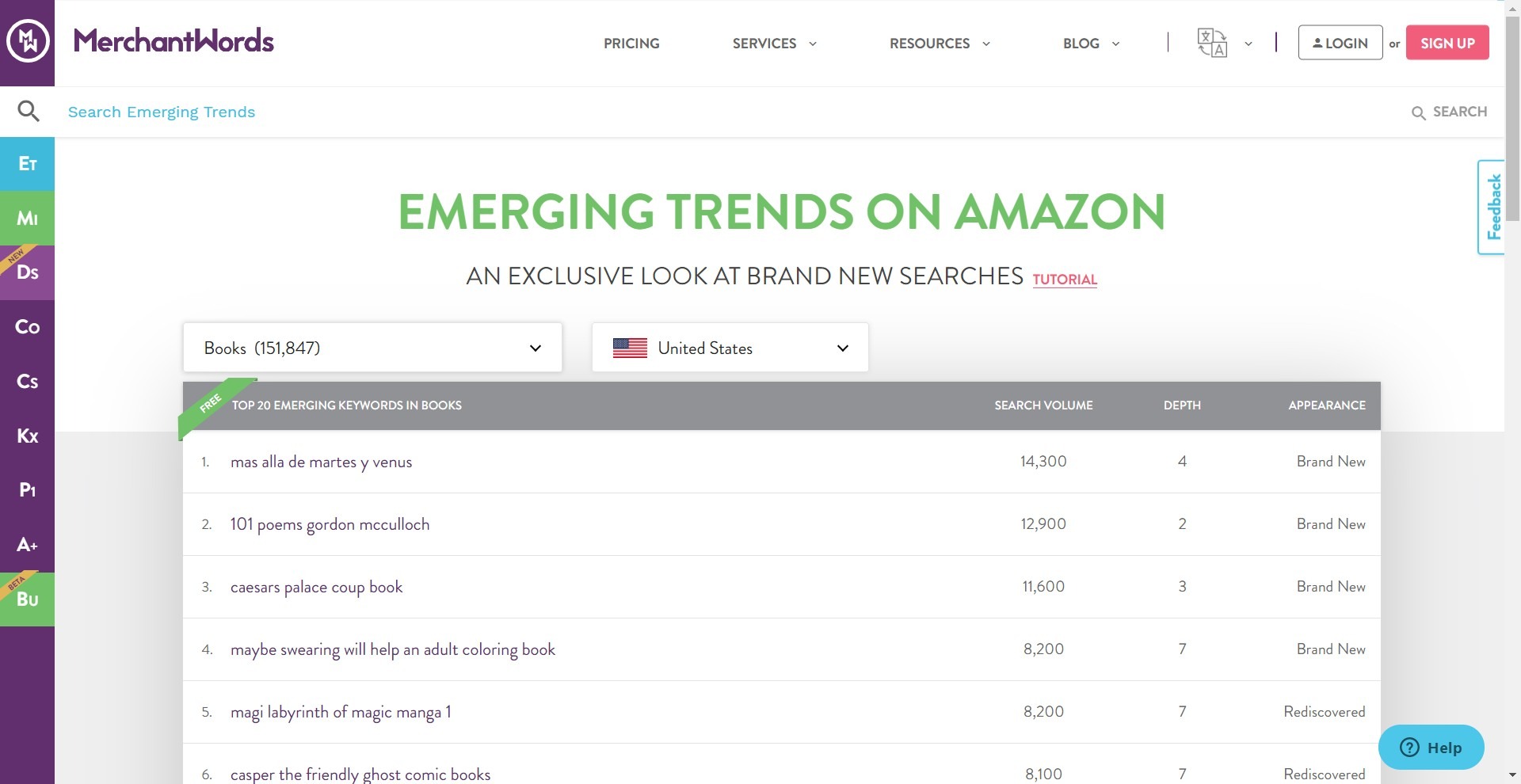 This isn't just limited to Amazon US. You can also see what's about to trend in the U.K, Germany, Japan, Australia, India, France, Italy, Spain, Canada, and Mexico.
It's another tool that is super-easy to use, and MerchantWords offers a video tutorial on how to make the most of it.
Collections
Keyword collections are ideal for keeping keywords organized to look at again later. These are displayed in table form. You can do keyword research, save a group of keywords, and later view them by Amazon Search Volume, Depth (this measures a keywords' search frequency and popularity, representing how many characters you need to type into the search bar before Amazon's autocomplete suggests the keyword), Appearance, Last Seen, and Dominant Categories. Essentially, it's a neat way to keep your keywords grouped.
Classic Search
Classic Search is the basic keyword research tool that MerchantWords has to offer. You can search for a term – for example 'towel' – and then you can sift through a bunch of related keywords to see how each product performs. You can compare how products perform in different countries, and you can download your saved products as a. CSV file.
Keyword Multiplier
The Keyword Multiplier allows you to find keywords that relate to your original keyword.
This is a useful tool if you're struggling to think of more keywords to add to your product description. You can copy all related keywords to your clipboard, or add them straight to one of your collections. It's a simple but useful tool.
Page 1 Products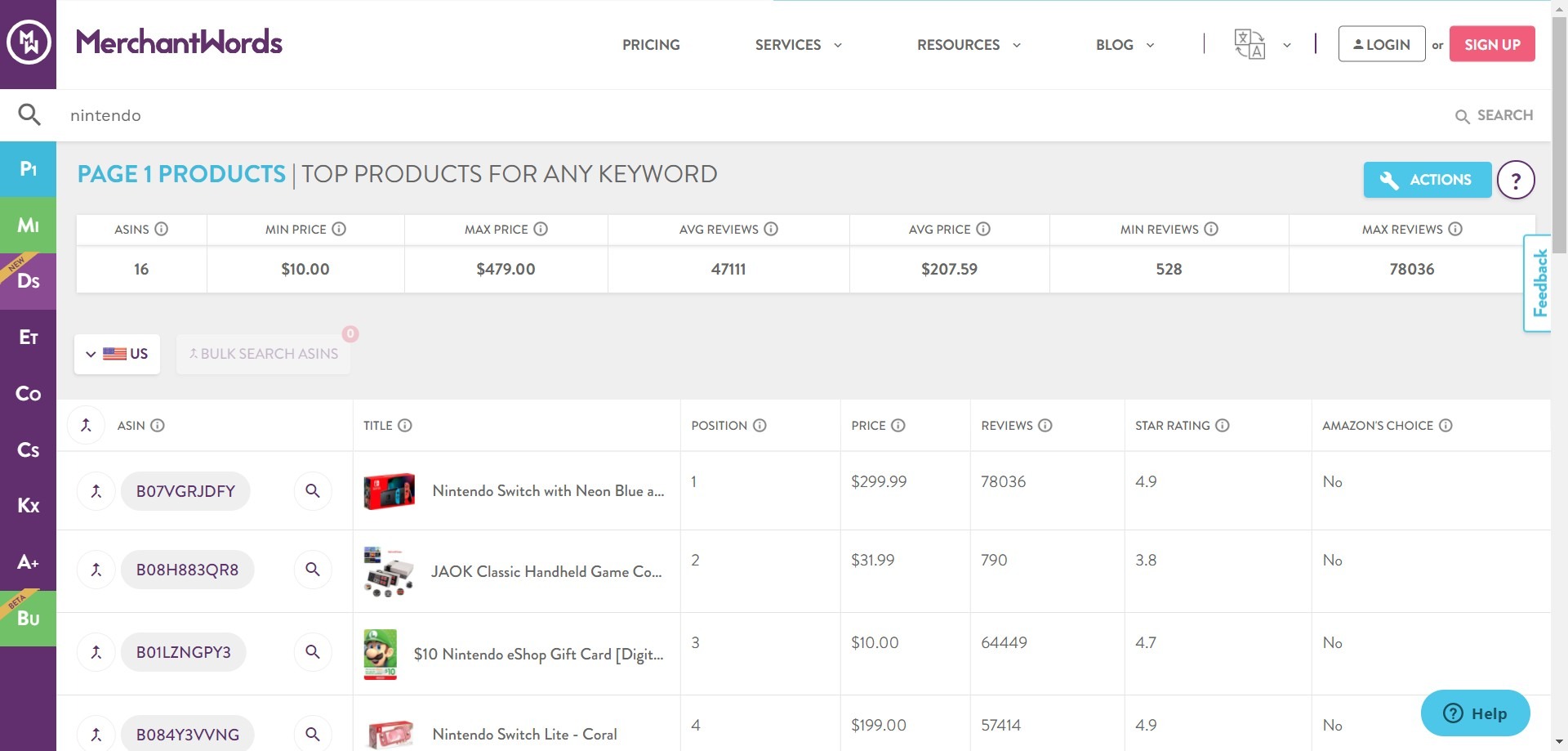 This tool helps you to see the top-performing products in your niche. It lists the top products for any keyword and can be filtered by country. You'll also see some stats at the top of the page, including minimum price, maximum price, average reviews, and average price.
You can click 'analyze' which brings up related products, which you can click to save to your collections.
ASIN Plus
This is a reverse-ASIN search tool.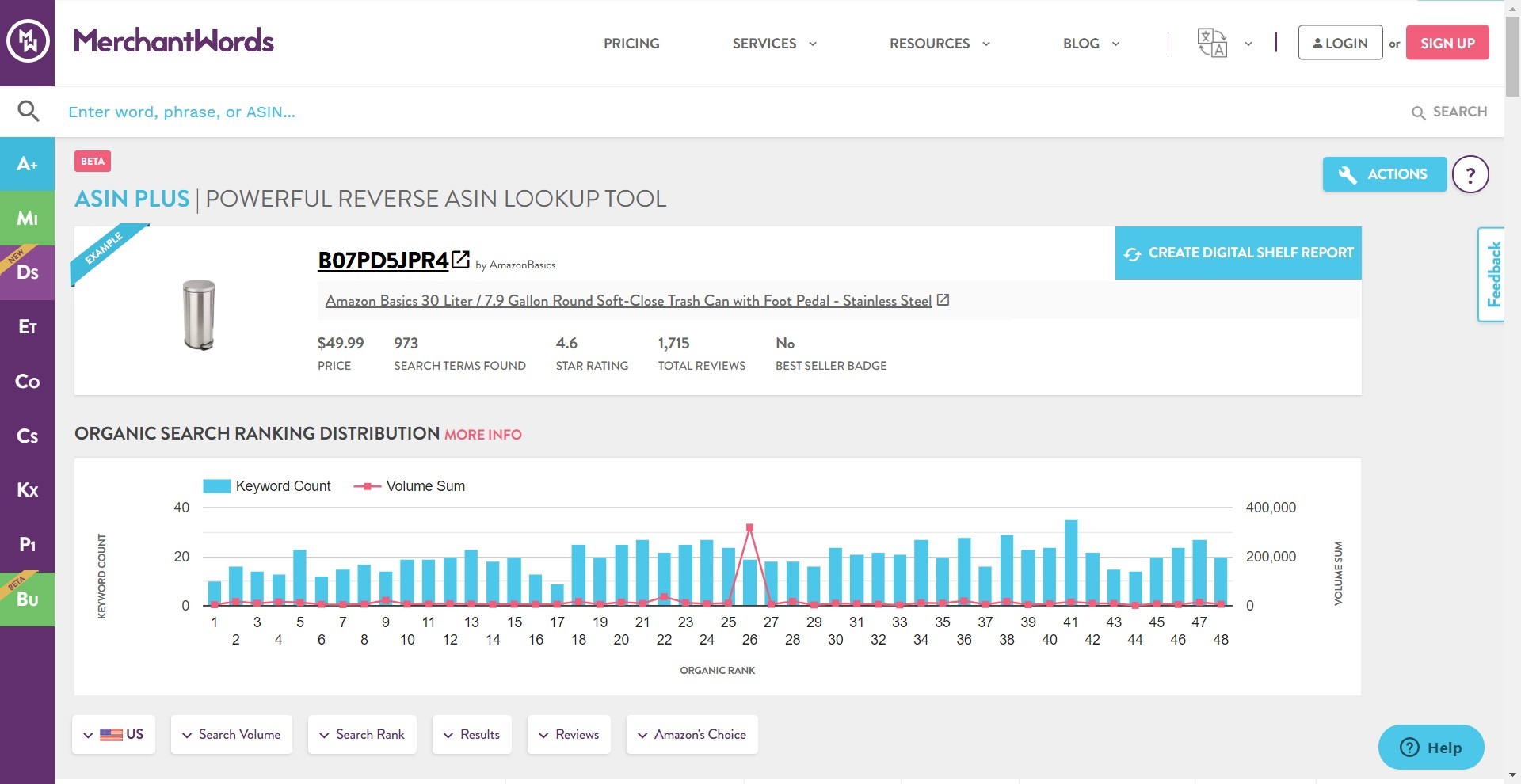 You can enter an ASIN in the search bar to see hundred of Amazon keyword phrases. You can view a product's star rating, total reviews, bestseller status, search rank, total product results, and Amazon's Choice status. This will help you find unique keywords for each product and gain insight into how your competitors market the same or similar products.
Bulk Search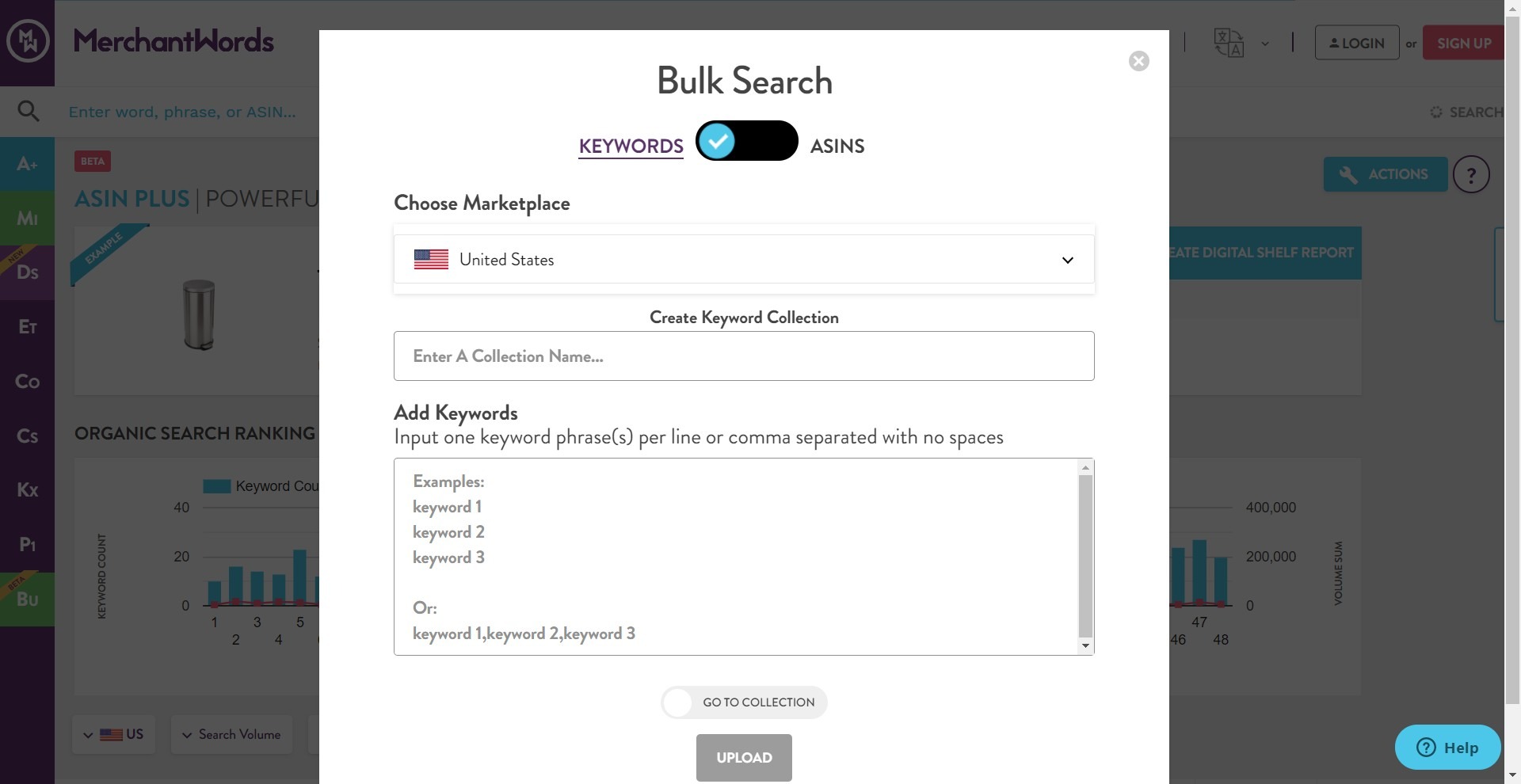 If you want to search for several terms at once, you can use the Bulk Search tool. You can add your search terms to a collection, or create a new keyword collection. This saves a bit of time during the keyword research process.
Other Services
MerchantWords offers a few other services for brands, agencies, manufacturers, and investors. For example, you can work with an experienced data analyst to improve sales, bring a listing advisor on board to help you fully optimize your product listings, or buy custom keyword reports to cut down on your research time.
Support
MerchantWords offers some guidance for new users. It has a guide for sellers, with detailed video tutorials and frequently asked questions for each tool.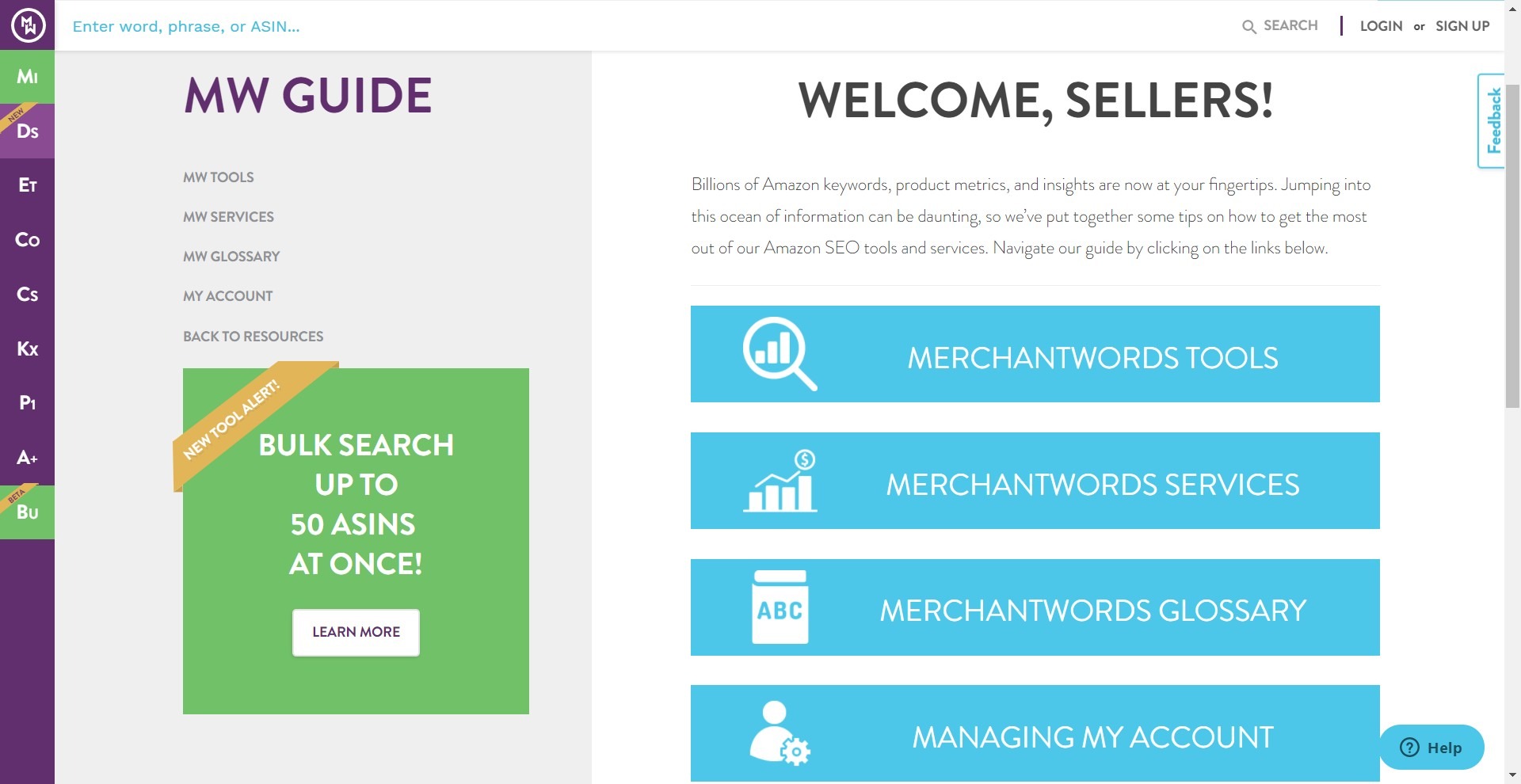 If you need extra support, you can email them or use an online ticketing system. They're helpful and fairly quick to respond to queries.
Pricing
MerchantWord's pricing is fairly straightforward. There are three price plans to choose from:
Silver – $29/month
Single Country
1 User
500 Monthly Searches
CSV Downloads
5 Digital Shelf reports
25 Market Insight searches
10 Keyword Collections
Bulk Search
Classic Search
Keyword Explorer
ASIN Plus
Page 1 Products
Gold – $79/month
Regional Searches
1 User
1000 Monthly Searches
CSV Downloads
50 Digital Shelf reports
100 Market Insight searches
100 Keyword Collections
Bulk Search
Classic Search
Keyword Explorer
ASIN Plus
Page 1 Products
Keyword Multiplier
Emerging Trends
Platinum – $149/month
Global Searches
3 Users
Unlimited Monthly Searches
CSV Downloads
500 Reports
10,000 Searches
1000 Keyword Collections
Bulk Search
Classic Search
Keyword Explorer
ASIN Plus
Page 1 Products
Keyword Multiplier
Emerging Trends
You can save some money if you go for an annual plan, as this gives you 2 months free.
Is it worth the price? That depends on what you're looking for. If you want something with more tools to help you run your Amazon seller account, you could find other platforms that offer this for a similar price to MerchantWords (more on this in the next section).
You may find that it's worth it for the simplicity and ease of use, however. If you have to spend a lot of hours on a platform, it's worth finding one that looks nice and doesn't give you a headache to navigate. Some keyword research tools can be complex or dull to look at, but MerchantWords looks great. So it depends on what you want to prioritize.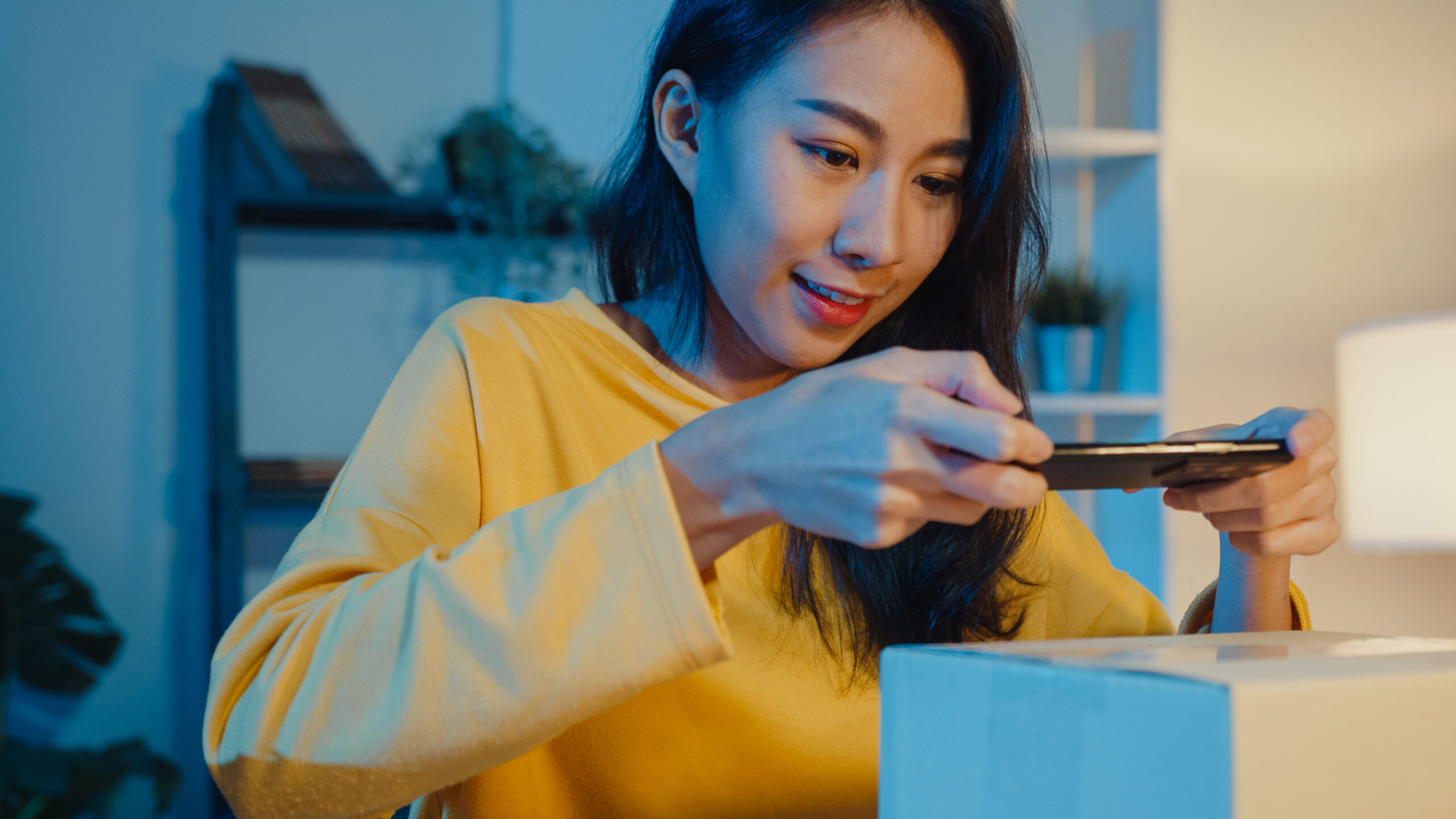 You can find out more on their pricing page.
MerchantWords – Alternatives to Try
Not convinced by MerchantWords? Here are some other tools you can try:
Our Final Thoughts on MerchantWords
Overall, we think MerchantWords is worth checking out. It has a lot of great features, including bulk keyword searches for faster searching. You can organize your search results, which is a useful tool if you're saving keywords in bulk.
We also like the fact that you can spot upcoming trends before everyone else jumps on the bandwagon. It's a really easy tool, but perfect if you're trying to find your niche or you're finding that your current products aren't selling as well as you'd like. Being able to see Page 1 Products is also a pretty nifty tool, allowing you to closely study the best-selling products in your niche to see how your competitors are doing.
While it's kind of pricey considering it doesn't have a browser extension or any extra tools (like inventory management), we still think it's worth a look. If you're new to keyword research, or you're just looking for a tool that is simple to navigate, we'd recommend checking it out.
Plus, it allows you to use some of their tools for free, so you can get a good idea of whether it will suit you before you commit to a payment plan!
If you've used MerchantWords, we'd like to hear about your experiences – has it made a difference to your Amazon sales? Or, if you have another tool you'd like to tell us about, leave us a comment – we're always looking for recommendations.