Last Updated on June 6, 2023 by Ewen Finser
Today, we'll be looking at the best Amazon product research tools, so you can make smart product choices right from the start.
With more than 2.5 million sellers on the Amazon Marketplace and 25,000 of those making more than $1 million a year in sales (Marketplace Pulse), you may be wanting to get in on the action.
There are literally. millions of products for sale on the Marketplace. While that sounds daunting – there's a huge amount of competition there – it's also a good thing. The millions of products and sellers become data points for product research tools to discover.
This means that, using the right tool, you can access almost instant information about the best products in your niche. It also means that you can 'spy' on the competition, watching other sellers to see what their SEO strategies are, and how well their products are selling.
As well as that, you can expect a lot of other benefits from using a product research tool:
Product research tools allow you to find the best keywords for SEO purposes
Some research tools automate some of the product listing process for you, saving you time
Other tools protect you from threats such as product hijackers and coupon abuse
Product research tools can estimate sales, giving you an idea of which products to choose
If you want to make it as an Amazon seller, you'd be better off investing in a product research tool – we'll be looking at the features of each one, as well as the benefits and downsides, and the pricing.
Before getting into each tool in depth, these are the best Amazon product research tools at a glance:
Helium 10 – Best Well-Rounded Research Suite
SellerApp – Best for PPC Research & Management
Jungle Scout – Best UI, Easiest to Use
AMZScout – Best Budget Option
Viral Launch – Best for Product Launches
Unicorn Smasher
IO Scout
Let's dig in a bit more now.
7 Best Amazon Product Research Tools in 2022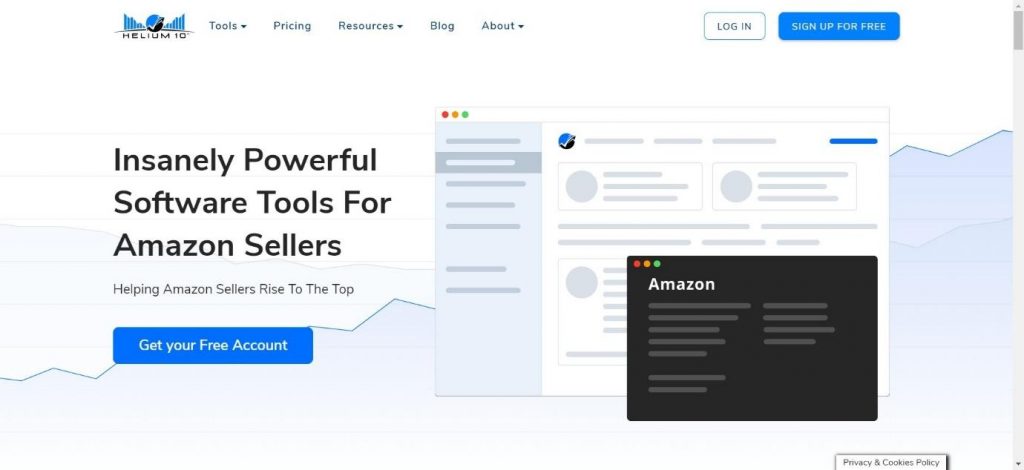 Helium 10 offers a handful of very useful tools for Amazon sellers.
They're all named – starting with Black Box, their product finder and research tool. You can search through over 450 million products, using filters to find products in your niche.
You can search by category, estimated monthly sales revenue, price, weight, number of sellers, review ratings, and more. Then there's Trendster, their product analysis tool. You can check seasonal demand, year-round sales, and price fluctuations.
They have some interesting keyword research tools. Cerebro, their main keyword research tool, not only gives you access to millions of keywords, but also allows you to see the 'Cerebro IQ Score' of each one – this tells you when a keyword has low competition and high search volume.
You can see what keyword strategies your competitors are using, and there's also a tool that allows you to extract misspelled keywords, enabling you to include them within your own product listings.
They have operations tools, including a refund genie which automates some of the returns process for you, an alert system which can help protect you from product hijackers, and a coupon abuse prevention tool.
They also have email automation with a variety of templates. Finally, there's the listing optimization to talk about – with Frankenstein, the keyword processor, Scribbles, the listing optimizer, and the keyword index checker, you should be able to create the perfect product listings.
They offer a range of analytics, too, including competitor analysis.
The Benefits of Using Helium 10
It's a feature-packed platform, including some tools (like the email automation and landing page builder) that other platforms don't have
The operations tools are super useful and can protect you against threads like product hijackers and abuse of coupons
Product tracking works really well, with alerts to inform you of price fluctuations
The keyword tools are extensive, and you can make use of misspelled keywords too
You can easily track seasonal and year-round trends on each product
There is a free plan which is great for those just starting out
The Downsides of Using Helium 10
The main downside is the pricing – although it's packed full of features, and it does have a free plan, you won't be able to access most of the key tools unless you're willing to pay almost $100 per month.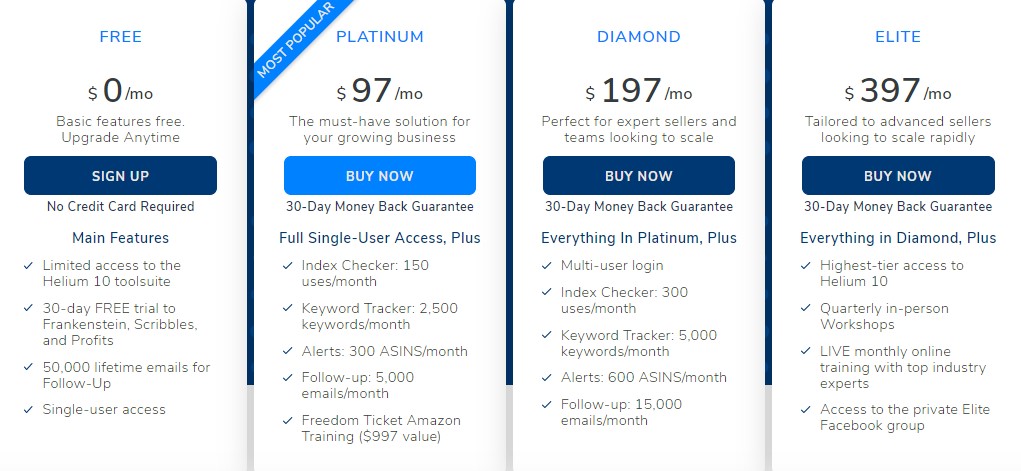 There are four price plans available:
This includes:
Limited access to the toolsuite
30-day free trial of Frankenstein, Scribbles, and Profits
50,000 follow-up emails
Single-user access
This includes:
Index Checker: 150 uses/month
Keyword Tracker: 2,500 keywords/month
Alerts: 300 ASINS/month
Follow-up: 5,000 emails/month
Freedom Ticket Amazon Training
Access to the full toolsuite (with some restrictions)
This includes:
Multi-user login
Index Checker: 300 uses/month
Keyword Tracker: 5,000 keywords/month
Alerts: 600 ASINS/month
Follow-up: 15,000 emails/month
Access to the full toolsuite
This includes:
Highest-tier access to all features
Quarterly in-person workshops
Live monthly online training with top industry experts
Access to private Elite Facebook group
You can sign up for the free plan without having to input your credit card – find out more here.
See how Helium 10 compares to other services
SellerApp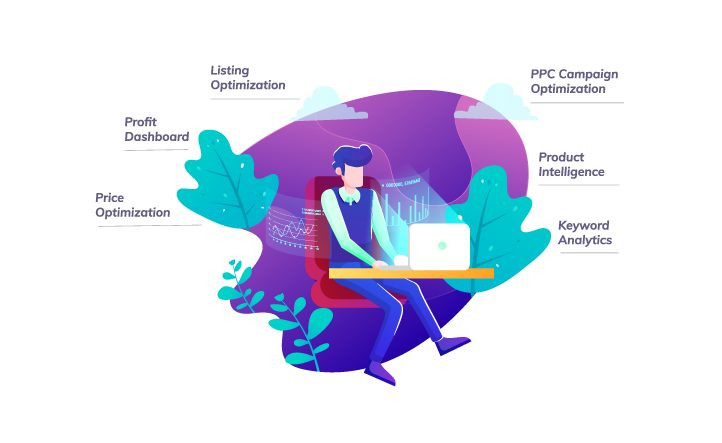 SellerApp combines a ton of features to make your life easier as an Amazon seller. In terms of marketing, it has a lot to offer. Market research tools allow you to use their 'advanced product intelligence' to find high potential products with low competition. Their software collects over 300 million data points each day, to give you in-depth analytics like sales and revenue estimates, ratings, and more.
Everything here is driven by data – so you can make a completely informed decision about which products to stock. You can find out what your competitors are doing, in terms of keywords and trends, to improve your own strategy. You can also set up alerts, so you can be notified of price changes on products you're watching.
Their keyword research tools are also very useful. With a 135 million+ keyword database, you can use this data to improve the SEO of each product listing.
Sales tools include PPC (pay-per-click) tools, a keyword tracker which allows you to check your listing's rank for their keywords, and an Amazon Listing Optimization Tool to check the quality of your product listings, allowing you to fine-tune your listings and improve sales.
The dashboard gives you a good overview of metrics for your business, with actionable insights for improvement. Their stats are pretty impressive, with 97% satisfied customers and proven increases in users' revenue.
The Benefits of Using SellerApp
It has multiple tools under one umbrella, with a centralized dashboard that allows you to see your performance at a glance
The market research tools are very smart, pulling in a lot of data to allow you to make the most informed decisions
You can check on what your competitors are doing, using that to improve your strategy
The keyword research tools work well
The Amazon Product Optimization Tool can give you actionable improvement points – giving you clear, practical guidance
The Downsides of Using SellerApp
The main potential downside is that there is a bit of a learning curve here – with so many tools and features, it can take some time to get your head around all the tools available.
It's also fairly pricey. For smaller Amazon sellers, you may find the pricing prohibitive.
SellerApp Pricing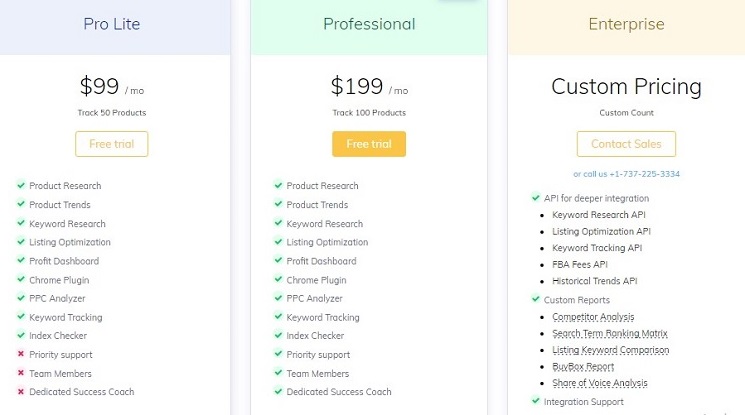 There are four price plans to choose from: Pro Lite – $99/month
This allows you to track 50 products. It also gives you:
Product Research
Product Trends
Keyword Research
Listing Optimization
Profit Dashboard
Chrome Plugin
PPC Analyzer
Keyword Tracker
Index Checker
Professional – $199/month
This allows you to track 100 products. It gives you everything in the Pro Lite plan, plus:
Priority Support
Team Members
Dedicated Success Growth
Enterprise – Price on Request
This gives you access to advanced tools and features, including:
API
Custom Reports
Integration Support
They have a 7-day free trial – you can find out more here.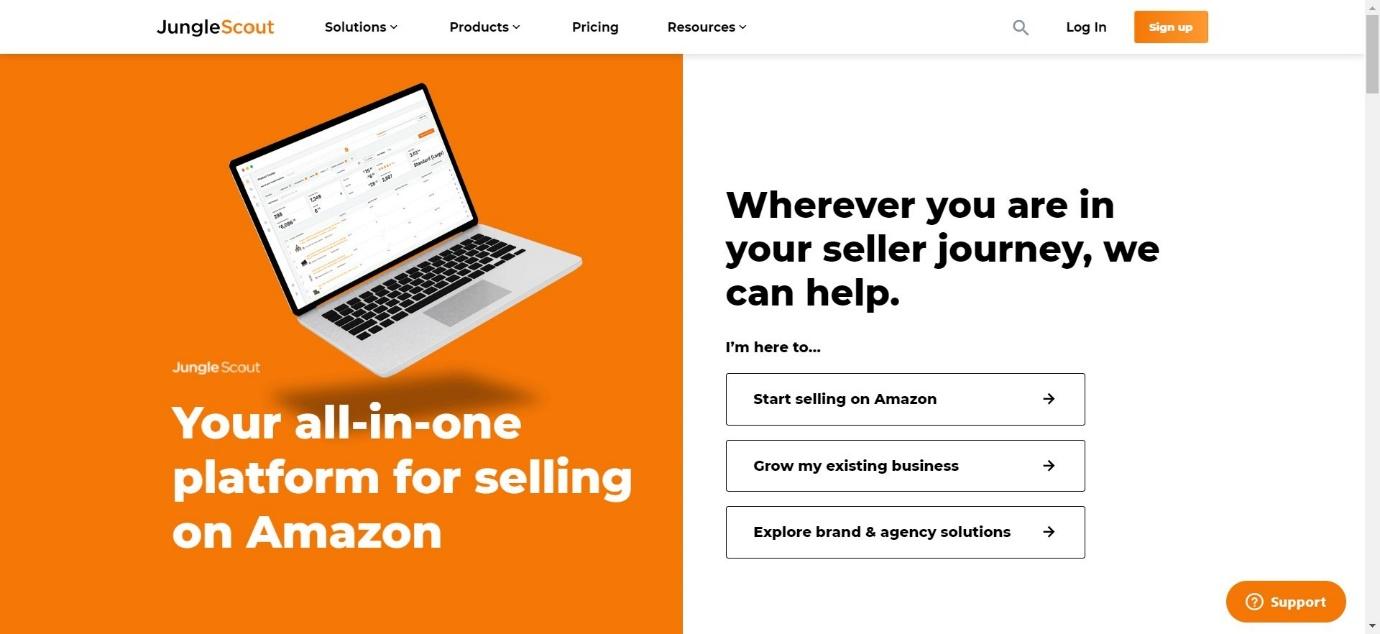 Jungle Scout offers an all-in-one solution for selling on Amazon. They have three options right at the start – a service for new sellers, a service for existing sellers, and a service for brands and agencies.
For new sellers, they offer their Opportunity Finder tool, which allows users to find high-demand, low-competition keywords. The product tracker gives you an insight into seasonal and year-round sales for each product, with comprehensive filters including historical sales, best seller rank, reviews, ratings, opportunity scores, and more. They also offer their Academy – this is a selection of tutorials and how-to guides for sellers.
For existing sellers, they offer Extension, a tool that boosts your product rankings by getting more reviews for each listing. You can request reviews directly from the Jungle Scout platform.
The Inventory Manager allows you to organize your products easily, using data to predict market trends for each one. It also suggests stocking levels, re-order dates, and re-order quantities using their AI. They also offer analytics to see your profit in real-time, and brand expansion tools to help you find new products that fit your brand.
Finally, they have services for brands and agencies – this is aimed at big brands, and it includes market share analysis, competitor tracking, improved product performance, and insights and alerts.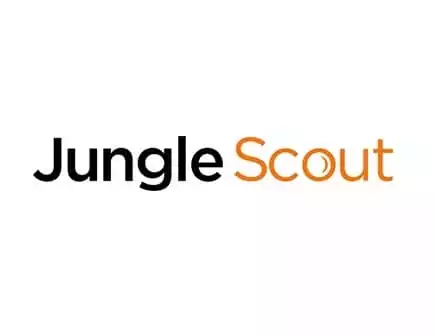 Why Go with Jungle Scout?
Jungle Scout is a great option for both beginners and advanced Amazon sellers. It's user-friendly and has great resources like the Jungle Scout Academy, where you can learn how to get the most out of the software and grow your business.
Try Junglescout first
We earn a commission if you click this link and make a purchase at no additional cost to you.
The Benefits of Using Jungle Scout
It includes a variety of tools aimed at different levels, so if you're already an experienced seller, you can still utilize the platform as much as a beginner can
Their analytics and insights are great
Having inventory management is a helpful extra
Their Academy for beginners is very useful
The Downsides of Using Jungle Scout
The only downside that we can see is the pricing – at $50 per month for beginners, it may feel like a bit of a risk to take. However, they do offer a lot of features on every plan.
Jungle Scout Pricing
Jungle Scout has three pricing plans.
Aimed at beginners, this includes:
Chrome extension
20 product searches
3 products to track
20 searches of the supplier database
20 keyword searches
Opportunity scoring
Accusales Estimates
Customer support
Aimed at existing sellers, this includes everything in the Basic plan, plus:
Unlimited product searches
150 products to track
Unlimited supplier searches
Unlimited keyword searches
Rank tracking (5,000 keywords)
15,000 emails a month
600 ASIN searches
Opportunity finder
Inventory manager
Listing builder
Supplier tracker
Product promotions
Sales analytics
This is aimed at brands and agencies. It includes everything in the Suite plan, plus:
Unlimited product tracking
Unlimited rank tracking
Unlimited emails
Unlimited ASIN searches
Priority onboarding
They have a 14-day free trial – you can find out more here.
See how Jungle Scout compares to other services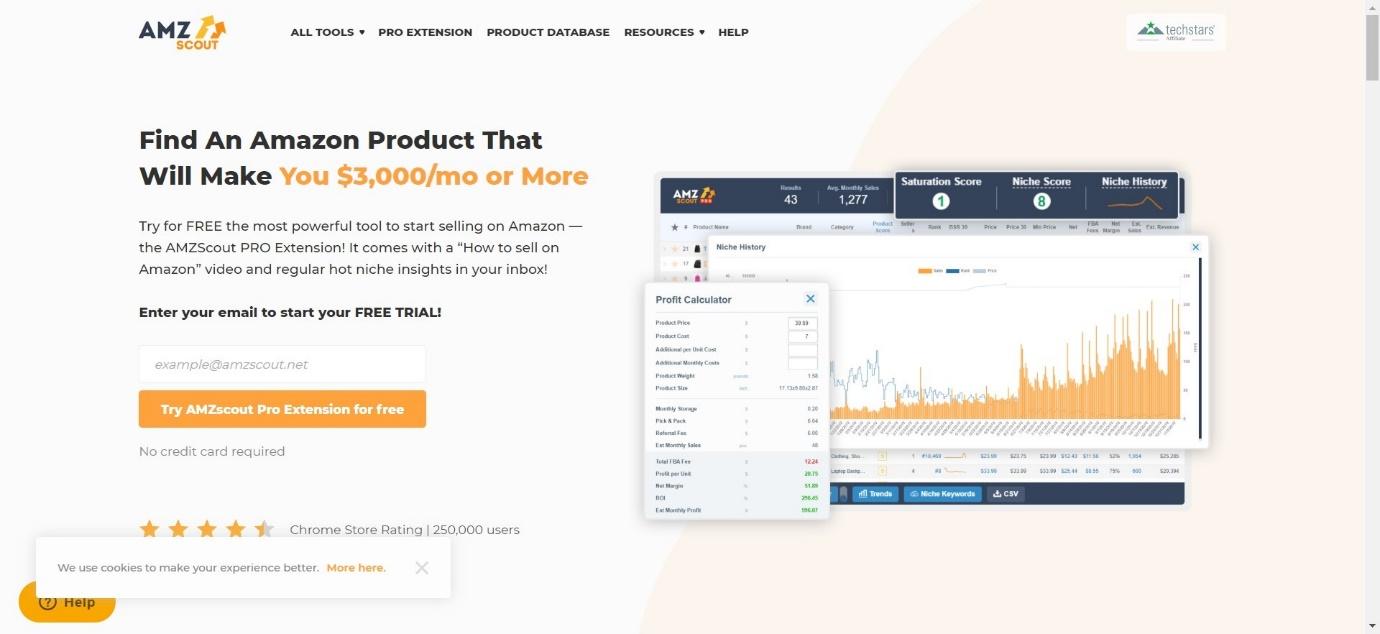 AMZScout is pretty similar to Jungle Scout in terms of the tools it has to offer. You can find products to sell on Amazon by searching through their database, analyze your competitors, and get detailed reports on sales per month, reviews, and more.
Product searching is quite extensive, with 44 filters to choose from. You can draw from historical data to see a product's average price, rank, rating, and more in a specified period of time. You can also use their keyword research tools to create great Amazon PPC ads and create SEO-friendly product listings.
They have a Listings Wizard tool, a fairly new feature that gives you new keyword ideas for titles and descriptions. The Listings Wizard automates some of the optimization processes, making it much quicker for you to complete listings.
They have a handful of free tools, too. This includes an Amazon FBA fees calculator, Amazon to eBay comparison tool, Stock Stats (this allows you to observe your competitors over a period of time to look at their strategies), and a Sales Estimator.
The Benefits of Using AMZScout
Product searching filters are extensive, helping you to sift through products easily
The Listings Wizard automates some of the process, freeing up your time
There are lots of free tools to choose from
The Downsides of Using AMZScout
The pricing for AMZScout is a little confusing – the website doesn't make it immediately clear what you're paying for.
AMZScout Pricing
There are two packages you can choose from.
This includes the PRO Extension, a useful browser extension that gives you insights into top-selling products on Amazon.
This includes:
AMZScout Seller's Course
PRO Extension
Exclusive Amazon Insights
WebApp Product Database and Product Tracker
Keyword Tracker
Quick View
Amazon FBA Calculator
Stock stats
They offer a free trial of the PRO Extension – you can find out more here.
Other Platforms to Consider:
Viral Launch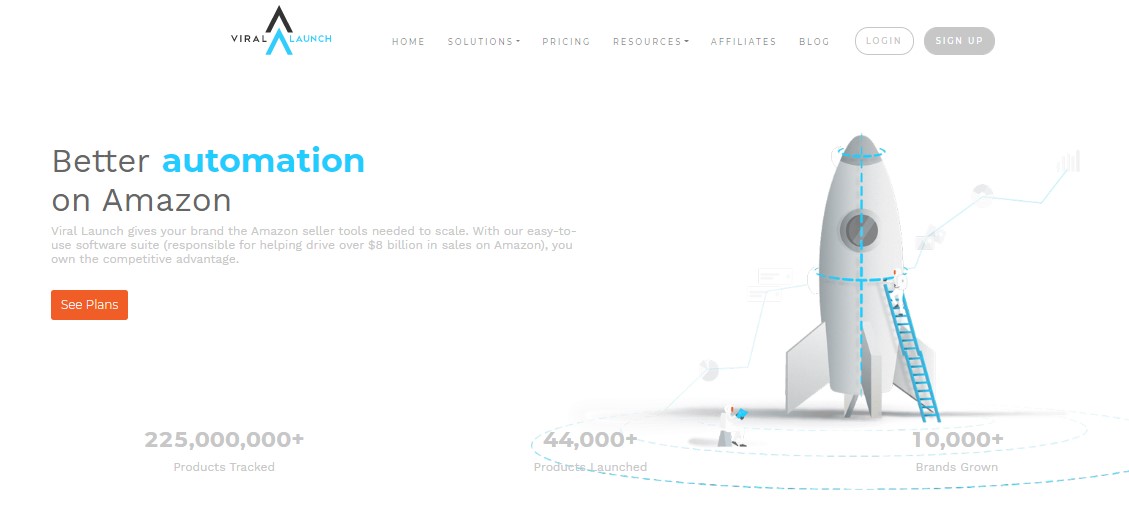 Viral Launch is a popular suite of tools used by Amazon sellers worldwide. Their product research tools allow you to find products in three clicks. You can easily find the best products, keywords, brands, and niches.
Viral Launch arms you with as much information as possible, including sales estimates, market trends, and competition levels. This allows you to make the wisest decision about which products to sell.
They allow you to track top sellers – this gives you the chance to see competitor's SEO and ad strategies.
Keyword research tools allow you to access data directly from Amazon to improve your SEO. They have an advanced relevancy filter, which saves you time sifting through unusable keywords. They advertise 'hidden keywords' that your competitors may be missing out on, plus a free listing builder – this allows you to create SEO-optimized Amazon listings.
They also offer a tool called Kinetic, which automates your Amazon PPC, saving you time and giving you access to tons of data on the performance of your marketing campaigns.
The Benefits of Using Viral Launch
You can track over 225,000,000 products – with over 10,000 brands already using and enjoying Viral Launch. It's a fairly safe bet in terms of success if you use the platform to its full potential
You can track top sellers in-depth, allowing you to watch how your competitors are doing to inform your own strategies
The keyword research tool is in-depth and filters out irrelevant results
The free listing builder allows you to create SEO-optimized Amazon listings with ease
The Downsides of Using Viral Launch
There isn't a free plan for Viral Launch. The price plans are fixed too, which means you may end up paying for features that you won't end up using.
Viral Launch Pricing
There are four price plans available.
Beginner – $50/month
This includes:
Product finder
Product research and Chrome extension
Reverse ASIN tool (3 products, US only)
Pro – $83/month
This includes:
Everything in the Beginner plan
Listing creation tool (US only)
Listing evaluation tool (50 products, US only)
Keyword tracker (2,000 keywords, US only)
Brand Builder – $125/month
This includes:
Everything in the Pro plan
Reverse ASIN tool (100 products, US only)
Listing evaluation tool (100 products, US only)
Keyword tracker (5,000 keywords, US only)
Kinetic – $166/month
This includes:
Everything in the Brand Builder plan
Kinetic (sponsored ad management)
Reverse ASIN tool (250 products, US only)
Viral Launch offer free trials for some of their tools once you set up a free account. You can find out more here.
See how Viral Launch compares to other services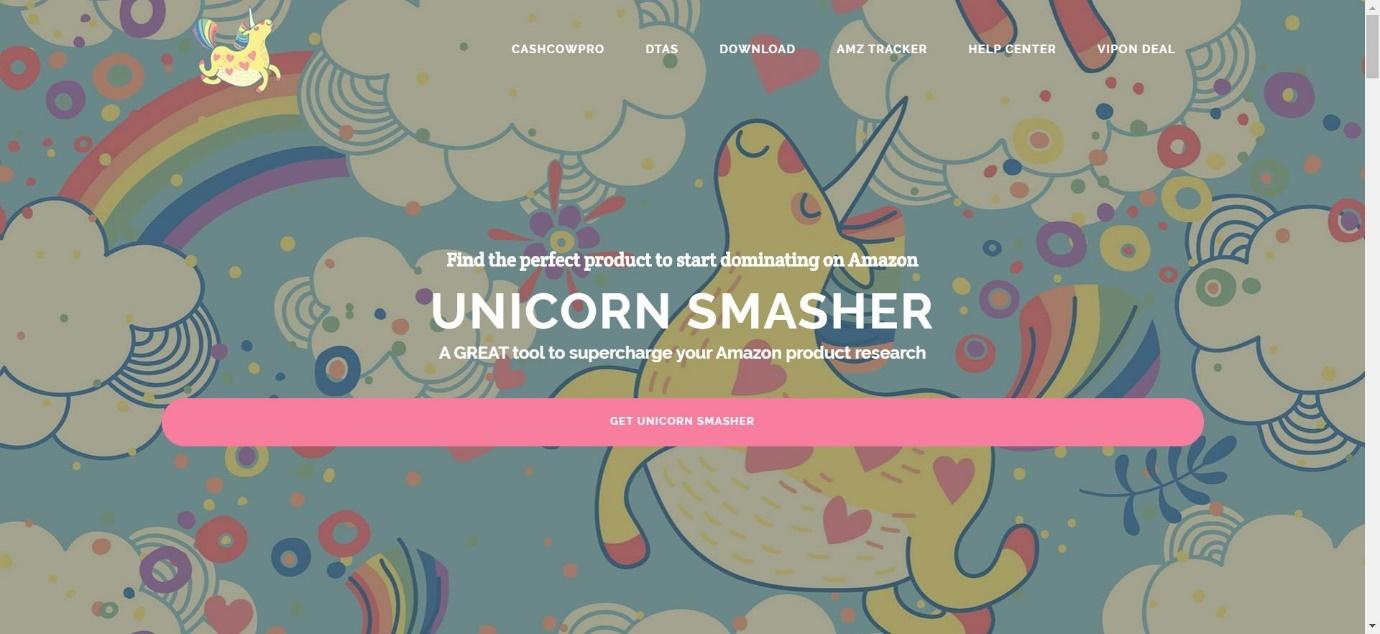 Unicorn Smasher is a little different than some of the other tools on this list. For starters, it's a free tool – this means it's less comprehensive, but it does offer some great features. It gives you an inside look at prices, bestseller ranks, reviews, estimated sales, and more – for any product on Amazon. The dashboard lets you manage all your followed products in one space. Plus, they provide pretty accurate sales estimates, based on real figures at any given time.
They also offer opportunity scoring – this lets you know which products are likely to sell really well on Amazon.
It's created by AMZ Tracker, and if you like, you can integrate to give you extra features.
The dashboard is really clear and easy to navigate, and the whole platform is bright and refreshing to use. For a free product, it's worth a try.
The Benefits of Using Unicorn Tracker
Accurate estimated sales for each product
Easy to use dashboard
Opportunity scoring allows you to see the products which will perform well on Amazon
It's free to download
The Downsides of Using Unicorn Tracker
Obviously, compared to others on this list, Unicorn Tracker lacks a lot of the features that will make your life so much easier as an Amazon seller – if you're after something with lots of tools, this isn't the one for you.
Unicorn Smasher Pricing
Unicorn Smasher is a free tool. You can find out more here.
See how Unicorn Smasher compares to other services
IO Scout combines many features for Amazon sellers, incorporating a product finder and product tracker, an Amazon FBA calculator, keyword research, and more.
You can find, track, and analyze over 200 million Amazon products. You can use filters to search for high margin products with low competition, as well as bookmarking products and even saving product filters to search through later. You can track product trends, checking each product's seasonality, reviews, and rank trends. You also get built-in access to ten resources, allowing you to quickly find suppliers for products.
The trends and history tool is great – it allows you to check seasonal trends, price fluctuations, and market trends. They also offer keyword research, giving you access to data on the most useful keywords to include in your titles and product descriptions.
They have a few more features on offer, too – including an Amazon FBA Calculator to help you work out the fees you'll need to pay, a sales estimator, and a listing optimizer.
The Benefits of Using IO Scout
Lots of Amazon product research tool features in one place
The keyword research tool combined with the listing optimizer should help you to fine-tune your product listings for greater conversion rates
You can find and track Amazon products easily
The sales estimator is useful, giving you a good estimation of monthly sales rates for each product
It has a very good price point
The Downsides of Using IO Scout
The main downside we can see here is that IO Scout Amazon product research tool doesn't seem to collect as many data points as other platforms (like SellerApp).
It also only allows for up to 85 product/keyword searches per month, which is less than some other platforms.
IO Scout Pricing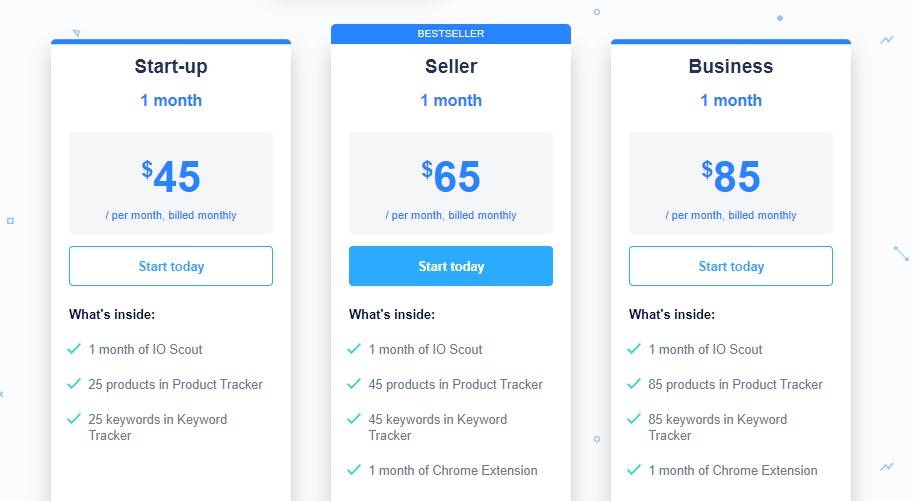 There are three price plans.
Start-up – $29/month
This includes:
25 products in Product Tracker
25 keywords in Keyword Tracker
It also includes every feature of the platform including unlimited product and keyword searches, unlimited historical data, 200 million products database access, and the listing optimizer.
Seller – $49/month
This includes:
45 products in Product Tracker
45 products in Keyword Tracker (Amazon keyword research tool)
1 month of Chrome Extension
Like the Start-up plan, it includes access to all of the features on the platform.
Business – $69/month
This includes:
85 products in Product Tracker
85 products in Keyword Tracker
1 month of Chrome Extension
It includes all of the same features as the other price plans, too. They don't offer a free trial, but they do offer a 14-day money-back guarantee. You can find out more here.
Honorable Mention: SmartScout
SmartScout is a newer entrant into the Amazon seller tool market, but it's an underdog to watch for it's excellent interface and innovative data views and sources.
SmartScout breaks down all of the Amazon categories in depth. This includes the 20 main categories, and 43,000+ sub categories contained within. This level of detail isn't quite replicated in any other tool I've tested so it makes for an excellent niche finding tool. It has many of the same features of a Jungle Scout or Helium 10, but some are still a bit "beta" for my liking.
In short: I'll be playing with this tool over the coming months to see how it continues to evolve. If your MAIN pain point is NICHE FINDING, it's ready for action now.
FAQs About Amazon Research Tools
Are Amazon product research tools worth it?
In our opinion, a product research tool is well worth investing in. A good product research tool will save you from making mistakes when it comes to listing products that aren't going to sell well – and they help you to keep up with your competitors.
Can I check the best-selling Amazon products for free?
How do I pick a niche for Amazon?
There are a few things to consider here – firstly, it's easier to sell something you're passionate about or interested in, so that's always a good start. You can also consider:
– Profit margins – which products have a good profit margin?
– Product demand – how in-demand will your chosen niche be?
You can also browse through Amazon's categories to see what catches your eye. A product research tool can help, too – it's easier to see the profit margins and demand for products using a tool like Jungle Scout or Viral Launch.
Conclusion – Which Amazon Product Research Tool is Best?
This obviously depends on what you need.
If you want, you can check out the possibilities of a good research tool using Unicorn Smasher – this free tool will arm you with some great information to start with, and could help you to narrow down your niche if you haven't chosen it already.
However, in terms of premium options, we'd probably go for Helium 10 or SellerApp. SellerApp is the most expensive, but arguably one of the most feature-packed of all of the research tools we've listed today. Helium 10 has a lot to offer, too, with extra features that make listing products simple.
Looking for something easy to use, a good baseline of features, and a "premium affordable" pricing plan? Go with Jungle Scout here.
However, any of the apps we've looked at today would be a great choice. Have you used any of them? Let us know in the comments – we'd like to hear your thoughts too.