Last Updated on August 3, 2023 by Ewen Finser
If you're here, then you definitely realize how challenging the process of managing leads can be.
The journey from a mere prospect to a successfully converted customer is anything but easy. That's why only the toughest get to keep their sales jobs for the long haul.
My Bottom Line Up Front: SO here's my ultimate take…
Why I Switched from Pipedrive CRM to Hubspot? Pipedrive had all the features I liked on paper, for a better price. BUT, I just didn't get into the user interface. The process for integrating email leads in an automated way was tedious and many entries ended up mislabeled or lacked any useful information. Hubspot's interface and email integrations just worked better AND included more relevant data I could use for prospects. I personally ended up with Hubspot here.
Back to the full comparison…
But then again, some would argue that enterprise CRM tools are now increasingly giving even the faint-hearted sales reps and agents a chance. That they consequently have the will to fight on, especially owing to the higher conversion rates they are now generating.
Well, I don't know what you feel about that. But, what I'm certain about is this- 91% of businesses operating with at least 10 employees are now leveraging CRM.
However, and rather interestingly, most of them are not doing it right. Only 45% of the companies, for instance, are capitalizing on their CRMs to save lead and customer information. And ultimately, less than 40% of them have managed an adoption rate of over 90%.
So what's the problem?
Apparently, there are many. But, in a nutshell, we could blame it all on the difficulties that come with complex CRM (customer relationship management) systems.
Thankfully, we now have simple tools like Hubspot vs Pipedrive. Word on the street is, they are both decent applications with reasonably powerful CRM functionalities.
Fair enough. However, we can only use one at a time. And I bet you'd only be interested in the best.
So, let's put this to bed once and for all. Which is better- Hubspot, or Pipedrive?
Main Difference Between HubSpot vs Pipedrive
The main differences between Hubspot vs Pipedrive are:
Hubspot is designed for sales and marketing teams, whereas Pipedrive is primarily for sales teams
Hubspot offers a built-in split testing functionality, whereas Pipedrive does not
Hubspot integrates with more third-party tools and services compared to Pipedrive
Hubspot has an initial free plan, whereas Pipedrive does not
Hubspot charges a setup fee for their paid packages, whereas Pipedrive does not
Pipedrive is less expensive than Hubspot for paid plans

Why Go with Hubspot?
Hubspot can replace EVERYTHING. If you are tired of multiple dashboards for your marketing automation, Hubspot solves this problem brialliantly. Start with the FREE CRM, then scale additional features without learning a new platform.
Try Hubspot FREE
We earn a commission if you click this link and make a purchase at no additional cost to you.
[mv_video doNotAutoplayNorOptimizePlacement="false" doNotOptimizePlacement="false" jsonLd="true" key="dlbtvxishi1vkxea1nse" ratio="16:9″ thumbnail="https://mediavine-res.cloudinary.com/v1639442516/yue1p6u56nethy6yupey.jpg" title="Pipedrive vs Hubspot: Which CRM is Best?" volume="70″]
Pipedrive vs Hubspot Overview
Hubspot
The tale begins in 2004 when the founders Brian Halligan and Dharmesh Shah schooled in MIT's graduate school. At that time, Brian was busy assisting well-funded startups with their marketing systems. And yes, he was running the same old strategies of cold calls, email blasts, and direct mail.
Sounds like one heck of a marketing framework. But, unfortunately, the results were not that promising. And the team started noticing a strange and rather discouraging trend. These customers were increasingly getting tired of the boring intrusive methods.
In the meantime, something odd had been developing from a seemingly small blog. While the startups were having a hard time with everything, Dharmesh's blog, on the other hand, was having a ball. It didn't have a marketing budget, but it managed to outshine heavy-budget businesses in attracting traffic.
Ultimately, after a holistic analysis of both situations, they discovered the secret. That individuals simply hate invasive marketing tactics. Instead, they'd prefer being helped through the entire funnel.
And so Hubspot was born, with the principal intention of making the marketing and sales structures friendlier, with sales force automation. Since then, the solution has grown to become one of the most notable players in the industry, with four essential applications- Sales Hub, Marketing Hub, Service Hub, and Hubspot CRM.
Service Hub, for starters, is built to optimize customer service by enhancing connections, surpassing expectations, and subsequently capitalizing on customers as your company's promoters.
Sales Hub, on the other hand, is the part of the suite that's developed for automating tasks and generating valuable information about prospects, in a bid to sell much faster.
Closely related to that is the Marketing Hub, which is a marketing tool and tactics suite developed for boosting traffic and conversions, plus holistic management of inbound marketing campaigns.
The one thing that Hubspot is most renowned for, however, is the free Hubspot CRM app. As a matter of fact, it's currently ranked at position 27 with a market share of 0.32%.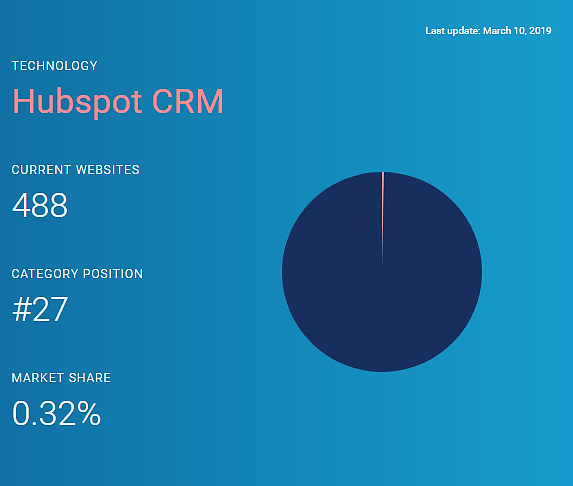 Today, Hubspot CRM platform is recognized as a simple platform built to eliminate the complexities that come with the bulk of other CRM software in the same space. It grants marketing and sales team the basic functionalities for managing their entire customer relationship workflow.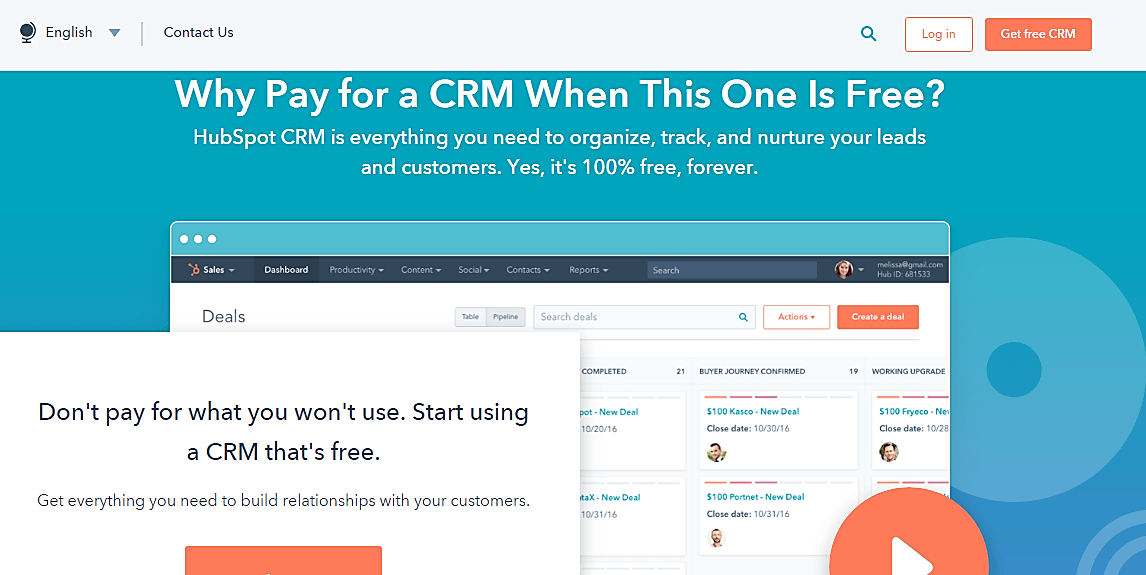 So far, many professionals have praised Hubspot for its systematic approach to the whole CRM thing. They've been using it to not only build company and contact profiles, but also streamline the consequent correspondence.
Apart from that, it provides a resourceful dashboard for tracking all undertakings, plus a system for controlling agent performance, assigning deals, and boosting overall inbound sales.
One of Hubspot CRM's main strengths is the dynamic Hubspot integration ecosystem. Only a handful of other free CRM applications are capable of matching the level of integration you get here.
Pipedrive
Pipedrive came into the scene in 2010, when the prominence of CRM tools had been growing quite exceedingly. According to the founders of Pipedrive, however, all was not well. Apparently, most of the solutions in the market had been structured to serve top company executives while disregarding the needs of actual agents dealing with customers.
And so they hooked up with developers to come up with a CRM system that could do the opposite- by prioritizing on the needs at the foundation level. Therefore, it might not be a suite like Hubspot, but it's certainly is one heck of an outstanding CRM software- especially going by its current market ranking of position 10 with a share of 2.04%.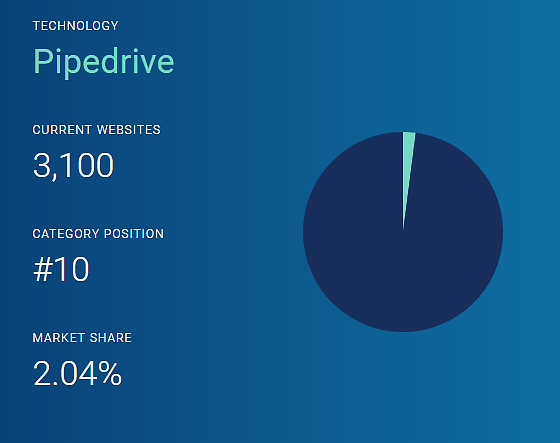 Basically, Pipedrive is set up to provide you with tools for building and organizing sales leads, tracking the subsequent processes, plus following up on the most critical deals.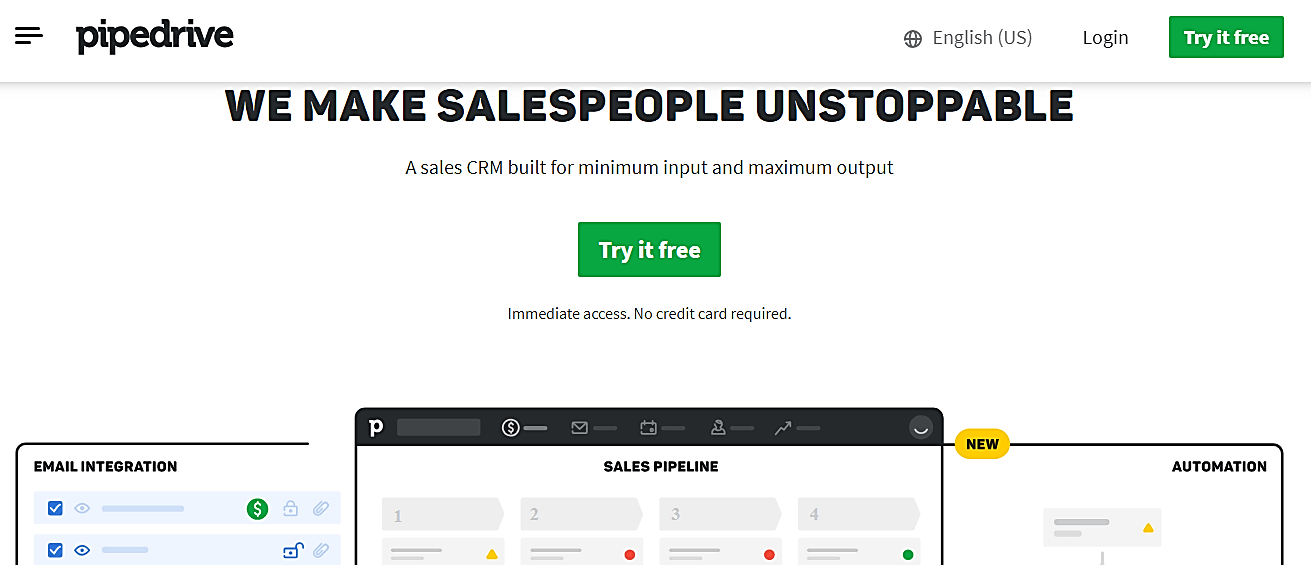 The secret behind its popularity is pretty straightforward. Pipedrive's approach essentially seeks to improve the management of the sales pipeline in a friendly but coordinated manner.
And how does it achieve that?
Well, for starters, Pipedrive comes with a set of intuitive functionalities that are capable of not only identifying the most promising lead generation and deals but also developing effective follow-up approaches.
All things considered, one of the best feature set in this solution is its fully-customizable ecosystem. Users can adjust their dynamic workflows to align them with their company's processes and objectives. It also offers an open API configuration to facilitate smooth integrations with a wide range of complementary third-party applications.
Verdict
On one hand, we have ourselves a suite of applications while on the other, you get a single system. Hubspot extensively powers sales and marketing processes through four software- Sales Hub, Service Hub, Marketing Hub, and Hubspot CRM Software. The latter, however, is the direct competitor of Pipedrive since both are CRM Software apps.
Now when it comes to these two alone, it's fairly obvious that they are targeting the same market demographic. Both Pipedrive Hubspot CRM come with a range of simple tools for organizing and managing prospects, tracking the consequent sales processes and corresponding agents, plus streamlining workflows.
So, to determine the superior tool, we've got to go beyond this level and dive deep into the most crucial features…
CRM Platform Features
User Interface
Hubspot
Admittedly, sales funnels are extensively dynamic with multiple components and variables. Therefore, to manage them effectively, you need an organized CRM system that connects and displays everything accordingly.
Well, Hubspot CRM is admirably great at that. Right off the bat, you can see a well-structured interface design with all the critical elements arranged systematically.
From the dashboard, for instance, you can easily filter all the deals you've closed or lost, plus any corresponding contracts you've dispatched. As a matter of fact, you can even sort the deals by their business owners, amount, names, and the customer funnel stage.
Speaking of customers, digging for their information is not that complicated on Hubspot. You can handle this from the dashboard as soon as you log in, by taking advantage of the numerous system filters.
Another element that you'll be able to view on the dashboard is your salespeople. Before you even advance to other system functions, you can play around with the controls to find out how they are all progressing, plus, of course, the most outstanding performers.
Pipedrive
Pipedrive doesn't leave anything to chance when it comes to user-friendliness. As we've established from its history, the founders were aiming for an overly simplistic tool. And that's verifiable as soon as you land on its dashboard.
The user interface here is refreshingly simple with a minimalist outlook. The overall layout is clean and organized in a way that grants you quick access to pretty much all the fundamental aspects of the sales pipelines.
In fact, Pipedrive welcomes you into its system with a typical sales pipelines structure. Well, you can go ahead and jump right into it by entering your sales deals plus ideas. But, if the default pipeline turns out not to be a right fit for your large or small business framework, Pipedrive allows you to freely tweak its parameters.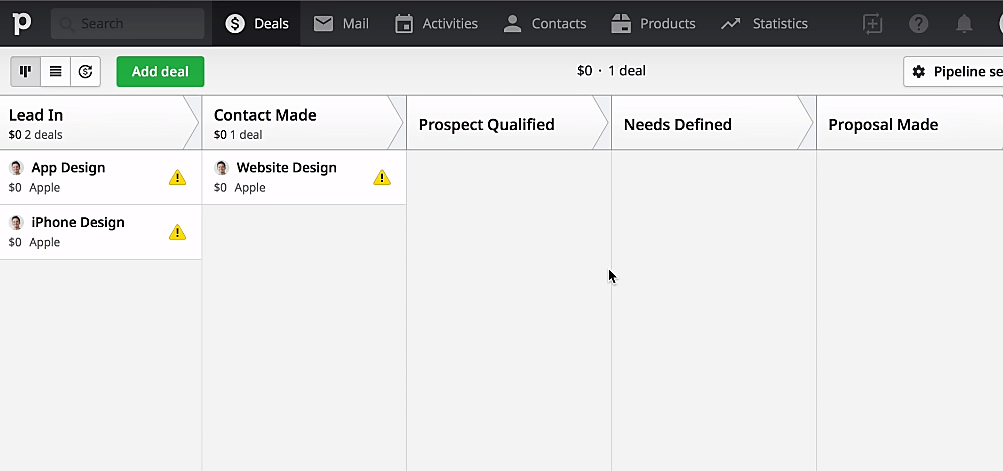 Now, when you start using the pipeline, you'll notice a rather interesting icon placed alongside each deal. It's intended to make it easy to assess the state of the deal from a quick glance. The icon alone lets you know if the deal has any pending activities, if the corresponding activities are on schedule, or if you might have to follow up on them.
Verdict on UX/UI
Hubspot vs Pipedrive are evidently designed to offer all-around simplicity. Their user interfaces are well-organized with clean layouts to make it easy to navigate around the system. Chances are, you won't have a problem learning the ropes on either of the two
One particularly interesting thing here is the visual layout of deals on the dashboard. That alone provides an intuitive view of the sales pipeline, which helps you to track and control everything from the moment to access your account.
In a nutshell, they both tie in user friendliness and overall interface design.
Pipeline Management
Hubspot
I don't know about you, but I consider pipeline management to be the single most important CRM Software function. So, I was pleased to see that Hubspot has especially prioritized on this by starting you off as soon as you hit the dashboard.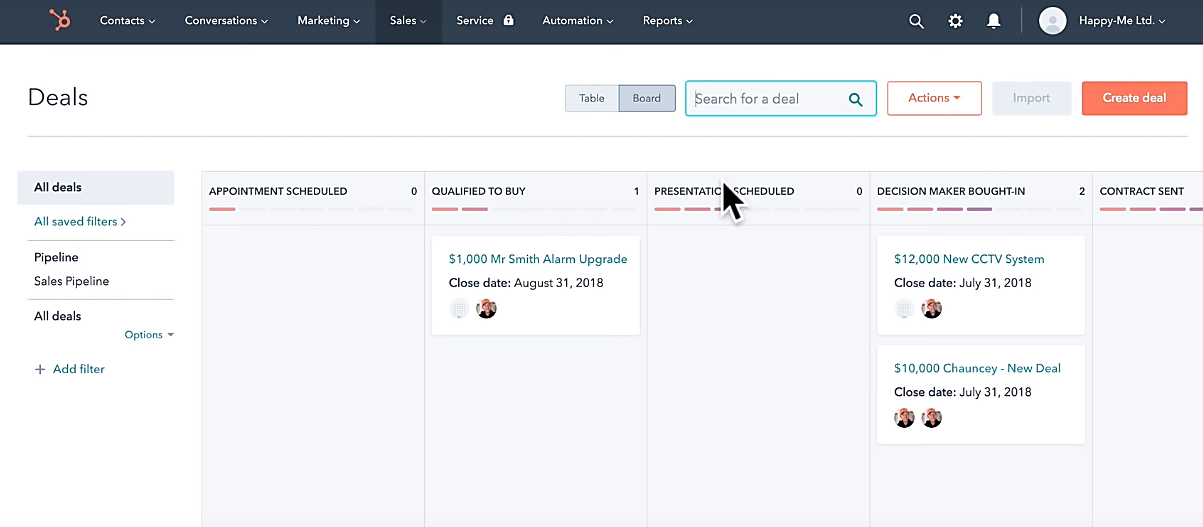 The goal here is to help you secure all the sales deals you're working on as fast as possible. So, Hubspot allows you to quickly set up a visual layout of your deals with one click, then proceed to allocate tasks accordingly, and subsequently follow up on the progress right from the dashboard.
But hang on a minute. What are deals in pipeline management?
Well, a deal is exactly what you think it might be. Quite simply, it's a pipeline management object that represents a conversion opportunity. And it comes with all the crucial information fields- deal stage, size, related companies and contracts, etc.
Fortunately, you don't have to stick to the default pipeline structure. You can customize the whole thing from the bottom-up to suit your specific sales processes plus preferences.
And you know what? You don't need any technical expertise to do that. Adding, deleting and editing deals is as simple as learning the alphabet. You can even introduce your own unique information fields into the deals to detail them exhaustively.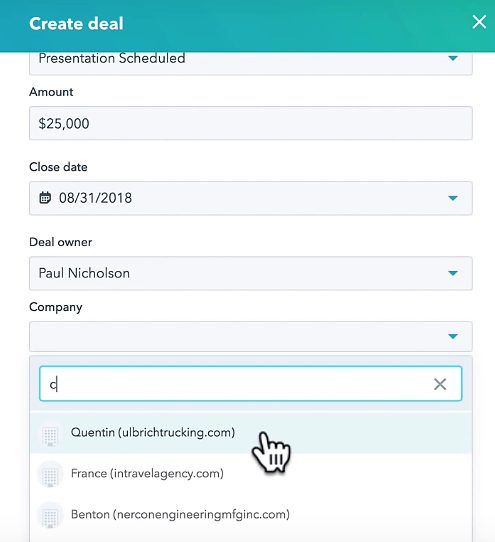 When you need to transfer the deals from one stage to another, just click and drag them across the display. Otherwise, allocating tasks to your sales agents is also another way of pushing the deals forward.
Now, I know what you're thinking at this point. What options are available if you happen to run a large organization that usually handles numerous deals concurrently?
Ok, admittedly, re-entering information into each field in such a situation sounds like a tedious job. So, to save you from all the stress that comes with a manual process, Hubspot takes care of business when you introduce new deals from a company or contact record. It systematically populates the corresponding fields with relevant details.
Consequently, you'll be able to spend your time following up on the most promising conversions, plus managing the entire sales workflow.
And what parameters does Hubspot offer for that?
One thing I can tell you for sure is that Hubspot CRM is not letting lazy workers off easy. Sales agents who sleep on their jobs should be particularly wary of this app because you can access both team and individual performance reports on the pipeline.
But that's not all. You can also track monthly progress for the principal sales activities, various sales quotas, plus general health and value of your pipeline.
That alone helps you discover any inconsistencies and delays as soon as they develop. Subsequently, therefore, you'll be able to coordinate your sales or marketing team and get them to focus on the right tasks and deals.
Pipedrive
Although there are some noticeable variances, Pipedrive's pipeline management is not that different compared to Hubspot's.
The most obvious element, overall, is the shared layout methodology. It turns out that Pipedrive's main window is also centered on the pipeline management functions, with an organized visual structure for coordinating pretty much everything.
It's built in a way that facilitates complete visibility and tracking of all the intricate sales processes.

Apart from uninterrupted visibility, one thing you'll love about Pipedrive, of course, is the intuitive approach to the whole pipeline. You can seamlessly add new activities, contacts or deals as they develop.
And to make it easy for everyone to comprehend stuff, the deals are arranged by their sales stages. Your team members can take advantage of this by managing their resources based on the placement of each deal.
And if you're curious about the team size that the pipeline can accommodate, here's the thing- there's no limit at all. Pipedrive has set it up in such a way that you can customize the whole framework based on your company's sales processes.
Apart from introducing an infinite number of sales agents, you can extensively adjust the activities and sales stages. It's also possible to rename them suitably and even control the features you'd like to apply to each component.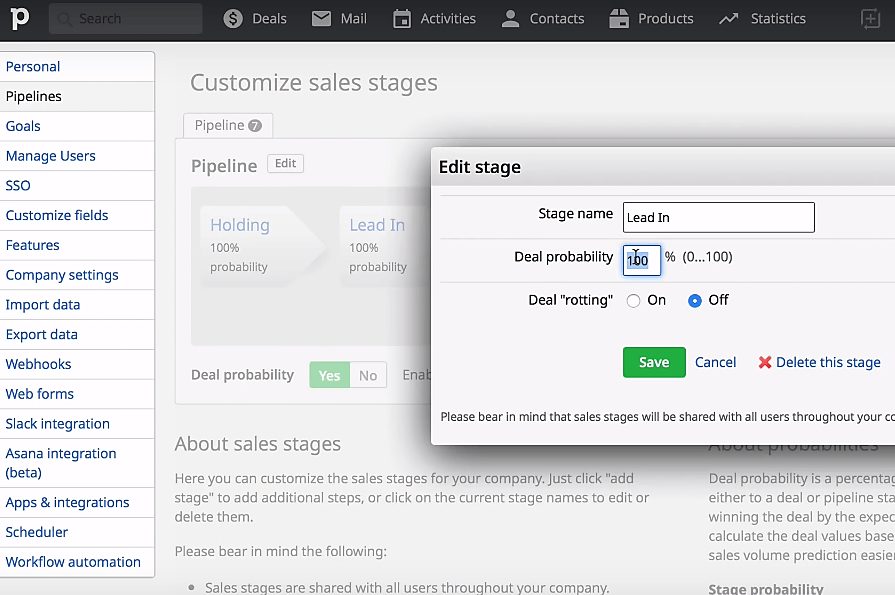 As the corresponding activities proceed, Pipedrive helps you keep tabs on the pipeline through a statistics tool.
It provides all the critical metrics you need to analyze the overall progress of the sales processes. And in case you'd like to go deeper than that, the system offers a powerful filtering tool for scanning the results.
Verdict
Regardless of how you look at it, the fact is- Pipedrive vs Hubspot offer identical pipeline management features. Firstly, they have the pipeline as the primary view on their dashboards.
Then secondly, their sales pipelines come with an intuitive interface that displays all the elements visually.
Other than that, they are both extensively customizable. You can freely add and edit the deals, activities, team members, stages, plus much more. And finally, you'll be able to track the progress of everything in numbers, thanks to Hubspot's and Pipedrive's analytical capabilities.
All things considered, therefore, let's call it a tie.
Email Integration
Hubspot Email Integrations
To help you connect with prospects, leads, and customers, Hubspot embeds holistically with email applications like Office 365, Outlook, G Suite, and, of course, Gmail.
That alone avails a wide range of email marketing templates, which have been developed for each stage of prospecting or marketing. The library here is pretty extensive. But, you can also come up with your own specialized templates if you like.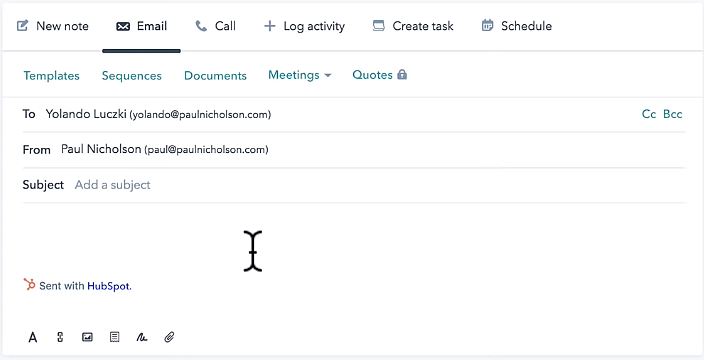 The whole point of using email marketing templates is saving yourself the trouble of recreating repetitive emails. So, Hubspot ensures you can always conveniently access any of your templates from your inbox.
And if you're not sure about what to proceed with, here's a real pointer- simply take advantage of Hubspot's real-time data analytics to choose the best performing templates. You can tell how your customers have been responding by glancing at the corresponding email open rates, plus metrics about attachments, links, and buttons they click on.
In case the numbers are good, you can share the most effective templates with your sales agents. Hubspot will then grant them access through their individual inboxes to make it easy for everyone to optimize their emails accordingly.
Well, speaking of optimization, it's always a good idea to deliver the emails at the right time. After confirming the best possible times from the metrics, you can capitalize on Hubspot's email scheduling to schedule numerous communications through your Gmail.
On the mail compose window, just go to the schedule icon and select an ideal time. You can proceed with any of the preselected times or define a different one.
The scheduled messages will then be held in your draft folder as they await dispatch. This allows you to edit the web content in the meantime or cancel the emails altogether.
If you decide to proceed, you can bet Hubspot doesn't stop there. It goes ahead to track the emails after they've been sent, then subsequently notifies you as soon as a delivered message is opened or acted upon.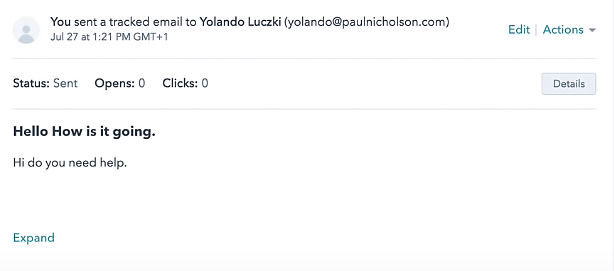 Well, you might choose to ignore the resultant desktop notification. But, if you want to close the deal quickly, you should consider hitting the prospect with a well-personalized follow-up mail. This is Hubspot's way of helping you focus on warm leads, instead of wasting additional resources on the cold ones.
Pipedrive Email Integrations
Pipedrive is also quite handy with emails.
Before you even get started, it grants you access to a range of decent pre-prepared templates. You should be able to find good ones here. But in case you don't, the system allows you to build your own custom ones. Either way, you'll find the procedure easy and straightforward.
Integrating Pipedrive with various third-party email services is also not complicated. And that basically makes it possible to run your entire email campaign without necessarily leaving Pipedrive.
Now, from the consequent sales inbox, you'll notice multiple premium functions for enhancing the whole communication process. In short, you'll be able to send mails straight to your leads and customers, sync everything with your email account, schedule activities, link contacts to deals, customize your email signature and templates, plus coordinate the final message tracking.
Well, the tracking function is developed to keep tabs on pretty much any action taken on the emails you send. Apart from receiving notifications immediately, the emails are opened, you get to know in real time when receivers click on stuff or download attachments.
You can choose to respond the instant you get a notification. Or alternatively, schedule the response to be delivered at a later time.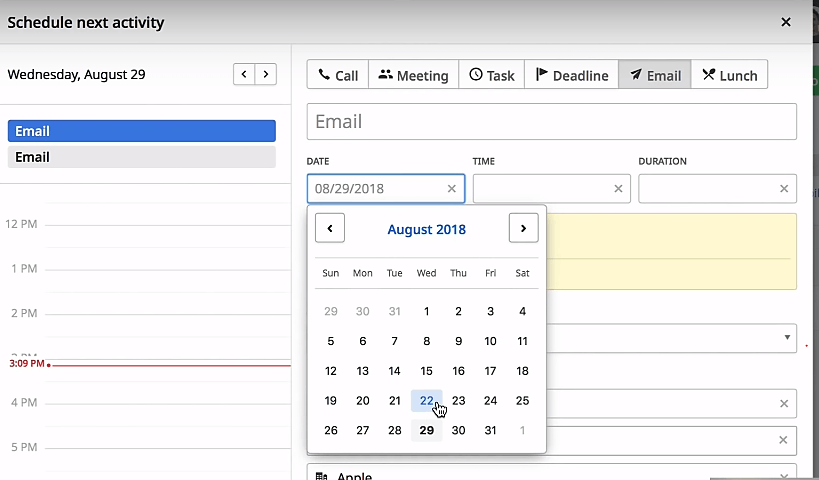 And while you're at it, you might consider linking the contacts with various deals based on their reactions. But in case you're unavailable, your team members can follow up on your behalf since the emails are shared to everyone by default.
But, don't get me wrong. That's not a permanent setting. You can switch to a private mode to block off your team members.
Either way, you'll still have full control over everything. It turns out administrators can monitor all the critical parameters- including messages linked to each deal and contact.
Another great feature you'll find on Pipedrive is Smart Email BCC. This is particularly ideal for users whose sales processes have not been fully integrated with their emails.
If they happen to come across an interesting email in any mailbox, they can add it to Pipedrive by simply forwarding BCC to [email protected]
Verdict: Email Integration
Both Hubspot vs Pipedrive can be fully integrated with all the major email providers to run automated campaigns. And when it comes to that, I found that both solutions offer decent predesigned email templates, which you can also supplement with your own customized templates.
Additionally, they both provide email scheduling and email sharing across team members. The most notable feature, however, is their real-time email tracking. Hubspot and Pipedrive have been set up to monitor delivered emails and, consequently, notify you immediately they are acted upon.
Although there are minor differences between the two, let's be honest and admit that Hubspot vs Pipedrive offer a similar emailing feature set. And that, of course, means this feature contest end in a tie.
Overall Features Summary
Templates, Tracking, And Scheduling
CRM Details
Sidekick Integration
Email Connections
Website Visitors
Company Database
Social Media
Email Tracking
Enrichment
Website Integration
Phone Integration
Email Integration
Roles and Organizational Hierarchy
Sales Reporting
Drag And Drop Communicator
Hubspot Marketing Synchronization
Deal And Task Board
Email Scheduling
Customized Views
Simple Data Import & Export
Multi-Language And Multi-Currency
Powerful API
Google Maps Integration
Email Tracking
Google Apps Integration
Sales Reporting
Timeline View
Roles and Organizational Hierarchy
Full Customization
Mobile App
Contact History
Goal Setting & Reporting
Email Integration
Email Scheduling
Pipedrive vs Hubspot Pricing
Permanently Free With Unlimited Users
Prospects
Standard marketing, sales, and customer service reports on 1 dashboard
Ticketing
Tasks
Deals
Maximum of 1 personal meetings link, with additional limitations
Up to 15 minutes of calling per user per month
Conversational bots for ticket creation and lead management and qualification
Meeting booking bots without custom branching logic
Live chat
Team email
Conversations inbox for 1 inbox
Up to 5 email templates per account
Email tracking notifications for a stream of up to 200 recent opens
Email scheduling
Up to 5 canned snippets per account
Facebook & Instagram lead ads for $1K spend limit per 30 days, without audience syncing
Contact activity for the first 7 days of website activity after new contact is introduced
Pop-up forms
External form tracking
Native forms
Up to 5 documents per account
Gmail and Outlook integration
Company records
Contact and company insights
Contact management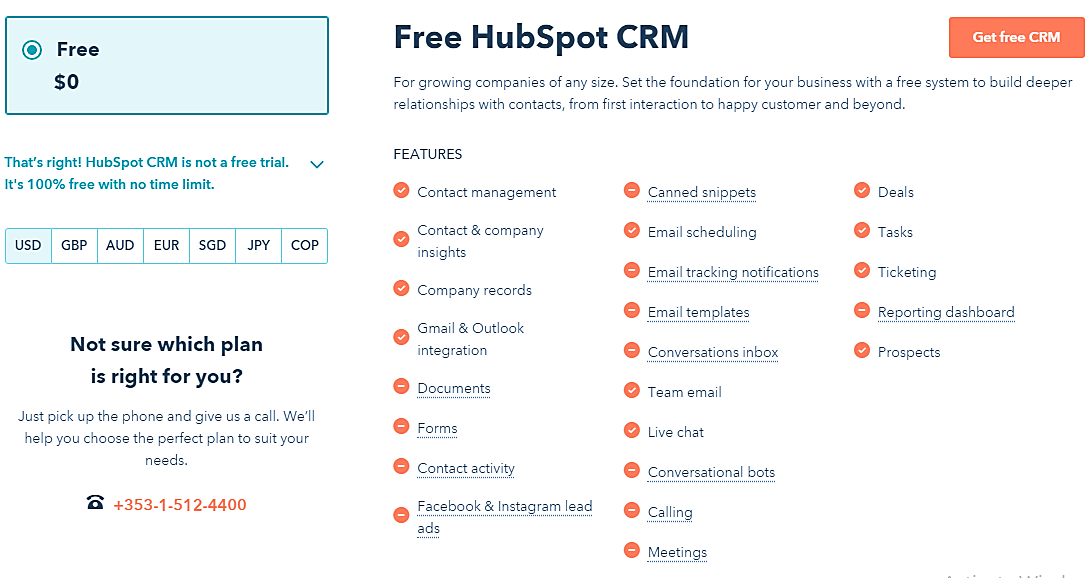 Pipedrive Pricing Plans
Silver– $15 per user per month, billed monthly. Or alternatively, $12.50 per user per month, billed annually
Chat & email customer support
Customizable dashboard
Smart email BCC
Admin and regular user permission sets
Personal goals and company goals
Calendar view
Gold– $29 per user per month, billed monthly. Or alternatively, $24.20 per user per month, billed annually
Chat & email customer support
Important fields
Products catalog
Scheduler
Smart contact data
Workflow marketing automation
Sales inbox with; Two-way email sync, Email tracking for opens and clicks, Email templates
Customizable dashboard
Smart email BCC
Admin, custom and regular user permission sets
Personal goals and company goals
Calendar view
Platinum– $59 per user per month, billed monthly. Or alternatively, $49.17 per user per month, billed annually
Chat & email customer support
SAML SSO (Single Sign-On)
Revenue forecast reports
Teams
Important fields
Products catalog
Scheduler
Smart contact data
Workflow automation
Sales inbox with; Two-way email sync, Email tracking for opens and clicks, Email templates
Multiple dashboards
Smart email BCC
Admin, custom, unlimited custom, and regular user permission sets
Custom visibility settings.
Personal goals, team goals, and company goals
Calendar view

Who Uses Either CRM?
Sometimes it's a nice shortcut to just evaluate which existing companies use either platform. Chances are, if you compete with one of these big names, it might mean that they've settled on the best solution already.
Who Uses Pipedrive?
Pipedrive can claim about 10,000 companies using their service. I was able to find over 100 different recognizable names on the Pipedrive stack, including:
Livestorm
Onedot
360Payments
waylay
University of California – Los Angles
Zendesk
PandaDoc
Who Uses Hubspot?
Hubspot on the other hand boasts massive marketshare, with 140,000+ companies and growing. Some highlights include:
SaaS: Trello, monday.com (funny, because they ALSO offer a CRM), Loom, SurveyMonkey, LegalZoom, Netlify, Workable, Course Hero, Zapier.
Finance: Revolut, The Motley Fool, Lemonade, Razorpay.
Travel Brands: Vacasa, Skyscanner, Airstream.
Community Brands: Discord, Eventbrite, Hopin.
Health Companies: Calm, Talkspace, Headspace, Docplanner.
Home Improvement Brands: Hamilton Beach and GE Lighting
Entertainment Brands: Soundcloud, Yamaha.
Charities: March of Dimes, Meals on Wheels, GoFundMe.
Pipedrive Hubspot Integration: Best of Both Worlds
While it's not an obvious choice at first, both Pipedrive and Hubspot actually do feature and welcome integrations natively.
Here's where you can integrate them directly:
Hubspot native integration with Pipedrive
Pipedrive native integration with Hubspot App
This can be helpful if you use Pipedrive for your sales funnel (for example), but use Hubspot for their other marketing suite features.
Here are some other reasons to consider a bi-directional integration if you use both systems for different parts of your business:
Synchronized Contacts: By integrating Pipedrive with HubSpot, you can ensure that your contacts are seamlessly synchronized between both platforms. This helps eliminate manual data entry and reduce the chances of errors.
Lead Management: This integration allows you to track leads from Pipedrive in HubSpot for better management. You can also score leads based on their activities and interactions, helping you prioritize your outreach efforts.
Workflow Automation: The integration allows you to automate various tasks like sending follow-up emails, scheduling calls, and updating contact information across both platforms.
Tracking Sales Activities: With both platforms integrated, you can track all sales activities, including calls, emails, and meetings on one platform, giving you a complete view of your sales pipeline.
Enhanced Reporting: The integration provides advanced analytics and reporting capabilities, helping you make data-driven decisions.
Consistent Communication: Ensure consistent messaging and branding across all sales and marketing channels by having all your data in one place.
Increased Efficiency: The integration eliminates the need to switch between different platforms, increasing efficiency and productivity.
Summary: Pipedrive or Hubspot?
Bottom Line: SO here's my ultimate take…
Now that we've covered pretty much all the critical elements, which of these CRM tools would you vote for, and why?

Why Go with Hubspot?
Hubspot can replace EVERYTHING. If you are tired of multiple dashboards for your marketing automation, Hubspot solves this problem brialliantly. Start with the FREE CRM, then scale additional features without learning a new platform.
Try Hubspot FREE
We earn a commission if you click this link and make a purchase at no additional cost to you.
FAQs
Question: What is Hubspot used for?
Answer: Hubspot is a CRM platform that offers tools for managing and marketing your business online, and these tools will help you attract more customers, and turn leads into potential buyers.
Question: What is HubSpot CRM?
Answer: Hubspot CRM is a free management system where you will manage your relationship with your customers. With CRM, you can track how your customers react to the product/s you are selling, you can schedule or follow up with any actions that need to be taken care of, you can also sync all the emails in one system, and you can forecast how many items you will sell in a certain period thanks to all the analytics available.
Question: Does Pipedrive integrates with HubSpot?
Answer: Yes, Pipedrive integrates with HubSpot and you can get all the customer records that you need in one place, and you can have a marketing and sales team in one place.
Other Pipedrive Alternative Options Compared

Other CRM Sales Tool Solutions by Use Case