Last Updated on April 22, 2023 by Ewen Finser
QuickBooks accounting software is a fantastic option for managing accounting data. To connect it to other company information, though, you'll need a robust Customer Relationship Management (CRM) tool or software.
The ideal CRM for QuickBooks integration connects accounting data with customer information, issues invoices, and manages vendors, among other tasks, all in a single platform. Nearly all CRM solutions offer QuickBooks connectivity, and there is a fantastic tool for just about every type of business.
In the following article, we'll look at several of the most popular CRMs for QuickBooks integration and identify some of the reasons they're great options. Besides, we'll highlight a couple of additional alternatives you can consider to round out your list of possible solutions.
Below are our top picks for the best CRMs for QuickBooks integration:
Evaluation Criteria for Top CRMs that Integrate with QuickBooks

Evaluating the best CRM for QuickBooks integration can be a challenging proposition. Though these tools are designed to do the same thing, massive usability, customization, and price differences exist.
Fortunately, we've done the work to identify some of the most important things you should look for in your CRM. Remember, each company has unique needs, and no one CRM can be everything to everyone, so it's best to take this list as a starting point and select the software that best meets your unique demands.
1. Ease-of-Use
The most important criteria for a CRM is how easy it is to use. The best CRMs for QuickBooks integration have intuitive interfaces that allow users to pick up the software and learn its major features quickly.
Ease-of-use doesn't just help you get started — remember, many people other than yourself will have to manage the CRM, so a streamlined interface is important.
2. Pricing
Another major factor is price. The CRMs for QuickBooks integration listed here are all designed to make the product accessible, but this doesn't mean it's free or even inexpensive.
Price should be one of your primary concerns when selecting a CRM solution, as you might end up paying hundreds or thousands of dollars each year if you select the wrong product. Remember, you can always shop around for the best price, even if this means switching CRMs at some point.
3. Support/Training
Another important aspect of a new CRM is support and training options. A good support team can help you with any questions or issues you encounter, and they should be easy to access via phone, email, or chat.
A robust training program teaches up-and-coming users how to use the CRM, freeing managers and executives to focus on more important tasks.
4. Customization Options
Most CRMs offer impressive customization, but the best software allows users to make further changes via workflows and other deployment features.
Some customizations are simple, like automatically populating fields with information from external sources; others can be time-consuming, like developing a completely separate process for managing leads.
5. Core Features
The next step is to consider the CRM's core features. The best products integrate accounting software, connect with other applications like email or customer relationship management (CRM) tools, and support industry-specific functions like time tracking.
6. Expert Recommendation
Another factor to consider is an expert recommendation. To some degree, all of the CRMs for QuickBooks integration listed above are top picks for professionals in relevant industries.
However, these tools might also rise to the top based on their rich features and broad appeal across organizations. When making your final selection, seek out professional insight to help you make the best choice possible.
Analysis of Best CRMs For QuickBooks Integration
The following is an analysis of the best CRMs for QuickBooks integration currently on the market.
1. HubSpot CRM: Best Overall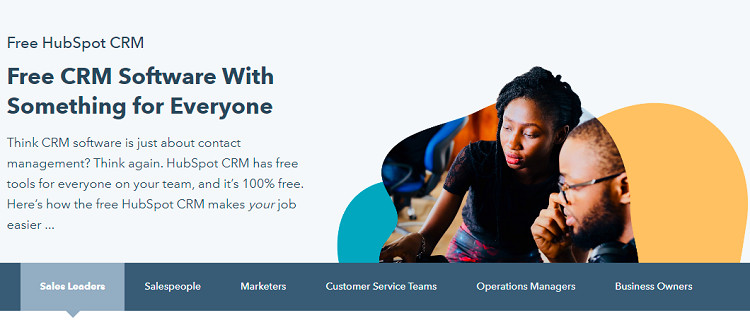 HubSpot CRM is a full-featured, cloud-based CRM solution that provides an easy-to-use interface for managing client information. Beginners can master this software in just a few days, and its customization options allow companies to adapt the product to their specific workflow processes.
Companies of all sizes can benefit from HubSpot's customer relationship management tools, which boast some of the best integration capabilities on the market. With this tool, you'll be able to connect with other traditional CRM products, like Salesforce and Zoho.
However, HubSpot CRM also supports email platforms like Gmail or MailChimp and marketing tools like Google Analytics. These integrations help you track customer interactions across all areas of your business, helping you develop a 360-degree view of each buyer.
Using the Integration
With QuickBooks, you can synchronize data between your accounting software and HubSpot CRM. The QuickBooks online synchronization tool allows you to create invoices, record payments, and track invoice status. It will enable you to trigger workflows and create reports based on your accounting activity.
HubSpot features an automated data sync option that automatically updates your CRM with customer information from your accounting software. This tool is a must-have for companies that want to create an accurate buyer profile, using relevant facts like their budget or current project status.
HubSpot Key Features
The following are HubSpot's core capabilities:
Customizable fields and layouts

Inbound Marketing to attract potential buyers, as well as built-in blogging and landing page tools

The lead scoring system helps prioritize leads based on their stage in the sales cycle

A customizable dashboard that allows users to monitor performance and manage accounts

Customizable workflows and email templates, as well as a central location for all communication activity

HubSpot can automatically publish emails, recorded phone calls, contacts, and sales activities in real-time on the customers' timeline

Canned snippets can help marketing and sales teams speed up the process of creating emails and other content by providing a library of pre-written, commonly used text
HubSpot Pricing
HubSpot has three different pricing options, depending on your needs:
Starter:

$45/mo

Professional

: $1,600/mo

Enterprise:

$5,000/mo
HubSpot offers some of its functionalities free of charge. You can add up to 1,000,000 contacts to the free version with no limits to the number of users. Refer to the HubSpot website for updated pricing plans.
HubSpot Pros
Advanced connectivity

Free functionalities

Highly customizable

Ease of use

Flawless data import
HubSpot Cons
Quite pricey

Some functionalities can be overwhelming

Automation tools could be better
2. Salesforce CRM: Best for Large and Scaling Businesses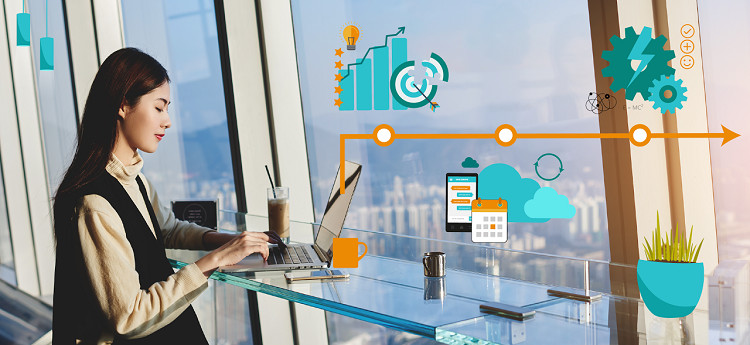 Salesforce is an industry-leading CRM platform that provides the functionality you need to manage customer interactions across all areas of your business. Its integration with QuickBooks gives you a 360-degree view of data in real-time while supporting the entire customer journey.
With Salesforce, your teams can work better together through an automated quote cash process. It also provides robust forecasting tools that can help your firm adjust to shifting market conditions.
Using the Integration
The Salesforce connector by QuickBooks allows you to connect the two tools and sync data between them, such as contacts, accounts, leads, activities, and more.
You can auto-generate draft invoices in QuickBooks and speed up the sales and invoicing process. Salesforce also makes it easy to update QuickBooks with customer information and automatically track payments, updating both tools simultaneously.
Salesforce Key Features
Salesforce CRM offers a range of features that allow you to personalize the buyer's journey and interact with customers effectively. Below are some of its core capabilities:
Advanced security options, including multi-factor authentication and IP restriction

Task automation across the customer life cycle

Workflows manage complex tasks and automate workflows

Account and contact management

Sales performance management

Lead management
Salesforce Pricing
Salesforce has four pricing plans, each with a different set of features.
Essentials:

€25per

user per month

Professional:

€75 per user per month

Enterprise:

€ 150 per user month

Unlimited

: € 300 per user per month
Salesforce Pros
Cloud-native platform

Enhanced customization

15-day free trial

Multi-line invoice synchronization
Salesforce Cons
Setup and configuration can be expensive

Challenges with customer support

Implicit costs
3. Zoho: Best Priced CRM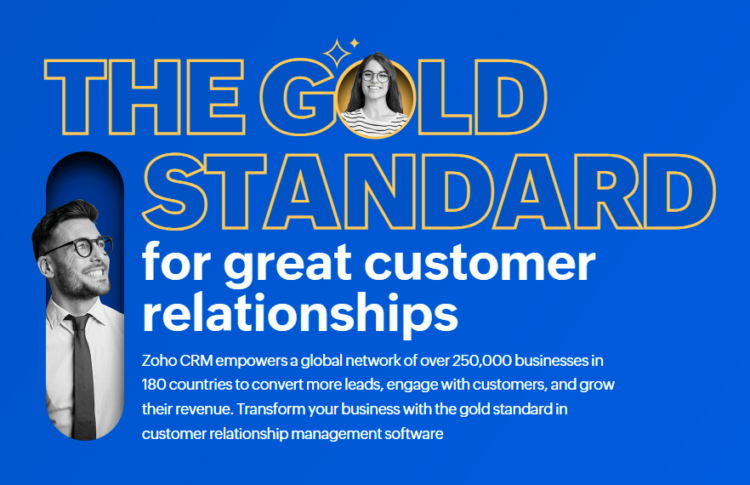 Zoho is a top CRM option for companies on a budget. It's a tenable and affordable solution that offers many functionalities you'll find with Salesforce, HubSpot, and others.
It's user-friendly, easy to manage, and comes with various capabilities to help you optimize your sales and marketing efforts. One significant benefit of using Zoho is favorable pricing plans ideal for small and medium-sized enterprises.
Zoho's integration with QuickBooks enables users to streamline processes from lead generation to closing deals. With Zoho, you can keep track of your daily tasks and optimize your sales processes by generating customized reports.
Using the Integration
Measuring the productivity of your employees and teams is essential to maintaining high performance. Zoho offers you the ability to keep track of sales productivity and generate valuable reports with Salesforce's integration for QuickBooks.
In addition, you can also integrate the Timesheets feature with QuickBooks. These features help you streamline your workflow and easily monitor the performance of your sales crew.
You can push back time logs to QuickBooks, making it easy to monitor your team's time and generate invoices. Zoho also allows you to track the sales process of your business by tracking sales cycles at every stage.
Zoho Key Features
Zoho's essential features include:
Omnichannel engagement enables businesses to interact with customers via email, phone, chat, social media, and more

Insights and intelligence via detailed reports

Task management capabilities for complex workflows

Customer support through live chat and email

Complete customer-centricity fosters engagement, streamlines sales processes, and delivers a consistent experience through the customer lifecycle.
Zoho Pricing
One of the main benefits of using Zoho is its competitive pricing. Below are its different pricing plans, which fit most budgets:
Standard Edition

: $14/user/month (billed annually).

Professional Edition:

$23/user/month (billed annually).

Enterprise Edition:

$40/user/month (billed annually).

Ultimate Edition:

$52/user/month (billed annually).
Zoho offers a free plan for entrepreneurs for up to three months and ten users. However, it is limited and doesn't include all of Zoho's capabilities.
Zoho Pros
Easy setup process

Flexible

Simple integration

Video guides and personalized demos
Zoho Cons
The free version doesn't offer much

The customer service could be better
4. Pipedrive: Best for Sales Management

Pipedrive is a sales management tool designed for small and mid-sized companies. It's a robust platform that offers a straightforward approach to growing your business, with the ability to keep track of customers, leads, and deals at every stage.
With Pipedrive, you can view all your contacts' details from one place and track everything that matters to your sales team. Its ability to visualize the entire sales process from the moment you connect to your customers, leads and deals are unmatched by any other CRM.
Its synchronization with the cloud-based QuickBooks enables users to add and update contacts into Pipedrive from their existing CRM, whether they're in the office or on the go. Pipedrive has a simplified user interface with several additional features that make sales management intuitive and hassle-free.
Using the Integration
The Pipedrive-QuickBooks integration apps allow you to create invoices and track time directly from your QuickBooks account. Through this integration, you can even sync QuickBooks invoice statuses to Pipedrive and prioritize your sales pipeline by focusing on invoices that require payment.
Once you successfully integrate the two systems, you can now manage your sales process from start to finish. For instance, you can open paid invoices, view paid estimates, voided, overdue, deleted, and partially paid invoices, create reminders for unpaid invoices, and access detailed invoice information in one dashboard.
Pipedrive Pricing Plans
Pipedrive has four different plans:
Essential:

$12.50 per user per month

Advanced:

$24.90 per user per month

Professional:

$49.90 per user per month

Enterprise:

$99.00 per user per month
Pipedrive Key Features
Below are Pipedrive's most useful features:
Efficient communication tracking

Automation of repetitive tasks

Deep dive into metrics, insights, and reports

Efficient integration with mobile apps

Transparency in privacy and security
Pipedrive Pros
Detailed contact information

Intuitive dashboard for quick viewing of tasks

Helpful support team

Fast signup process

Easy customization

Mobile apps for on-the-go access

Straightforward user interface
Pipedrive Cons
Limited functionality

Doesn't separate the leads lists and contact lists
5. Method CRM: Best for Customization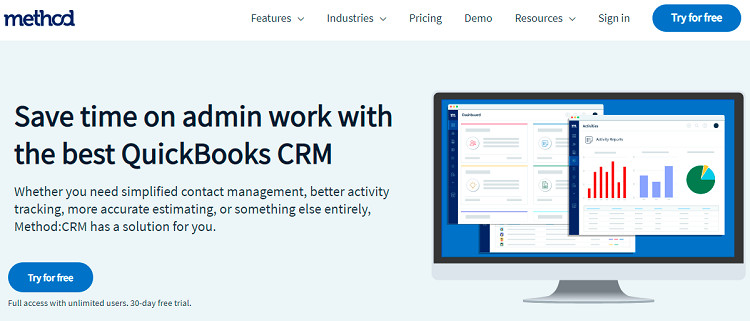 Method CRM is a cloud-based customer relationship management (CRM) system that offers high customization and flexibility for your business. It's an easy-to-use CRM that helps you manage your contacts, leads, opportunities, and account details in real-time.
It provides excellent navigation and quick access to all your data and accounts, allowing you to work on the go. Method CRM has a straightforward feature set that offers small businesses all the basic functionality they need without unnecessary fluff.
Its integration with the cloud-based QuickBooks enables users to view and update their leads, accounts, and contacts from Method CRM directly into their existing CRM. Method CRM can also sync your data with QuickBooks as you work. With the integration, you can create workflows that work in the background to update your data automatically.
Using the Integration
Streamline your sales processes and manage the customer relationship side of your business by connecting Method CRM and QuickBooks together. You can customize your invoices, quotes, and sales reports directly from your QuickBooks account.
Method CRM automatically saves a copy of your data in a secure and encrypted environment, so you don't have to worry about crashing or losing important work. Method CRM features a patented sync technology that provides more than just one-way data transfer.
Method CRM Key Features
Below are the most useful features of Method CRM:
Activity list

Manage all leads and aspects of your CRM in one place

Tracks all of your customer interactions

Simplified contact manager

Access to live customer data
Method CRM Pricing Plans
There are two different pricing plans for Method CRM:
Contact management

: $25 per user per month

CRM Pro:

$44 per user per month
Method CRM Pros
No coding is required for customization

Simple QuickBooks integration

Efficient lead management

Full-service customization
Method CRM Cons
Inadequate onscreen menus

Inability to pin or attach files
Other Top CRM for QuickBooks Integration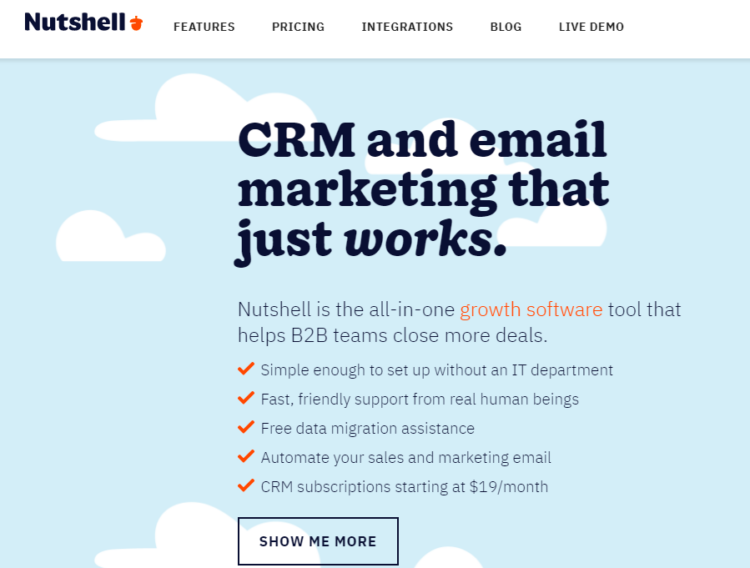 There are other CRM for QuickBooks integration tools you can try out. If you're looking for specific features, it's best to look at their comparison charts and research each product's key features.
Nutshell

Copper

Insightly

HoneyBook

QuickBase
FAQs
Question: Can QuickBooks be used as a CRM Solution?
Answer: QuickBooks is an excellent accounting solution. You can use it as a CRM solution, but it's not the best option for this type of software. There are other tools designed specifically to manage your customer relationships without switching between different platforms.
Question: Does Zoho Integrate with QuickBooks?
Answer: You can integrate Zoho CRM and QuickBooks. The QuickBooks desktop extension can be used to import your customer data directly into Zoho CRM. You can seamlessly sync records from Zoho CRM, allowing you to use a single platform to manage your business.
Question: Does Salesforce Integrate with QuickBooks?
Answer: Salesforce can seamlessly integrate with QuickBooks. This integration enables you to manage your sales process, track activities and tasks, and view detailed reports on sales performance all from one place.
Conclusion
The Best CRM for QuickBooks Integration is one that offers you the specific CRM features that are most beneficial to your business. Check out their pricing plans, feature sets, and integrations with other software so you can choose the most effective tool. Although QuickBooks can be used as a CRM solution, it's best to use one that caters to your specific needs.
The best CRMs that integrate with QuickBooks include HubSpot, Salesforce, Zoho, Pipedrive, Method, Nutshell, and Insightly. These CRMs offer a wealth of features and options that can assist you in streamlining important customer relationship milestones.