Last Updated on July 19, 2023 by Ewen Finser
Dropshipping is a business model that allows you to sell physical products without stocking any inventory source directly. As a market with an estimated market value of $128.6 billion in 2020, it's no surprise that many entrepreneurs are looking for the best eCommerce platform for dropshipping.
However, this approach is not without its challenges, so you must pick the right eCommerce platform to maximize your chances of success. The differences typically center around how easy it is to integrate your dropshipping suppliers with the platform, as well as the features and tools offered. Creating an efficient and effective store hinges on a few key factors.
As you read on, I'll discuss some of the best eCommerce platforms for dropshipping. In addition, I'll highlight some of the most important factors to consider when choosing a platform for your unique business.
Bottom Line Up Front Summary: Shopify is the best eCommerce platform for dropshipping because it collected powerful tools, intuitive design, and apps that you can use to enhance your online store.
Here are our top picks for the best e-commerce platform for dropshipping:
Self-Hosted vs Hosted Platform: Which One Should You Choose?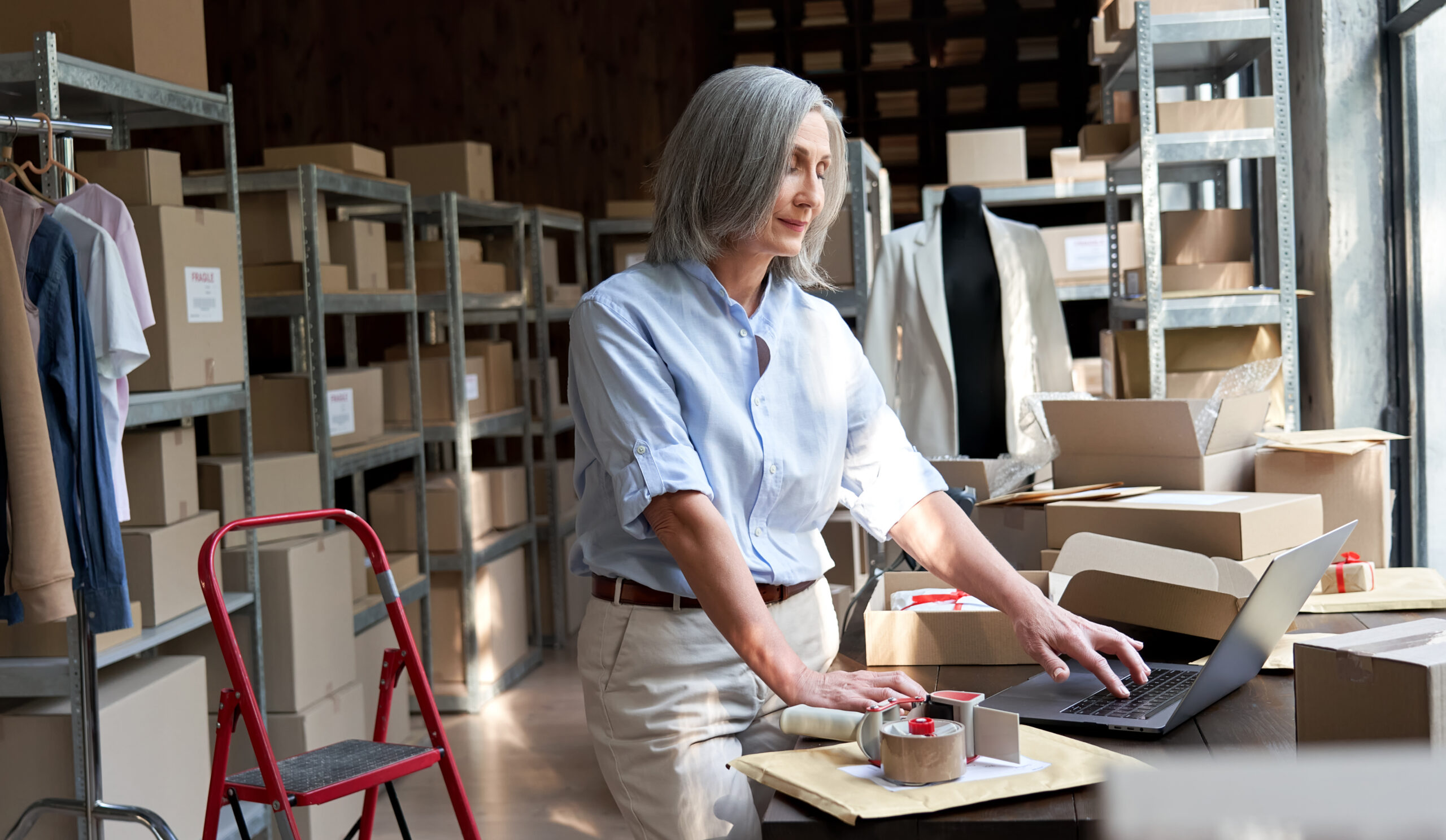 When it comes to eCommerce platforms, the two most popular options are self-hosted and hosted. Self-hosted is when you purchase your domain and hosting for the platform. Hosted platforms are offered by companies like Shopify, BigCommerce, Wix Ecommerce, or Squarespace. It's essential to understand how each works, so you choose the right one for your business.
Self-hosting is ideal if you're doing dropshipping because it gives you complete control of your store. You'll be able to send customers directly to your domain and place ads on the website like you would any other site. Not only that, but it's less expensive than hosted platforms, which charge transaction fees for each transaction on top of monthly payments.
However, self-hosting requires setting up hosting and a payment gateway first. If you're not tech-savvy, this may be a turnoff for you. Each platform will have its requirements and restrictions, so it's essential to research the payment gateways available for your chosen platform before purchasing it.
Evaluation Criteria for Best eCommerce Platform for Dropshipping
Before we analyze eCommerce platforms, it's important to define what makes one effective for dropshipping. This process of filtering out specific criteria to meet a certain need is known as problem-based optimization. By applying this process, we can take a closer look at the best eCommerce platform for dropshipping based on features that are useful and especially well-suited to eCommerce stores.
In this case, here's what you should look for:
Powerful and user-friendly eCommerce hosting platform

Marketing tools to grow your list, attract new customers and expand your reach

Integration with popular payment processors

Ability to add a custom domain name

Built-in SEO functionality

Affordable pricing

Support all dropshipping plugins

Available and practical customer support
1. Shopify: Overall Best Platform for Dropshipping
Shopify is by far the best eCommerce platform for dropshipping. It's the only platform that understood dropshipping and made it simple, with powerful dropshipping tools built right in. The intuitive interface allows you to create a beautiful store within minutes. Plus, Shopify hosts your eCommerce site, which keeps the technical aspects like hosting and security to a minimum.
The Shopify App Store contains a variety of dropshipping apps that you can easily install to expand your store's functionality. Besides, it integrates with all the most popular payment processors and shipping carriers for dropshipping.
You'll also find existing Shopify stores that are good examples to emulate in product selection, branding, and marketing. All these features make Shopify the best eCommerce platform for both new and experienced drop shippers.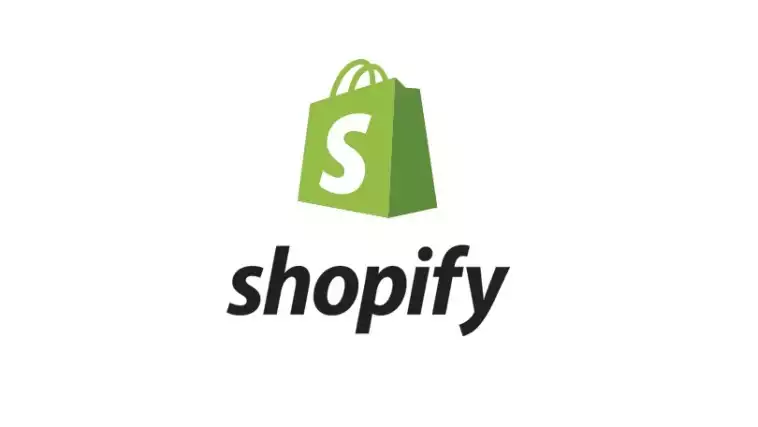 Why Shopify Wins
There are PLENTY of ecom platforms out there. Only one has a true NETWORK effect that can catapult your growth. Shopify has thousands of developers building apps and a robust ecosystem of integrations. This cannot be ignored. #ShopifyWins
Try Shopify First
We earn a commission if you click this link and make a purchase at no additional cost to you.
Key Shopify eCommerce Features or Dropshipping
Below are the features that make Shopify stand out as the best eCommerce platform for dropshipping.
Integrated dropshipping tools

Unlimited bandwidth and online storage

Online sales channels

Financial reports

Customer support

Gift plans

Fraud analysis

Abandoned cart recovery
Below are the Shopify pricing plans:
The basic plan is enough for most dropshipping businesses. It provides SSL certificates, more reports, and all the tools you need to run a great store. As your business grows, consider upgrading to Shopify or Advanced Shopify plan.
Also Read: The differences between Shopify vs Shopify Plus.
Shopify Pros
Advanced SEO tools

No sales restrictions on all plans

Simple to use

24/7 available customer support

Beautiful themes

User-friendly design and interface

Fully hosted platform
Shopify Cons
Limited customizations

Not a free platform
Further Reading on Shopify Ecosystem Apps & Tools:
Further Reading on Shopify Tutorials and Guides
Further Reading on Shopify vs Other eCommerce Store Options:
2. WooCommerce: Best WordPress Based Dropshipping Platform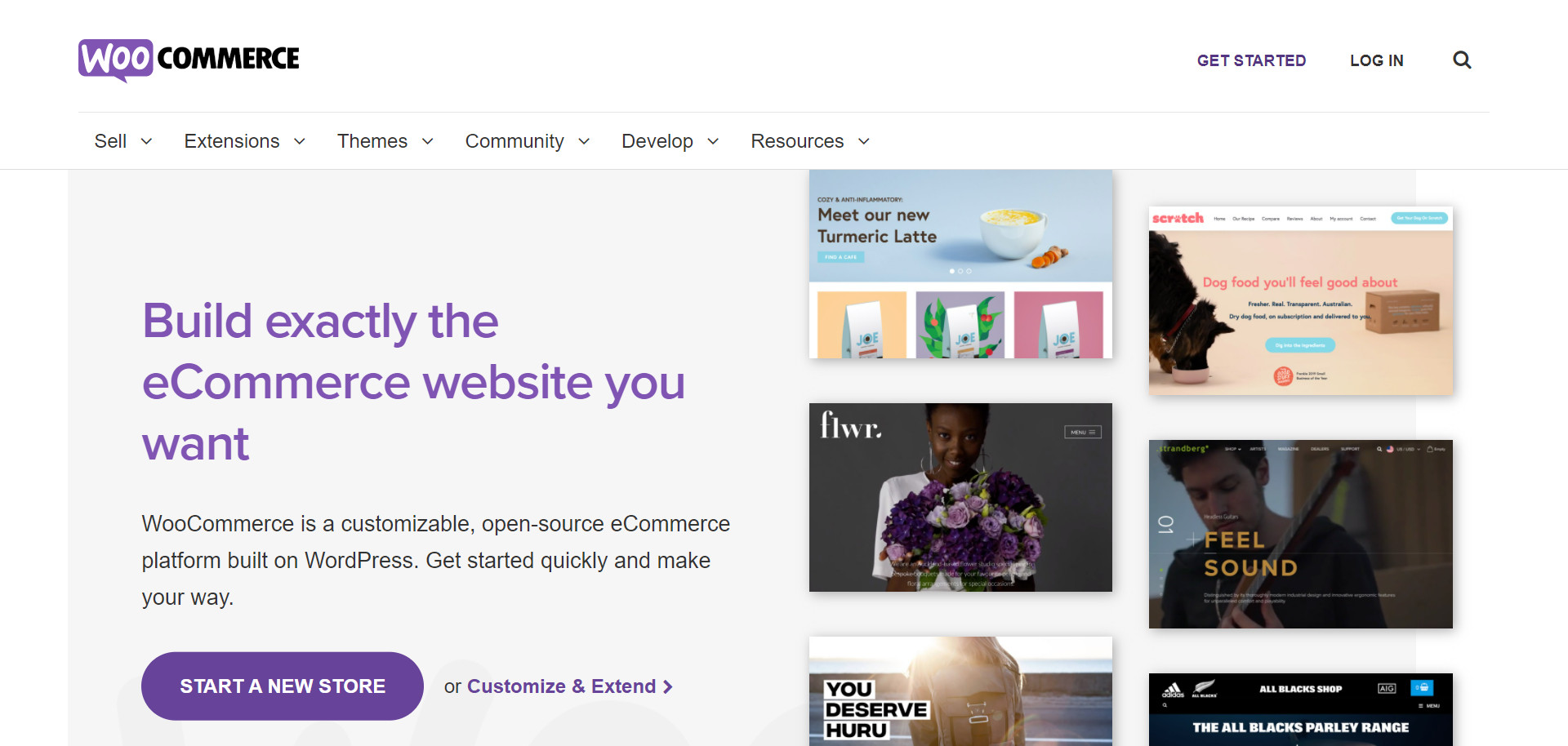 WooCommerce is the WordPress answer to Shopify. If you choose WordPress, WooCommerce is the best eCommerce platform for dropshipping. It's also one of the best eCommerce hosting platforms. It differs from most platforms on this list because you need to have an existing website before using it. If you, however, don't have a website, you can easily build a beautiful one through the WordPress website builder.
WooCommerce integrates with all the necessary dropshipping plugins and payment processors. Plus, it has a well-documented API that allows you to build custom apps and add-ons to your store. The WordPress and WooCommerce combinations give you more control over the aesthetics of your store. You can also install any free or paid WordPress theme you find on the web.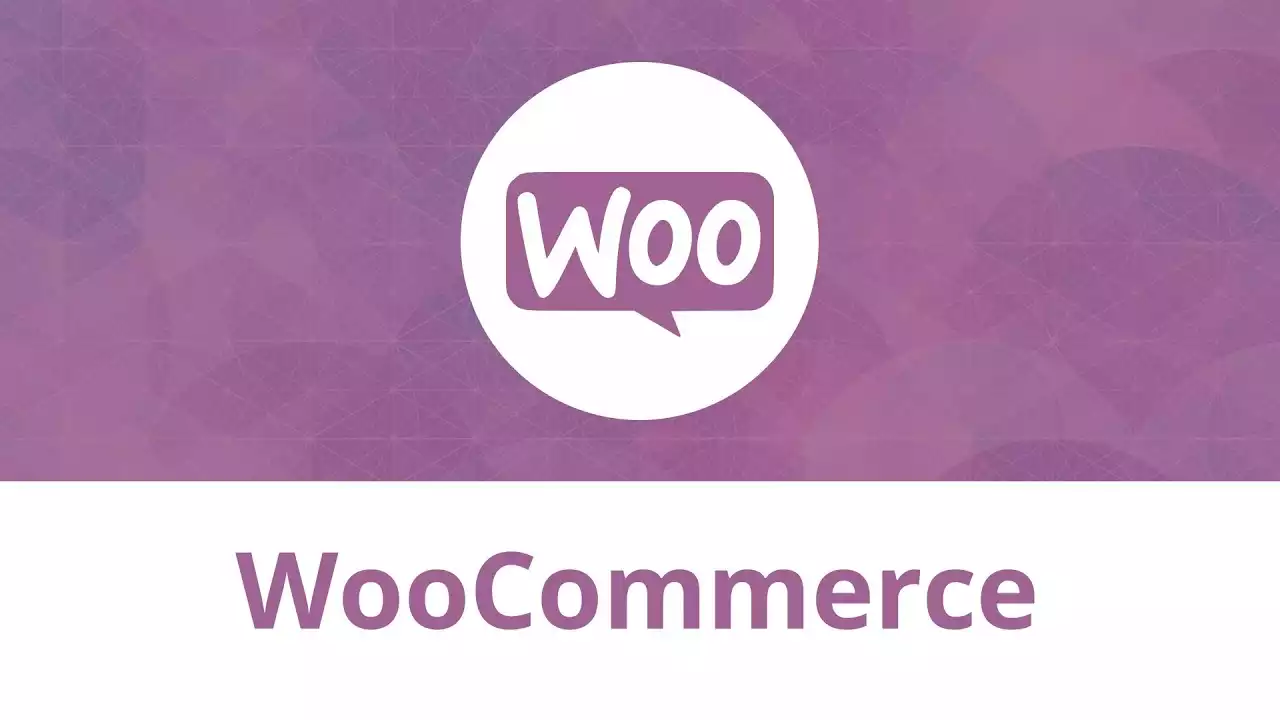 I Personally Prefer WooCommerce
WooCommerce starts off free (and can be forever) BUT, it's MUCH easier to use, has a wider ecosystem of plugins and functionality, AND has advanced paid features (if you need them). In short, WooCommerce has more approachable optionality.
Try WooCommerce First
We earn a commission if you click this link and make a purchase at no additional cost to you.
Key WooCommerce Features
Below are features that make WooCommerce a powerful eCommerce platform for dropshipping.
Flexible and secure payments

Extensive themes and storefront customization

Customer service and support

Inventory management (inventory source options)

SEO functionality

Mobile app integrations

Customer showcase
WooCommerce and WordPress are free to use (although there is a WooCommerce store for premium paid themes, tools, and extensions). However, you need to pay for hosting and domain name. When choosing a hosting platform, consider those that offer high-quality WooCommerce hosting.
Most hosting platforms will offer an initial low cost, but the price will increase quickly as the store grows. If you are starting, choose one of the affordable hosting plans. Hosting can be as cheap as $3.95 or as high as $6,000.
WooCommerce Pros
Highly scalable

Full-fledged content management system

An excellent choice for existing WordPress users who want to add eCommerce functionality

Excellent free and paid plugins

Great flexibility
WooCommerce Cons
Additional expenses on WordPress extensions and other plugins

It's WordPress specific
Further Reading on WooCommerce Apps & Tools:
Further Reading on WooCommerce vs Other Online Store Options:
3. BigCommerce: Best for Fast-Growing and Large Businesses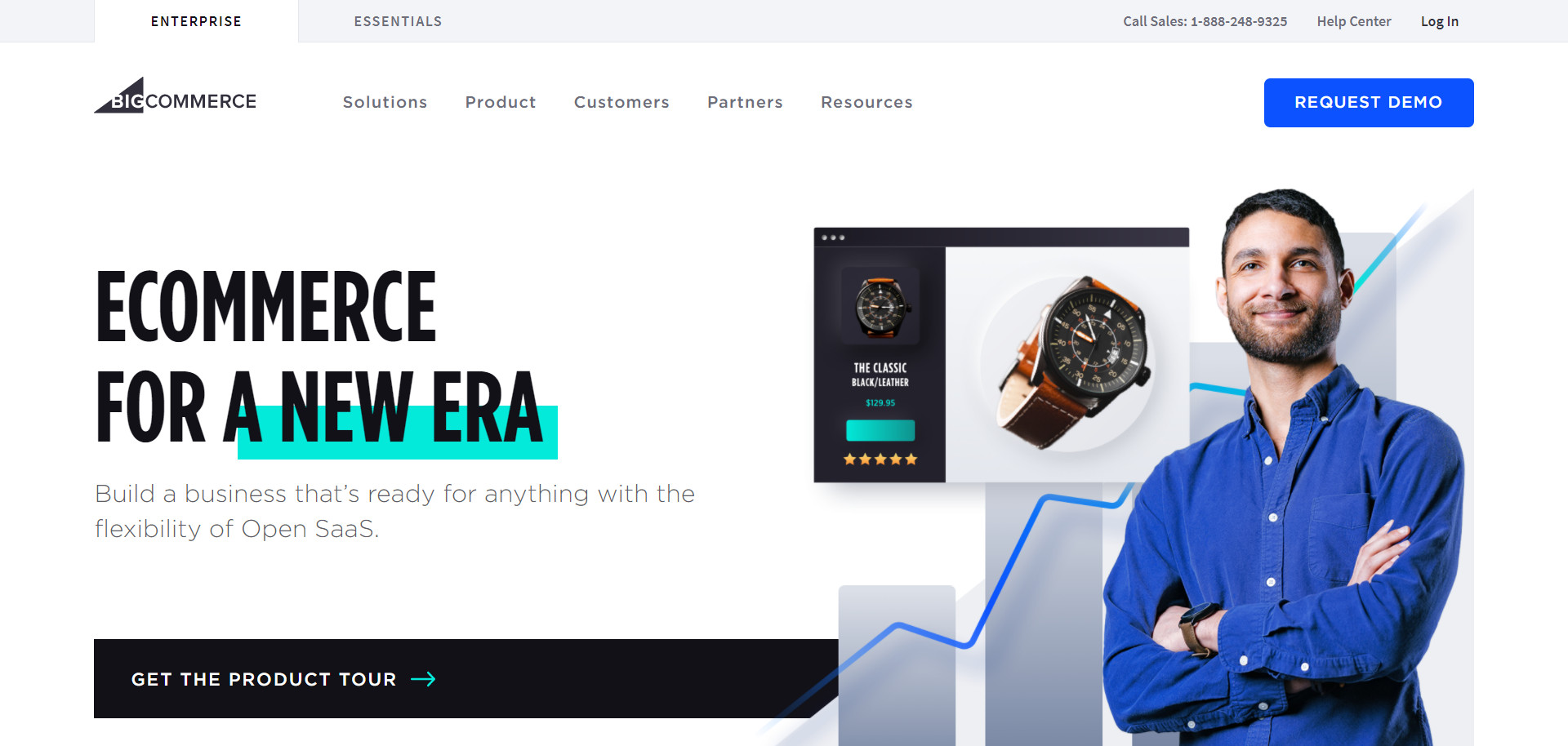 BigCommerce is a hosted platform that's fully scalable. The platform is perfect for high-volume eCommerce sales. It also has a vast community that makes it easy to find answers and support when you need it.
The word hosted platform means that the eCommerce platform has complete server hosting. Your website is hosted on the BigCommerce servers here. This feature can be an advantage because they keep a close watch on the site's security and provide support whenever needed.
While those with minimal design skills can effectively use BigCommerce, it does not offer the same amount of customization options as Shopify. However, those with advanced technical knowledge can customize BigCommerce to meet their requirements.
A Digital Merchant Exclusive Offer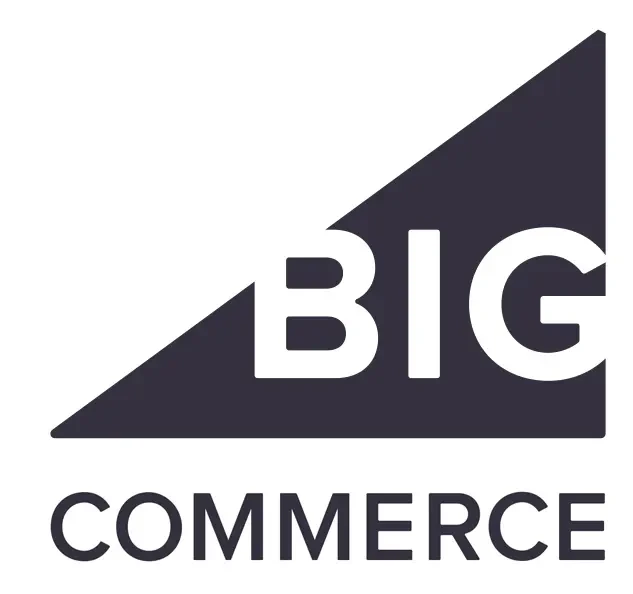 BigCommerce: Request a Demo and Save!
We partnered up BIG TIME with BigCommerce to bring you an offer you simply cannot miss: Save 10% yearly on your selected plan after you request your Demo (Valid until Dec 31st 2021).
Request your Demo
We earn a commission if you click this link and make a purchase at no additional cost to you.
Key Features of BigCommerce
Below are features that make BigCommerce stand out as the best eCommerce platform for dropshipping.
Plugin POS integrations to leading providers

Featured channel integrations (i.e., Facebook and Instagram)

Robot.txt and customizable URLs

No coding page builder tool is available

Inventory management tools

Personalized site audits
BigCommerce has four pricing plans:
BigCommerce provides affordable plans that are perfect for startups and small business units. The standard, plus, and pro plans come with all the features needed for any dropshipping store. It also provides a 14 day free trial depending on the type of plan you choose.
BigCommerce Pros
24/7 customer support with a phone call, ticketing, and live chat

Advanced reporting

Value-added services such as search engine optimization (SEO), social media marketing, and email marketing

Discount coupons and gift vouchers are available

You can tweak the site with CSS and HTML

Healthy apps & integrations ecosystem
BigCommerce Cons
Limits on annual sales

Similar themes

Still smaller market cap than Shopify
Further Resources on Optimizing Your BigCommerce Store:
Further Reading on BigCommerce vs Other eCommerce Store Platforms:
4. Magento: The Most Feature-Rich eCommerce Platform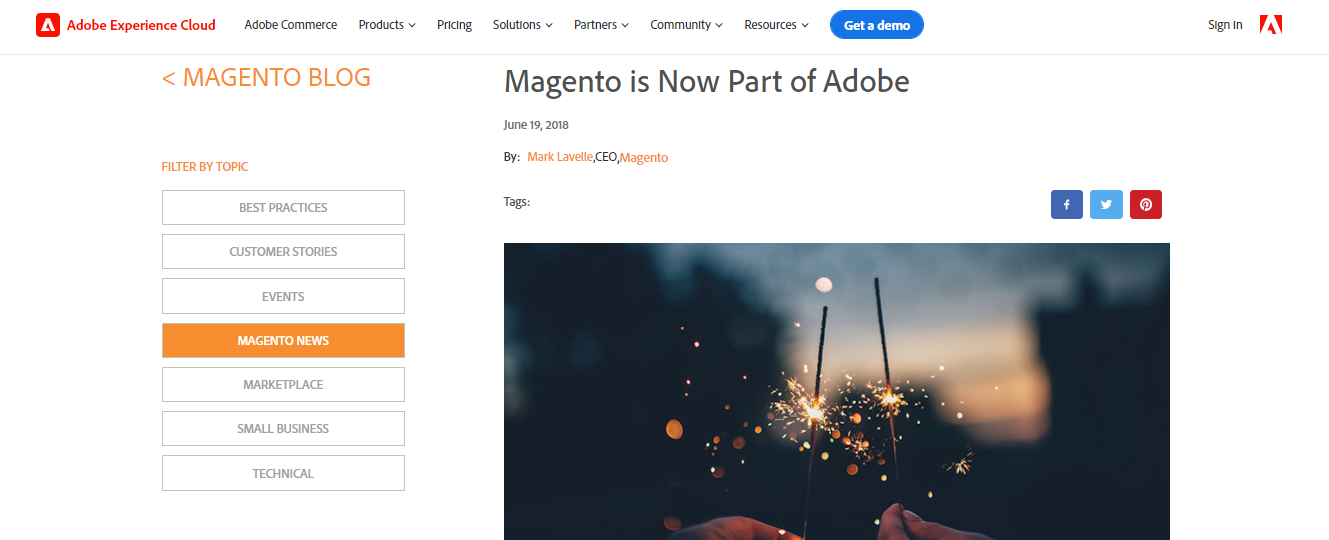 Magento stands out as one of the most feature-rich dropshipping e-commerce platforms despite the raging competition. Magento offers a wide range of features for both small and large businesses. As part of the Adobe Experience Cloud (Adobe Commerce), Magento integrates with Adobe Analytics, Adobe Target, and Adobe Experience Manager.
It's developer-friendly with open-source code that allows you to change the look and feel of your website. You can also choose from thousands of themes available on Magento's website. It may not be friendly for beginners, but its powerful features outweigh its limitations.
There's extensive access to support and education resources. Magento also provides extensive documentation on their website to help users access support and develop extensions for their website. A forum for developers, designers, and officials helps users find solutions to common and advanced technical issues.
Key Magento Features
The following are some of the key Magento features that make it a powerful dropshipping e-commerce platform.
Advanced analytics and reporting tools

Catalog management

Marketing and promotional tools for social media and email campaigns

Order management with access to customer accounts

Advanced search engine optimization

Payment processing and shipping

Site management features

Mobile-responsive themes and commerce management

Multiple store views
The above features make Magento the most-advanced eCommerce platform for those who want to be able to manage all their marketing and sales. Users can access Google Analytics and advanced reporting on sales, taxes, and product review reports.
Magento Pricing
Running a Magento e-commerce website isn't the cheapest, but it's worth its price. The overall cost of running a dropshipping business will depend on the level of customization you need.
You need to pay for the license, hosting, domain name, SSL certificate, extensions, payment providers fees, and SEO and digital marketing promotion. For a detailed and updated pricing breakdown, visit Magento's website.
Magento Pros
Extensive features

High flexibility and customization

Advanced SEO features

GDPR compliant

Extensive analytics and reporting

Mobile-friendly features
Magento Cons
Steeper learning curve than other platforms

Complicated pricing structure

High costs associated with setting up and running a store
Further Reading on Magento Compared to Other Alternatives:
5
.
Wix
:
Best for Small and Medium Dropshipping Businesses

Dropshipping with Wix is easy, free, and completely mobile-friendly. Wix is a cloud-based platform, and it lets you build a responsive eCommerce website in minutes. You can download the Wix mobile app to sell products right from your phone.
Wix is ideal for small and medium business owners who want a simple solution without requiring much technical knowledge. Its drag-and-drop interface makes it easy to customize your website without knowing how to code. You can integrate PayPal, 2Checkout, Amazon Payments, Google Wallet, and Skrill.
Wix may have limited customization options provided by other big eCommerce platforms, but the available tools are more than enough for the average drop shipper. Noteworthy, Wix eCommerce is an extension of its website builder. Thus, you can easily create a responsive eCommerce website without having to learn the complexities of eCommerce design.
Key Wix eCommerce Features
The following are some of the key Wix eCommerce features that make it a compelling dropshipping platform.
Drag and drop website builder

Extensive media library

Flexible and customizable APIs

Custom online store

Numerous professional templates

Multichannel sales

Built-in SEO tools

Email marketing campaigns

Personalized payout schedules
The above are Wix's pricing plans for using their platform. Other additional costs include website domain plans and marketing costs. Wix will, however, offer a one-year free hosting once you upgrade to any of the Business and eCommerce plans.
Depending on the marketing strategy you use, you may end up spending as much as any other eCommerce platform. Wix also offers a free plan but with limited functionality.
Wix Pros
Mobile-friendly, built for smartphones and tablets

Highly affordable, most feature-packed eCommerce platform

No technical knowledge or coding skills required

Numerous templates for any store

Highly flexible and customizable eCommerce website

Built-in marketing tools

Affordable
Wix Cons
No unlimited plans

SEO tools can be complicated to use

Ads are present even in the starter plan
Further Reading on Wix Alternatives for eCommerce:
6.Shift4Shop: Best for New and Small Businesses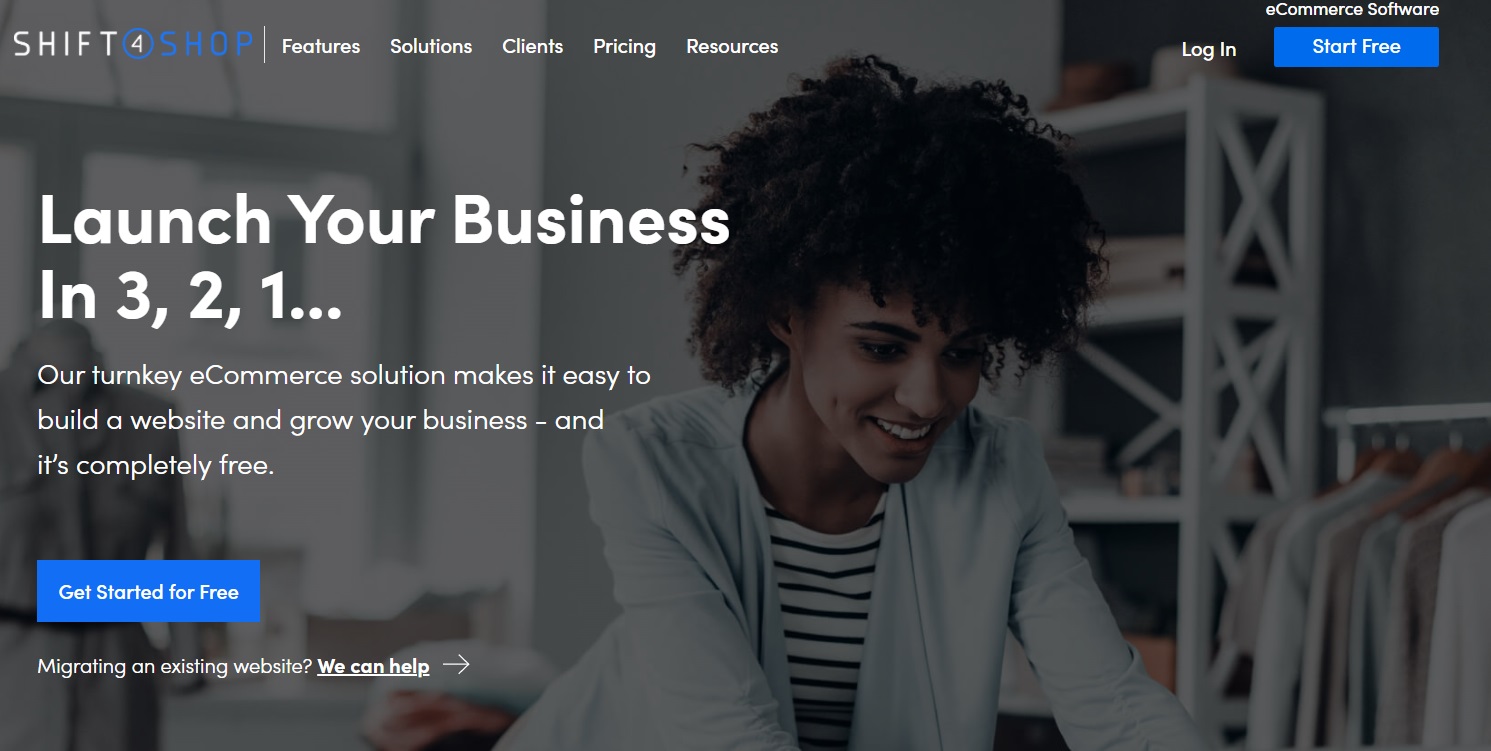 Shift4Shop is one of the only eCommerce platforms with a dedicated dropshipping plan. Previously, Shift4Shop was what most people knew as 3dcart until recently. However, they still refer to its dropshipping module as 3dcart dropshipping.
The Shift4Shop platform is built on the ASP model, which means you'll have to pay for each user. This feature is excellent if you're testing the waters and trying to decide if dropshipping is right for you.
There's no need to worry about creating a large inventory (and inventory source integrations) beyond what you need. You can start scaling your business as soon as it takes off, and you're ready to invest more capital into the platform.
It comes with a built-in blog, website builder, and other online marketing tools. There's also secure web hosting with 99.94% guaranteed uptime. The API access allows you to connect to software of your choice, making it an ideal solution for those who want complete developer freedom.
Key Shift4Shop Features
Below are features that make Shift4Shop a well-rounded dropshipping platform.
Unlimited product images and zoom

Visitor IP blocking

Phone orders and manual creation of orders

Connects to QuickBooks

Built-in quantity discounts

Google customer reviews

Advanced reporting and dashboard tools

Multiple Ship-To checkouts
The Shift4Shop dropshipping has four pricing plans.
The yearly plans are paid upfront for three or two years, respectively. The monthly plan will renew at the end of each month. The monthly plan is ideal for new and small businesses that want to test things out before investing in a more expensive plan.
Shift4Shop Pros
Free domain registration

Unlimited orders

A built-in blog for SEO

User-friendly design

Excellent customer support
Shift4Shop Cons
Sales limits on all plans

The pricing plans could be better
Further Read: Shift4Shop vs Shopify
Other Ecommerce Platforms for Dropshipping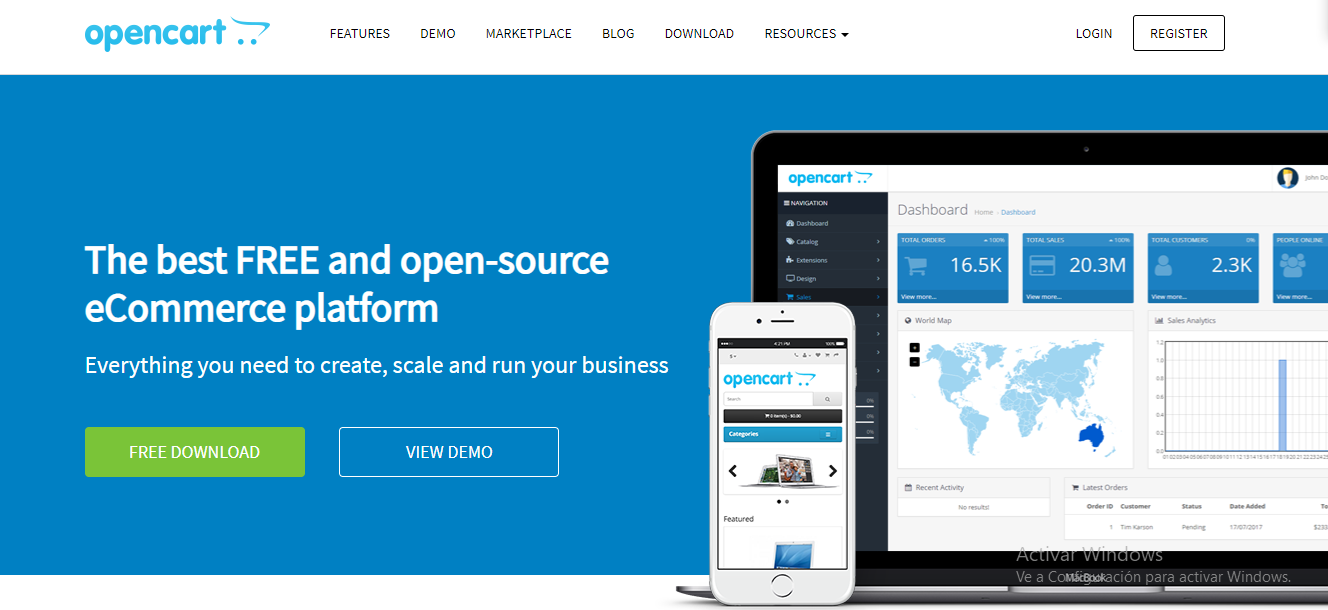 If you're looking for eCommerce platforms other than the ones mentioned above, then you can check out the following sites.
FAQs
Question: Is e-commerce dropshipping profitable?
Answer: Once you master the process and art of dropshipping, the returns can be substantial. However, a lack of experience and expertise will lead to many mistakes that ultimately won't bring in any money at all. For a successful eCommerce business, you must be dedicated to self-education and research. There are millions of articles on the web about building an eCommerce empire, so there's no excuse for not getting started.
Question: Can you lose money dropshipping?
Answer: It's possible to lose money when you're learning the ropes of eCommerce. Mastering the art of dropshipping requires a lot of patience, persistence, and analytical skills. You'll most likely have to invest in products without reselling them for a profit at first.
Question: Is AliExpress good for dropshipping?
Answer: AliExpress isn't bad, but there are better alternatives. If you have to use AliExpress for your dropshipping business, try to use it as a secondary source of inventory. If you want the best eCommerce platform for dropshipping, you need access to all kinds of items without geographical limitations.
Conclusion on the Best Platform for Dropshipping
The best eCommerce platform for dropshipping is the one that best suits your business needs. Each of these platforms can get you started on the right foot, but only after putting in the work and homework to stand out from your competition.
If you are planning to venture into dropshipping, I recommend Shopify dropshipping as the best eCommerce platform for dropshipping. You need an outstanding website design that will encourage visitors to make purchases without hesitation.
The Shopify checkout process is intuitive and straightforward. The platform has a large inventory of products from various categories, making it a suitable choice for any dropshipping business model.
Further Reading on Other eCommerce Website Platforms by Specialization:
Ready for the Next Step? Find the Best Dropshipping Sources: