Last Updated on April 22, 2023 by Ewen Finser
Building an online store is more complicated than it looks on the surface. Gathering photos and descriptions of your products and a company logo can help you get a basic shop started, but what happens when you want to make multiple sales, scale your products, or optimize to stay ahead of the competition?
If you are just getting started, the number of tasks can be overwhelming. Fortunately, there are a variety of eCommerce platforms available to provide an all-in-one solution for getting your online business up and running.
If you are trying to choose between Shopify vs CommerceHQ store, let us help you make a final decision by outlining the eCommerce platforms' key differences, similarities, features, and pros and cons.
Bottom Line Summary: We chose CommerceHQ over Shopify for its transparent cost, ease of use, and integrated tools. That said, if you think you will need dozens of apps and integrations, Shopify is still a great choice here.
Main Differences Between Shopify vs CommerceHQ
The main differences between Shopify vs CommerceHQ are:
Shopify has 24/7 support, whereas Commerce HQ does not.
Shopify supports a Point of Sale (POS) system for accomodating in-person payments, whereas CommerceHQ does not.
Shopify offers shipping discounts and labels, whereas CommerceHQ does not.
Shopify has an integrated blog for expanding shop content, whereas CommerceHQ does not.
Shopify limits staff accounts based on tiered plans, whereas CommerceHQ has unlimited staff accounts
Shopify integration apps are priced separately, whereas CommerceHQ includes its integrations in the monthly price
Shopify requires a developer or additional app integration for modifications, whereas CommerceHQ features easy to modify themes and templates
Shopify charging processing fees on every transaction, whereas CommerceHQ offers no processing fees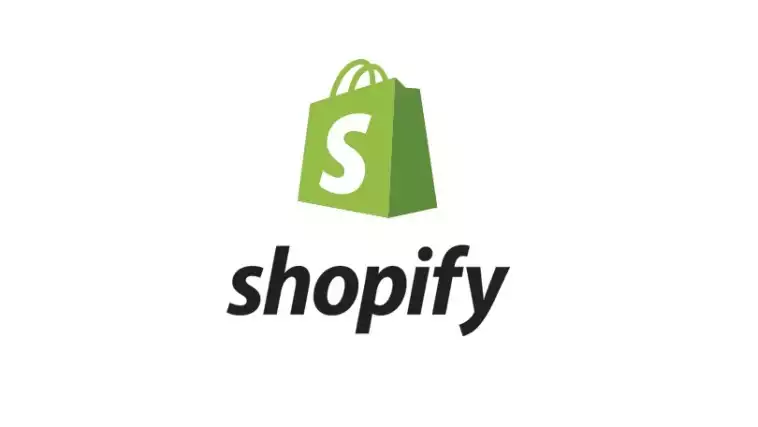 Why Shopify Wins
There are PLENTY of ecom platforms out there. Only one has a true NETWORK effect that can catapult your growth. Shopify has thousands of developers building apps and a robust ecosystem of integrations. This cannot be ignored. #ShopifyWins
Try Shopify First
We earn a commission if you click this link and make a purchase at no additional cost to you.
The Similarities
SSL Secure Checkout
Unlimited Bandwidth
Discount Codes
Unlimited Products
Abandoned Cart Recovery
Inventory Management
Gift Cards
Open API
Web Hosting
CSV Import/Export
Shopify vs CommerceHQ: What is Shopify?
Shopify is a web-based eCommerce platform for creating an online store. Free or premium themes can be customized to your business needs. Physical or digital products can be sold from a "buy button", an online shop, or even in-person through Point of Sale (POS) supported systems.
The platform is great for online business owners, business owners who switch from online to in-person sales, global businesses that demand multiple currencies, and even drop shippers. Its integrated shipping and inventory syncing help businesses stay proactive. Shopify's powerful mobile app allows business data to be modified on the go.
Shopify provides 24/7 support via online chat, phone, and email so you are never left in the dark when a pressing issue arises. Shopify currently has over 1,000,000 users and has generated hundreds of billions in sales.
Shopify vs. CommerceHQ: What is CommerceHQ?
CommerceHQ is the brainchild of Jon Mac. Jon Mac is a multi-million dollar eCommerce marketer. He has built million-dollar businesses on both Teespring and Shopify.
Jon Mac created CommerceHQ after using Shopify for a few years. He thought Shopify lacked features and a focus on conversions. CommerceHQ provides users with a transparent flat monthly fee that includes the tools you need to sell without extra app and transaction fees.
The Main Features of Shopify
App Store
While Shopify has a large variety of apps (over 3,000) that can optimize your online store, each one is a separate charge.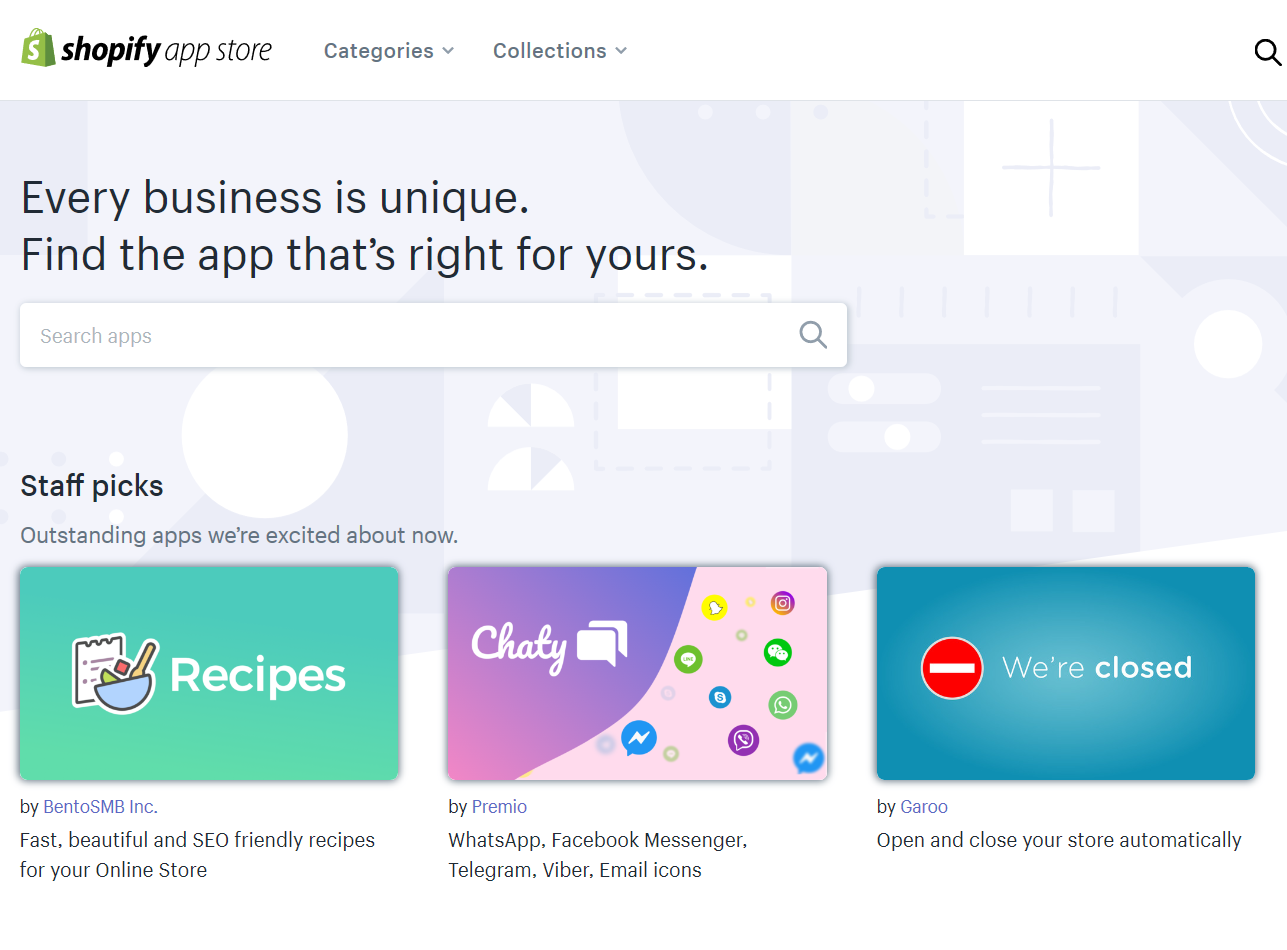 However, Shopify does offer a myriad of free tools that are useful for any business such as branding (logo maker, business name generator, slogan maker, business cards), sales (QR codes, terms and conditions, gift certificates, invoices, PO, bar codes) and even reporting such as pay stubs and profit margin calculator.
Customizing Templates
To modify a template in Shopify, most people either hire a developer or add on a costly integration such as Shogun or GemPages. This can be a huge downside if you are looking for full personalization without sinking a significant amount of your budget for professional web designers or DIY drag and drop.
Since Shopify allows third-party premium templates, not all of the premium templates are supported by Shopify. If you choose a template that isn't supported, you will need to hire a developer every time you want to change it, unless you know how to code.
Processing Fees
If you use Shopify Payments, you won't have transaction fees on your orders. You also won't be charged a transaction fee if a manual payment is used i.e. cash on delivery (COD), checks, test, draft, or POS orders. There are transaction fees if you cannot or choose not to use Shopify Payments (Shopify payment system). If you go outside the circle of trust, transaction, and processing fees apply.
The option to use Shopify Payments is only available in the following countries Australia, Austria, Canada, Denmark, Germany, Hong Kong SAR China, Ireland, Italy, Japan, The Netherlands, New Zealand, Singapore, Spain, Sweden, United Kingdom, and United States of America (but no US territories except Puerto Rico.)
Credit card transaction fees are not returned to you when a refund is issued in Austria, Sweden, or the United States. If refunds are commonplace, you may want to choose CommerceHQ to save on lost transaction fees.
Shopify Point of Sale
One of Shopify's most unique features is its point of sale technology and hardware offerings. Its POS hardware allows you the flexibility to sell online and in physical locations (such as events, pop-up shops, and brick and mortar stores) using an iOS or Android device.
And even if you switch back and forth to secure your sales, your monthly subscription will automatically sync your sales and keep your inventory up to date.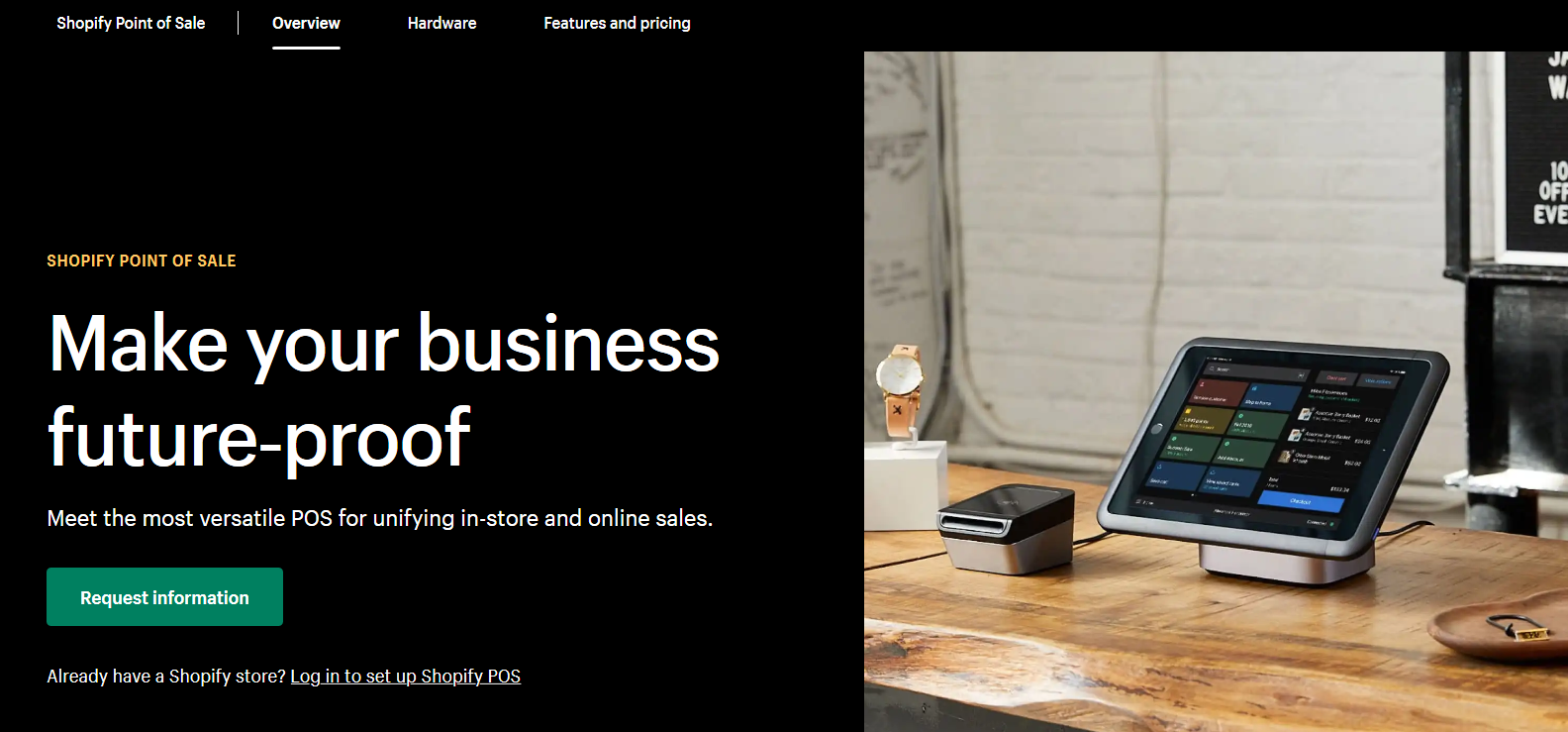 Shopify provides hardware kits and individual POS supplies from Shopify Hardware Stores in the US, Canada, the United Kingdom, and Ireland. You can also purchase hardware from authorized resellers worldwide.
After October 2020, a pro version of POS will be available for an extra $89 a month. The pro version offers advanced store management tools and omnichannel features such as completing exchanges, printed receipts, selling in multiple locations, buying your products online and collecting products in-store, and commissions.
The Main Features of CommerceHQ
App Store
CommerceHQ gives you access to all its features no matter what tier you pay for. This includes free applications that you would pay for using Shopify. These apps include 1-click upsells, native apps to increase conversion rates, and a customized accordion-style checkout page (see below).
Customizing Templates
CommerceHQ offers a good selection of themes and templates that are free to modify using drag and drop (no coding required). If you want to fully customize, CommerceHQ provides Twig, a developer reference guide that can speed up the process and cut overall labor costs.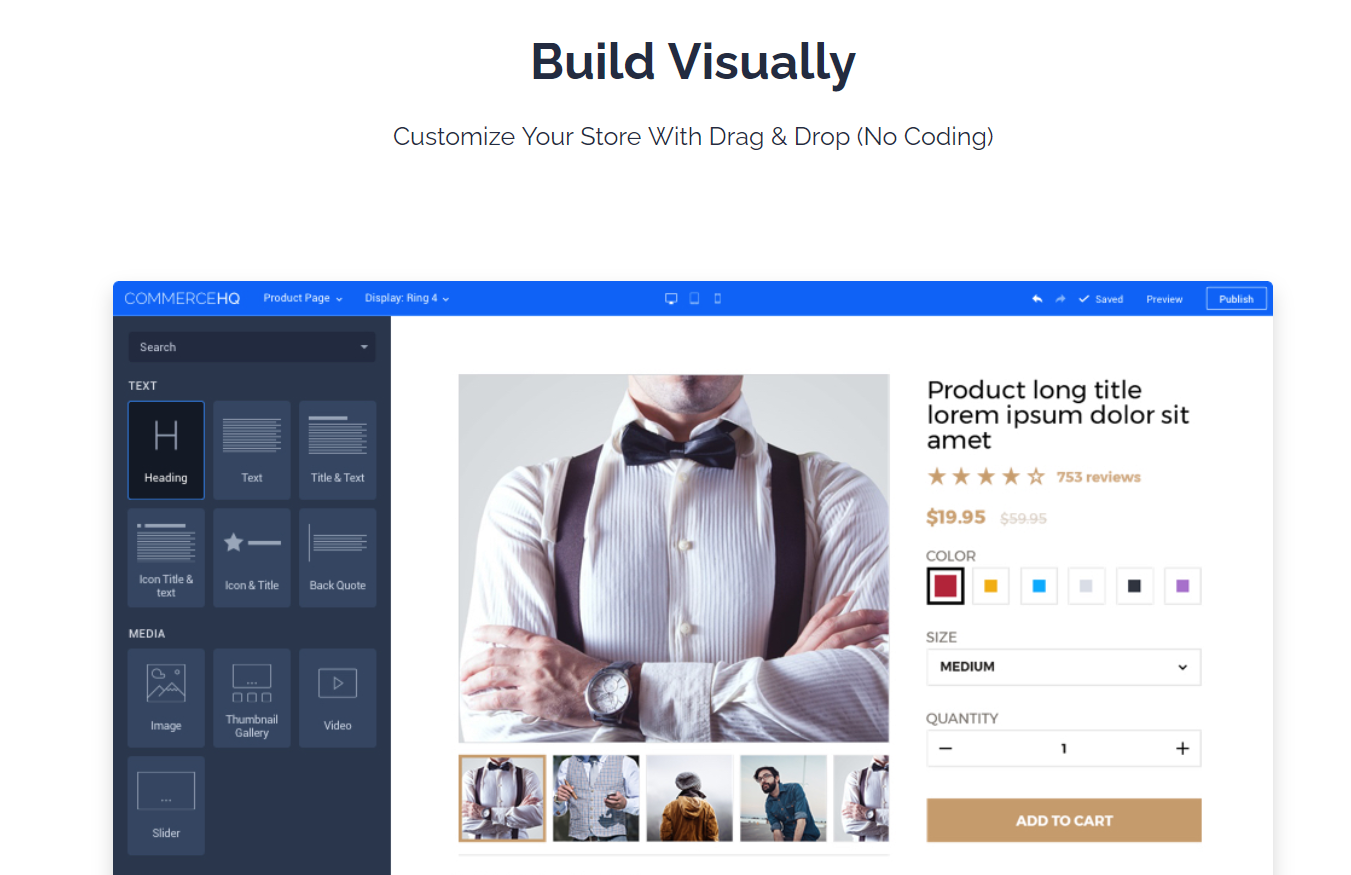 Processing Fees
CommerceHQ doesn't charge any processing fees, which is a huge benefit over Shopify's extra charges. Just keep in mind that CommerceHQ limits your sales each month in regards to their tiered plans. Any sales over 30K per month will bump you from the Startup tier ($99 a month) to the Pro tier ($299 per month).
Even though $99 a month might sound steep for CommerceHQ when you are just starting, keep in mind to optimize Shopify you will be paying a fee per transaction and shelling out extra for integrations.
Built for Conversions
Perhaps the biggest advantage over Shopify is CommerceHQ's built-in conversion tools.
When choosing an online shop platform, increasing conversions is your number 1 goal of higher revenue and brand awareness.
CommerceHQ offers the following integrated tools:
Repeat order timer — After the customer has made an order, a timer will give the customer a discount to order again without entering in payment details for the 2nd time.
Upsell campaign builder — Choose which offer a customer receives after they order so you can target each customer differently.
Native apps — Displays a deal timer and inventory countdown for limited edition items to make customers buy faster.
Simple checkout — Customers can see the checkout process step by step so they are less likely to abandon their cart.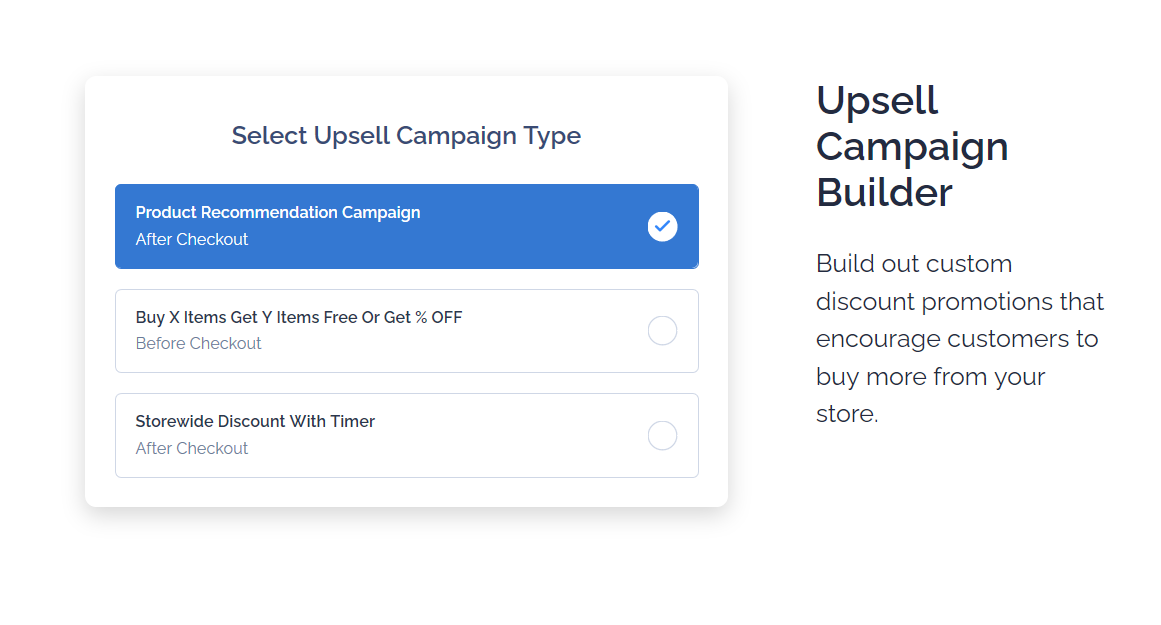 Shopify vs CommerceHQ – Pricing
Shopify
Shopify has 5 pricing tiers, Shopify Lite, Basic Shopify, Shopify, Advanced Shopify, and Shopify Plus. Shopify also offers a 10% discount on annual plans and 20% off biennial plans when paid upfront.
Shopify has a free 14-day trial, with no credit card required. You only pay when you launch your online store. You are free to check out all the features and dashboards without payment.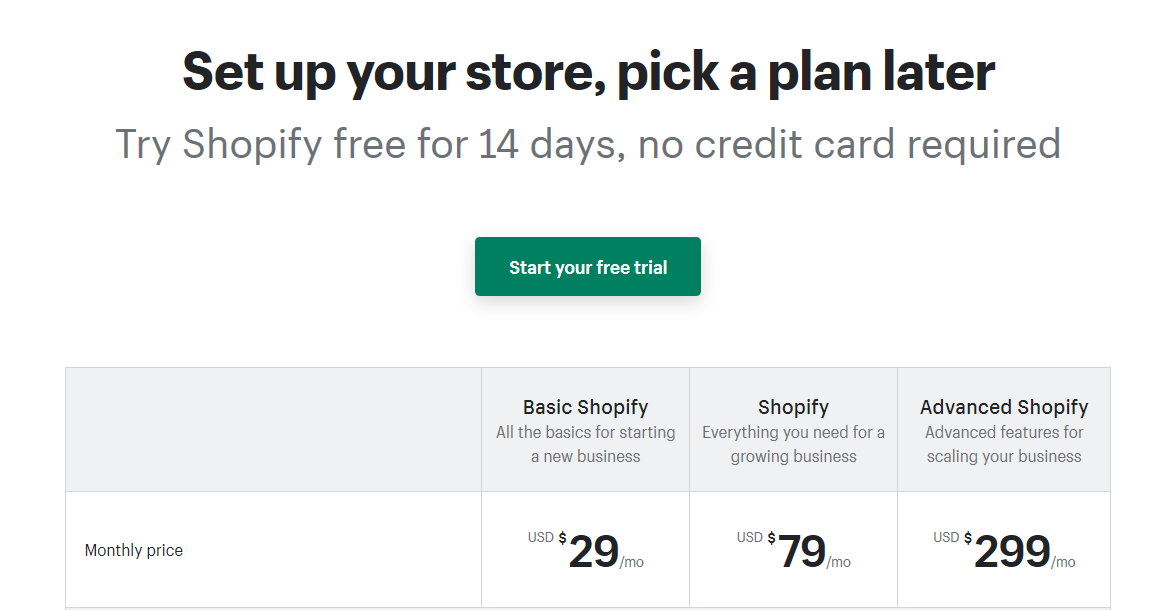 $9 per month
Shopify Lite allows you to sell on Facebook, blog, or website for $9 per month. Facebook sells through Messenger chat and real-time tracking. Use Shopify's buy button on your blog or website to instantly get more sales.
With Shopify Lite you can accept credit card payments anywhere. Sell at home or away with POS support for iOS or Android devices. You can even create invoices for custom orders within Shopify Lite's dashboard.
$29 per month
Basic Shopify doesn't include gift cards, professional reports, third-party shipping rates, USPS Priority Mail Cubic® pricing, and various POS (point of sale) options.
$79 per month
Shopify is only missing the advanced report builder and third-party shipping rates. You will also be paying lower fees per sale than with Basic Shopify.
$299 per month
Advanced Shopify includes all features and a generous upgrade to 15 staff accounts (as opposed to 2 for Basic and 5 for Shopify).
Contact sales for pricing
Shopify Plus is reserved for high-volume eCommerce and you must contact Shopify via their online form to get business specific pricing.
CommerceHQ
CommerceHQ offers a 14-day free trial with a 1 click cancellation option. There are three paid plan tiers Startup, Pro, and Enterprise.
Although you will receive all the features in whatever plan you choose, each tier provides a limit on the number of stores and the amount of monthly income you can bring in.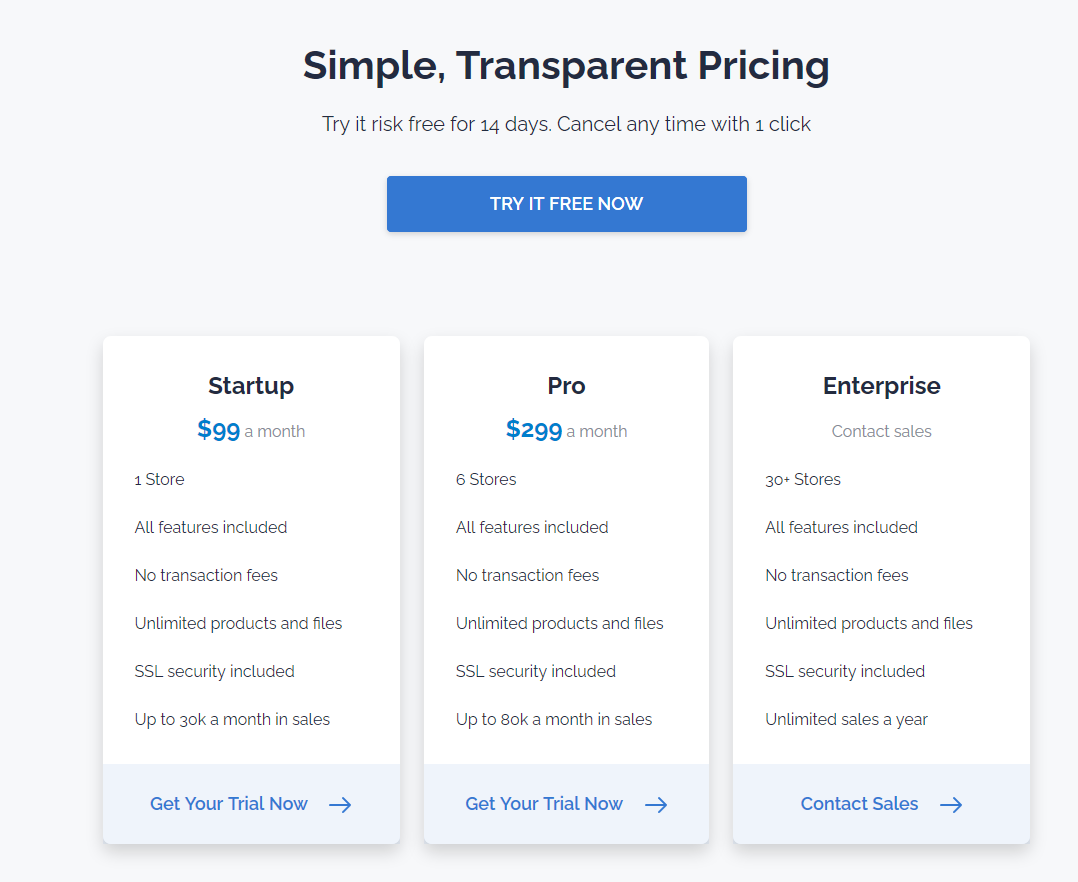 $99 a month
1 Store
All features included
No transaction fees
Unlimited products and files
SSL security included
Up to 30k a month in sales
$299 a month
6 Stores
All features included
No transaction fees
Unlimited products and files
SSL security included
Up to 80k a month in sales
Contact sales
30+ Stores
All features included
No transaction fees
Unlimited products and files
SSL security included
Unlimited sales a year
Shopify vs CommerceHQ – Support
Shopify
Shopify offers 24/7 award-winning customer support no matter what tier you pay for. Get connected almost instantly. Support is available via online chat, phone, and email.
They also provide video tutorials, webinars, and written documentation to get the most out of Shopify's features.
The platform features helpful forums for Shopify users to network and ask questions. The forums have nearly 700,000 members to answer specific issues quickly.
CommerceHQ
CommerceHQ provides its users with written user guides and videos to help you complete basic to advanced tasks within the platform. They also give access to a Facebook Group that can help you get your questions answered quickly.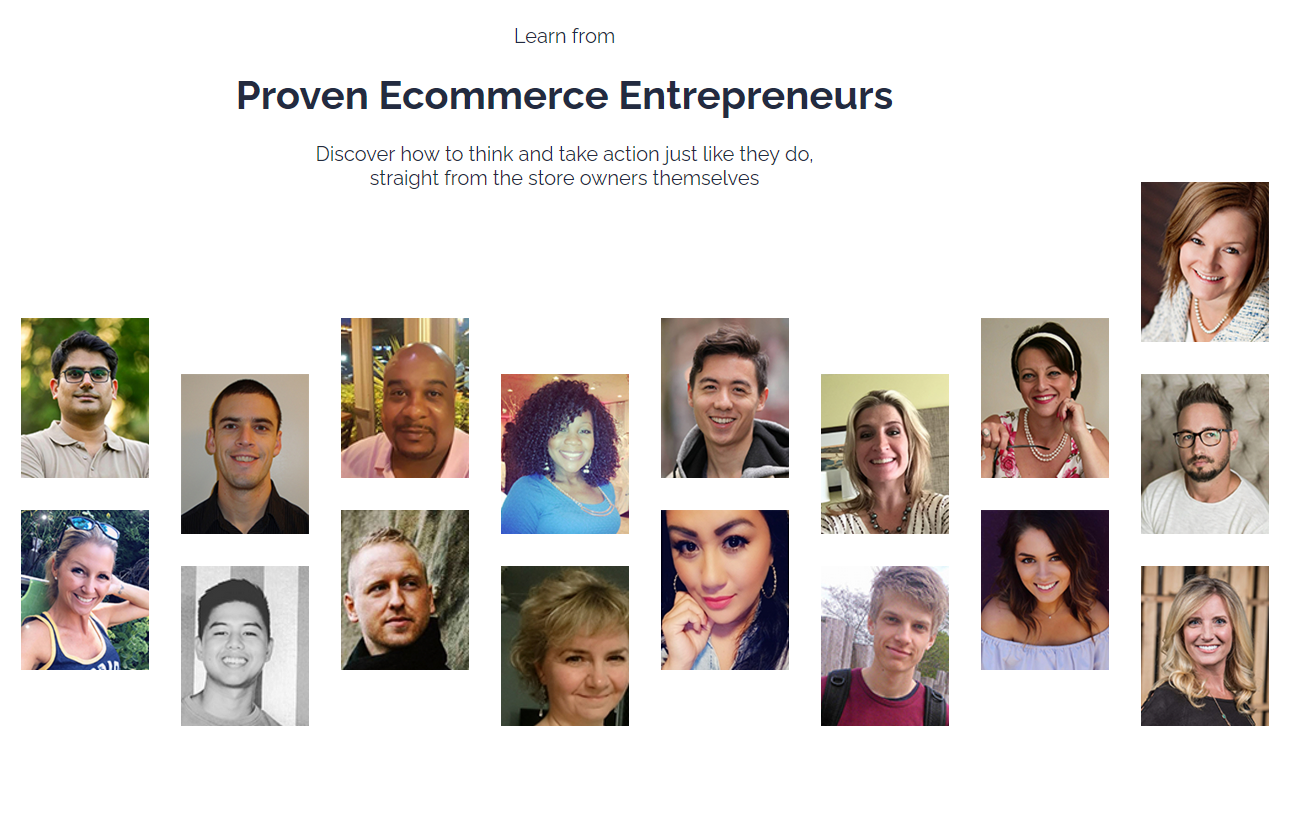 CommerceHQ has an open API that allows you to build custom apps that integrate and a specified developer reference guide to creating custom templates.
If you still need assistance, you can contact support through email. Unfortunately, this will only create a support ticket, and wait times can vary depending on how many people are in line in front of you.
Shopify vs CommerceHQ – Pros and Cons
Shopify
Pros
Outstanding 24/7 customer service
Sell on Facebook, website, blog or Shopify hosted site
Powerful mobile app for selling on the go
Accepts multiple currencies
Multiple Shopify dropshipping app integrations (dropshipping supplier)
Applies tax rates automatically for US and Canada
Automatic VAT rates for EU
Free digital downloads app for selling digital products
Abandoned cart recovery
Built-in email marketing
Cons
Integrations can create additional cost
Transaction fees
Minimal free themes
Real-time shipping rates only available on higher-tier plans
No multi-lingual support
Reporting only available on the $79+ plans
Staff accounts are limited by tier plan
Product Inventory locations are limited by tier plan
Limit of three options per product
CommerceHQ
Pros
Unlimited staff accounts
Unlimited file storage
Tracking pixel management
Native apps
CSV export builder
Abandoned cart recovery
Dropified integration
Custom Cat integration (print on demand)
Free SSL certificate
Free hosting
No processing fees
Quick set-up (under 10 minutes)
MailChimp integration
Cons
No blog feature
Only supports a single currency
No mobile app
High monthly cost
Customer support is lacking (only ticket system available)
FAQs
Question: How do I add FAQ to Shopify?
Answer: When selling your products online, it is very usual your customers might have some questions about what you offer, so instead of struggling to look at how to contact your team, you can add some frequently asked questions on your Shopify store. Just make sure your theme is published and click on the "FAQ" section of the theme. This will show a new editable section so you can add all the questions and answers you want your customers to see.
Question: Is it better to sell on Etsy or Shopify?
Answer: Whether or not an eCommerce platform works for you, depends on the needs of your business. With Shopify, you get access to a lot of customizable features and very strong tools, but it might be too expensive for a small business. On the other hand, Etsy has some more basic features, but it's simpler and very budget-friendly, making it the first option for many starting entrepreneurs.
Question: Should I use an ecommerce platform?
Answer: In this modernized world, it's getting more important everyday to have a presence on the internet. Having an e-commerce platform is a very good way to organize and systematize your business while make it easier for your customers to make transactions.