Last Updated on April 22, 2023 by Ewen Finser
If you want to start up an eCommerce business, you might be wondering how to get a website designed – in which case, our Shopify vs custom site comparison can help.
Having a custom site designed for you takes a lot of the work and effort out of the process – but is it worth the extra money?
The bottom line upfront: we think Shopify is great. It's easy to learn, it's fast to get going, and it's customizable using apps and third-party services. However, sometimes, we think getting a custom site is worth doing, depending on your circumstances.
Keep reading to find our thoughts on each in more detail. Let's start by looking at the main differences between the two!
Main Differences Between Shopify vs Custom Site
The main differences between Shopify vs Custom Site are:
Shopify requires you to learn how to do things yourself, whereas Custom site is more hands-off.
Shopify requires you to choose a theme, whereas Custom sites can be designed from scratch.
Shopify can be pretty cheap depending on which price plan you choose, whereas Custom sites can be very expensive
Shopify is very quick to set up, whereas Custom sites can take some time to complete.
The main thing to consider really is the price. A custom site can cost a lot of money, whereas Shopify can be relatively cheap in comparison. It's also quicker to get a Shopify site up and running in comparison to waiting for a custom-designed site.
However, a custom-designed site is more likely to be unique, and if you work with a knowledgeable person or team, you can expect them to bring their own wisdom to the table in terms of SEO and branding.
The Similarities
There are a few similarities:
You can make the most of marketing tools with both Shopify and a custom site
You can offer your customers upsells and cross-sells with both
You can get a secure shopping cart with multiple payment methods on both
You can have other features on your website, like a blog, on both
Now, let's take a look at them both in more detail.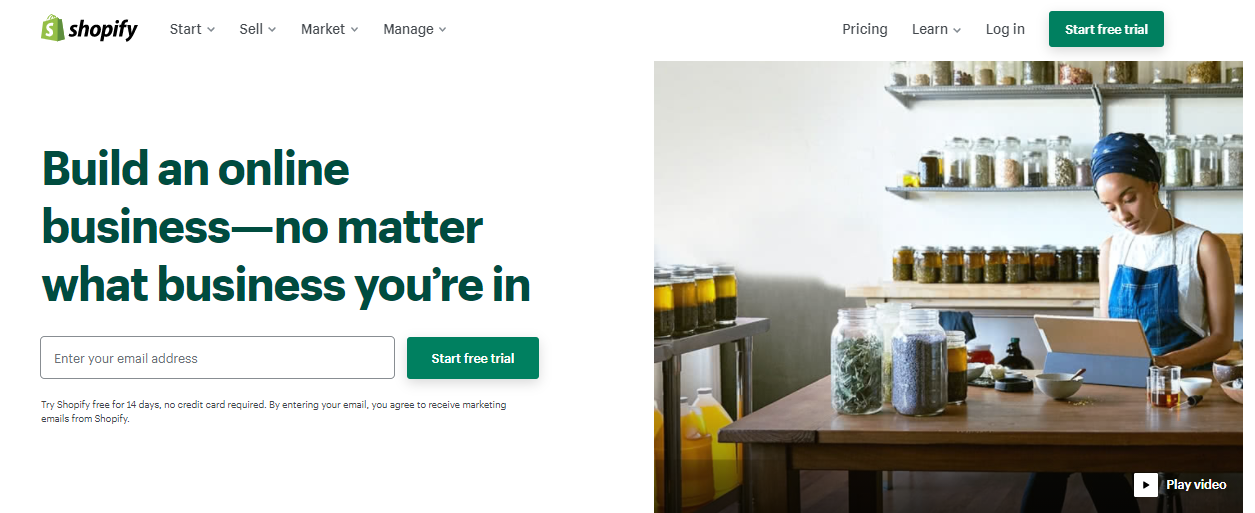 Shopify works well with any-sized eCommerce business. The learning curve is fairly low, so it's simple for beginners to pick up with a bit of practice, and it's designed to be very fast to get going.
It allows you to create an eCommerce store from scratch, using pre-made templates.
You might also be interested: Shopify vs Shopify Plus – Everything You Need to Know (2020)
What is a Custom Site?
Website designers can create a custom site for your eCommerce business from scratch. This is a pricier option initially. You can commission a website to look exactly the way you would like it to, and it takes the work out of the process for you.
Shopify – the Main Features
Now, let's take a look at the main features of Shopify.
User-Friendliness
Shopify is designed to be user-friendly. You can get going very quickly following the tutorial they provide, or you can look at their knowledge base for more in-depth guides.
Inventory Management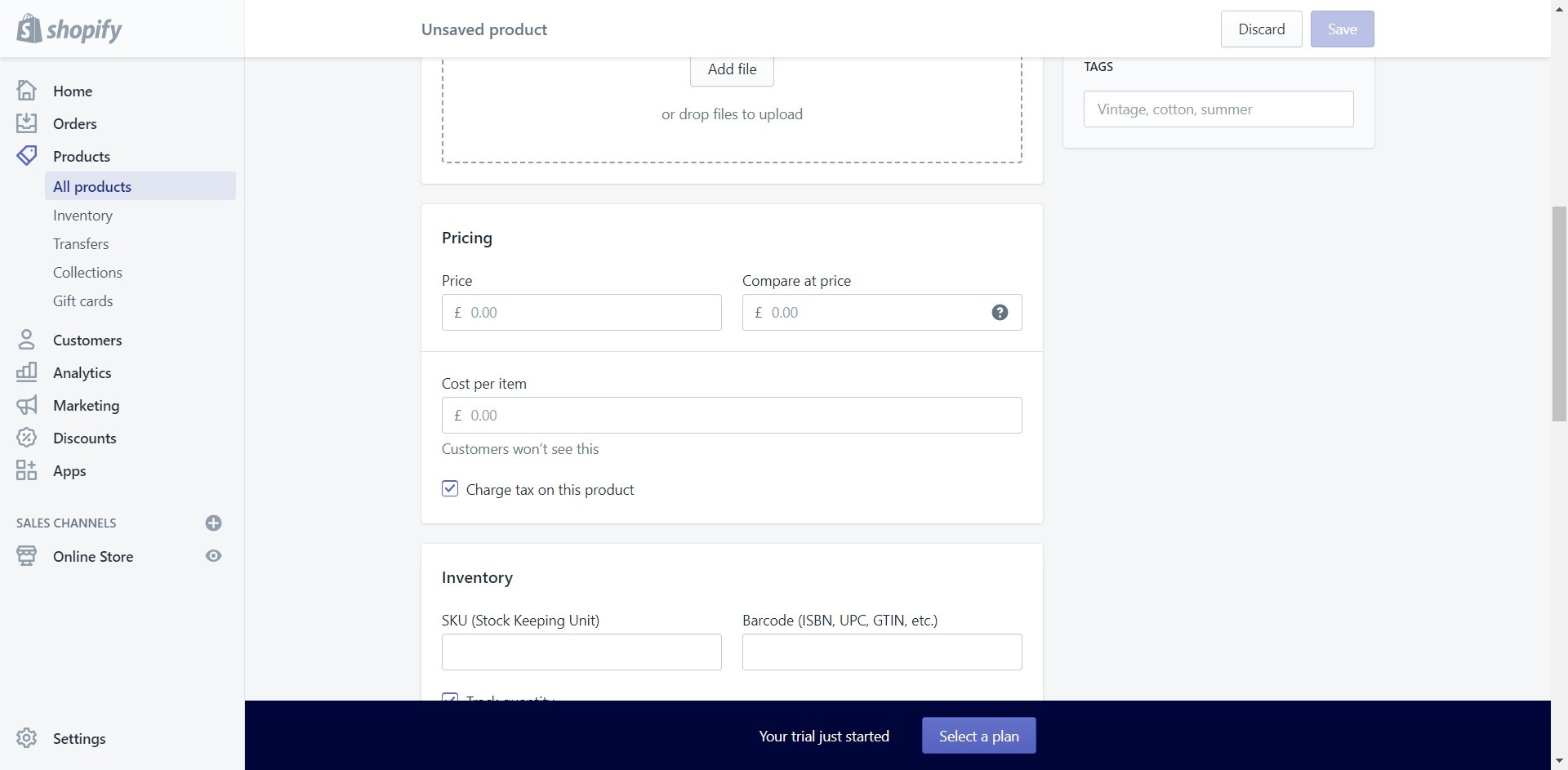 Managing inventory is pretty easy with Shopify. You can add a new product easily, changing the title, description, images, videos, and pricing. You can add tags to help you to keep your products organized, and you can add an SKU to search for products that way.
You can organize products into collections. Your customers will see the products in a gallery, so if you want a visually appealing way to show off each item, putting them into a collection could work well.
Shopping Cart
You can offer a secure shopping cart for your customers, with a range of payment methods, including Visa, Mastercard, Discover, American Express, PayPal, Bitcoin, and more. There are over 100 payment gateways available.
Some of the shipping processes is made easier, as shipping rates are automatically calculated if you decide to use carriers like USPS, UPS, or FedEx. Taxes are automatically calculated on each item, which is helpful.
The abandoned cart feature is useful. It automatically sends a reminder to your customers if they abandon their cart during the checkout process.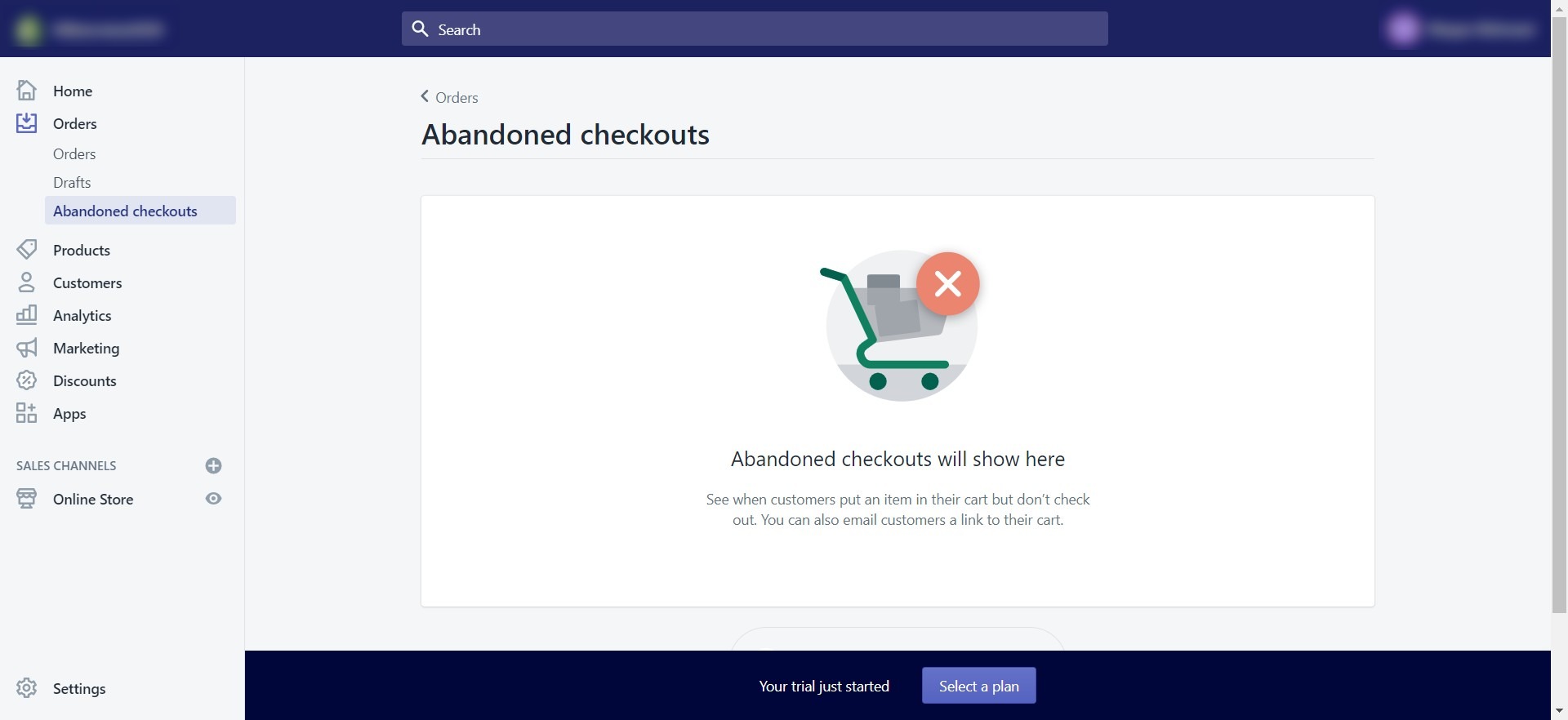 Storefront and Design
In terms of design, you'll have to choose from one of Shopify's pre-made themes. You can choose one of the free themes or purchase a theme instead.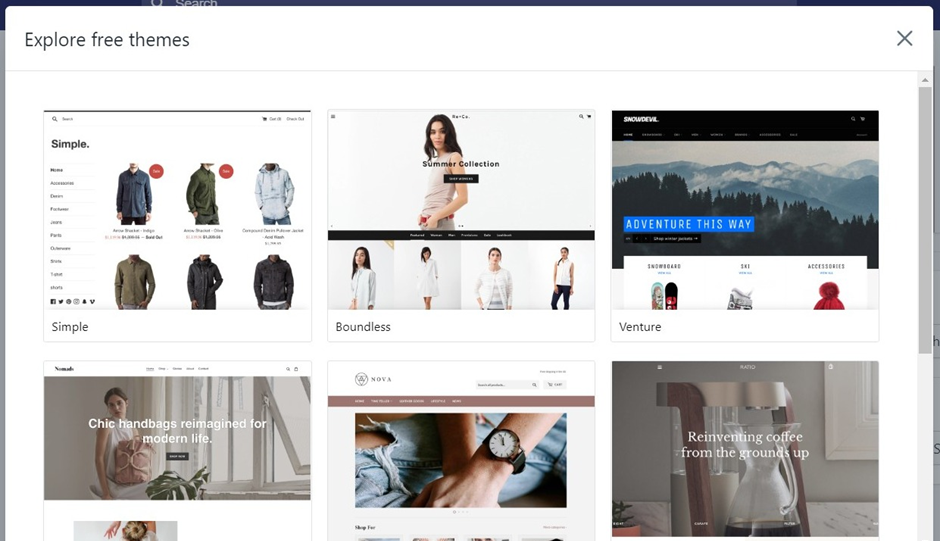 The free themes look nice, and they're great if you have low start-up costs. However, there are some professional, interesting themes in the theme store, which cost between $160-180. Different themes suit different types of stores, so it's worth browsing through to see which one suits your business best.
What Shopify lacks – and where it has a disadvantage against having a custom site made for your business – is the customization. They're easy to use, but they don't offer a huge amount in terms of customizing it to suit you. You can edit every page on your website, adding images and text, collections, galleries, and testimonials, and you can edit the theme slightly.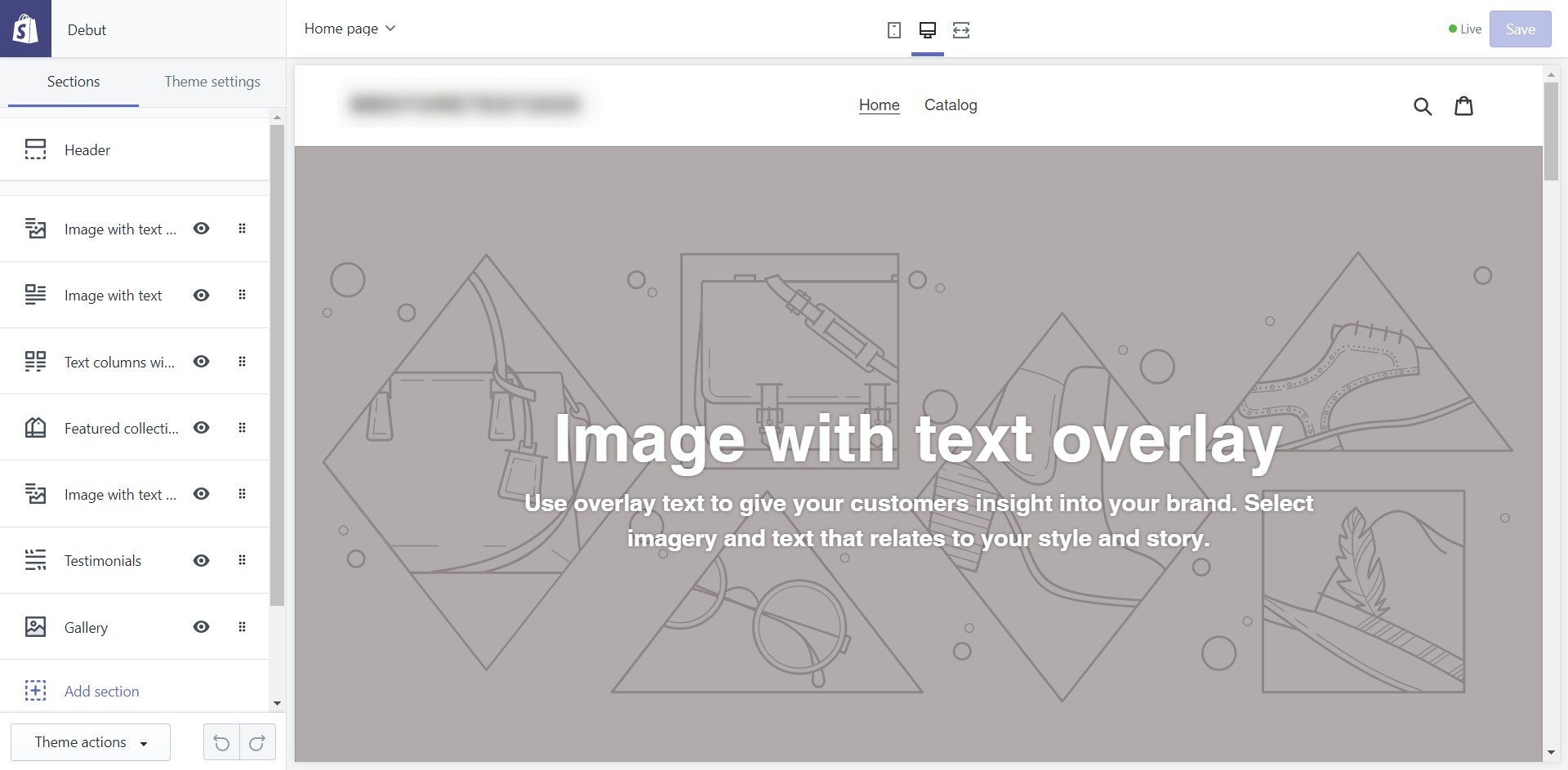 But it's not that easy to arrange each page to look exactly the way you want it, which is where a custom-made site can step in.
There is a midway point – page-building apps for Shopify can help give you more control, but these do come at an extra cost.
Marketing Tools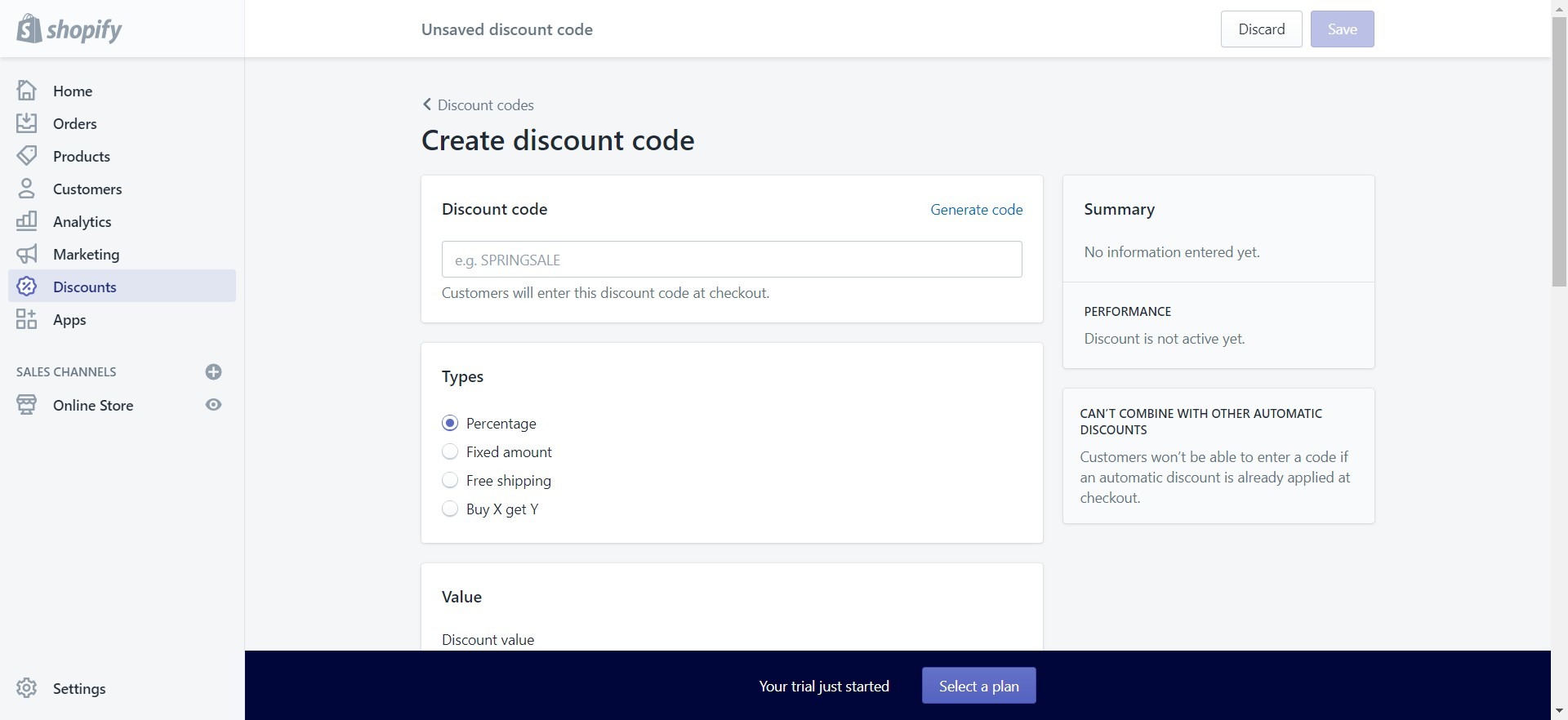 Shopify has marketing tools to take advantage of, including:
Customer gift cards
Customer discounts on certain items
Integration with social media platforms like Pinterest, Facebook, Twitter, Instagram, and Tumblr
Integration with Google Adwords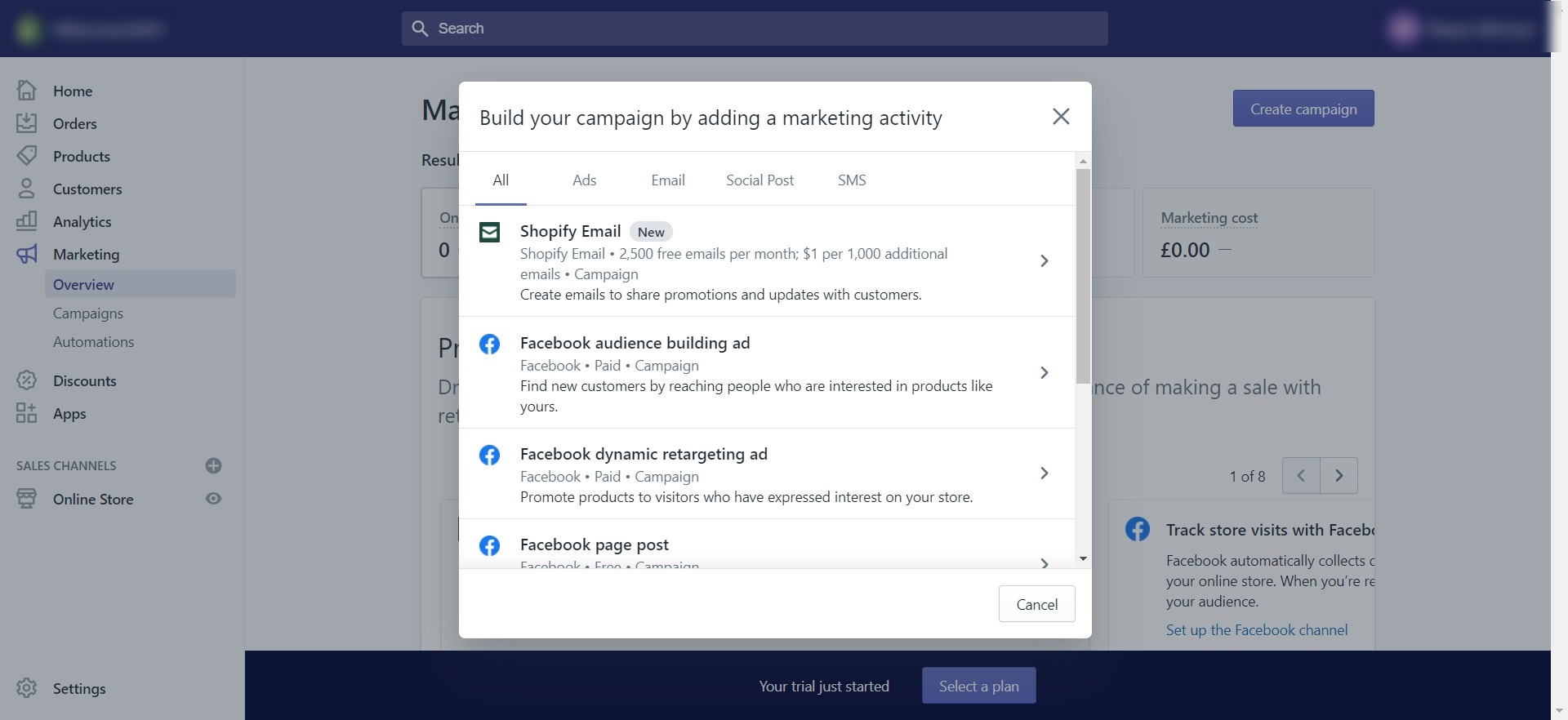 Again, the Shopify app store can be useful here as you can find other apps, like upselling apps, to help improve sales.
SEO
There are some SEO tools built into each stage of the process. For example, when you upload a new product, you can add SEO-friendly product tags. You can also customize H1 tags, titles, and meta-tags.
Analytics
Shopify gives you a good overview of certain stats, like total sales, online store sessions, and returning customer rates. You can see where your traffic is coming from, which is useful. You can also run product reports which can give you a good idea of how well each product is performing. You also have the option of having more in-depth reporting if you sync up with Google Analytics.
How Does a Custom Site Differ from Shopify?
As having a custom site designed can vary depending on which company or freelancer you choose to work with, it's hard to compare each category exactly, so we'll look at the good and bad sides of having a custom site designed and how that compares to using Shopify.
Ease of Use
In terms of user-friendliness, everything will be taken care of for you. If you want to be able to add blog posts yourself, this can be arranged. After consulting with the company or individual designing your website, you can essentially sit back and relax. That's a major pro if you want to avoid having to learn to build a website yourself.
Design
The other huge pro is having a professional, experienced designer on board. A good designer will be able to work with you to fulfill the needs of your particular business, whilst using their expertise to create a website that encourages customers to stay and browse. They should be able to create a strong brand identity for you (or link in with your existing branding).
While Shopify has great themes, which look professional, if you're completely new to web design and you're not sure how to make your website look cohesive and professional, you can leave that to the experts.
Individuality
The other good thing about having a custom site designed is that your site will be unique. The problem with using a free or particularly popular theme on Shopify is that you might run into lots of other eCommerce stores using the same theme. Although customizing the themes can help, with a custom site, you can ask for something completely unique that none of your competitors will have.
Extra Features/SEO
Extra features and SEO are difficult to measure here, because there are so many variables. A good website designer will have a grasp of SEO and understand how you can make your website search-engine friendly.
Marketing features, again, can be built into your site (like upselling, for example). However, the good thing about Shopify and the Appstore is that you can gradually add these things for a lower cost (sometimes for free), without having to ask to have it put into your website by someone else.
In terms of analytics, you may have to sign up for a third-party analytics service like Google Analytics to get some feedback on how well your site is performing.
Flexibility
Although the initial website building can be flexible, with a website designed to suit your needs, adding or taking things away will require a bit more effort (as we mentioned above about marketing features). The good thing about Shopify is that you can quickly log in and play around with your website if you have new ideas, without having to worry about accidentally messing with something you shouldn't if you're not web-design savvy.
Time
Although you won't have to learn a new platform, the downside to having a custom site designed is that you may have to wait around for it. A Shopify store can be put together in 30 minutes or less, whereas you may have to wait weeks for a custom site to be put together. If you're keen to launch quickly, Shopify (or another eCommerce platform like BigCommerce or WooCommerce) might be the better choice.
Shopify vs Custom Site – Support
If something goes wrong, how easy will it be to get help? Let's see how they stack up.
Shopify
Shopify has a few options available if you need support – live chat, email, phone, and Twitter. They are pretty responsive and helpful, which is great.
The Help Center has a collection of articles, designed to help you make the most of using it, including a range of tutorials for beginners.
Custom site
A good website designer will be available if you have any troubleshooting issues, so they should be easy to contact if you need help. This isn't always the case, as it will depend on the service you choose.
However, you can expect to find more personalized help from a custom site, as you can get support from the person who built your site – so they'll be familiar with your business and your requirements already.
Shopify vs Custom Site – Pros and Cons
Let's take a look at the pros and cons of each.
Shopify
Pros
Quick and easy to get going
SEO tools are built into every stage
Marketing features are useful
Lots of integrations with other platforms
The costs can be low depending on which plan you go for
Cons
Lack of customization without a third-party app
Custom site
Pros
Hands-off – you won't have to learn anything yourself
Personalized support
You can get a unique site that suits your needs
Cons
Pricey
You might find it difficult to make changes yourself later on
It may take some time for the website to be finished
Shopify vs Custom Site – Pricing
Now let's see how they compare in terms of pricing.
Shopify
Shopify has three basic pricing plans:
Basic Shopify – $29 per month
This includes:
2 staff accounts
Unlimited products
Sales channels
Up to 4 inventory locations
Up to 64% shipping discount
Shopify – $79 per month
This includes:
Everything in the Basic plan
5 staff accounts
Up to 5 inventory locations
Up to 72% shipping discount
Advanced Shopify – $299 per month
This includes:
Everything in the Shopify plan
15 staff accounts
Up to 8 inventory locations
Up to 74% shipping discount
Shopify has a free 90-day trial.
Custom site
According to WebFX, the average cost of a website with eCommerce functionality can range between $2,000 and $20,000, depending on the service you choose and the features you require. If you need a big website designed with a lot of pages and products, you can expect it to cost quite a lot.
You'll also have to continue paying for the domain and hosting.
Shopify vs Custom Site – Alternatives to Try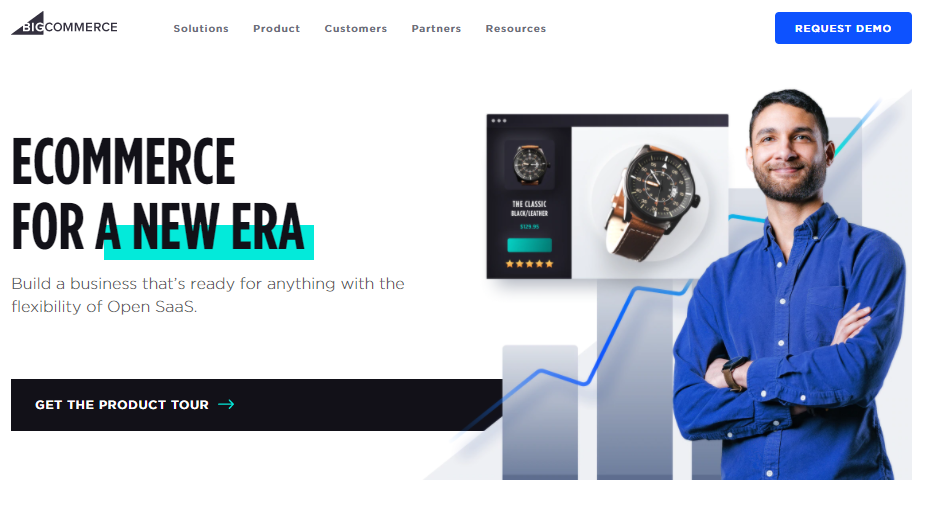 If you don't want to use Shopify or have a custom site made, there are a few other options you could try:
BigCommerce is another eCommerce platform that is a little more complicated than Shopify to learn but has a lot of features built-in without needing apps or plugins. Read more in our BigCommerce vs Shopify comparison.
3dCart is another great eCommerce platform with a lot of user-friendly features. You can find out more in our 3dCart vs Volusion comparison.
WooCommerce is a good option for WordPress users, which will allow you to make the most of the features of WordPress whilst being able to build an eCommerce store. You can see more in our WooCommerce vs Shopify comparison.
Other Shopify Comparisons
FAQs
Here are some of the most commonly asked questions about Shopify and custom sites:
In Conclusion – Which is Better?
This is a toughie, as they're so different in terms of pricing!
If you're an established eCommerce business already, and you've found you want features that are beyond your current eCommerce platform's capability, you may want to have a look at getting some quotes for a custom site. If you have very specific requirements, your developer or designer should be able to help you. Also, if you've got a decent amount of money to start with and you don't want to learn to build a website yourself, you may think that having a custom site designed is easier.
However, we think that Shopify is really great. Beginners will find the low learning curve helpful, and the low start-up costs make it a good idea for small businesses. As you grow, you can add apps and plugins to help enhance your experience, and you can even change the theme, tweaking your website as you go. We think that Shopify is a pretty solid choice even for larger eCommerce businesses, and being able to go in yourself and make changes is really helpful.
What do you think? Have you used Shopify, or have you ever had a custom site designed? We'd love to hear your experiences in the comments.
Further read: