Last Updated on April 22, 2023 by Ewen Finser
If you want to sell anything online, you need a good eCommerce platform – with our 3DCart vs Shopify comparison, we'll show you two of the most popular platforms out there, so you can see which one you think would be best for you.
3DCart and Shopify are very similar for your average store owner on the face of it – they both have plenty of inventory management, shopping cart, SEO tools, and marketing tools to offer. They both allow you to sell pretty much anything, and they both have a busy Appstore with plenty of integrations for you to enhance your experience even further. So how can you choose between them?
We'll give you a quick rundown of their differences and similarities, before exploring each one in detail. From their features to their pricing, to their pros and cons, we'll directly compare them – so if you've been struggling to decide between them, we might be able to help you out.
Let's start with what sets these two popular platform options apart from each other.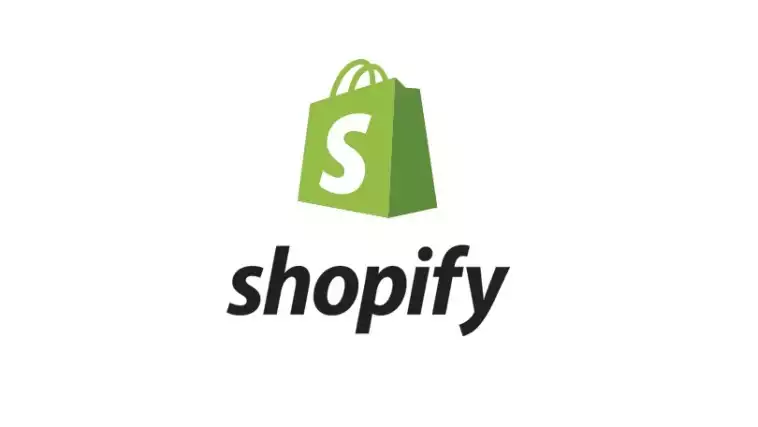 Why Shopify Wins
There are PLENTY of ecom platforms out there. Only one has a true NETWORK effect that can catapult your growth. Shopify has thousands of developers building apps and a robust ecosystem of integrations. This cannot be ignored. #ShopifyWins
Try Shopify First
We earn a commission if you click this link and make a purchase at no additional cost to you.
Main Differences Between 3DCart vs Shopify
The main differences between 3DCart vs Shopify are:
3DCart offers lots of built-in marketing guidance, whereas Shopify offers less in terms of marketing support
3DCart has no mobile app, whereas Shopify does
3DCart's customer service can be slow to respond, whereas Shopify tends to respond quite quickly
3DCart has a lot of free information in their knowledge base, whereas Shopify doesn't have as much when it comes to resources
3DCart's abandoned cart recovery feature is locked behind a higher price plan, whereas Shopify's abandoned cart recovery feature is available on all price plans
3DCart has a 15-day free trial, whereas Shopify offers a 90-day free trial
3DCart offers five price plans, whereas Shopify offers three
The main points to focus on here are the basic features – Shopify has abandoned cart recovery and gift cards available even on the cheapest plan, whereas 3DCart locks away these and similar features in higher price plans. Shopify is a little more generous when it comes to the free trial – 90 days offers you plenty of time to see if you like it or not – whereas 3DCart's 15 days give you a bit less time to decide.
Customer service may be a factor too, with 3DCart being more difficult to get hold of.
However, in terms of training, there is a big difference between 3DCart and Shopify app, with 3DCart's Marketing Checklist and feature-packed Knowledge Base giving you plenty of tools – this is ideal if you're a beginner.
The Similarities
There are a few similarities, too.
Both offer decent basic analytics
Both allow you to organize your inventory clearly
Both have an Appstore with plenty of third-party apps
Both have secure shopping carts with plenty of payment options
Both have attractive free and premium/paid for templates
Both have built-in SEO tools
Either one would be a solid choice, both for beginners and those experienced in eCommerce.
We'll take a look at each platform in more detail now, so you can see some of the features for yourself.
3DCart vs Shopify: What is 3DCart?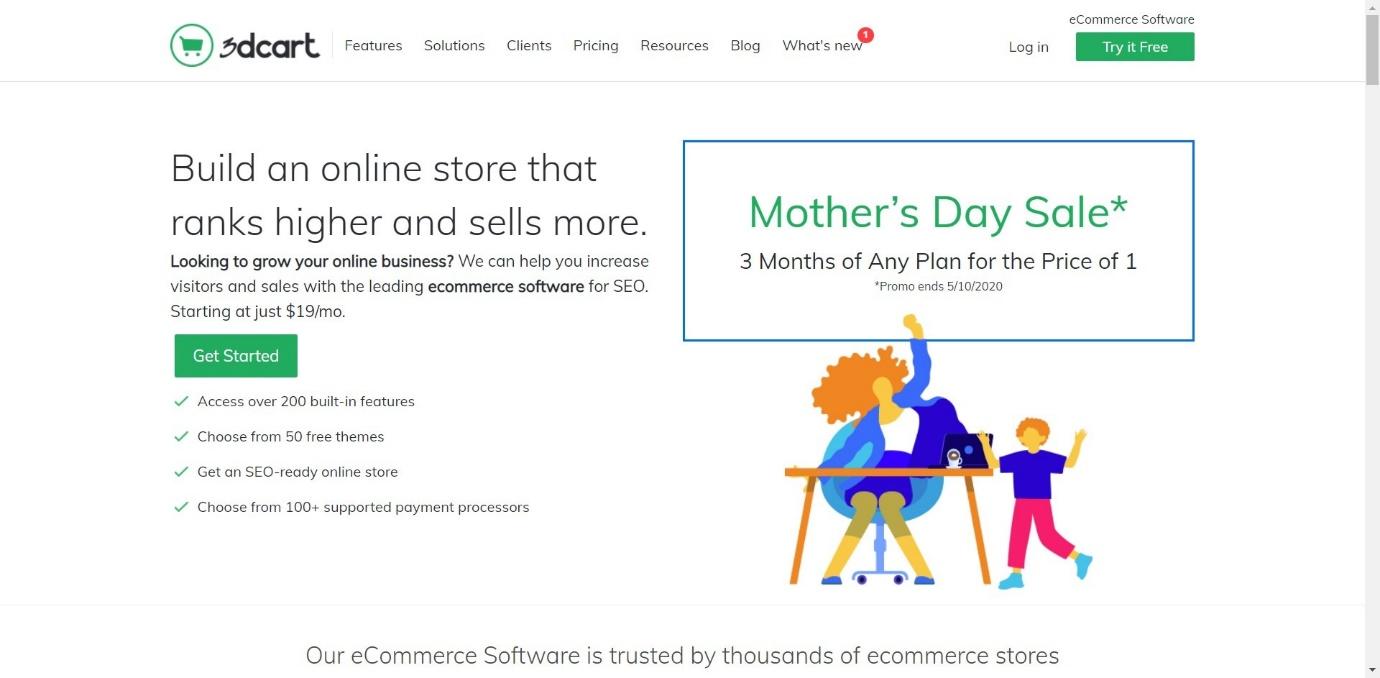 3DCart was launched in 1997. It allows users to build an eCommerce store with a secure shopping cart, with various built-in tools for SEO, marketing, and order processing.
3DCart is aimed at any-sized eCommerce business, but it has a fairly low learning curve, so it's suitable for beginners.
3DCart vs Shopify: What is Shopify?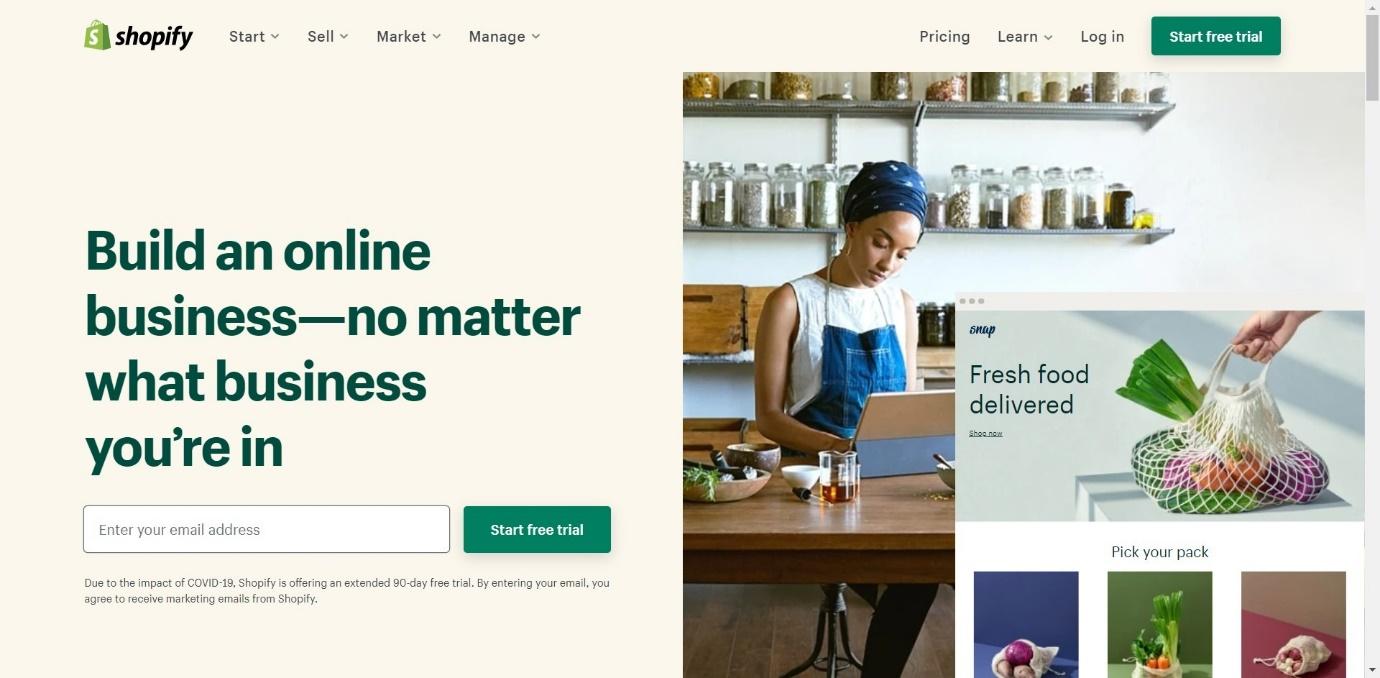 Shopify was launched in 2004. It's one of the largest and most popular eCommerce platforms around, offering a range of features including a secure shopping cart, marketing and SEO tools, and detailed analytics.
Shopify is aimed at any-sized eCommerce business. Like 3DCart, the learning curve is pretty low, so you should be able to get started quickly even if you're a beginner. It is designed to work well with dropshipping using third party apps (like Oberlo).
The Main Features of 3DCart
Inventory Management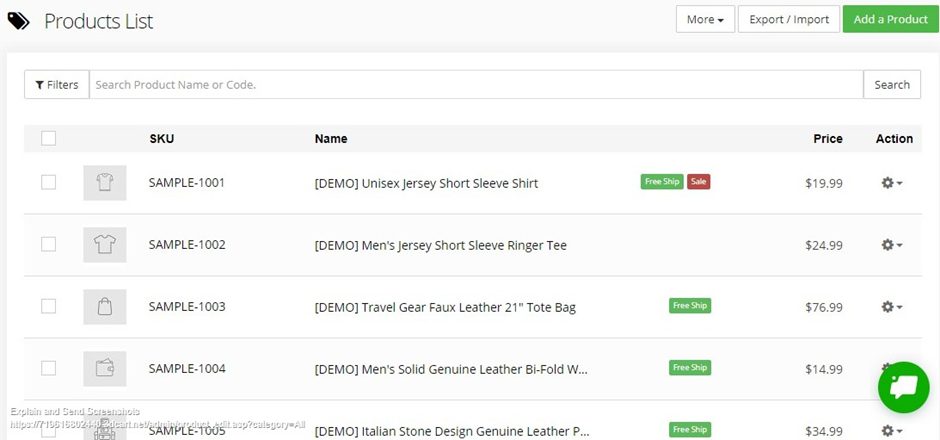 It's fairly straightforward to add products on 3DCart – you can add descriptions, measurements, stock levels, images, videos, and text. You can also categorize products to make it easier to browse through them.
They also offer some opportunities for upselling here – you can suggest combining items to your customers or show them related products. Helpfully, each product lists how many items have been sold as well as customer reviews, making it simple for you to see which products are performing the best.
You can also adjust the SEO for each product with page titles, image tags, and more.
Shopping Cart
You can use Square, PayPal, Stripe, Amazon Payments or Klarna to accept payments in your store. It has unlimited bandwidth, and you can sell to hundreds of countries – making it easy to sell worldwide. 3DCart automatically calculates tax and shipping costs.
There are a few extras here, too. You can allow guest checkouts, include the option of wish lists or gift wrapping, or enable your customers to set up a gift registry. They also offer an abandoned cart tool, automatically sending out emails to customers who don't complete the checkout process.
Storefront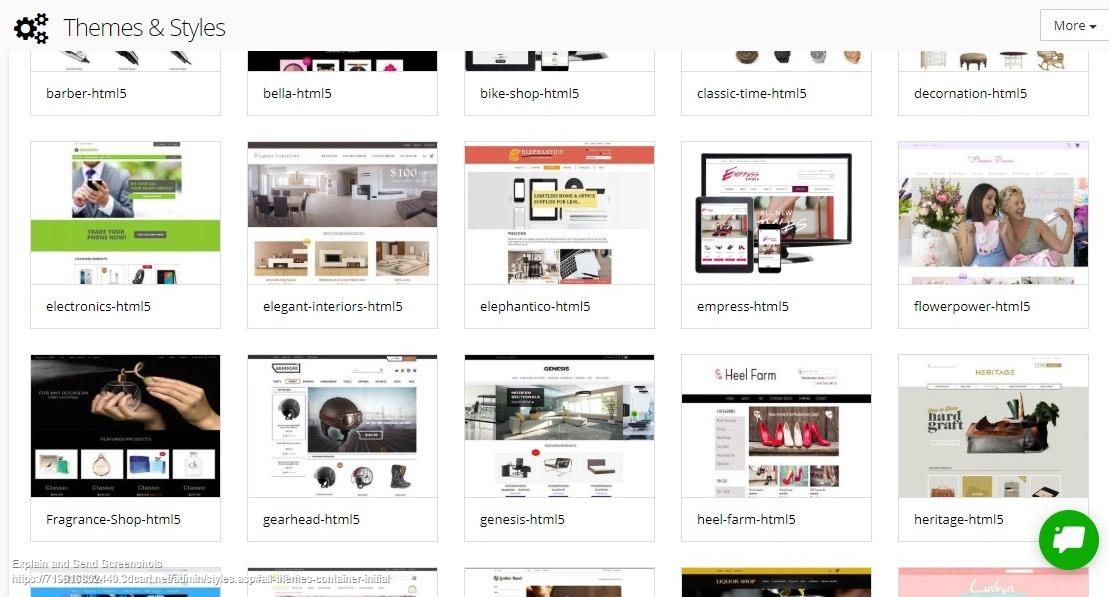 There are dozens of free themes to choose from, as well as a lot of premium themes for an extra cost. They're suited for a variety of types of businesses, so you should be able to find one that fits yours.
In terms of customization, you can create pages with images, text, and links. You can preview your pages before they go live. You can make basic changes to the layout in terms of fonts and color schemes, but you may find a third-party page building app helpful here.
SEO and Marketing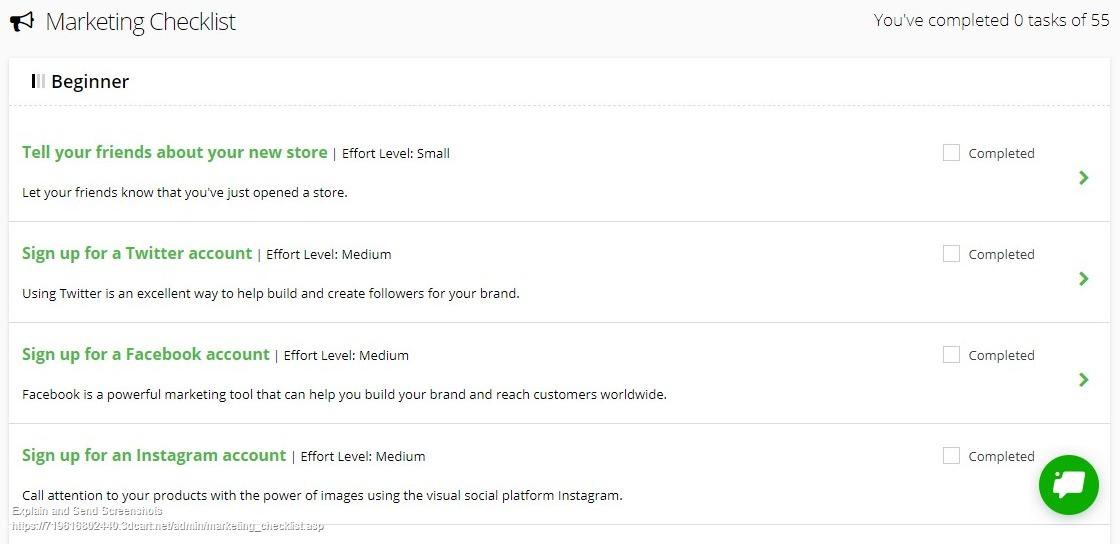 3DCart has a helpful list of marketing tasks. You don't have to complete them but doing so will get you off to a good start in terms of promoting your store. It covers setting up social media accounts, sharing with friends and family, enabling more payment methods, and more – this is great if you're a beginner to eCommerce. They're ordered by difficulty too, which is helpful.
3DCart have a lot of options in terms of SEO. Meta tags, Facebook like button integration, and social bookmarking are all good ways to improve your store's ranking on Google, enabling more customers to find you. They also offer premium SEO services – this involves connecting you to a specialist marketing agency, so as you can imagine, it comes with extra costs.
They have a few options for encouraging customers to shop with you. The Promotion Manager section is great – you can offer promotions like 20% off for a special occasion, and you can set the start time, end time, and percentage.
They have a basic email marketing function too. It's not as detailed as services like MailChimp or Drip, but it does allow you to cover the basics (for example, automatically emailing previous customers to let them know about your latest promotion).
Analytics
3DCart allows you to create reports on inventory, marketing, shipping, payments, products, sales, and statistics. These are fairly straightforward to generate, and you can export them and send them to other team members.
They also integrate with Google Analytics, if you want more detailed information about your sales and customers.
Appstore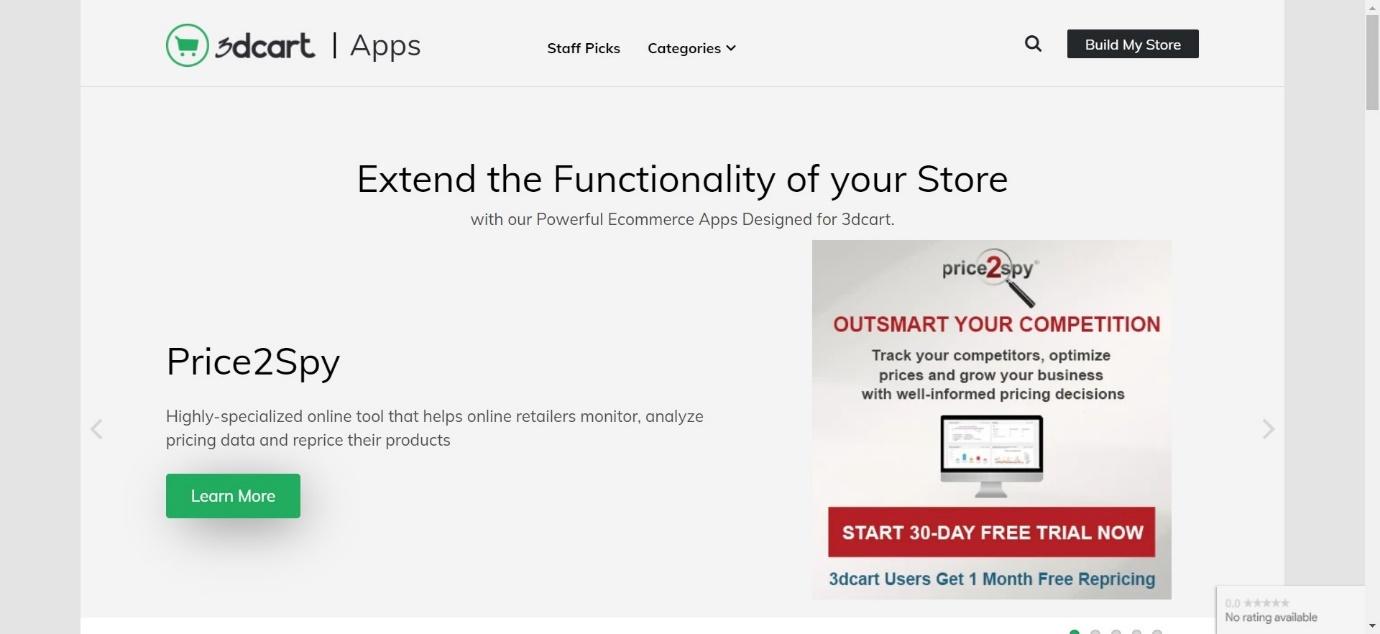 There is a pretty comprehensive array of apps available on the 3DCart Appstore. Categories include:
Accounting
Affiliate software
Email marketing
Fraud prevention
Fulfilment
Inventory management
Marketing automation
Order management
Shipping management
Social tools
These vary in price, and some of them require a monthly subscription.
The Main Features of Shopify
Inventory Management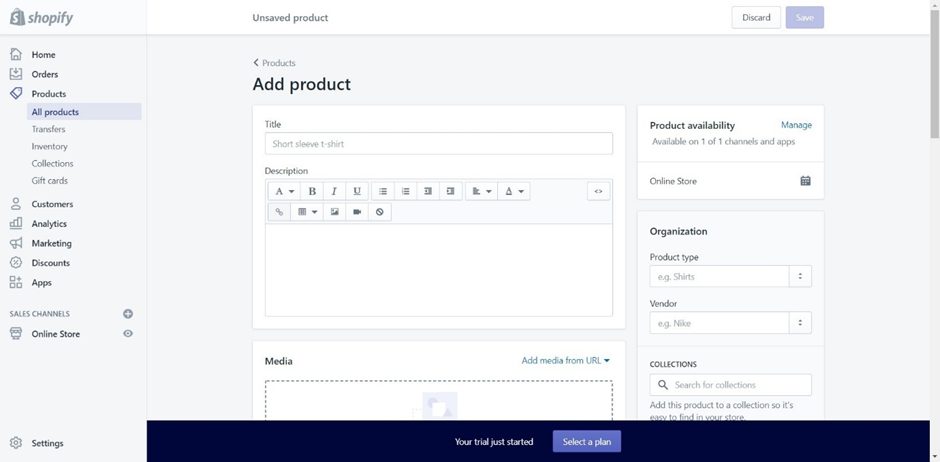 Shopify makes it simple to upload products, with one page that allows you to add the title, description, images, videos, product availability, and pricing. You can also add an SKU and assign tags for each product – this is helpful if you have a large variety of products and want to organize them properly.
You can add SEO-friendly product tags at this stage too.
Products can be organised into collections – this presents your customers with a gallery of products to choose from. This is a good way to 'showcase' your best-selling products, giving your customers an easy way to browse through your store.
Shopping Cart
Shopify offers a secure shopping cart for your customers. They can pay using a variety of methods, including Visa, Mastercard, Discover, and American Express, as well as 100 other payment gateways to choose from (including Bitcoin and PayPal).
Shopify makes the shipping and handling process simple by automatically calculating shipping rates from certain carriers (like USPS, UPS, and FedEx). It calculates tax automatically too.
They also offer abandoned cart recovery, just like 3DCart. This can be a really effective way of gaining sales that would have otherwise been lost, so it's worth utilizing this feature if you can.
Storefront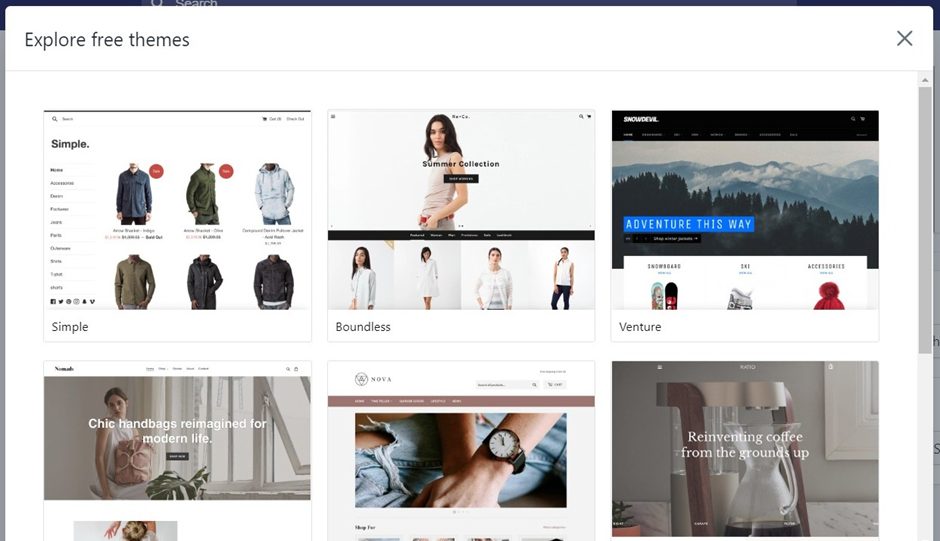 You can get a few free templates for Shopify (Shopify theme store). They are designed to look professional and be easy to navigate. If you want a wider range, you'll have to look at the paid themes – these tend to cost around $160-$180, and there are plenty to choose from that are aimed at different types of stores.
Where Shopify is perhaps a bit limited is the customization. You can edit each page on your website, adding images, text, collections, testimonials, and galleries. You can also edit the theme settings a little (think color scheme and font choices). However, it's not as customizable as other platforms, and it's not the most comprehensive tool to work with. You can go for a page builder app for Shopify, which will give you complete control over the look and content of your website, but this will cost more.
SEO and Marketing
Shopify's SEO tools are built-into the platform to make it simple to do as you go along. You can customize H1 tags, titles, meta tags, and so on.
There are some marketing tools available too. You can create gift cards for customers, as well as discounts on certain items or for a certain amount of time.
They also work with social media platforms like Pinterest, Facebook, Twitter, Instagram, and Tumblr. These integrations are useful for advertising, and their Facebook integration is particularly good as it allows customers to make a purchase from your store without leaving Facebook.
You can also go for Google Adwords – if you spend $25, you'll get $100 in ad credits.
Analytics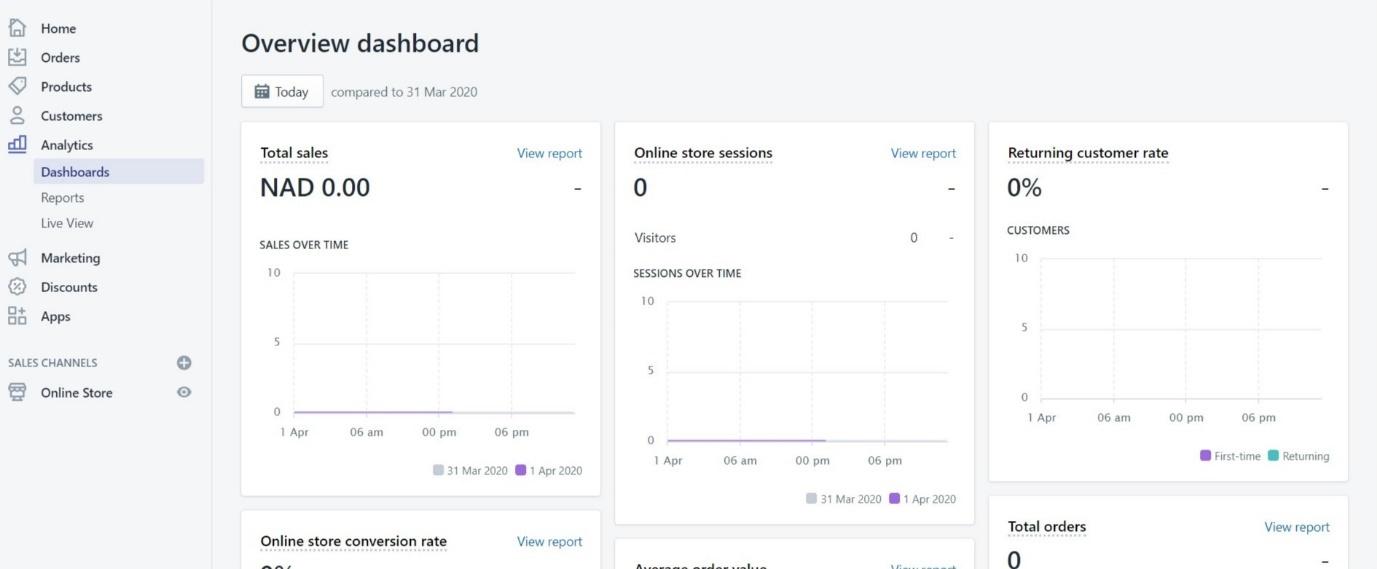 Shopify gives you a pretty good overview of the performance of your store and particular products. You can measure returning customer rates, online store sessions, total sales, orders, and traffic. You can create product reports easily, which you can then export to send to other members of your team.
If you want more in-depth reporting, you can use their integration with Google Analytics.
Appstore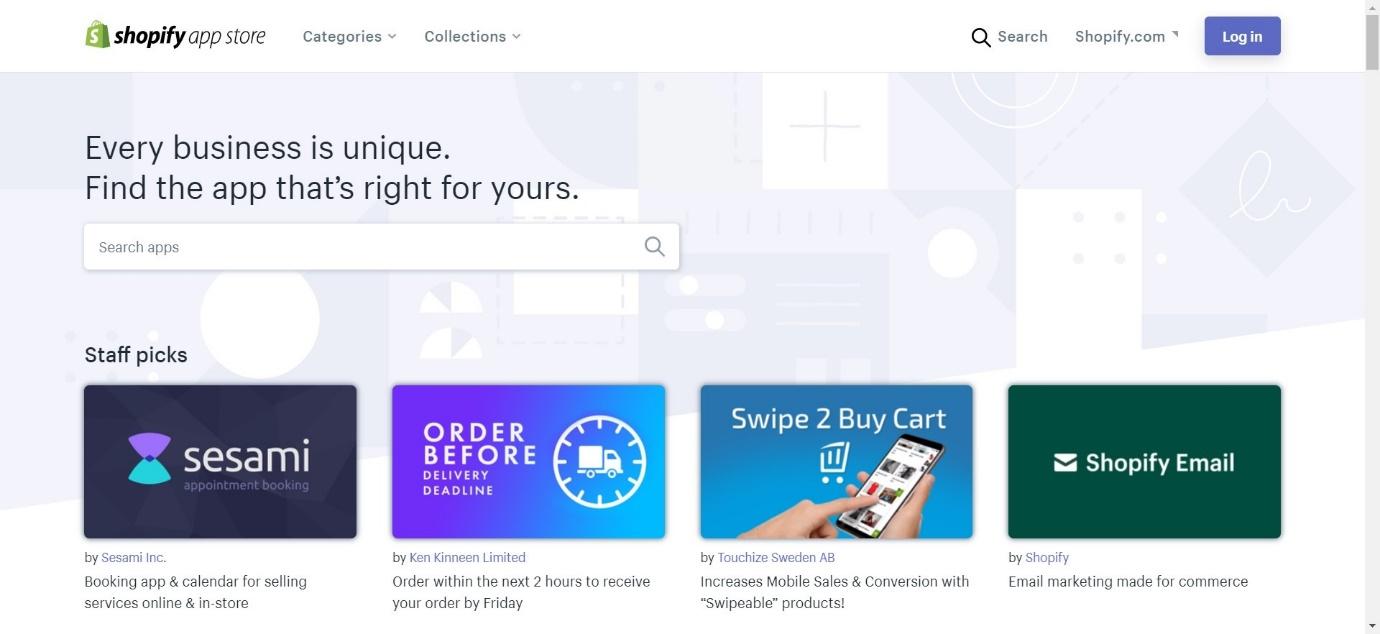 Shopify has many apps available to choose from – with tons of integrations with other platforms, you can really customize Shopify to make it work the way you want it to.
Appstore categories include:
Product sourcing
Places to sell
Store design
Marketing
Sales and conversion
Orders and shipping
Inventory management
Customer support
Trust and security
Finances
Productivity
Reporting
The apps vary in price, and some of them require a monthly subscription.
3DCart vs Shopify – Pricing Plan Comparison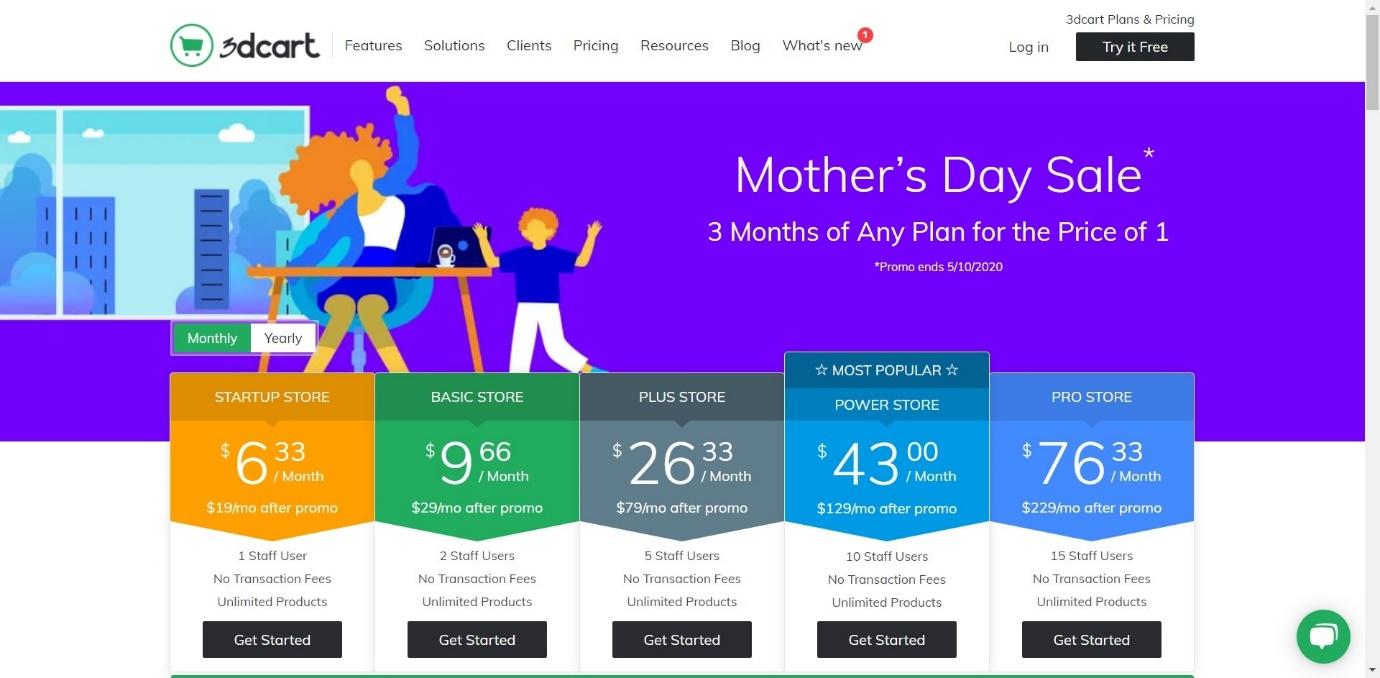 3DCart offers five pricing plans. (Prices in the image above reflect a one-off sale – 3DCart do these from time to time, so it's worth keeping an eye out to see if you can grab a special offer).
1 staff user
2 email accounts
No transaction fee or additional fees
Unlimited products
Domain registration
Unlimited bandwidth
This plan is ideal for sole proprietors. It's missing some of the extra marketing features that the other plans provide but does include upsells and the saved cart feature.
Everything in the Startup Store plan
2 staff users
5 email accounts
Up to $50k sales processing per year
Ideal for small businesses, this plan contains CRM features and 3DCart's review system, 3DFeedback. It also contains daily deals, group deals, eBay and Amazon integration, and the ability to set up an affiliate program.
Everything in the Basic Store plan
5 staff users
10 email accounts
Up to $100k sales processing per year
This offers more features, including product comparisons and Q&A's, promotion scheduler and make-an-offer services, email marketing, gift registry, reward loyalty program, and the abandoned cart feature.
Everything in the Plus store plan
10 staff users
10 email accounts
Up to $250k sales processing per year
There isn't a huge amount of difference here in terms of features from the Plus store, but it does include the waiting list and back-in-stock alert system and Facebook dynamic ads.
Everything in the Power Store plan
15 staff users
30 email accounts
Up to $50k sales processing per year
This contains everything 3DCart has to offer, including automation rules, quote systems, autoship recurring orders, and more. If you run a bigger business or you need advanced features, this plan is great.
3DCart offers a 15-day free trial – you can try it here.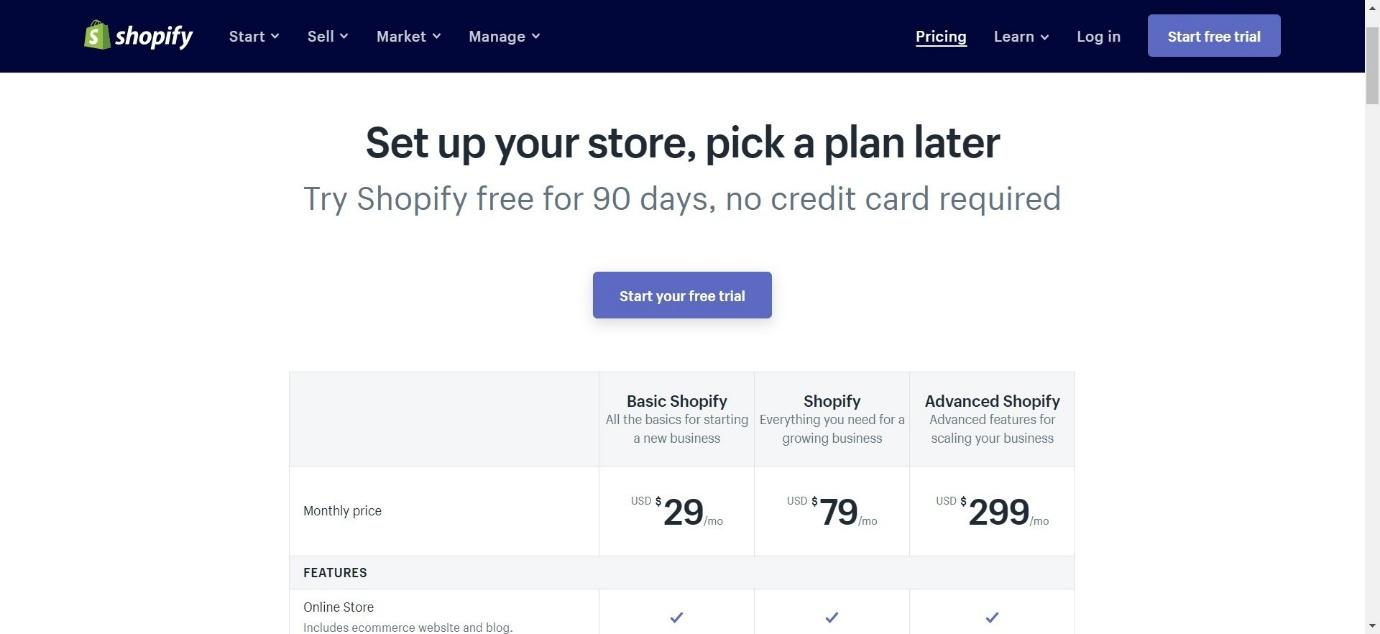 Shopify has three price plans:
Basic Shopify includes 2 staff accounts
Unlimited products
Sales channels
Up to 4 inventory locations on Basic Shopify
Up to 64% shipping discount
It also includes a couple of decent features for the price point, including abandoned cart recovery and gift cards.
Everything in the Basic plan
5 staff accounts
Up to 5 inventory locations
Up to 72% shipping discount
It also has professional reports included.
Everything in the Shopify plan
15 staff accounts
Up to 8 inventory locations
Up to 74% shipping discount
This plan gives you access to third-party calculated shipping rates.
You'll also find that you get a bit of a discount on credit card rates if you choose a higher price plan. Shopify has a free 90-day trial – find out more here.
You might also be interested: Shopify vs Shopify Plus – Everything You Need to Know (2020)
3DCart vs Shopify – Customer Support
3DCart Platform Support
You can contact support in the platform using the chatbot – if there is an operator available, they will get back to you immediately, if not they will respond when they can. One of the criticisms that users have pointed out is that it sometimes takes longer than they would like for a customer service rep to get back to them, which is a shame.
The Knowledge Base is pretty extensive though, with a section called eCommerce University. This gives you in-depth guides on all sorts of topics, including business management, marketing, and SEO. They have online courses in shipping, product photography, blogging, and YouTube – they pack a lot of free information in there, which is great.
They also have a forum to connect with other users.
Shopify Platform Support
You can contact Shopify if you need customer support via live chat, email, phone, and Twitter. They have a fairly good reputation when it comes to customer service.
Their Help Center is also pretty helpful. It has introductory guides, as well as guides on every aspect of running a Shopify store. It's not as extensive as 3DCart's information, however.
3DCart vs Shopify – Platform Pros and Cons
Let's take a look at the best and worst parts of each platform, so you can see how they compare to each other.
3DCart
Pros
Lots of features on each price plan
SEO tools built into each step
Lots of free themes to choose from
Marketing checklist provides a great way to get going
Knowledge base is full of free information
Cons
Platform itself can be a bit clunky
Customer services can take a long time to respond
No abandoned cart recovery feature in the cheapest plan
Shopify
Pros
Platform is pretty simple to navigate
Lots of apps and integrations
Decent free themes (though not as many as 3DCart)
Great features even on the cheapest plan (like abandoned cart recovery and gift cards)
Very generous free trial of 90 days
Cons
Difficult to customize pages without using an app
Not as many built-in marketing tools as 3DCart

Why Shopify Wins

There are PLENTY of ecom platforms out there. Only one has a true NETWORK effect that can catapult your growth. Shopify has thousands of developers building apps and a robust ecosystem of integrations. This cannot be ignored. #ShopifyWins

Try Shopify First

We earn a commission if you click this link and make a purchase at no additional cost to you.
3DCart vs Shopify – Frequently Asked Questions
Does 3DCart have a mobile app?
Can I have my store in another language?
Yes, you can have your store in a language that supports the Roman/Latin alphabet.
Can I create discount coupons for a certain number of users?
Yes, if you want to run a promotion that is only available for a set amount of people (for example, first 100 customers on a certain day), you can set 'total allowed uses' and 'uses per customer'.
Is it easy to cancel my 3DCart plan?
Yes. You can cancel using the Online Store Manager – it's a pretty straightforward process.
Can I have my own logo on invoices?
Yes, you can – just go to store settings and upload the image of your logo there.
Can I start dropshipping on Shopify without installing an app?
No, you'll need a third-party app – Oberlo is a good one, but there are others out there too.
What currencies does Shopify work with?
This depends on the payment processor/payment gateway that you choose, but you can sell products using many currencies (the full list of payment processors for Shopify is here).
Does Shopify have an app?
Yes – it allows you to process orders, manage products, and see real-time information about your store. You can find it here.
Is it easy to cancel Shopify?
Yes. If you're not enjoying using Shopify, you can cancel your account by going to your account settings.
3DCart vs Shopify Conclusion – Which One is Best?
It's a difficult one to call – they're both excellent platforms.
3DCart is great. It has so many marketing tools and training built-in, that it makes it really simple – this is perfect if you don't know where to start with marketing. There's more choice within their pricing, too, with more options to choose from than Shopify. If you're on a tighter budget, they offer the cheapest plan at $19 per month.
However, we have to say that Shopify has a slight edge over 3DCart.
The main reasons being superior customer service, the mobile app, a generous free trial, and the ability to use some of the marketing features on their lowest price plan. Shopify is popular for good reason, and there are plenty of apps to help you to enjoy even more tools and features for your business. Plus, it's a great platform for dropshippers (if you install a third-party app).
For those reasons, we'd recommend Shopify – but as they both offer free trials, why not give them a go before you decide?
Have you used 3DCart or Shopify? We'd like to know your opinions in the comments below.
Further Reading on eCommerce Solution Options for Your eCommerce Business: