Last Updated on January 16, 2023 by Ewen Finser
Fine, I admit it. Shopify is indeed a big deal.
With a customer base that stretches to over 1.8 million sites, Shopify is undeniably one of the most dominant e-commerce platform players in the market today. It currently boasts of powering about 755,000 live websites around the globe.
Main Differences Between OpenCart vs Shopify
The main differences between OpenCart and Shopify: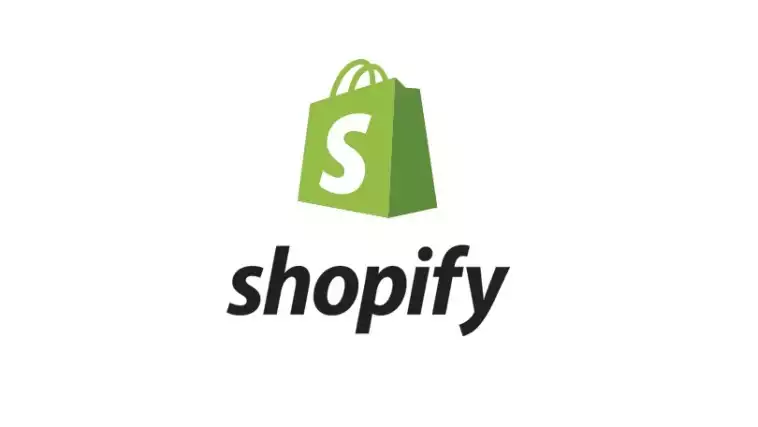 Why Shopify Wins
There are PLENTY of ecom platforms out there. Only one has a true NETWORK effect that can catapult your growth. Shopify has thousands of developers building apps and a robust ecosystem of integrations. This cannot be ignored. #ShopifyWins
Try Shopify First
We earn a commission if you click this link and make a purchase at no additional cost to you.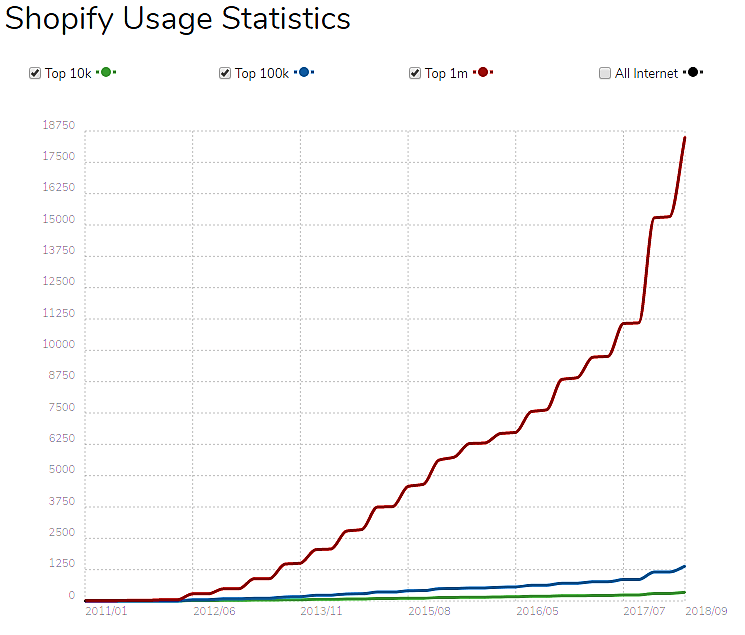 Admittedly, that alone should be enough to convince an entrepreneur to check it out. Now add its list of ecommerce features and you have yourself a decent platform worth trying out.
Fair enough. But, here's the kicker- setting up an online store on Shopify comes with monthly subscription costs regardless of whether you've made a sale or not.
And that brings us to the other option- have you ever considered an open-source solution? More specifically, a decent platform that won't be sending your accountant any subscription reminder emails.
Well, allow me to introduce you to one that reportedly has the capability of challenging Shopify. Acquiring it is free. And installing it won't cost you a dime either- at least not directly. Plus, it provides robust ecommerce features- which, in fact, have seen it attract more than 920,000 websites, close to 400,000 of which are live at the moment.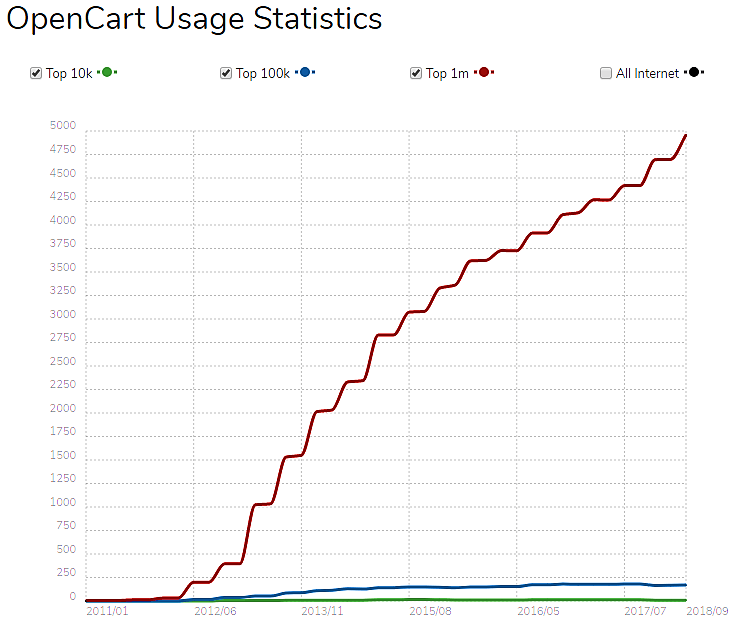 So, can OpenCart ultimately surpass Shopify? More importantly, which of the two would be ideal for your online store?
Let's find out what they haven't told you yet.
OpenCart vs. Shopify: Overview
OpenCart
OpenCart is basically an open-source solution established on PHP/MySQL code to power ecommerce. It's widely appreciated for its clean and straightforward interface, endless flexibility, plus a rich array of compatible extensions.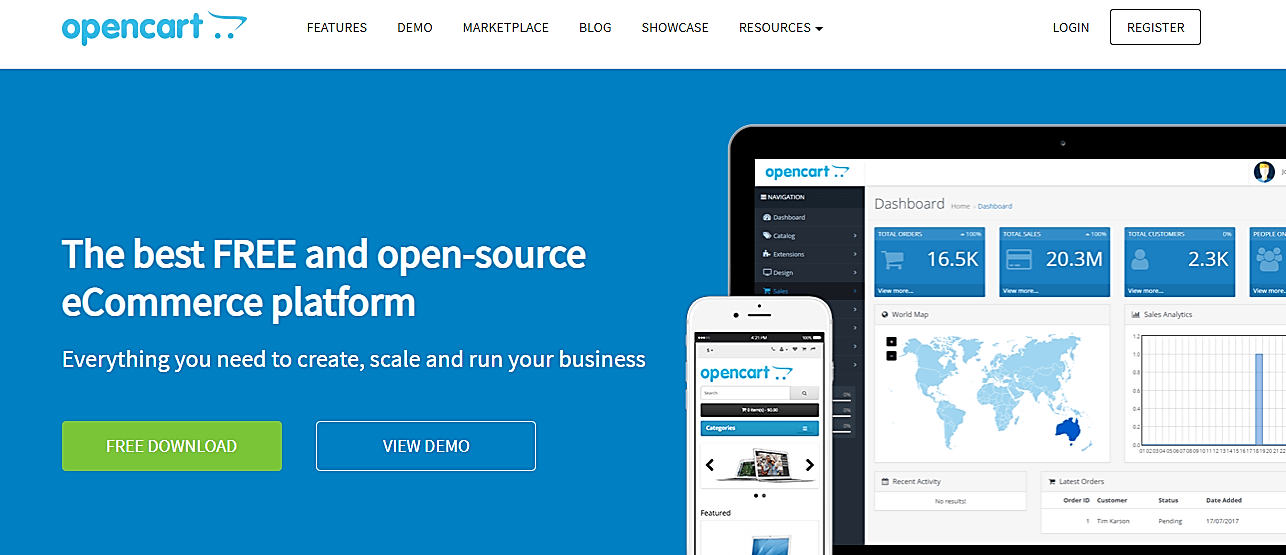 Shopify
Shopify is a well-known solution that provides ecommerce capabilities to small, mid-size, and large businesses. Although it comes with a closed-source structure, it has made a name for itself as an incredibly flexible platform that avails holistic ecommerce functionalities through a simple, well-streamlined system.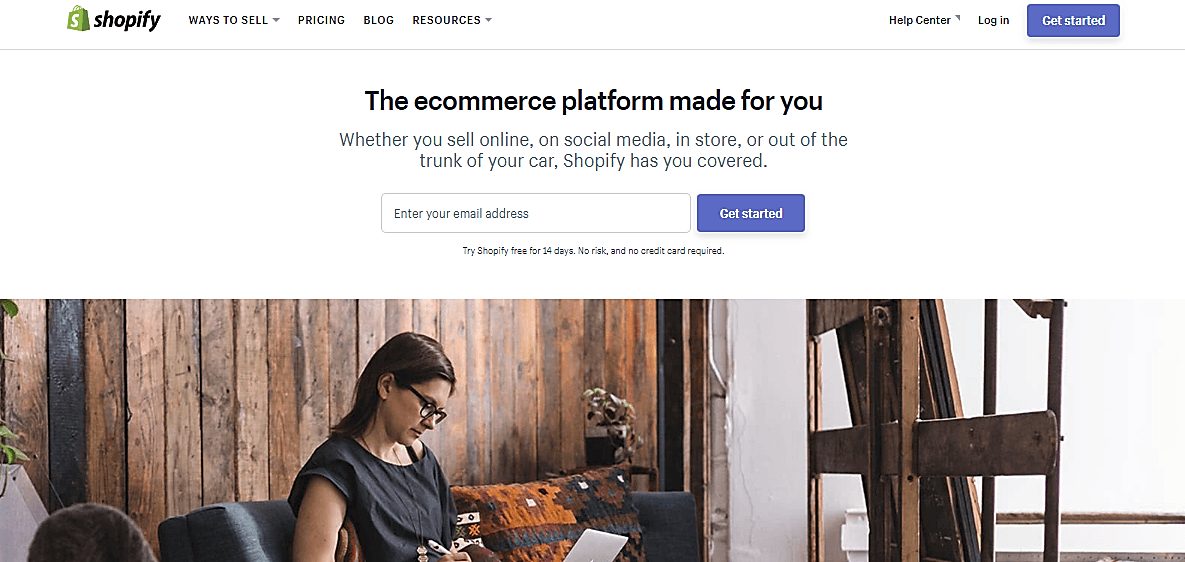 OpenCart vs. Shopify: Features
Setting Up an Online Store
OpenCart
Ok, it's understandable if the words "open-source" scare you a little bit when it comes to setting up an online store. Some of the open-source solutions we've come across seemingly require extensive coding to put up even the most basic websites. Magento, for instance, would certainly give a non-coder a hard time.
Thankfully, things are much different on OpenCart. You'll be greeted by an admittedly simple and user-friendly interface immediately you fire it up. So yes- it's undoubtedly one of the few open-source platforms that can be tweaked by both programmers and novices.
And what do you need to get started?
OpenCart is generally stable on PHP 5.4 or above hosting ecosystems. You'll also need Apache Server mod_rewrite module, at least 500MB of free server space, and MySQL database. So check to confirm that your hosting service provides these features.
The installation process itself is straightforward, and it typically takes about four stages. After downloading the OpenCart application from the main site, simply accept the license agreement, allow the system to scan through your hosting environment, register then configure your online store, and voila! It really is that stress-free.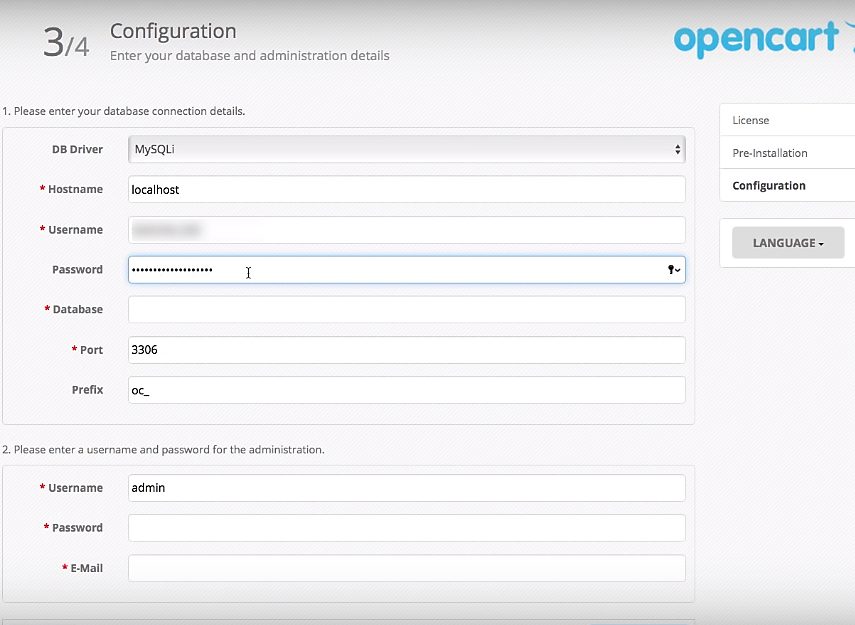 As a matter of fact, you should be done in a few minutes. The only step that might take considerably longer is the subsequent template installation. You have to first unzip the OpenCart's theme archive to your PC, then upload them to the root theme directory, before ultimately installing an ideal one through the Extensions section of the admin panel.
But that's nothing compared to what comes next. I'd say the most challenging thing overall is the installation of modules as you design the layout and the overall store functionalities.
Well, of course, some of this might seem a bit too unfamiliar at first. However, that shouldn't worry you much. It turns out OpenCart further provides detailed documentation with all the critical images and information you might need.
Shopify
Setting up an online store on Shopify is slightly different compared to OpenCart. Nevertheless, it also satisfyingly user-friendly. You can have everything up and running in just a matter of minutes. And yes, you're right- you don't need a developer.
That said, you'll notice that Shopify provides site-hosting bundled with unlimited bandwidth. Just purchase an ideal business domain and jump right into the building process.
But hang on a minute. Do you have to buy one via Shopify? And what options are available for people who already have businesses running on other platforms?
Well, no pressure there. In addition to facilitating full-site migration, Shopify allows you to secure a domain from other platforms. The choice is yours.
Now, let's move onto the actual store building process…
One thing I appreciate here is the well-structured drag-and-drop editor. You can design your site's principal layout by simply dragging elements around before editing them accordingly.
To top it off, Shopify saves you the heavy lifting by providing a wide array of professionally designed themes. Many of them are quite attractive and can be seamlessly integrated with your ecommerce site.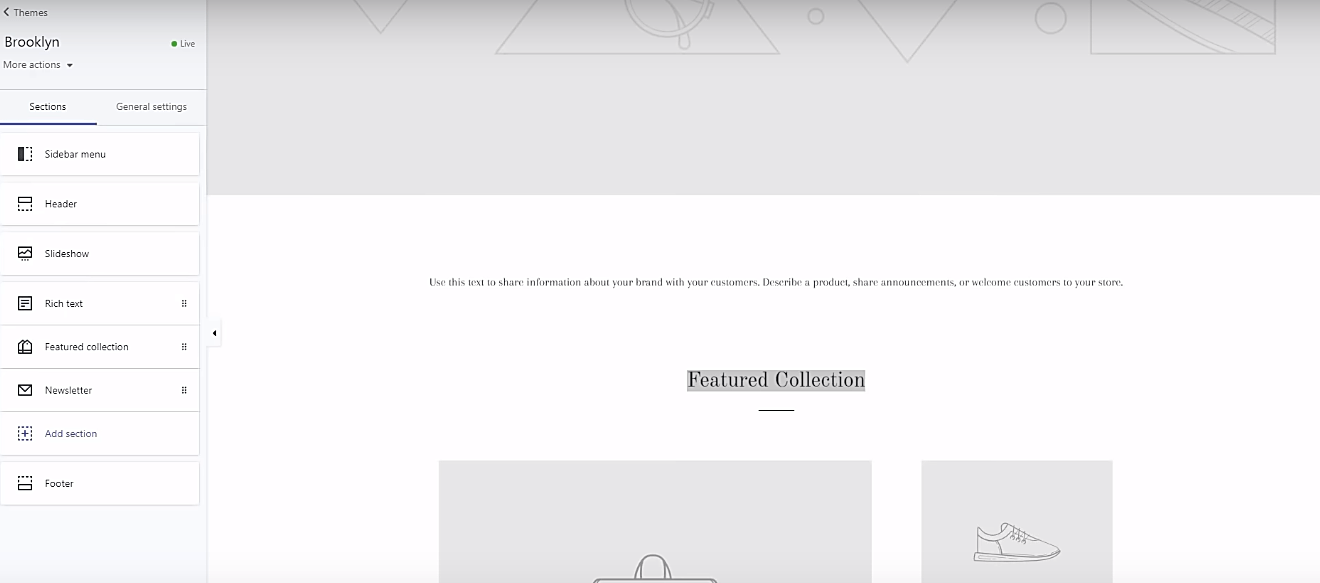 Verdict
Both OpenCart and Shopify have streamlined their setup procedures to make them satisfyingly systematic. You only need a couple of minutes to create a standard fully-functional store.
However, in as much as OpenCart's interface is admirably simple and lightweight, creating a store here is more cumbersome than on Shopify. The most challenging bit is the installation and configuration of modules, which might force you to keep the documentation close. And since each site element is available as a separate module, it might take you quite some time to set up all the store functionalities.
Shopify, on the other hand, provides a structured drag-and-drop site builder with all the basic tools you need for a typical ecommerce store. Even a novice, I bet, can set up a store here without necessarily referring to the technical documentation.
So, of course, Shopify wins when it comes to the ease of setting up an online store.
Customization
OpenCart
And now, the one thing that's almost synonymous with open-source- customization. By just availing the underlying code, OpenCart makes itself dynamically customizable. You can adjust your store's functionalities quite holistically to achieve a unique ecommerce system aligned to your principal objectives.
But then again, you're going to need some solid coding skills for that. And that begs the question- what customization options do non-programmers have?
For starters, you can get a wide array of OpenCart themes from various online platforms. And the numbers are consistently increasing thanks to the global community of independent developers and designers, who've been backing up OpenCart all along.
But that's nothing compared to OpenCart's capabilities when it comes to online store functionalities. It provides a pretty wide marketplace with over 13,000 extensions, all of which can be easily embedded into your online store.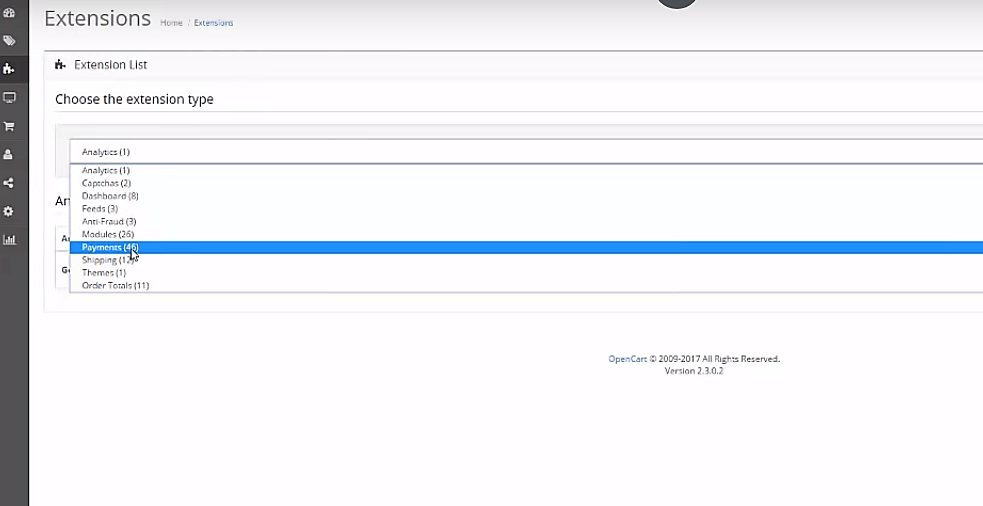 Then guess what? Some of them can be acquired free of charge. Nevertheless, most of the high-quality modules will cost you about $10 to $489.
Now, extensions here are not limited to the site itself. It just so happens that you can also expand your overall business framework by setting up numerous ecommerce stores linked to your central account. This essentially makes OpenCart ideal for businesses that are persistently morphing.
And you know what? The platform supplements that further by supporting unlimited products. So, feel free to increase your inventory astronomically as your business grows.
Shopify
Ok, by now you know that Shopify is not open-source. But, make no mistake about it. The platform makes up for that in several clever ways.
As you build the online store, for instance, you'll notice that the drag-and-drop interface allows you to edit various site elements. They might not be extensively customizable, but the editing options should be just enough to come up with a somewhat unique website.
However- If you're seeking to put up an exceptionally unique one, you'll have to get your hands dirty with some programming. Although Shopify's underlying structure is closed-source, it turns out the platform avails its templates' code to facilitate additional customization.
Sadly, that's pretty much it. But, thankfully, more customization options lie right by the corner as you move onto the store functionalities.
Shopify comes with a solid app market loaded with more than 1,200 apps from a wide range of developers. In fact, the numbers average at about 1.8 apps per developer, covering pretty much the entire ecommerce ecosystem. So, of course, you should be able to find multiple options for each critical functionality.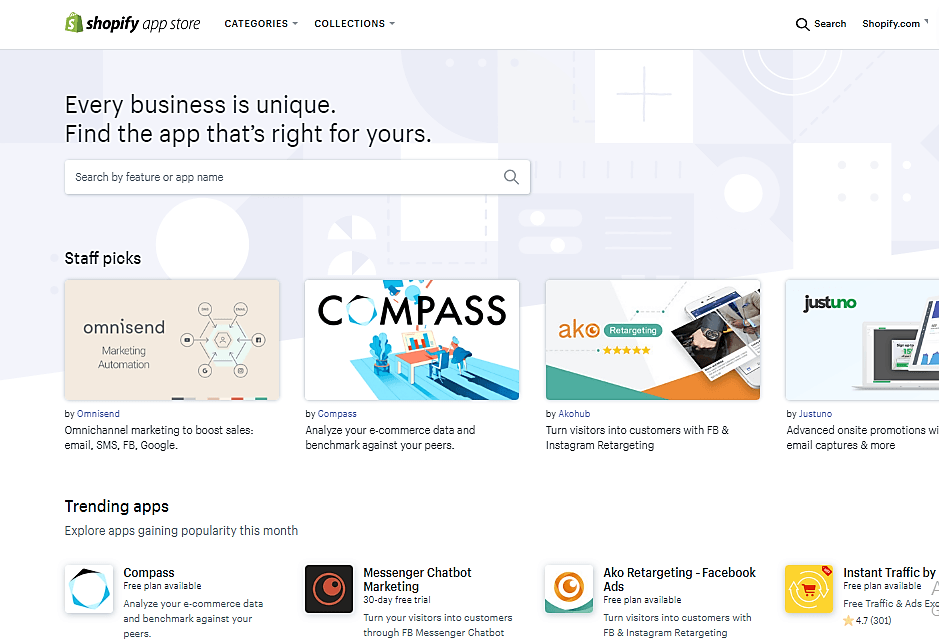 But, be prepared to pay for some of them since only a fraction is completely free of charge.
That said, Shopify has also adopted a holistic framework when it comes to conducting sales. While it's renowned for ecommerce, the platform tends to support even in-store selling. And this is typically facilitated by Shopify POS, which is compatible with smartphones and tablets.
In addition to that, you can also sell on Facebook without necessarily creating a corresponding online store.
Verdict
Shopify is widely perceived as an extensively customizable ecommerce platform. Its drag-and-drop site builder comes with numerous adjustment options, plus it avails a wide array of templates- which happen to be programmable. Then to top it off, it makes up for its closed-source structure with an expansive set of plugins for all the primary ecommerce functionalities.
Quite admirable to say the least. But, let's face it. That's no match for an open-source platform like OpenCart. Your customization options here are endless, as long as you have a skillful developer. And in case you don't, it avails thousands of plug-and-play modules- which also happen to be holistically adjustable.
Therefore, although Shopify makes a good attempt, OpenCart wins the customization crown. But, if you don't intend to hire a developer, I'd advise you to go with Shopify.
Store Management
OpenCart
One of the first things that will hit you as soon as you log into OpenCart's dashboard is the primary information on your ecommerce overall performance. It's availed in real-time, covering the entire sales pipeline. That means not only customer data but also the corresponding orders and sales details.
You can also edit a couple of items like product details and customer information.
Speaking of which, the admin panel provides direct access to the catalog management, from where you can edit everything about your inventory. The system allows users to add unlimited products and categories, complete with their corresponding descriptions.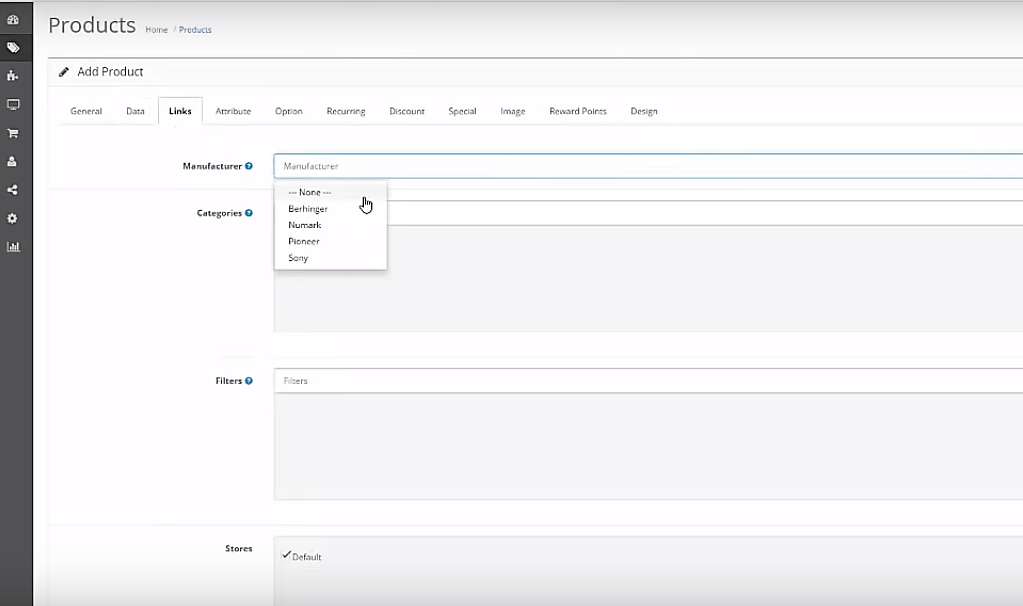 And since OpenCart expects you to grow your stock immensely, it provides a solid set of filters to save you the trouble of blindly combing through the resultant mess. Finding a specific item should take you only a couple of seconds.
But, what items are we even talking about?
Well, OpenCart supports everything you can think of. If you want to deal with ornaments, for instance, the platform has the right set of tools to support physical products. And in case you bump into several video recordings that might fetch a good price, you'll be pleased that OpenCart can also facilitate digital products.
Then there is the third group of subscription-based merchants who often feel left out by the bulk of ecommerce platforms. Luckily, OpenCart has no problems with that either- it extends its sales tools to effectively support subscription products. As a matter of fact, it even sweetens the deal further with a recurring profile feature, which comes in handy for coordinating subscription customers and their respective payment schedules.
And what do other sellers get?
In essence, there are several ways of tracking orders on OpenCart. You can either use customer details by filtering, viewing, and even editing the buyers' names. Or alternatively, follow up using order ID and status.
Then customers, on the other hand, benefit from a range of payment options. OpenCart avails more than 36 different payment gateways, most of which work just fine in numerous European and American countries.
And to complete that sales pipeline accordingly, OpenCart also provides multiple shipping options by default. In addition to Australia Post, you can serve your customers through Citylink, FedEx, Parcelforce, Royal Mail, UPS, and USPS.
Now, don't get me wrong here. That's not all OpenCart is capable of when it comes to store management. There are many other functionalities you can add from the wide selection of modules, depending on your precise business setup.
Shopify
Shopify's order management tools also spread across the entire sales ecosystem- shipping, order processing, and inventory. While some of them come by default, quite a number are available as supplementary applications through Shopify's App Store.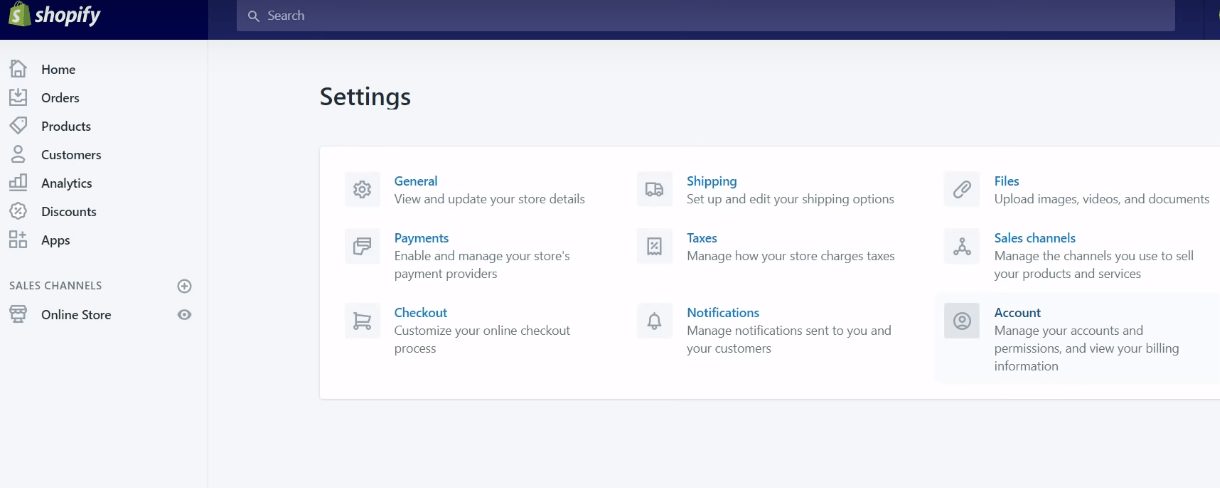 This entire ecosystem is systematically coordinated by a solid data syncing framework that persistently runs automatically. It connects all your sales channels, including in-store POS, to form a streamlined system that exchanges all the stock and order-processing data in real-time.
Consequently, each stock adjustment reflects across all ends regardless of the specific shop that sold it.
Now, I know what you might be thinking at this point. What's with multiple shops anyway?
Ok, first off, I'm assuming that you'd be interested in running a fully-functional ecommerce store. But, that's just one part of the whole equation. It turns out that you can also establish a brick-and-mortar store with Shopify POS, plus a standalone shop on Facebook with Shopify Lite.
The best strategy for maximizing your sales potential, however, would be combining all that with Shopify Buy buttons embedded onto other web platforms. You can even include them on your marketing emails to convert your mailing list into actual customers.
And speaking of conversion, Shopify is seemingly also concerned about the unconverted fraction that chooses to abandon their carts. It helps you hunt them down with its abandoned cart recovery tools, with the hope of ultimately compelling them to resume their buying processes.
The buying process itself is flexible enough to accommodate different types of products. In addition to physical items, you can sell digital products directly to your customers. Subscription-based items, on the other hand, require users to first install the requisite apps from the App Store. There are numerous options here, each with its own unique set of features.
That said, Shopify makes a good attempt at helping you sell regardless of the specific product type you end up with. Its extensive content delivery network kicks in first to direct traffic to your site as fast as possible.
The real dance-off, however, starts as soon as the visitors land on your site. Shopify avails an array of reputable tools for building confidence among leads, engaging them, then ultimately converting the most qualified individuals.
For example- you can leverage things like testimonials and product reviews to build confidence. Then automatic onsite popups for engagements. And finally discounts and promotions for conversion.
Then, to help them find various products, Shopify employs instant search and predictive results.
All things considered, however, the precise lead engagement and subsequent conversion framework depend on the precise apps you choose to leverage from the App Store.
Verdict
Both OpenCart and Shopify support the entire store management pipeline- from inventory management, to order processing, plus shipping, and payment management. Additionally, they allow business owners to sell not only physical items but also digital and subscription-based products. And then, of course, they offer a wide array of extensions with different critical functionalities for customers and business owners.
That said, it's quite evident that Shopify is slightly ahead of OpenCart on this one. Apart from facilitating multiple sales channels, it goes ahead to employ more robust tools for engaging leads, recovering abandoned carts, and triggering conversions.
So, Shopify is more suitable for an online store seeking to optimize its overall sales processes.
Marketing
OpenCart
Fact is- search engines are the biggest sources of ecommerce traffic. 51% of all web traffic is generated from organic search, and 39% of online purchases are typically influenced by relevant searches. That alone is enough to make SEO one of your primary concerns when choosing a platform for your site.
Luckily, OpenCart is well-equipped to facilitate the entire SEO tree. But, don't expect it to optimize your website by default. You have to take care of the finer details yourself.
The default URL, for instance, might not be particularly perfect for Google search. So, you should start by accessing the relevant settings to tweak the URL setup accordingly.
OpenCart also allows you to format the meta-data, product descriptons, categories, plus individual web pages to align them with relevant SEO principles. Even better, the marketplace has several SEO extensions that have proven to be quite effective at their job. Leveraging them makes the whole thing much easier.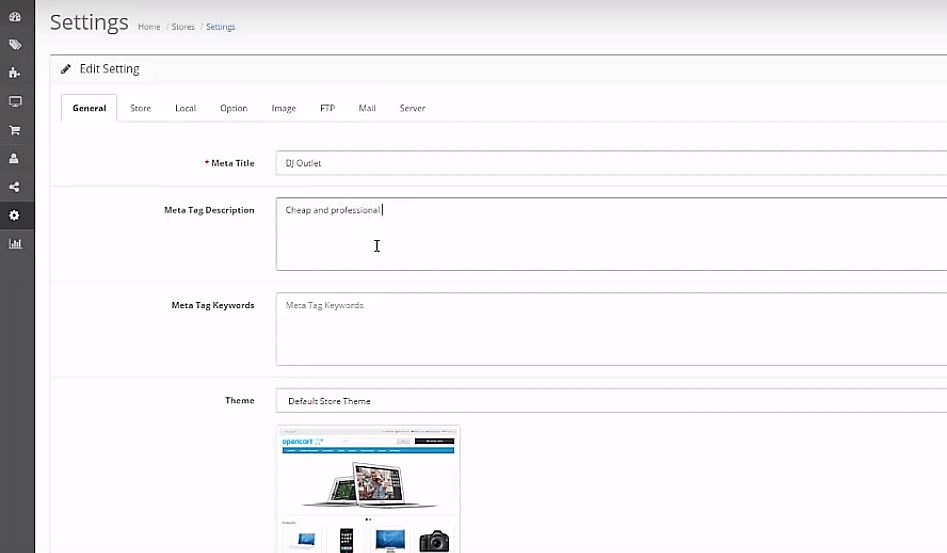 And while you're at it, consider getting yourself a couple of additional extensions for promotions and digital marketing- based on your target goals. Then perhaps combine them with OpenCart's affiliate features, which can set up, manage, and track discounts plus coupon promotions.
Now that sounds promising, you've got to admit. However, what I like most here is the customer groups feature. It helps powers target promotions by allowing you to set unique prices for distinct customers, based on the corresponding campaign goals.
Shopify
Shopify is also loaded with many marketing functionalities, stretching from social media marketing to email and SEO marketing.
Well, if SEO is your forte, you'll be pleased that Shopify handles all the technical intricacies as soon as you set up your online store. The resultant sitemap.xml file, for instance, maps your site accordingly to facilitate search engine crawling. That means Google will be able to quickly analyze what your business is all about and the accompanying product list.
Now, don't get me wrong here. Although Shopify will do the most, it doesn't handle everything by default. It usually leaves the simple stuff like headers and metadata to you. And that's a great thing because it lets you adopt keywords with the best possible traffic potential.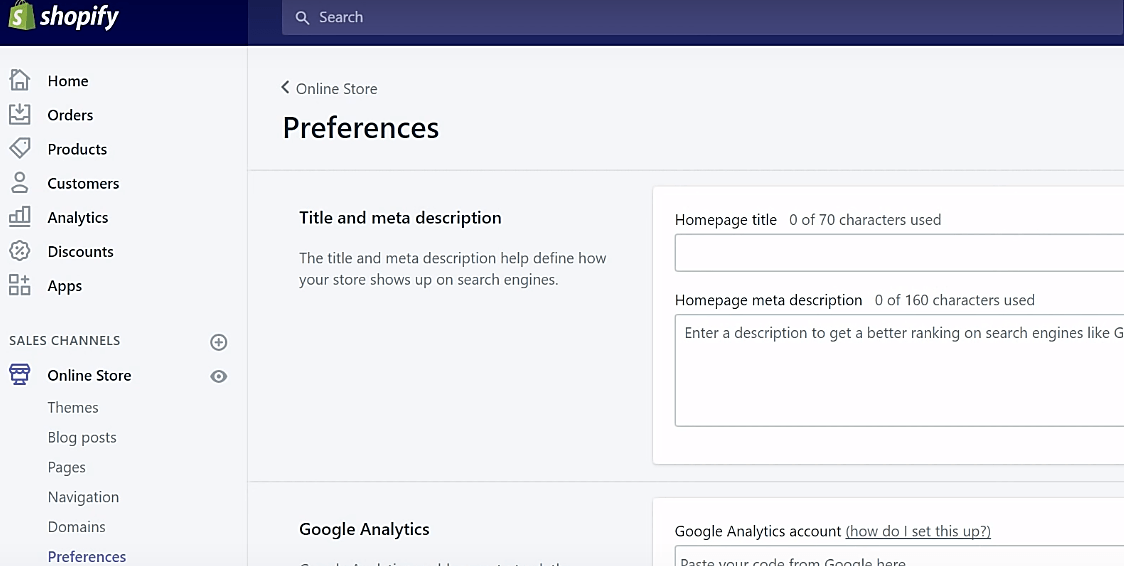 To generate even more traffic, you might consider taking advantage of the links Shopify has formed with various social media platforms. This will not only help you reach out to your target social media audience but also expand the site's SEO backlinks.
Then, as the traffic rolls in, you could employ one or several of the lead nurturing tools available on the App Store. One particularly effective strategy at this stage involves starting visitors off on an onsite targeting tool for building a mailing list, then following up with an email marketing tool like MailChimp.
The further the leads move through the conversion funnel, the more you'll be able to capitalize on additional CRO features. Over time, combining promotions with abandoned cart recovery and the likes will substantially improve your sales numbers.
Verdict
Shopify and OpenCart have both been developed to facilitate all-round marketing. There's no real difference between them when it comes to SEO. Their provisions are flexible enough to all the relevant elements in line with the standard optimization principles.
The differences only start to show when we switch over to other marketing channels. While Shopify takes a simple approach, OpenCart uses a more dynamic marketing framework. That said, the best thing about them is the fact that they both provide a wide range of marketing tools through their app marketplaces. This allows you to customize all your campaigns accordingly.
All things considered, there's no clear winner in SEO and marketing. You can achieve pretty much anything you want on any of them, as long as you have the relevant skillset.
Overall Features
OpenCart
Recurring payments for subscription products
Registered user checkout and guest checkout
Automatic shipping calculation
More than 8 shipping methods
Product search filters
Discount coupon system
Digital product support
Product reviews and ratings
SEO-ready
Site backup and restore tools
Extensive array of modules
Sales and products reports
Multi-store support
Multiple languages
Multiple currencies
Unlimited products
More than 20 payment gateways
Free documentation
Open-source structure
Unlimited manufacturers
Unlimited categories
Shopify
99.98% uptime
Automatic upgrades
Unlimited bandwidth
Image library
Sales, product and traffic reports
Blog editor
Email templates
Shopify POS
Social media integration
Shopify buttons
Discount codes and coupons
SEO-ready
Bulk catalog import and export
Product variations
Unlimited products
Drop shipping apps
Fulfillment center options
Customer segmentation
Mobile store management
Multilingual control panel
Automatic tax calculator
Abandoned cart recovery
Automatic shipping rate calculator
Personal account and guest account checkout
Multilingual checkout
Product reviews
Digital products support
Web hosting
70 payment gateways
Domain registration
Free SSL certificate
Drag-and-drop website builder
OpenCart vs. Shopify: Pricing
OpenCart
Apart from extensive customization, another benefit commonly attached to open-source systems is zero acquisition costs. Believe it or not, you will not pay even a dime to download and install OpenCart.
But, unfortunately, your wallet won't stay idle for long. Costs start streaming in as soon as you start setting up an online store.
Your web host, for starters, will charge you at least $4 a month for a standard site running on OpenCart. The bigger your business, the more you should expect to pay for hosting.
Then next comes customization costs. Although some of the OpenCart website extensions are available for free, the most powerful ones charge either a one-off price or recurrent fees. The modules range between $10 and $489, while standard ecommerce themes cost about $16 to $99 (OpenCart themes). And that's exclusive of what you might pay a developer in case you need extensive customization.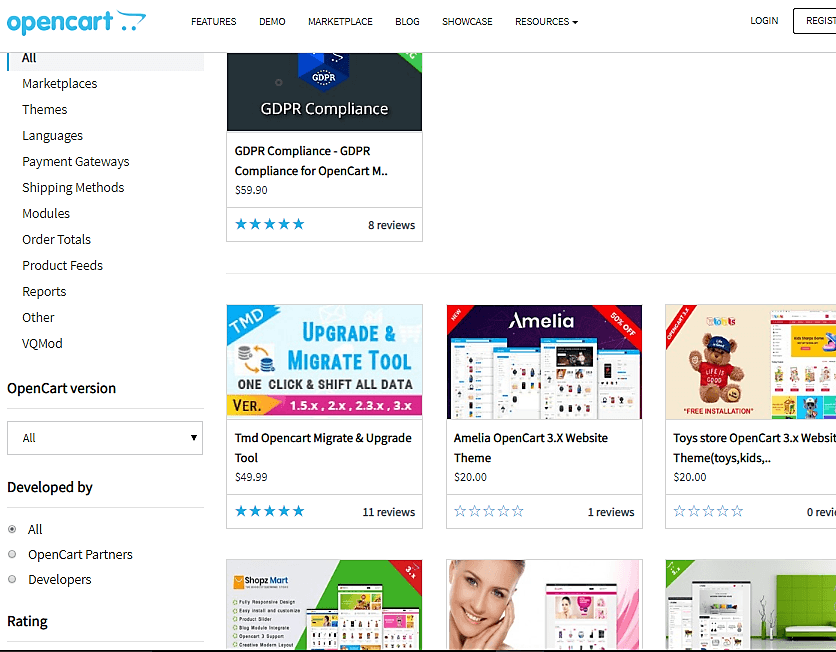 So, of course, the more dynamic your business is, the higher the setup and operational costs on OpenCart.
Finally, expect to incur transaction fees for each sale you process through your selected payment gateways. Most gateways usually charge between 2 and 3% for typical credit card transactions.
Shopify Pricing
The only free thing on Shopify is a trial period, which usually runs for 14 days. If you wish to proceed beyond that, you're going to have to subscribe to one of its five plans.
The overall pricing schedule here is structured based on the features provided. The cheapest option is Shopify Lite, which only comes with Facebook selling. Setting up an online store is only possible after you've upgraded to at least Basic Shopify, which is optimized for starters.
Immediately above that is Shopify, which is suitable for developing businesses. Advanced Shopify, on the other hand, provides superior features to support business scaling. But, the most powerful option is certainly Shopify Plus, which offers custom enterprise-level functionalities for large businesses.
And to help you compare, here are their brief details:
Shopify Lite– $9 per month
Facebook selling
Sell through an existing site
Basic Shopify– $29 per month
Free SSL certificate
Website and blog
Discount codes
Manual order creation
Fraud analysis
24/7 support
Unlimited file storage
Unlimited number of products
2 staff accounts
Shopify– $79 per month
All features available on Basic Shopify
Abandoned cart recovery
Professional reports
Gift cards
5 staff accounts
Advanced Shopify– $299 per month
All features available on Shopify
Real-time carrier shipping
Advanced report builder
15 staff accounts


Fair enough. But, guess what? This only covers the base monthly charges. Prepare yourself to incur more costs as you enhance your store with extra functionalities, in addition to transaction fees for each processed payment.
Shopify's default payment gateway, for example, charges at least 2.4% for credit card transactions. And that only applies to in-person transactions on Advanced Shopify. It subsequently increases systematically then peaks at 2.9% plus a flat rate of 30 cents for online credit card payments on Shopify Lite and Basic Shopify store.
You might also be interested: Shopify vs Shopify Plus – Everything You Need to Know (2020)
Verdict: OpenCart or Shopify Pricing?
Not much of a contest here, to say the least. While acquiring OpenCart is permanently free for all types of users, Shopify charges monthly subscription fees. Apart from recurrent transaction fees imposed by payment gateways, the only other extra costs on both OpenCart and Shopify apply on premium Shopify themes and supplementary add-ons.
Despite the possible expenses of hiring a developer plus monthly web hosting fees, OpenCart emerges as the cheaper e-commerce website between the two.
Summary: Shopify vs OpenCart
Both OpenCart and Shopify have simplified streamlined their installation processes to help users get done in a few minutes.
Although OpenCart's interface is minimalistic and straightforward, putting up a store here is more complicated than on Shopify. It involves configuring extensions while the latter uses a drag-and-drop site builder.
In addition to a drag-and-drop site builder, Shopify provides a wide array of programmable templates plus more than 1,200 plugins for supplementary ecommerce functionalities.
OpenCart, on the other hand, comes with an open-source structure that is far more customizable than Shopify. To add to that, its marketplace hosts thousands of ecommerce modules.
With inventory management, order processing, plus shipping and payment management, both OpenCart and Shopify come with the whole store management framework. You can power everything further by integrating additional management extensions.
That said, Shopify earns more points than OpenCart since its tools are more robust.
Shopify and OpenCart provide adequate features for the entire digital marketing chain.
SEO provisions are almost similar. But when it comes to other marketing modes, Shopify attempts to simplify its tools while OpenCart takes a more dynamic approach.
Installing OpenCart is free of charge while Shopify charges monthly subscription fees. Beyond that, you'll incur additional expenses for themes and extensions on both platforms.
OpenCart is cheaper overall despite possible developer charges plus hosting fees.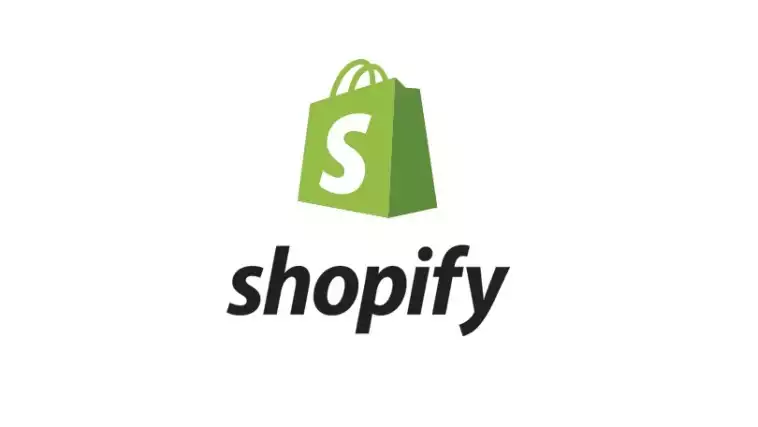 Why Shopify Wins
There are PLENTY of ecom platforms out there. Only one has a true NETWORK effect that can catapult your growth. Shopify has thousands of developers building apps and a robust ecosystem of integrations. This cannot be ignored. #ShopifyWins
Try Shopify First
We earn a commission if you click this link and make a purchase at no additional cost to you.
And now, your turn- have you had the chance to try each e-commerce solution out? How was your experience? Anything you'd like to add?
Here are some other related articles you may be interested in: