Last Updated on April 22, 2023 by DMEditor
Over the past few years, dropshipping has become a smart way to earn money online. Thanks to a few "dropshipping gurus", more people came to notice that you don't even need to own or possess goods to be able to sell them.
With dropshipping, you get people to buy something from you before you even have it, to then purchase the goods on their behalf and have the goods delivered directly to your clients—no need to hold any inventory. You're simply the middle man who earns a margin on every sale. It's a great business model as it is flexible, easy to start with, and requires almost no starting capital compared to other business types.
But here's the thing: if you're a Shopify seller, you have virtually an infinite amount of products to choose from. And this means more time spent looking for great products and reliable wholesale retailers.
In today's article, we bring you a solution to that. By integrating apps to your Shopify store, you can easily navigate through the thousands of wholesale retailers worldwide and seamlessly import new products to your store (among many other added benefits) so that you don't have to do all this work manually anymore.
Let's see which apps are best in class and will be the most relevant to your business.
How To Choose The Best Dropshipping App for Shopify
When selecting the relevant dropshipping app, you will need to go over a few critical points. In the following lines, you will learn the most important things you should look out for when it comes to Shopify dropshipping apps.
High-Quality Suppliers
You want to look for apps that curate high-quality suppliers, not just anyone. You should work with partners because if there is any problem, you are the first person your customers will turn to, even if the problem happens because of something outside of your control.
Convenience
Look for an app that lets you import products directly within the Shopify portal. One of the main goals of getting a dropshipping app is to make sure you don't have to look for products and sellers manually. If your app makes you jump through hoops to synchronize new products with your store, it should be a no-go, and you will find better elsewhere.
Coverage
For shipping time's sake, you want an app that can help you find suppliers close to where your customers are based. If you're a US merchant with US clients, for example, a supplier based in China might not be the best bet. A proper dropshipping app will help you find local suppliers who propose affordable rates.
Pricing
Since you're making money off the margins you submit, if your supplier charges too much, you will have to lower your profit. A proper dropshipping app helps you find affordable suppliers to maximize your earnings.
Support
Since you're in the front line in case of any problem, you need your partners to be reliable and responsible in solving problems. A great app will let you examine your supplier's reliability and support capabilities.
Extras
You want to control the quality of the products you sell through samples, for example, or maybe you need specific branding with your products. An excellent dropshipping app will offer various extras that will allow you to find the exact products and suppliers you need for your particular business niche.
8 Best Dropshipping Apps for Shopify
These are the apps you need to know about above all others.
Oberlo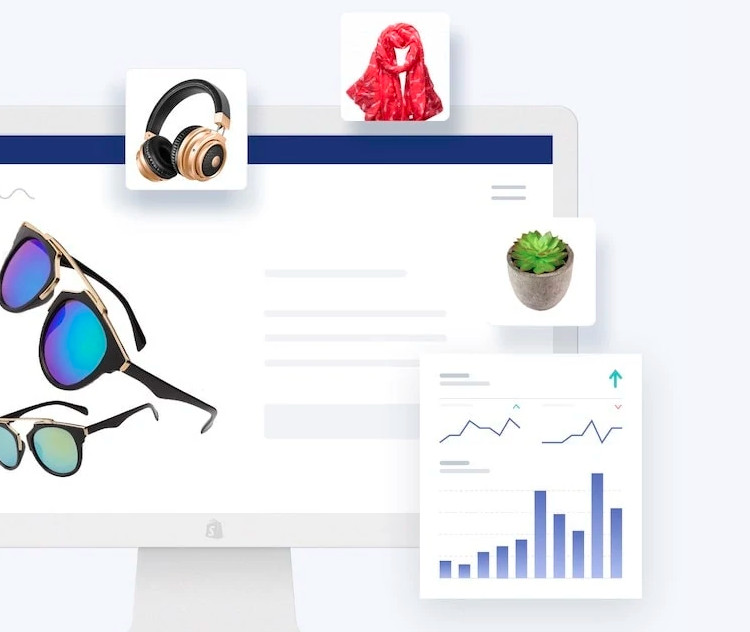 Another giant of dropshipping apps, Oberlo was one of the first to synchronize your products of choice directly with your digital store. The Oberlo app is a complete toolkit that you will find exceptionally useful if you're starting, as it will help you pick relevant products and suppliers.
You will also be able to customize the details of your products through the app itself and directly import it to your store in a few clicks. Once customers buy the products in your store, Oberlo sends the order and your customers' details straight to your suppliers without your involvement.
Pros
Intuitive and hands-free app;

Great for those new to dropshipping;

Real-time order tracking.
Cons
A smaller list of overseas suppliers (for those selling mainly with AliExpress).
Spocket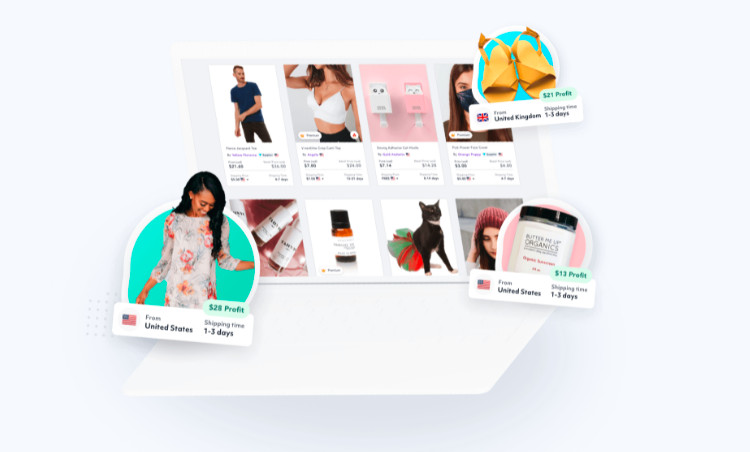 If you're trying to distance yourself from overseas markets and extended shipping times, and often poorer product quality associated with Asian suppliers, you might want to look into Spocket.
The app is the most trusted Shopify dropshipping tool for US and European products. It usually guarantees short shipping times at the cost of lower margins for you since Western products are often more expensive to produce.
Nonetheless, this will help you stand out in the dropshipping market. Spocket also has one of the most responsive customer support services on the market, available 24/7 and with a response time that averages two minutes. If you want to limit the problems associated with suppliers and products, go with Spocket. The app proposes a free plan and three paid plans to scale.
Pros
US and EU products and suppliers;

Higher quality of products;

Lower shipping times.
Cons
Lower margins;

Paid plans can be expensive;

Very few overseas suppliers.
DSers – AliExpress Dropshipping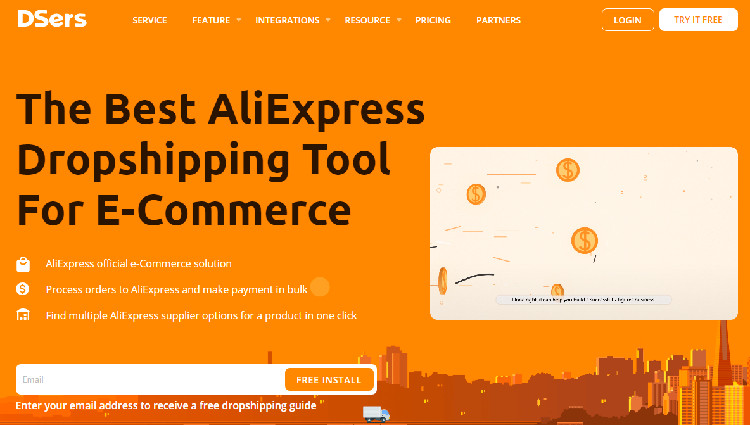 AliExpress offers very competitive rates; it's only natural to find the Chinese marketplace here. DSers is one of the most famous apps to quickly find suppliers from AliExpress and import products into your Shopify store.
The app also gives you exclusive access to particular suppliers for better prices and higher-quality goods. There are also specific tools to create special deals on the go and automatically track your shipped goods. There are three versions of the app available: free, Advanced, and Pro.
Pros
Order multiple AliExpress products at once;

Manage numerous digital stores with one account;

Track shipped goods automatically;

Country-specific suppliers.
Cons
Focuses mainly on AliExpress;

The Pro version is expensive.
Modalyst ‑ Dropshipping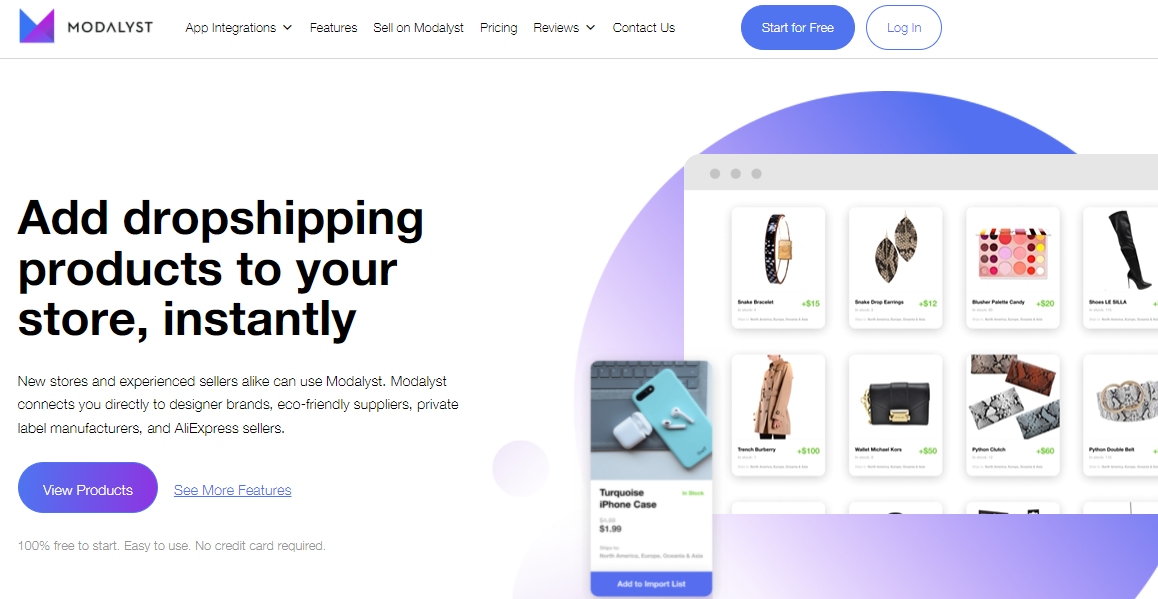 Modalyst is a US dropship supplier of quality products with an excellent reputation. With the Modalyst – Dropshipping app you get access to the millions of products available on the Modalyst marketplace. You can then import them seamlessly into your Shopify store and connect with their high-quality suppliers to ensure maximum customer satisfaction.
There is a guarantee that any order shipped within the US will be delivered in four to seven days, which is impressive to stand out in an oversaturated market of long shipping times. On top of that, you can customize your packaging and branding with their private label. The app proposes a free plan and two paid plans.
Pros
Customized packaging and branding;

Quick shipping times in the US;

Interesting extra features like the profit calculator;

A lot of exciting and trendy suppliers.
Cons
The free plan doesn't give access to all the suppliers;

The checkout process is not 100% hands-free, and you will have to log in every time you need to confirm a sale;
Printful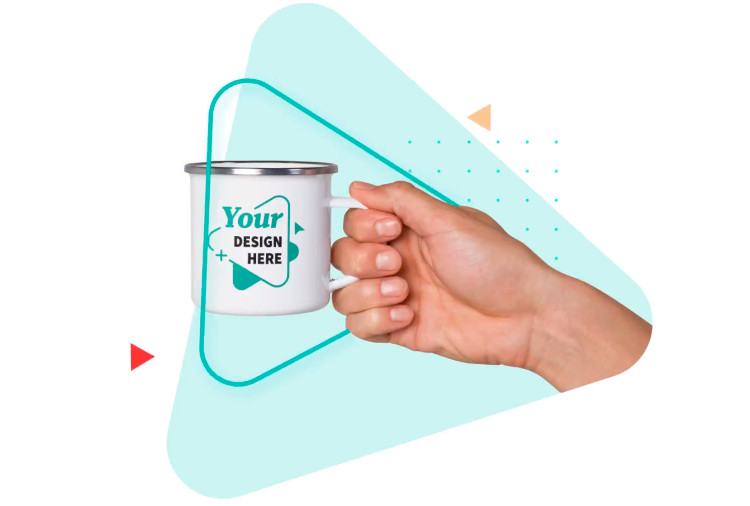 Printful is not a traditional dropshipping app because it does not let you add products from a marketplace. Instead, with Printful, you get access to a tool that combines custom printing and dropshipping.
This is an excellent option for brands and individuals who would like to start selling their merch, for example. With Printful, you can easily create and sell your T-shirts, posters, mugs, pillows, fanny packs, phone cases, backpacks, etc.
All you need to do is select the products you're interested in selling and upload your design. Whenever you get a new order, Printful will supply the item and add your customized plan on top of it before sending it right into your customers' mailbox.
Pros
Can sell pretty much anything with custom printing;

Thousands of products for your to add your design onto;

Seamless integration with Shopify;

No upfront costs.
Cons
Automizely Dropshipping App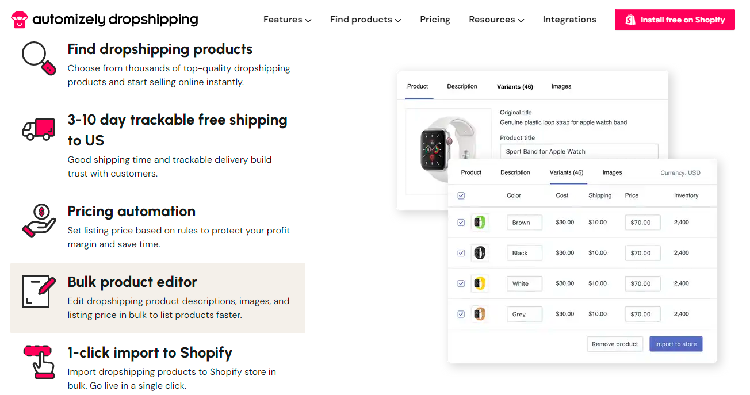 Another solution for US and EU drop shippers, Automatizely aims to provide an all-in-one solution. With the app, you will find hundreds of trusted Western suppliers and even all the products you can think of. The main appeal of the app is most likely the ease with which you will import products to your store. It's overall a very convenient and straightforward solution.
The service also guarantees world-class shipping times with trusted logistics providers and lets you customize your goods for the best customer experience possible. The base service is free, with additional costs depending on your use of it.
Pros
Free service;

Quality products and suppliers;

Easy and convenient to import the product to your store;

Short shipping times.
Cons
Additional costs may add up quickly.
Syncee ‑ Global Dropshipping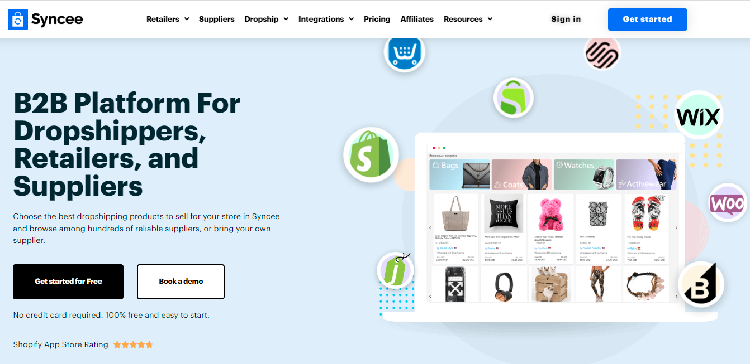 Syncee is first and foremost a marketplace for B2B. With the app Syncee – Global Dropshipping, you will be able to easily import products to your store from a wide range of trusted suppliers from US/CA/EU/UK/AU and more. You can also easily import products from other marketplaces. The app offered a free plan and paid plans.
Pros
In-app retailer-supplier direct chat;

Global and fast shipping.
Cons
Limited free plan;

Expensive paid plans.

Not the most extensive choice of products for B2C stores
Spreadr App ‑ Amazon Importer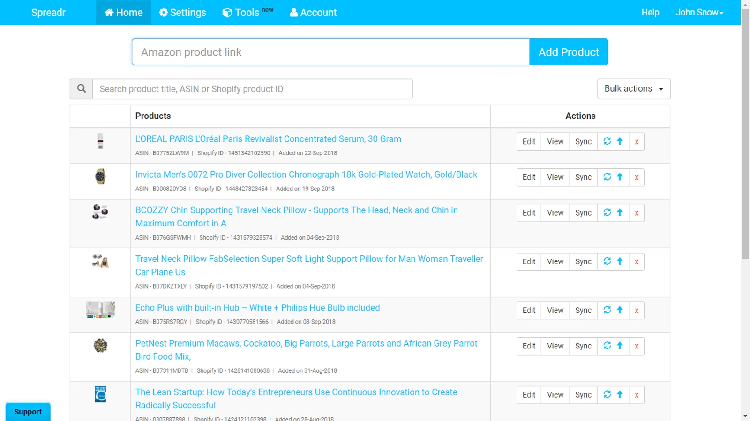 Spreadr might be the best tool if you're working mainly with Amazon products. In a few clicks, you can import your favorite Amazon products directly into your Shopify store. It's a very straightforward tool. Whenever you get a new order, Amazon will handle the packaging, shipping and delivery for you. The app is quite simple and proposes a free plan and two advanced plans for a small price.
Pros
Very easy to import products;

Hands-free experience;

Currency conversion;

Small price.
Cons
It is limited to Amazon products only.
FAQs
Question: Is Shopify the Best for Dropshipping?
Answer: Shopify came on top as dropshipping became a trendy way to become an entrepreneur. The main reasons are that it connects sellers to wholesale retailers worldwide who will stock, pack and ship for little to no cost, and the Shopify interface makes it extremely easy and quick to set up a digital store. You could do everything manually on your own, but Shopify is just too convenient to pass on.
Question: What Sites Can I Dropship On?
Answer: Here are a few of the leading dropshipping websites to find wholesale retailers on AliExpress, SaleHoo, Worldwide Brands, Megagoods, Doba, Wholesale Central, Wholesale2B, Sunrise Wholesale.
Question: How Much do Dropshippers Make?
Answer: On average, dropshippers make 20% to 30% on every sale. Being the middleman between the wholesale supplier and the end client, it's up to the dropshipper to set their margins, and therefore profits can go high very quickly. As with a brick-and-mortar shop, the challenge will be to get traffic to your digital store. The more clients, the more sales, and the more money a dropshipper can make.
Bottom Line
Each of the options mentioned above is great in their own regard. If you're selling on Amazon exclusively, for example, Spreadr will be your best bet. If you're selling mainly on AliExpress, on the other hand, Users will be more suited for your needs.
If you need a somewhat different app with exotic features, there are, of course, other options like Printful, which doesn't rely on any marketplace at all and lets you "create" your products.
You also want to take into consideration shipping times and product quality. Suppliers and products coming from the US or EU usually are of better quality and will get to your customers faster (since produced locally). In this case, solutions like Spocket will be better suited to your needs.
Overall, our favorite one is probably Oberlo, as it's the most complete solution and is excellent for those starting with dropshipping (although maybe a bit overwhelming).
To conclude:
If your primary concern is customer satisfaction, go for a Western-focused app like Modalyst or Spocket.
If your primary concern is affordable goods, go with an app that focuses on AliExpress.
If you're looking for a lightweight app, or any other app that caters to more specific needs, look into Printful, Spreadr, Syncee or other niche services.