Last Updated on April 22, 2023 by Ewen Finser
The digital age has made it easier than ever for businesses to get their products and services out to a broader audience. However, with this ease of access comes the challenge of standing out from the competition. The need to provide quality prints, customization options, and competitive pricing has led many businesses to look for fulfillment services companies to deal with their product printing.
Print on demand (POD) companies have become very popular in recent years, and Printful is one of the most well-known players in the space. In this article, we're going to take an in-depth look at Printful and see if it's the right company for your business.
We'll take a look at how Printful operates, its capabilities, customer service, product selection, pricing, return policies, and more.
[mv_video doNotAutoplayNorOptimizePlacement="false" doNotOptimizePlacement="false" jsonLd="true" key="t24qm6rxkgexwrntw12p" ratio="16:9″ thumbnail="https://mediavine-res.cloudinary.com/v1641091548/m8jbvqvjibnzrvskxvqm.jpg" title="Printful Review" volume="70″]
So What Exactly is Printful?
Printful is an order fulfillment company that prints and ships customized products to customers on demand. In operation since 2013, Printful has built a solid reputation within the POD space thanks to high-quality products, competitive pricing, and top-notch customer service. Printful mainly focuses on clothing and home decor; however, it also offers printing on phone cases, mugs, posters, blankets, and other items.
The customization options offered by Printful are a big plus for many small businesses. Businesses can upload their designs or choose from thousands of templates curated by Printful's in-house printing experts. The company also offers a wide selection of tools to tap the creative side of its customers, including an online mockup tool, a design community, and a blog with tutorials and tips.
Printful customers can enjoy the drop-shipping model. The company takes care of warehousing and shipping, meaning that customers don't need their supply chain or logistics systems. They only have to promote their branded products, request orders from customers, and then send the orders to Printful.
How Printful Works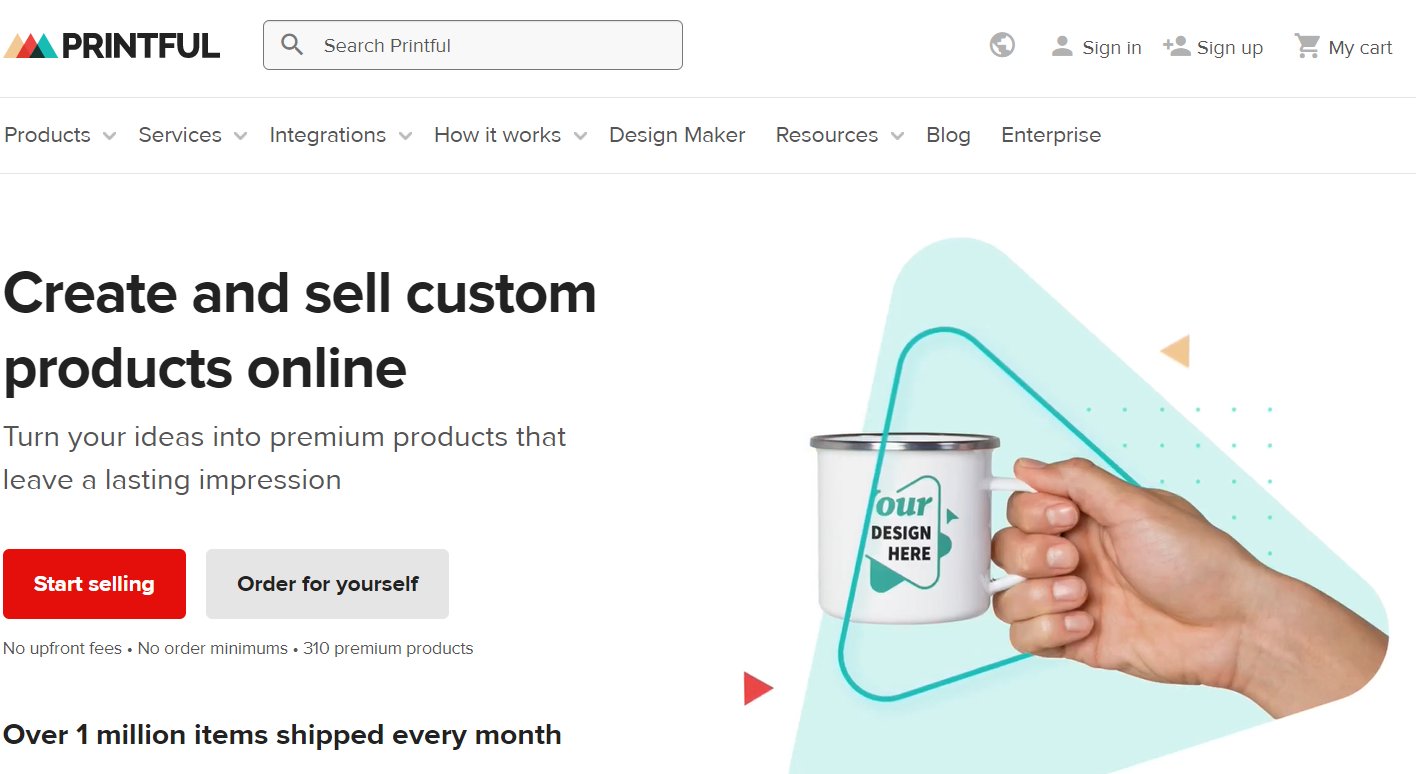 Printful works with retailers and designers to create unique, customizable products. Like other POD companies, Printful operates a drop shipping model where it prints and ships products on demand as orders come in. Essentially, when a customer makes an order, Printful prints the product and ships it directly to their address.
Printful opens numerous possibilities for customizing products. Retailers and designers can upload their designs, choose from Printful's library of templates, or use the company's design tools to create one-of-a-kind products.
It's a good model for businesses that don't want to stick with an inventory. As long as they have a product to print, Printful will handle the rest and send it to their customers. While Printful does not require a minimum order quantity, there is a printing and shipping fee for each product.
The production and logistics parts of the business will only start once you place an order and pay for it. Once you set up an account, you'll be given access to the Printful dashboard, where you can upload products, edit your designs, view order history, and more.
Printful also offers a drop shipping app that you can use to manage your orders and products. The app is available on both the App Store and Google Play.
Services Offered by Printful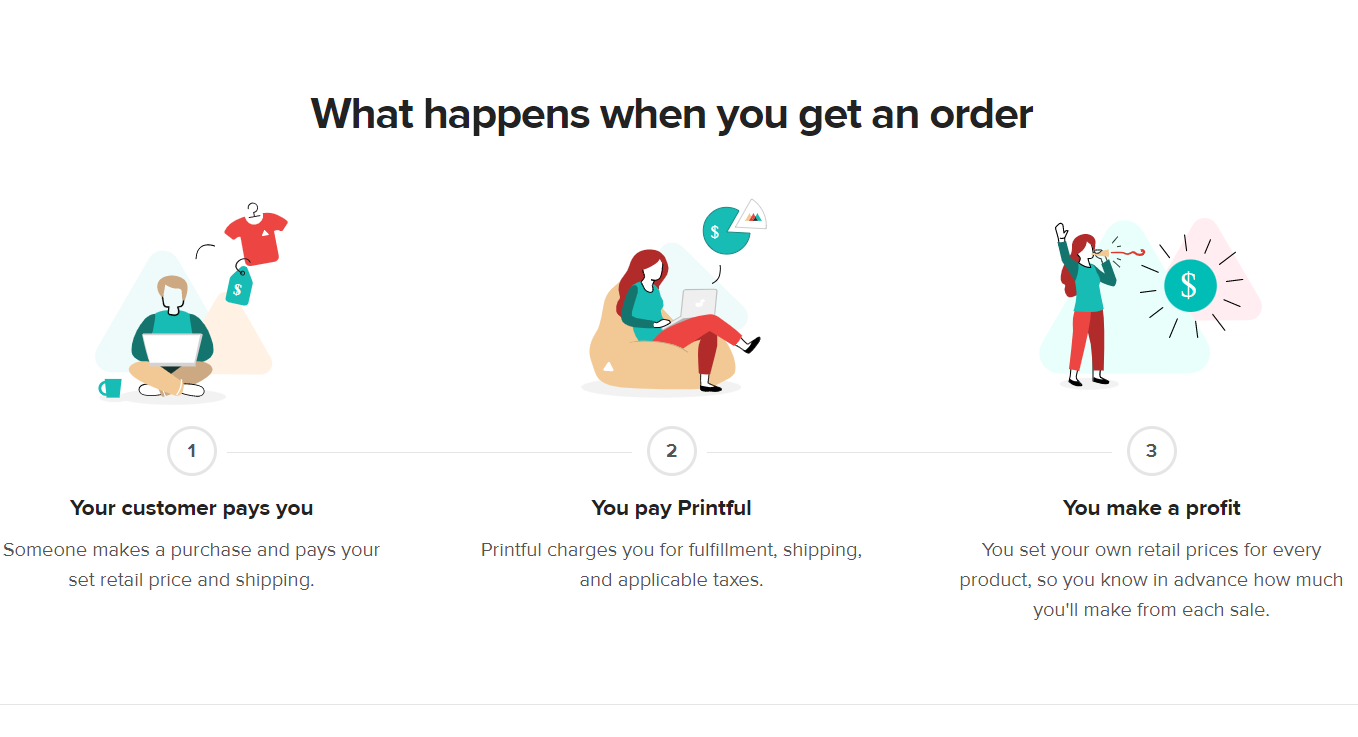 Printful offers a wide range of services that cater to retailers and online sellers.
1. Print-on-demand
Print on demand is the main service that Printful offers. It's a fulfillment model where you can upload products to their website and sell them online, while Printful prints and ships the products on your behalf. All you need to do is promote your products and take orders from customers.
The delivery time for orders placed with Printful is the same as its print-on-demand time, which typically averages 2 to 7 business days. The company offers POD for online stores, high-volume customers, merchandise, and promotional products.
2. Branding
Branding is the process of creating a unique name, term, design, symbol, or other feature that distinguishes an organization or product from its rivals. When it comes to online selling, branding is essential for standing out from the competition.
Printful can help you by providing a wide range of customizable products and printing services. You can also use the company's online tools to create one-of-a-kind designs that reflect your brand's personality. Printful offers custom packaging, branded pack-ins, and white label printing.
3. Warehousing and Fulfillment
Warehousing and fulfillment is the process of storing, picking, packing, and shipping products. Printful can help retailers keep their inventory safe at their warehouse. Besides, the company can also handle all of your shipping needs.
Printful offers worldwide shipping, and it can print and ship products to any location in the world. The company also allows you to store your products and POD products in a single warehouse. This service lets you run drop shipping and inventory models from the same place.
4. Creative Services
Creativity and originality are essential for online retail. If you want your products to stand out from the crowd, then Printful's creative services can help you achieve that goal. The company offers merchandise design, print file editing, logo design, and social media design.
Photography and video services are also available for product photography and video creation. Doing e-commerce photography and video ensures that the brand is in good hands, and the same goes for the company's printing and shipping services.
Features that Make Printful Stand Out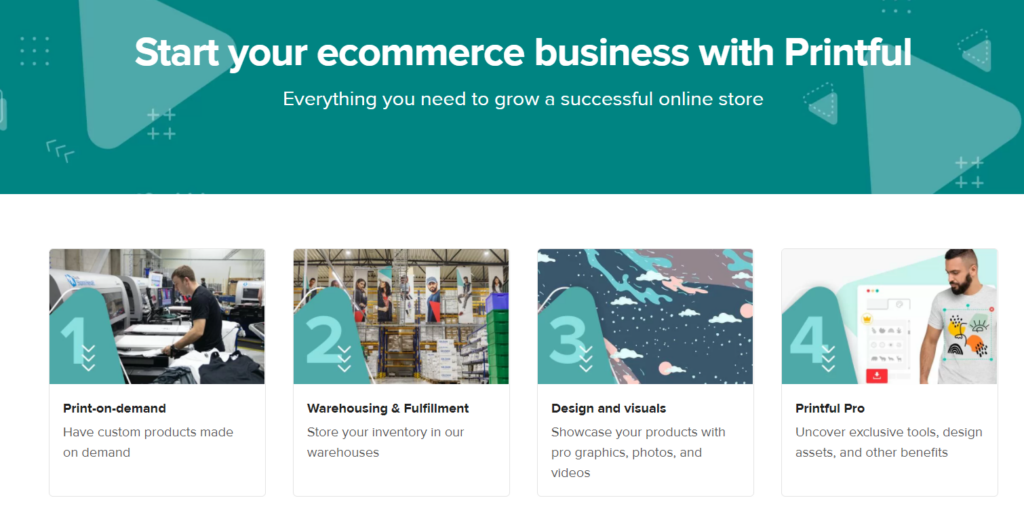 Printful provides a wide range of features that make it an attractive option for e-commerce entrepreneurs. Let's take a look at the main advantages of the platform.
1. Design Tool and Mockup Generator
Using Printful is extremely easy. You can use their design tool to create your print-ready mockups. The platform also offers ready-made templates that you can use to create professional-looking designs.
The design files are print-ready, so you don't need to worry about resizing or adjusting your images. The drag and drop feature also makes adding text and photos to your designs easy. In addition, the design tool alerts you when your print design is in low resolution or when it can't produce a quality print.
2. Product Migration Tool
The product migration tool lets you import your products from other platforms into Printful. This feature makes it easy to switch to Printful from another platform like Shopify. You won't lose your SEO efforts or customer data by following the simple instructions.
3. Complete Automation
Printful offers a complete automation solution that lets you run your business without hassles. You can manage your orders, products, and inventory with their online tool. They also enable automatic order processing and communications to ensure that all of your products are printed, packed, and shipped on time.
4. Guarantee Policy
With Printful, you get a 100% money-back guarantee for the cost of damaged and lost products. In addition, the company offers a satisfaction guarantee for all of its products.
5. No Order Minimums
Printful lets you enjoy the benefits of their platform without having to meet any order minimums. Regardless of the number of products you order, the cost of the machine, and unsold products, you won't have to pay any extra charges.
Printful Customer Service and Industry Ratings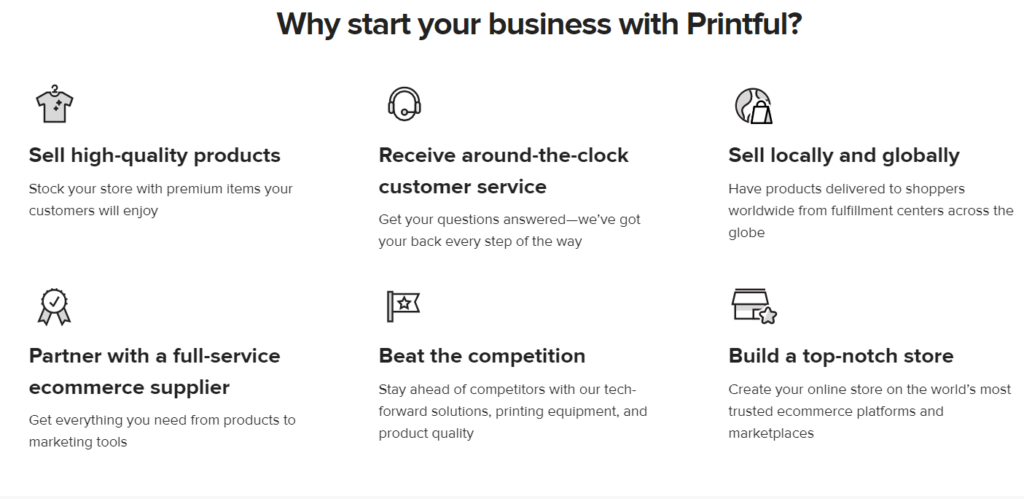 There's no denying that the best company is the one you can rely on for all your needs. Take it from Printful customers, who've raved about their customer service. The company offers 24/7 support, and you can reach them via email, phone, or chat.
However, there are some mixed customer service experiences. Some people praised the company for their fast response times and helpful staff, while others weren't as happy. Although this may be because not every customer is the same, it's essential to look at all customer reviews before deciding whether or not to use Printful.
I can term the return policy as respectable and the live chat a savior. Overall, I have had good experiences with Printful customer support, and I would recommend it to anyone starting an online store.
Printful has a 4 out of 5 rating on Trustpilot, making it one of the best e-commerce printing companies in the industry with about 1,097 reviews. G2 also ranks Printful as one of the top POD companies in the industry, with a 4.1 rating from 41 reviews.
Printful Integrations
Printful is a powerful tool in your e-commerce toolbox. It works with many other platforms, including Shopify, Etsy, Amazon, and eBay. These integrations ensure that you have all the tools you need to run your brand without dealing with any hassles.
If you are a Shopify user, you can use the Shopify app to connect your Shopify store with Printful. This integration lets you manage and fulfill all of your orders from one place. You can also track your inventory levels, follow your customer journey, and build valuable customer relationships.
Other integration options such as Wish, Weebly, and WooCommerce are also available. Wix, 3Dcart, Magento, and Bigcommerce users can also use Printful's API to create custom integrations. An easy-to-follow tutorial is available for each integration, and you can quickly implement them within your website or mobile app.
Printful Pricing and Plans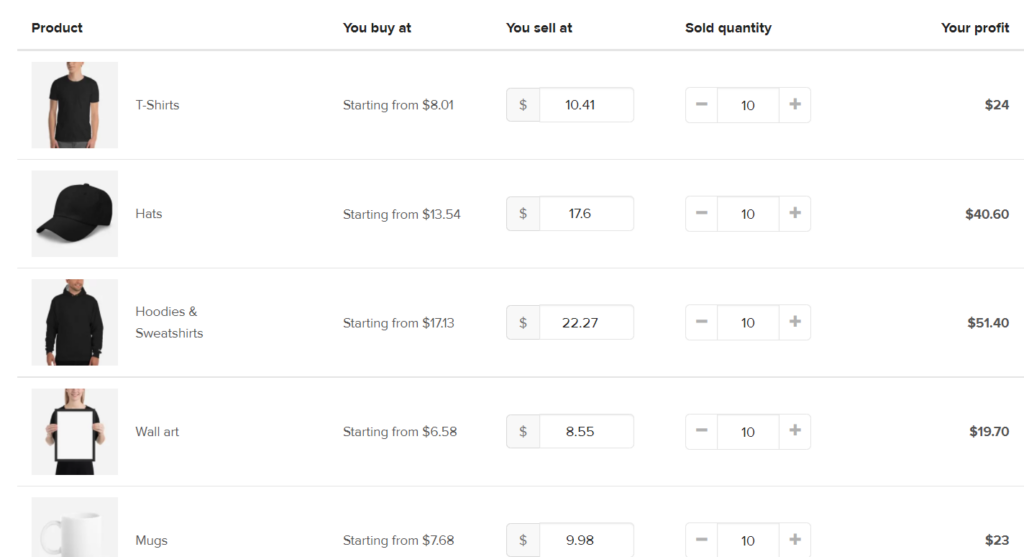 Printful uses two pricing models: per-item pricing and premium pricing. With per-item pricing, you pay for each product that you order. This model is best for smaller businesses that are just starting. The company offers a 20 percent discount for a sample order an item discount once the store reaches a minimum of $1,000 in sales.
Placing an order of more than 25 items qualifies you for a 30 percent discount. The per-item model has no monthly fees, subscriptions, or minimums. You'll pay a per-item fee for every item that you order, and the cost varies depending on the number of variations you order.
Printful charges $7.95 to $28.95 for a t-shirt, $20.75-$48 for a hoodie, and $14.95-$24.95 for a tote bag. Shipping rates also vary depending on the weight and destination of your package.
A charge of $3.99 for every single product and a base shipping cost of $1.29 for each product shipped within the US. For products such as hoodies, sweatpants, and sweatpants, a standard charge of $6.50 plus an additional $2.00 applies.
The Printful Pro plan includes extra tools, free design assets and services, carrier-based shipping, and a print panel. There's a $49 charge per month or a $539 annual subscription for this plan. It comes with a 14-day trial for you to try out the features.
Pros and Cons of Using Printful
Printful offers a wide product selection, a low-cost business model, and a straightforward pricing model. There's no doubt that this company has a lot to offer. However, it doesn't lack some cons.
Some of the pros of using Printful include:
User-friendly interface

: Printful is a user-friendly service with easy-to-navigate designs and instructions. The streamlined interface lets you quickly place orders and manage inventory effectively.

Easy setup:

All you need to do is add your designs and choose the item types such as hoodies, t-shirts, totes, and phone cases that you want to print. You can also upload your items for printing from a bulk selection of brands and retailers.

Low-risk drop shipping model:

While other models require you to purchase a certain amount of inventory, Printful's model is low-risk. It lets you upload your designs and start selling them quickly. There are no minimums or monthly fees that require a large upfront investment.

High-quality products:

Printful offers high-quality products with a wide range of printing and fabric choices. You can also choose from various styles, colors, and sizes to find the perfect product for your business.

24/7 support:

Printful offers 24/7 email and chat support to help you with any questions or problems that you may have. It also has a comprehensive knowledge base and tutorials to help you get started.

Android and iOS app available:

You can use the Printful app for Android and iOS. It lets you track orders, upload designs, view reports, and more.

No minimums:

There's no minimum order or minimum inventory required, so you can order small quantities without worrying about additional fees.
Some of the Printful cons include:
Limited product mockup images

Longer shipping periods (4 days)

Printful cannot edit product variables in bulk

Shipping fees are relatively higher than other printing companies
Printful Alternatives
If you're looking for a way to sell apparel and other products, Printful may be the company for your business. However, if you're still not sure this is the company for you, check out some of these alternatives: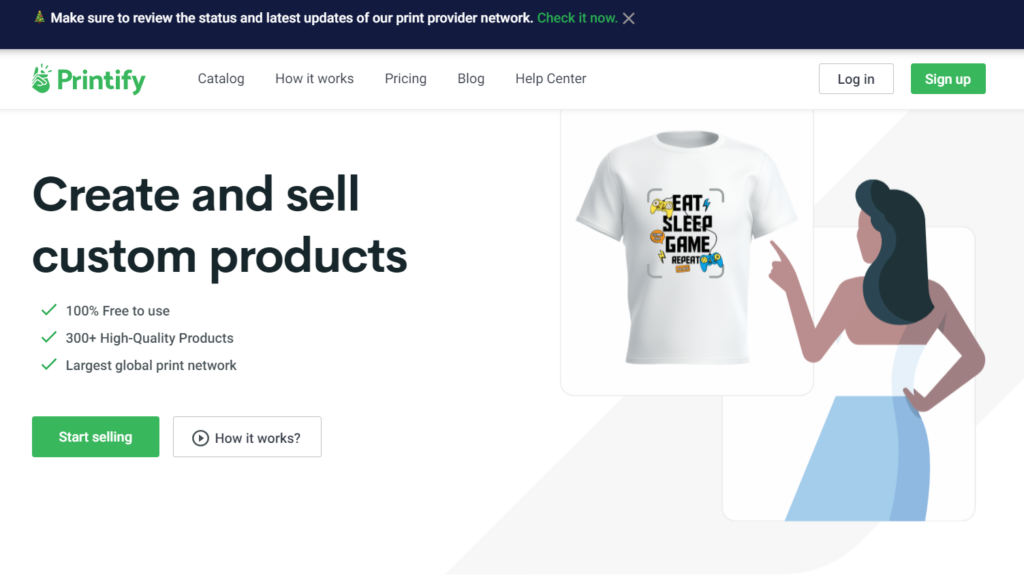 Printify is a US-based print-on-demand drop shipping company. It offers outstanding customer service and low prices with an easy-to-use interface. You can use your designs or choose from the store's inventory to create your products.
If you want to maintain high-profit margins at the expense of quality, Printify may be the service for you. However, if you wish to high-quality products with a broader range of printing options, Printful is your best choice.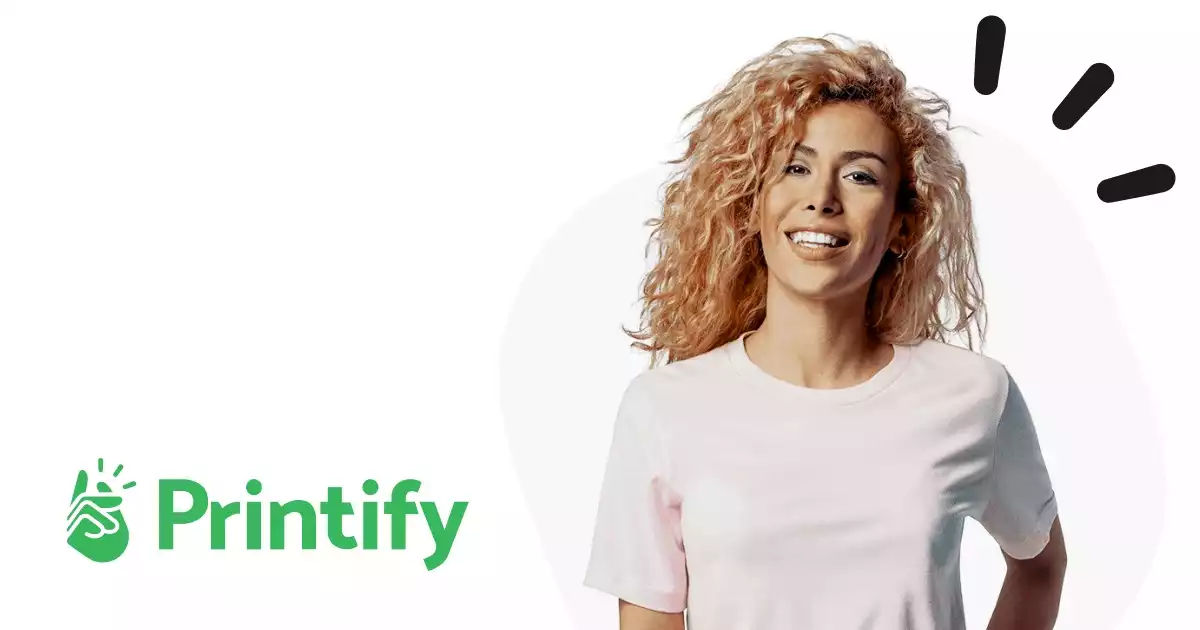 Drop Shipping & Printing Service for E-commerce | Printify
Focus on selling and branding. Printify will handle the rest – billing, design, and fulfillment. Wide selection of products – shirts, hats, hoodies, jackets, socks, mugs, posters & more. Dropship to customers.
Sign Up
We earn a commission if you click this link and make a purchase at no additional cost to you.
Teelaunch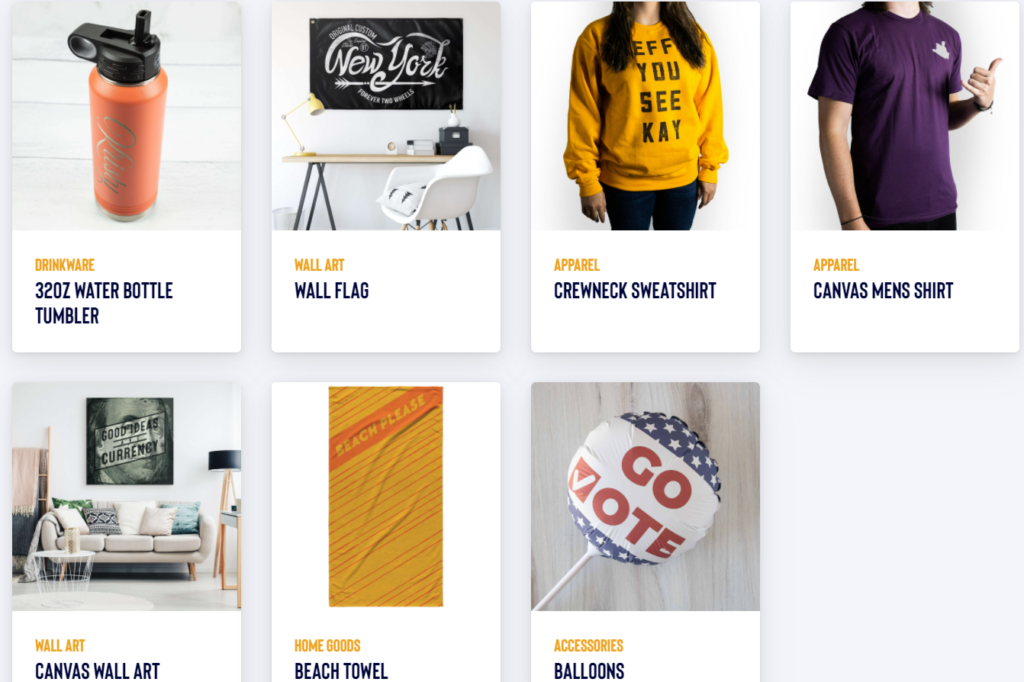 Teelaunch allows you to add designs to your t-shirts, wall art, home products, and drinkware. It takes three days to ship orders and offers a wide range of products and printing options. While Teelaunch is a good option for those who want quality products, it lacks the customer service of a top-tier company such as Printful.
Print Aura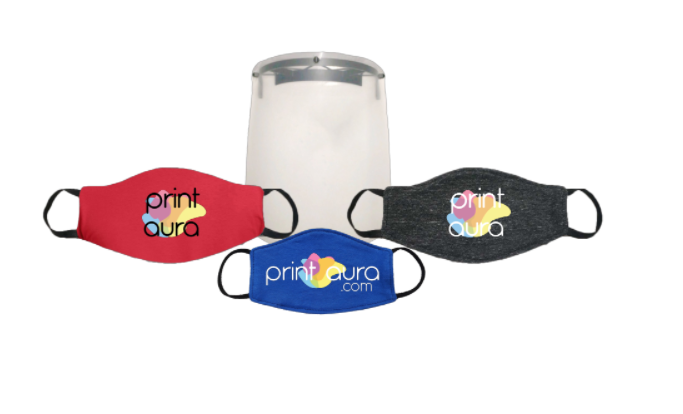 Print Aura is an excellent alternative to Printful. There's no minimum order on the number of products you can order, and it offers a wide range of printing options.
The company offers 3-5 days shipping, high-quality products, and expedited fulfillment options for global orders. The downside, however, is low customer service and relatively expensive shipping fees to some parts of the country.
CustomCat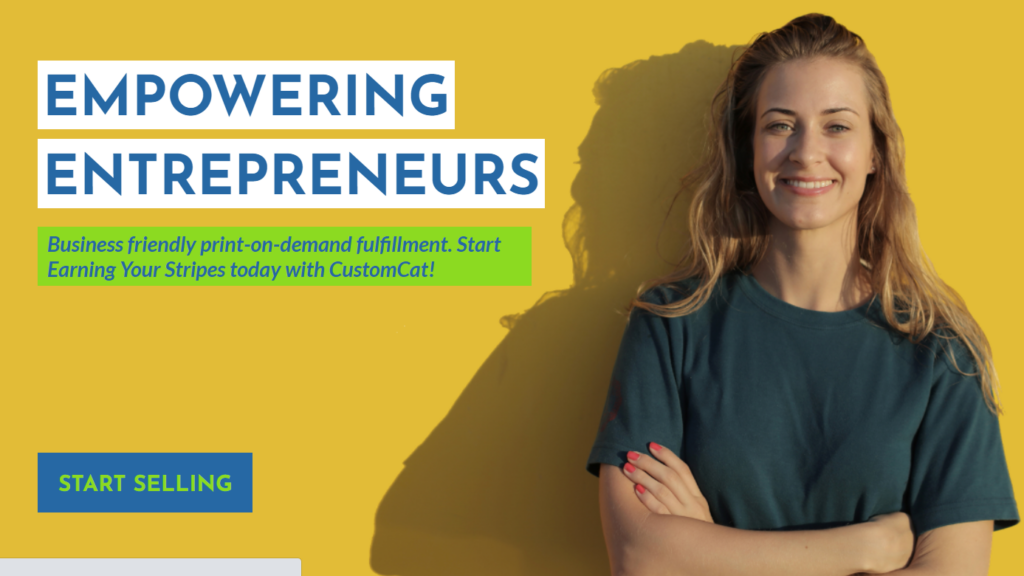 For high-quality custom printing, CustomCat is an excellent option. It offers a wide range of products and printing options, with quick turnaround times. Its premium plan features fantastic discounts on orders and product prices, and it provides a comprehensive knowledge base with tutorials for new sellers.
The shipping may be slow, and the delivery prices high for some locations, but the wide range of options makes CustomCat a great choice.
Gooten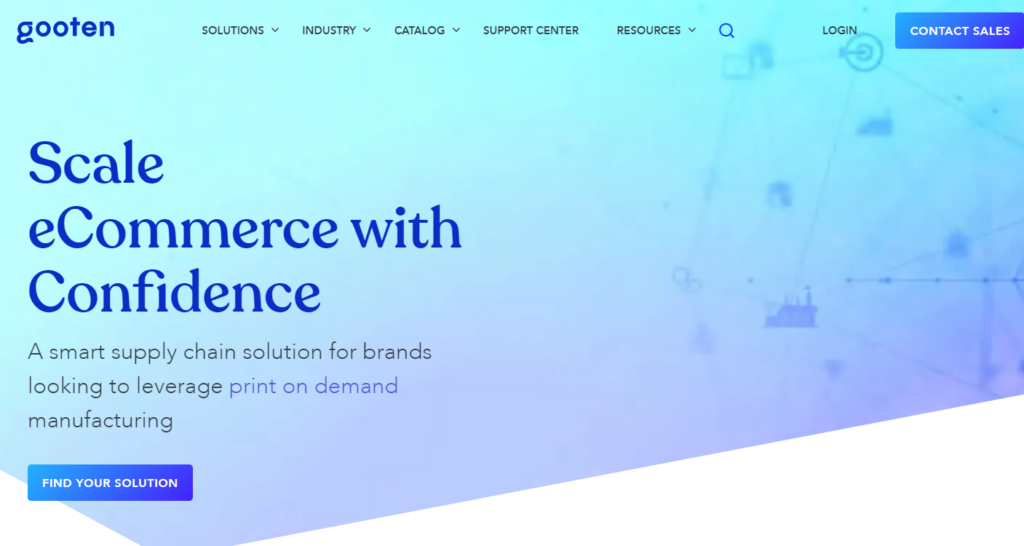 Gooten is a print-on-demand drop shipping service that specializes in design and printing. It's an excellent choice for those who wish to sell apparel, specifically t-shirts, and other printable products. The tool allows you to print additional placement on the sleeves of shirts and add tags and labels. The downside with Gooten is high prices on some products and having to do some of the markings by yourself.
FAQs
Question: Is Printful a legitimate company?
Answer: Printful is a legitimate company that has been in business since 2013. It offers high-quality products and printing, as well as excellent customer service. The company boasts a wide range of products, including t-shirts, sweatshirts, mugs, phone cases, and home decor.
Question: Is Printful better than Printify?
Answer: Printful is better than Printify because it offers high-quality products and printing and a wide range of products and services. However, if you want to maintain high-profit margins at the expense of quality, Printify might be a better choice for your business.
Question: Can you make a profit with Printful?
Answer: Printful is an excellent option if you want to profit your business. The company offers high-quality products, fast shipping, and premium customer service. For a drop shipping company, Printful offers relatively high-profit margins, low prices, and a wide range of products.
Conclusion: Should I Use Printful for My Business?
In this Printful review, we've provided you with the information you need to make an informed decision. While Printful is an excellent option for many businesses, you must research all of your options before settling on one company. However, I recommend Printful to any business looking to build a name in the apparel industry.
From its easy-to-use interface to its expansive range of products and printing options, Printful is an excellent choice for any business looking for high-quality print-on-demand products. The company offers outstanding customer service, fast shipping, and a wide variety of products that will help your business grow.