Last Updated on April 22, 2023 by Ewen Finser
Creating a website is a tall order, even for the savviest designers and developers out there. And if you're not an experienced website creator — or you have to build several sites in a short period of time — getting the job completed efficiently is even more important.
When I've had to create websites, even if I'm essentially copying the same design from another one of my sites, it can take an inordinately long amount of time to get it right, especially when designing from scratch.
This is where a tool like Webflow comes in: it lets you get your website up and running without having to mess with coding. Even as a person who's somewhat well-versed in certain CSS coding, it's always nice when I can get away without having to use it unless I'm after some type of super-specific customization. Plus, with easy-to-install, fully-customizable templates for Webflow, half of the design work is handled for you.
Today, with so many people freelancing or working remotely from home, having a strong presence online is more important than ever. I know that if people didn't have a place to learn more about me and get in touch, I wouldn't have had nearly as many opportunities as I've had.
Using a template can save you a lot of time – and possibly a lot of money, too. You'll have the ability to customize it to your brand while limiting how much time it takes to get your website live and ready for visitors.
In this article, I'm going to start by sharing my very favorite Webflow templates – that way, if that's all you're interested in, you'll get that info immediately. Next, I'm going to briefly cover what Webflow is and its unique benefits.
After that, I'll explain a bit about choosing the right template for your Webflow site, and then I'll give you a list of my top choices for Webflow templates. In the end, I'll answer a few of your most pressing questions. Let's get started!
Bottom Line Up Front
There are a lot of templates aimed at agencies or people who need to create a portfolio. I love Analogue because of its unique page options and Aurora for its trendy coloring.
For other niches, I always prefer the templates that were created just for them — like Carded for financial businesses, Dimora for real estate, and Fitnesso for personal trainers and coaches. A top e-commerce template is Luma, and for content creators, I appreciate the text-first design of Typefolio — I may even use it for myself!
Here are the other Webflow templates on this list:
What is Webflow?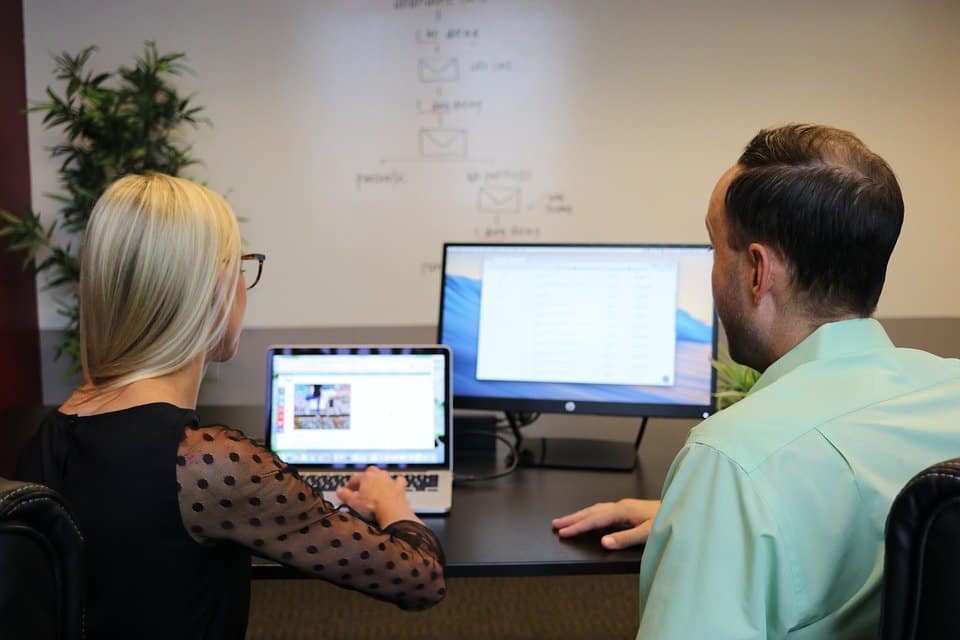 Before you can understand why Webflow templates are useful, you should have a good idea of what Webflow itself is. (Check out this Webflow review, too.) Webflow is a website developer that's aimed at non-developers (like me and possibly you!) — though professionals can and do use it too.
With Webflow, you can build a website without knowing anything about coding — and if you do code, you can customize the website to practically no end. Still, sans coding knowledge, there are a lot of ways to personalize your site so it reflects you or your brand.
Webflow Benefits
Webflow comes with a lot of benefits for building a website. Its three standout features are:
Design Functionality
You don't need any coding know-how to use Webflow — which is possibly its biggest perk — but there are advanced options if you have developer knowledge. You can customize your website without limits if you know how to code (but you can still exercise a lot of design control even without that background).
Easy-to-Use CMS
Let's say you're setting up a website for another person or for an entire team to use. If they don't have any developer-level knowledge, they'll still be able to update the site as needed. If they want to tweak the design, add a page, swap out pictures, etc., they can easily make whatever changes are necessary.
FTR, this is huge. When I used to design websites semi-regularly for clients, they were always happy with the final result – and totally clueless about how to add images, write a blog post or do pretty much anything without me. Unless you want to be on call all the time, creating a site that the owner can work with is essential.
Plugin-Free
Webflow comes with the power you need right out of the box, no plugins necessary. Being able to design a website without the hassle of setting up plugins means you'll save time while creating a lightweight site.
As a person who's had endless plugin-related issues across several sites, knowing I can have a site that's plugin-free is a breath of fresh air. Note, though, that there are plenty of Webflow integrations you can use if you want to connect another tool to Webflow for easier website management.
Plus, when it comes to Webflow templates, they're entirely customizable, so you can mix and match elements and then personalize them to your heart's content.
Features to Look for in a Webflow Template
The best website templates offer both aesthetics and functionality — you need your site to look good while performing well. Here's what to look for when choosing the right template for you:
Base Elements and Utility Pages: Being able to edit buttons, 404 pages and similar areas means you have total control over your entire website and can customize it to match your brand and voice.
Common Pages: Unless you're after a slim, one-page website, it's helpful to choose a template that has a selection of standard pages that you can tweak to your liking. These include the home page (of course), About Us and Contact pages, a blog, and — depending on the type of website — maybe a Pricing page, an e-commerce shop, a page for scheduling appointments, etc.
Contact Forms: If you can create a contact or subscribe form without fiddling with code from a third party, it'll work more reliably so you don't have to worry about missing any important messaging.
Responsiveness: You want a fully-responsive template that will work on all screens and mobile devices. From the content to navigation menus, everything should be usable and viewable regardless of the device the visitor is on.
Universal Style Changes: A style guide that allows you to apply site-wide changes from one place will save you tons of time and frustration. You can update your whole website when something about your branding changes, like a font style or color scheme.
Top 16 Webflow Templates
It can be overwhelming to choose a template for your Webflow website. That's why I've scoured the internet to round up the best ones for you. Whether you use these as-is or refer to them as inspiration to guide your own design, I think they're worthy of a look.
Analogue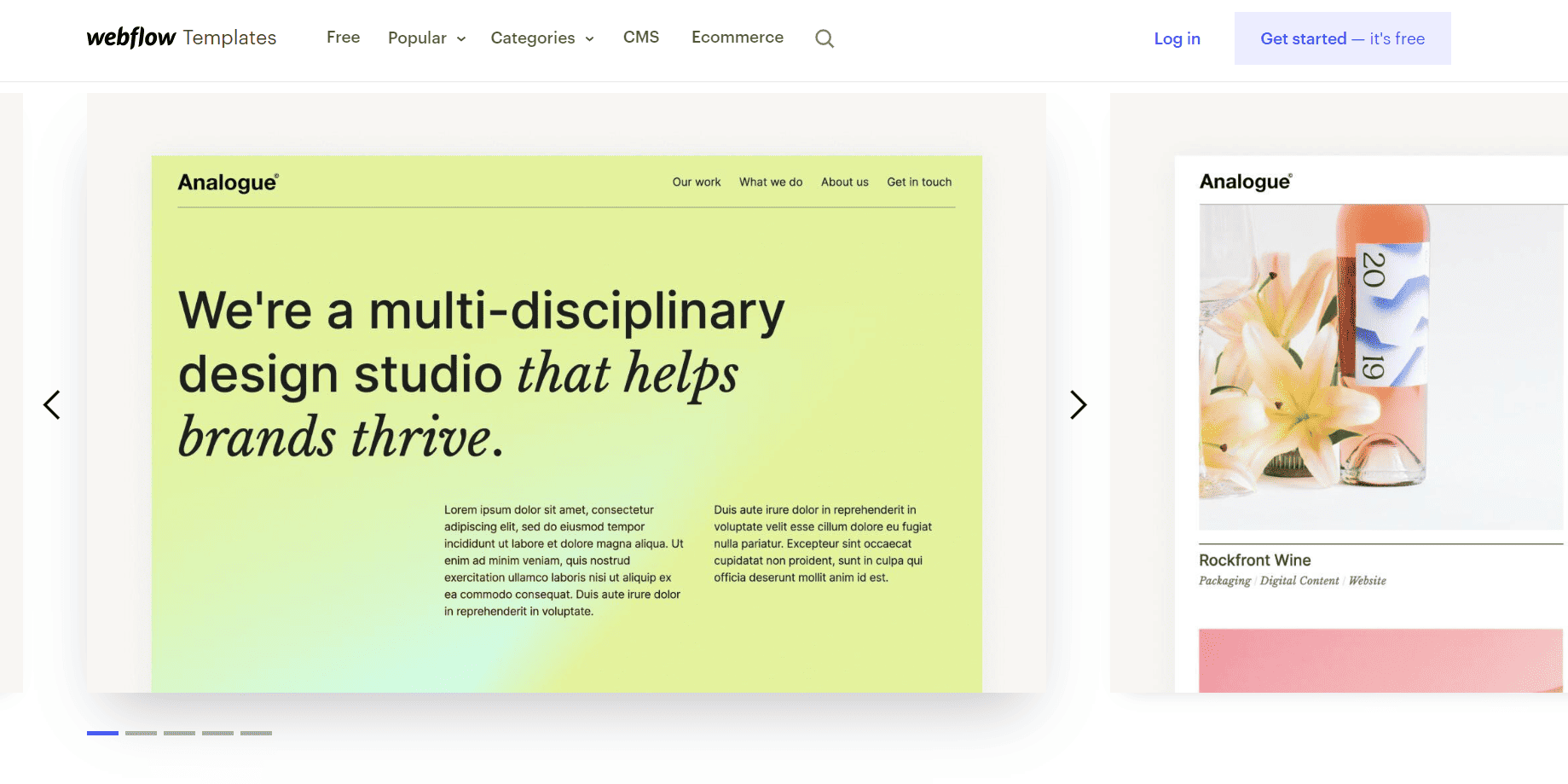 This modern Webflow template is ideal for agencies, studios and marketing websites — basically, any company with design work to show off. That includes companies that offer services involving brand strategy, graphic design, illustration, product packaging, and web design, among others.
Analogue includes a few out-of-the-box pages you don't get from a lot of other templates, like separate Our Work and What We Do pages, a team member page, and a privacy policy page. You also get the standard pages most websites need, like About Us, Contact, News, etc.
Pros
Puts creative and design work front and center
Beyond-the-norm page options
Cons
Home page design may not be visual enough
So many page options make it tempting to create a cluttered website
Aurora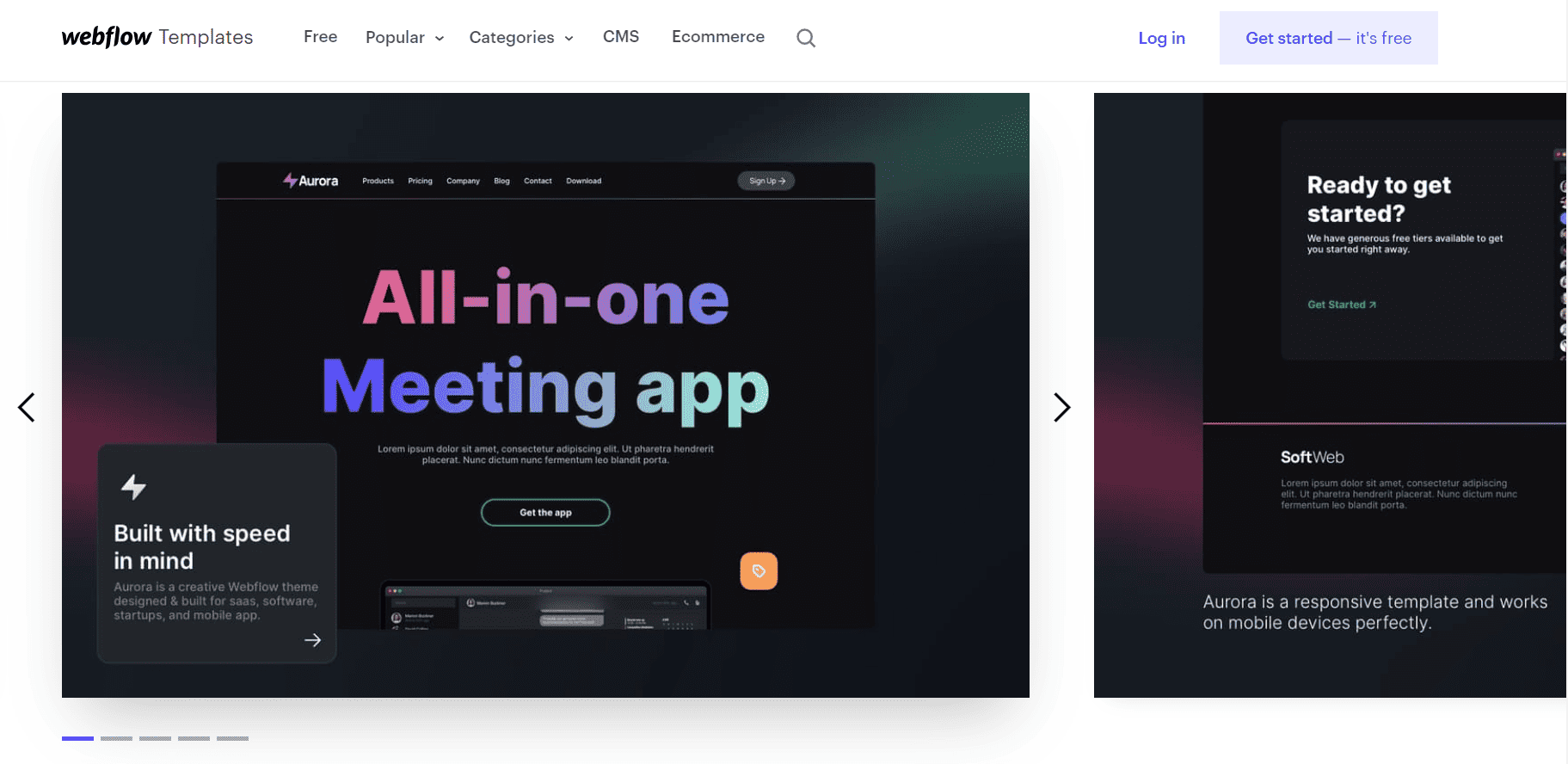 The Aurora template is best for mobile app companies, SaaS and startups. You'll be able to present your company, projects and services in the best way possible, and it's a fun template, too, following on-trend design aspects — Aurora uses a dark theme with glowing and gradient colors.
You can choose from different home pages for desktop and mobile, and there are also pages for pricing, Q&A, testimonials, and more.
Pros
Trendy coloring and design
Different home page options to choose from, including mobile
Unique page templates, like FAQ and testimonials
Cons
Theme may be too dark for some
On-trend design may look dated in the near future
Beacon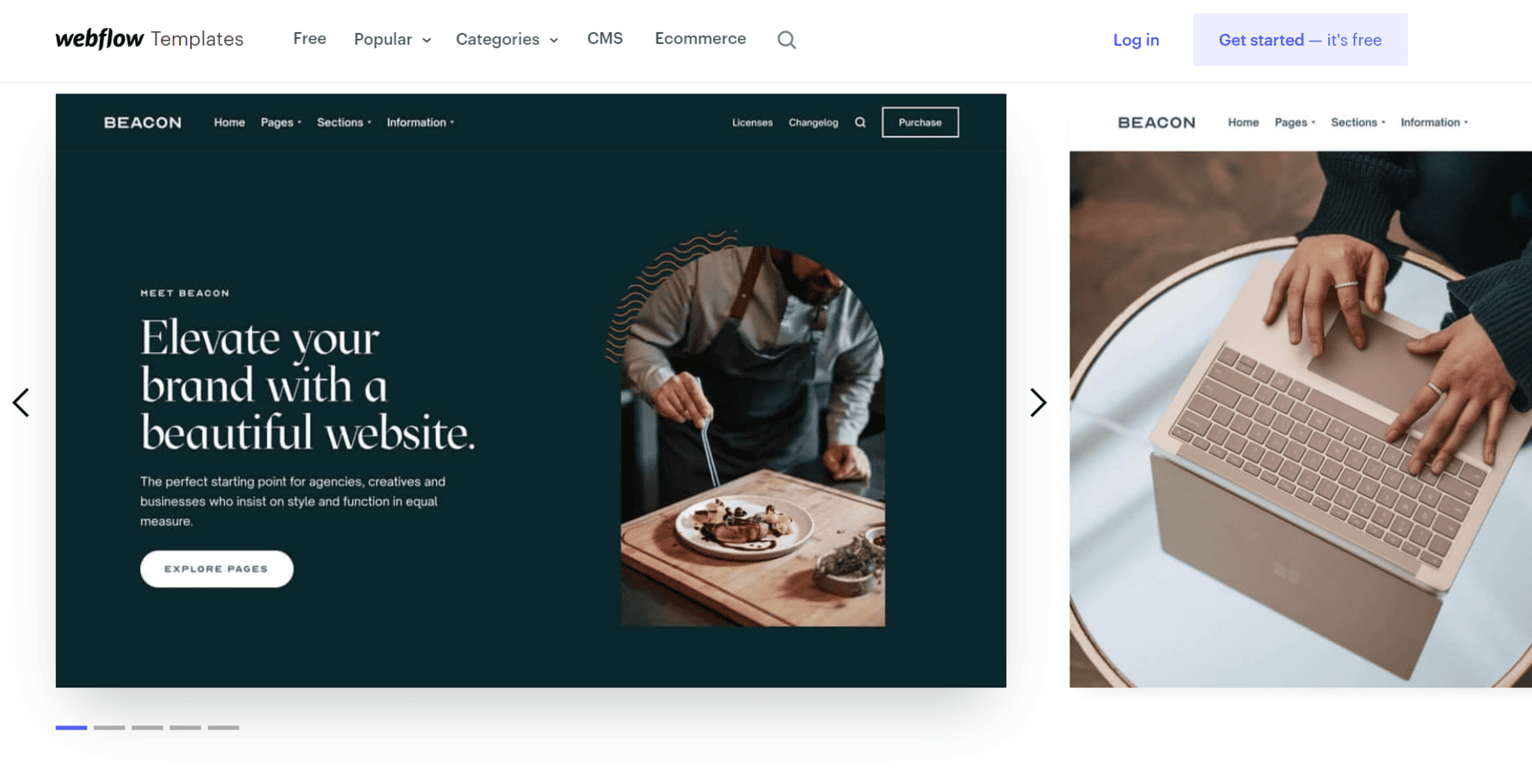 This elegant and modern template is great for agencies, creative studios, small businesses and startups, allowing you to create a polished website for your brand that will promote your professional services.
Ready-made pages, like Pricing and Company Services, guide you through creating a fully-fledged business website. And unlike the other templates on this list, Beacon has a dedicated section for case studies, where you can showcase customer stories to enhance your social proof.
Additionally, you can add Google Maps to contact pages, set up forms to collect contact information or let users subscribe to your newsletter, and add search functionality to the navigation bars.
Pros
Dedicated area for case studies
Google Maps can be added to contact pages
Search in navigation bar
Cons
Multiple home page layouts make it difficult to choose
Tons of page options mean setting up your site will take longer
Carded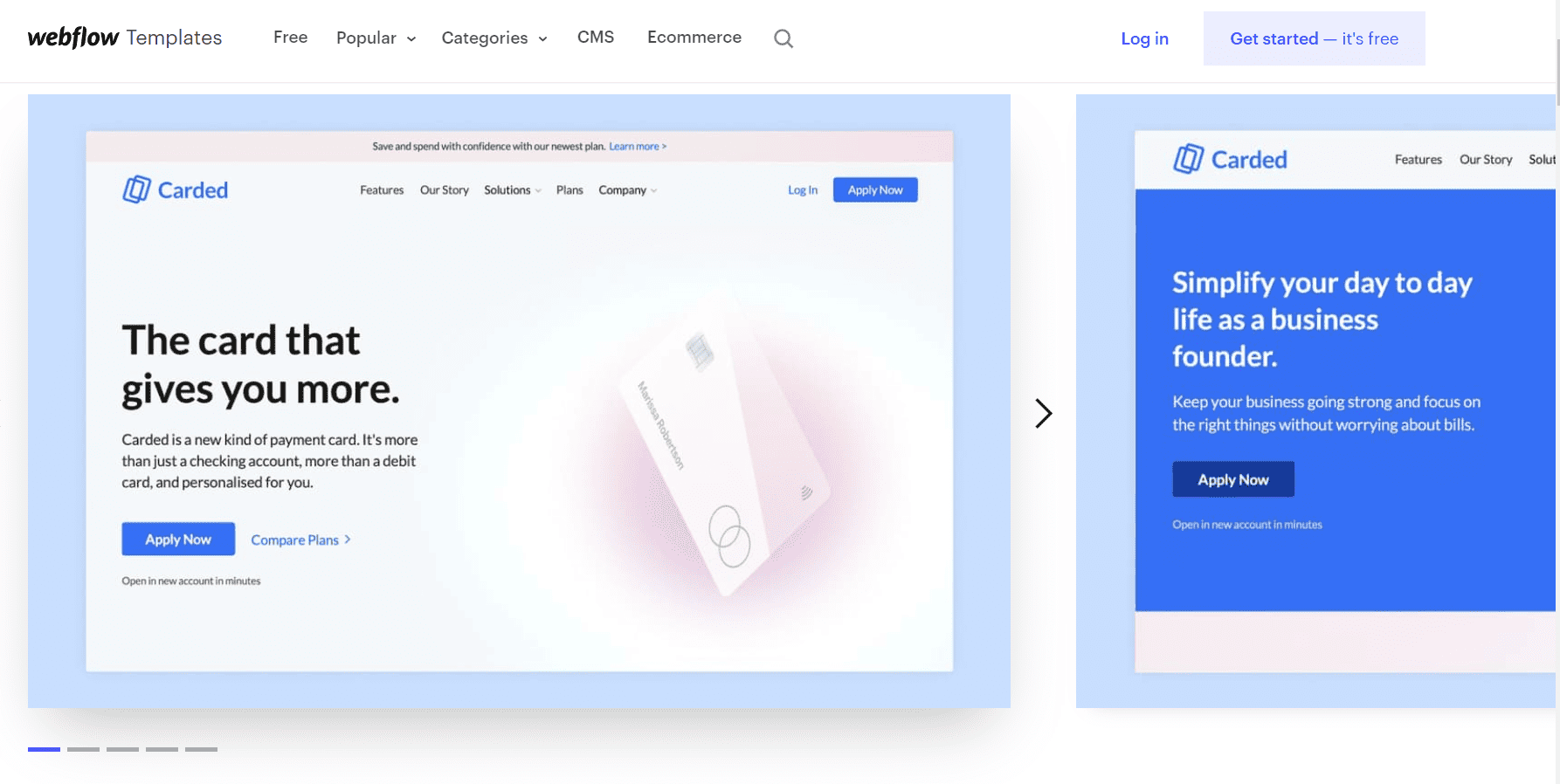 This template is designed specifically for financial businesses, including banks, credit card companies and fintech startups. It's minimalistic, giving you the space to show off whatever you're promoting, whether that's a digital product or a new credit card.
There are more than 20 finance-specific pages included that you can choose from and then adapt to your brand, including Apply Now, Careers, Features, and Solutions.
Pros
Great for financial businesses
Finance-specific page templates
Cons
May not work well for non-financial brands
Highly professional brands may find the design too elementary
Creator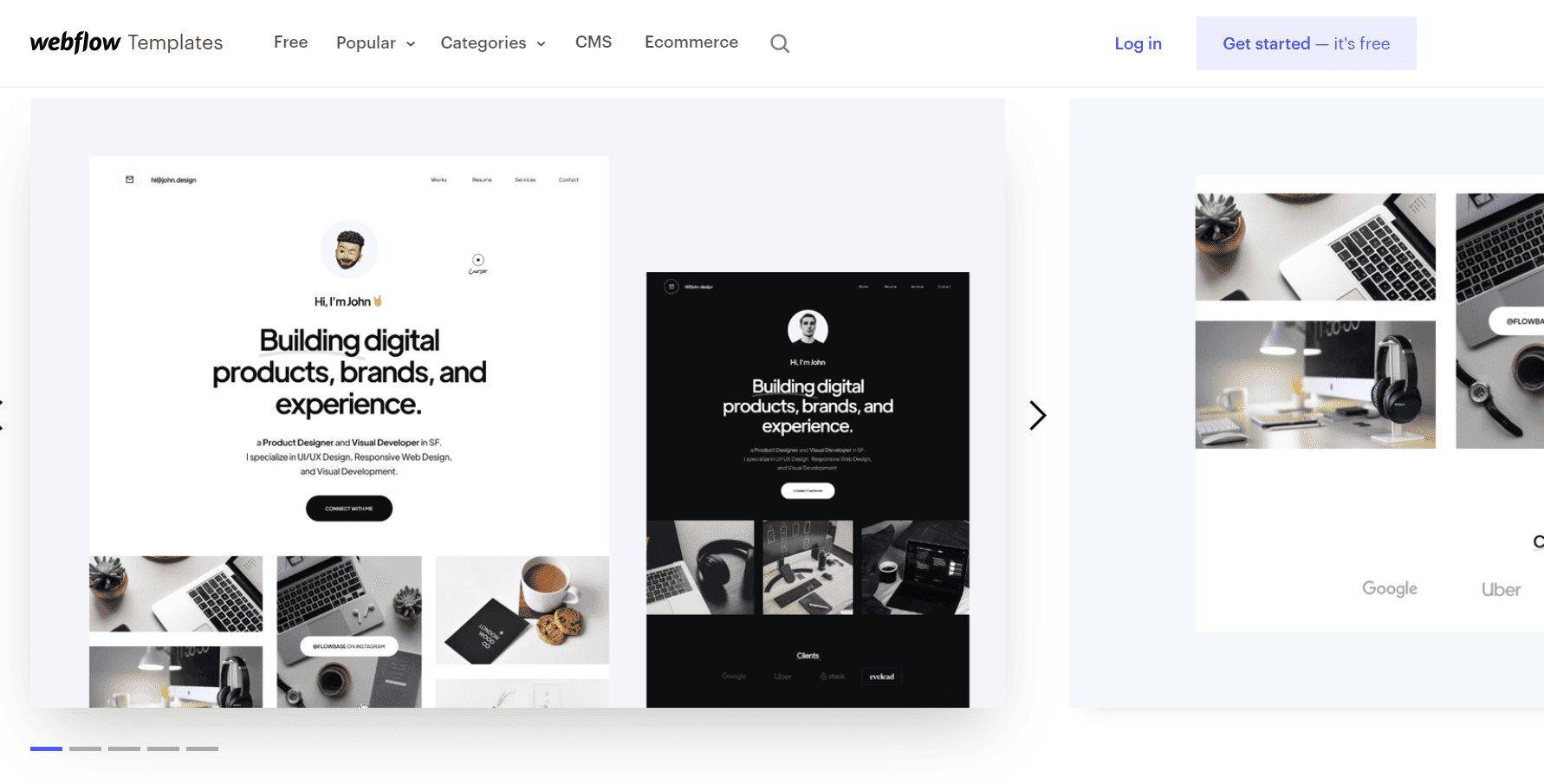 For online creators who need a slim and clean-looking personal website, Creator is a fantastic choice. You can display your work, make connections and share information about yourself that will intrigue visitors, all in a trimmed-down online space.
There's a home page, portfolio and resume page, plus project and contact pages. There's a dark mode option, too, in case the white colorway is too bright for your personal brand.
Pros
Slim website for creators who want something basic
Portfolio, project and resume pages showcase experience
Dark mode option
Cons
May not be rich enough for some website owner
Won't make enough of an impact if you don't have a strong work history yet
Dimora
Created for real estate companies and professionals, the Dimora template lets you show off the properties that you have for sale and entice clients to inquire about them. There are dedicated spaces to add listings and detailed information, present your agents, and promote exclusive offers.
Pros
Ideal for individuals and businesses in real estate
Beautiful displays for property photos
Cons
Won't work well for non-real estate brands
Text boxes may not appeal to some people
Fidelity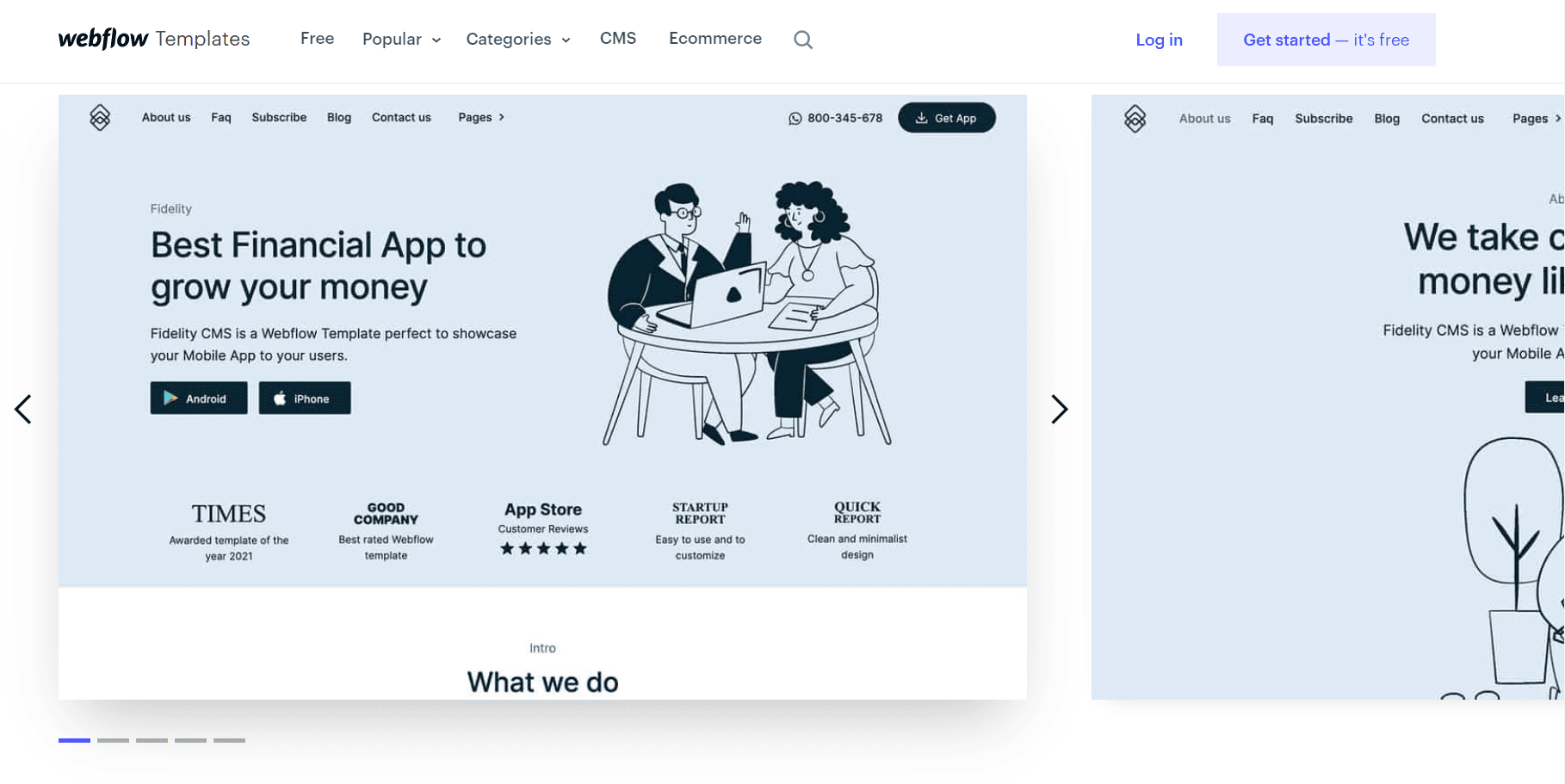 While fidelity is best for mobile app creators, it can also be effectively used by consultants, design agencies, and freelancers. It's fully responsive, which is particularly important if you're promoting a mobile app. The template's elements include contact and newsletter forms, a FAQ section, a blog, and buttons — anything you'd need to showcase your app and help people decide if it's for them.
Pros
Best for mobile app creators
Plenty of call-to-action buttons
Cons
Home page can look a little busy
The out-of-the-box design isn't very attractive
Fitnesso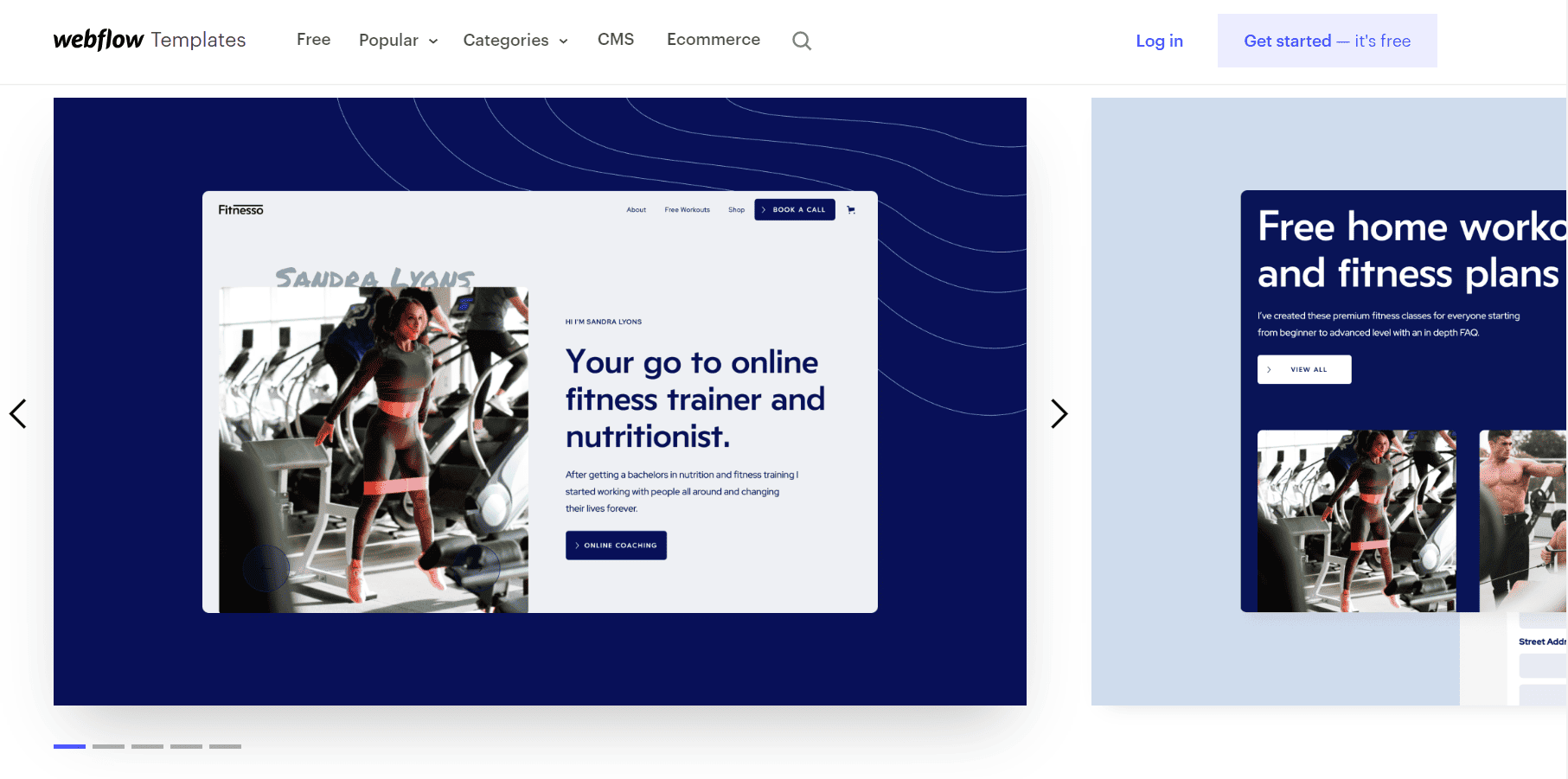 Fitness coaches who want to reach clients to provide resources and offer services will love the Fitnesso template. Instead of an e-commerce template that's focused on selling products, this one's goal is to sell your services, custom workouts and meal plans. Plus, you can create a section where visitors can schedule calls and consultations with you.
Pros
Great for fitness professionals
Ability to sell services through the website
Cons
You need a lot of photos to make the website impactful
Having visitors book a call through the website can feel impersonal
Kurt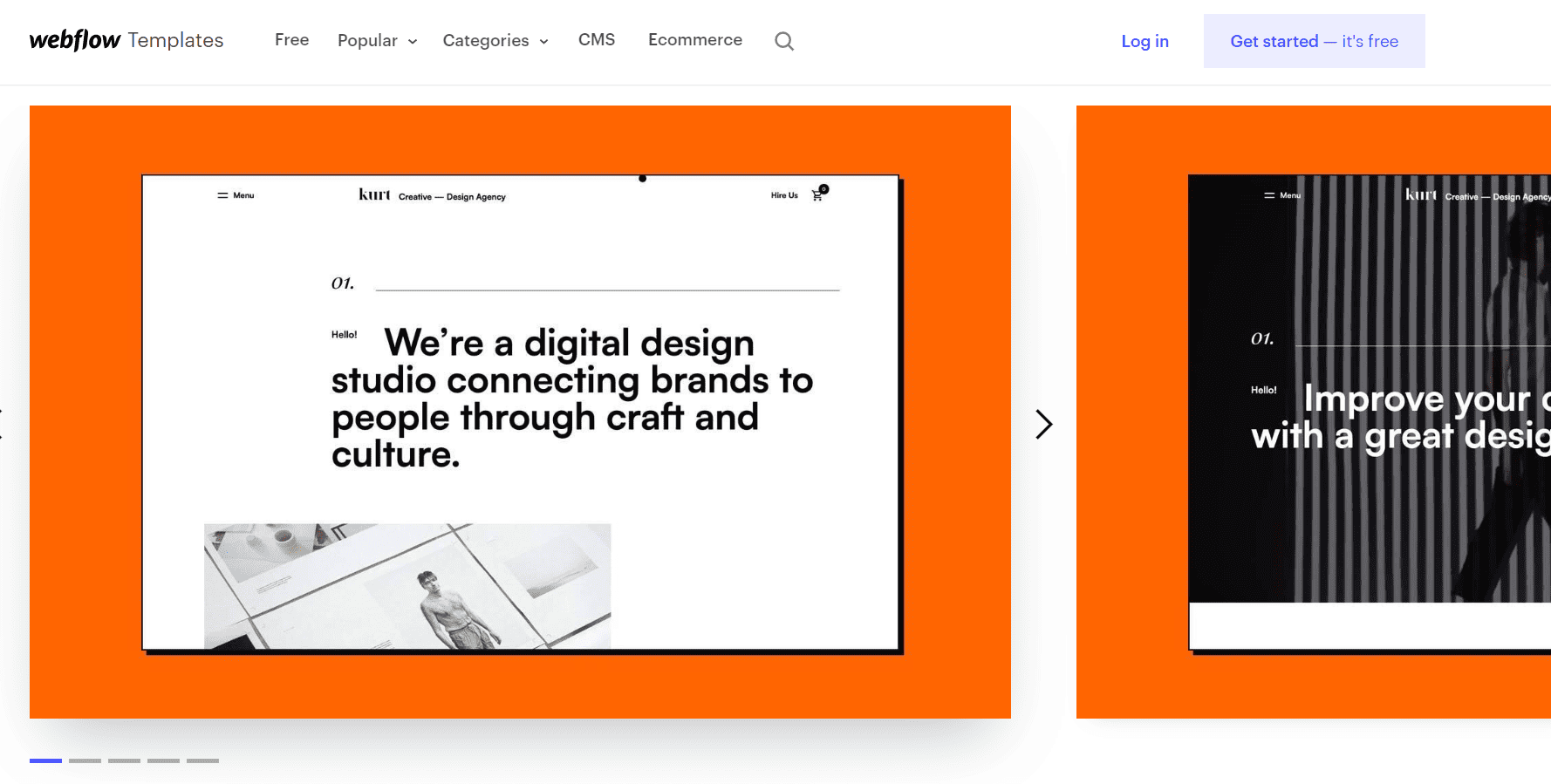 This agency template, which has a business-centric design that's equally adaptable for corporate sites and singular projects, has a classy black-and-white color palette. There's a lot of focus on fonts and typography with this Webflow template, and ready-made blocks and pages make building your site a cinch. Notably, there are three home page styles to choose from, plus pages for an About section, contact information, blog posts and more.
Pros
Multiple home page styles to choose from
Modern and sleek black-and-white color scheme
Cons
Theme may be too minimalist and stark for some brands
Limited space for text in some areas
Luma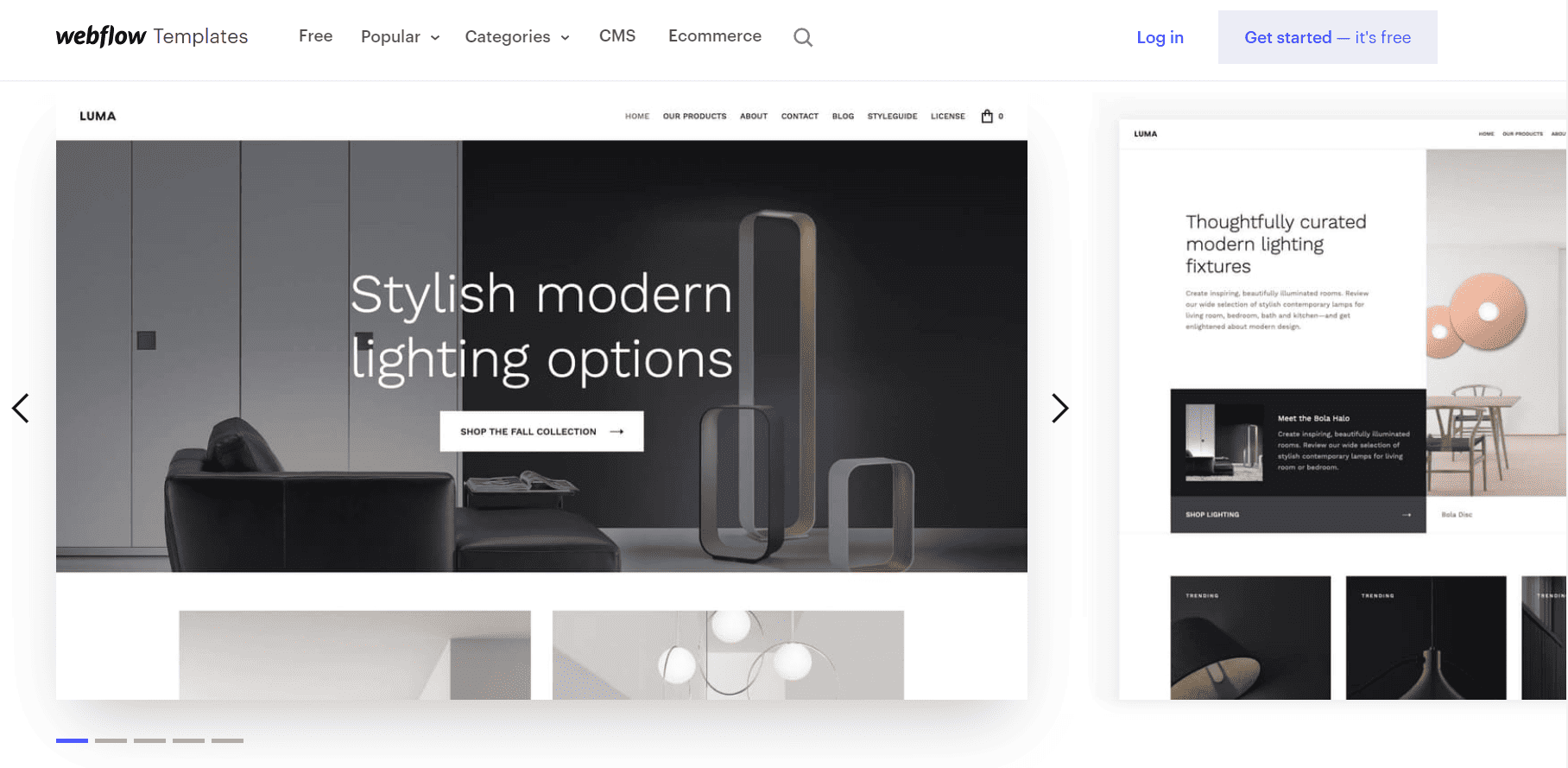 Luma is a solid, e-commerce-ready template option for retail store websites. It's modern and minimal so that you can put the focus on your products.
Pre-made pages help you get your site up and running fast so you can start making sales, and it's responsive on all devices, which is especially important for a retail site since visitors are going to want to navigate quite a bit via mobile. There are two design options for the home page, plus about and contact page options, as well as a blog, product feed, checkout page, and order confirmation page.
Pros
Ready for e-commerce Webflow sites
Two home page designs to choose from
Cons
Too burdensome for non-commerce websites
Extra time required to set up checkout, order and other commerce pages
Matter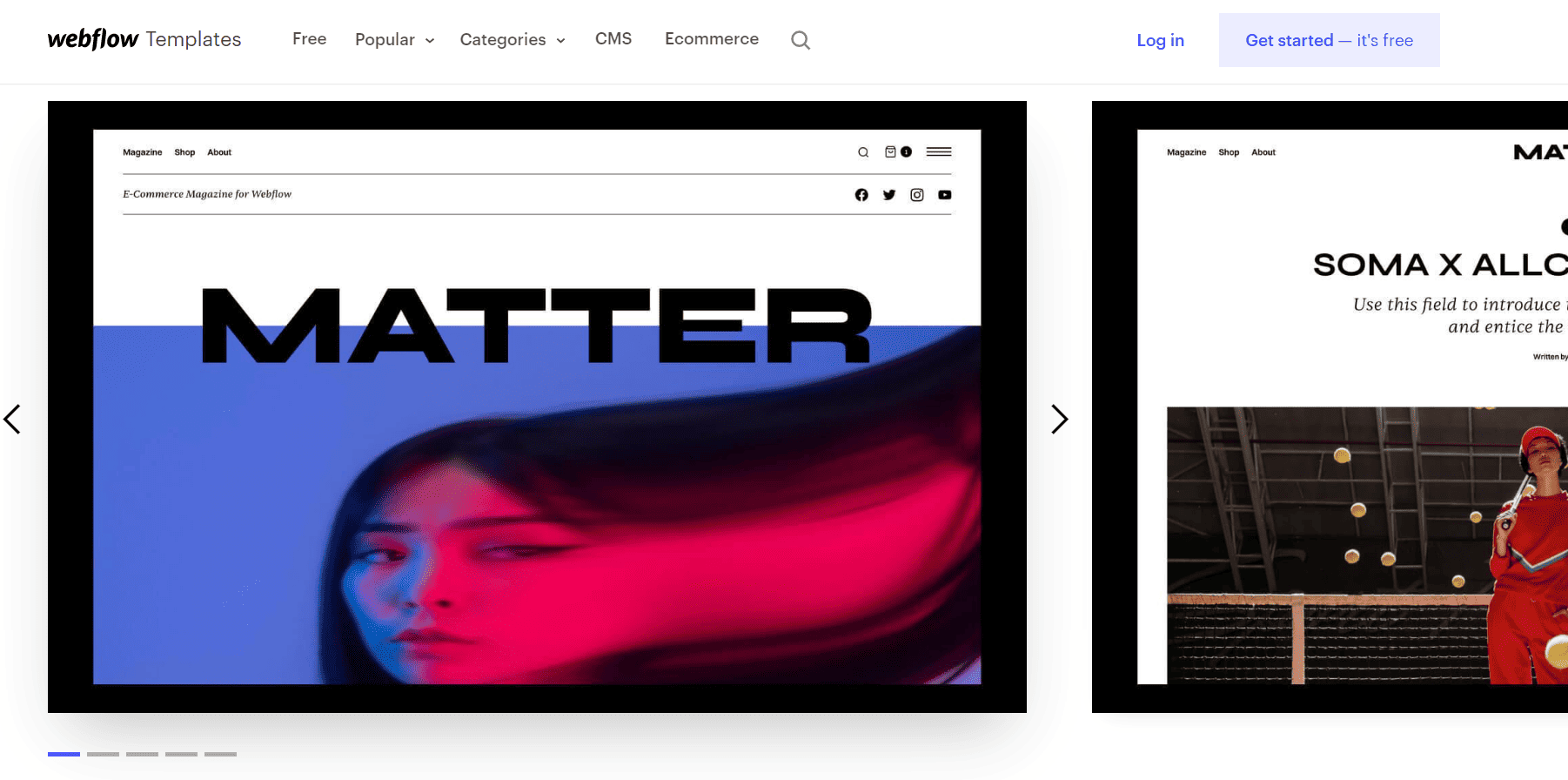 This magazine-style template is a top option for magazines and publishers. You can create a bold, eye-catching masthead, showcase merchandise and products, and set your prices. There are 15 pre-made page layouts, and the entire template puts the focus on the content and stories you're telling.
It's a prime choice if you're looking to gain both readership and a customer base — you can sell copies of your publication or create another type of income stream, like curated products or your own merchandise. Visitors can easily sign up for your newsletter or submit inquiries via forms, too.
Pros
Bold design for publications
Multiple pre-made page layouts
Ability to sell merchandise
Cons
Design is too in-your-face for buttoned-up brands
Can be overwhelming and crowded
Otis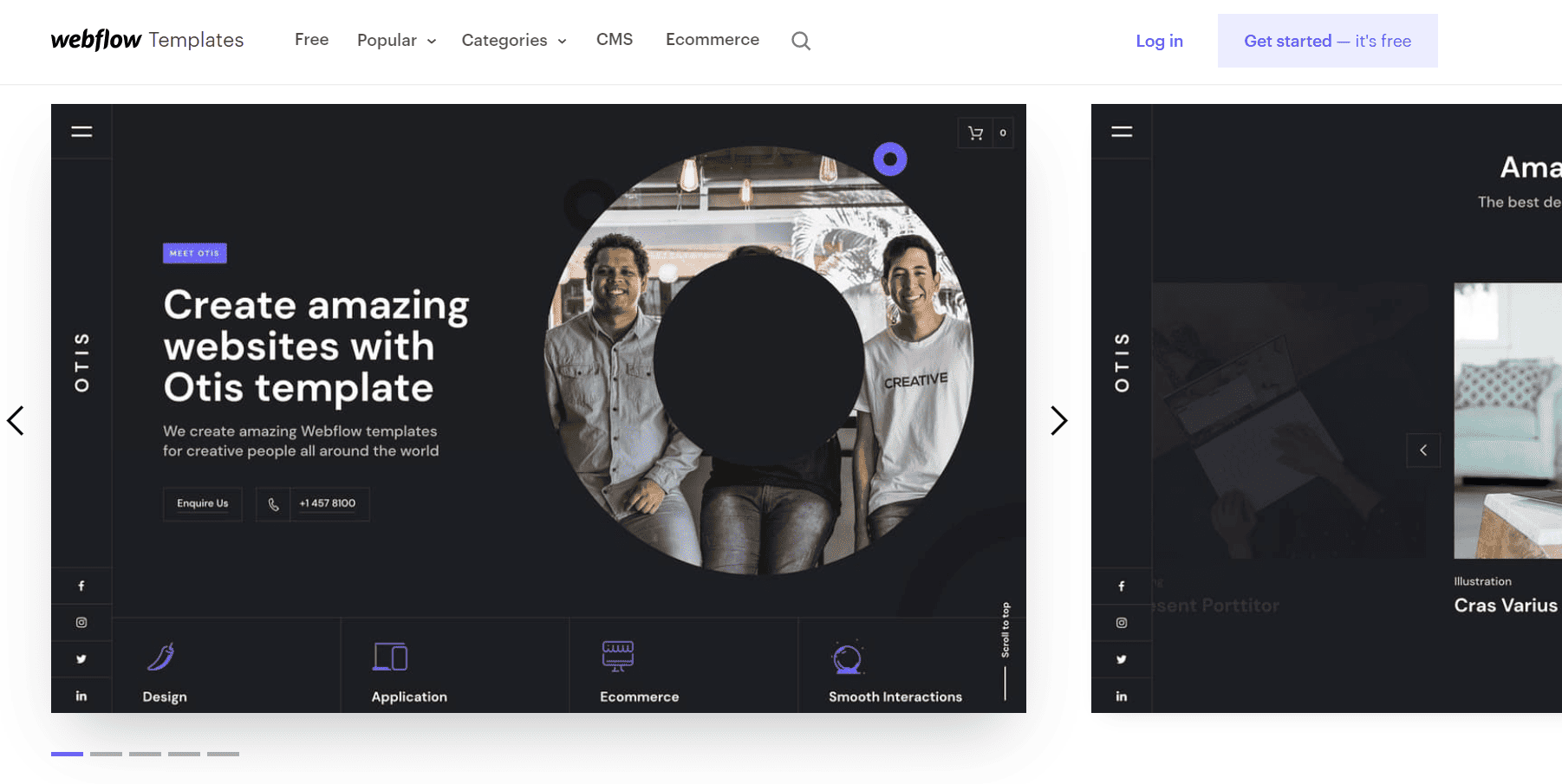 If you want the trendy style of Aurora combined with the straightforwardness of Beacon, Otis is an excellent compromise. Primarily for agencies, this template has several header options, including sticky, standard or hide/show when scrolling. There are also contact forms, dedicated project pages and — bonus — copyright-free images you can use.
Pros
Multiple header and scrolling options
Pages specifically for projects
Copyright-free images to use
Cons
Dark color scheme isn't right for all brands
Other sites may use the same copyright-free images
Portfolios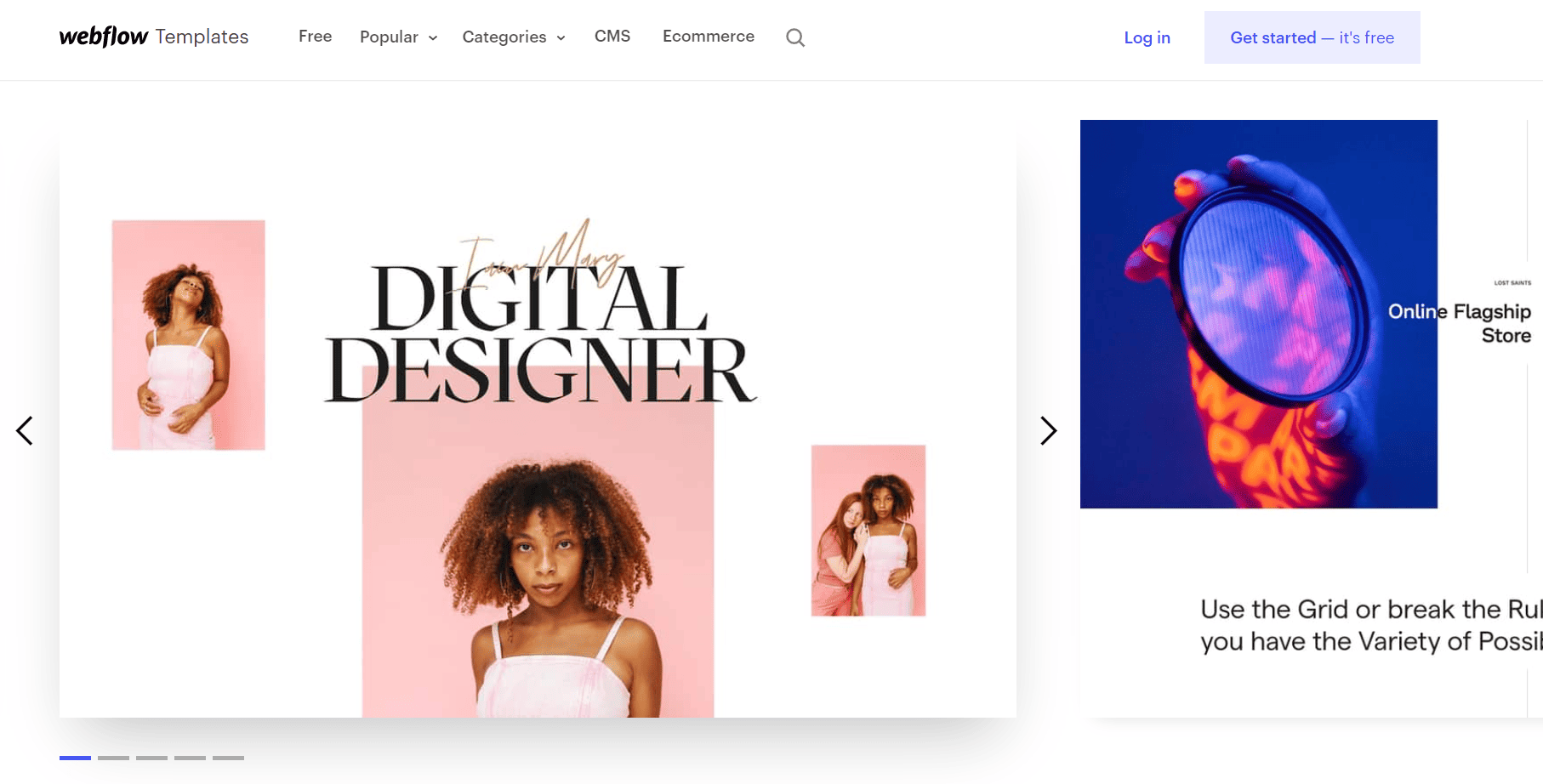 As the name suggests, this is a portfolio template. But unlike other streamlined online portfolios that only utilize a page or two, this template is best for when you need a larger-scale site to present your work.
You can choose from six home page layouts, and there are also multiple layout options for work showcase pages, about sections, services pages, your blog, and contact pages – plus, there's an e-commerce section. Additionally, you can opt for fixed or e-commerce navigation, whichever you feel will serve your visitors better.
Pros
Create a large-scale portfolio site
Six home page layouts
E-commerce capability
Cons
Not ideal for non-visual portfolios
Design can feel disjointed
Reflex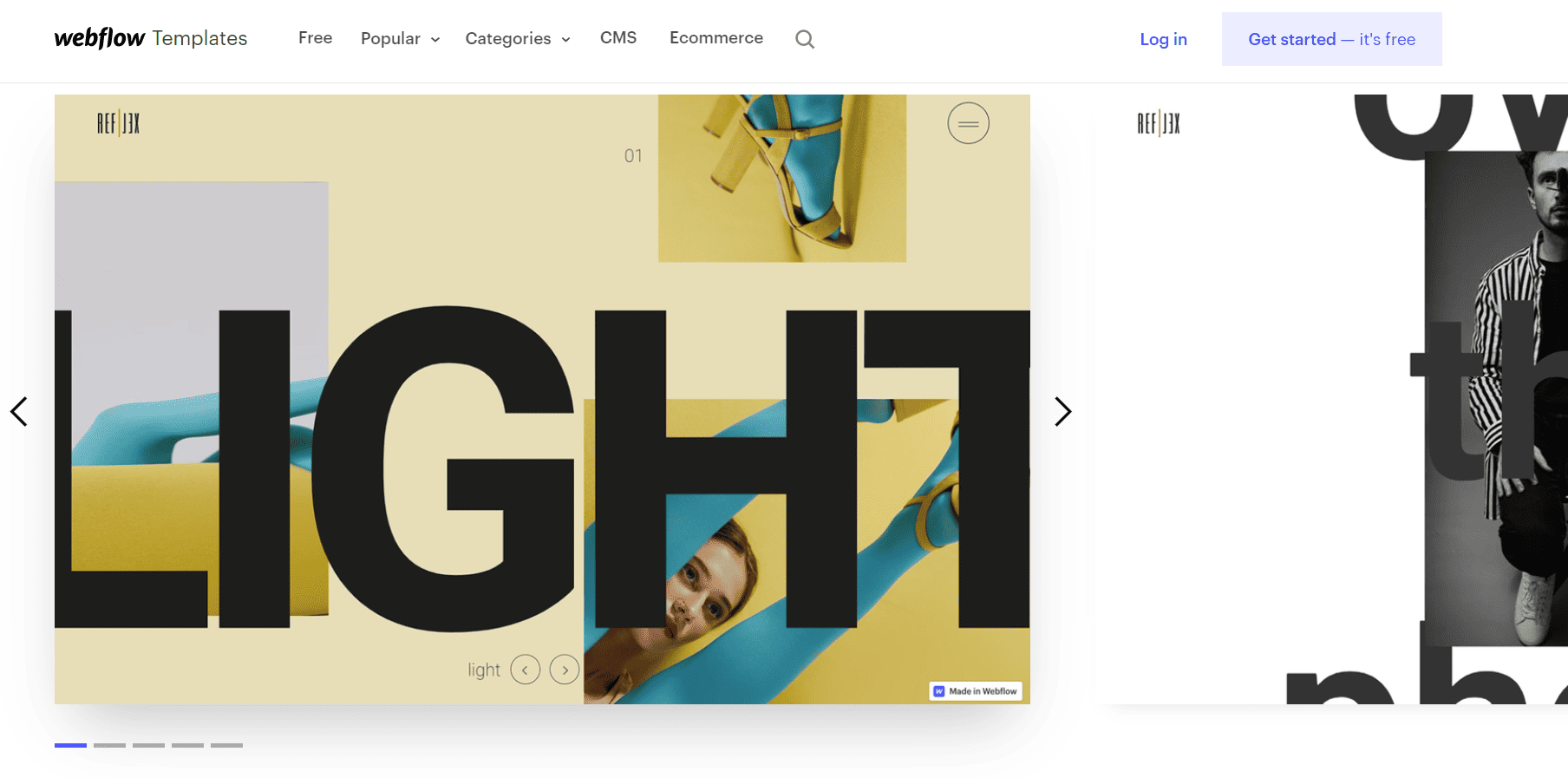 This one-page portfolio template is ideal for agencies and freelancers who want a simple way to showcase their creative work. The hamburger menu makes the different areas of your site easy to access without crowding the top of the landing page with a horizontal navigation menu. Sliders and a gallery put your visual work front and center, and it also has the basics any website needs, like a contact form and an About section.
Pros
Extra-simple one-page portfolio site
Hamburger menu reduces clutter
Cons
Won't have enough space to spread out larger portfolios
Some visitors may not know where navigation is
ToyStore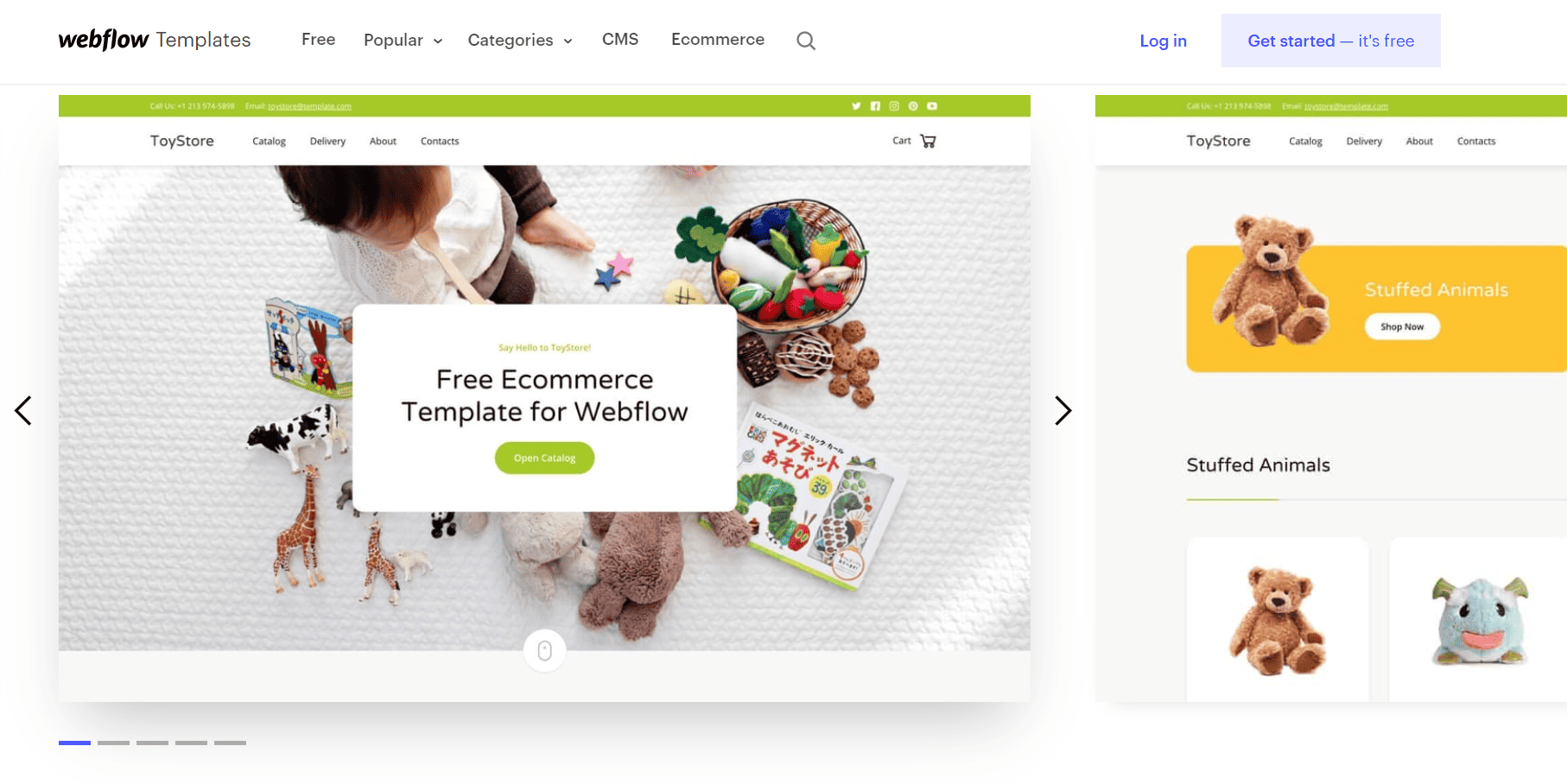 This e-commerce template is particularly great for kids' toy stores, as it's bright, colorful and eye-catching. Set up email subscriptions (so shoppers can stay in-the-know about your latest additions), along with landing pages and product pages.
Pros
Adorable for a children's toy shop
Sleek layout, even considering it's for kids' products
Cons
Too childish for non-kid-focused businesses
Out-of-the-box green color scheme isn't very attractive
Typefolio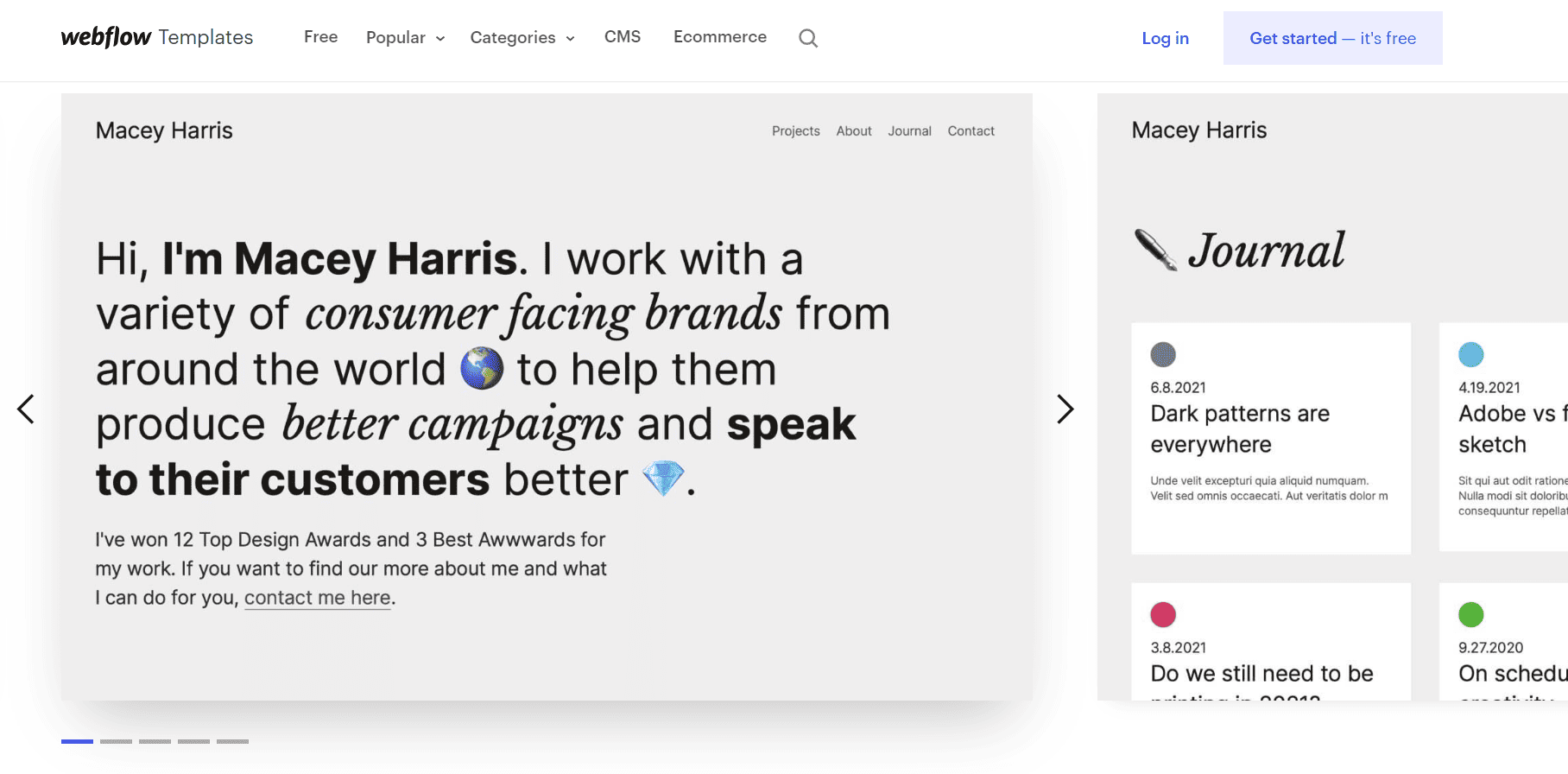 Sometimes you want to make an impact with text instead of imagery. Typefolio lets you put your words front and center to entice visitors to explore your portfolio or get in touch with you. This is a super-simple portfolio template that gives you just enough space to explain who you are (and why someone should work with you), show off your best samples, and provide contact information.
Pros
Attractive font options
Showcase a copy-centric portfolio
Cons
Not ideal for visual-heavy brands
So much text can be a turn-off to some
FAQs
Question: Is Webflow a good CMS?
Answer: Webflow is an excellent CMS, even when compared to other top CMS platforms. Webflow is known for having particularly clean code, which means sites will load faster. Also, you can enhance SEO with metadata without installing a plugin that could slow down the site.
Question: Are there templates for Webflow?
Answer: Yes! On Webflow alone, there are more than 1,000 templates to choose from, some paid and others free. You can visit the Webflow Templates library here.
Question: Are Webflow templates worth it?
Answer: Yes! Webflow is known for being a design-first website builder, and its templates are just as well-known for being beautiful and customizable. They span a broad range of industries, niches, and use cases, and they're all mobile-optimized, so they'll be responsive on any screen.