Last Updated on April 22, 2023 by Ewen Finser
Printing stickers at a local print shop, mailing them abroad to my friends, and receiving their stickers in a similar fashion, was a part of my life in the late 1990s and early 2000s.
All this changed when I stumbled upon print-on-demand platforms that allowed me to ship my stickers wherever I wanted.
Today, the best print-on-demand sticker providers handle printing and delivery, allowing you to upload a file you'd like to print and dedicate time to creating your next sticker design. The only problem is that nearly all print-on-demand companies offer sticker printing services, which complicates the process of choosing a provider.
In this guide, I'll run you through what you'll need to find a print-on-demand sticker provider you like collaborating with and suggest several platforms that deliver high-end printing and dropshipping services.
Bottom Line Up Front
Printify is one of the largest print-on-demand platforms whose range of services extends far beyond stickers. Hence, opting for this provider can be a good option for e-commerce stores and companies that want to use stickers as promotional tools.
If you only want to pay as you make sales, consider Printful as a similar alternative to Printifiy (with many selling platform integrations), but with "pay as you sell" pricing vs monthly tiers).
I recommend choosing Vistaprint, MakeStickers, or Sticker Mule if you're a young creative or a small business owner searching for a way to distribute your designs globally.
My Top Picks at a Glance
| | | |
| --- | --- | --- |
| Provider | Design tools | Best for |
| | None | Up-and-coming artists |
| | Sticker Maker | e-Store owners and small businesses |
| | Mockup Generator | Medium-sized or large companies |
| | Templates | Kiss-cut stickers |
| | 2D and 3D Design Maker | e-Stores and online retailers |
| | Design Studio | Corporate and digital advertising |
| | Upscale, redraw, trace and Studio | Young designers and small business owners |
| | None | Advertising agencies |
| | Mockup Generator | Kiss cut vinyl stickers |
Making Stickers for Online Sale
The method you use to design stickers might affect your choice of a print-on-demand service. If you're using Adobe Illustrator, Adobe InDesign, or some other professional graphic design software, then there's no need to opt for a print-on-demand service that grants you access to design tools.
Alternatively, you design stickers with online platforms like Canva, Procreate, or BeFunky that don't require users to have advanced design skills.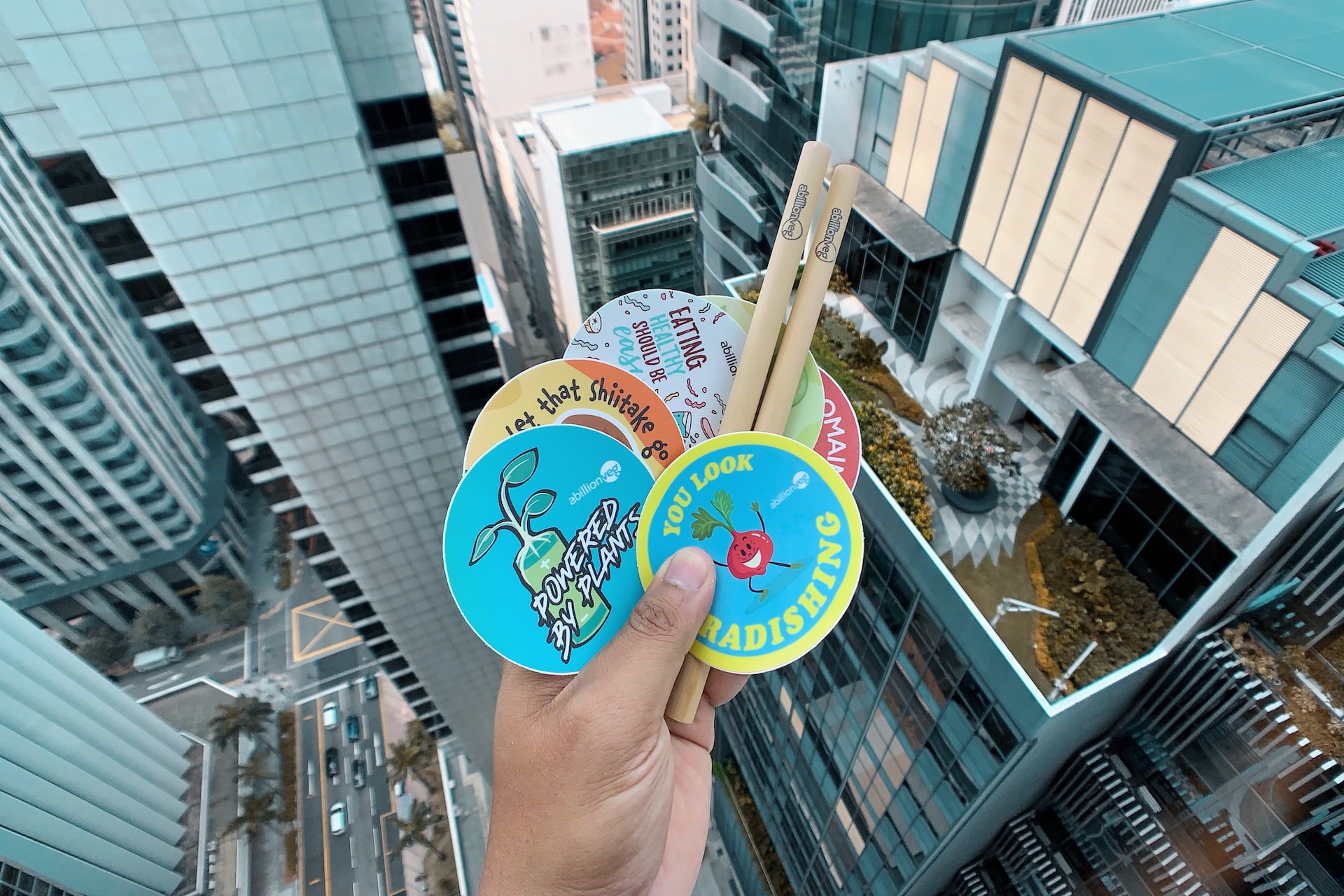 POD platforms like Sticker Mule or Printful have design studios equipped with essential tools anyone can use regardless of how much experience with a graphic design they have. These providers also have vast image libraries you can use to find pictures for the stickers you want to design.
Still, the print quality of stickers created with free tools will be considerably lower than the quality of sticker designs made with professional software. Besides having the skills to make stickers, you'll also need fresh and innovative ideas to distinguish yourself in an increasingly competitive market.
Cutting and Finish Types
Incorporating stickers into your product portfolio will be much easier if you're familiar with all the options you have at your disposal. Stickers come in all shapes and sizes, so for example your designs can be circular, rectangular, or hexagonal.
The two most common cutting sticker types are die cut and kiss cut. Let's take a quick look at the characteristics of these cut types:
Die-cut: This term refers to stickers with top and bottom layers that follow the shape of the design, which can be round, square, rectangular or follow the shape of the typography.
Kiss-cut: The cut is only applied to the top layer, while the backing retains its original square or rectangular shape.
Besides different cutting types, stickers can also have different top layer finishes, so you can choose from the following option:
Prismatic
Matte
Vinyl
Clear
Glossy paper
Holographic
Still, you must check which finish types are available at the POD platform you'd like to use.
Monetization Potential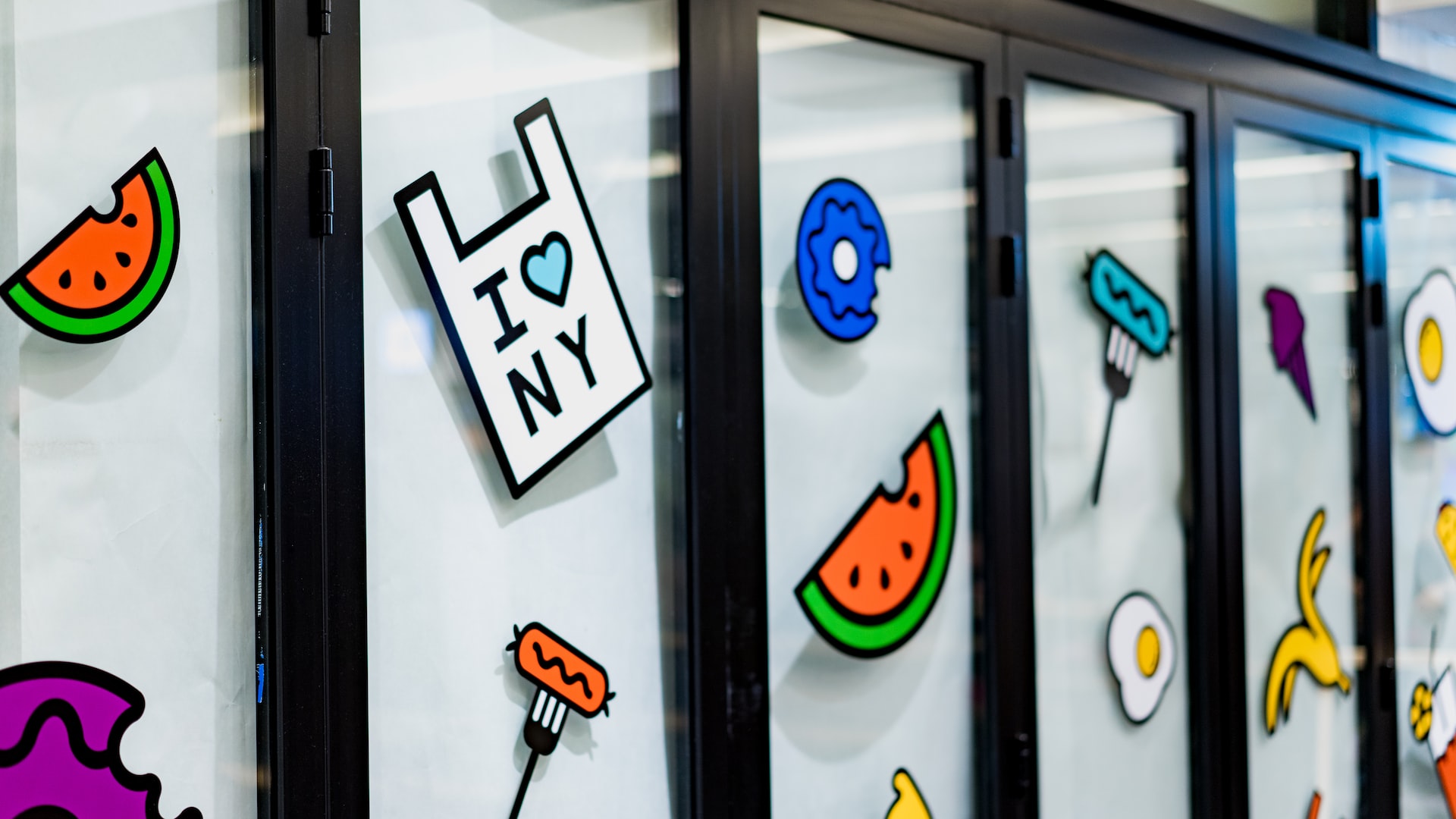 Getting into the stickers niche is becoming increasingly difficult as they're in high demand. You'll face fierce competition if you want to sell your sticker designs since thousands of online stores and platforms already focus primarily on sales and distribution of stickers.
Hence, your ability to monetize your work will largely depend on your creativity, style, and innovativeness. Stickers are a powerful promotional tool that can be utilized to advertise a business and increase its visibility.
Printing company logos or motivational messages on stickers can indirectly improve your company's profits by allowing you to use innovative marketing techniques. Businesses often offer stickers as gifts or distribute them at events to build brand recognition.
Using print-on-demand platforms to print and deliver stickers can be useful for entrepreneurs who want to establish a presence on the international market.
Integration and Dropshipping Options
Understanding the types of services different print-on-demand platforms offer is crucial when choosing a sticker provider. For instance, Redbubble doesn't allow users to link their profiles to their Shopify, Etsy, or WooCommerce stores.
The platform prints and delivers your stickers or other products to buyers worldwide, but it retains up to 80% of your profits from each sale. On the other hand, Printify allows you to connect your account to an e-Store and only charges you for printing and dropshipping costs.
However, each provider has different integration options, and you must check if you can link your website or online store to the POD platform you'd like to use to print stickers.
It's crucial to find out how much time a provider needs to fulfill a shipment and explore its express shipping options.
Print-on-demand Sticker Prices
Setting product prices is one of the most challenging aspects of running an e-store or any other type of business. I use a simple formula that enables me to calculate the retail price for the stickers I sell online, as I add the amount I want to earn from each sale to the base cost of a specific product.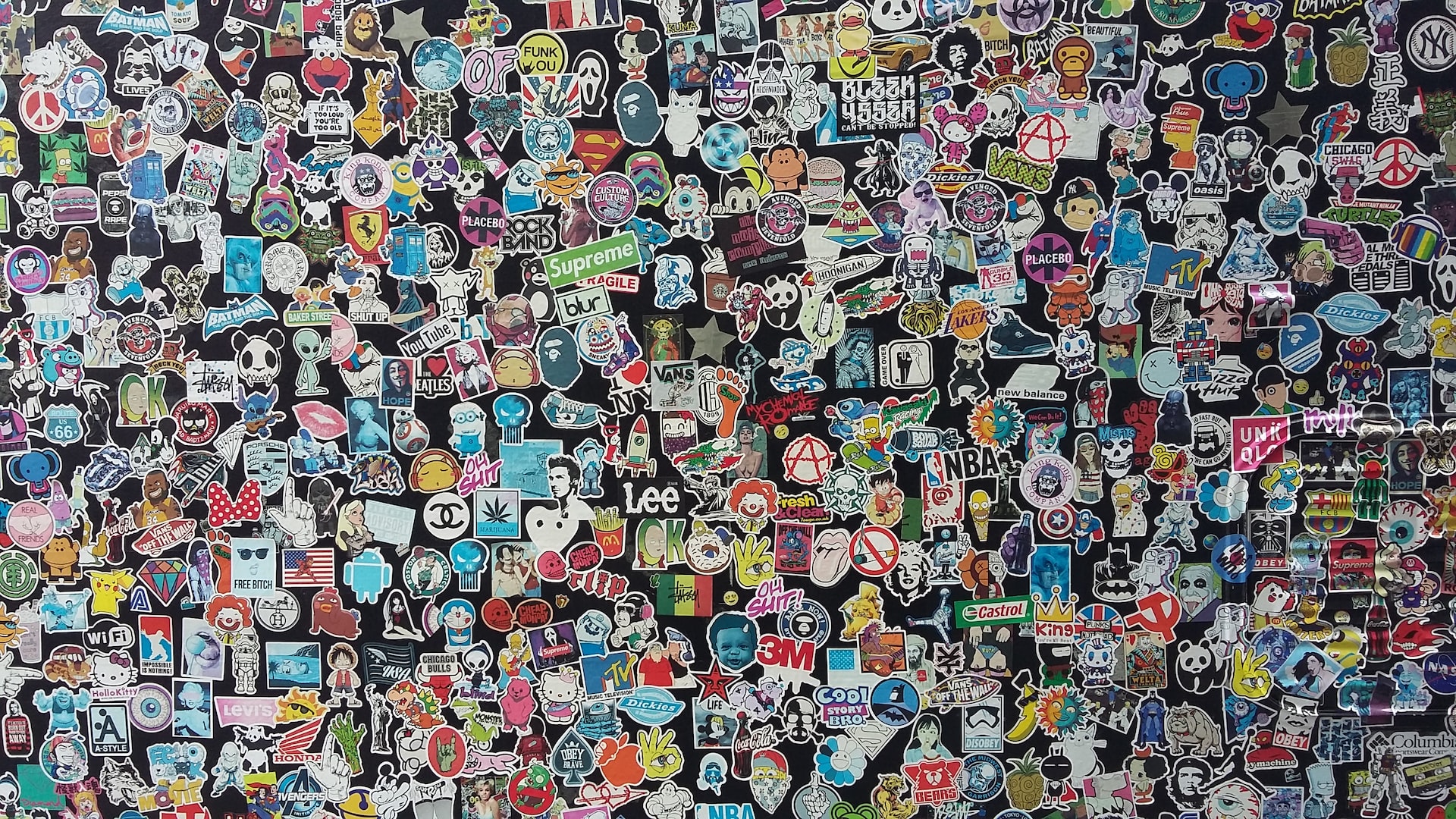 Nevertheless, I must know the provider's product, printing, and shipping prices for the formula to work. Most print-on-demand platforms charge between $1 and $6 per sticker, but this price could be lower for bulk orders.
A sticker's base price depends on its size, and a 5×5 sticker will be more expensive than a 2×2 model. Also, opting for a weather-resistant sticker with a holographic or prismatic finish will increase your base costs and, consequently, the product's retail price.
You should also bear in mind that most providers limit the maximum number of stickers you or your clients can purchase with a single order.
Selection Criteria
Choosing a POD sticker provider is a little like groping in the dark because the only way to find out if you like its services is to test them. However, ordering product samples isn't always free, and you may have to spend some money to determine the sticker's print quality.
Aside from the quality of products they offer, I considered factors like customization features, sticker prices, and integration options while deciding which print-on-demand sticker providers to include in this article. I used these criteria to create an overview of platforms aimed at novice designers, small or medium-sized online businesses, and large corporations.
Best 9 Print-on-demand Stickers Providers
Redbubble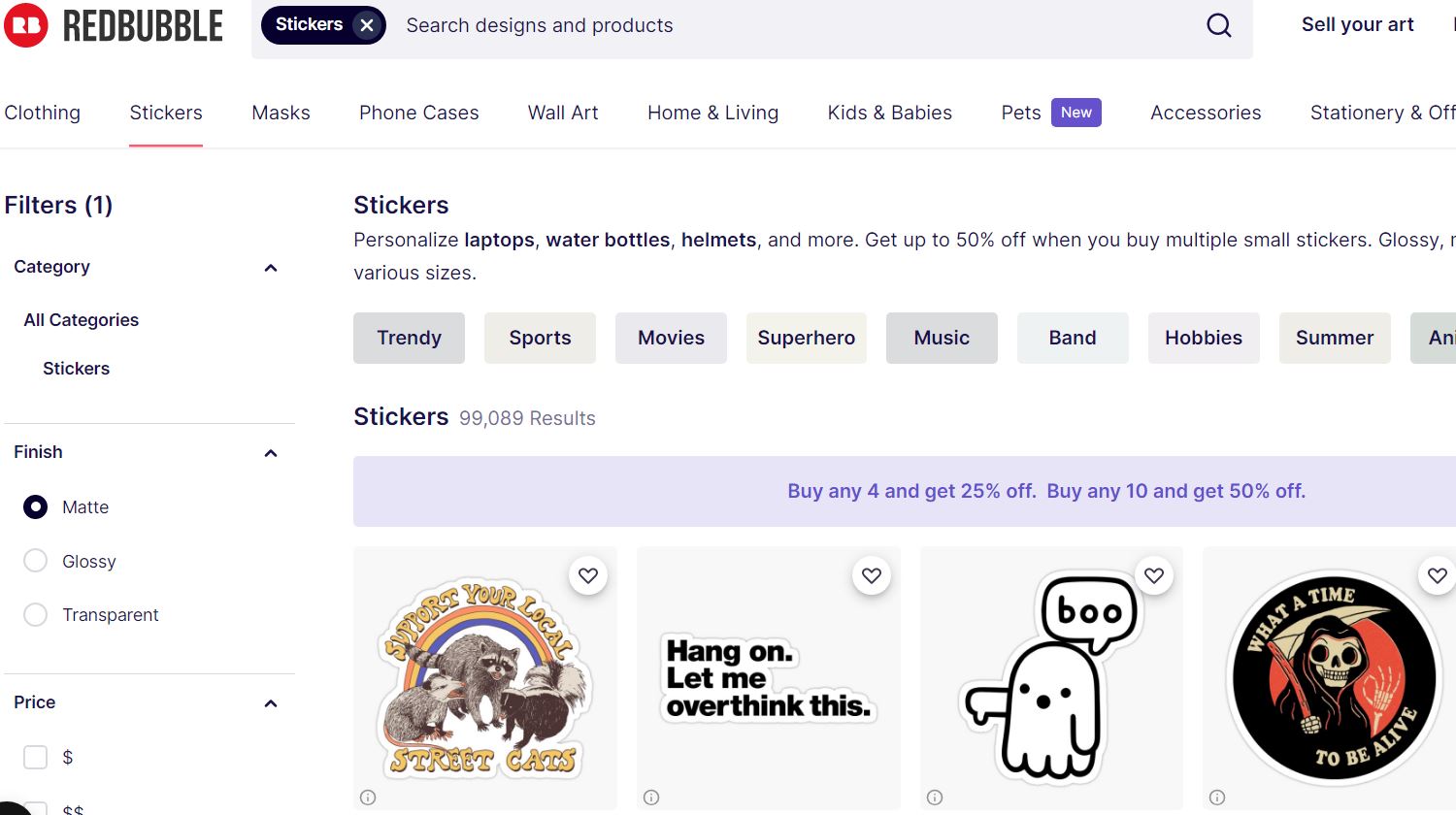 In addition to stickers, you can use Redbubble's services to print on clothes, phone cases, facemasks, and backpacks. Community members can create weatherproof car stickers or kiss-cut stickers designed for laptops or household items.
Redbubble doesn't offer design tools, so each file you upload to the platform needs to be ready for printing. The platform's default artist margin is 20% of the product's base price, but users can increase or decrease it without restrictions.
Pros
It grants designers access to a vast marketplace
Redbubble protects the intellectual property of its users
It offers multiple sticker finishes
Cons
No integration options
All stickers are kiss cut
Sticker You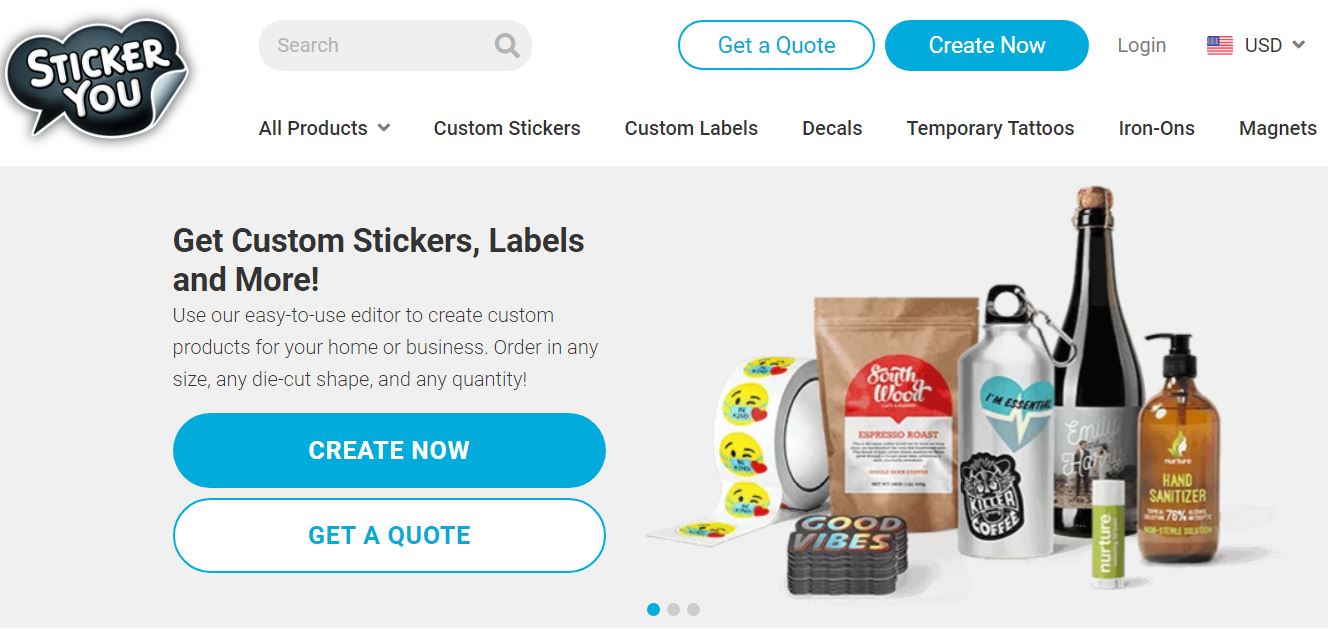 I love how easy it is to make a new sticker with Sticker You platform. Its design tools let you create stickers from scratch for free and choose from a variety of cutting options, materials, and finishes. Also, joining the platform is free, and you don't have to buy a subscription plan if you want to use its services.
Sticker You supports integrations with e-commerce stores, but you must use Order Desk to link it to your website or e-store. Provider's printing and shipping services meet high standards making it a reliable option for small businesses.
Pros
Excellent print quality
The Sticker Maker tool is easy to use
The platform offers competitive printing and shipping prices
Cons
The platform doesn't deliver stickers to Asian countries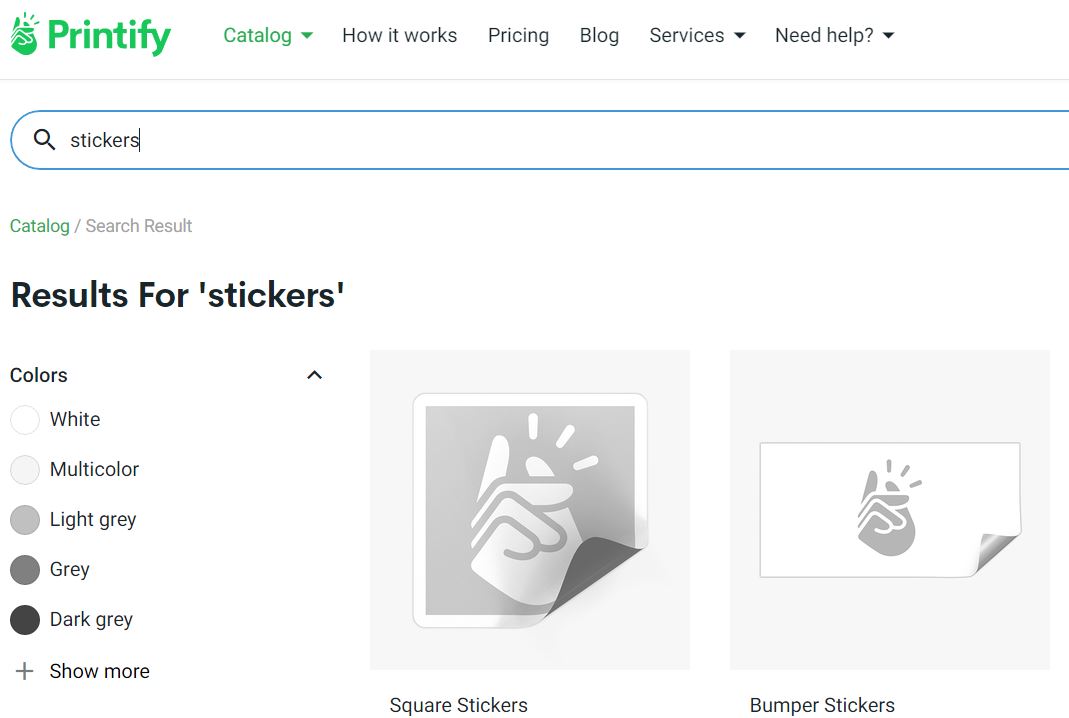 As one of the largest print-on-demand platforms, Printify has a vast network of print shops in Europe, Asia, and North America. Its sticker selection is impressive as you can choose from die-cut, kiss-cut, round, rectangle, or square models.
Each sticker is available in several sizes, colors, and finishes, so you have to select the option you like and upload the image you want to print. Although joining Printify is free, you'll have to choose a pricing plan after the 30-day trial period expires.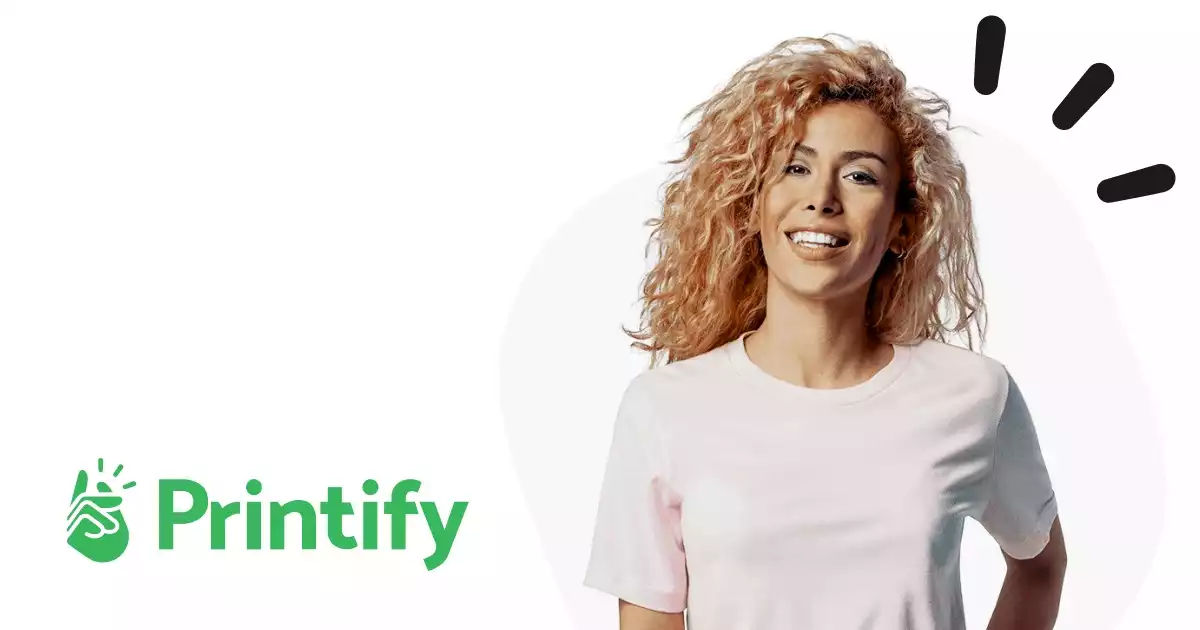 Drop Shipping & Printing Service for E-commerce | Printify
Focus on selling and branding. Printify will handle the rest – billing, design, and fulfillment. Wide selection of products – shirts, hats, hoodies, jackets, socks, mugs, posters & more. Dropship to customers.
Sign Up
We earn a commission if you click this link and make a purchase at no additional cost to you.
Pros
It offers high-quality printing services
Users can connect Printify to multiple stores
All stickers are durable and printed with eco inks
Cons
High monthly subscription cost
MakeStickers

Whether you're a seasoned designer looking for a platform to print your latest sticker designs or a newcomer to this niche market, MakeStickers can help you create products that will impress your clients.
The platform has a vast template library you can customize quickly by inserting a personalized message or a company logo. MakeStickers provides unlimited product revisions and vouches for the quality of products you create through the platform.
All orders are completed within two days and delivered within 14 days to the buyer.
Pros
Stickers are printed on waterproof materials
The maximum order size is limited to 20,000 stickers
Customizing a template takes only a few minutes
Cons
MakeStickers only ships to Canada and the United States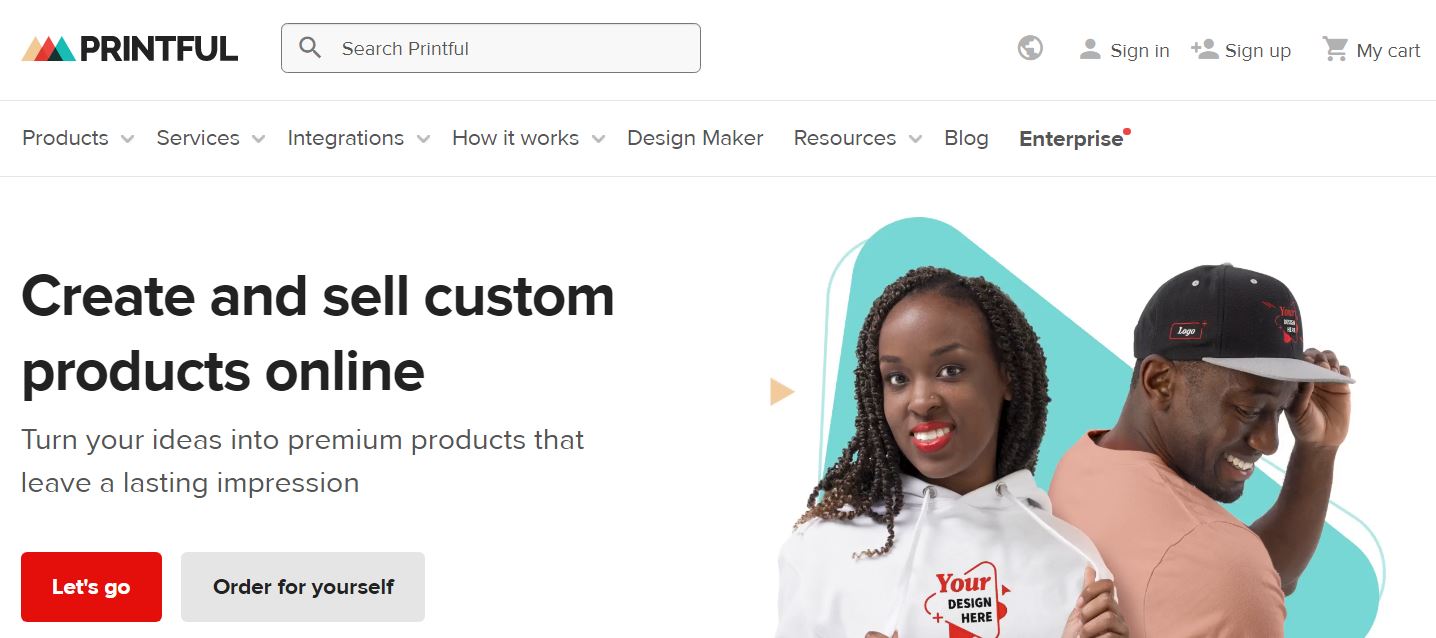 Printful's integration options are, in my opinion, it's strongest suit because its users can connect it with various e-commerce platforms, online marketplaces, and sales channels. Its sticker options aren't impressive as you can only opt for kiss-cut models.
The Design Maker grants you access to the tools you need to create stickers and lets you use stock images if you don't have your material. All stickers are available in different sizes, and the maximum size of the order you can place can't exceed 800 stickers.
Our Pick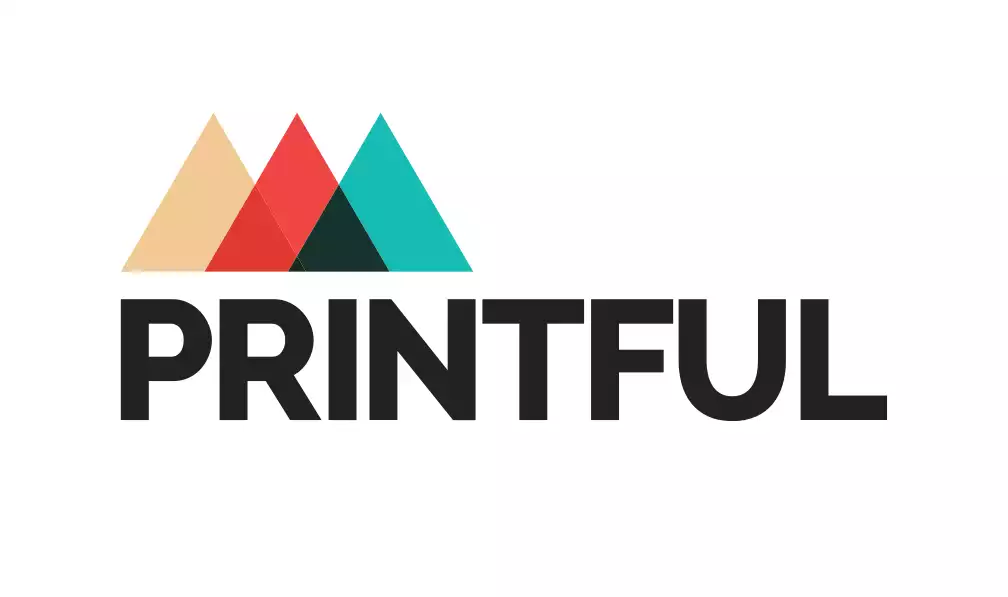 Printful Worked Best for Us
Printful requires a lower up front dollar committment, more customizable product options, an easier to use interface, and flexible integration with more third party tools. This makes it the ideal solution to VALIDATE your idea first.
Try Printful Risk Free
We earn a commission if you click this link and make a purchase at no additional cost to you.
Pros
Users get access to learning materials
Stickers last for more than two years
It supports API integrations
Cons
The free version of the platform has limited features
Printify only accepts PNG and JPEG files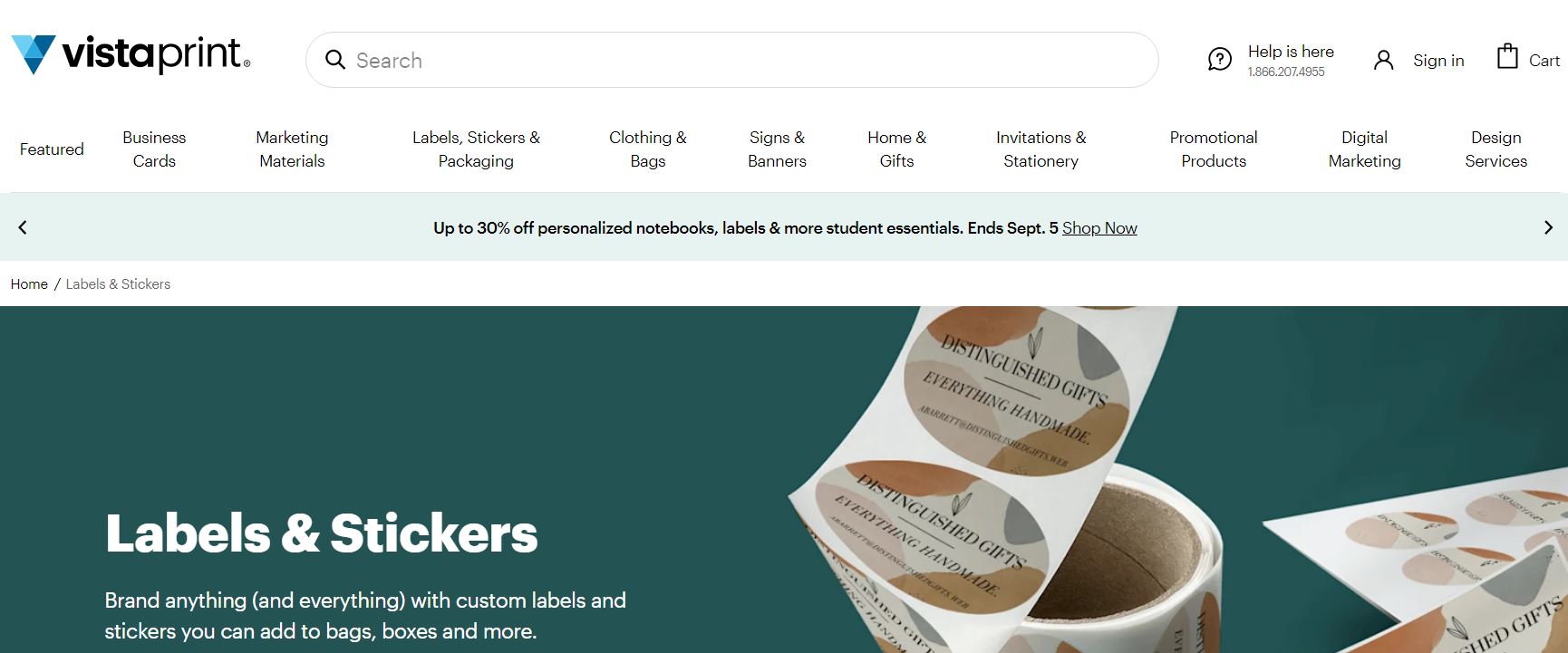 You can use Vistaprint's design services to get an in-house expert opinion on the materials you want to produce or hire a freelance designer. The company offers a wide array of marketing materials ranging from business cards to banners and stickers.
You can choose from oval, square, or custom die-cut models and use one of Vistaprint's templates to design a sticker. Also, you can upload your designs and use the platform's Design Studio to adjust them to the product you'd like to create.
Pros
Fast shipment fulfillment
All stickers have strong adhesives
Users can track shipments
Cons
The minimum order size is set to 25 units
Vistaprint doesn't deliver orders outside North America
Sticker Mule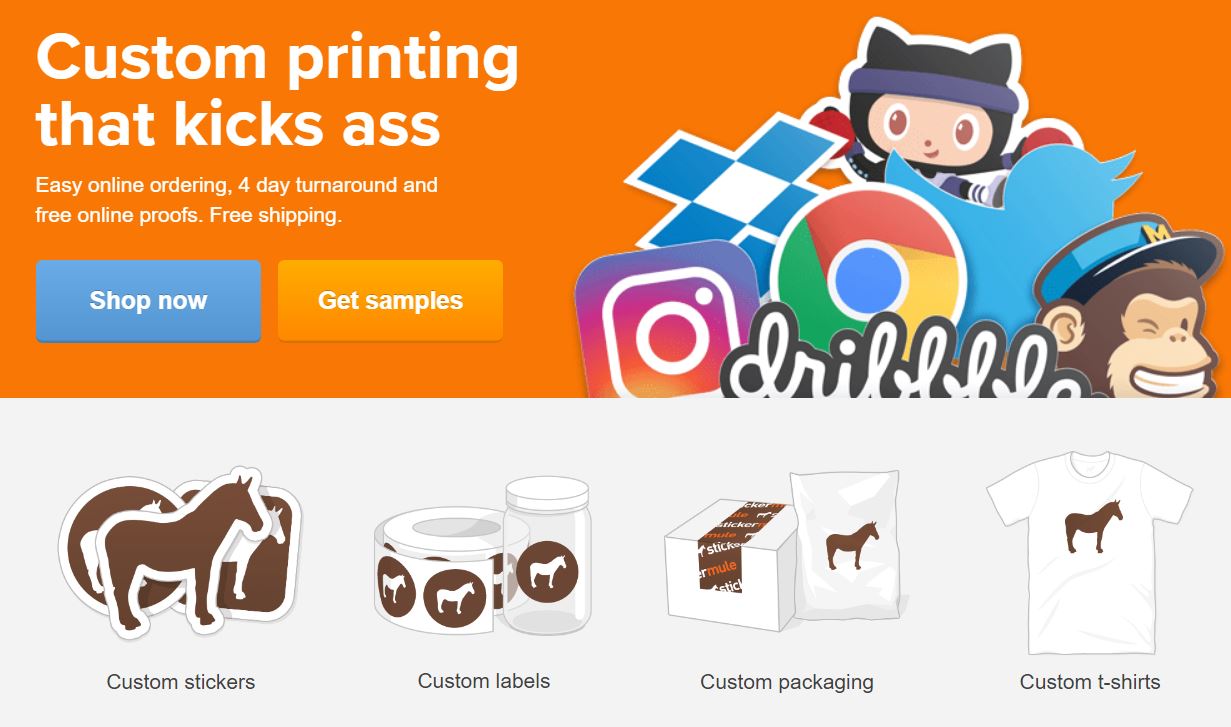 Making a sticker with Sticker Mule is simple and fun. The provider lets you decide if you want to produce a holographic, transfer, or die-cut sticker and pick the product's size. Also, you're required to choose how many units you wish to order before you proceed to upload the file you'd like to print.
You can't order less than 50 or more than 200,000 stickers, and you'll have to get in touch with the platform before placing a bulk order.
Pros
Sticker Mule has an extensive template library
The platform has a Rushed Delivery option for urgent orders
It supports all file formats
Cons
Ordering sticker samples can be pricey
Uprinting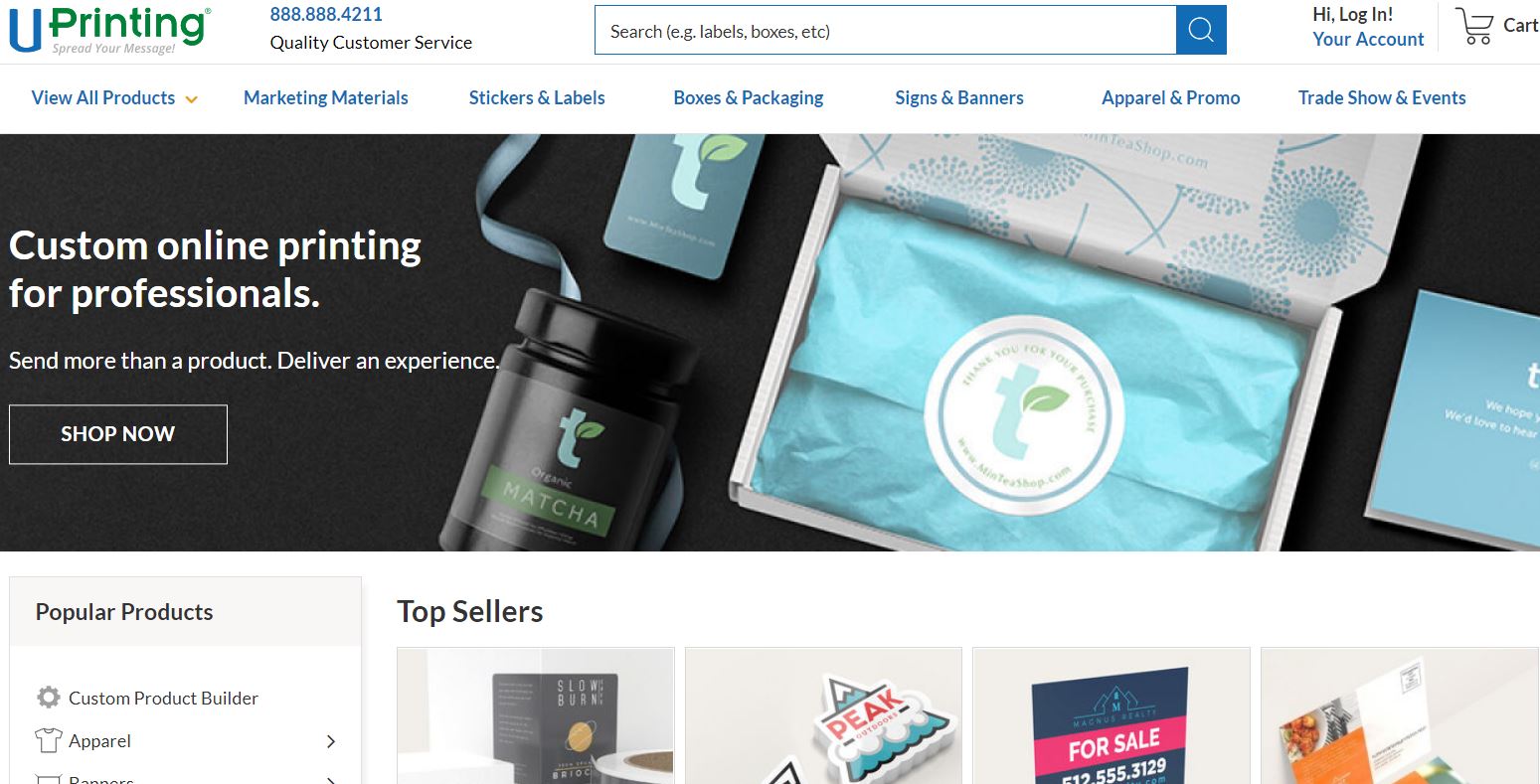 Even though it offers a broad range of sticker printing options, Uprinting is only a reliable option for advertising agencies or corporations because it doesn't support integrations with online marketplaces or e-commerce platforms.
Die cut, 3D domed, or roll stickers are only a few among countless options you'll have at your disposal if you decide to print your stickers with Uprinting. The provider delivers all orders within the United States in one to five days, while international shipments take up to two weeks.
Pros
Excellent sticker prices for bulk orders
Multiple paper and vinyl options
It offers free printing samples
Cons
It's not an ideal choice for etailers
Pwinty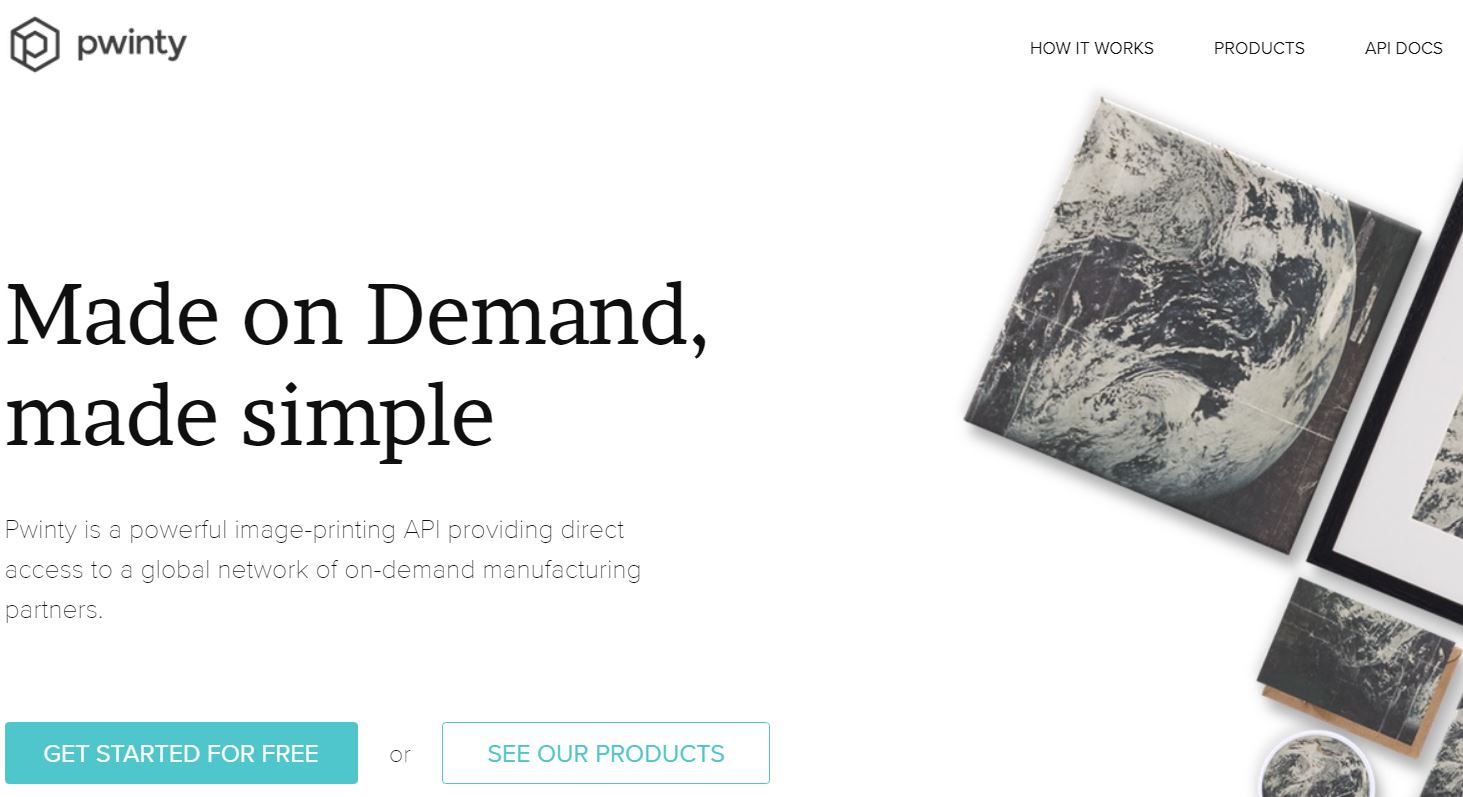 I think Pwinty can be an interesting print-on-demand solution for artists selling their artwork on Etsy, WooCommerce, or similar platforms. Getting the free sample pack that includes matt, gloss, and transparent stickers can help you decide if Pwinty is the right provider for you.
The platform's stickers selection isn't versatile, as you can only create kiss-cut stickers with different finishes. Pwinty lets its users create mockups to generate product previews and submit their designs in all standard file formats.
Pros
All products are printed at reliable print shops
Users only cover printing and shipping fees
Most products are shipped within 48 hours
No minimum order size limits
Cons
The platform doesn't offer a wide range of sticker solutions
FAQs
Question: Do all stickers have strong adhesives?
Answer: The strength of sticker adhesives varies, and you should consult the provider if you don't want to get a sticker with a strong adhesive.
Question: What is the maximum file size I can upload to a print-on-demand platform?
Answer: These platforms usually limit the maximum sizes of files their members use to print on stickers to 50MB.
Question: Do print-on-demand providers include their branding on sticker packaging?
Answer: Most providers don't brand envelopes or boxes they use to ship stickers.
My Verdict: Which print-on-demand sticker provider should you choose?
Like so many young creatives, I started distributing sticker designs at online marketplaces similar to Redbubble. In time, I started gravitating toward providers that granted me more control over the printing process.
Printify, Sticker Mule, and Vistaprint are among my favorite print-on-demand stickers providers because they have an excellent selection of units. Each platform has high print quality standards and ensures your products reach their destinations safely.
I suggest considering a platform like MakeStickers if you don't feel confident using professional graphic design software products.
Read More: