Last Updated on July 6, 2022 by DMEditor
Engaging customers and making them feel valued is key to the success of an e-commerce store. However, reaching your client base will be tedious without the right customer engagement weapons in your arsenal. Smile.io vs Yotpo claim to be among the top customer engagement platforms. They offer various features that help you communicate with customers and reward them for their loyalty.
I tested out each platform's capabilities using my online store. If you want to eliminate the guessing in picking a customer engagement platform, read on to see which one I prefer.
My Bottom Line Up Front: Smile.io vs. Yotpo
Smile.io and Yotpo are good tools for businesses that want to win customers' loyalty. However, Smile.io is limited to only three e-commerce platforms: Shopify, BigCommerce, and Wix. Such limitations make Yotpo the better and more versatile option for most businesses.
Main Differences between Smile.io vs Yotpo
The main differences between Smile.io and Yotpo are:
Smile.io is designed for stores on Shopify, BigCommerce, and Wix, whereas Yotpo's capabilities extend beyond these three platforms.
Smile.io is only a customer engagement platform, whereas Yotpo is a customer engagement and marketing platform
Smile.io cannot manage and administer perks to customers, whereas Yotpo has this feature.
Yotpo allows businesses to use user-generated content for marketing, whereas Smile.io does not.
What is Smile.io?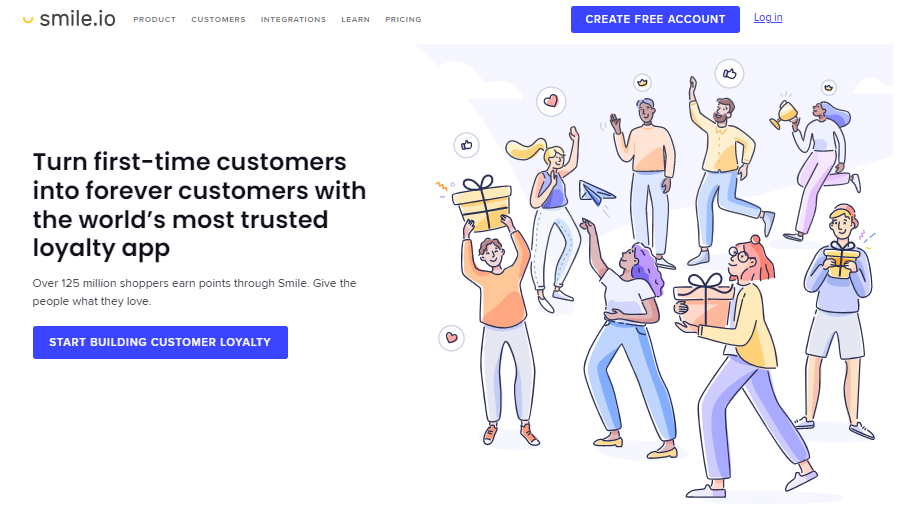 Smile.io is a software service that helps e-commerce businesses in their efforts to attract and retain customers. The software offers various features to help businesses grow their customer base. The platform was started in 2012 and worked exclusively with Magento e-commerce businesses. Smile.io's functionality expanded in 2017 to create reward systems for more e-commerce platforms.
Today, more than 100,000 businesses rely on Smile.io for their customer engagement endeavors. Many of the platform's customers are small and medium-sized businesses.
What is Yotpo?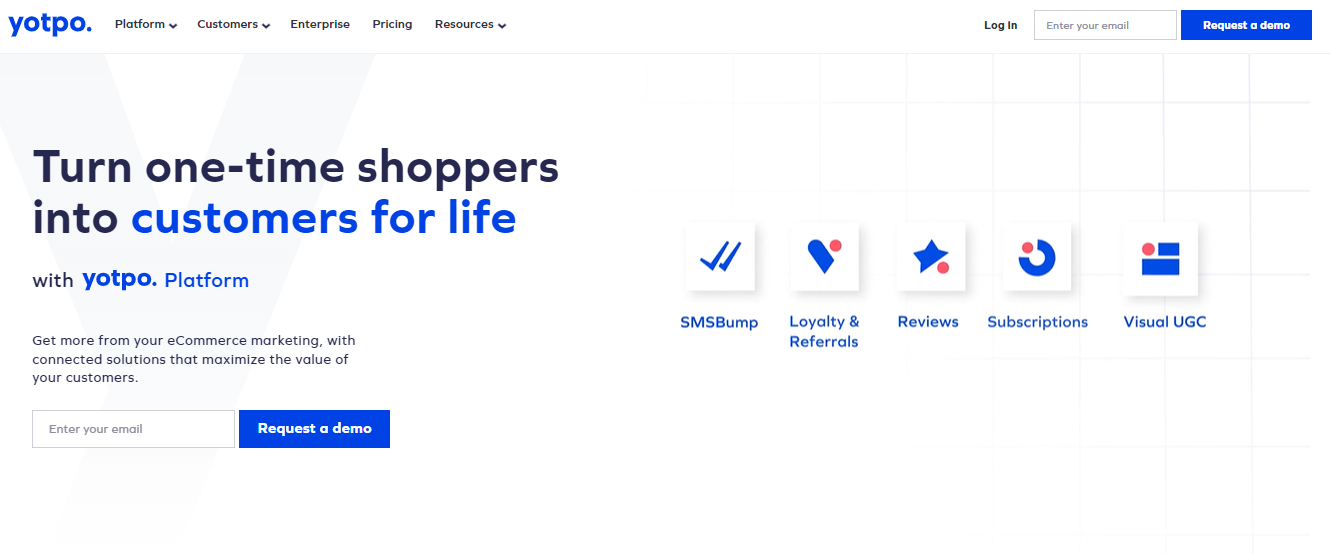 Yotpo is one of the most engaging and result-oriented eCommerce marketing platforms available for businesses. It can help you grow your company through market engagement that helps build long-lasting customer relationships.
This platform creates a space that lets you know what your audience is thinking. It offers user-generated content (UGC), reviews, referrals, and rewards programs. You can integrate different platforms to create a consistent buyer journey.
You can use Yotpo to leverage your social media visibility, position your business in the public eye, and improve your operations depending on your customers' recommendations.
Smile.io – Main Features
Ease of Use
To create an account with Smile, you must choose the platform which hosts your store. Smile supports three platforms: BigCommerce, Shopify, and Wix. I did not like that Smile's utility is only limited to these three store hosting platforms.
When you pick a platform, the site will redirect to a page with the version of Smile designed for the host. Here, you can directly add the Smile app to your store. I use Shopify, so I downloaded the Smile app made for Shopify.
Smile has an admin dashboard from which you can create loyalty and reward programs for your customers. The dashboard is intuitive and easy to manage, even for non-programmers.
You can create rewards programs using colors and themes that match your store. The dashboard also keeps track of the points earned by each shopper and how many referral links and discount codes they use.
I liked Smile's translation feature. The platform can translate your rewards programs into Spanish, German, French, and Portuguese. Smile is therefore useful to businesses that operate outside the United States.
Loyalty Points
Smile has an advanced loyalty points system that you can use to engage your customers from the get-go. You can set up rewards that the points can be redeemed for, encouraging people to visit your store more often and make more purchases.
The loyalty point system is useful for rewarding customers who perform any desired behavior. For example, when a site visitor opens an account, you can reward them with a certain number of redeemable points.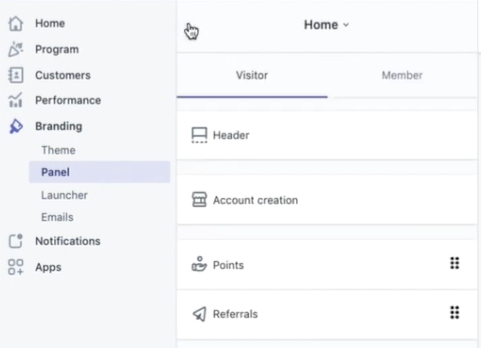 You can set the system up to reward customers with points if they leave reviews for items they purchased. Customers can earn more points if they follow your social media pages or share their shopping experience on their social pages.
Smile.io makes it easy for customers to keep track of the points they accumulate in your store. The Smile Wallet displays all the points they've earned. The wallet also makes the process of redeeming loyalty points easier for customers.
VIP Program
Competition never hurts a business and can do wonders for your online store. Creating customer tiers is a great way of engaging shoppers and earning their loyalty.
Smile lets you create different customer tiers that divide customers based on different factors. New customers can belong to the lowest tier based on the age of their accounts.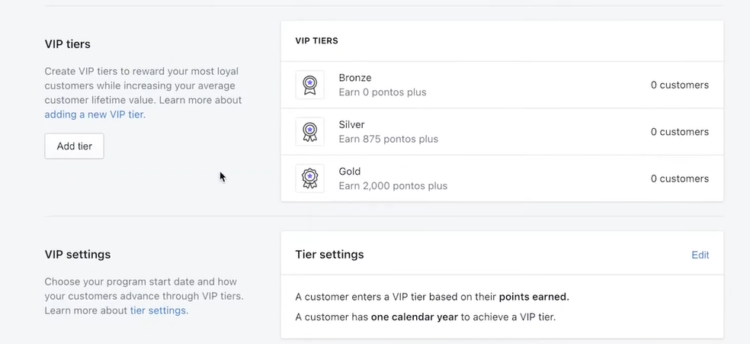 Customers who make enough purchases can graduate into a higher tier. You can set up rewards for each tier to motivate customers to do enough to join them. Each tier can have an amount or percentage discount on purchases.
Customers in a tier can earn points that they can redeem for a product. It's also possible to offer clients free products, the value of which depends on their tier.
Smile allows you to decide what triggers graduation into a different tier. You can limit the graduation period to one year to motivate clients to do enough to move to a higher tier.
You can also decide whether achievements are measured by the amount of money spent or by the number of points earned.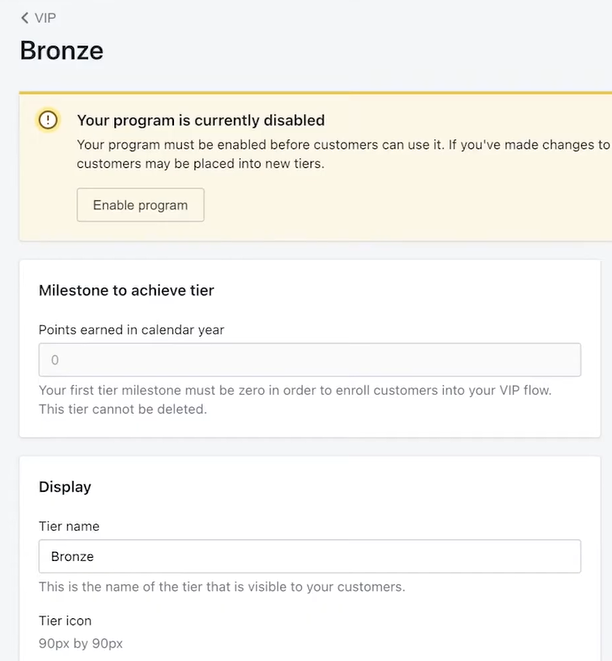 I liked that you can set up specific tier rewards, and Smile will administer them to customers when they graduate into a new tier. The automatic rewarding capabilities make managing tiers a much easier process. Smile also lets you include membership perks to each tier. You can create exclusive events for your VIP store members. You can also allow customers in a specific tier to vote on the type of products you stock in the store.
However, if you set up perks, you will have to manage them on a different platform since Smile doesn't yet have this management feature.
Referral Programs
Shoppers are more likely to trust the views of friends who shopped from your store, making referrals invaluable to your business. Smile's referral features enhance your efforts to market your business. You can set up rewards for customers who refer their friends to your store. Shoppers are more likely to spread the word if they know they will get something out of it.
You can also set rewards for shoppers who use referral links to make purchases. Smile allows you to set the rules in advance then the platform will automatically apply them to each referral case.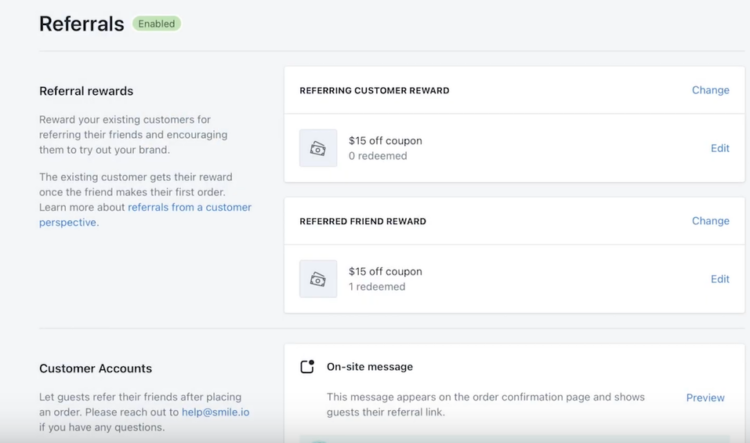 Smile's integrations let you attach referral links to your communication with customers. You can generate referral links from Smile and easily attach them to marketing emails and SMSes.
Customers with accounts can share referral links to their social media pages right from their accounts. Smile's integration with platforms like Facebook, Twitter, Instagram, and WhatsApp makes marketing your business seamless.
Yotpo – Main Features
Ease of Use
Yotpo's user interface is one of the easiest I have used. You do not require a lot of technical knowledge to create an account. To sign up, all you need is to do is fill out your name, email address, and password.
I liked that the platform doesn't require credit card information to create an account. However, it requires your business information. You will have to enter details about the eCommerce platform you use, including your store URL.
Once the setup process is complete, the platform redirects you to your Yotpo dashboard.
SMSBump
The platform's SMSBump feature makes it easy for you to reach your customers. The SMS Flow Builder lets you create automated messages to be sent when certain triggers are activated. You can send messages to customers informing them of product launches and promotions, urge them to finish the checkout process, and about their position on the loyalty program.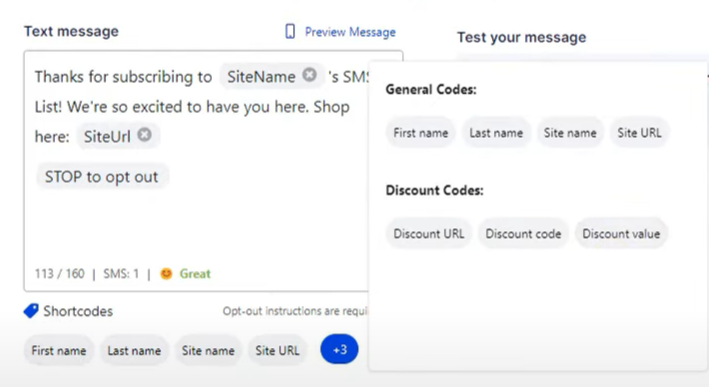 A useful feature of SMSBump is the ability to do A/B tests. The tests let you send a similar marketing message to subscribers in different formats. You can use analytics to see the messaging to which your customer base responds best.
Another feature that I loved was 1:1 Conversations. You can chat with customers via text and answer their questions about your store and products. The ability to make your customers feel valued as individuals will do wonders for your store.
Visual UGC
Yotpo knows that no business can prosper without advertisement. The Visual UGC feature lets you use photos and videos shared by customers to market your store and its products. The good thing about UGC is that people often share pictures and videos showing how your products perform in the real world. Such live reviews are invaluable in convincing those browsing shoppers to buy.
Facebook and Instagram integrations let you connect with your customers on social media sites. You can stay on top of UGC by tracking social platforms to see the number of times your store was mentioned or tagged on social media. You can use pictures customers share featuring your products to create a visual gallery for shoppers to see when browsing your store.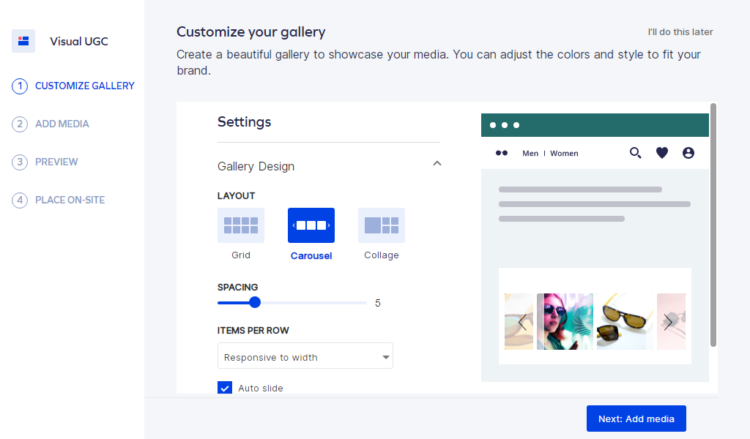 Yotpo's Instagram integration allows you to use the placement of your user-generated customer ratings and photos to create effective ads.
Reviews
E-commerce businesses heavily rely on user reviews to keep growing their customer base. Yotpo allows you to collect user reviews from various sources to enhance the authenticity of your store and its products. You can use email and SMS to ask customers to review purchased products. You can also set up a request email asking customers to review the products they just received.
Attaching discount codes and other incentives to entice customers to leave a review is possible. If customers don't respond to incentives, you can send another review prompt just in case they missed the first ones. Yotpo's Smart Review lets you add prompts to urge customers to review certain product features. You can also ask questions about customer service and delivery time to see how well your store performs.
Customers can add photos and videos to their reviews to showcase how they use the items in real life. Other shoppers can use the media to make solid buying decisions. They can filter through reviews to see the full range of opinions for products.
The reviews dashboard lets you decide which reviews to display on your store. You can moderate the Q&A section to ensure answers with vulgar language or inappropriate descriptions aren't displayed.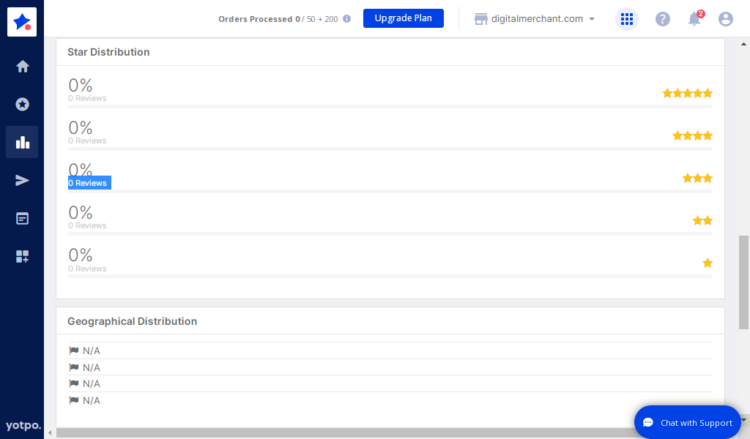 Loyalty & Referrals
Yotpo lets you show appreciation to your most loyal customers by offering them curated rewards programs. Customers can accumulate points by completing certain tasks, like creating an account or following your business on social media.
You get to decide which rewards customers who accumulate a certain amount of points get. Customers can redeem points for a percentage or amount discount on a purchase, free products, or free delivery. You can set up a referral program that benefits clients who share referral links to social media. Such referrals help market your business to the desired customer segment.
Segmenting customers makes it easy to manage your rewards program. You can use criteria like the number of purchases or loyalty points to create customer tiers. Each tier can have special perks that motivate customers to join.
Yotpo has a campaign scheduling feature that you can use to motivate customers to engage with your loyalty programs. I created a campaign urging customers to purchase certain products and earn enough points to graduate into a higher tier.
Subscriptions Management
Users with a Shopify store get the ability to create a subscription-based business that they can manage with Yotpo. Subscription products are great for engaging customers who frequently purchase the same products from your store.
The admin dashboard gives you full control over your subscription business. You can easily curate a subscription box, add relevant pictures, and set prices. After setting the dispatch frequency, you can add discounts associated with each outgoing order.
Customers can easily subscribe to receive box products. They get access to a customer portal where they can pick the type of products they want. They can also input delivery details, making it easy for you to fulfill orders. The subscription management feature allows extensive integrations with other Yotpo services. You can connect it to your SMSBump and Loyalty and Referrals program to enhance customer engagement.
Smile.io vs. Yotpo – Analytics
Smile
Smile provides extensive analytics for some of its payment plans. You can use the data to see how customers respond to your rewards. The information provided also helps you see the areas that need improvement. Program Members is a section that contains data on the number of customers who joined your rewards system in a specific period. The data is displayed graphically for easy visualization of the trend.
Points Analytics is another of Smile's analytics capabilities. The information displayed here shows how many points customers have, how many they have redeemed, and how often they redeem them. Then there is the Referral analytics section, which provides information about how your referral programs perform. You can see your store's unique visitors from referrals and how many purchases they make.
Yotpo
Keeping your company records straight is made easier through Yotpo's analytics. The analytics tab on your dashboard will lead you to the extensive reports generated for each Yotpo service you use. SMSBump reports show you how many SMS subscribers your store has accumulated. You also get to see your subscribers' locations so you can create more impactful messages.
Reviews and UGC analytics show how your store's textual, photo, and video reviews affect its profitability. And you can use information from the Loyalty & Referrals analytics to see how effective your incentives are at driving sales.
Smile.io vs. Yotpo – Integrations
Smile
You can add a Smile app to your store using Shopify, Shopify Plus, Wix, and BigCommerce. You can integrate the app with other apps from these platforms to make managing your rewards programs much easier.
Smile integrates with 25 communication, review, and business intelligence platforms. These include MailChimp, Klaviyo, and Stamped. The full list of Smile integrations will show you which of your apps can work well with the platform.
Yotpo
You can integrate your Yotpo account with many eCommerce, marketing communication, social media, and analytics platforms.
Yotpo has native integrations with platforms like Instagram, Facebook, Google Analytics, BigcommerceShopify, Mailchimp, and Zendesk. You can sort the results of the Yotpo integrations page to see if your store's platform is covered.
Smile.io vs. Yotpo – Customer Support
Smile
Smile provides chat and email support to users who have questions about how to use the app or how to create a rewards program. I liked that you can get specialized help based on the platform with which you're using the Smile app.
I also liked the Learn tab on Smile. You can find many resources here to help you fully utilize the platform. Some available resources include blogs, ebooks, case studies, industry guides, and research papers.
Yotpo
Yotpo has a very active and welcoming customer support system. They have multiple Support Team options like live chat and email that are available 24/7. Customer service is limited to English, which can deter users operating in non-English speaking countries.
You can use your account to open a support ticket if you need more advanced support or if a customer agent isn't immediately available. An agent will get back to you within the day to offer help.
One of the customer support features that appealed to me the most was Yotpo's library. The library has various resources, from blogs, guides, videos, and webinars. You can use this to set up an account and optimize how your business uses Yotpo.
Smile.io vs. Yotpo – Pricing
Smile

Smile has five customer plans, four of which get billed monthly. If your store is on Wix, a priced plan customized for the platform is also available.
Free Plan
The Free plan is for startup businesses interested in starting their rewards program.
Its features include:
200 monthly orders
Points program
Referral program
Default reward emails
Basic analytics
Zero integrations
Starter Plan
The Starter plan is the first customizable plan on Smile. It is ideal for freelancers and sole proprietors who want to add a personal touch to their rewards programs.
The Starter Plan costs $49 per month. Some of the features include:
Unlimited monthly orders
Points program
Referral program
Program branding
Customized rewards emails
One app integration
Basic analytics
Growth Plan
The Growth Plan is for mid-sized businesses that want to increase customer engagement with their stores. It costs $199 per month.
This plan has all the features in the Starter plan and also:
Customer nudges
Points expiry limit
Analytics dashboard
2 Smile integrations
Pro Plan
The Pro Plan is for growing businesses interested in going beyond customer engagement to increase profits. It costs $599 per month and has all the features of the previous plans. The plan also includes:
VIP Program
Unlimited Smile integrations
Enterprise Plan
The Enterprise plan is ideal for large businesses that want to engage their customers, enhance their profitability, and keep growing. Prices for the plan are customized based on size, with the base cost being $1000 per month.
The Enterprise Plan has all the features from the previous plans and includes these special capabilities:
API access
Customized reports
Wix Plans
Smile offers Wix users exclusive plans built especially for the platform. There are two tiers in the Wix plan.
Free Plan
This plan includes these benefits:
Brand customization
Customer rewards per order
Social sharing rewards
Special occasion rewards
Discounts for redeemable points
Premium Plan
The Premium Wix plan costs $45 per month. It has all the features of the Free plan and includes these benefits:
Advanced brand customization
Referral rewards
Advanced analytics
Yotpo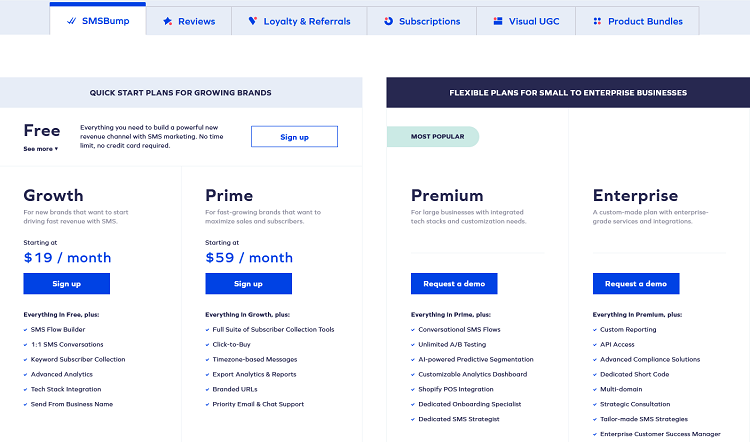 Yotpo offers different plans for each of its services. A free plan is available for each service and multiple pricing plans with capabilities that build on the basic ones offered in the free plan. The subscriber management feature for Shopify is the only one without pricing tiers. It is free to set up, and businesses are charged 1% for every monthly sale above $500.
Yotpo also offers product bundles that let you combine features that you think are necessary for your business. The pricing for each product bundle depends on the size of your business and customer base.
SMSBump
SMSBump has a free plan and two paid plans for small and medium-sized businesses. There are also Premium and Enterprise plans with custom pricing and features based on the size of a business.
Free Plan
SMS Campaigns
SMS Automation
Subscriber collection
Customer segmentation
Yotpo Loyalty & Reviews
Performance analytics
Fulltime email and live chat support
Growth Plan
$19 per month
SMS Builder
One-on-one SMS conversations
Advanced analytics
Prime Plan
$59 per month
All subscriber collection tools
Branded referral URLs
Export-ready analytics
Priority customer support
Reviews
Like the SMSBump feature, Reviews offers Premium and Enterprise plans with custom pricing and features for large businesses.
Free Plan
50 reviews
Automatic email requests
Review moderation
Imported reviews
Full time customer support
Growth Plan
$15 per month
SEO reviews
Photo & video reviews
Customized review requests
Fulltime customer support
Prime Plan
$119 per month
Google ads
Walmart syndication
Community Q&A
Onboarding specialist
Priority customer support
Visual UGC
Visual UGC offers four plans. The Premium and Enterprise plans have custom features and pricing.
Free Plan
UGC galleries
Instagram and hashtag galleries
Fulltime email customer support
Growth Plan
$9 per month
Unlimited product galleries and albums
Instagram tags and mentions
Fulltime live chat customer support
Loyalty & Referrals
This product has five plans, including a free plan with features for startups and small businesses. The Platinum and Enterprise plans feature custom features and pricing.
Free Plan
100 orders per month
Customizable loyalty and reward plans
Social media campaigns
Silver Plan
$29 per month
Everything in the Free plan
Fraud prevention
Gold Plan
$249 per month
Everything in Free and Silver plans
Integrations for email marketing
Shopify point-of-sale integration
Coupon referrals
Smile.io vs. Yotpo – Alternatives
Omnisend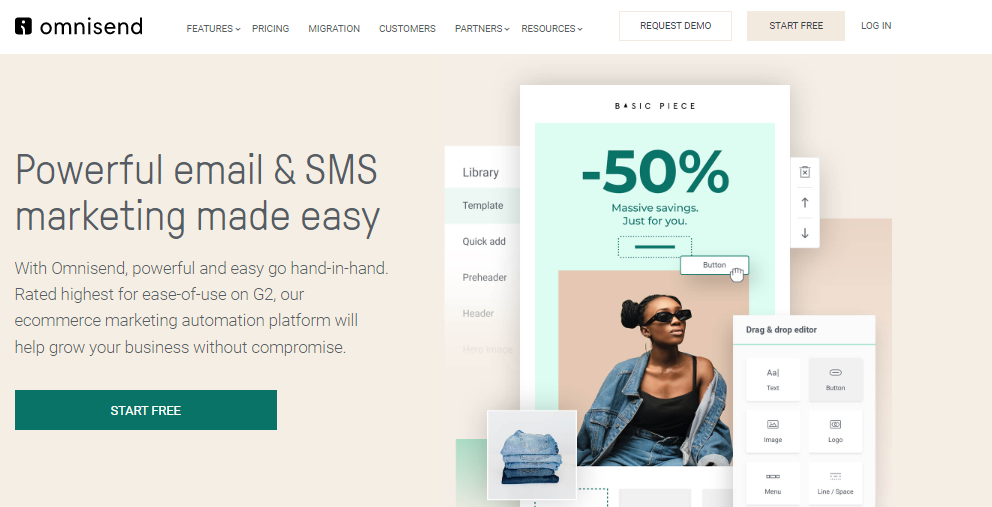 Omnisend is an automation platform that lets businesses create email and SMS marketing messages. Like Yotpo, the platform integrates with some of the more popular e-commerce platforms. This Omnisend review article will give you are more detailed look into Omnisend.
Stamped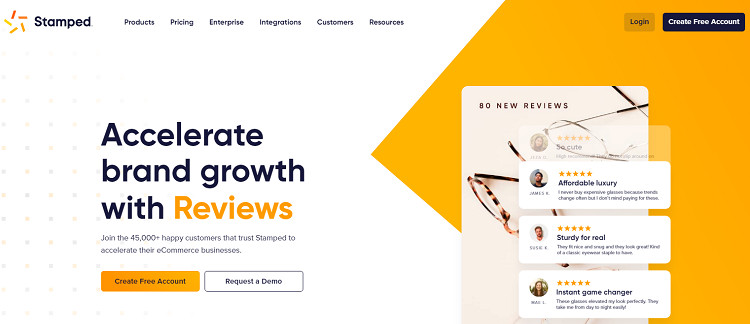 Stamped is one of the best Shopify loyalty apps with features that allow businesses to reward customers for their continued engagement. Stamped is used by companies like Linjer and Velasca Milano to build customer loyalty.
Klaviyo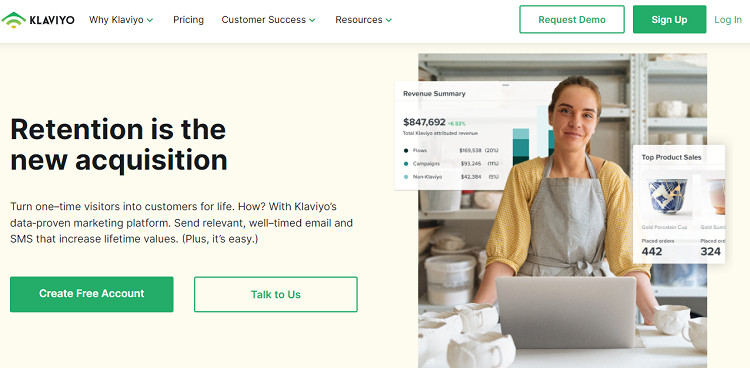 Klaviyo has similar functionalities to Yotpo. The platform is optimized for email and SMS marketing and provides extensive analytics into performance data. This Omnisend vs. Klaviyo comparison will help you decide which platform is best for your business.
FAQs
Question: How Can I Cancel My Smile or Yotpo Account?
Answer: You can downgrade your subscription on Smile instead of canceling. However, if you want to cancel your account fully, you will have to disable the app from your store. You can then cancel the account from your Smile settings.
Keep in mind that canceling an account will remove any data ever collected.
The steps for canceling a Yotpo subscription are similar. You will have to contact customer support to cancel a Premium or Enterprise account for either platform.
Question: Can I Delete the Reviews I Don't Need on Smile.io and Yotpo?
Answer: Yes, you can choose to delete the reviews you don't want on both Smile and Yotpo. You can do this from the admin dashboard. You can also change the comment's status from public to private. Alternatively, you can edit the content in the review, for example, to add links.
Question: Do Smile or Yotpo Have APIs?
Answer: Yes, both Smile.io and Yotpo have APIs. You can access the API on Smile only if you're on the Enterprise plan. Yotpo's API is available for SMSBump, Reviews, and the Visual UGC services.
Verdict – Smile.io vs. Yotpo
Smile.io and Yotpo are platforms with intuitive designs that are easy to use. They both make it easy for businesses of any size to create and manage customer outreach programs. However, Yotpo is the better platform because of its extensive integration capabilities. The software also provides SMS marketing features, which makes it more well-rounded.
Smile.io will make any e-commerce store owner on BigCommerce, Wix, and Shopify happy. It is also very affordable and makes managing customer loyalty fun.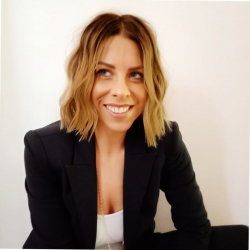 Latest posts by Maddy Chiffey
(see all)
Get 40% OFF for 3 Months