Last Updated on September 8, 2022 by DMEditor
I know from experience that collecting reviews is vital for any business to thrive. My own business took off once I started getting more high-quality reviews, so it's worth investing time and money into this process. Yotpo and Judge.me are both excellent platforms for review collection, but which one is best?
I'll give you my honest opinion on which one is best right away. Then, I'll go into more detail about what I think of their features, analytics, integrations, customer support, and pricing. I'll also give you some alternatives at the end if neither one suits you.
My Bottom Line Up Front
If you boil it down to essential features, Yotpo has more to offer. SMS marketing is built into the platform and has more to work with if you're a larger business. I like that the focus is on making everything as streamlined as possible for your customers, including a click-to-buy SMS option.
However! I do think that Judge.me is pretty great. If you're a smaller business, you may prefer the simple tools available to help collect and display reviews.
Main Differences Between Yotpo vs Judge.me
The main differences between Yotpo vs Judge.me are:
Yotpo offers subscription services, whereas Judge.me does not.
Yotpo has SMS marketing built into certain price tiers, whereas Judge.me relies on integrations to use SMS marketing.
Yotpo has two options for contacting customer support, whereas Judge.me has one.
Yotpo's analytics are a bit more in-depth, whereas Judge.me's analytics are simpler (although both are fairly simple).
Yotpo is better equipped to deal with larger businesses, whereas Judge.me is better suited to small-to-medium sized businesses.
What is Yotpo?
Yotpo is an e-commerce platform to encourage business growth. Launched in 2011, it integrates with many platforms, including Shopify and BigCommerce. It has email and SMS marketing features. I'd recommend Yotpo for any sized business, as the marketing tools work well for all levels. They have more services available for large businesses than Judge.me.
What is Judge.me?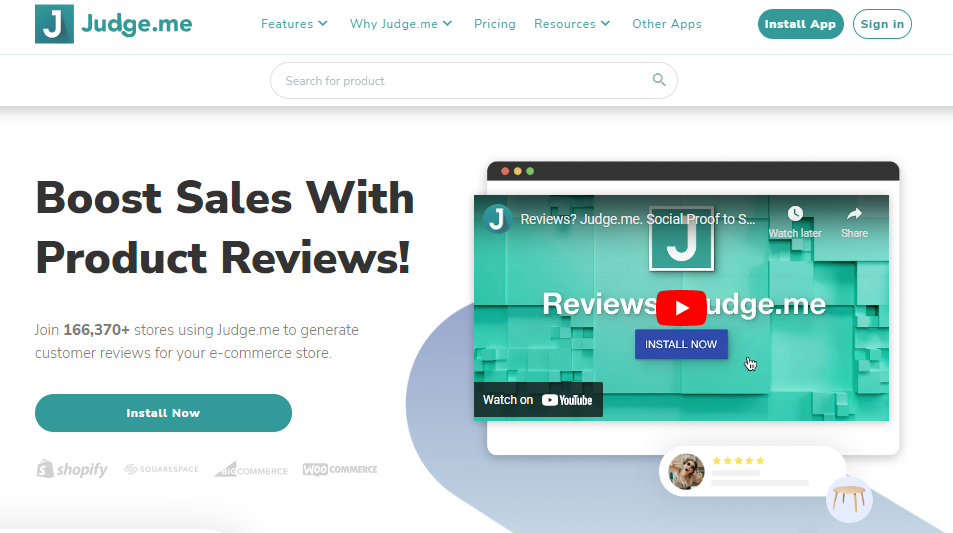 Judge.me is a product review tool compatible with Shopify, WooCommerce, BigCommerce, and Squarespace. It can install widgets to your eCommerce store, allowing you to quickly and easily collect and display reviews. I'd recommend Judge.me for any sized business wanting to collect more customer feedback, but I'd say they are better suited to smaller businesses.
Yotpo – the Main Features
Let's take a look at Yotpo in more detail.
SMS Marketing
Yotpo has a strong focus on SMS marketing, so if you're not already trying this, it's a good chance to start. Their SMSBump feature is excellent and one of the best features on the platform. You can create (and personalize) messages, run split tests, use text automation and in-app SMS chatbot, and more.
What I like about this is how personalized it can get. Using very specific segments (more on that in a moment), you can send messages specifically crafted to increase engagement from certain customers. These messages can be guided by real-time events (like abandoned carts, for example).
Excitingly, you can also give the customers the ability to 'click or text to buy' using SMS, making it even easier to complete a purchase. The easier you can make it for customers to checkout, the better.
Subscriptions
In my opinion, Yotpo is a good choice for subscription-based businesses. They make it so easy, both for you and your customers, to get started with subscriptions. They have a quick-start feature, taking just 8 minutes to select products, add your branding, add your subscription tiers, and go live.
The customer portal, crucially, is super easy to use. They can offer a passwordless login, which makes it even easier for customers to navigate their subscriptions.
This also integrates beautifully with Shopify, so it's good if you're already on the platform.
User-Generated Content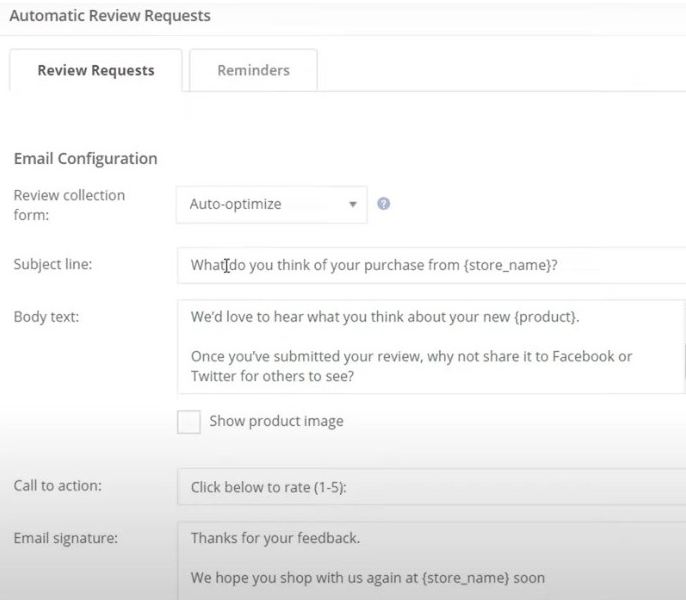 This is a more unique feature of Yotpo. Customers can easily leave feedback, so it's not as difficult to chase down those all-important reviews. They can leave reviews using in-mail technology and SMS. It's highly customizable and one of the key strengths of this particular platform.
You can collect high-quality reviews and display them in aesthetically pleasing carousels, grids, or collages, encouraging other customers to shop with you, too.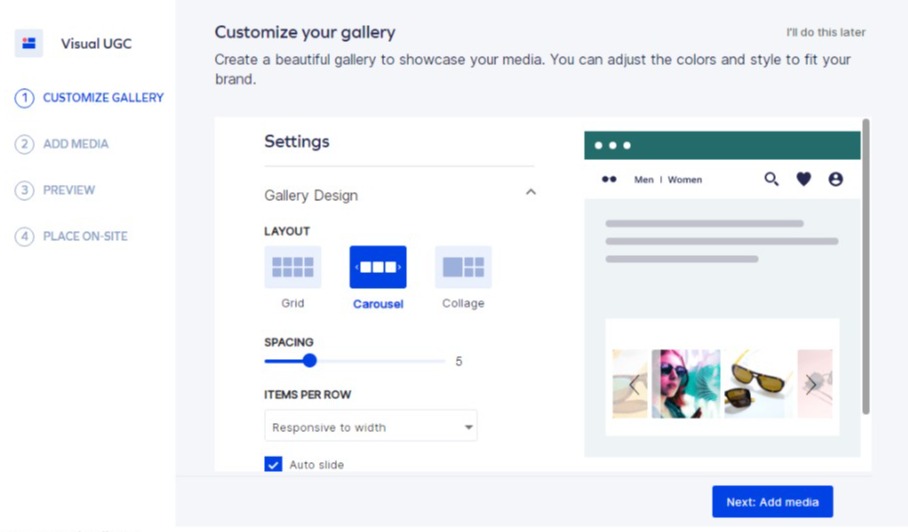 Loyalty & Referrals
The loyalty programs available on Yotpo are pretty interesting. You can reward customers for certain actions (purchases, social follows, reviews, etc), offering them some great incentives for interacting with you. You can give discounts, coupons, free shipping, and even set up a tiered program based on points to spend.
You can set up a 'VIP' tier for your most loyal customers if you like. This tier will allow you to reward those customers with discounts and offers that will appeal to them. It's a nice way to keep your best customers happy, making them feel valued for shopping with you again and again.
Judge.me – The Main Features
Let's check out the key features of Judge.me:
Widgets
Widgets are the main draw of Judge.me, in my opinion, making it an easy-to-use Shopify review app.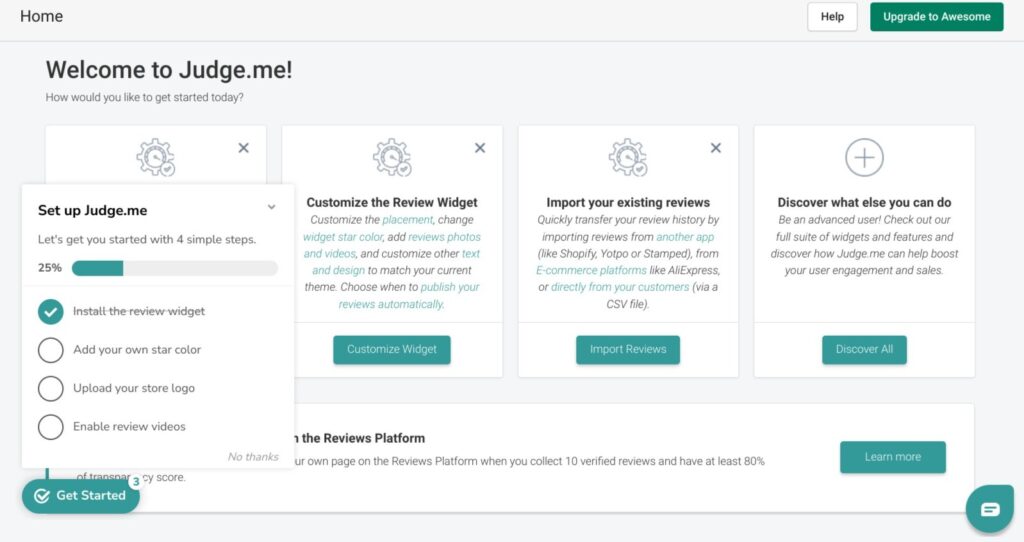 There are a few tools here that work well.
Floating Reviews – this adds a floating tab to the side of your page to show off both product and shop-level reviews.
All Reviews Page – this widget allows you to build a page just for reviews.
Facebook Reviews – this integrates with Facebook, adding a custom reviews tab to your Facebook page.
Judge.me Medals – this rewards high-quality reviews with Judge.me medals.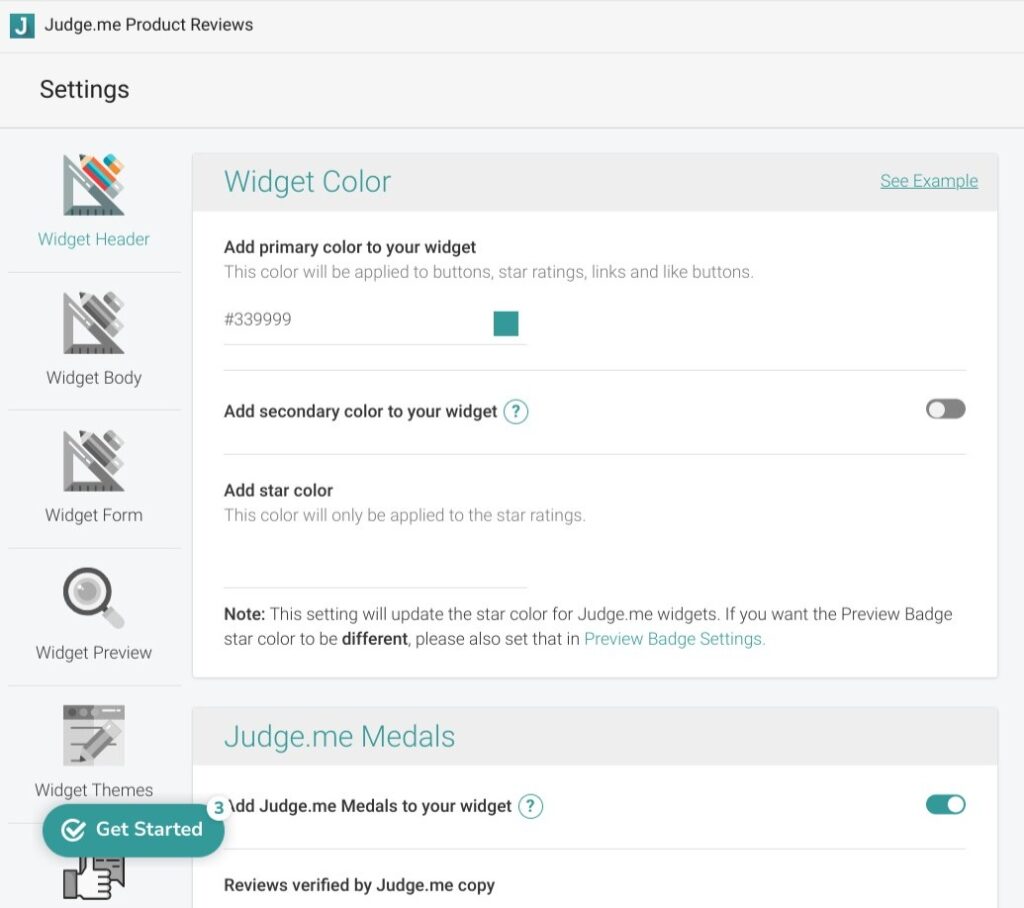 These widgets can be customized to fit your branding, which is super easily done using their settings page. You can add adjust the colors, change the borders and heights, set whether users can add images to their reviews, preview your widgets, and more. I like how customizable it is, so the widgets won't feel unnatural or intrusive when applied to your storefront.
Review Management
Judge.me is designed to make collecting and managing reviews easier.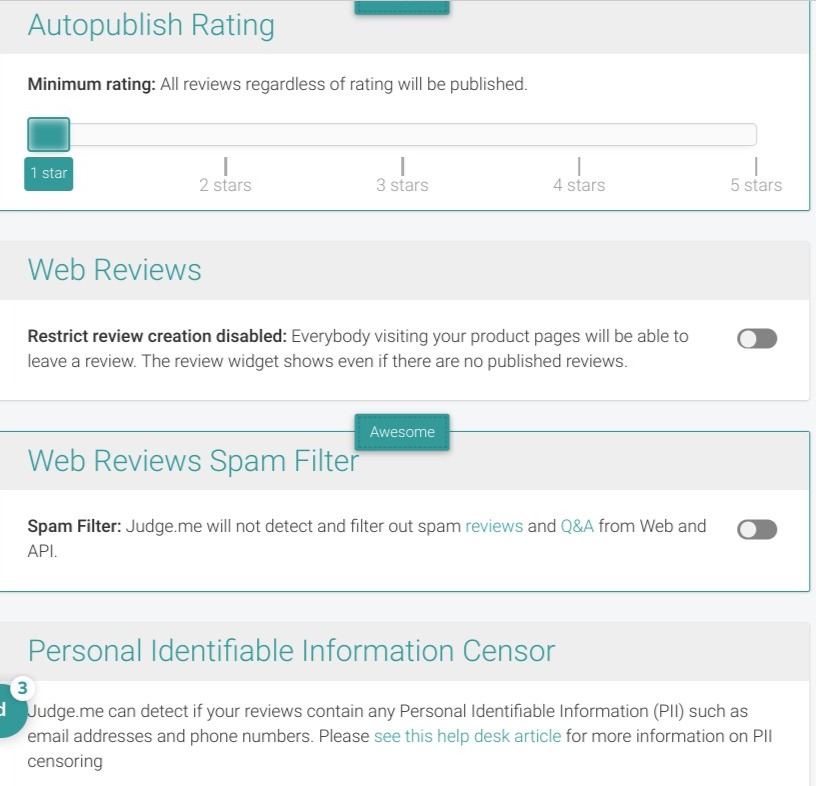 With review management, you can:
Curate reviews, automatically publishing them if they meet certain conditions
Add reviews to a carousel
Reply to reviews
Ask for an update on reviews
Censor or hide reviews with profanity
Syndicate reviews to appear on multiple products
You can also use their integration with Weglot to translate reviews from different languages. I like how easy this is to set up. Once you've spent a few moments playing around with the settings, you can let the app do the rest of the work for you in collecting and curating reviews to display on your storefront.
Review Collection
Judge.me can collect reviews in a few ways. You can request reviews (automatically or manually), request timing and conditions (including sending up to three automatic reminders), and install push notification requests. You can also request reviews in other ways. For example, you can set up SMS requests to collect reviews from mobile customers: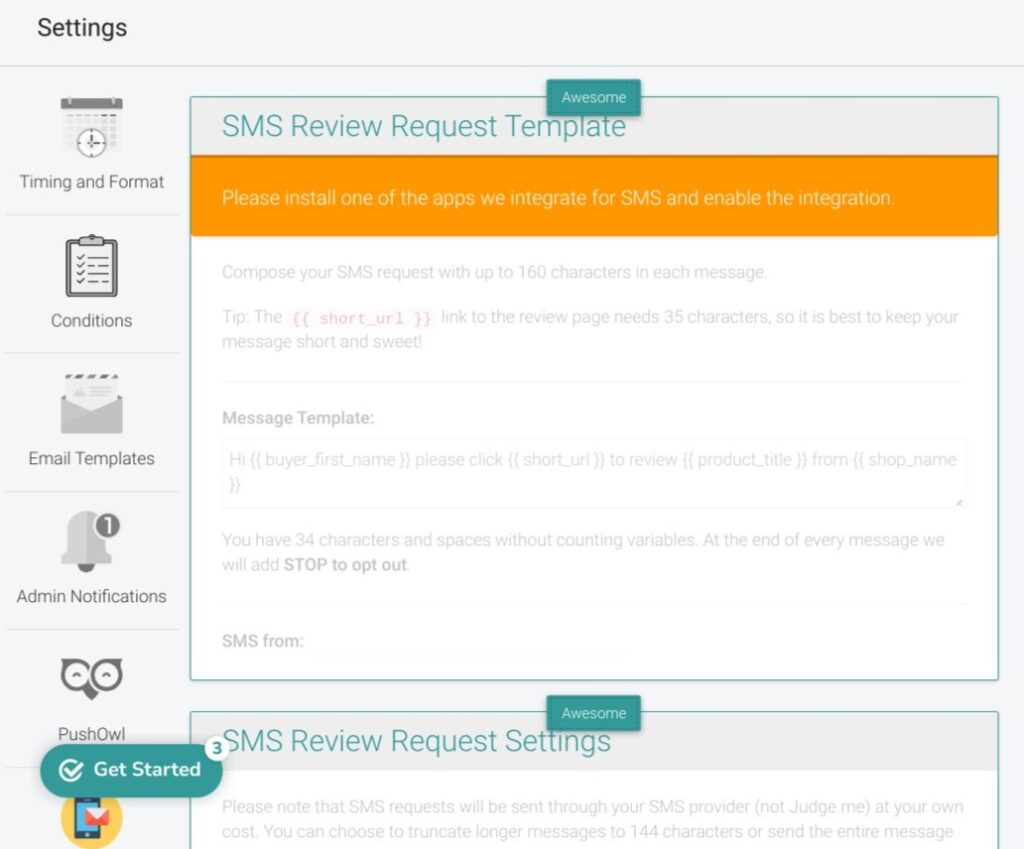 This requires integration with an SMS-based service.
You can also send emails to request reviews, which can be customized: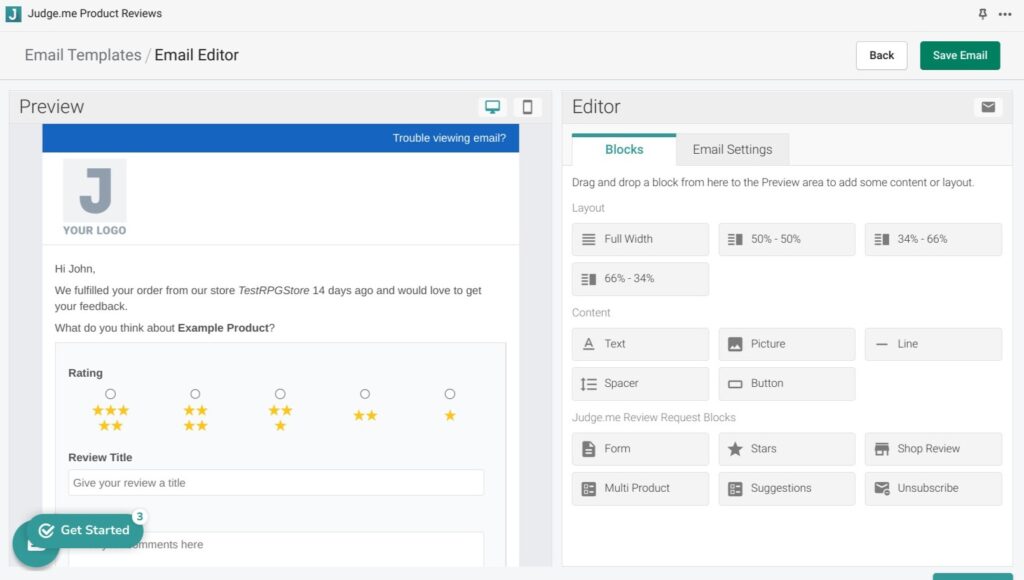 I was pleasantly surprised by how customizable the email templates are. You can play around with the layout, add content, and easily add review request features to make it super easy for your customers to leave reviews. There are some other features, too: you can add a Q&A section to help answer some commonly asked questions about your products, and you can offer coupons to loyal customers.
You can also share your reviews automatically on social media platforms, including Facebook, Instagram, and Twitter.
Yotpo vs Judge.me – Analytics
Let's see how well each platform performs in terms of analytics.
Yotpo
Yotpo uses 'Granular Analytics', which means you can drill down into the small details. Regular reports are created (set by you), and you can easily see the impact of your new SMS marketing campaigns and loyalty programs. It's easy to play around with this to create detailed reports.
Judge.me
Judge.me gives you a basic statistics overview, including reviews, emails sent, Q&A's received, and average ratings. I'd say it's a little weaker in the analytics department than Yotpo, but it does give you the basics.
Yotpo vs Judge.me – Integrations
Let's check out the integration situation!
Yotpo
Yotpo has some very good integrations, including Google Ads, Facebook, Klaviyo, Mailchimp, Gorgias, and Zendesk. In terms of eCommerce, it works with a range of platforms, including:
Shopify
BigCommerce
Salesforce Commerce Cloud
Adobe Commerce (Magento)
WooCommerce
Volusion
Judge.me
Judge.me has some good integrations, too. It works with four platforms – Shopify, BigCommerce, WooCommerce, and Squarespace – but they have a ton of other integrations as well, including:
Marketing and upselling
SEO
Shipping
SMS platforms
Yotpo vs Judge.me – Support
Customer support is a key detail. Hopefully, you won't need it, but believe me, when something goes wrong, it's good to have help right away! Here's what I think about the customer support in Yotpo and Judge.me.
Yotpo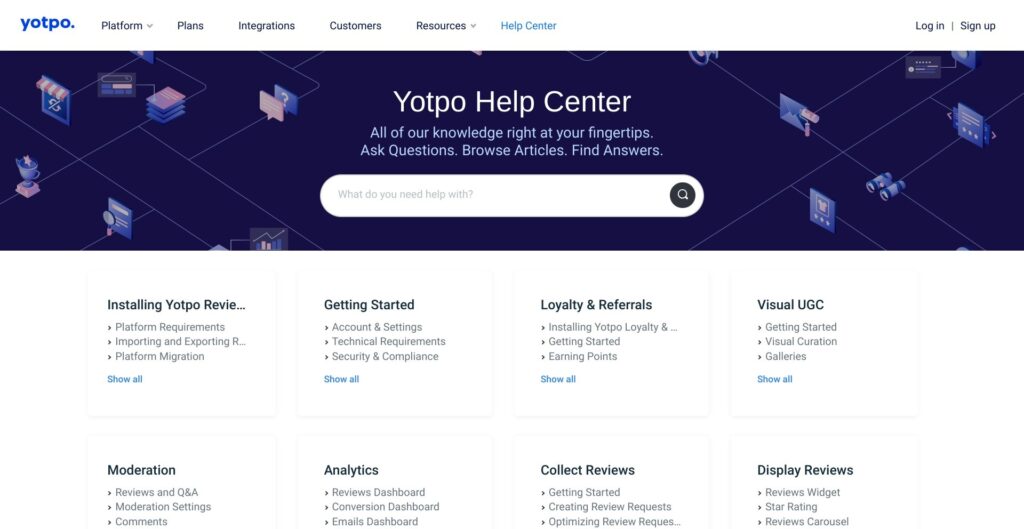 Yotpo has decent customer support. They have live chat and email available for any plan, and they offer priority support for customers on higher price tiers.
The help center is pretty good too, with articles and tutorials on different aspects of the platform.
Judge.me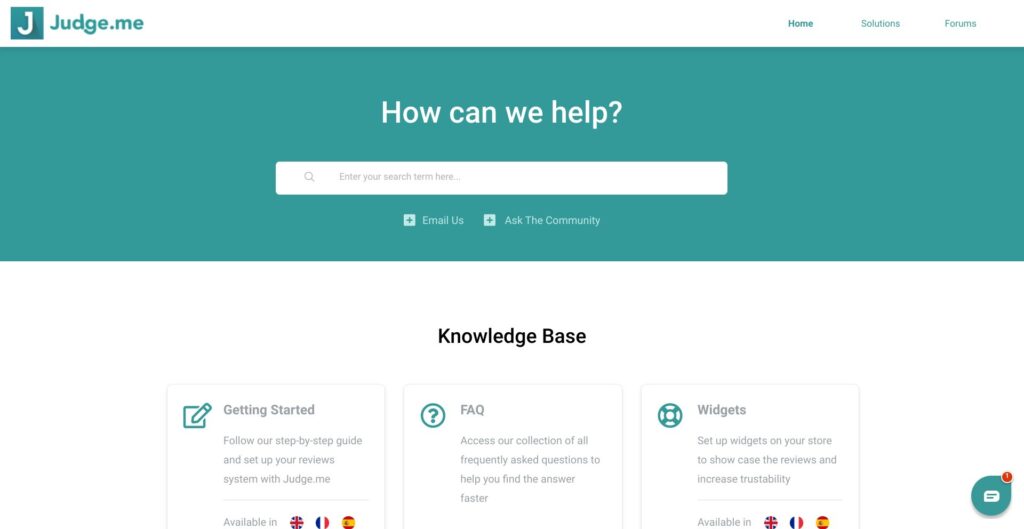 Judge.me has decent support. You can get email support, and they're pretty prompt in their response times. I'd say the support is slightly weaker than Yotpo because there's only one option to reach out. The knowledge base is pretty good, with some available guides, FAQs, and widget support. You can also ask the community for help if necessary.
Yotpo vs Judge.me – Pricing
So how do they compare in terms of pricing? Let's check it out:
Yotpo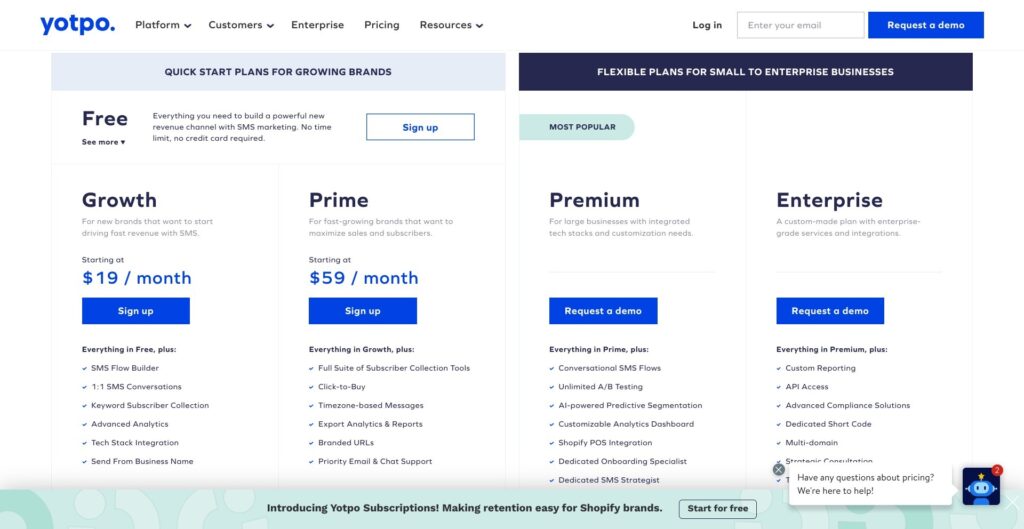 Yotpo has a free plan, which is excellent if you're a smaller business. However, you will need to already have an eCommerce store set up to integrate it, so if you're at the beginning stages, keep that in mind.
Here are the price plans:
Free
SMS campaigns & automation
Subscriber collection tools
Audience segmentation
ROI & performance analytics
Collect reviews with Yotpo Loyalty
24/7 email and chat support
Growth – from $19 per month
Everything on the previous tier
SMS flow builder
1:1 SMS conversations
Keyword subscriber collection
Advanced analytics
Tech stack integration
Prime – from $59 per month
Everything in growth
Full suite of subscriber collection tools
Click-to-buy
Timezone-based message
Export analytics & reports
Branded URLs
Priority email and chat support
Premium – Price On Request
Everything in Prime
Conversational SMS flows
Unlimited A/B testing
AI-powered predictive segmentation
Customizable analytics dashboard
Shopify POS integration
Dedicated onboarding specialist
Dedicated SMS strategist
Enterprise – Price On Request
Everything in Premium
Custom reporting
API Access
Advanced compliance solutions
Dedicated short code
Multi-domain
Strategic consultation
Tailor-made SMS strategies
Enterprise customer success manager
As you can see, Yotpo offers a good range of solutions depending on the size of your business. You can find out more on their pricing page.
Judge.me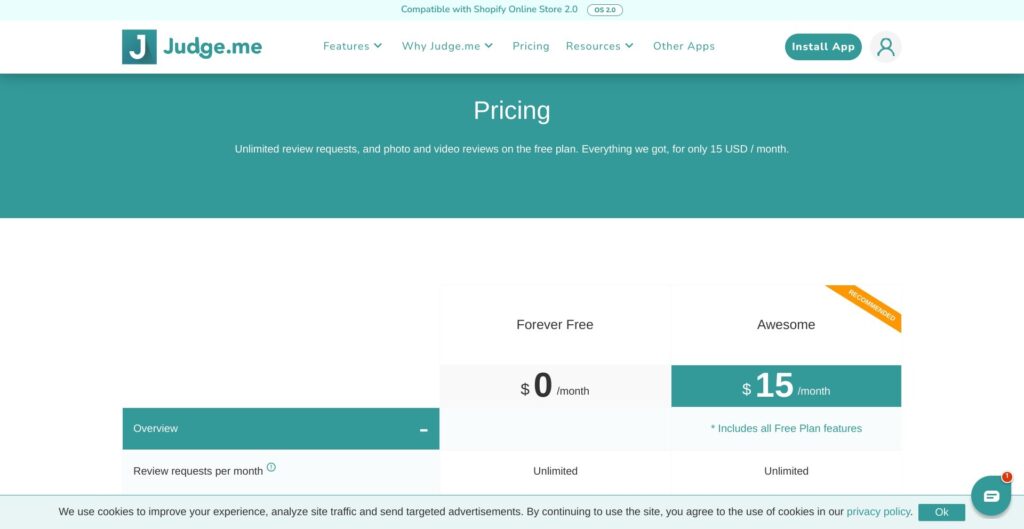 Judge.me has two pricing plans:
Free
Unlimited review requests per month
In-email review requests
Judge.me core widgets
Review management
Product reviews
Photo and video reviews
Email and review reports
The Free plan offers a lot more than this, too – in essence, it offers a lot considering you're paying nothing for it!
Awesome – $15/month
Everything on the free plan
Shop reviews
Automatic Google Product reviews feed
30-day refund request
SMS requests
Advanced email customization/settings
Awesome adds a few more features (including, importantly, the ability to send SMS review requests).
You can find out more on their pricing plan page.
Yotpo vs Judge.me – Alternatives to Try
Not into Yotpo or Judge.me? Here are some other options:
Stamped.io– another customer review management platform this offers a loyalty and reward system. It's a popular platform, serving over 40,000 eCommerce businesses worldwide. You can find out more in our Yotpo vs Stamped.io comparison.
Smile.io – good for small-to-medium sized businesses, Smile.io offers reward systems for various eCommerce platforms. I'd recommend it if you're new, as it's pretty user-friendly. You can find out more in our Smile.io vs Yotpo comparison.
Omnisend – focusing more on email marketing, Omnisend has a good range of tools for eCommerce businesses. It also allows you to build pop-ups, sign-up boxes, and a Wheel of Fortune-style game for customers. You can read more about it in our Omnisend review.
FAQs
Question: Does Yotpo or Judge.me have a mobile app?
Answer: No, at the time of writing, Yotpo and Judge.me don't have mobile apps. You may be able to access their settings via your eCommerce platform app.
Question: Can I Easily Cancel Yotpo or Judge.me?
Answer: Yes, both platforms are super easy to cancel. Just go to the 'Settings' page, and it'll be straightforward to cancel.
Question: How Many Customers do Yotpo and Judge.me have?
Answer: At the time of writing, Yotpo has 9,000 paying customers and 280,000 customers on the free tier. Judge.me, meanwhile, has around 6,499 companies using their services.
To Sum Up – Which Is Better, Yotpo vs Judge.me?
Yotpo has a lot to offer and is my top pick. In my opinion, it should be as easy as humanly possible for your customers to interact with you, whether you want them to leave a review or complete a purchase. In this respect, Yotpo has the upper hand. I love the click-to-buy SMS feature; it has more options for larger businesses, too.
On the other hand, I think Judge.me is a really handy platform for smaller businesses. It costs nothing if you're just starting, and I love how customizable the email templates are. It's easy to sign up, so it's worth a try if you're just setting up your business and need to collect a lot of reviews quickly.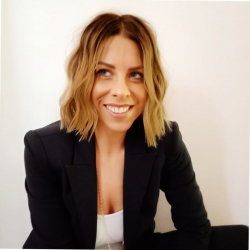 Latest posts by Maddy Chiffey
(see all)
Get 40% OFF for 3 Months