Last Updated on July 6, 2022 by DMEditor
If e-commerce platforms like Amazon and Aliexpress have taught us anything, it's that a business cannot survive without customer reviews. Ratings and reviews from past shoppers help you create trust and attract new customers. Yotpo vs Stamped.io are two platforms that offer extensive review collection features. The platforms also provide advanced analytics that allow you to see what your business is doing right and what needs to be fixed.
I explored each platform and have broken down their functionalities in this article. Read along to see which platform is best for your e-commerce store.
My Bottom Line Up Front: Yotpo vs. Stamped.io
Yotpo and Stamped.io have almost similar functionalities. Both platforms offer great features connecting e-commerce stores to their customers. They can also handle all types of businesses, from freelancers to enterprise businesses.
However, if I had to pick one over the other, I would go with Stamped.io. The platform has more affordable pricing plans with a gradual rise between plans, which is helpful if you're just starting with review collection and loyalty programs.
Main Differences between Yotpo vs Stamped.io
The main differences between Yotpo vs Stamped.io are:
Yotpo offers SMS marketing features, whereas Stamped.io only offers SMS review collection.
Stamped.io has a feature that gauges customer sentiments using reviews, whereas Yotpo only offers sentiment information in its reporting.
Stamped.io has a free plan for each paid plan, whereas Yotpo does not.
Yotpo allows only customization of review requests and marketing messages on some plans, whereas Stamped allows custom branding in all plans.
What is Yotpo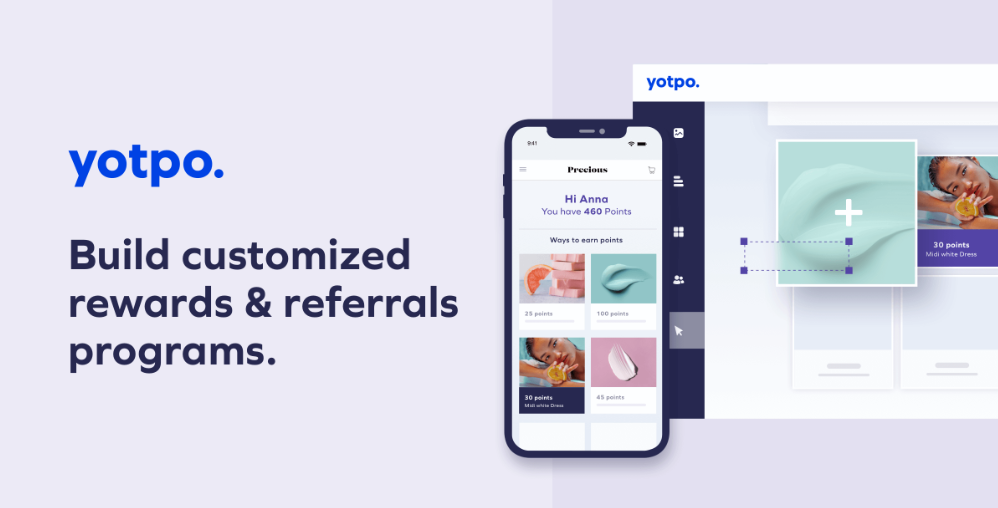 Yotpo is an e-commerce platform geared toward helping businesses grow and spread their visibility. The platform was launched in 2011 and has since given brands a new take on what it means to create better shopper experiences for their audience.
Yotpo supports growth for all businesses. It allows customers to leave ratings and reviews for products. The platform also has marketing features for SMS and email marketing.
It integrates with multiple platforms and generates reports that let you create a more customer-focused shopping experience.
What is Stamped.io?

Stamped.io is also a customer review management platform that has recently added a loyalty and rewards system to its functionalities. The company aims to connect businesses to their customers and help them build more genuine relationships.
Stamped serves over 40,000 e-commerce businesses. The platform can handle all industries and has translation functions that allow businesses within and outside North America to engage their customers in a language they understand.
Yotpo – Main Features
Ease of Use
One of the most impressive things about Yotpo is its easy signup process. Even someone without technical knowledge can create an account.
The straightforward process only requires your name, email address, the platform you host your store on, and your store's URL. To create an account, you don't need to provide your credit card or other personal details.
Once your account is created, you are taken to the next page that lets you sign up for the Loyalty and Referrals program. Setting it up is easy, after which the platform redirects you to your dashboard.
The dashboard gives you access to all the other Yotpo features. You can choose and use the ones you want without paying first.
Reviews
Yotpo's review features are probably why you're exploring the platform in the first place. The platform's initial goal was to allow businesses to collect reviews from shoppers, and the collection tools are impressive. You can collect reviews for your store across multiple platforms, including emails and SMS. The multi-platform ability allows you to reach clients on a medium that's most convenient for them.
Yotpo allows customers to leave simple star ratings and detailed reviews on purchased products. They can provide recommendations for improvement and attach photos and videos, further personalizing the reviews.
You can make it easier for them by creating prompts highlighting the product features you want to be reviewed. The prompts can be sent to their emails, with frequent follow-ups to encourage them to do a review.
You can display ratings on search engines like Google and sites like Facebook and Instagram to attract more customers. Yotpo also lets you control the reviews other customers can see, allowing your store to put its best foot forward.
Loyalty & Referrals
Yotpo's loyalty program allows you to build a relationship with new shoppers and fortify your relationship with regular ones. You can create a loyalty program based on several factors. Customers can earn redeemable points for each purchase, while others can qualify for a loyalty program based on the age of their accounts.
You can customize your loyalty programs to suit your store and increase engagement. For example, you can offer coupons to loyal customers or provide percentage discounts for those who reach a specific cart total target.
You can even create customer tiers as part of your loyalty program. Customers can move to a different level for each accomplishment, like earning a certain number of loyalty points. Each tier can have unique perks to motivate customers to join them.
Yotpo lets you use your customers for marketing your store and its products. You can generate and customize referral links, offering customers rewards if they share the links to social media pages.
User-Generated Content
Shoppers are often visual people, and Yotpo lets you use that to your advantage. The platform enables you to create a visual representation of your business using pictures and videos.
You can use the photos and videos customers attach to their reviews to create attractive visual displays. Other shoppers can tell whether or not your products meet their standards by just a glance. Yotpo lets you create visual galleries and attach them to any part of your store's website. You can display the galleries on your store's landing page, product page, and checkout page to encourage purchases.
SMSBump
You can use Yotpo's SMSBump feature to drive sales by using personalized messages to reach customers. The feature lets you create relationships with new subscribers and keep in touch with regular buyers.
One of the ways I used to reach my clients was by creating 'What's New' messages informing them about product restocks. An SMS flow lets you automate sending such messages, reducing the manual work involved. Yotpo's SMSBump feature can help you grow your subscriber base. Customers can choose whether they want to receive SMSes or just emails with promotional messages, ensuring you don't spam them with duplicate messages.
If you want, Yotpo can assign you an SMS strategist to help you create a tailored SMS program unique to your business and subscribers. The SMSBump system adheres to local privacy regulations, regardless of where your subscribers are.
Subscriptions
Growing your store means increasing the number of subscribers. Yotpo has created a subscription management solution that makes it easy to get long-term customers. The subscription feature is a timesaver if your store is hosted on Shopify or Shopify plus. You can group products often bought together, making the shopping process more time-efficient for customers.
Subscription customers get a user-friendly portal where they can add their addresses and set the delivery frequency for subscription products. You don't need a developer to help set up the subscription page. You have control of the subscription program and can remove customers from the subscription list whenever they fail to make the necessary payments.
Stamped.io – Main Features
Ease of Use
I found creating an account on Stamped much more straightforward than creating one on Yotpo. All you need is your company or store name, email address, and password to sign up.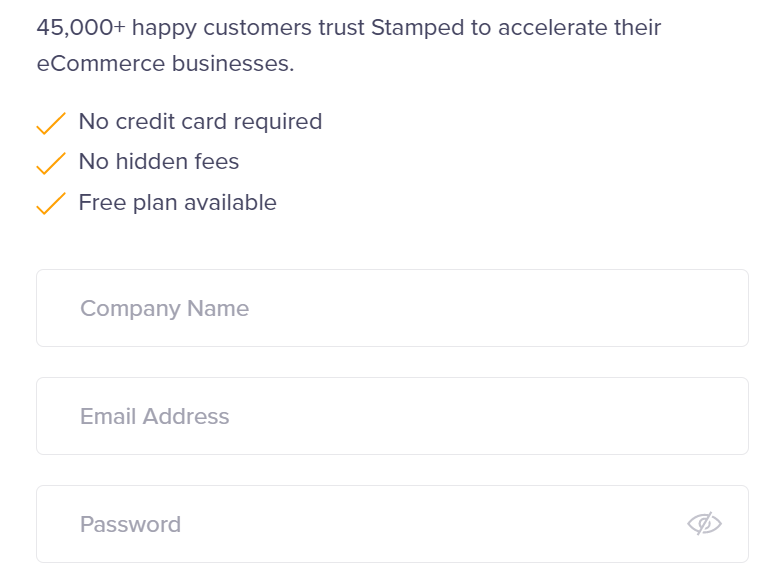 Once these details are filled in, you will be immediately redirected to your dashboard. It is a simple dashboard that lets you see all Stamped's services from the main tab.
You will have to connect your store before exploring any of the platform's features. Doing this is also easy since the platform provides you with step-by-step guidance.
Product Reviews
Stamped's omnichannel review collection tool increases the chances of getting valuable reviews from your customers. You can send customers review requests via email, SMS, and Facebook Messenger.
You can even add prompts to the requests to make leaving a product review much more manageable. The Smart Assist feature lets you provide word suggestions related to your product to minimize the effort customers put into leaving a review.
Stamped also allows you to customize the review request forms you send via email. You can switch the layout of the templates provided to add your store's graphics. A script editing tool is provided so you can take customization to the next level.
Stamped's review features include the ability to add a review request at multiple levels. You can put a request during check out or send a form with the order confirmation email. I liked that the platform can translate review emails and widgets into over 20 languages. You can use Stamped to manage your review process even if you conduct cross-border selling.
A Q&A feature is also available and can do wonders for your conversion rates. Customers can interact with past shoppers and ask specific questions about a product. You can offer shoppers expert help on how to use a product.
Visual UGC
You can use the photos and videos customers take featuring your products to create marketing displays. Stamped gives you the ability to create visual galleries that motivate purchases. Stamped's Instagram integration gives you access to a wide range of user-generated content. The integration lets you know if your store or products were tagged or mentioned on an Instagram post.
You can use customers' photos and videos to create a visual gallery in your store similar to Instagram's layout. Customers can click on a picture they like and be led directly to the product so they can buy it. The platform has automated rights management that requests customers' permission before you can use their Instagram photos and videos.
You can add visual galleries to any part of your website. Homepage galleries allow customers to buy the products they want without browsing your store. Adding UGC to the product page enhances shoppers' confidence in their picks. And if you add UGC to the checkout page, you can reduce cart abandonment.
You can take things to the next level using UGC to create dynamic ads. Creating ads using customer content can be more compelling than high-budget, curated ads.
Net Promoter Score
Stamped's Net Promoter Score (NPS) allows you to see customer satisfaction with your store with just a glance. You can ask your customers to directly rate your store and products to quickly gauge performance.
Multiple store rating methods are availed on Stamped. You can send your customers surveys via SMS, email, or a web link. Stamped's tracking tools reduce the chances of a customer rating a store using more than one method at a time.
NPS requests can be customized using your store's logo and colors. The platform can translate the requests into multiple languages to make it easier for customers to respond. I liked that you're able to see customer responses in real-time. A typing indicator lets you see whether or not they're giving detailed feedback even before they press 'Send.'
Points & Rewards
Creating a customer reward system is a good strategy for building loyalty to your brand. Stamped's extensive loyalty capabilities include points, rewards, referrals, and VIP programs. You can use the points system to drive customer engagement and store engagement. For example, people who are just browsing can earn points if they create an account.
You can even reward customers with points on their birthdays and other special events. Stamped lets you fully customize your points system. You can give points names relevant to how they're earned. You can also determine the expiration points to motivate customers to remain active in your store.
The rewards system is also fully customizable. You can set up rewards like percentage or amount discounts or even reward customers with free products or shipping. A dedicated rewards page gives you complete control over your reward system. The system integrates with other Stamped features to make the administration of rewards for referrals, reviews, and VIP tiers seamless.
Referral Program
The referral program is another of Stamped's loyalty features. It lets you use satisfied customers as part of your marketing strategy, which adds more authenticity to your store and its products.
You can incentivize customers, so they're excited to share referral links to their friends and family by giving points for each referral that makes a purchase. You can even offer them product or shipping discounts in return for referrals.
The referral links you generate can be shared via SMS, email, and WhatsApp to urge their circle to shop in your store. People with referral links
The Rewards Launcher makes managing your rewards programs easy. You can customize the links to reflect your stove. You can also determine when the referral request is launched, targeting customers at a time when they are more likely to use the links.
VIP Program
Setting up a VIP program is one way to make your customers feel valued. With attractive perks, a VIP program can create lifelong customers. Stamped lets you create multiple VIP tiers. You can set the rules that determine how a subscriber can move up the tiers. You can also set up automatic rewards that are dispatched when a customer moves into a new level.
Rewards and perks can vary depending on your business model. Customers in different tiers can have an accelerated point program or qualify for specific discounts and freebies.
Stamped has a VIP Program dashboard from which you can control the rewards system. You can customize each program with your store's branding and create a simple VIP page where customers can get all the information about VIP tiers.
Yotpo vs Stamped.io – Analytics
Yotpo
Yotpo uses a simple analytics tool that helps you learn more about your business. Regular reports are created to show you how your business is performing. You can get reviews on the impact of your SMS marketing and loyalty programs. The platform also generates graphs showing you the general tone of the reviews customers leave.
To see the insights, go to your dashboard's analytics tab. Data in the tab is visually arranged so you can see pertinent information at a glance. You can use the information to restructure your approach as needed.
Stamped.io
Stamped also has high-quality analytics that display insights for each feature you use. Artificial intelligence is used to determine the general sentiment of each review and show you areas for improvement. Analytics for UGC, ad performance, and customer loyalty are frequently availed. You can use the information to craft a more solid marketing strategy, including optimizing your rewards system to increase customer engagement.
Yotpo vs. Stamped.io – Integrations
Yotpo
Yotpo uses integrations with multiple platforms to help you grow. You can use platforms such as Google Ads, Facebook, Gorgias, and more. You can find all the Yotpo integrations you can use here. The native integrations allow for a seamless flow of information throughout the system. This synchronicity will enable you to keep track of all your store's data.
Stamped.io
Stamped has both reviews and loyalty integrations that make sending out marketing emails, review requests, and keeping track of referral programs seamless.
The platform works with e-commerce sites like WooCommerce, BigCommerce, Magento, and Shopify. You can connect it to Klaviyo, Omnisend, and Drip for email marketing. If you want to manage subscriptions, then you can link it to Drip.
Stamped also has API documentation that lets you customize your connection to the platform. You can sort through the list of Stamped's native integrations here.
Yotpo vs Stamped.io – Customer Support
Yotpo
Yotpo doesn't slack on their customer support, giving you access to multiple ways to get in touch with their customer service team. The two main customer support options available are live chat and email. Users from any plan can access these options. However, the type of plan you're on determines whether or not you get priority support.
Paying for a higher plan can get you one-on-one support from their specialists for more in-depth replies.
Stamped.io
Stamped's customer support team is available 24/7 via email, live chat, and phone call.
The platform also has a detailed knowledge base where you can find step-by-step instructions on setting up your reviews and loyalty programs. The resources are categorized and labeled, reducing the time you take to find the article you need.
Yotpo vs. Stamped.io – Pricing
Yotpo
Yotpo has a pricing plan for each of its features. A free plan is also available for each feature and is suitable for small businesses just beginning their review-collection and loyalty programs.
The platform also offers these product bundles that allow you to get different functionalities at a cost-friendly price:
Reviews plus SMSBump
Loyalty & Referrals plus SMSBump
Loyalty & Referrals plus Reviews
Subscriptions Plan
$0/mo
Fast onboarding
Customer portal
Subscription management portal
24/7 customer support
Loyalty & Referrals
Free Plan
100 orders per month
Customizable page builder
Referral program access
Social media marketing
Silver Plan
$29/mo
All Free Plan features
Point-based rewards for reviews
Gold Plan
$249/mo
All Silver Plan features
Integrations for email marketing
Coupons for referrals
Platinum Plan
All Gold Plan features
VIP Program access
WhatsApp, email, and SMS referral codes
Success Manager
Enterprise Plan
All Platinum Plan features
Implementation Manager
Customer Manager
Scalability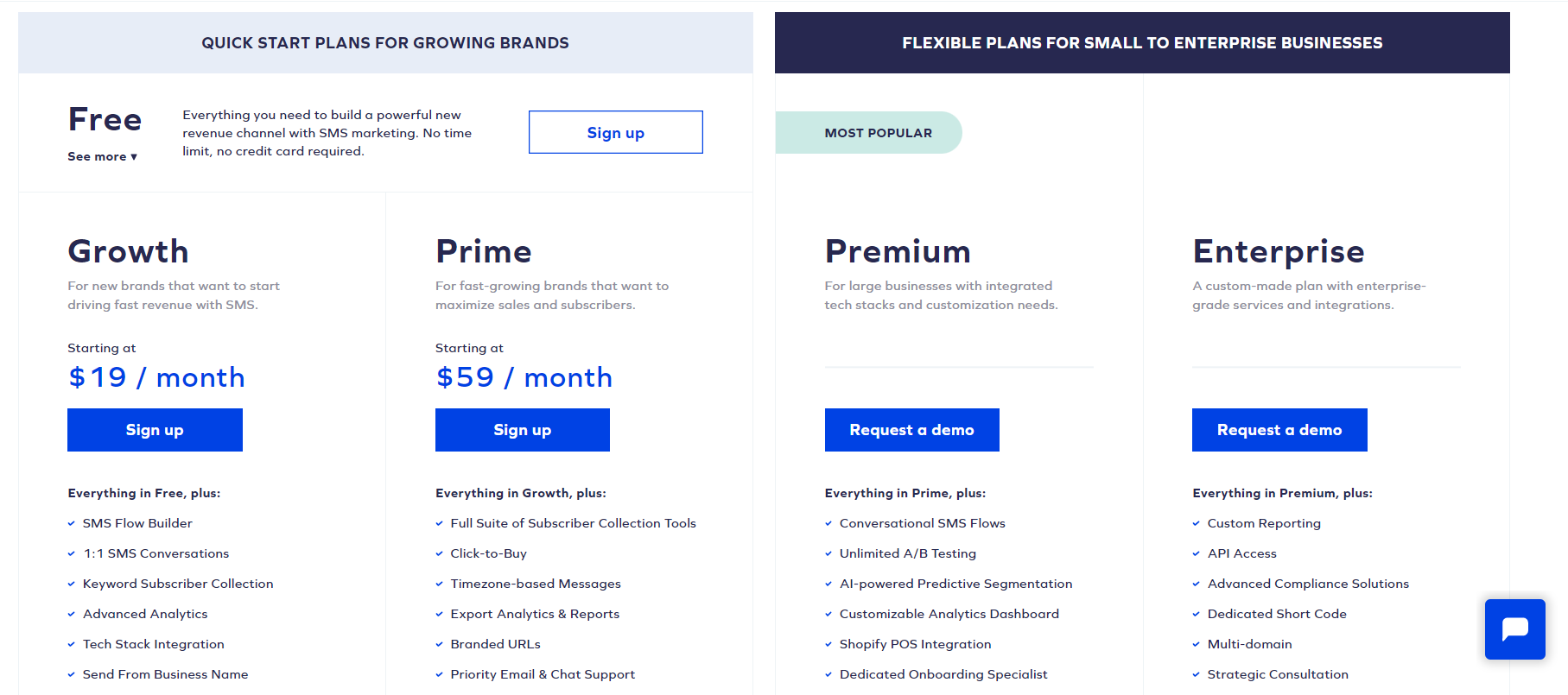 Here's an overview of the functionalities for each of the five plans for SMSBump, Reviews, and VIsual UGC features.
Free Plan
SMSBump
Campaign automation
Subscriber tools
Customer segmentation
24/7 customer support
Reviews
50 orders each month
SEO for reviews
Review importation
Visual UGC
Curated UGC galleries
Shoppable Instagram galleries
Growth Plan
SMSBump
$19/mo
Customizable SMS Flows
Advanced analytics
Reviews
$15/mo
Photo & video reviews
Review requests
Visual UGC
$9/mo
Unlimited UGC galleries
Prime Plan
SMSBump
$59/mo
All subscriber collection tools
Advanced reporting
Reviews
$119/mo
All Growth Plan features
Google ads and seller ratings
Community Q&A
Priority customer support
Premium Plan
SMSBump
Custom pricing
SMS A/B testing
AI customer segmentation
SMS strategist
Reviews
Custom pricing
All Prime Plan features
Advanced customization
AI Assist reviews
Visual UGC
Custom pricing
Photo and video galleries
Advanced analytics
Enterprise Plan
SMSBump
Custom pricing
All Premium Plan features
API access
Reviews
Full scalability capabilities
Security and compliance support
Review syndication
Visual UGC
Custom pricing
Onboarding support
API access
Stamped.io
Stamped also has multiple pricing plans for its reviews and loyalty features.
The platform also offers these pricing bundles for both reviews and loyalty functionalities:
Business Plan: $279/mo billed monthly, or $229/mo billed annually
Professional Plan: $659/mo billed monthly, or $549/mo billed annually
Enterprise Plan: custom pricing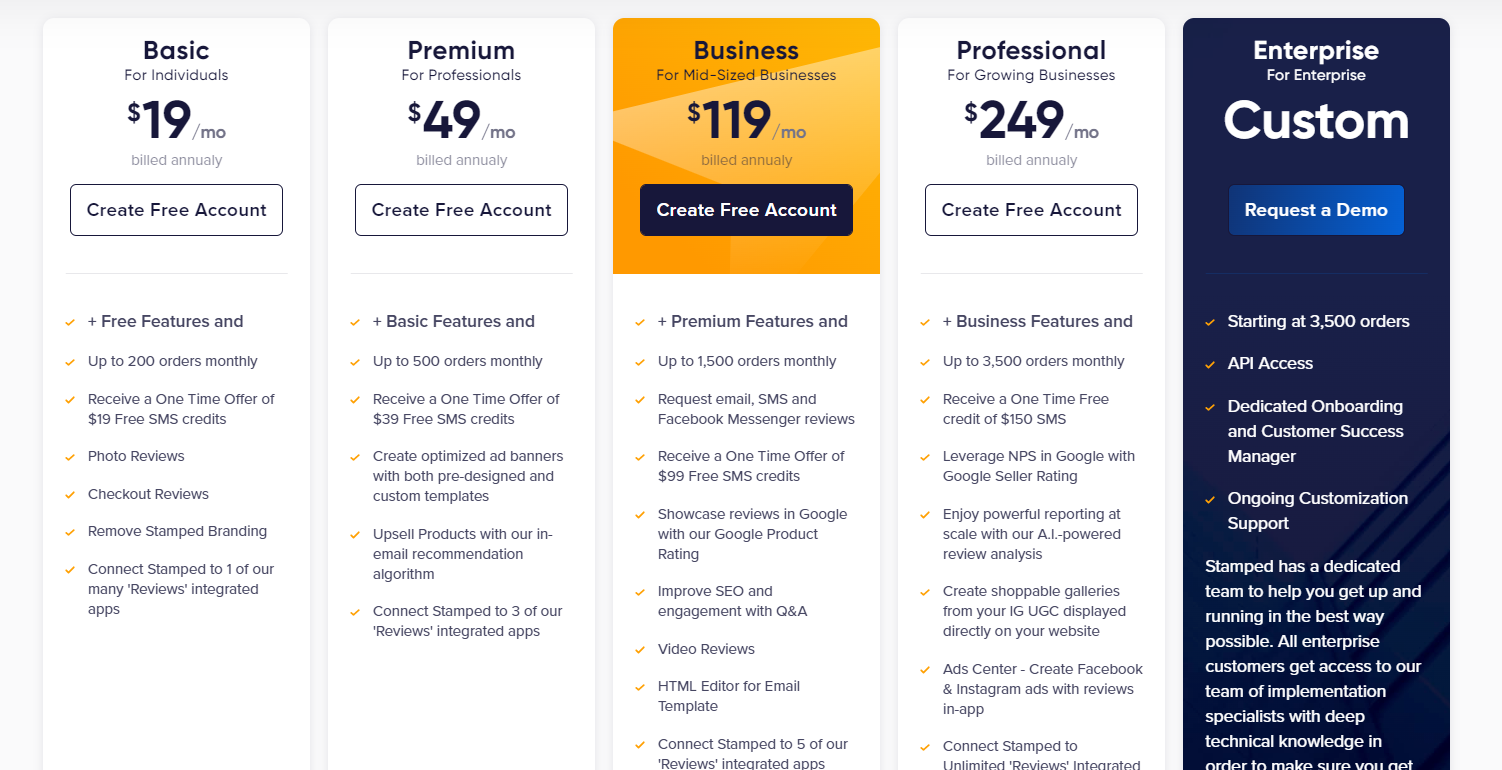 Reviews Plans
Free Plan
50 monthly orders
SMS and email review requests
Customizable review fields
One review app integration
Basic Plan
$23/mo billed monthly, or $19/mo billed annually
200 monthly orders
Photo reviews
Customizable branding
One review app integration
Premium Plan
$59/mo billed monthly, or $49/mo billed annually
500 monthly orders
Optimized ads
Three review apps integrations
Business Plan
$149/mo billed monthly, or $119/mo billed annually
All Premium Plan features
1500 monthly orders
SMS, email, and Messenger review requests
Google Product Rating
Community Q&A feature
Video reviews
Five review apps integrations
Professional Plan
$299/mo billed monthly, or $249/mo billed annually
All Business Plan features
3500 monthly orders
AI review insights
Shoppable UGC galleries
Unlimited review apps integrations
Enterprise Plan
Custom pricing
API access
Onboarding and success manager
Loyalty Plans
Free Plan
50 monthly orders
Referral program features
Customizable branding
Premium Plan
$59/mo billed monthly, or $49/mo billed annually
500 monthly orders
Customizable branding
Two loyalty app integrations
Business Plan
$179/mo billed monthly, or $149/mo billed annually
All Premium Plan features
1500 monthly orders
Customizable referral codes
Five loyalty apps integrations
Professional Plan
$479/mo billed monthly, or $399/mo billed annually
All Business Plan features
3500 monthly orders
VIP program access
Unlimited loyalty apps integrations
Enterprise Plan
Custom pricing
API access
Onboarding and success manager
Yotpo vs Stamped.io – Alternatives
Smile.io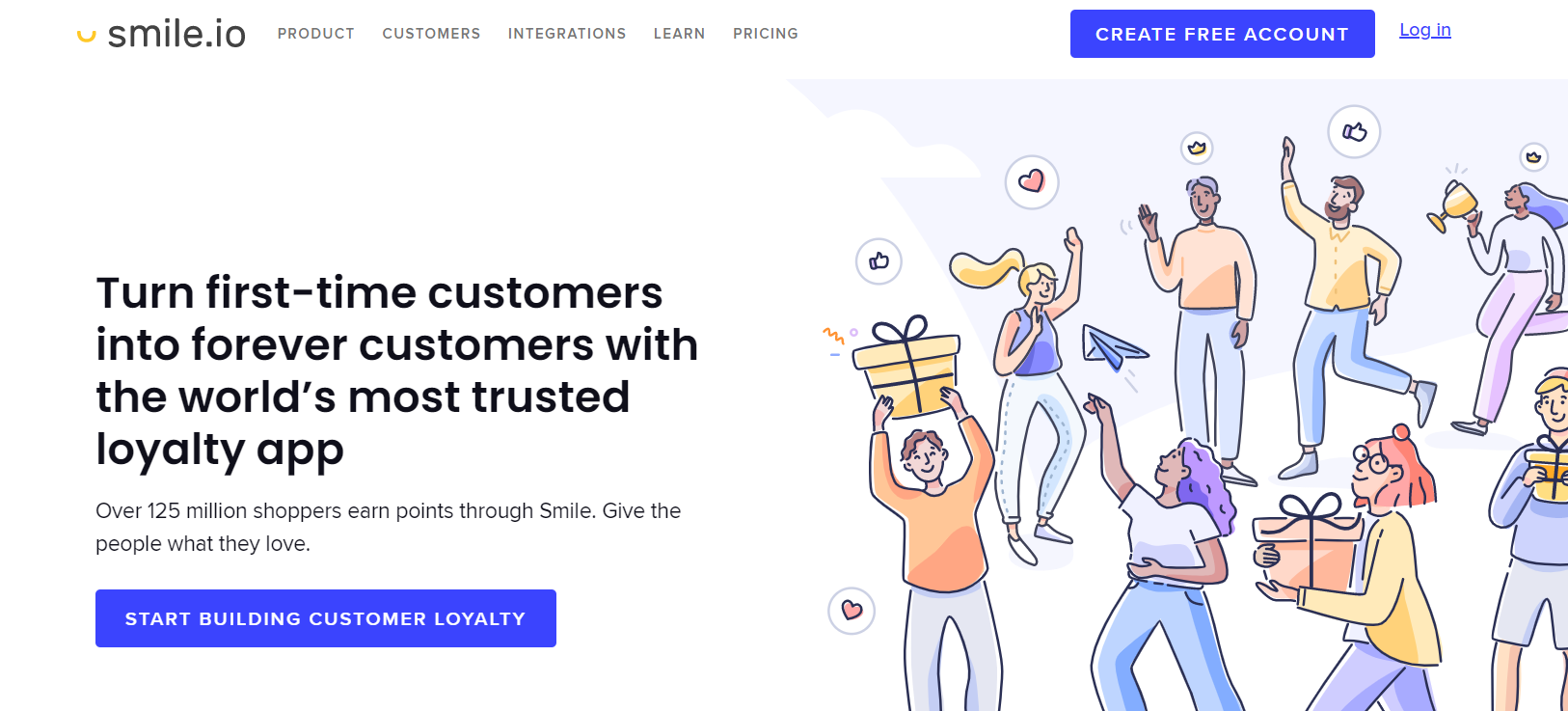 Smile is a review platform that serves Wix, BigCommerce, and Shopify stores. If your store is hosted on any of these platforms, then Smile might be one of the best loyalty apps you can use to enhance customer engagement.
Omnisend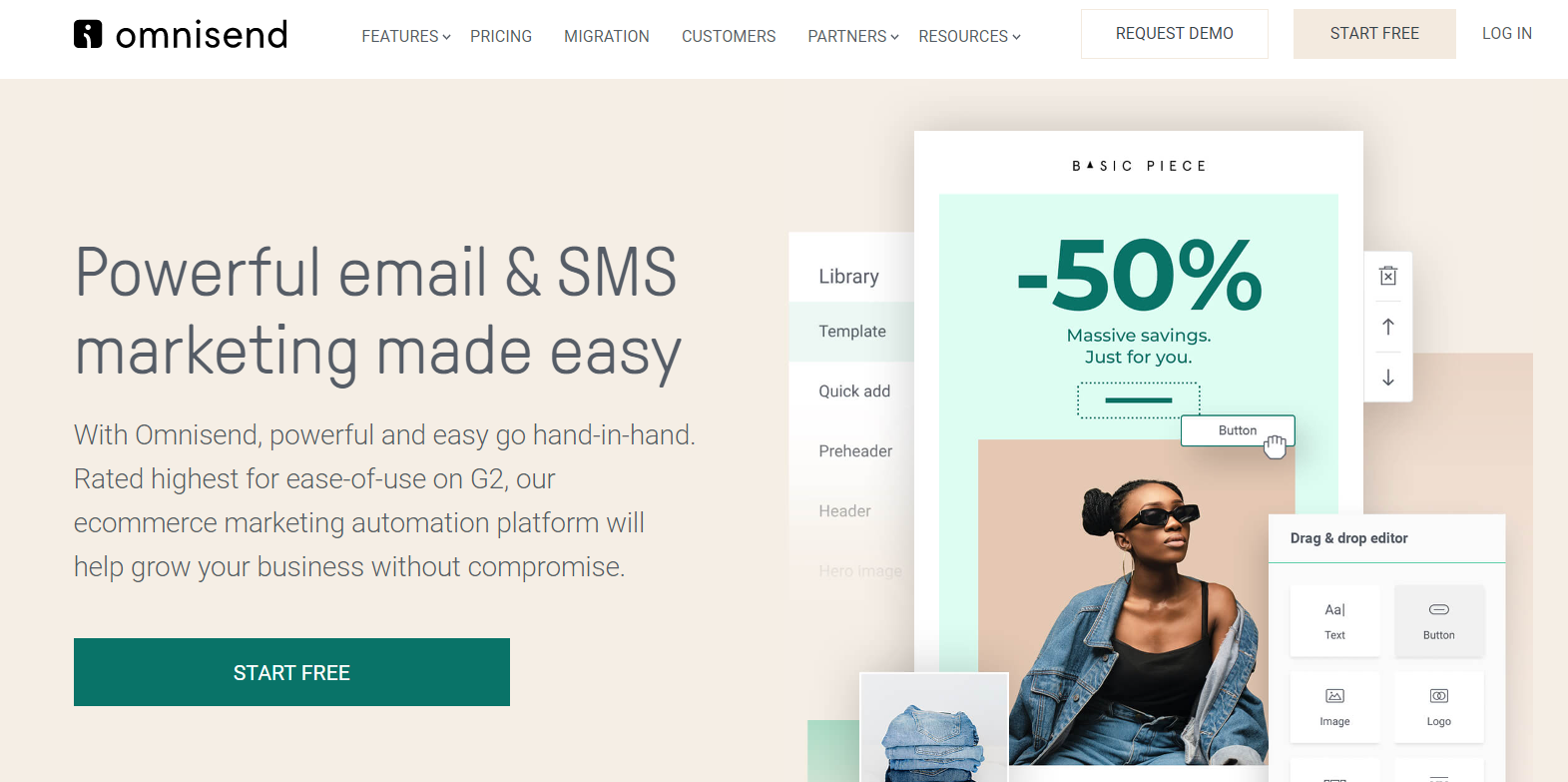 Omnisend is a marketing platform that features SMS, email, and subscriber management tools. The article Omnisend vs. GetResponse Compared will show you if it is a better choice over Yotpo and Stamped.
PowerReviews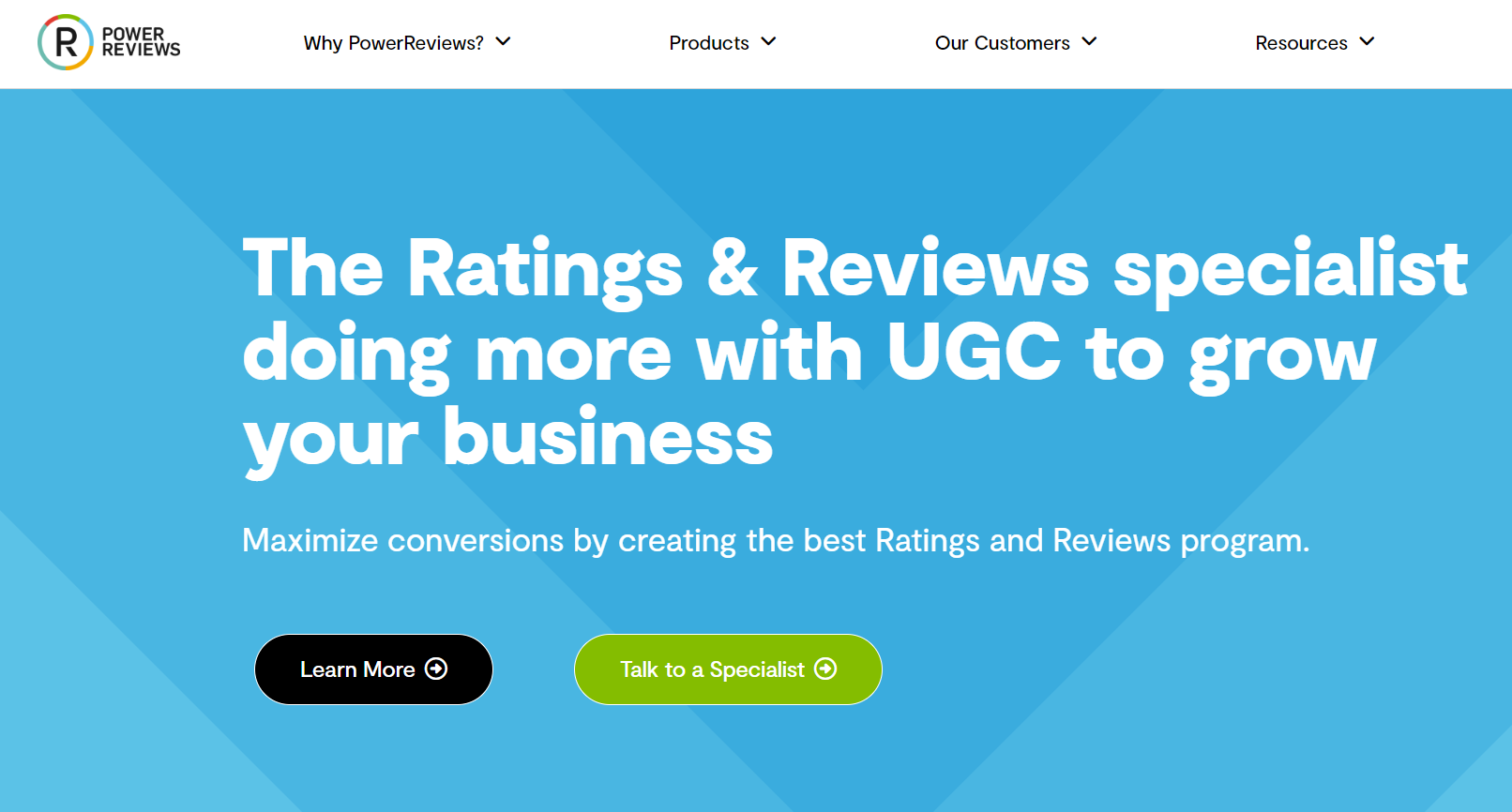 PowerReviews allows businesses to collect customer reviews and use them to convince new shoppers to make purchases. You can see how it fares against Yotpo in this Yotpo vs. PowerReviews comparison.
FAQs
Question: Which countries can use Yotpo or Stamped.io?
Answer: Yotpo is available in over 200 countries, including Israel, North America, and most countries in Europe and Asia. Stamped supports over 20 languages and is used across North and South America, Europe, and Asia. You can find out if your country can use Stamped or Yotpo by visiting their FAQ section or contacting customer support.
Question: How long does the Free Plan on Yotpo and Stamped.io last?
Answer: Yotpo's free plan across all its features has no time limit, making it useful for startups who cannot yet afford to pay for services. You can use it until you are ready to upgrade to a higher-paid plan.
In addition to the free plan for each feature, Stamped has a free period for each priced plan. You can explore the most expensive plan for each feature for up to a month before deducting the balance from your credit card.
Question: Can I access Yotpo or Stamped.io using my phone?
Answer: Yes, you can. Both Stamped and Yotpo have a friendly user interface that any account holder can access through their mobile phone. You can manage your reviews and loyalty programs away from a computer.
Your customers can also leave reviews and ratings on any device, making the review process more pleasant.
Yotpo vs. Stamped.io – Final Verdict
Yotpo and Stamped are very similar platforms with almost identical functionalities. They each do a good job connecting small, medium, and enterprise businesses to their clients. Yotpo has many marketing features in addition to its review collection capabilities. If you need SMS marketing capabilities, then this is your platform.
Stamped's features are also extensive, and its user interface is easy to utilize. Personally, I think it should be the platform of choice for anyone who wants to explore the highest review collection and loyalty program capabilities without getting charged for it first.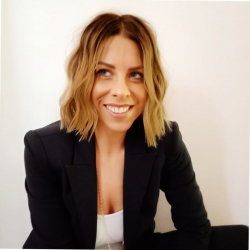 Latest posts by Maddy Chiffey
(see all)
Get 40% OFF for 3 Months