Last Updated on September 30, 2022 by Ewen Finser
Deciding on the right eCommerce solution for your business is a difficult decision. It doesn't matter whether you're starting or have grown to a point where your existing platform no longer supports your needs. In either case, the sheer choice is overwhelming. That's why we're comparing two such platforms today. Hopefully, by the end of this review, we'll have helped you come a little closer to your decision. Here, we're zoning-in on AmeriCommerce vs Shopify.
Both have been around since the early 2000s and offer comprehensive and robust platforms and tons of third-party integrations for beginners or larger-scale enterprises alike.
There's lots to cover, so grab a cup of coffee, and let's hop straight to it!
AmeriCommerce vs Shopify- Their Key Similarities and Differences:
Curious how AmeriCommerce vs Shopify compare at a glance? Here's a quick rundown of their most significant similarities and differences:
AmeriCommerce vs Shopify- The Differences
AmeriCommerce vs Shopify – The Similarities
Both AmeriCommerce and Shopify offer omnichannel solutions so you can sell across online marketplaces, social media, etc.

Many of their core features overlap. For example, both enable you to sell online, offer a decent choice of payment options, shipping and fulfillment settings, etc.

They both offer their own payment providers (Shopify Payments for Shopify and payments by Cart.com for AmeriCommercw), and they're favored in their respective pricing plans.
What's AmeriCommerce?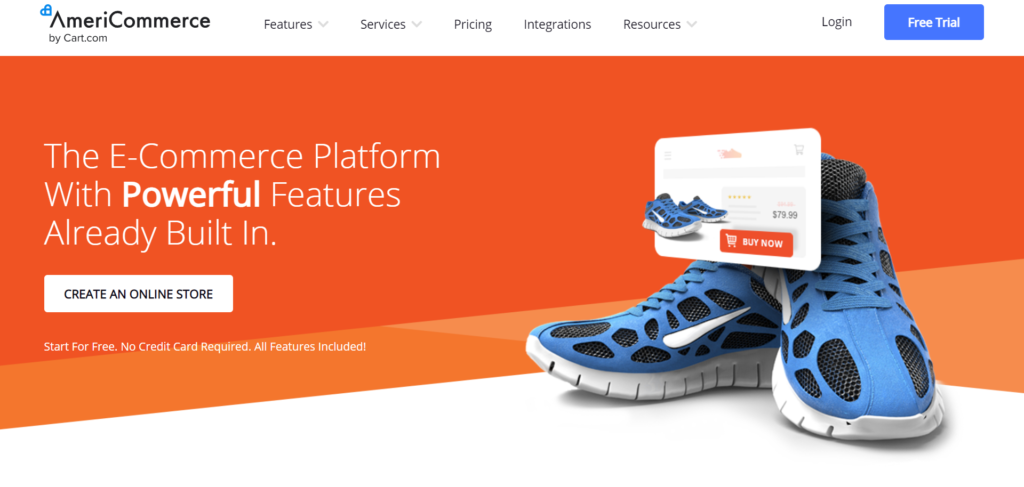 Founded in 2005, AmeriCommerce was bought by Capital One under the name Spark Pay in 2014. It then became its own business again as a privately owned Texas-based company just three years later. Fast forward to today, and 5,000+ businesses currently use it.
Its origins lie in the web development world, founded by three eCommerce developers: Ed Sturrock, Charlie Cooper, and Stefan Barlow. AmeriCommerce pitches itself as an eCommerce solution offering powerful features, including marketing, inventory management, shipping and fulfillment, loyalty program tools, and more.
It's a cloud-based software, meaning that with a WiFi connection and a web browser, you can manage your entire eCommerce store from one centralized dashboard. Irrespective of whether you're a startup or a larger enterprise, there are AmeriCommerce solutions to suit each business level. In addition, you can try it for free with no credit card required.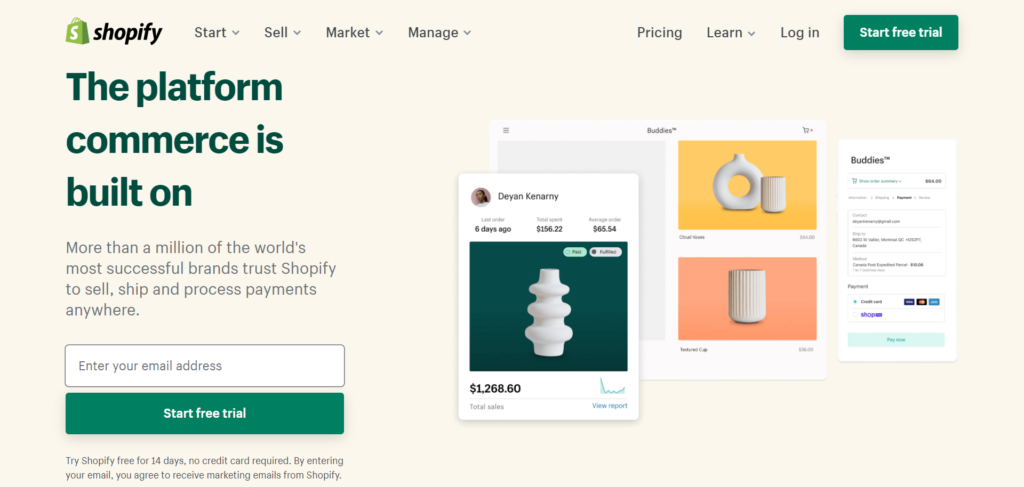 Shopify prides itself on equipping sellers with the ability to sell to anyone anywhere, including in-person with its POS solution.
You can try it for free for 14 days before committing, and, like AmeriCommerce, it's feature-rich. There are tons of features on offer that make life easier for online sellers, including marketing, shipping, payments, and order management tools – to name a few!
Founded by Tobi Lutke in 2006, Shopify is now a household name amidst the eCommerce community. Given that over 1.7 million businesses trust it across 175 countries, it's definitely one of the more prominent players in this arena.
AmeriCommerce and Shopify's Pros and Cons
Before we dive in at the deep end, first, let's check out each of the platform's pros and cons so that you have an at-a-glance guide you can refer back to:
AmeriCommerce's Pros
AmeriCommerce's themes are free and up to date

There are specialized features available for B2B and wholesale sellers

You can offer your customers reward points and reward tiers

It's well-reviewed by businesses that use it

There aren't any transaction fees

There are 40+ third-party payment partner integrations to choose from

It's a multi-vendor marketplace, meaning you can create an online marketplace where multiple businesses can sell via your site.

You can sell products anywhere online – social media, other websites, marketplaces, etc.
AmeriCommerce's Cons
24/7 support isn't available

There isn't a mobile app, which makes managing your online store while you're on the go tricky.

You only get 1GB worth of storage on the lowest price plan

There's a 500 product cap on the lowest price plan
Moving on, let's see how Shopify stacks up:
Shopify's Pros
It's mobile-friendly

There's a free 14-day trial available

There are tons of self-help tutorials and blogs to help get you started

Shopify's incredibly intuitive – you don't need a lot of tech knowledge to get going

There are lots of integrations on offer

High-quality SEO tools are built-in and ready to use
Shopify's Cons
You're charged transaction fees if you use a third-party payment gateway

There are only a few free themes to choose from

You don't have access to reporting features on the cheapest (Basic) plan.
Now we've covered that, let's check out AmeriCommerce and Shopify's key features:
AmeriCommerce's Key Features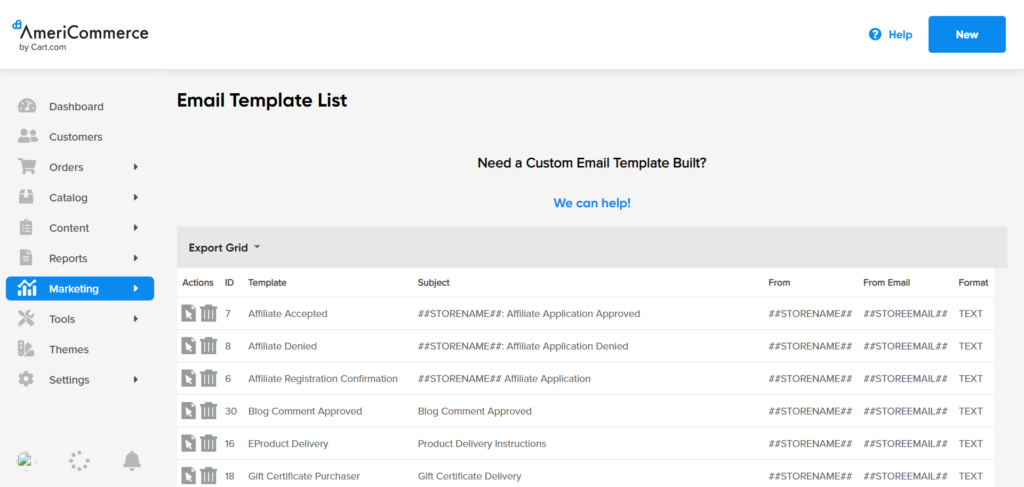 AmeriCommerce has 15 core features in total, and within each are sub-categories. While we're not going into all 15 in-depth, here's a list of what they are; after this, we'll pick out some of AmeriCommerce's more notable functionalities:
Marketing tools

Headless commerce

Multi-store

White label

Shipping and fulfillment

Sell anywhere

Payment options

Product flexibility

Wholesale and B2B

Full control and access

Subscription products

Multi-vendor

Security and protection

Multi-store

Rule engine

Reward point program
With that in mind, let's check out our favorite five AmeriCommerce features:
Marketing Tools
There are multiple marketing tools on offer, including abandoned cart opportunities. Here, you can target customers who leave your store to entice them to come back and complete their purchases. You can also create discount offers by using AmeriCommerce's robust discount rules engine to establish scenarios based on customer behavior where a discount's generated.
On top of that, you can send customers emails to inform them about your new products, discounts, sales, etc. You can also blog to your advantage by embedding products into your posts to encourage click-through sales.
Headless Commerce
For the uninitiated, headless commerce is a way the front-end and back-end of your store are decoupled. This means that AmeriCommerce provides the back-end capabilities you need to run an online store while empowering you to choose which front-end applications to present. For example, this could be your blog or website, managed by a website-builder of your choosing.
As such, you can integrate AmeriCommerce's capabilities, for example, with WordPress, GoDaddy, Wix, and more.
In more practical terms, headless commerce allows you to embed AmeriCommerce's eCommerce features anywhere on the web. For example, say you need your shopping cart, customer login, or a product page on another website – that's possible with AmeriCommerce. You can transform any website or blog into an eCommerce site by embedding snippets of code.
AmeriCommerce dynamically creates code snippets for you. Then, all you have to do is copy and paste them into the code of the target site.
This infrastructure also allows you to easily share products via:
Link/URL Sharing

Custom online forms

JavaScript

API
…and more.
Multi-Store
If you operate more than one store, it can get confusing and potentially stressful running them all. AmeriCommerce users can use the multi-store feature to manage several stores from one easy-to-use dashboard. Here, you can see all your customers, orders, products, shipping, transactions, and sales across multiple outlets. Of course, this only records interactions and transactions that occurred using AmeriCommerce's toolkit.
You can add any number of stores and retain their individual brand/design, and switch between them by toggling from store to store to see their sales, reports, and more. You can even store product images in a "shared" library. So, whenever you want to embed eCommerce features on a new site, you can quickly draw from existing media, saving you the disk space and the duplicate effort.
Also, if you have staff, wave goodbye to multiple logins! Instead, you can even assign permissions to trusted team members to help you manage different aspects of your online store.
White Label
AmeriCommerce is a white-label platform. This means customers won't see AmeriCommerce's branding in the backend of the eCommerce solutions you provide them. Your customers are your customers – no one needs to know about AmeriCommerce's contribution to your operations.
Instead, you have the option to enhance and promote your brand every step of the way. For example, you can edit your email templates and admin functions with your logo. But, these are just the tip of the iceberg of what you can do to make AmeriCommerce your own.
Shipping and Fulfillment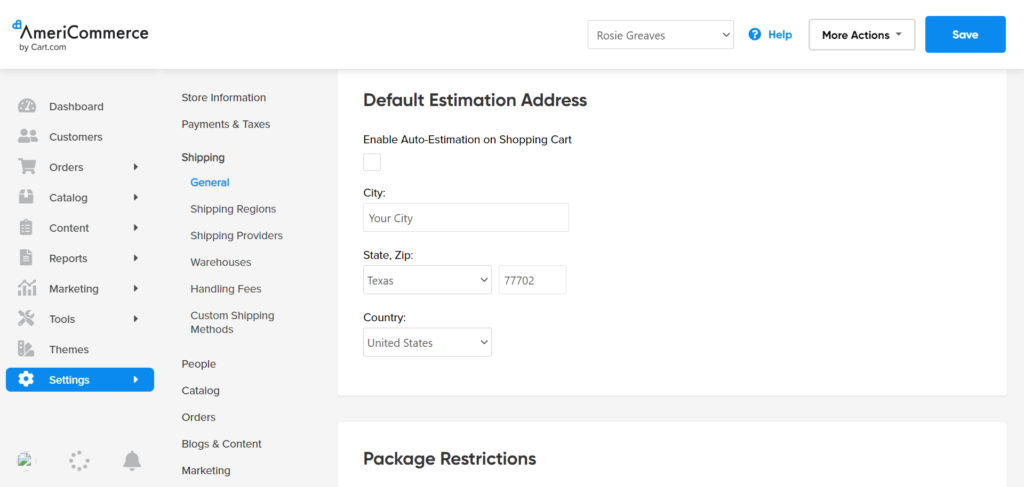 AmeriCommerce provides live rates for all the leading shipping providers, including FedEx, USPS, UPS, DHL, FedEx Freight, and UPS Freight.
You can also customize your shipping rules and methods based on item weight, cost, and other factors, including offering, for example, free shipping to customers.
Extras
Core features aside; it's also worth noting that AmeriCommerce offers the following services at an additional cost:
Custom web development

Web and graphic development

Data and platform migration

Marketing services

Ecommerce consulting
Shopify's Key Features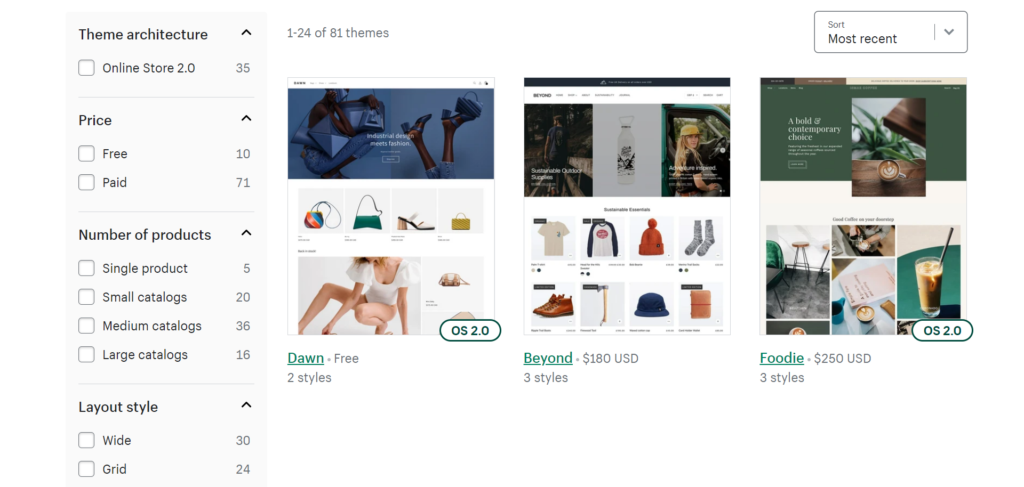 Now it's Shopify's turn to be scrutinized. Shopify offers its features under four main categories:
Start

Sell

Market

Manage
Within each category lies Shopify's core features. In addition, Shopify offers 3,000+ apps for you to choose from to maximize and extend the functionality of your store.
But first, let's talk about Shopify's free tools before diving into its features. These include a logo maker, business name and domain name generators, a QR code generator, a video maker, and more. All these tools are well worth checking out, whether you choose to go for Shopify or not – especially if you're new to eCommerce and working on a shoestring budget.
As for functionality, here are some of Shopify's most notable features:
Shopify Themes and Templates
At the time of writing, there were just nine free themes and 72 paid-for ones, many of which are explicitly designed with specific industries in mind. From art and photography stores to toys and games – and tons of niches in between! There are also different styles to choose from, including minimalist and livelier themes. In short, there's truly something for everyone's needs.
The downside is that most of these are paid-for. That said, they're all attractively designed and modern in appearance, so rest assured, you won't go too far wrong with one of these!
Point of Sale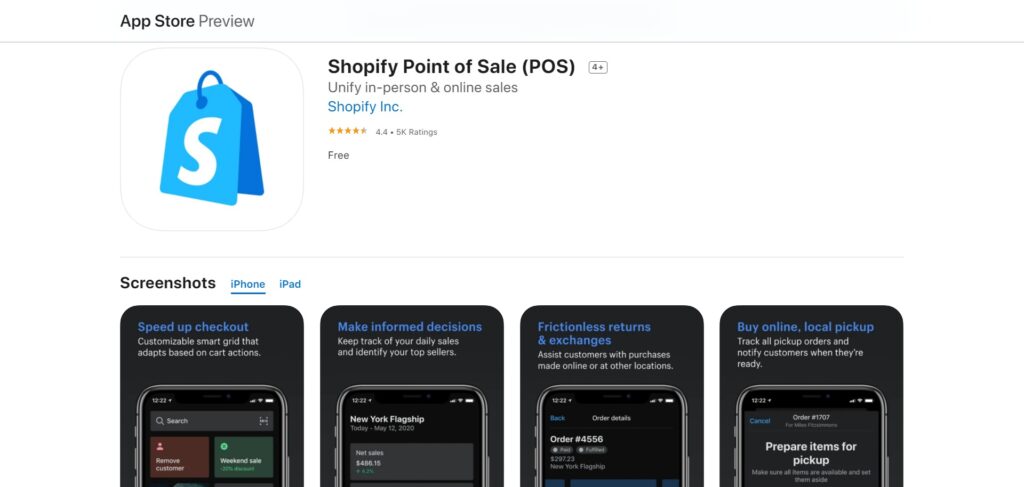 Unlike some eCommerce platforms, Shopify allows you to anywhere with its POS app. By this we mean, you can sell in-store, at pop-ups, and online. At the time of writing, Shopify's POS function was being used by over one million businesses. Some have reported a 30% growth in profits since using the Shopify point of sale feature to unify all their sales, wherever they come from.
The POS app is available on iOS and Android devices and allows you to sync your sales and inventory, so you're always in control of your sales and income. Hardware is available; however, this needs to be purchase separately.
Shopify POS is available on a 14-day free trial. After that, you'll have to subscribe to Shopify's Lite plan (at the very least).
Analytics
Shopify makes it easy to view all your sales, orders, and site traffic at-a-glance from one centralized dashboard. In addition, you can generate reports (on Shopify's higher-paid plans) to see which products are your best sellers. On top of that, you can also use Google Analytics alongside Shopify to track site visits, referrals, and sales in more granular detail.
Shopping Cart
All Shopify stores come with a free 256-bit SSL certificate for added data security. In addition, all page content, including financial information and transactions, is protected with the same heightened security used by online banks.
Like AmeriCommerce, Shopify's shopping cart features extend to generating automated shipping rates from major carriers.
You can accept all major credit cards, including Visa, Discover, American Express, and Mastercard. Not to mention, Shopify integrates with 100+ external payment gateways, so it's super easy to offer customers their preferred method of payment.
AmeriCommerce vs Shopify: Their Integrations
Now, let's turn our attention to the native integrations AmeriCommerce and Shopify have to offer:
AmeriCommerce Integrations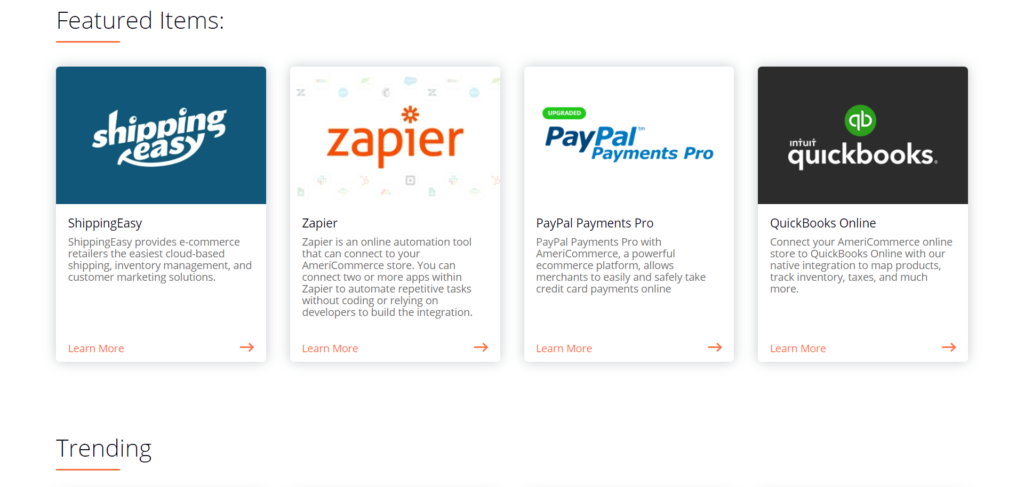 The AmeriCommerce app and add-on store are split into 12 categories, including accounting, inventory, fulfillment, marketing, and payment solutions. There's also a section on featured integrations that list:
Avalara

QuickBooks

PayPal Payments Pro

Zapier
Other notable integrations include:
Stripe

MailChimp

Campaign Monitor

Google

Amazon

eBay
Plus many more. Suffice to say; there are plenty of integrations to choose from, a total of 83 at the time of writing.
Shopify Integrations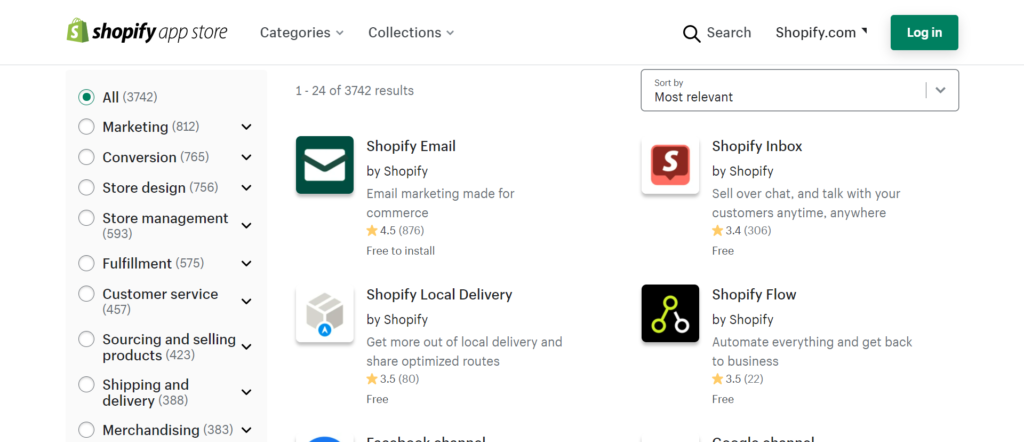 Shopify also offers tons of integrations. These are available in the Shopify App Store. Like AmeriCommerce, there are featured apps here, called 'Standout Apps,' and at the time of writing, these were:
Sealoop Subscription

Globo Preorder

Ad Roll

Accessibility Spark
The Shopify App store offers integrations across various categories not dissimilar to AmeriCommerce. These include marketing, merchandising, customer service, sourcing and selling products, and store management.
Some other notable apps include:
SPOD

Printful

AliExpress

Google Channel

Facebook Channel

eBay
And tons more!
AmeriCommerce Prices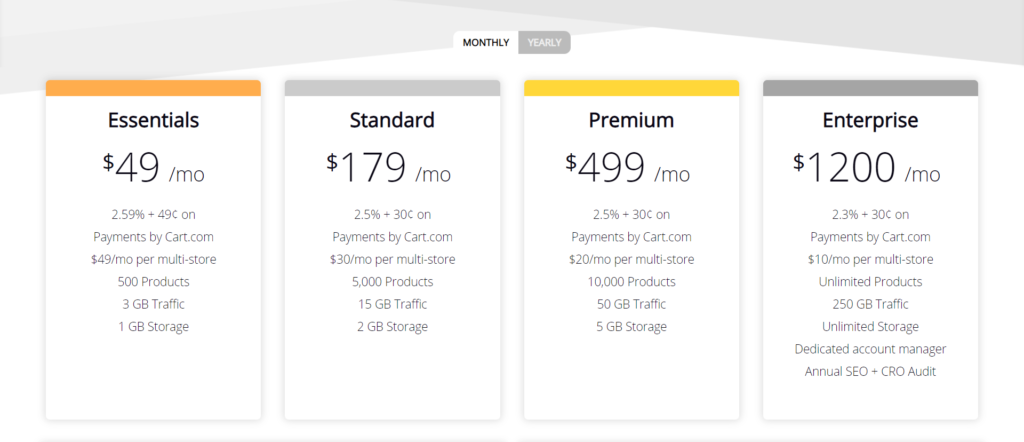 There's a 14-day free trial with no credit card needed. After that, you can take out one of four plans and pay either monthly or yearly.
Interestingly, all plans include:
Unlimited access to AmeriCommerce's features

Access to 100+ integrations

No transaction fees

A free shared SSL

REST API access

Free templates and themes

Unlimited staff accounts

Multi-store options

No sales volume penalty.
Bronze Plan
This will set you back $49 a month or $529 a year. You'll also have to pay 2.9% + 30¢
to receive payments by Cart.com and $49 a month per multi-store. You're also limited to listing 500 products, three GB worth of traffic, and one GB of storage.
Silver Plan
This costs $179 a month or $1,890 a year and reduced the transaction fee charged by Cart.com to 2.5% + 30¢, and you're only charged $30 a month per multi-store. In addition, other limits are extended to 5,000 products,15 GB traffic, and two GB of storage.
Gold Plan
For $499 a month or $5,269 yearly, you'll get everything in the Silver plan, plus a reduced rate of $20 per month per multi-store. You also benefit from being able to list 10,000 products, facilitate 50 GB traffic, and five GB of storage space.
Platinum Plan
Lastly, for $1,200 a month or $12,240 a year, you reduce the transactions fees charged by Cart.com to 2.3% + 30¢, and you're only charged $10 a month per multi-store. You can also handle 250 GB of traffic, and you get unlimited storage, a dedicated account manager, and an annual SEO + CRO audit.
Enterprise
Then, there's the Enterprise option. This is a customized plan with which you receive higher API call limits, lower rates for payments, turnkey services, and premium level support. The Enterprise option is available at two levels called: Titanium and Custom. For more information about this, you'll have to contact AmeriCommerce directly.
There's also a multi-store option that allows you to add all the stores you operate at $39 per month per store.
Shopify's Prices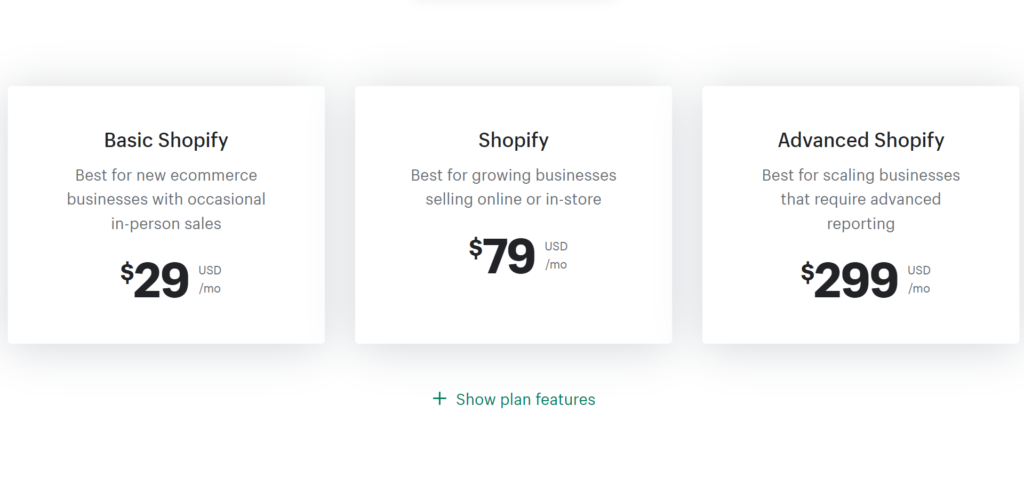 There are five pricing plans available, all of which come with a 14-day free trial, with no credit card needed.
All premium plans, except for the Lite plan, include:
POS

Unlimited product listings

Shipping features

24/7 support

You can accept online payments

Inventory locations

Gift cards
The cheapest program, the Lite plan, by comparison, enables you to embed selling functionality onto other websites without investing in an entire Shopify store. This is suitable for merchants just starting out with a small inventory.
That said, here's what's included with all of Shopify's premium plans:
Lite
For $9 a month, you can sell on Facebook and add a Shopify buy button to your existing blog or website. If it's Facebook you're interested in using, you can also trade in real-time via Facebook Messenger. Other features include POS support for iOS and Android; you can create invoices inside your Shopify Lite dashboard.
Basic
You get all the core features mentioned above for $29 a month. In addition, you can register two staff accounts and access everything you need to build an online store. However, the Basic plan imposes a 2% transaction fee on non-Shopify payments. You also miss out on features like third-party shipping rates, reports, USPS Priority Mail Cubic® pricing, international domains, and international pricing.
Shopify
For $79 a month, the Shopify plan reduces the transaction fee to 1%. You also gain access to Standard reports, five staff accounts, and international domains and pricing.
Advanced
For $299 a month, nothing is omitted here. You can also manage inventory across eight locations compared to just five on the Shopify plan. In addition, you can register 15 staff accounts, and your transaction fees are further lowered to 0.5%. On this plan, you also unlock third-party calculated shipping rates and advanced reports. Furthermore, you can set individual product prices for different countries/regions.
Plus Plan
The Plus plan is designed for larger enterprises, for which you'll need to contact Shopify directly for a custom quote.
Alternatives to AmeriCommerce and Shopify
In the interest of balance, it's worth measuring both AmeriCommerce and Shopify against some of the alternatives. Popular names that come up here include: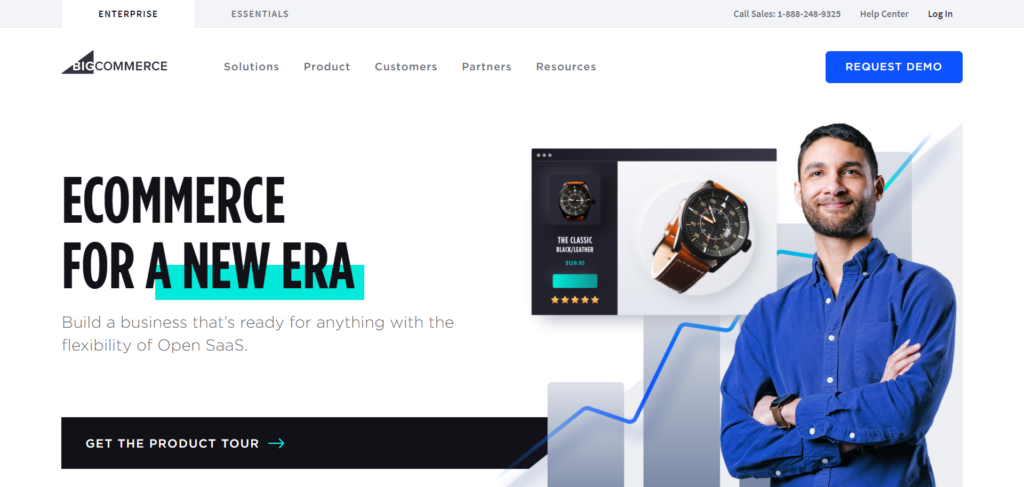 This platform supports over 55 payment gateways and is an open-source SaaS eCommerce platform. While Shopify and AmeriCommerce offer more free themes than BigCommerce, one positive about the latter is that its robust features are included in every price plan. BigCommerce also provides a 24/7 help desk, including live chat.
WooCommerce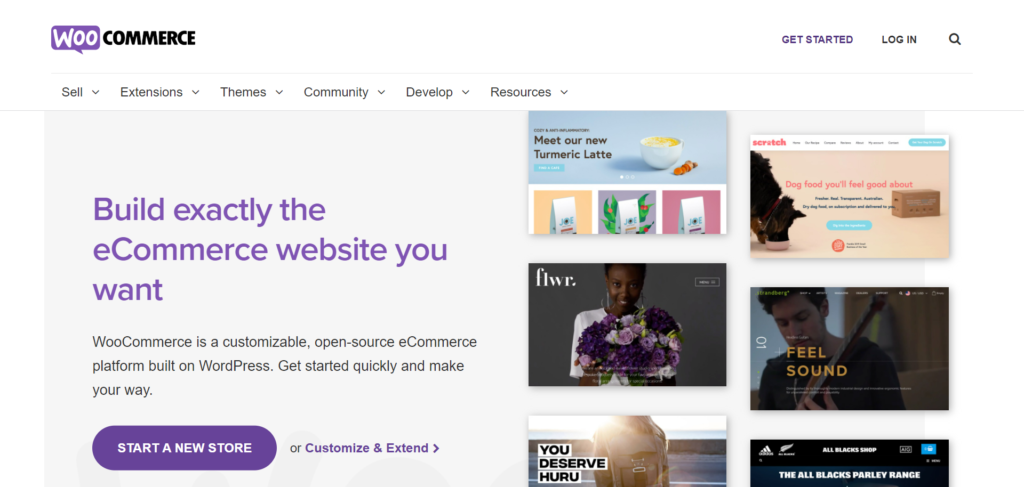 Here's an open-source WordPress plugin that you may be interested in using if you have a WordPress site that you want to convert into an eCommerce store. It's free to use and easy to integrate. The downside is that to make the most out of this platform, you may need the help of a developer or design expert if HTML and CSS aren't in your skillset.
Wix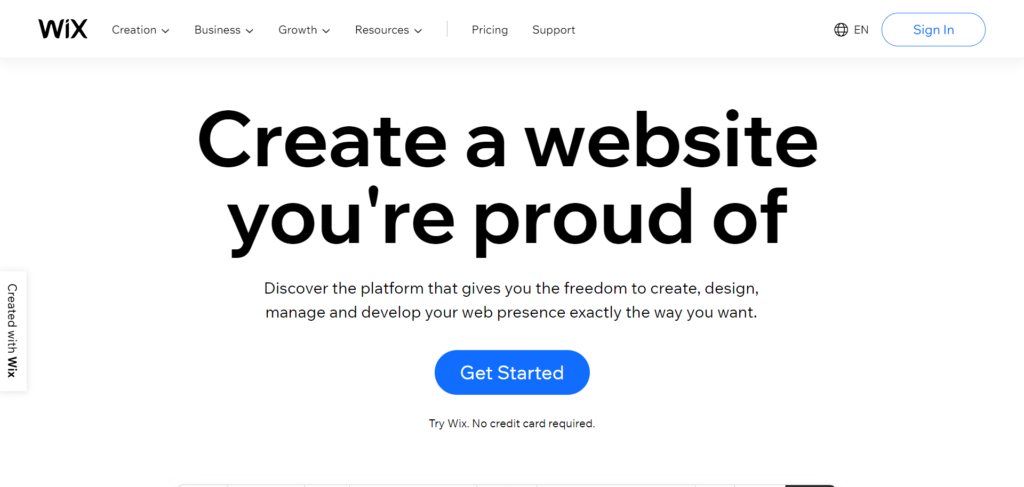 Founded in 2006, Wix is cited as a suitable alternative for eCommerce business owners looking for an easy-to-use website builder. In addition, it's ideal for smaller businesses looking for an intuitive drag interface. However, the downside is that Wix doesn't support Apple Pay or Amazon Payments.
AmeriCommerce vs Shopify: Our Verdict – Which is Best?
It's always a tough call; in this instance, when weighing up AmeriCommerce vs. Shopify, we'd say that the overall winner here is Shopify. While both platforms offer a range of price bands, themes, features, and a generous number of integrations, Shopify comes out on top in terms of price and customer support.
However, we'd always include a note of caution here because Shopify's fees can add up, especially if you pay for themes and premium plugins, so it's wise to calculate all this in advance.
Are you ready to try AmeriCommerce or Shopify? Let us know which you go for and why in the comments below.
Read More: