Last Updated on April 22, 2023 by Ewen Finser
If you're trying to find the best eCommerce platform, you may have stumbled upon SamCart – our in-depth review can give you all the info you need to know about this shopping cart software.
SamCart has a lot of great features – a secure shopping cart, flexible subscription payment plans for customers, and built-in upselling tools to name a few.
But is it worth using?
My Bottom Line Up Front: I really like SamCart and we think it's a solid shopping cart software for selling physical products online, but we did stumble upon a few downsides. However, the customer support team was really helpful, which is a definite plus point, and it has some great features, particularly if you want to sell subscription-based products.
Keep reading to find out more details. We've tested it ourselves, so you can see our honest thoughts on the pros and cons of SamCart!
What is SamCart?
SamCart is an online shopping cart platform. Launched in 2014, it allows users to create product pages, offer subscription plans to customers, and more. Customers can pay with credit or debit cards, PayPal, Apple Pay, or Google Pay.
It has some built-in features, like the Subscription Saver or upsells, to help you to gain more sales and maximize conversion rates.
The Pros and Cons of SamCart
If you're in a hurry, here's what you need to know about the best and worst features of SamCart:
Pros
Offers a safe, secure shopping cart
Easy to create products and product pages
Lots of subscription payment configurations possible
Easy to add upsells or downsells
The subscription Saver feature is useful
Good customer support
Cons
Doesn't work smoothly 100% of the time
A little pricey compared to other platforms (like Shopify or 3Dcart, for example)
The Main Features of SamCart
Let's take a look at SamCart in more detail.
Samcart User Experience
Signing up for SamCart was a little more difficult than it needed to be. It looks easy on the surface, but when testing the platform, I ran into problems during the password creation stage.
A small thing, but a little annoying. There were also a couple of moments when I tried to click on something in the dashboard area only to find it didn't load. The customer support team responded to this helpfully, but it was inconvenient at the time (more on this in the 'Support' section a little later).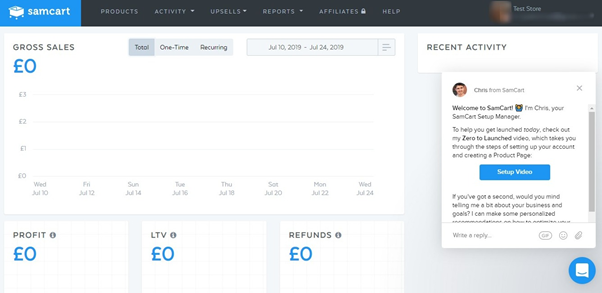 Generally, it should be a pretty easy platform to use – the toolbar at the top points to everything you need to find.
Samcart Product Pages
It's pretty easy to set up a new product page with SamCart. You can input basic information, including product name, product URL, images, and product tags. If you're selling digital products, you can upload them at this stage.
You can design a checkout page for each product, using their premade templates.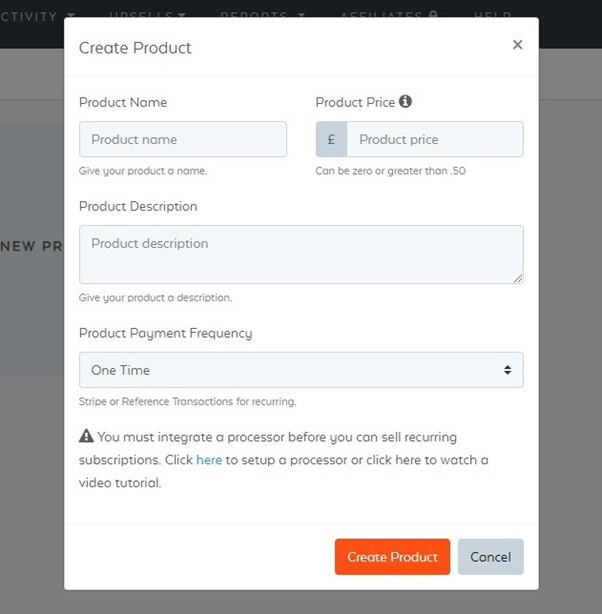 The checkout design page allows you to choose from a variety of premade templates: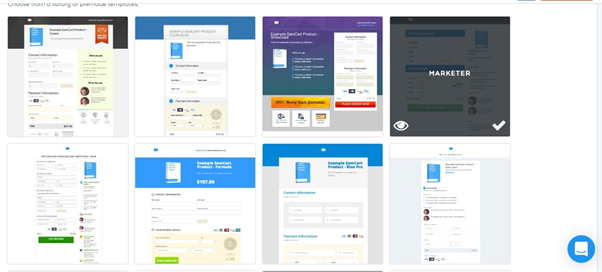 The templates are pretty basic. They can be customized – you can play around with colors, logos, and fonts, as well as adding testimonials, bullet-point lists, and custom sections. SamCart uses a basic text editor for the custom sections, and you can add links and images if you want to. At any point, you can preview how your page looks using the live view mode.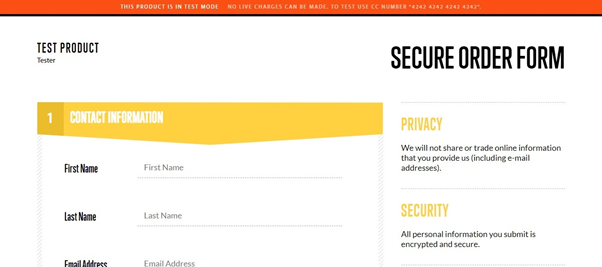 SamCart uses Stripe and PayPal, which opens up a lot of options for customers to pay by credit or debit card, as well as Apple Pay or Google Pay. You can offer payment installments, too.
You can set Upsells for each product, which is a good way to increase sales. Once you've set up a few products, you can attach them (for example, if you're selling one eBook, you could add another eBook as an upsell). This is designed to be easy for customers.
You can also add an upsell funnel to your products, which allows you to design the steps your customer will take through to the checkout process. You can add more upsells or even a 'downsell', a similar but lower-priced product if someone is backing out of the checkout process in the hope of recovering a lost sale.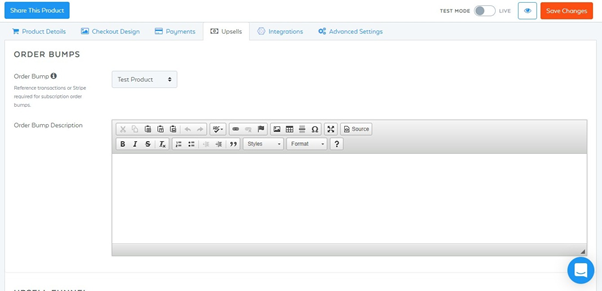 SamCart enables split testing, which allows you to design two slightly different versions of the same product page and run them at the same time to see which one performs better. This is easy to do, and worth investing a bit of time in to boost conversion rates by finding the best page design for customers.
You can set subscriptions for your customers, including:
Unlimited recurring plans
Limited recurring plans
Paid trials
Free trials
There is a built-in subscription saver tool, which could save you a lot of money and hassle if you offer subscription-based products. If a subscription payment fails – say if a customer's card expires – SamCart automatically sends emails to your customer, including a secure link to fill in their new payment information. Again, this is designed to be easy for your customer, making it more likely that they will quickly respond with their new payment information.
In fact, if you're selling subscription-based products or you have slightly more complex subscription services you'd like to provide for your customers, SamCart could be a good choice. It's worth investing a bit more in a platform that will help you to save money from failed payments. However, it's also worth noting that the Subscription Saver (along with some other features) is locked behind the more expensive price plans, but that does tend to be the case with a lot of eCommerce platforms.
You can even set up 'Pay What You Want' donations. Customers can choose what they would like to pay (you can suggest a minimum amount if you like).
Activity
The 'Activity' tab shows you what's happening with your store at any time. You can view orders and subscriptions, and access your customer list here. It gives you a basic overview of everything that is happening right now in your store.
This is the place to go if you need to issue a refund, too, or if you need to get in contact with a customer for any reason.
Samcart Reports
SamCart's reporting is pretty good. They offer detailed breakdowns of sales, refunded products, subscriptions, and upsell funnels. If you use the Subscription Saver feature, you can view any activity relating to that.
You can also check out the 'Prospects' section. This allows you to see customers who didn't complete the checkout process, including their contact details, the product they were going to buy, and the date. This allows you to potentially follow up with this customer, perhaps offering them the same product with a discount coupon.
All reports can be exported as a . CSV file if needed.
Samcart Affiliates
If you have the Premium plan, you'll be able to use the Affiliate Program. SamCart generates a sign-up page for new affiliates, allowing you to approve or deny their applications (you can choose to automatically accept affiliates if you'd prefer). Affiliates will receive a unique link on their dashboard for them to share with others. The cookie length is 30 days by default, although you can adjust this if you want to. It's really easy to adjust settings, including the number of affiliate commissions your affiliate will receive from their affiliate links…
The affiliate dashboard allows you to see, at a glance, how well your army of affiliates is performing. You can view how much each person has made in sales, making it easy to see whether it's worth keeping an affiliate on or not.
Samcart Integrations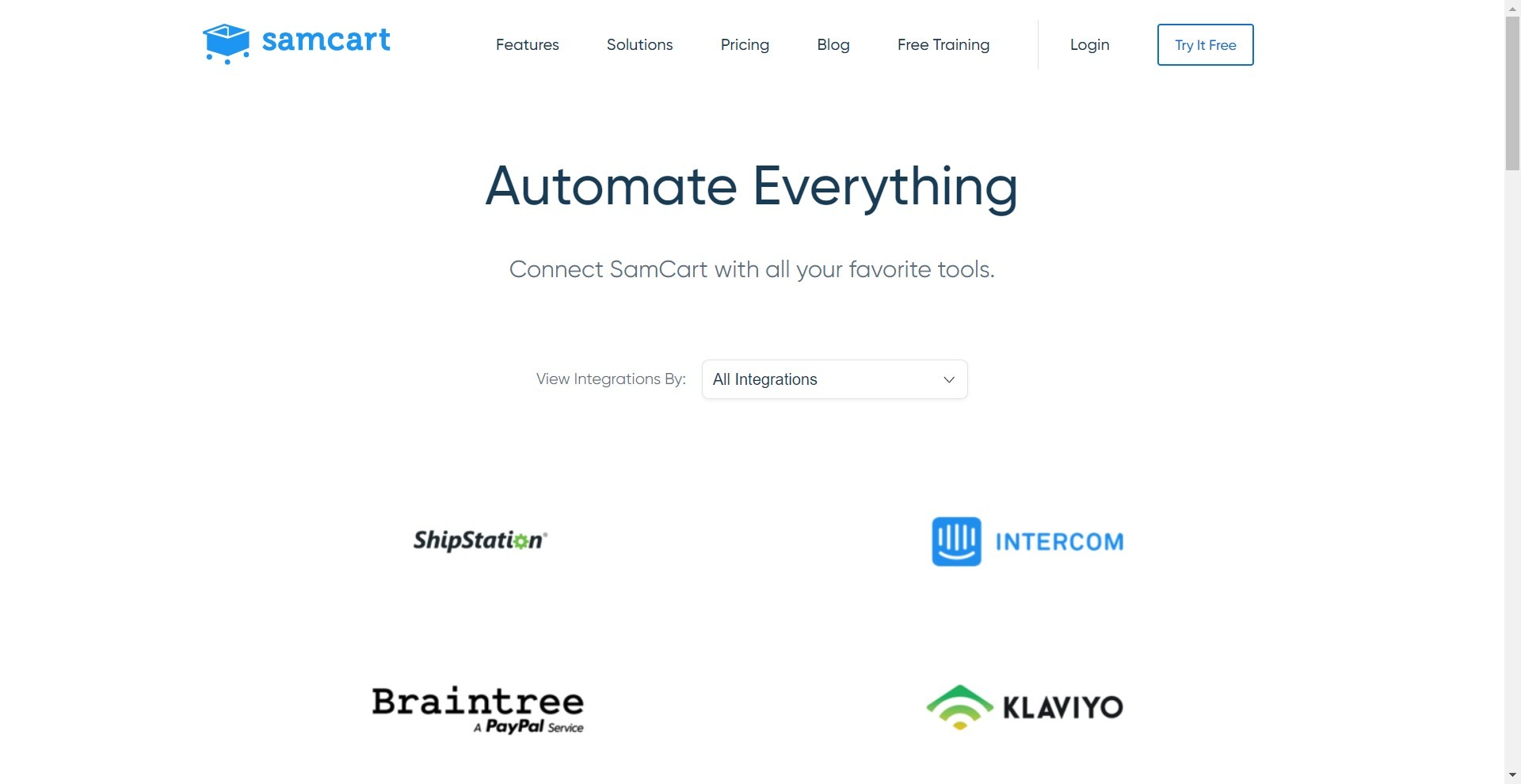 There are many integrations available, including:
Klaviyo
WordPress
Zapier
Stripe
PayPal
Thinkific
MailChimp
Drip
ActiveCampaign

Support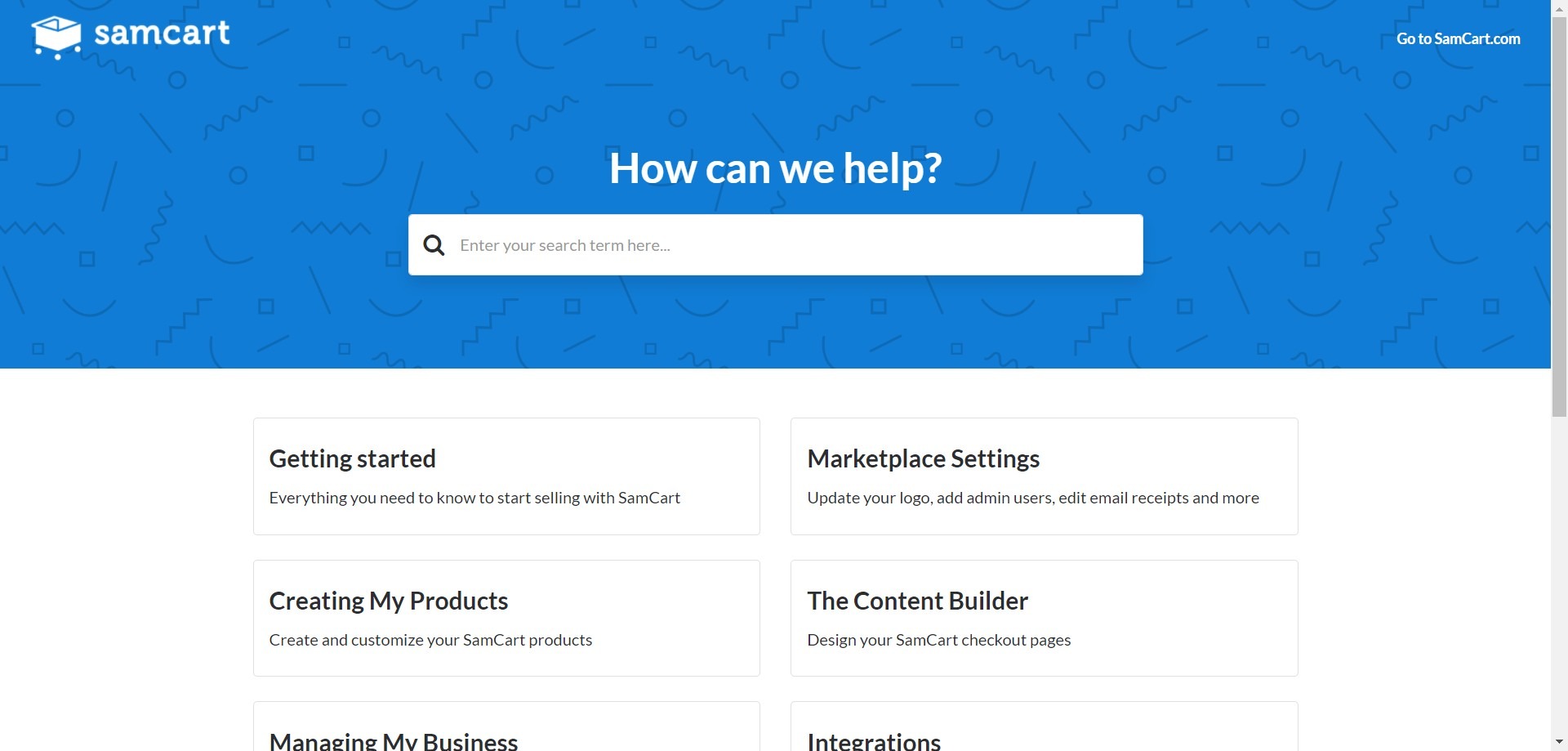 There is a knowledge base available for basic information about settings, product creation, checkout pages, and integrations.
If you need support, you can use the chatbot on the bottom right-hand corner to leave a query. I had to do this because of the issues I was having navigating the platform.
They got back to me on the same working day, which was great considering I didn't qualify for priority support. The customer support team is friendly and helpful, and they were keen to help (even though the issue didn't resolve itself straight away).
Samcart Pricing Plan Options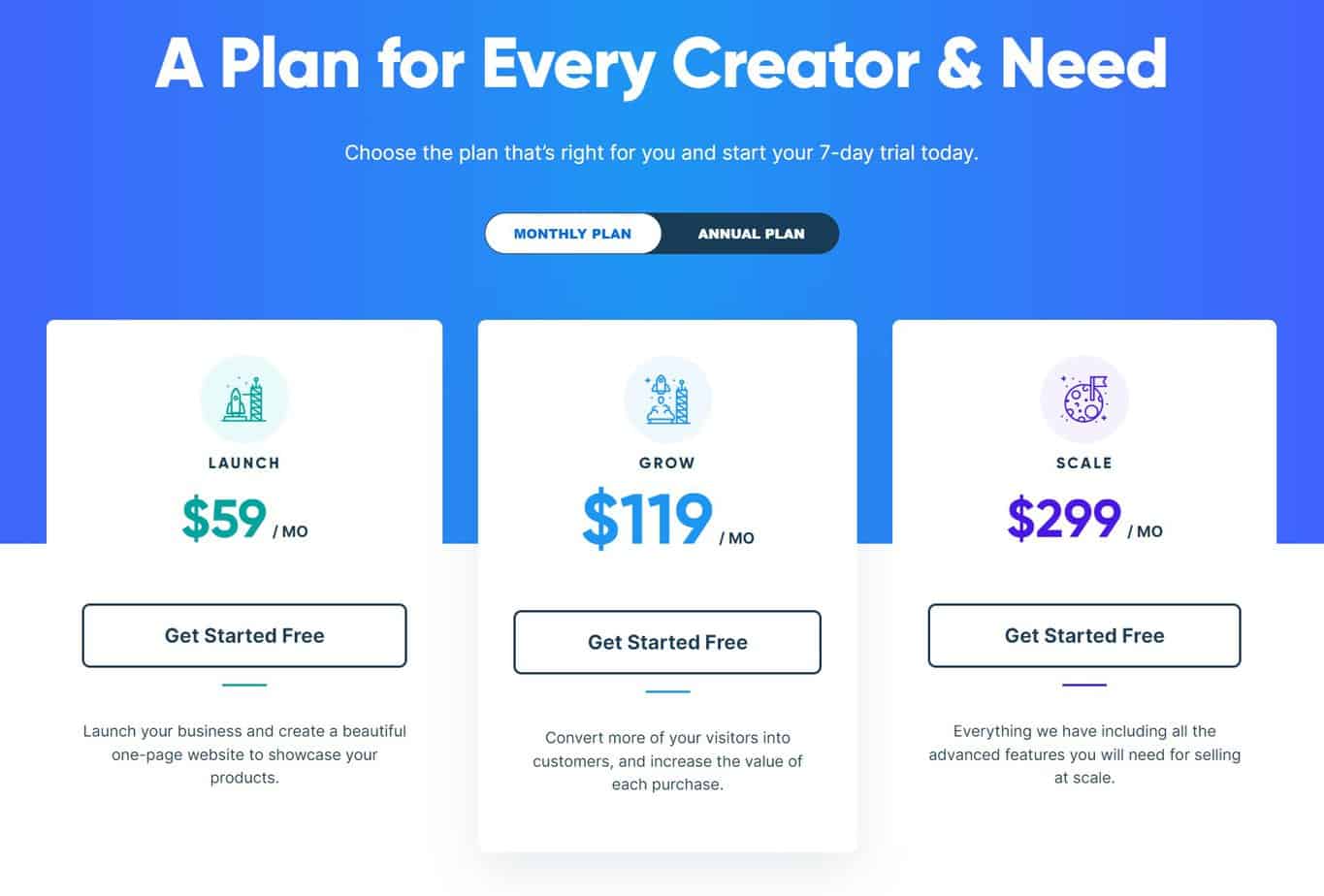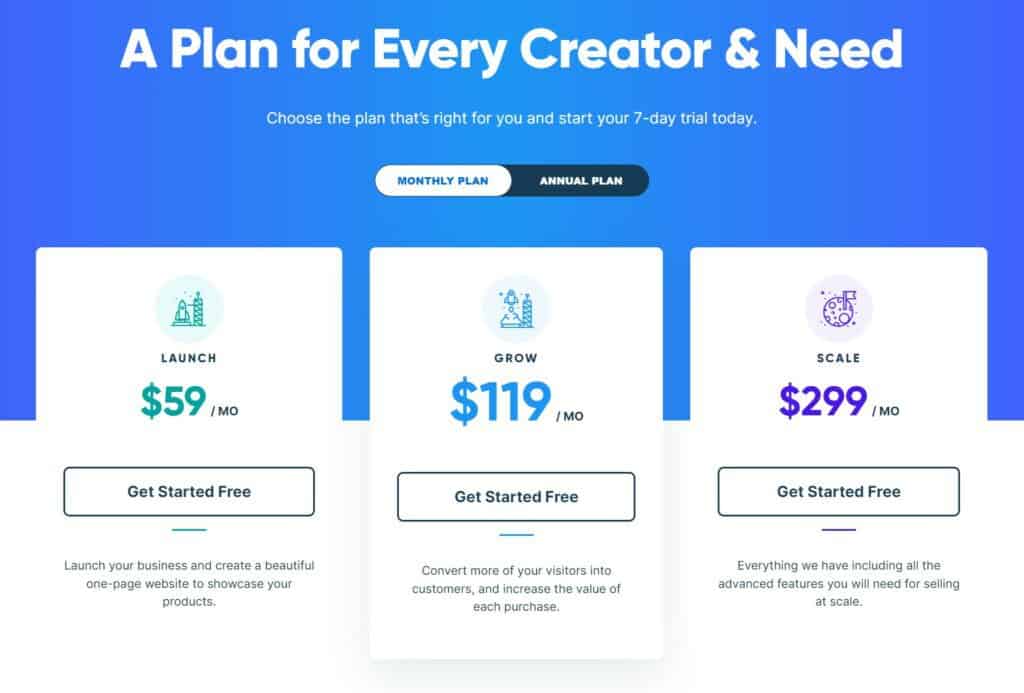 There are three payment plans available:
This includes:
Unlimited pages and products
Unlimited templates
Drag and drop template builder
Full template library
Advanced subscriptions
Email customizations
Custom domains
Digital product delivery
Smart pixel tracking
'Pay What You Want'
Sales and VAT Tax Support
Free SSL Certificate
Apple and Google Pay
Custom Thank You Pages
SamCart Branding
Free and Paid Trials
1 Admin User
Dashboard and Sales Report
Email Support (2-Day Response Time)
This includes everything in the Launch plan, plus:
Custom Checkout Fields
Order Bump Collections
Post-Purchase Upsells
Multiple Payment Methods
3 Admin Users
UTM Tracking and Marketing Reporting
Advanced Reporting
Customer Management
Subscription Charge Reminder
Advanced Subscription Cancellations
SamCart Onboarding
Email Support (1 Day Response)
This includes everything in the Grow plan, plus:
10 Admin Users
Admin User Roles
Cart Abandonment
Built-in AB Testing
Affiliate Center
Subscription Saver
CRM Integrations
Custom Integrations
Email Support (Priority Response)
They offer a 14-day free trial. You can find out more on their pricing page. It has to be said that SamCart is a bit more pricey than some other platforms.
Shopify's basic plan, for example, is roughly $20 cheaper, as is 3Dcart's basic plan. You may decide you like the look/feel of SamCart anyway, but this may be a factor if you're a small or new business trying to keep costs down.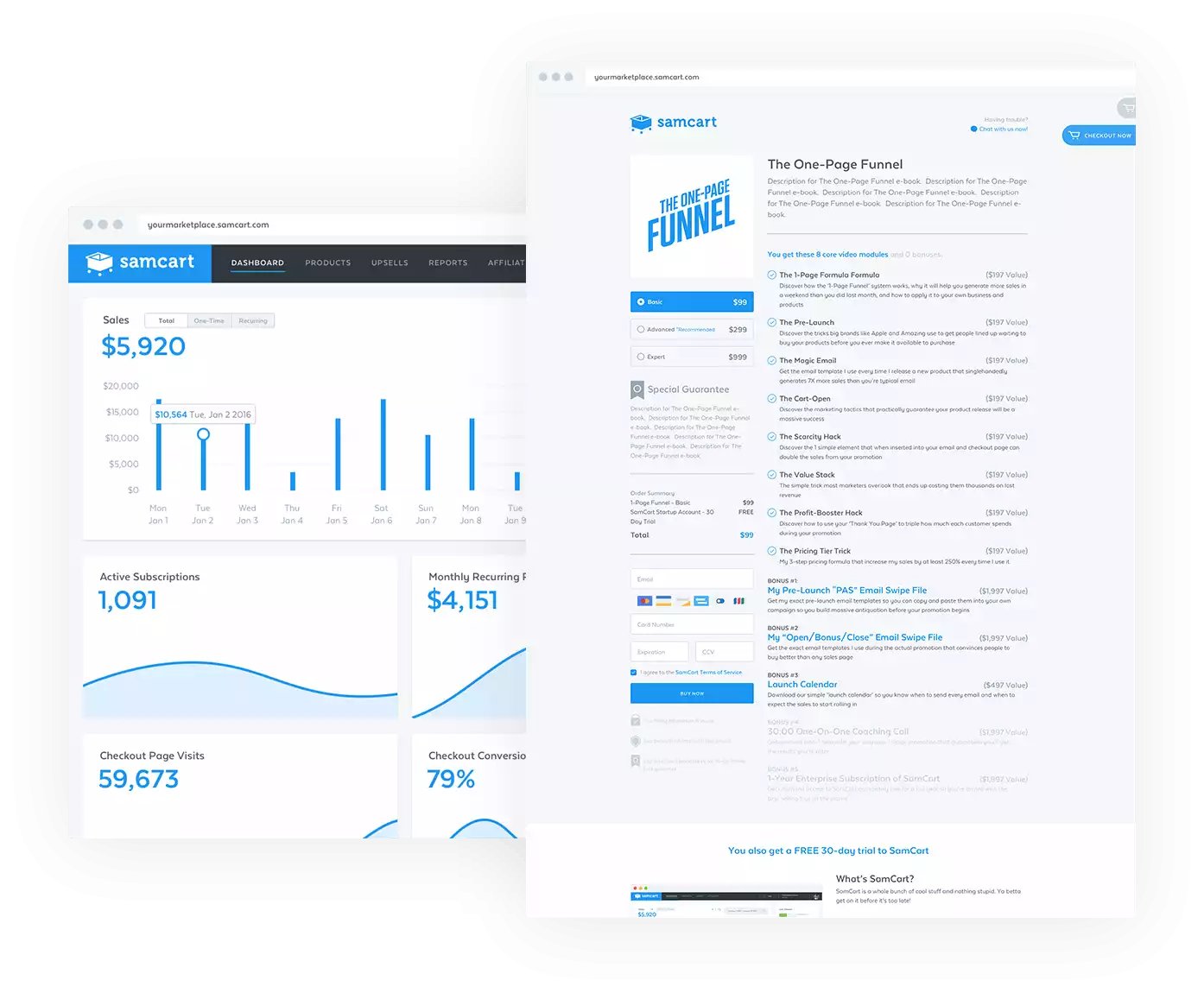 I Personally Prefer SamCart
Personally, I find SamCart to be the BETTER overall checkout page builder with one of the best abandoned cart features in the business. PLUS, it's just less expensive than the competition. There's a free 7-day trial here if you'd like to just see what it looks like on the inside.
GO With SamCart
We earn a commission if you click this link and make a purchase at no additional cost to you.
FAQs
Question: Are there any alternatives to try?
Answer: Yes, there are a few platforms we'd recommend:
Shopify – Shopify is a popular eCommerce platform. It's known for being super-fast and easy to get going, and it has a lot of great integrations. You can find out more in our OpenCart vs Shopify comparison.
Kartra – Kartra is another good platform with a secure shopping cart. It's easy to use, and it has some attractive product page templates too. You can read more in our in-depth Kartra review.
3DCart – 3DCart has a lot of built-in marketing tools and a lot of support and advice for new users. Find out more in our 3DCart vs Shopify comparison.
Question: Is SamCart secure?
Answer: Yes, SamCart is secure – the checkout process has built-in security and PCI (Payment Card Industry) compliance. You will also get an SSL certificate for your website, which means customers should feel safe and comfortable shopping with you, as it helps to protect their data.
Question: Does SamCart have an app?
Answer: At the time of writing, SamCart doesn't have a mobile app.
Question: What currencies does SamCart support?
Answer: SamCart supports the following currencies:
• United States Dollar
• Australian Dollar
• Brazilian Real
• Canadian Dollar
• Euro
• Pound Sterling
• Swedish Krona
• Norwegian Krona
• Swiss Franc
• Czech Koruna
• Danish Krone
• Hong Kong Dollar
• Israeli New Shekel
• Indian Rupee
• Mexican Peso
• Malaysian Ringgit
• New Zealand Dollar
• Philippine Peso
• Polish Zloty
• Russian Ruble
• Singapore Dollar
• Thai Baht
Our Final Thoughts on this SamCart Review
Would I recommend SamCart? Yes, absolutely.
While we did have a technical hiccup at the beginning, the customer support team was keen to help, and the platform itself is easy to navigate.
It has some great tools, including upsells, split testing, and the Subscription Saver. Plus, the reporting is great, and it has some good product page templates. If you run a subscription-based business, it's definitely tempting to check out.
The only downside is that it is a bit pricey in comparison to other platforms on the lower price plan, and some of the key Samcart features (like the aforementioned Subscription Saver) are locked behind the more expensive plan. There are more affordable options out there, but we still think it's worth looking into. You can check out their free trial if you want to see how it works for yourself!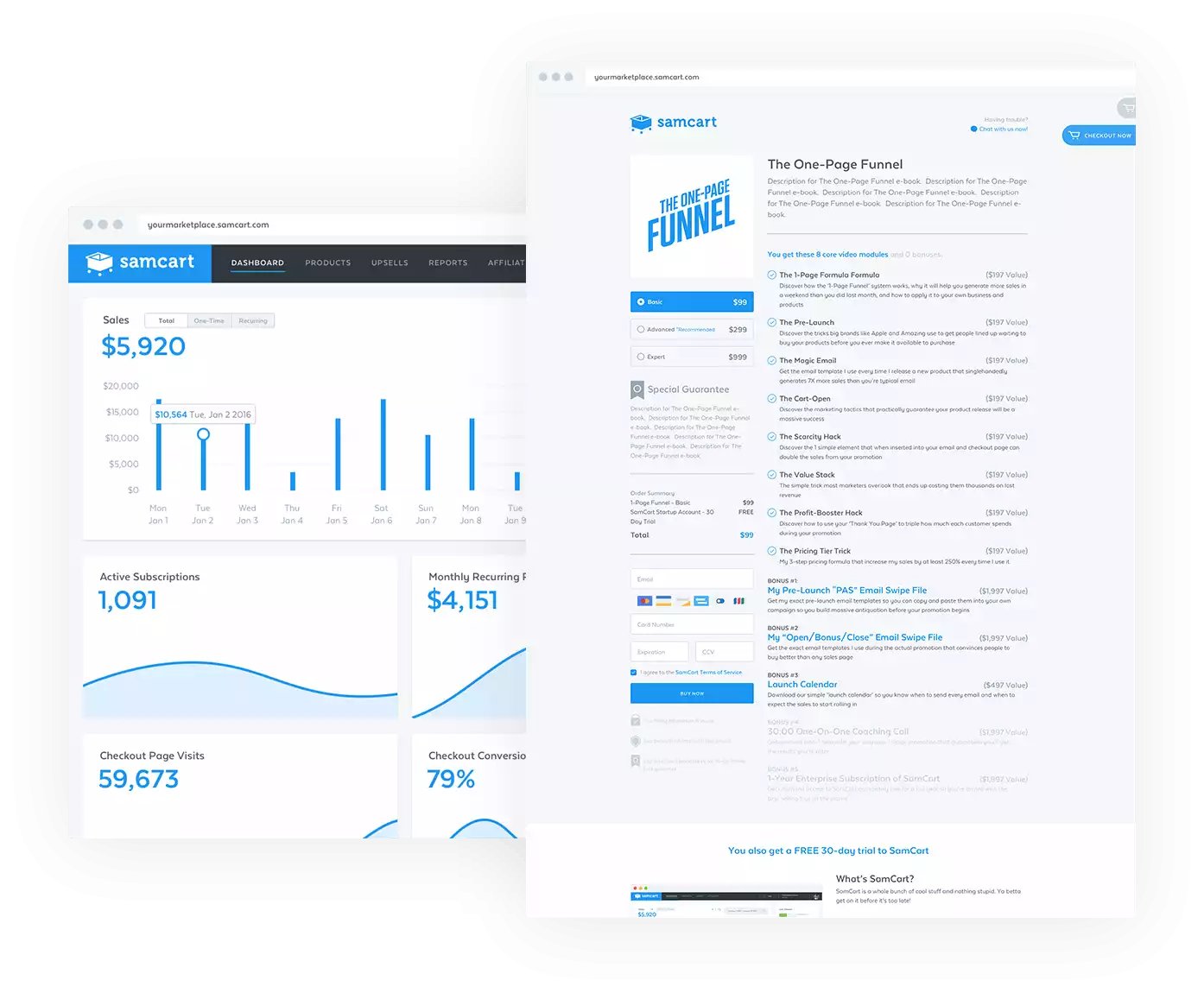 I Personally Prefer SamCart
Personally, I find SamCart to be the BETTER overall checkout page builder with one of the best abandoned cart features in the business. PLUS, it's just less expensive than the competition. There's a free 7-day trial here if you'd like to just see what it looks like on the inside.
GO With SamCart
We earn a commission if you click this link and make a purchase at no additional cost to you.
If you've used SamCart for your own shopping cart software needs, share your thoughts in the comments below – we'd like to know what you think.
If you are still not quite decided on the right cart solution, our team has compared Samcart vs a variety of other competitors.